The Ultimate Bali Travel Guide for 2023
Bali bound and looking for the best Bali travel guide so you know what you can't miss? This island paradise is one of my absolute favorite destinations right now for its vibrant culture, delicious food, UNREAL sunsets, amazing hotels and of course, its beaches. I love it so much that I'm actually based there when I'm not traveling! I've made this amazing island my home-away-from-home because it's not only un-bali-evably beautiful, but Bali is awesomely affordable. What you spend up front on airfare you'll easily make back with savings on hotels, meals and transportation.
One of the best things about Bali is despite being fairly small, it has something for everyone. The yogis will flock to zen Ubud, the beach bums to dreamy Uluwatu, and the surfers to laid-back Canggu. The spring breakers will seek out Gili T for its island nightlife and Bali honeymooners will seek out dreamy Nusa Lembongan or secluded Gili Air. The families will hang seaside in Seminyak, and the adventurous will conquer Nusa Penida. Whether you want waterfalls, beaches, jungles, monkeys, surfing, shopping, snorkeling with manta rays, or just relaxing on a bean bag in the sand with a piña colada in hand, Bali is your paradise.
As you guys know if you follow me on instagram, I base in Bali about half the year, and have for the last 5 years, so I know this island like the back of my hand, and have planned so many trips for friends over the years. Which is why I'm so excited to help you!
Jetset Christina's Bali Map
Let's start with some of the most popular Bali Q&A's I get:
Is Bali open for tourism right now?
Yes. Bali is BACK open for vaccinated tourists as of right now.
What is the best month to go to Bali?
The best time to travel to Bali is April through early November. The rainy season starts in November and goes until March. But, if you're thinking about visiting during the rainy season, don't worry about it too much. Like anywhere tropical, the rain is part of what makes Bali so beautiful! Yes, it rains a lot here, that's why it's so green! Bali's rainy season is gorgeous in so many ways – but you definitely need to be prepared for some downpours. That being said, that doesn't mean it's going to rain all day every day, you'll usually get plenty of sunshine too! You can often find less expensive prices in rainy season, and cheaper airfare too.
The driest time on the island, and least humidity, is during US Summer – June-September, however, this is usually also the most crowded time to visit.
Is Bali expensive?
Bali is not an expensive destination – but that being said, there are definitely luxurious ways to do it! The bulk of what you spend in Bali will be on your airfare and your accommodation. Once you're there, you'll find food, transportation and all other expenses to be very, very affordable. Because there are amazing accommodation options at every price, Bali is an ideal destination for both the budget traveler and the luxurious traveler alike.
What is the weather like in Bali?
It's hot and humid! Bali is located in Southeast Asia near the equator and has a very a tropical climate, with an average year-round temperature of 86°F (30°C).
Should I worry about rainy season in Bali? Will I get any sun on my vacation?
Here's all of the info about when rainy season is in Bali, and why you shouldn't worry about rainy season in Bali.
What are the Best Areas to Visit in Bali?
Where to eat + drink in Ubud:
This Japanese-Latin-Fusion restaurant serves up some of the best sunset views in all of Ubud. You can even see the Four Seasons Sayan across the way – which was recently ranked the #1 hotel in the world by Travel & Leisure! Watch the sunset colors paint the jungle as you sip on one of their delicious cocktails & munch on their sushi and innovative gourmet tacos. This is my very favorite date night spot in Ubud.
Famous for their ice-cold martinis and barbecue pork ribs, Naughty Nuri's is a must-stop for meat lovers in Ubud. One of Anthony Bourdain's favorite Bali spots, Nuri's will be sure to be a highlight of your trip. The restaurant casual, with a huge smokey charcoal grill outside flaming up some of the best ribs you'll ever taste. Nuri's comes with a lot of hype (and sometimes, a long wait) but I promise you, it's worth it.
JETSET TIP: Order a side of Indonesia's best Nasi Goreng (fried rice) or Mie Goreng (fried noodles) it's so good here!
This gorgeous Ubud hotel is an ideal spot to stay in in Ubud or to just enjoy brunch or lunch at. Bambu Indah is eco-luxe, green, tranquil, and embodies Ubud zen.
Think of Alchemy as Ubud's hippy mecca. This raw food cafe and salad bar is the place to detox in Bali and has been the healthy-eating hot–spot in Bali for years. Whether or not you're a vegan, their juices and delicious healthy salad bar (and smoothie bowl bar in the mornings) is worth checking out.
JETSET TIP: I order a juicy fruit juice almost every day – and I love their 3-7pm build your own soup bar – SO good.
L'Osteria
Sometimes after sight-seeing around Ubud or hitting up the rice fields and waterfalls, you're just craving a good ol' pizza. L'Osteria is a super cute new restaurant in downtown Ubud that has pizza that will put even ITALY to shame. It's sooo good, you guys. And a cute rooftop too!
If you're looking for the best breakfast burrito in Bali, you've found it. Milk + Madu and their healthy-meets-comfort-food vibe is just what you want as an expat living in Bali. It's my go-to for all-day breakfasts, and killer avo toast! They also have great burgers, pizzas and wraps as well.
SEE MORE: JETSET CHRISTINA'S ULTIMATE UBUD TRAVEL GUIDE
FOR LUXURY, or for a Bali honeymoon:
This resort was just ranked Travel & Leisure's number one resort in the world and it's easy to see why. It's hard to beat the Four Seasons' sixty-room stunning setting – a complete sanctuary cocooned in Ubud's Ayung valley. Each villa is adorned in dark teak and Indonesian stone and many of the villas boast a private pool and outdoor living rooms. In the restaurant, you can dine on contemporary Indonesian cuisine on a picture-perfect terrace, or sip a passion fruit martini overlooking the valley at Jati Bar. Staying here is once-in-a-lifetime – perfect for a Bali honeymoon.
The Viceroy is a jungle retreat high up in the mountains of Ubud. Each of its luxury villas comes with a picturesque private infinity pool looking out into the jungle and a super-spacious sanctuary-of-a-room that you'll never want to leave.
If a luxe jungle retreat is the vibe you're going for, famous architect Bill Bensley designed this luxury camp in Ubud. This hotel was recently ranked by Travel & Leisure as the BEST in Bali, and with good reason. The ultra-luxury Capella Ubud is a fantastic hotel choice for a Bali honeymoon. As one of the Leading Hotels of the World, Capella Ubud is an ultra-luxurious tented camp set within dramatic jungle landscape and lush rainforest, rice paddy fields and the sacred Wos River, in an authentic Balinese artist village called Keliki.
Photo courtesy of CapellaHotels.com
How to get Jetset perks on your stay at Capella Ubud:
Fill out this contact form and be sure to use the referral code "JETSETCHRISTINA" if you use my referral, my agency partner will reach out with more information and can help book you with all kinds of fun perks (at no extra cost to you, and they don't charge a fee to book!) Perks for booking through us here include: Upgrade on arrival, subject to availability, daily breakfast for 2, complimentary 50-minute couples' massage, and early check-in / late check-out.
Aman's luxe Ubud resort is one of the best hotel choices for a luxury Bali trip. Serene gardens, lotus ponds, spacious rooms, and an ideal location, Aman is always a great move. At only 30 suites, it's boutique and exclusive feeling, with signature Aman service.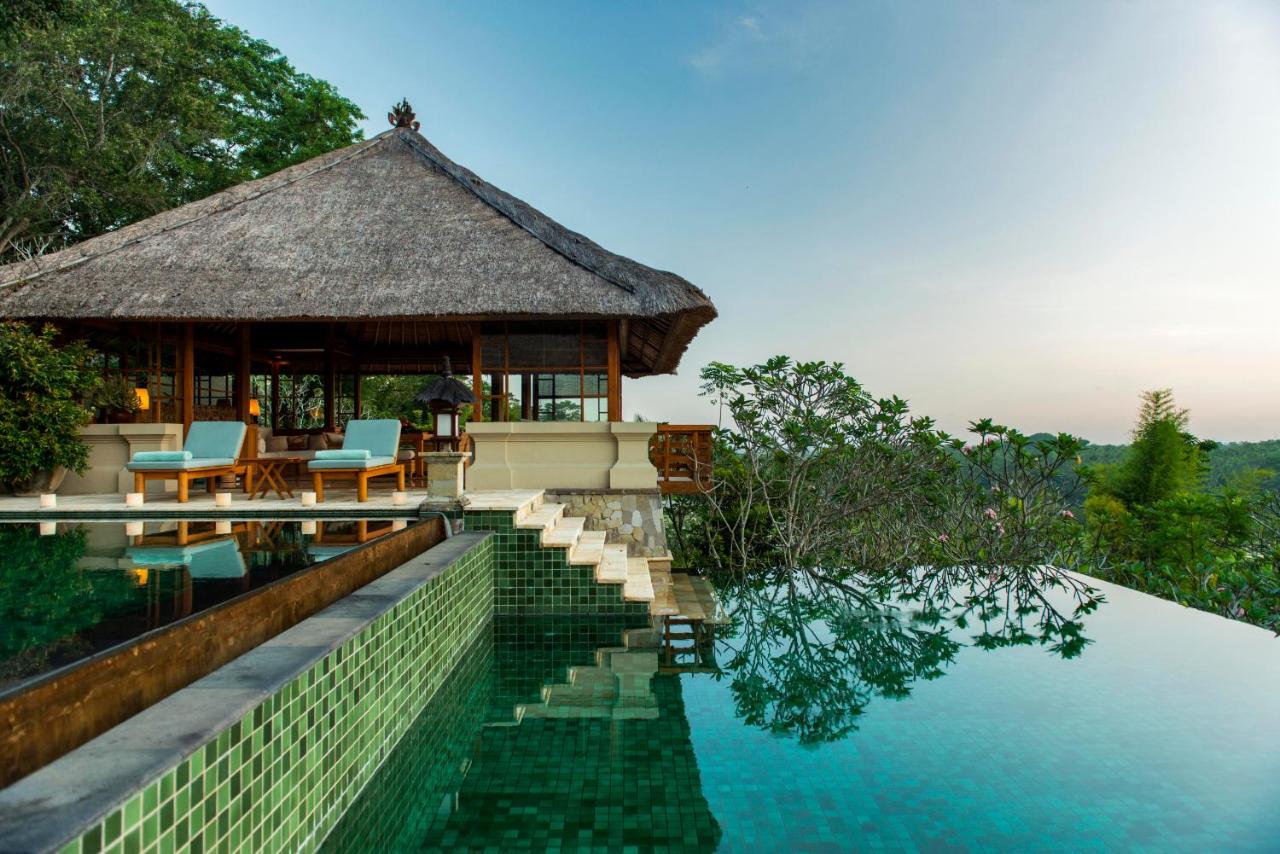 photo via Booking.com
How to get Jetset perks on your stay at Amandari:
Fill out this contact form and be sure to use the referral code "JETSETCHRISTINA" if you use my referral, my agency partner will reach out with more information and can help book you with all kinds of fun perks (at no extra cost to you, and they don't charge a fee to book!) Perks for booking through us here include: Upgrade on arrival, subject to availability, daily breakfast for 2, $100 resort credit, and early check-in / late check-out.
FOR BUDGET LUXURY
This quiet eco-lifestyle hotel tucked in Ubud defines modern jungle luxe. Bambu Indah is the perfect choice for the yogi couple or group of girlfriends looking for their zen in the jungle for a couple nights. It's lush & green and its uniquely Ubud-calm defines serenity. Even if you don't stay here, the restaurant is worth a brunch or lunch to check out the gorgeous hotel.
COMO is a more affordable luxury resort option if you're looking for the best private pool resorts in Bali, but don't love the price tag of some of the ultra-luxury resorts. The COMO Uma is really centrally located, so a perfect base if you're looking to explore around Ubud. COMO Uma Ubud also provides free scheduled downtown/area shuttles, free guided morning walks and free scheduled yoga classes with a yoga master!
Room rates $200-$300 per night. Book here.
What to do in Ubud
Tegalalang Rice Fields
The Tegalalang rice terraces and their sweeping panoramic views of lush Ubud make for a perfect Bali exploration day.
The Monkey Forest
A beautiful jungle filled with wild monkeys that will climb all over you for a banana – The Monkey Forest is an adventure, to say the least.
Photo: @Van_Taylan wearing Kenny Flowers– the best vacationwear brand made in Bali!
Get a Balinese massage
Balinese massages are the best part of any vacation to Bali – they're relaxing, incredible, and super affordable compared to usual spa prices. And there's no better place to have a spa day than in zen Ubud. I recommend you get your hotel front desk to call ahead.
Cantika is an oasis of flower baths, Balinese massage treatments, and the most tranquil setting imaginable. It's my favorite place to go every time I'm in Ubud. Did I mention an hour massage & flower bath treatment is only about $20? Welcome to Bali.
Campuhan Ridge Walk
I love running or walking the Campuhan Ridge Trek first thing in the morning, it's also REALLY popular at sunset. It's about an hour long and a pretty easy hike with gorgeous views.
This gorgeous waterfall located just outside of Ubud is the perfect spot to head to cool off on a hot day. This is a must-do for first-timers to Bali, and somewhere I always go when showing visitors around the island. Check out my blog post on how to get there, what other waterfalls to go to, and how to do Tegenguan and The Tegallalang Rice Fields in the same day here.
JETSET TIP: It gets crowded, so go early in the morning and you'll have the waterfall to yourself!
Kanto Lampo Waterfall
This less-discovered waterfall (also outside of Ubud) is one of my favorites to visit when I'm in Bali. It's cascading rocks make for an incredible experience & one of the most fun ways to cool off on a hot day (not to mention laying on the rocks is an amazing back massage!!)
This locals-only "secret beach" in Uluwatu is hands down one of the most beautiful beaches I've ever been to, and a must-do on any trip to Bali.
Sundays Beach Club
Sundays Beach Club is a part of the Ungasan hotel but you can also get a day pass to swim, eat, relax, paddleboard and enjoy their gorgeous beach and water activities. They also do fun bonfires at sunset! It's one of my top picks for the best beach club in Bali.
Bingin Beach
Bingin Beach has unrivaled views of the Indian Ocean and fabulous waves that make it one of the most demanded surfing spots in Bali and the world. I recommend posting up at Kelly's Warung for a perfect beach day.
The new Omnia Bali Dayclub by Hakkasan Group is an extravagant, luxurious day club perched on the limestone cliffs of the Bukit Peninsula in Uluwatu. It's the first adults-only day club to hit the island, and features a swim up bar, a delicious restaurant, and VIP cabanas with their own glittering plunge pools. It's the perfect place for a group of friends to spend the day.
Omnia Bali has even already started to feature world-famous DJ's on certain days for parties. But, if the idea of a super rowdy pool party scares you a little bit – don't worry – the vibe is less Las Vegas, and more Saint Tropez. Read: It's the perfect spot to get elegantly wasted poolside.
Where to eat + drink in Uluwatu:
Rock Bar at the Ayana resort Bali reigns as "the best bar in Bali", The Rock Bar is a bar unlike any other. Candle-lit tables, comfy lounges, signature cocktails, and a backdrop of waves crashing, and splashing, around you as you watch the sun set the sky on fire.
Seeing a sunset at Single Fin is a MUST on any trip to Bali. It's beautiful for sunset and dinner any day of the week, but if you're looking for the best party in Bali – Sunday nights at Single Fin are world-famous – pretty much the whole island comes to Single Fin for a late night dance party every Sunday.
Kelly's Warung
Would you like a side of paradise with your smoothie bowl? Kelly's Warung, a cafe on the best stretch of Bingin Beach in Uluwatu, is the dreamiest place to have a Bali bowl. Their frozen dragonfruit bowl is to-die-for, as are the views and general laid-back Ulu vibes of this place.

Where to stay in Uluwatu:
check out my full blog post on the best hotels in Bali here
The Six Senses is the newest luxury resort in Uluwatu – and it is one of the most stunning hotels. Located on its own clifftop that feels like your own end-of-the-world oasis, this is the ultimate Bali Honeymoon luxury resort. It's also where I got engaged!! (which you can read more about here 🙂
Photo courtesy of Bulgari Resort – Expedia
This ultra-luxury resort in Uluwatu is absolutely stunning, and worth the price, especially for a Bali honeymoon! A roundtrip airport shuttle, a poolside bar, and a seaside terrace. Add in a private (breathtakingly beautiful !) beach, beachfront dining, and lots of places to relax in the sun, this hotel is the perfect romantic getaway in Bali. Treat yourself to a massage, a body treatment, or a facial at The Spa, the onsite spa. Be sure to enjoy a meal at any of the 3 onsite restaurants, which feature international cuisine and ocean views. Yoga classes are offered at the 24-hour health club; the property also has designer stores on site, a garden, and a hair salon.
300 feet above the Indian Ocean, but with a private beach all its own, Karma Kandara is the epitome of Bali beachfront relaxation, and it's an amazing choice for a hotel in Uluwatu. Their private villas are surrounded by tropical gardens and feature stunning views, and their beach club (that you have to take a cable car to get down to), is one of the best in Bali (so much so that lots of others besides hotel guests come for the day and pay for a day pass!).
The Anantara, with it's picture-perfect setting on the cliffs of Uluwatu overlooking the surf, is such a perfect hotel. Its cascading infinity pools overlook the Indian Ocean, the delicious oceanfront restaurant has some of the best seafood in Bali and its increeeedible spa is the perfect way to relax after a late night at Single Fin. It's tough to beat this hotel, price and location.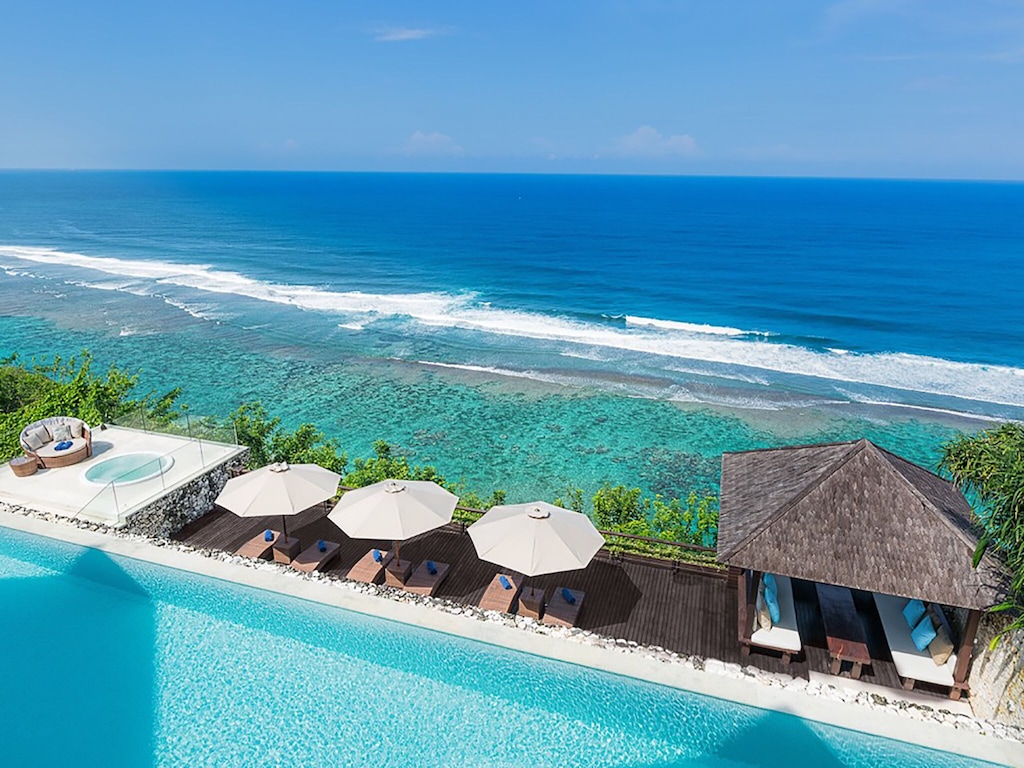 Photo via grand cliff villa Ungasan
An awesome villa with a view in Uluwatu

Where to stay in Uluwatu on a budget:
Pink Coco Bali is a great spot for the price! The location is great, right off of Padang Padang beach – one of my favorite beaches in Bali!
Want to stay near all the famous luxury dayclubs but not shell out a fortune on an overnight there? I love this little hotel for its central location in Pecatu. It's not coastal, but it's very affordable, the rooms are nice, there's a pool, and you're within spitting distance of places like Omnia dayclub and Sundays beach club.
Seminyak
Where to eat, drink and party in Seminyak:
Motel Mexicola
Fiesta vibes in Bali? Yes please. One of the things people are most surprised by in Bali is the Mexican food – and being the Mexican food addict I am, I know everything there is to know about the Mex scene in Bali, and THIS is my favorite place to go on the whole island. Their margaritas are almost as good as my margarita recipe, but their tacos are definitely better. This spacious restaurant is my favorite spot for a group dinner in Bali. It has gooooorgeous colorful decor, delicious mexican food, to-die-for margaritas and lively mexican music on weekend nights. If you're looking for a quiet dinner in Seminyak, look elsewhere, but if you're looking for Cabo-meets-Bali, welcome to your new favorite spot.
If going out all night in one of Bali's trendiest clubs is what you're after, La Favela is your spot. This beautiful four-floor, Brazilian-themed indoor/outdoor club starts to get good around 11pm and the dancing doesn't stop until 5am. It's always a good time.
Shelter is an adorable cafe connected to my favorite smoothie bowl shop in all of Bali… Making it the absolute perfect place to start your day, or work from all day. Nalu bowls invented the smoothie bowl game, and they are the best smoothie bowls in Bali. They were the first on the scene and their delicious bowls use fresh Bali ingredients and homemade granola that they bake every day (and for all you that are traveling southeast asia with a nut allergy like me- it's completely nut free!). Nalu now has locations in Seminyak, Kuta, Canggu, Uluwatu and Berawa, so you can pretty much get them anywhere you go in Bali, but I love the breezy Seminyak Shelter rooftop garden location.
Da Maria
This is my go-to date night restaurant in Bali. Da Maria has Bali's BEST Italian food. The delicious pizzas, homemade pastas, amazing apps (YES…. BURRATA IN BALI!!!) and amazing wine list make this such a perfect modern Italian restaurant in Seminyak.
Boss Man's Burgers
My fave burgers (or late night) in Bali. BO$$ MAN is SO GOOD, YOU GUYS. Their burgers are handmade made with the best ingredients in house from 60-day dry-aged chuck steaks, premium quality pork cooked low and slow over 18 hours until juicy and tender, as well as 100% homemade sauces. This place is seriously to-die-for. My go to is the Kim 'Chi' Un and the Loaded Fries.
Potato Head Beach Club
Potato Head's beachfront bar and 500-square meter emerald lawn leads to a gooorgeous infinity pool right on the beach, making it the perfect spot for a sunset drink. The beach club is all housed inside a state-of-the-art amphitheater, with a giant lawn that often hosts festivals, concerts, and more.
La Plancha Beach bar
If you're into a casual, no-frills sunset sesh on colorful beanbags, La Plancha is your spot.
Where to stay in Seminyak
The Legian is laid-back Balinese luxury at its finest. The Legian features three tiers of infinity pools looking over Seminyak's white sand beach, unparalleled 5-star service, and stunning, traditional Balinese decor. It's one of my very favorite places to stay in Bali!
This beautiful hotel is located a few blocks from the beach, right next to Sea Circus Bali and just down the street from Motel Mexicola. It's charming colonial architecture and chic poolside make it an ideal spot to base for a few days in Seminyak.
A couple I know stayed here on their Bali honeymoon (inbetween some other resorts all over the island) and felt it was SO nice for the price. We hung out there – the rooms are huge, a nice common pool, and in the perfect area of Seminyak – definitely recommend for a good budget option!
Having a private villa in busy and bustling Seminyak is a perfect way to enjoy Bali. Check out Bali Villa Escapes to search all kinds of luxury Seminyak villas – all with their own private pool!
What to do in Seminyak
Get the best Massage of your life at Jari Menari
Jari Menari, which translates to "Dancing Fingers", has won so many awards and accolades for their world-renowned massage technique, and you can only get the experience at their spa in Seminyak. Jari Menari's all-male staff is trained in unique rhythmic, long-flowing strokes with firm and consistent pressure and their massages are unlike anything else in the world!
My favorite treatment is the "4 Hands Massage" – two gifted practitioners working together in harmony! With their life-changing massage technique and valuable spa prices, you'll want to go to Jari Menari every day of your vacation in Bali!
Shop at Bali Boat Shed
The cutest clothing boutique in Bali, Bali Boat Shed has pretty islandey prints and adorable swimwear. Just try to go in and not walk out with a full bag of Bali goodies.
Canggu
The Lawn is one of my favorite places in Bali to watch the sun set! Go to the Lawn on Friday Nights for sunset and stay for their 7-10pm 2-for-1 drink specials. It's LA-meets-Bali and it's a vibe.
Bali's newest beach club in Canggu is sunset heaven and instagram candy. It's a vintage-inspired beach club that feels a little like boarding a pirate ship to Neverland. With views of rolling waves and surfers shredding into the sunset, there's no better place to go in Canggu.
The newest restaurant in Canggu that I'm obsessed with. It's perfect for a fancier date night or a Bali honeymoon restaurant. I LOVED the food here. Definitely get the snapper – I'm still dreaming about it!
Old Man's
Canggu's staple beachfront bar has live and international band & DJs every night in the week. It's fun every night, but Wednesday's are their biggest nights of the week.
La Laguna is a hip secluded beachfront sunset bar and restaurant with rustic-chic, gypsy-inspired decor. It's my favorite spot to grab a frozen strawberry margarita and order some bomb apps with friends. It's currently under construction but will be reopening late 2020 – and I can't WAIT to see what it looks like then (because it was already so perfect!! excited to see how they could make it even better).
This cute, vibrant vegan cafe is technically in Berawa (very close to Canggu) but it's worth the trek – especially if you're a vegetarian or vegan visiting Bali! I absolutely love their smoothie bowls and their dinner options as well! PRO TIP: save some room because right next door is Secret Spot Frozen Yogurt (also vegan and dairy free!).
Photo courtesy of Peloton Supershop
One of my favorite places for a fun group dinner in Bali! Hotel Tugu is an awesome place to stay if you're in Canggu, or just go to their restaurant and order some sushi and some coco sexos before heading to Old Man's or the Lawn!
Crate Cafe
This place is AMAZING. A must-do in Canggu. It's a big, bright space and is ALWAYS packed with all of Canggu's trendiest insta-models and surfers. Order the brekky burrito and a juice. So good.
Rollie's is my hidden-gem secret spot in Canggu. Their breakfast is TO DIE FOR!!! Order the Breakfast Bagel Burger or the avo smash. Also don't miss out on their chocolate croissant – literally the best in the world. Tell them Jetset Christina sent you!
Photo courtesy of Rollie's
Where to Stay in Canggu
If you're traveling with a big group to Bali and looking for the ultimate place to stay – Villa Melissa is IT. With 5 bedrooms, 5 baths, a to-die-for beachfront location, and a double-layered infinity pool, Villa Melissa is the epitome of luxe. 3 of its 5 luxurious en-suite bedrooms overlook the ocean, and the whole villa is decorated in a blend of contemporary and antique Balinese furniture, making you feel at home and on vacation all at once.
With a private chef, beachfront location, a drop-dead-gorgeous infinity pool right on the ocean, and 5 spacious bedrooms, it's hard to beat Arnalaya Beach House for a group villa in Bali. This villa has modern, contemporary interiors and sits on 4500 square meters of oceanfront land. It's also located right near convenient stores and restaurants, and is within walking distance to Canggu's most popular street – Batu Bolong. If you don't feel like leaving the villa, just sit back and relax, as it comes with a professional team of 16 in house villa staff to take care of your every need. Does it get any better for a group visiting Bali??
On a budget:
If you're looking for the best deal in the best location in Canggu – it's the brand new super-chic Gu Village. This place is the perfect combo of being affordable, but has nice rooms, A/C, free breakfast & GREAT food (get their avo toast in the morning!), and an awesome pool area called Alternative Beach Canggu (it even has a waterslide!)
The hotel is also connected to Kos one hostel, too, if that's more your vibe. The central pool area is called Alternative Beach and is a super fun, open to the public beach area that becomes a buzzing gathering for digital nomads and 20-somethings day and night.
All in all I loved the price, the location, the vibe, the crowd, and the FOOD the most about this place. It's a perfect place to base from while exploring Canggu – and definitely a great spot if you're looking for a longer stay or are a solo traveler wanting to meet people!
For luxury:
This chic boutique hotel in Canggu just opened last year and is one of my favorite spots for a Canggu weekend in Bali. There's a beautiful lagoon, a chic beach club, an ultra-zen Bali spa, and seaside views. The hotel is also collaborated with TropicSurf, so guests can take surf lessons!!
Nusa Dua
Should you stay in Nusa Dua Bali?
If you're looking for an easy, resortey area of Bali, there is nothing wrong with Nusa Dua, however, it's not where I usually recommend first-time visitors of Bali too because it is an area that looks like it could be ANYWHERE else in the world – and the resorts don't feel as authentic BALI. It feels more like convention-center-ey if you know what I mean. That being said, there are some HUGE and awesome resorts there like the Mulia – that are worth checking out if big resorts are your vibe!
Nusa Lembongan
Nusa Lembongan island is located a quick 45 minute boat ride from Sanur and offers beautiful beaches, gorgeous views of the Mount Agung volcano, snorkeling with manta rays, and a seemingly undiscovered laid-back island that feels like Bali 30 years ago.
With views of the ocean and the volcano, 353 Degrees North is a stunning clifftop villa in Nusa Lembongan, and is one of my very favorite places I've stayed in Bali. It is secluded, quiet, tucked away, and a wonderful choice for a honeymoon. You can read more about my experience there in this blog post on Nusa Lembongan.
Just a five-minute walk from the beach in arguably the best location in all of Nusa Lembongan, these villas may just have the best views in all of Bali, and make for a perfect honeymoon oasis.
Located only a 10 minute boat ride away from Nusa Lembongan, Nusa Penida is such a fun Bali adventure. The roads are rough, the town is sleepy, and the whole island feels unfound. Even its most famous beaches and viewpoints are accessed only by climbing through steeeeeep hillsides and crazy rocks. Nusa Penida is everything your adventurous deserted island dreams are made of & definitely a must-see in Bali!
Where to stay on Nusa Penida
On my most recent trip to Nusa Penida we stayed at this ADORABLE 15-room boutique hotel on Nusa Penida. It is SO cute, and so affordable. Not to mention I loved the food!!!! Super fresh and delicious – wayyyy better than what I was expecting out in the islands. Can't recommend this place enough if you're looking for a good place to stay on Penida. Volcano views, chic pool, great spa, floating breakfast, what more can you ask for!?
Broken Beach This was our first stop in Nusa Penida and our minds were immediately blown. It is even more beautiful in person than you could ever imagine.
Angels Billabong Located in the same area as broken beach, you can climb down the rocks to a beautiful natural infinity pool to cool off after hiking around the island all day. It's surreal and so, so beautiful.
Kelingking Beach This instagram-famous viewpoint is famous for it's stunning sweeping views of the rugged coast of Nusa Penida. The hike down to the viewpoint, however, is definitely not for the weary or anyone afraid of heights! This was a tough trek, but well worth it for the best coastal views in Indonesia.
Crystal Bay A beautiful local's beach, Crystal Bay is a calm diver's paradise and a pretty beach. A great stop in Nusa Penida. You can get there by land or by boat.
Floating off of the coast of Bali are three tiny islands adorned with white-sand beaches, crystal-clear turquoise water, swaying palms, horse-drawn carriages (yup, there are no cars or motorbikes!), and UNBALI-EVABLE sunsets. With a very relaxing sunny island atmosphere combining with a very lively party scene, the Gili Islands are the perfect paradise blend of buzz and bliss, and are a must-do if you have enough time to explore!
Gili Meno – Only 2km long and 1km wide, Gili Meno is arguably the most peaceful and remote of the islands. Home to far fewer accomodations and restaurants, this island is most popular among those looking for a very remote escape.
Gili Air– If a quiet bungalow, a chill beach bar, and remote relaxation is what you're after, Gili Air is the island for you. It's known as the more laid-back Gili island and is a haven for ex-pats, honeymooners and those wishing for a contrast to Gili T's wild reputation. Check out where to stay in Gili Air on this post here.
Gili Trawangan – Often dubbed "Gili T", Gili Trawangan has some of the best partying in Bali, giving the island a Spring Break feel all year-round. With plenty of hotels and resorts, countless beach bars and delicious seafood shacks, this island is the most hopping of the three– paradise for sun-seekers looking for a good time.
If you don't mind being away from the beachfront, Kelapa Villas is a beautiful option. Their villas are gorgeous and big (so a great place to stay for large groups on Gili T)
This spot is one of Gili T's most famous, with its beachfront location, pool and swim up bar. It's located right near the heart of town, where all the restaurants and bars are. And they have 1, 2, and 3 bedroom suites available on the property.
I stayed at Hotel Ombak Sunset on Gili T and it is a simple and wonderful relaxed island resort. From the huge pool (complete with amazing pillow floaties that made it hard to ever leave the hotel), to the amazing beach seafood buffets, to, of course, the famous sunset swings on the beach outside, this hotel is great for families, couples or groups of friends. The service was fabulous as well, with every member of the staff knowing us by name and saying hello at every corner. ( Hotel Ombak Sunset, Gili Trawangan )
By far and away the best place to stay on Gili Air's paradise island. Each villa is 2 stories and gorgeous, and a 2 minute walk from the beach.
Where to eat, drink, and watch the sunset on Gili Air
One of my favorite spots to watch the sunset in all of Bali!
For the iconic Gili Islands swing, definitely make your way to Gili Lumbung for sunset drinks.
East Bali
Where to stay in East Bali for a remote, gorgeous AirBnB experience
This Bali Airbnb is one of Bali's most famous, and most remote eco retreats. It's stunning, and usually sold out. Check rates for your dates here.
Transportation in Bali
How to get around Bali & how to hire a driver in Bali
The main modes of transportation in Bali are cars and motorbikes. While I'm way too scared to drive a motorbike on the windy Bali roads (but will gladly ride on the back of @KennyHaisfield's!), a ton of people do and love it when they're visiting Bali. It's about $5 a day and you can ask your hotel where the closest rental is to you.
If you have luggage or a big group, however, it's essential you have a driver to get around! (Especially if you're trying to see Ubud, Uluwatu, Canggu, the Gilis, and more all in one trip!) I recommend asking your hotel for a driver, or going to a driver stand (they're all over Bali) and if you like them, using them for your trip! They communicate via Whatsapp, and you should always negotiate the rate because they'll definitely try to give you a tourist price first. It should cost no more than $900,000 rupiah for a FULL day of driving (including waiting time, taking you from one area of Bali to the next, a full day of exploring). From the airport, it should cost about $350,000 to get from Denpasar to Ubud, or Uluwatu, or less if going to Seminyak or Canggu.
Packing for Bali
Check out my full post on What to Pack for Bali here, but I'll summarize the key things:
Medicines & vitamins
Mosquito-repellant spray ( I like using Repel – it's super-strength!)
Any medicine you take in original packaging
Any vitamins you take in original packaging
Activated charcoal (I love bringing activated charcoal to Bali to help fight against "Bali Belly" & any indigestion/stomach issues that come up while traveling! This is the brand that I always buy, I'll take a pill anytime my stomach isn't feeling 100% and it instantly makes it feel so much better)
Melatonin! I always travel with melatonin gummies to fight jet lag. I'll take them to sleep on the plane and then to adjust to the new time zone once I'm in Bali.
If you're coming from the US, you'll need a power converter and adapter! I like this one by Travel Smart by Conair because it also works for all my hair tools, and is a power converter and wattage adapter in one… and it comes with plugs for use all over the world!
Lots of swimwear!
You'll be surfing, beaching, sunset lounging, and taking lots of instagrams. Such a perfect excuse for grabbing a bikini for each day of the trip! Here are some of my favorites:
Cute, loose, flowy dresses and cover-ups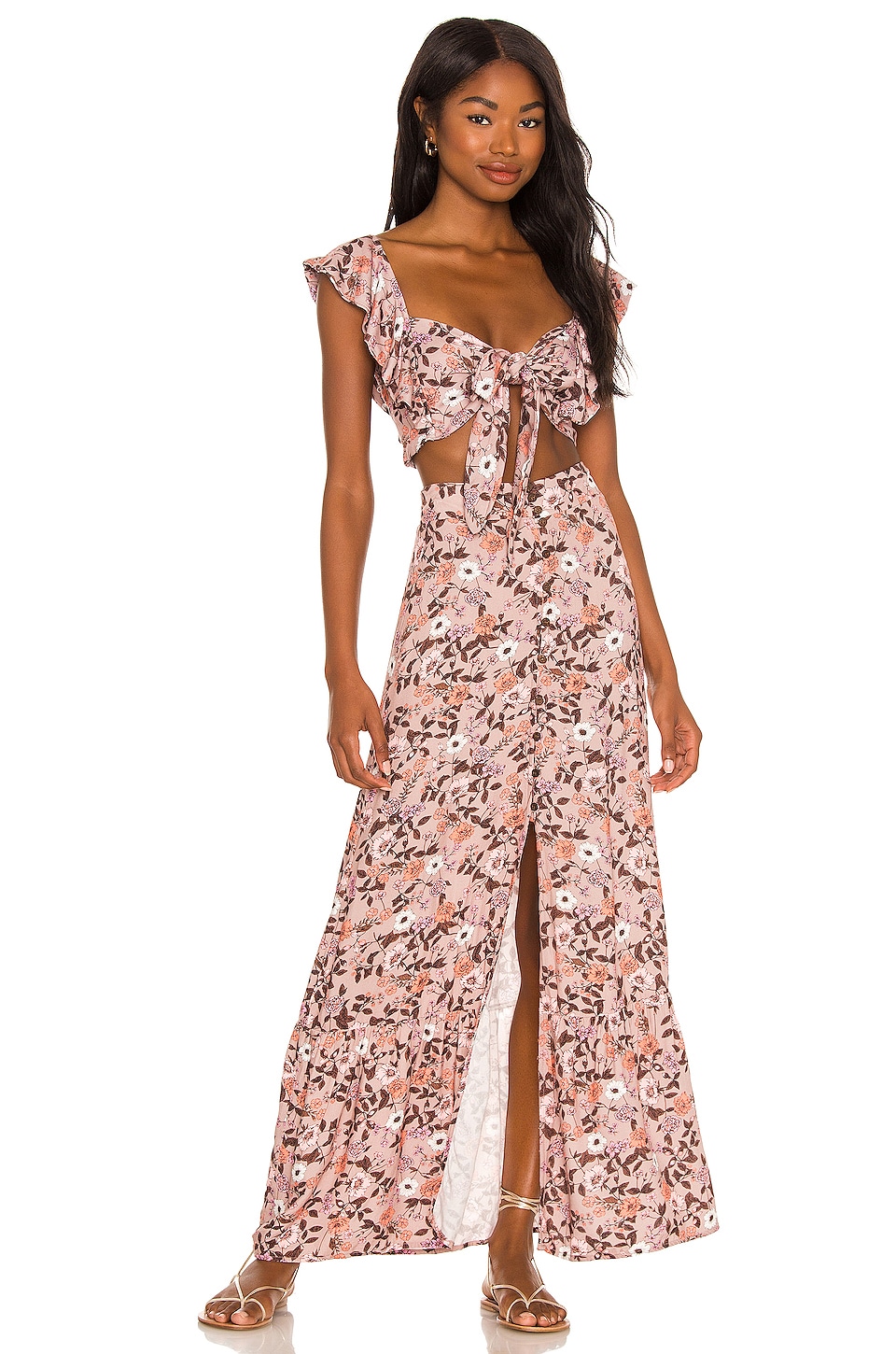 I'm always a fan of getting Travel Insurance for any big trip! Travel insurance from WorldNomads.com is available to people from over 140 countries and is designed for travelers with cover for overseas medical, evacuation, baggage and a range of adventure sports and activities.
Airbnbs vs. Hotels in Bali
Should we stay in hotels or Airbnb's in Bali?
Both!!! I love all the luxury resorts in Bali – but I also love all the beautiful villas that you can rent in Bali via Airbnb. There are some GORGEOUS (and affordable) Airbnb's and VRBO's in Bali (check out my post on the Best Airbnb's in Uluwatu here). It depends on the size of your group, and what you're looking for. Resorts in Bali are great because of all their facilities, beaches, restaurants, etc. But villas can be great if you want to just hang by yourselves, or have a group, and the nice villas often come with a chef!
The Biggest Mistakes People Make Traveling to Bali for the First Time: Mistakes to avoid in Bali for first-time travelers.
The Best Villas and Airbnbs in Bali
The Ultimate Gili Air Travel Guide

The most overrated things to do in Bali, and where to go instead
The Ultimate Ubud Travel Guide
Jetset Christina's camera and photography gear
The 10 Best Trips to Take in Your 20's with Friends