Hawaii Re-Opening October 15 – Here's Everything You Need To Know
I don't know about you guys but it's the news I've been waiting for since basically this whole quarantine started – When will the beautiful islands of Hawaii open up again and give us Americans the perfect post-COVID vacation destination? Well, we finally have a firm date from the government of Hawaii – OCTOBER 15, 2020.
Ever since March, Hawaii has taken an extreme approach to combating COVID-19, forcing a 14-day quarantine for any visitor of the island, and imposing strict fees and even arrests for anyone breaking quarantine. But that will end mid-October as they begin to implement their pre-travel testing program.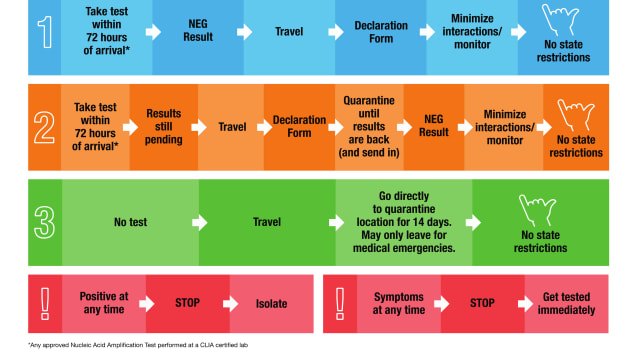 Here's what the State currently says about the type of tests it will accept:
The State of Hawaii will accept results from any FDA-authorized NAAT test, processed by a CLIA certified laboratory that is taken no earlier than three days before your flight arrival date. Currently approved trusted testing partners are: CVS and Kaiser Permanente. Trusted testing partners are entities that understand exactly what the State requires in terms of this program. Additionally, the state will accept test results from other sources so long as they meet the testing parameters set forth by the DOH, which are an FDA-authorized NAAT test processed by a CLIA certified lab.
If you're flying United to Hawaii, you're in luck.
United has said they plan to offer COVID tests for Hawaii-bound travelers at San Francisco International Airport as well as a mail-in testing option. Passengers booked on United from SFO to Hawaii, will have that option starting Oct. 15, and the passenger will be responsible for the payment (which is still being decided).
The results of the molecular tests, which will be administered by GoHealth Urgent Care and Dignity Health, take about 15 minutes and the tests will be conducted in the international terminal, a site the airport announced last month that at first was for airport employees.
The tests at the airport will be conducted prior to security checkpoints. Travelers who test positive for Covid-19 won't be allowed to fly.
United's Hawaii customers from San Francisco can also opt for a mail-in test, offered by Color, which would be conducted at home.
It seems like they're taking a note from Tahiti and Bora Bora's book (who have successfully been open since July with strict testing requirements, you can read more about my experience traveling to Bora Bora during the pandemic here)
I'm optimistic, but given how much they've pushed their date back, when and if we'll be able to get to Hawaii this year is unfortunately anyone's guess right now. I'd make sure any of your plans stay flexible – and if you're looking for an alternative to your Fall vacay, I'd recommend checking out my post on Where to Travel in the USA Right Now, or my post on Bora Bora and Moorea.
I'm really hoping they figure out a way to open up with testing requirements – as I think we could ALL use a little Hawaii sunshine right now.
If it DOES actually open, where should you go in Hawaii?
Summer and fall are great times to visit the Garden Isle, since it's its dryest season. Kauai is one of my favorite islands in the world – and reminds me a ton of Bali!!! If you're looking for an active, adventurous, lush island with some of the most stunning beaches in the world – this is your island.
or this airbnb with its oceanfront view in Poipu would be perfect for a couple looking to escape for a few days.
Big Island (Hawai'i)
I love the Four Seasons Hualalai – and their tropical rooms with outdoor showers and beautiful tropical plants remind me a little of Bali!
Check rates for your dates here.
Oahu

Located right in the heart of the downtown strip of beach in Honolulu – the famous & beautiful Waikiki Beach.
Remember the resort in Forgetting Sarah Marshall?! That's this one. It is also where the "7-Mile Miracle" of world-class surf begins, and the lineup is endless. With this as your home base, you can explore North Shore's shrimp trucks, pristine beaches, and plantation-style towns.

These are my two favorite hotels on Maui! They are both located in the desirable Wailea area of Maui. Andaz has a sleek, young, contemporary country-club-like ambiance and stunning oceanfront views, with 4 infinity pools, 2 restaurants, a full-service spa, and 15 acres on Waikapu Beach, and the Four Seasons Maui is one of the US's best properties – with a stunning infinity pool, beach cabanas, and an ultra-secluded, private atmosphere.
Or, if you're looking for a deal, check out airbnb rentals on Maui like this one.
Lanai
For the ultimate in seclusion, head to laid-back, romantic Lanai, where you'll find the dreamy Four Seasons Lanai –A secluded luxury oasis with 5-star restaurants like Nobu and Malibu Farm, and an out-of-this-world breakfast buffet that will keep you full until dinner! This is one of the most exclusive resorts in Hawaii, and is hands down a favorite for Hawaii honeymoons.

And don't forget a Hawaiian print face mask for the air travel to the islands to keep you extra protected on the plane!
Tropical face mask, $10, Kenny Flowers (and get the matching hawaiian shirt or kimono to match! #summerfashion)
Check out these other blog posts:
The ultimate Hawaii honeymoon guide
The best places to travel in the USA
The Ultimate Beach Vacation Packing Guide
The Ultimate Maui Travel Guide
The Ultimate Kauai Travel Guide