The Ultimate Travel Guide to Uluwatu
Uluwatu is my favorite area of the island of Bali. Uluwatu is off-the-beaten path, tropical and rugged beaches. But it's also chic, trendy sunset bars and day clubs. It's peak Bali.
Located about 45 minutes from the airport, and about an hour and a half from Seminyak/Canggu, the hilly limestone peninsula of Uluwatu is home to some of Bali's most scenic luxury villas and resorts, beautiful hidden beaches and world-class surf breaks, making it a mecca for surfers worldwide.
I recommend this breathtaking area of the island to everyone traveling to Bali – from couples, to groups of friends, to honeymooners. Here is your Ultimate Guide to Uluwatu!
There are 2 areas of Uluwatu which are my favorites to stay – The Bukit and Pecatu. They're pretty different, but, even if you stay at one, you can still get to the other pretty easily. It takes about 20 minutes to get from the Bukit to Pecatu and vice versa. (I'd recommend taxis or renting a motorbike to get around)
As far as which area is for you, it totally depends on what you want to do during your vacation to Uluwatu! If you stay in the Bukit, you have easy access to places like Single Fin, Ulu Cliffhouse, Bingin Beach, and, (in my opinion the best beach in Bali) – Thomas Beach. But, if you stay in Pecatu, you have easy access to places like Omnia Dayclub, Sundays Beach Club, and Oneeighty club at The Edge, and you have some of the most famous luxury resorts in the world.

The Six Senses is the newest luxury resort in Uluwatu – and it is one of the most stunning. Located on its own clifftop that feels like your own end-of-the-world oasis, this is the ultimate Bali Honeymoon luxury resort. It's also where I got engaged!! (which you can read more about here 🙂
Photo courtesy of Bulgari Resort – Expedia
This ultra-luxury resort in Uluwatu is absolutely stunning, and worth the price, especially for a Bali honeymoon! A roundtrip airport shuttle, a poolside bar, and a seaside terrace. Add in a private (breathtakingly beautiful !) beach, beachfront dining, and lots of places to relax in the sun, this hotel is the perfect romantic getaway in Bali. Treat yourself to a massage, a body treatment, or a facial at The Spa, the onsite spa. Be sure to enjoy a meal at any of the 3 onsite restaurants, which feature international cuisine and ocean views. Yoga classes are offered at the 24-hour health club; the property also has designer stores on site, a garden, and a hair salon.
Towering over the edge of the Indian Ocean on a cliff, The Edge hotel is insta-famous for its breathtaking glass-bottom infinity pool that jets out onto the coast 150 meters below. It is easily one of the most architecturally stunning pools in the world, but that's only part of the reason why this resort is one of the most sought-after places to stay in Bali. Each of the eight ultra-spacious villas that make up The Edge feature a private sundeck, a state-of-the-art entertainment systems with a private home theater, a well-equipped kitchen, a wine cellar, a cigar lounge, and a private butler.
If you're looking for the ultimate luxury experience in Uluwatu, you're going to want to stay here. The modern, eco-friendlyvillas at Alila are super-spacious and super-stylish. Each comes with a butler, private pool and a chic poolside cabana. You can get to a private beach but you'll have to descend over 600 stairs to reach it (typical Uluwatu!)– and then make your way back up again – so most guests choose to hang by the beautiful 50-meter pool instead, or retreat to the yoga center and spa. This gorgeous property is also a top choice for couples getting married in Bali.
If you're looking for the ultimate haven in Uluwatu, the Ungasan Clifftop Resort is, literally, next level. The Ungasan is perched atop a jaw-dropping limestone cliff with one of the best beach clubs on the island in the cove just below. This luxurious hotel boasts a collection of 7 luxury private villas, each hugging the clifftop with panoramic ocean vistas.
Nestled into the hillside of Pecatu, Hidden Hills Villas is a wonderful boutique collection of jaw-droppingly-beautiful villas inspired by different places around the world. It's luxurious, and tucked away from any hustle and bustle, making it an absolute oasis. Did I mention they do flower baths for you when you arrive?? HEAVEN.
This luxurious all-villa resort is famed as one of the best in Bali. Each sprawling pool villas at the resort are the ultimate in luxury with over 400 square metres of traditional Balinese architecture with panoramic Indian Ocean views as far as the eye can see. The resort is high up on a cliff, but there's a beautiful beach below the resort, as well.
Photo courtesy of Banyan Tree Ungasan
300 feet above the Indian Ocean, but with a private beach all its own, Karma Kandara is the epitome of Bali beachfront relaxation, and it's an amazing choice for a hotel in Uluwatu. Their private villas are surrounded by tropical gardens and feature stunning views, and their beach club (that you have to take a cable car to get down to), is one of the best in Bali (so much so that lots of others besides hotel guests come for the day and pay for a day pass!).
Want to stay near all the famous luxury dayclubs but not shell out a fortune on an overnight there? I love this little hotel for its central location in Pecatu. It's not coastal, but it's very affordable, the rooms are nice, there's a pool, and you're within spitting distance of places like Omnia dayclub and Sundays beach club.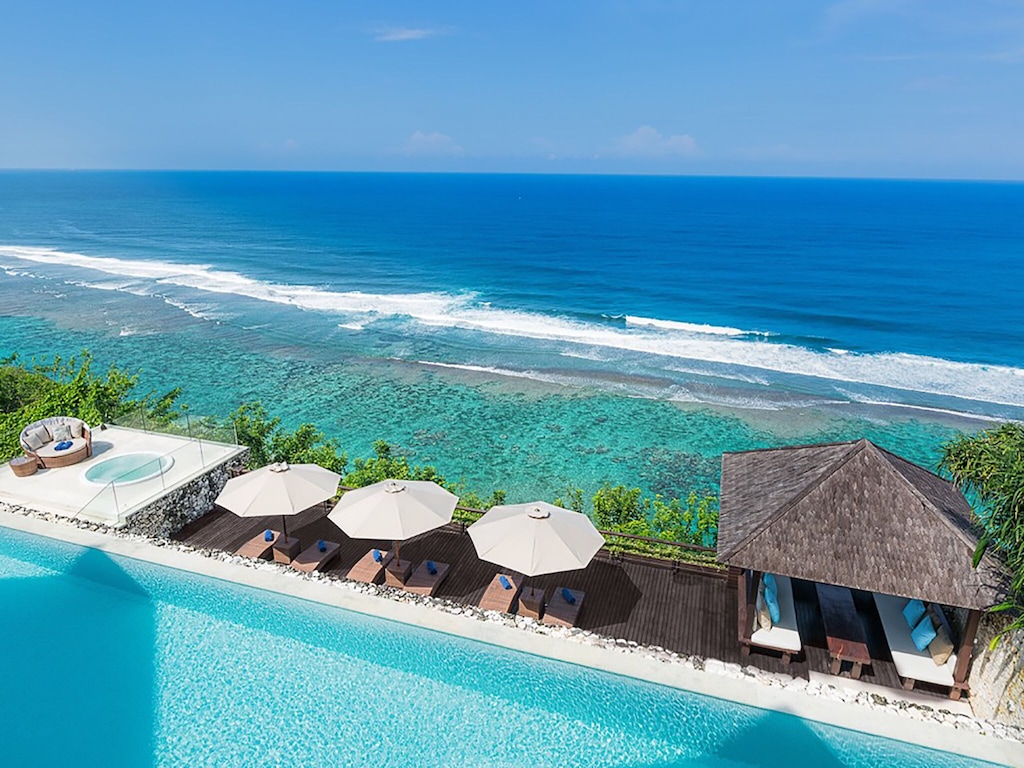 The Anantara is such a perfect place to stay if you're looking for budget luxury and relaxation in Uluwatu. This romantic hotel features cascading infinity pools overlooking the Indian Ocean, a delicious oceanfront restaurant, and an increeeedible spa!
This beautiful, laid-back gem is a great option if you're looking for somewhere to stay under $200 right on Bingin Beach. I love the location because you can walk right down to Bingin for the day, and take a short drive to one of the best places to watch the sunset (see below) at night. They can also organize an in-house masseuse to come to your room for $15 an hour if you're looking for a little afternoon R&R. Hello heaven.
I loved staying at this little boutique hotel because it is right nextdoor to Ulu Cliffhouse (a beautiful Bali beach club) and within a 5 minute walk to my favorite beach in Bali – Thomas Beach! The rooms are super affordable (around $100-$150 tops) for the location!!
Located steps away from Padang Padang beach is this beautiful and affordable gem. The price and locationmake it hard to beat – but you'll need to book in advance! This one is almost always booked solid in high season.

This insane villa on the cliff with beach club access – the most beautiful I've ever stayed in in Bali!
Omnia is one of Uluwatu's newest day clubs – and in my opinion, its best. Built by the same Hakkasan group behind Vegas's Omnia, this beautiful contemporary dayclub seems like it belongs more likely in Ibiza than in Bali, and I'll take it. The gorgeous modern architecture overlooks some of the prettiest views in all of Uluwatu. It's the first adults-only day club to hit the island, and features a swim up bar, a delicious restaurant, and VIP cabanas with their own glittering plunge pools. It's the perfect place for a group of friends to spend the day.
Omnia Bali has also started to feature world-famous DJ's for parties on certain days. But if the idea of a rowdy Vegas-ey pool party puts you off – just go on a weekday when the vibe is much more chill.
Sundays Beach Club
Sundays Beach Club is a part of the Ungasan but, even if you're not a guest, you can buy a day pass to Sundays just for the day to swim, eat, relax, paddleboard and enjoy their gorgeous beach and water activities. Also, stick around for sunset and you can do a bonfire on the beach!
Ulu Cliffhouse is a gorgeous multi-story beach club on Uluwatu's Bukit coast. The views are stunning. The food is outrageously good (order the lamb skewers and the burger!!)… andddd they have frosé. What else could you ask for?
Come for the sunset, stay for the after party.
Oneeighty at the Edge
The Edge hotel's dayclub – Oneeighty- is a perfect spot to post up for the day. Their food is delicious, and their views are impossible to beat. Not to mention their insta-famous glass-bottom infinity pool that jets out onto a cliff 150 meters below. It is easily one of the most architecturally stunning pools I've ever seen, and well worth a trip to The Edge.
What to do in Uluwatu:
Uluwatu Temple:
About a 10 minute drive from the Bukit, and 25 or so from Pecatu, the Uluwatu temple is a must-do while in Bali. The Balinese Hindus believe that this gorgeous sacred coastal temple protects Bali from evil sea spirits & that the three divine powers of Brahma, Vishnu, and Siva become one here. The temple's magic can be felt as you walk along the coastal path, taking in the breathtaking views and beautiful Balinese culture!
JETSET TIP: There are hundreds (yes, hundreds!) of monkeys that hang out here… they are very cute but they are very mischievous! They will steal your sunnies, your purse, phone, camera anything! So make sure you keep a hand on all your belongings at all times!
Head to the beach!
My favorite beaches in Uluwatu are Bingin Beach (post up in front of Kelly's Warung for the day), Padang Padang Beach, and Thomas Beach. Thomas Beach is a hidden gem, and it doesn't even come up on Google, which is why I wrote a blog post all about how to get there here.
The Best Places to Watch the Sunset in Uluwatu:
If you're staying in the Pecatu area, you'll most likely want to head over to the Bukit to watch the sunset (since it sets on the other side) but some of the properties on the east of Uluwatu still get some great sunset colors (like Sundays Beach Club!)
This beautiful bar and restaurant is hands down my favorite place to watch the sun set in Uluwatu. In fact, I'll go so far as to say it's one of my very favorite bars in the world. Single Fin is also famous for their epic Sunday night parties – which turn their four outdoor stories into one big dance party that pretty much all Bali expats and tourists travel near and far to be a part of.
Where to eat + drink in Uluwatu

Nalu Bowls
I've confessed my undying love for Nalu Bowls many, many times on this blog (and almost daily on Instagram stories) These smoothie bowls are just so. dang. good. They have multiple locations throughout Bali, and every time I'm in Uluwatu, this is my go-to breakfast.
Another one of my favorite spots for smoothie bowls or casual beach food. Kelly's Warung, a cafe on the best stretch of Bingin Beach in Uluwatu, is the dreamiest place to have a Bali meal. And their frozen dragonfruit bowl is to-die-for, as are the views and general laid-back Ulu vibes of this place.

Single Fin
When it comes to dinner in Uluwatu, I almost always do Single Fin. You can watch the sunset and munch on high-quality contemporary comfort food like pizzas, salads fish and chips, and more.
The extravagant food at sky-high Omnia dayclub matches the luxe atmosphere…. and it's so, so good. Eat dinner at their Sake No Hana restaurant and dine on food fresh off the charcoal grill, toban and kamameshi dishes, and sushi and sashimi prepared-to-order at the sushi bar.
Traveling to Bali soon? Check out my other blog posts on the Island of the Gods!
The Ultimate Bali Honeymoon Guide
The Ultimate Bali Travel Guide
5 Easy Tips for Taking Better Vacation Photos
*Please note that this post contains affiliate links to some hotels! If you choose to book one of the hotels I recommended, I would so appreciate you using these links to do so! An affiliate link basically just means that at no cost to you at all, I get a small kickback from the booking site for bringing them your business! I never recommend any hotels that I don't 100% LOVE & think you will, too! If you have any questions at all, please see my advertiser & affiliate policy page here.