Travel Tech : 5 Reasons Why I use TripActions to Book My Travel
I love featuring travel tech companies on JetsetChristina that are changing the way we see the world. Travel is getting better, and easier, because of innovative apps and market-disrupting travel technology. And I think it's SO important to highlight companies like TripActions that are making big waves in the travel industry.
Have you guys heard of the TripActions app? They make business travel simpler and easier, and power in-person connections to drive business growth.
I'm a big believer that when you're traveling on a work trip or for a big project, it's important to show up as your best self. And that means having the right travel platform to organize your flights, hotels, and transportation, with 24/7 global support to make sure nothing goes wrong on your trip. And, while they can't help you fight jet lag, TripActions does just about everything else to make the entire travel experience is seamless.
photo via AdWeek
Here are 5 reasons why I've fallen in love with booking my travel on the TripActions app:
It's faster than booking travel on any other platform
You guys may not know this, but before I was a full-time travel blogger, I was traveling a ton for work, and utilizing sleepy, antiquated corporate travel platforms that were literally a nightmare to work with. Now, l travel for business (and pleasure) over 300 days a year, and that means I'm booking a lot of flights and hotels.
The travel industry standard is that it takes over an hour to book a single flight. With TripActions, the average travel booking takes 6 minutes. That's 54 more minutes of your life back to get that project done, empty your email inbox, or catch up with a coworker over happy hour. Do you.
When travel goes awry, they fix it before you even knew it happened
Traveling as much as I do means that often I'm dealing with travel mishaps – whether a flight gets delayed, cancelled, or my travel plans get changed last-minute. Before I started using TripActions, I can't tell you how many times I've ended up on hold with awful customer service representatives trying to switch a flight. It always ends up time-consuming, and expensive – a total nightmare! TripActions changes all of that with its 24/7/365 REAL LIVE support staff available by phone or, even easier, by chat. And they'll usually notice before you do if there's a delay or flight change, and fix your itinerary accordingly.
It's a sense of peace of mind every time I book with TripActions, because I know they have me covered if anything goes wrong.
It's sleek, fast, and easy to use
TripActions is a user-first app. Even though it's a business travel app, you can book your personal travel on it as well, and the app itself has all the tech features consumers are used to HAVING, and feels natural when you're using it to search for flights, hotel, car rentals, train tickets and more.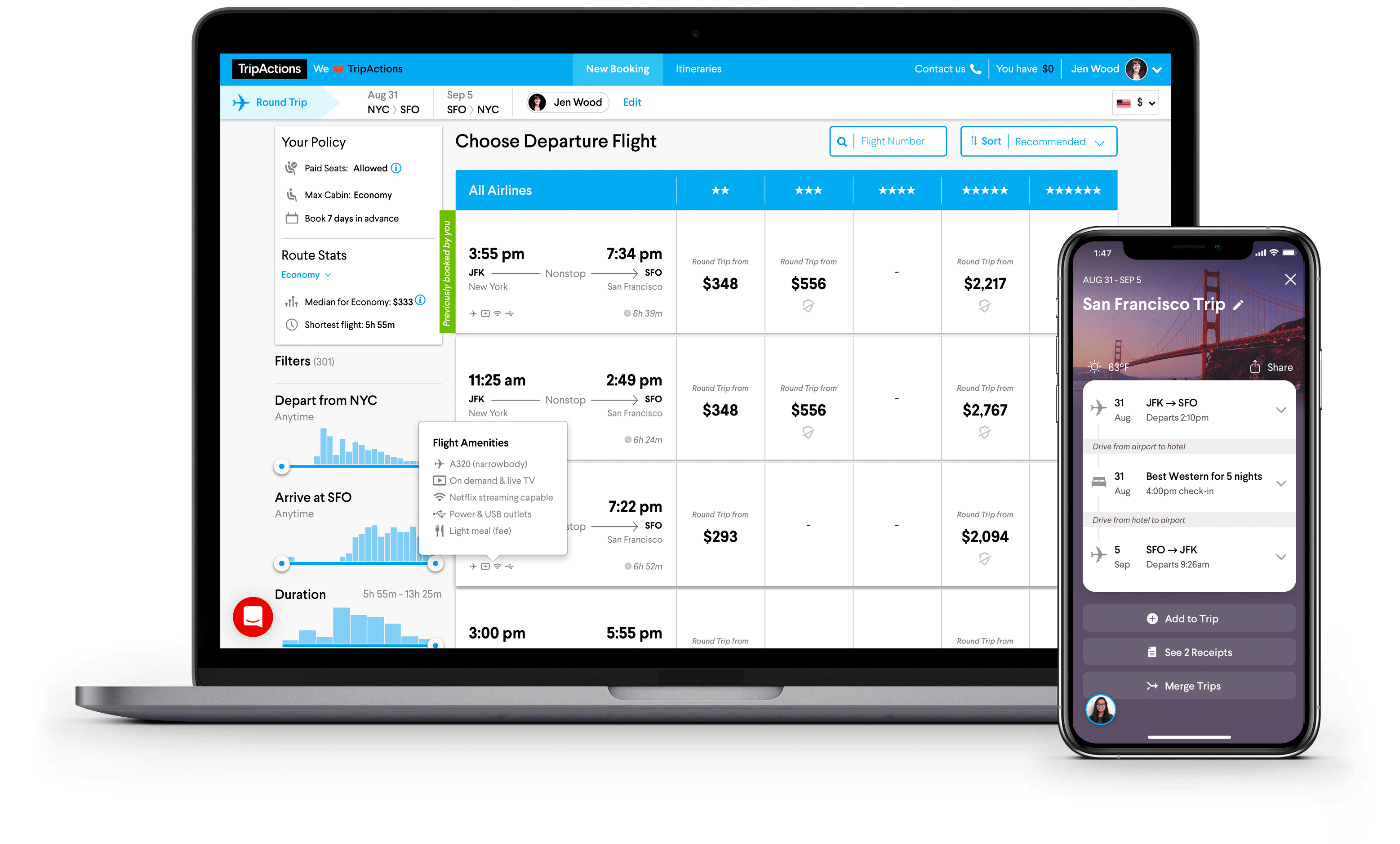 TripActions is personalized, and uses AI learning to make every business trip better
We all know that in order to arrive to a business trip at your best, you need to have a smooth journey to get there. I love that TripActions uses AI and machine-learning to get to know your profile on the app – the app will learn about you over time, memorizing things like your rewards programs, seat preferences, global entry, and making it faster and faster for you to book a flight.
You earn personal travel perks by booking business travel
Earn huge perks when you travel for business by booking your travel on TripActions. The app incentivizes travelers (and businesses) for rewarding savings – every time you select less expensive options for hotels or cars, you get rewarded in TripActions Rewards that can be redeemed for personal travel (a trip to Bali, anyone?), business travel upgrades, or Amazon gift cards.
In a remote world, it helps me get face-to-face time, that makes a huge difference for my business
Running JetsetChristina and Watercolors from wherever I'm traveling to at the moment means that I'm managing a remote team, on many different time zones, working on many different projects, from around the world. Without meeting people face-to-face, it's easy for projects to take longer than they should, or for the people who work for me to not feel a personal connection to me or the brand. It's the in person connections that help build business relationships. After all, we all know how much better work problems become over a couple glasses of wine at happy hour.
TripActions helps me prioritize business travel and move my ideas forward, quicker, and better.
How do I get TripActions?
Talk to your company about getting TripActions! And read more about it here. TripActions is one of the fastest growing companies in the travel space, and is tailored for large enterprises across many different industries. Some of their current customers are companies like WeWork, Lyft, Dropbox, Lime and Scoot. Many of the companies that they work with are innovators and other brands on the cutting edge of technology.
Also, if you're in the San Francisco Bay Area, check out their Travel & Tech Festival coming up – TRAVERSE 2019!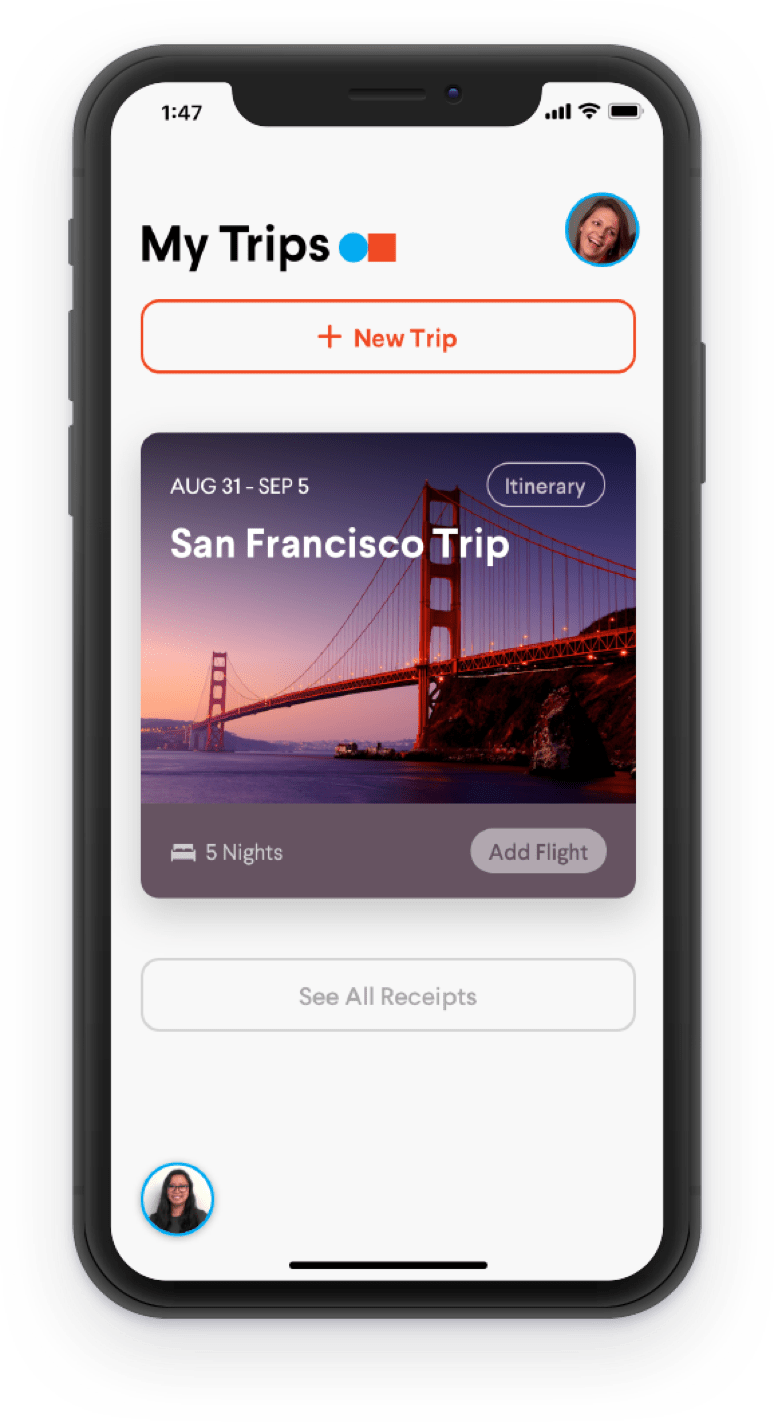 *This post was sponsored by TripActions, after I tried and used the product. As always, all opinions are my own and based on my own personal experiences with the app! I would never, ever write about anything here on JetsetChristina that I didn't feel would make your travels better. If you have any questions about my advertiser & affiliate policy, see this page here.