Napa vs. Sonoma: Where You Should Visit in California Wine Country Between Napa Valley and Sonoma County
Napa vs. Sonoma : Which part of California wine country is right for your next vacation? These two gorgeous areas of wine country are buzzing with amazing food, stunning countryside, and of course, great wine. Separated by only a mountain range, you'd think Napa and Sonoma would be somewhat similar, but, like any siblings, these two beauties could not be any more different.
But what makes them so different? And should you do both Napa and Sonoma in one trip? In this post, I'll break down all my favorite parts of each area of California wine country, and just what makes them SO different, so you can choose the trip that's right for you.
If you guys have been following me for awhile now (especially on Instagram), you know my undying love for good wine. I can almost always be spotted with a glass of (buttery) chardonnay in hand, and if you invite me over I will 100% be bringing my favorite California pinot noir or Cab Sauv. Growing up an hour from Napa Valley and the Sonoma Coast afforded me the ability to go California wine country a ton. I have memories being a little kid and getting served grape juice at a wine tasting – and I loved it. You better bet I swirled that grape juice and pretended like I knew what I was talking about. Napa must have known they were already wrangling in their biggest lifetime customer, at age 6.
Before dating me, my fiance told me he had never been to Napa Valley or Sonoma. He had never even done a proper wine tasting! Don't worry guys, I didn't end things right there. But in the first year we dated, I took him to wine country not once, not twice, but SIX times. Three romantic weekend getaways, one harvest party at one of my favorite wineries, and two very fun day-drinking party buses to Napa with friends from San Francisco. Six times is more than most people get to go to California wine country in their lifetime, but I was set on showing him just why Napa and Sonoma are two of my very favorite places in the world.
And now he loves them just as much as I do.
I truly think you don't understand wine until you've toured the wineries, learned how wine is made, and just how much talent, perfectionism, art, passion, and luck, goes into creating the "perfect" bottle of wine.
Learning about the process, the history, and the winemaking culture in Napa and Sonoma makes you appreciate the bottles you love even more, and gives you a story behind the brand you choose to buy. For me, wine is always connected to experiences. Whether I'm bringing a bottle of my go-to chardonnay (Rombauer, or Du Mol if I'm feeling real fancy) in my suitcase to Bali, or opening up an aged Cabernet Sauvignon to celebrate a milestone (we drank an incredible bottle of my favorite Nickel and Nickel 2007 Cab after we got engaged this year), or popping a bottle of celebratory champagne with a friend to celebrate her new job, new apartment, or engagement, a nice bottle of wine is always an important part of my favorite life moments.
And the reality is that there is no such thing as a "perfect" bottle of wine. It all depends on your tastes, and what YOU love. And we all taste different things! While I may taste red berries and jam, you may taste 'wet slate' or "damp forest floor" (one of my favorites I've been hearing more and more lately). By the way, if these descriptions sound funny to you, watch the Netflix Documentary series SOMM – it's amazing.
I know what you're thinking, "OK enough about your love affair with wine, Christina, let's get to the good stuff – the SONOMA VERSUS NAPA SHOWDOWN!!"
I want to go to California wine country – but I keep reading Sonoma is better than Napa, or Napa is better than Sonoma, and then I hear about other areas like Healdsburg and Calistoga, where the heck should I go?
I don't discriminate when it comes to wine countries. Every wine country in California, and around the world, offers a different type of experience for every type of wine drinker and wine tourist, and, depending on my mood or the type of trip I'm going for, I'll go to a different region of wine country! Sometimes, I'm in the mood for the casual no-frills tasting experience of a region like Paso Robles, California, or an all-frills, over-the-top glam experience in Napa Valley, or a group fun experience in the Funk Zone in Santa Barbara, or the farm-to-table freshness of tasting wine and pairing it with appetizers in Sonoma County. There's something for every one, and every type of trip in California, which is why I wanted to break down one of the biggest questions I get all the time…..
When most people around the world say they want to plan a trip to Napa, they most likely are generalizing the entire California wine country of Napa, Sonoma, Calistoga, Healdsburg, Russian River Valley, Sonoma Coast, etc etc into one single region, which is totally fine. But when it comes to actually planning a trip to Napa Valley for the first time, you start to realize how far apart certain areas are, and how different they all are!!! And the fact that if you really want to get a feel for California wine country, you may want to split your time in a few different areas of the region. So which areas of Napa should you go to?
Summed up, Napa is full of elite wineries, grand tasting rooms, trendy restaurants, and globally-known, international wine brands. Whereas Sonoma County counters with a laid-back atmosphere, farm-to-table restaurants, small, family-owned vineyards, and much more affordable up-and-coming wine brands. Comparing the two regions is like comparing two flavors of ice cream. They're both great. It just depends what you're in the mood for.
"Sonoma County is a study in contrast: It's historic, yet forward-thinking, innovative yet traditional, and coastal yet mountainous. The most dynamic and risilient wine region in America right now, it's as complex as its outstanding wines." – Wine Enthusiast, 2019
Sonoma County is incredible. It is one of the most diverse wine growing regions in the world, and was even recently recognized as Wine Enthusiast's 2019 Wine Region of the Year. Not only is it home to some of the best and most complex wines in California, it is also one of the champions of sustainability in the wine world – and amazingly 99% of the vineyards in Sonoma County are certified sustainable. The vibe of Sonoma County is understated yet sophisticated, with a focus on agriculture and farm freshness in both their food and wine (most of the food you get throughout wine country comes direct from Sonoma County)
Go to Sonoma over Napa if you want:
Variety. In both the types of wineries, types of wine, and things to do! In Sonoma Valley and Sonoma Coast, you'll find so many different wine varietals to taste, whereas Napa is mostly focused on Cabernet Sauvignon.
No-frills. If you don't want or need the grandeur or the glam of Napa, and prefer family-owned, farm-style wineries that are more about the wine, and less about the tourism, you'll love Sonoma.
The Coast. Sonoma also has the coast!!! (head over to Bodega Bay for the day, hike the coast, or maybe make a stop in the Marin headlands if you're coming to Sonoma from San Francisco).
This would hands down be my pick of where to stay in Healdsburg! It's one of wine country's newest properties – just opened in 2020, and I think it may be my favorite in ALL of California wine country! With 2 gorgeous pools surrounded by vineyard views, and modern, sophisticated, refined rooms overlooking the vines, it's hard to beat a stay here. I also LOVED the restaurant – Hazel Hill. If you're looking for the ultimate luxurious place to stay in Sonoma, this is your spot.
View this post on Instagram
Farmhouse Inn
For a tucked away gem, check out Farmhouse Inn – an understated, five-star inn in Forestville, Sonoma County, with all the right luxuries you need for a perfect wine country getaway. Think: Michelin star restaurant (amazing!!!!), complimentary s'mores and fire pits, a jacuzzi, a heated pool year round, and adorable wine country bungalows with the most comfortable beds you can imagine! I also loved that Farmhouse Inn is only a 10 minute drive from some of the most DELICIOUS wineries in Northern California – Flowers, Gary Farrell, Twomey, etc! You're also only 20 minutes from Healdsburg, another of my favorite regions (which you can read all about my vacation in Healdsburg and what to do in Healdsburg here)
For a bigger hotel in Sonoma, I also love Fairmont Sonoma Mission Inn, which is closer to downtown Sonoma, and a great spot to base for a wine country vacation. They have an amazing spa, and a great pool open year round.
Where to wine taste in Sonoma:
Flowers Winery – beautiful tasting room with insta-worthy outdoor cabanas and indoor spaces – brand new!! And one of my favorite wines ever. Love their chardonnay and Pinot. They also have an amazing chef and do great farm-to-table food and wine pairings.
Jordan Winery – I have always loved Jordan Winery, and all of their wines (champagne, cab sauv, and chardonnay!) It's one of the most beautiful wineries in Sonoma and they put on a great tasting and tour. It's a must-do in Alexander Valley.
Gary Farrell Winery – Delish pinots in a beautiful setting overlooking the Russian River Valley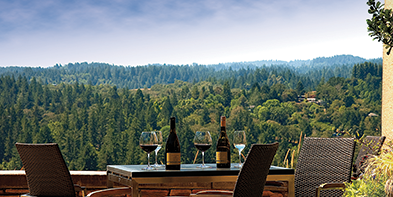 Domaine Carneros – always one of my first recommendations for someone new to Napa and Sonoma. This place is gorgeous, and they make delicious champagne!
What else can you do in Sonoma besides wine taste
Drive to the coast and explore Bodega Bay
About 45 minutes from Sonoma is Bodega Bay, a gorgeous stretch of the Pacific Coastline and home to some amazing hikes and seafood!
You can also spot whales off the coast all year long, (more October through February, when gray whales are southbound from Alaska to Mexico, and February through April, when they reverse course).
Wearing my go-to Alo Yoga set

Shop my workout set here at Alo
Be sure to stop at Spud Point Crab Co. for lunch, too – it is a super casual crab stand in Bodega harbor with literally the best crab sandwiches, clam chowder, and crab salad I've ever had in my life. The line is always out the door. It's amazing.
Brewery hop in The Barlow in Sebastopol
Tired of wineries and need a change of scenery (and beverage)? Head to Sebastopol for a super cute afternoon in The Barlow district. It's full of great food (check out Fern Bar!!!), and great wine tasting rooms and breweries. I loved Crooked Goat and Woodfour Brewing Company – they had amazing sour beers!
Get the most delicious cheese ever at WM Cofield in Sebastopol
You can actually watch the cheese get made at this awesome stop in Sebastopol's The Barlow. (Spoiler alert: Good cheese comes from happy cows and super-clean, organic milk) The cows they use at this cheesery (is that even a word?) come from 120 years of family owned business in Petaluma, and if you stop by on a Wednesday, you can see them making the cheese. If you miss that, they're open Friday, Saturday and Sunday for cheese tasting and the cheese shop (where you can chat with the master cheesemaker himself!)
Where to eat in Sonoma
Boxcar Fried Chicken & Biscuits – This is a great lunch spot in Sonoma, and is one of the first stops you should make if you're coming in from San Francisco, since it's on the way. It is right by Domaine Carneros, so is a great spot to go eat before or after tasting there if you're in this area. It's also on the way from SF to Napa, making it the perfect pit-stop. I love Boxcar on a nice day because they have a big outdoor area and the food is so, so good. The vibe is southern and delicious – they have fried oysters, fried chicken (of course), amazing milkshakes, as well as salads and sides, but you can't go wrong with their famous fried chicken & waffles… SO good.
With over 390 physical wineries, that produce over 1,000 brands of wine, Napa Valley is the king of California wine country. The scenery in Napa is almost as spectacular as the wines the region creates. Wine Spectator may have said it best when they said:
"Napa's natural beauty puts it on the scale of a national treasure such as Yosemite, though with verdant vineyards taking the place of booming waterfalls."
Go to Napa over Sonoma if you want:
Glitz, glam, five-star hotels, Michelin-starred restaurants on every corner, huge castle-like wineries, and blow your mind Cabernets. Go to Napa over Sonoma if you love great wine, and don't mind splurging on tasting fees.
Where to wine taste in Napa Valley:
When wine tasting in Napa, it's a good idea to start on one end of the valley and taste your way to the other along Highway 29 or the Silverado Trail; two roads that run north-south parallel, and house some of the best vineyards in the country.
Here are some of the best wineries in Napa:
Inglenook – A splurge of a tasting that, in my opinion, is completely worth it if you're only in Napa once. this is Francis Ford Coppola's winery and is a beautiful property with fantastic wines. My favorite? The Rubicon. Incredible bottle.

Grgich Hills – Fantastic wines in a great atmosphere. Mike Grgich was the winemaker at Chateau Montelena in the 1970's and soon after his famed win of the Paris Tasting, he went off to create his own label. He and his croatian family are fantastic and it is immediately evident that this winery is run with the love and care of a family-run venture.
Promontory – One of the most expensive and exclusive tastings in the Valley, Promontory is worth every cent. This STUNNING property sits on just one tiny part of owner a Bill Harlan's more that 900 untamed, rugged acres of land dubbed "Napa Valley Territory". The family only began growing grapes here (on less than 10% of the land) in 2008, and immediately knew they had something special. Promontory wine makes less than 2000 cases of this Cabernet magic , most of which are only available at the winery itself, that just opened last summer for private tours only.
If you're looking for a Napa valley wine and tasting experience to truly blow you away, this is it.
Caymus Vineyards – Great wines! Some of my favorite in Napa. And a super picturesque outdoor tasting area during the warm weather months. I love all of their wines, but their pinot noir (Belle Glos) is one of the most famous around the nation.
V. Sattui Winery – This lovely winery is perfect for a picnic during your Napa wine tasting day. It's right near Dean & Deluca so one of my favorite things to do is grab sandwiches to bring to the picnic tables at V. Sattui. Their tastings are affordable and the fact that you can bring your own food in makes this a fantastic lunch & wine spot.
Chateau Montelena– This gorgeous ivy-covered chateau was made famous for beating out the French in the Paris Tasting. Their wine is delicious, and the estate is gorgeous. Tastings starting at $25. Vineyard tours are $40 and require reservations. You can stop in the tasting room without a reservation, or make a more intimate limited release tasting reservation in their library for $50.
Nickel & Nickel– As members of this winery, we go to all of their parties and have had the opportunity to taste here and take the tour many, many times, but every time is better than the last!! I can't imagine Napa without this little country winery, and I hope you'll love it. The tour is $65/person, and requires reservations.
Rombauer– My go-to chardonnay (you can buy online here). I always come home with at least a few bottles from here, and they don't make it a week in San Francisco before they're gone. Great spot for a casual, pop in tasting. Starting at $20 for a flight.
Opus One Winery – This is one of the most globally recognized names in luxury wine. Wine tasting here is pricey, at $45-$60 a glass, but it's such a bucket list Napa winery! So gorgeous… and incredible wine. Make sure you head straight to the terrace once you get your glass! Some of the best views in Napa.
Castello di Amorosa– this Napa winery is a castle, literally. It's a beautiful spot, and one of my favorite places to bring newcomers to Napa. Tastings starting at $20.
Sterling – Sterling is famous for its over-the-top gondola ride to their tasting room! A great spot for out-of-towners to get a view of the vineyards. Tastings start at $29.
Beringer– This pretty winery is a great first tour for Napa newbies. They will teach you how to taste wine, pair it with cheese, and the nuances behind each sip. I love the barrel tasting tour because you get to taste directly from cabernet in an aging oak barrel. Very cool!
Where to stay in Napa Valley
In Napa you'll find the most luxurious, expensive resorts, but there are some middle-ranged ones (in prime locations) as well! Here are some of my very favorite places to stay when I'm in Napa Valley:
Located in the drop-dead-gorgeous rolling hillsides of Rutherford, California. No one quite does Napa Valley luxe like the Auberge.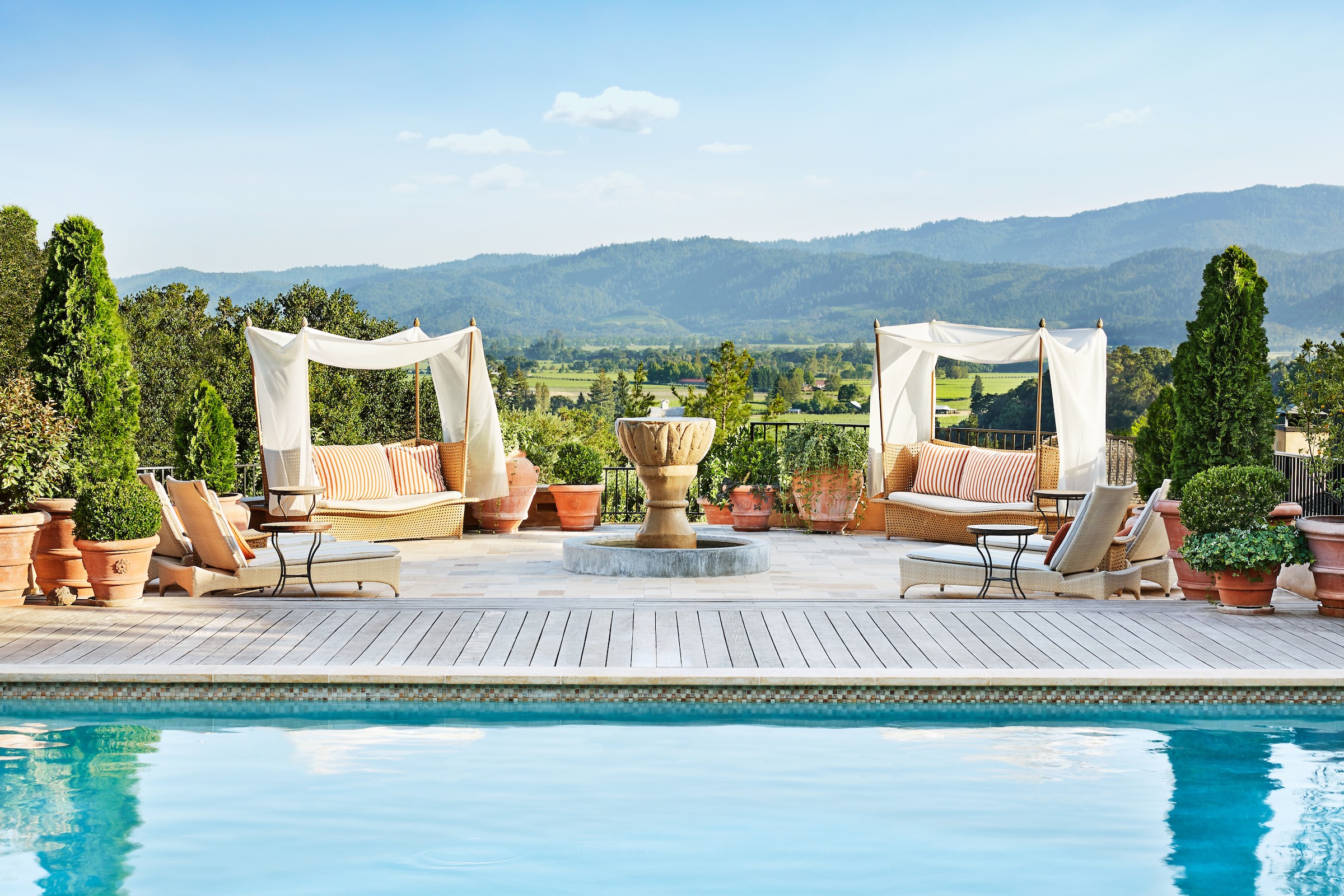 Alila Napa Valley
This luxury collection resort is Napa Valley hotel goals. It's in Saint Helena – one of my very favorite areas of the valley (and where many of the wineries I mentioned above are!) and each room has a dreamy terrace that looks out onto the vineyards and onto THIS view.
Usually my go-to in wine country. This French Chateau-styled hotel has all of the things I love… Fireplaces in the room, a complimentary bottle of wine upon arrival, free champagne breakfast buffet…. and the delicious waffles I crave ALL the time! I think if you're looking for the perfect Napa experience, Yountville is where you want to be. It's an adorable small wine town with the best restaurants (Bottega, French Laundry, Bouchon, Bistro Jeanty)
This resort, complete with tennis and a gorgeous golf course, is a great option for staying overnight in Napa. Just off the Silverado trail (where many of the wineries I mentioned are), it's the perfect location for your getaway. Silveradoresort.com
Napa is great any time of year. I've been in the sunshine and I've been in the rain and it is always a beautiful getaway. And, located just an hour outside of San Francisco, it's easy to combine these two amazing places into one trip. If you have any questions, let me know!
If you're looking for a nice, affordable hotel in Napa in the perfect location – this is it. If I'm going up for a weekend or a quick one-night Napa getaway, this is always where I stay. It's right in the right location (only a 10 minute drive from Yountville, Saint Helena, and most of the wineries I love to taste at), and the rooms are simple, modern and wonderful, each with its own fireplace! The complimentary breakfast is also amazing.
Where to eat in Napa Valley
Bottega– This spot in Yountville ranks right up there with my favorite dinner spots anywhere. Celebrity chef Michael Chiarello brings his top notch chef skills to this amaaaazing contemporary californian-italian restaurant in an atmosphere so uniquely Napa. Check out their incredible wine list and think of me when you order a glass of Nickel & Nickel merlot. The Nickels are great friends with Bottega, and it's actually where I had my very first glass of my now-favorite wine.
RH Yountville – This chic new contemporary restaurant in Yountville is an instant favorite. Each table is adorned with an over-the-top chandelier, and the beautiful ambiance and decor is matched with the delicious menu. Order the crispy artichokes, the burrata, and definitely try their signature bellini! I also recommend going a little early for a drink at their bar – it is adorable! This is the perfect date spot in Napa.
Farmstead– This farm-to-table restaurant in Rutherford is an amazing spot, and my go-to every time I'm in Napa. Think all-american food with a contemporary California twist. I always start with the grilled artichoke appetizer or the meatballs, and I recently had their barbecued ribs with mac and cheese (amaaaaazing). You can't go wrong with anything on their menu. And save room for dessert here because it is delicious! Another one of my favorite things about this place- their outdoor bar area with fire pits at night. Not to mention wine on tap. Because, Napa.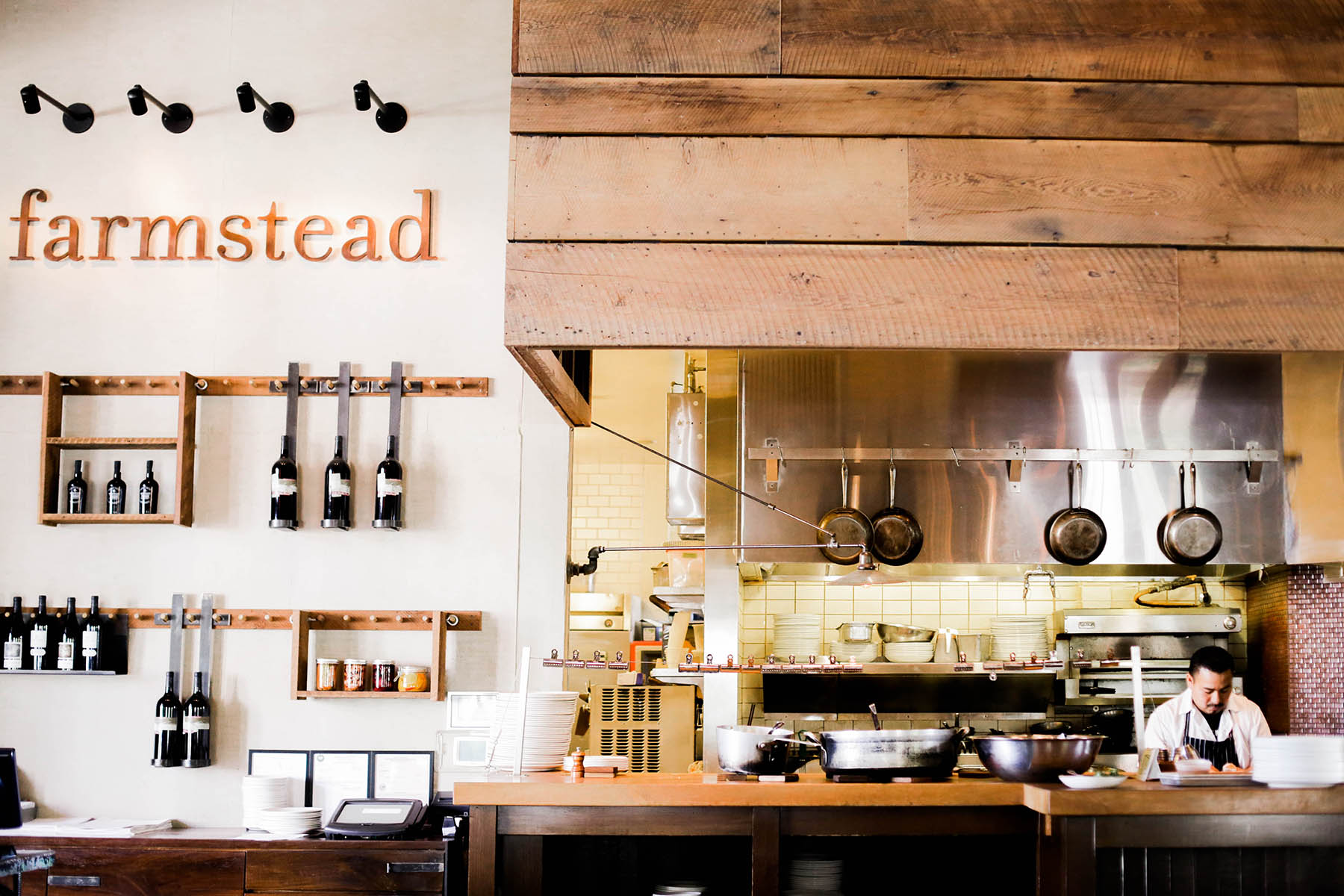 photo via advicefromatwentysomething.com
Mustard's Grill – A greeaaat spot. This restaurant has been serving up American food to Napa locals and visitors alike for over 30 years. Many people's favorite place for dinner in Napa Valley.
Redd Wood – Full disclosure: I was quite tipsy on wine when we finally stumbled into Redd Wood for dinner. But I wouldn't have it any other way. This place is great. We had a huge round table with our group of 10 people, and were surrounded by the coolest atmosphere. Rich, dark wooden walls, a cooly lit up bar with dozens of single light bulbs lining it, like a starry night. The modern doors are trimmed in chic, black metal and the whole restaurant is an interior designer's dream. Our wine-drunken selves loooooveed (and devoured) the gourmet pizza they are famous for (although their small plates are also superb).
The French Laundry – I have not yet had the opportunity to eat at this world-famous Napa restaurant. But, I have walked by their beautiful organic gardens and often dreamt about eating there one day!!! Their menu is a 9-course tasting menu complete with wine pairings, and, word on the street is each person has their own waiter. Talk about a dining experience unlike any other.
When is the best time to visit Napa or Sonoma?
I love to recommend Napa and Sonoma to people as a honeymoon destination, romantic getaway, or the perfect escape any time of year (seriously how many destinations are as beautiful as Napa is in the pouring rain, the blistering sun, the crisp cool, or anywhere in-between)?! I truly recommend going any time of year.
February is mustard season which is so beautiful, harvest season in Napa is amazing (August-October), becuase it's when the region is buzzing and winemakers are picking their grapes for the next vintage. Sonoma or Napa Valley in May is beautiful to avoid the summer crowds, and September through October is some of the best weather you'll get all year.
What to Wear in Napa + Sonoma:
Shop these dresses:

How great is this cork print Napa hawaiian shirt?
What to Wear Poolside in Wine Country:
You can wear this chic blue and white print bikini anywhere but if you look closely you can see the grapes and vines in the print!! Perfect Napa bikini for the wine lover.
What should I pack for a trip to Napa or Sonoma?
It depends on the time of year! Check out my packing guide for Napa by season here, or click to shop any of the outfits below!


I'm a big fan of bringing
a wine carrier
to tote around my new bottles that I buy while I'm in wine country (did you know you should NEVER leave your wine in the car? Especially in the Napa heat in the Summer!)
And, if you're planning on bringing any wine home with you in your suitcase – you're definitely going to want to stock up on these! I use them all the time for packing wine for travel in my suitcase, and they are AMAZING!
Another thing I always have with me in my purse is my Wine Wipes – these keep your teeth from getting stained from red wines and keep them nice and white even after a full day of wine tasting! I'm obsessed.
I like to pack a cooler if we're driving from winery to winery full of some water and snacks so I don't get too hungry when bouncing from winery to winery (and lots of ice cold La Croix).
Which team are you? #TEAMNAPA or #TEAMSONOMA? Let me know in the comments below!!!
Pin this post!
Check out my other related posts:
The Ultimate Napa Valley Travel Guide
What to pack for Napa Valley or Sonoma
The Ultimate Sonoma Travel Guide
the ultimate Napa bachelorette guide
What's open for outdoor tasting in Napa right now
A Weekend Wine Tasting Guide to Healdsburg, California
Where to Stay In Wine Country: Hotel Les Mars Healdsburg