The Ultimate Ubud Travel Guide – Where to Stay, Eat, and What to Do in Ubud Bali
Is there anywhere more magical IN THE WORLD than Ubud, Bali? If you're traveling to Bali for the first time, it's hard to put this place into words. If you've been to Bali and are coming back for the second or eighth, you know exactly what I'm talking about. Made world-famous for being the setting of Eat Pray Love, Ubud has long been the epicenter of Bali's culture. This gem-of-a-region is dreamily perched high up in the jungle, surrounded by rice fields, waterfalls, and tropical rainforests filled with every shade of green. To say that Ubud is beautiful doesn't do it justice – it is powerful… stunning… magical. Ubud's lush landscape is home to some of the most beautiful and luxurious resorts in Bali, and is a great place to base for a few days (or all) of your trip to the island.
On your drive to Ubud, you'll find yourself surrounded by lush landscapes of palms and rice paddies. And, in the heart Ubud, you'll find bustling streets filled to the brim with motorbikes and pedestrians -locals and tourists alike, weaving their way in and out of shops, restaurants, and temples. So where do you start? Where do you stay? and what do you do in Ubud? That's what I'm here for. Here is your Ultimate Guide to Ubud, Bali.
Where to stay in Ubud
Basing from Ubud for at least part of your trip is a must on any trip to Bali (you can read more about my ideal 9-day Bali Itinerary here). It's peaceful, relaxing, and home to some of my favorite resorts in all of Bali. If you're coming with a group of friends to the island, you'll love spending a few days hanging with monkeys, chasing waterfalls, and experiencing the rice fields. If you're by yourself, you'll love the disconnection that you feel high up in the jungle of Ubud. You'll love experiencing yoga at Yoga Barn, or meeting the many interesting ex-pats in the area. And if you're honeymooning in Bali, Ubud is your ideal spot for R,R&R (Rest, romance, and relaxation).
This hotel was recently ranked by Travel & Leisure as the BEST in Bali, and with good reason. The ultra-luxury Capella Ubud is a fantastic hotel choice for a Bali honeymoon. As one of the Leading Hotels of the World, Capella Ubud is an ultra-luxurious tented camp set within dramatic jungle landscape and lush rainforest, rice paddy fields and the sacred Wos River, in an authentic Balinese artist village called Keliki.
Photo courtesy of CapellaHotels.com
How to get Jetset perks on your stay at Capella Ubud:
Fill out this contact form and be sure to use the referral code "JETSETCHRISTINA" if you use my referral, my agency partner will reach out with more information and can help book you with all kinds of fun perks (at no extra cost to you, and they don't charge a fee to book!) Perks for booking through us here include: Upgrade on arrival, subject to availability, daily breakfast for 2, complimentary 50-minute couples' massage, and early check-in / late check-out.
This gorgeous eco-luxe hotel is one of my very favorite places to stay for budget luxury in Ubud. It's one of the most unique properties I've ever stayed in, and it is quintessential Ubud in my mind. Each beautiful bungalow artistically blends bamboo interiors with antique Balinese teak wood. Every suite has both air conditioning and a fan, and some have gorgeous river views, private pools and outdoor showers. Did I mention complimentary yoga classes come with the room? This is the ideal, quiet place to relax as a couple or disconnect on a solo trip. My favorite suites are the Suite with River View rooms or the Udang house.
Prices range from $100-$500 a night. Book here.
This stunning Four Seasons property is easily one of the world's finest. It is one of my favorite places to stay in Ubud (especially for couples) because it is super-quiet, tranquil, and, like most Four Seasons in the world, ultra-luxe.
Prices for the Four Seasons Sayan are usually $500-$600 a night. Book here.
One of the most romantic resorts in Bali! The Viceroy is a dreamy jungle oasis. Each of its luxury villas is a sanctuary that you'll never want to leave – did I mention they each have a private infinity pool that can turn into a hot tub at the click of a button? (HOW AMAZING IS THAT). The service at Viceroy is absolutely amazing and the restaurant is one of my favorites in all of Bali (you're gonna want to order their coconut milk banana french toast for breakfast every morning! I'm still dreaming of it!)
Room rates $500-$700 per night. Book here.
COMO is a more affordable luxury resort option if you're looking for the best private pool resorts in Bali, but don't love the price tag of some of the ultra-luxury resorts. The COMO Uma is really centrally located, so a perfect base if you're looking to explore around Ubud. COMO Uma Ubud also provides free scheduled downtown/area shuttles, free guided morning walks and free scheduled yoga classes with a yoga master!
Room rates $200-$300 per night. Book here.
What to do in Ubud
Go to the waterfalls!
Some of the best waterfalls in Bali are Tegenungan and Tibumana – which are both an easy 30-45 minute drive from central Ubud. If you're going to Tegenungan Waterfall, be sure to get there early as it gets CROWDED!!! I try to aim for before 9am for this one. Tibumana is much less crowded, and a really cool jungley drive to where it is, so a favorite for when I'm entertaining friends visiting Bali.
If you're wondering how to get to the Bali waterfalls or what the perfect day trip to Bali waterfalls looks like, read more in this blog post here!

The Tegalalang rice fields outside of Ubud are one of Bali's most famous landmarks, and a must-see for anyone vacationing in Bali! I like to walk around them for awhile (it's a workout and it can be hot and humid up there!) and finish with a big nasi goreng (balinese fried rice) or mie goreng (balinese fried noodles) with a big ice cold coconut overlooking the rice fields. It's a gorgeous view and there are a ton of local restaurants lining the fields.
Play with monkeys!
Head over to the monkey forest, a beautiful natural sanctuary of wild monkeys in the heart of Ubud.
Photo via my friend @Van_Taylan
Get your zen on & do some yoga
Ubud is basically mecca for yogis, and there are a ton of amazing yoga classes you can do in Ubud. One of my favorites is Yoga Barn – and it's perfect for every level of yogi, from the casual "just want to do it so they can say they did yoga in Bali" yogi to the advanced yogi looking to learn from the best.
Have the best massage of your life (and a flower bath!)
For the best massage in Ubud (and all of Bali), head to Cantika (call ahead! they get busy!). It is my absolute favorite – I go every time I'm in town!
Do the Campuhan Ridge Walk
The Campuhan Ridge Trek is a pretty easy hike in the center of Ubud, and it's SO beautiful! It gets crowded, so for the best experience I like to do it first thing in the morning.
Do the Sunrise Hike at Mount Batur
This popular sunrise morning hike will have you setting your alarm for 2am, but the sunrise views of the gorgeous volcano make it all worth it. You'll climb to the top in the dark (make sure to pack a jacket!), and get to the top right as the sun is rising, and you'll be down and back to your hotel by about 10am. It's one of the most popular activities to do in Bali – and you don't have to worry about booking ahead of time. Just talk to your hotel or airbnb about joining in on a tour.
Hike the Campuhan ridge walk
The Campuhan ridge walk, or the Campuhan Ridge Trek, is one of my favorite easy hikes in Bali. It takes about an hour and there are lots of restaurants and cafes to grab an ice cold coconut on the trek. It's beautiful!
Where to eat in Ubud
There is so much good food in Ubud, this is my favorite question to answer when you all DM me for Bali recommendations. Here are some of the absolute best places to eat in Ubud:
Ideal for Bali honeymoons, this lux dinner experience in a private 'cocoon' is going to be a highlight of your trip. The menu is amazing and the views are stunning.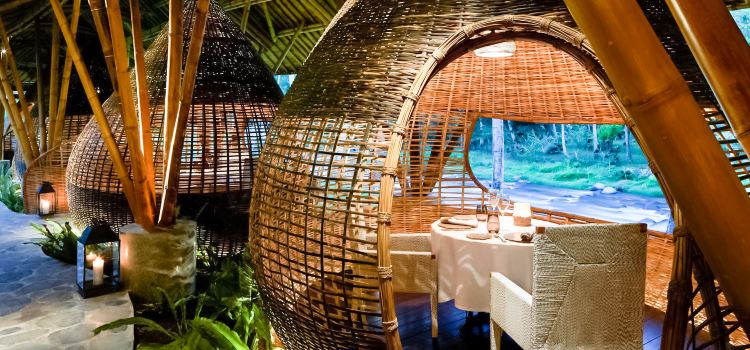 Photo via Kubu
Naughty Nuri's
World famous for their ice-cold martinis and melt-in-your-mouth barbecue pork ribs, Naughty Nuri's is a must-stop for all meat lovers traveling to Bali. It's also one of Anthony Bourdain's favorite Bali spots! The restaurant is super casual, with a huge smokey charcoal grill outside flaming up with some of the best ribs you'll ever taste. Nuri's comes with a lot of hype (and sometimes, a long wait) but I promise you, it's more than worth it.
This Japanese-Latin-Fusion restaurant serves up some of the best sunset views in all of Ubud, and is one of my favorite places to grab a sunset cocktail in Bali. You can even see the Four Seasons Sayan across the river! Sip on one of their delicious cocktails & munch on their sushi and innovative gourmet tacos while you watch the sunset paint the jungle all kinds of colors. This is my very favorite date night spot in Ubud!
Alchemy
This raw food cafe and delish salad bar has been the healthy-eating hotspot in Bali for many years. Whether or not you're a vegan, their fresh-pressed juices and healthy salad bar (and smoothie bowl bar in the mornings!!) is worth checking out.
L'Osteria
If you're craving the best pizza in Bali, look no further than L'Osteria. Their location is right downtown so it's a great spot to go after a day of walking around exploring Ubud. They have a really cute rooftop, too!
If you're looking for fine dining in Ubud, Locavore is your spot. They specialize in local ingredients and change the menu frequently, keeping with what's best available locally, but it's always a 7-course tasting menu, that is incredible.
Locavore to go
Locavore's little sister restaurant specializes in more casual lunch options – like an out of this world pulled pork sandwich and fried chicken. SO good.
How to avoid getting Bali belly
The Best Villas and Airbnbs in Bali
The Ultimate Bali Honeymoon Guide
The Ultimate Bali Travel Guide
The Ultimate Canggu Travel Guide
The Perfect Bali Itinerary, How to Plan a Trip To Bali
Taking better vacation photos: How I take and edit my photos
all my beauty essentials I can't travel without