The Best Drunk Elephant Skincare Products I use Every Day
I was recently turned onto the Drunk Elephant skincare line by a friend who swore by their products for your face. As a travel blogger, my skin has changed dramatically over the last few years, and not for the better!! That's what constant overnight flights, 22 hour travel days, and polluted air and water quality in cities around the world will do to you after a while. And it sucks. While I love basing in Bali, I am careful to pack all of my favorite skincare products, because it's not like I can make a Sephora run over there. But, I also don't want to overpack, so I'm careful to only bring the products that really make an active difference for my skin (my overflowing skincare pantry at homein the US, now that's another story).
** BTW – I just want to note the reason I saw such a difference from switching to Drunk Elephant is that I made it a point to ONLY use drunk elephant products. Because their products are so clean, it's an easy way to cleanse your skincare of any harmful ingredients that may be breaking you out.
A great way to try Drunk Elephant is to purchase the minis pack – which has all of their products in mini version – and it's on SUPER sale on sephora right now.
Here are the Drunk Elephant products I use every day, every week, and to save my skin and fight jet lag in-between travels.
BTW: This post is not sponsored! I just want you all to be in the loop on some game-changing products I use every day.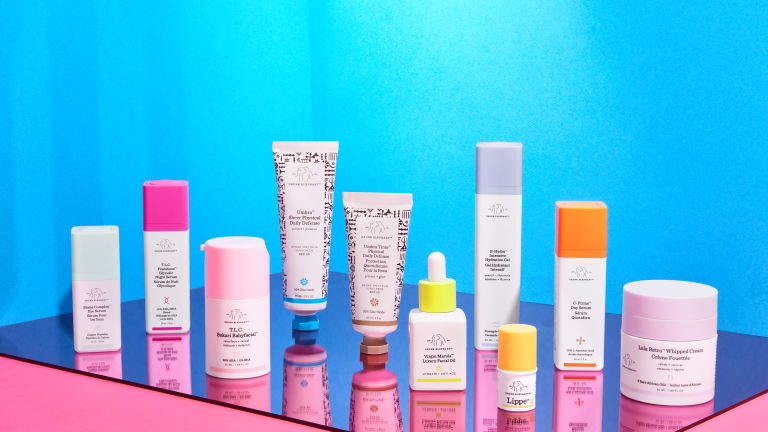 Is Drunk Elephant worth the hype? At Sephora, Drunk Elephant makes up 50% of the top 10 skin-care best-sellers, and its amazingly-branded colorful bottles are guaranteed to not only be your favorite thing to put on your face – but your favorite thing to look at on your vanity. Drunk Elephant's products are designed to mix with one another, be worn in any order, and are supposedly suited for every skin type because of the way the brand formulates its super clean ingredients. "A routine is only as good as its worst product, a product only as good as its worst ingredient," Drunk Elephant founder Tiffany Masterson wrote in her founder's note, and I think that's something to really take into consideration if you're doing a skincare routine overhaul. GO CLEAN!!!!
The reason I love using Drunk Elephant products is I can trust them to be super-clean ingredient-wise, and not piss my skin off. Which is the last thing I need when I'm already doing that by traveling 300+ days a year. If you check beautypedia, which gives a licensed dermatology rating and review of every over the counter product, Drunk Elephant is literally one of the only brands with 5 star ratings across the board. They are passionate about only using clean ingredients that are actually good for your skin and will make a difference.
BTW – the cheeky name Drunk Elephant is rooted in a myth that elephants become intoxicated by eating exotic marula fruit. Inspired by the incredible benefits of Marula Oil, Drunk Elephant created simple skin care with clean, additive-free ingredients.
This is one of my holy grail products I use every morning. What does C-firma do for your skin? Vitamin C is meant to brighten skin tone and even discoloration, reduce premature aging, and can even get rid of scarring. Not only that, it's an antioxidant – meaning it protects the skin from environmental factors that harm your skin every day – like pollution, ultraviolet light, and other free radicals. I use it in the morning rather than in the evening, and I put it on immediately after washing my face, before any other products. A good general rule of thumb is to apply your skincare from lightest, to most dense, so vitamin C is always first.
Step 2 in my morning routine is this beautifully clean polypeptide moisturizer.
Think of Protini in your skincare routine like adding a shot of protein to your morning smoothie. This moisturizer is jam-packed with proteins and nutrients, and formulated at a pH level of four, replenishing your face, neck, and chest and giving your skin a strong, firm, healthy glow.
Step 3 in my morning routine is always a facial oil. Facial oil can be applied morning and night. First, cleanse, then apply your moisturizer, and finally smooth on facial oil to seal in moisture. This Marula oil is MAGIC, yall. It's high in critical antioxidants, to deeply moisturize, nourish, soothe, and rejuvenate your skin and creates a super-hydrated glow. Allow the oil to fully absorb before applying your makeup for a natural glow. Then go ahead and apply your SPF then makeup. I always use a face oil when I'm flying to make sure I'm sealing in as much moisture as possible in the airplane (the recycled air dehydrates your skin a ton!)
C-Tango eye cream!
My grandmother taught me no skincare routine is complete without a GREAT eye cream. The Drunk Elephant C-Tango eye cream does it all. It's gentle enough for AM and PM use, and powerful enough to improve even stubborn signs of damage and aging around your eyes.
I am obsessed with these "sunshine drops". These drops include a chronopeptide that acts like vitamin D, omega-rich virgin marula, and black currant seed oils, along with vitamin F (fatty acids), to replenish the delicate balance that supports a healthy skin barrier function. It's a concentrated mix of protective antioxidants that boost skin's defenses against pollution and environmental stressors (which you need, EVERY day!!!) D-Bronzi's just-got-back-from-somewhere-exotic glow flatters every complexion, and is an easy way to get a natural, temporary bronzy glow without the long-term consequences.
This zinc-based natural SPF is an invisible physical sunscreen that provides powerful UV protection from harmful rays. It's ideal for all skin types, including sensitive skin,
Nighttime skincare must haves:
This 'facial-in-a-bottle' is a once-weekly treatment that resurfaces skin to reveal greater clarity, improved skin texture and tone, and a more youthful-looking appearance! By gently exfoliating pore lining and resurfacing by removing your dead skin cells, Babyfacial is a holy grail product, for sure.
This high-tech gel resurfaces dull skin overnight, lifting dead skin cells away by gently dissolving the glue that holds them to the surface. The results are greater clarity and a smoother, more even-looking complexion by the morning. AND IT'S AMAZING. I use 3 small pumps all over my face and neck each night. After 2-3 weeks of use, my skin looks so much cleaner, and I even noticed some old acne marks on my face fade!!!
Anddd… of course.. the Drunk Elephant Minis set is a MUST for anyone who travels a lot like me! I hate having to pack my entire skincare routine, and Drunk Elephant makes the cutest 'littles' set of all of the above products, so you don't have to! I'm obsessed.
It's also a great way to try the product line without fully committing to full size!
Check out these recent posts:
The best bralettes for small boobs, the best bralettes for big boobs
The Best Spicy Margarita recipe

The healthy blended coffee I drink every day
The best slow cooked rib tacos recipe
The best cocktails from around the world
The best sunscreens – JetsetChristina
The ultimate beach vacation packing guide
\\
What to wear to every type of wedding
The best travel beauty essentials for 2019