The Best Hotels & Villas in Bali – Where to Stay in Ubud, Uluwatu, Canggu, Seminyak, Nusa Lembongan and More
Planning a trip to Bali and wondering what the best hotels, villas, and resorts are on the island? You came to the right place. If you've been reading up on my Bali blog posts, you know that a vacation Bali is a choose-your-own-adventure kind of trip, meaning there is something for every type of vacationer in Bali. You can have the relaxing, beachfront vacation of your dreams in Uluwatu…. or you can wake up in a private villa high above the jungle in zen Ubud. You can party in world-renowned party spots like the Gili Islands, or you can surf or soak up the Bali expat culture in trendy Canggu. Or maybe you want to get adventurous and hike a volcano, or dive with manta rays in Nusa Lembongan and hike the gorgeous coast of Nusa Penida.. Or you can just chill out and relax at your 5-star resort and call it an *amazing* day.
Wherever you go in Bali, your hotel is likely to be an important part of your experience. In Bali, things like transportation, food, and drinks are relatively super cheap, meaning most of your trip budget can go toward your hotel, which is a very good thing – because Bali has some of the best hotels in the world, and you're going to want to splurge on them. Here are all of my all-time favorite hotels, villas, and resorts in Bali, broken out by region.

Where to stay in Ubud
$$$$ The Best Luxury Resorts in Ubud (around $500 a night)
It's hard to beat the Four Seasons' sixty-room stunning setting – a complete sanctuary cocooned in Ubud's Ayung valley. In fact, it was just ranked the #1 hotel IN THE WORLD by Travel & Leisure. Each villa is adorned in dark teak and Indonesian stone and many of the villas boast a private pool and outdoor living rooms. In the restaurant, you can dine on contemporary Indonesian cuisine on a picture-perfect terrace, or sip a passion fruit martini overlooking the valley at Jati Bar. Staying here is once-in-a-lifetime – perfect for a Bali honeymoon. I definitely recommend splurging for a pool villa – the views are unmatched in all of Ubud, and you'll have your own private infinity pool like this one!
Leopard Reversible One-piece by Watercolors by Kenny Flowers. Use the code JETSET at check out for an exclusive discount!


One of my favorite places I've ever stayed! The Viceroy is a jungle retreat unlike any other. Each of its luxury villas is a sanctuary that you'll never want to leave – did I mention they all have a private infinity pool that can turn into a hot tub whenever you want it to? (HOW AMAZING IS THAT). The service is absolutely amazing and its restaurant – Cascades – is one of my favorites in all of Bali (Leave your wedding diet in America, you're gonna want to order the coconut milk banana french toast for breakfast every morning)!
Rumored to be where Chrissy Tiegen stayed when she went to Bali, the COMO Shambhala estate is exclusive af. It's also GORGEOUS, and well worth a stay if budget is no object. This place epitomizes Balinese luxury and Ubud jungle zen.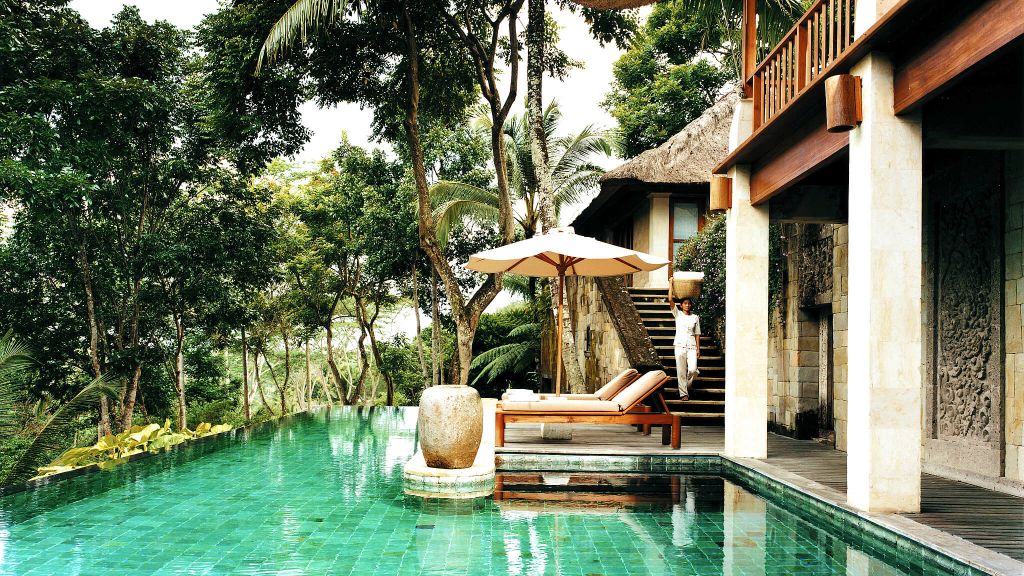 Where to stay for mid-level luxury in Ubud
COMO is a more affordable luxury resort option if you're looking for the best private pool resorts in Bali, but don't love the price tag of some of the ultra-luxury resorts. The COMO Uma is really centrally located, so a perfect base if you're looking to explore around Ubud. COMO Uma Ubud also provides free scheduled downtown/area shuttles, free guided morning walks and free scheduled yoga classes with a yoga master!
Room rates $200-$300 per night. Book here.
The Best Airbnb's in Ubud
For luxury
Or this one tucked away in the rainforest – it's a STUNNER.
For a deal
Where to stay for eco-luxury in Ubud
As called out as one of the best eco-friendly places to stay in Bali by the Wall Street Journal, Bambu Indah is a quiet eco-lifestyle hotel tucked in Ubud. Bambu Indah is the perfect choice for the solo traveler, the yogi couple who's looking for their zen in the jungle for a couple nights, or the couple of girlfriends looking for an eco-chic base in Ubud. It's lush & green and defines serenity. Even if you don't stay here, the restaurant is worth a brunch or lunch to check out the gorgeous hotel.
Where to stay in Uluwatu
The Best Resorts in Uluwatu for LUXURY
The eco-modern villas at Alila are vast and super-stylish. Each comes with a butler, swimming pool and a chic poolside cabana. You can get to a private beach but you'll have to descend over 600 stairs to reach it – and then climb back up again – so most guests choose to hang by the beautiful 50-meter pool instead, or retreat to the yoga center and the gorgeous spa.
Six Senses is always my top pick for where to stay in Uluwatu. The Six Senses is the newest luxury resort in Uluwatu – and it is one of the most stunning. Located on its own clifftop that feels like your own end-of-the-world oasis, this is the ultimate Bali Honeymoon luxury resort. It's also where I got engaged!! (which you can read more about here 🙂 You can't go wrong with the Six Senses for any luxury Bali vacation.
Perched on a cliff 300 feet above the Indian Ocean, Karma Kandara is an amazing choice for a honeymoon. Think villas hidden among tropical gardens, a serene spa, gourmet restaurants and an awesome beach club (that you have to take a cable car to get down to). The stunning Karma Kandara has perfected the art of Bali beachfront relaxation.
You'll need to book early to book this one, but if it's available here – DO IT! Towering over the edge of the Indian Ocean on a cliff, The Edge hotel is insta-famous for its breathtaking glass-bottom infinity pool that jets out onto the coast 150 meters below. It is easily one of the most architecturally stunning pools in the world, but that's only part of the reason why this resort is one of the most sought-after places to stay in Bali. Each of the eight ultra-spacious villas that make up The Edge feature a private sundeck, a state-of-the-art entertainment systems with a private home theater, a well-equipped kitchen, a wine cellar, a cigar lounge, and a private butler.
For incredible oceanfront views and magical sunsets, the Ayana is your paradise resort. It is one of Bali's most acclaimed and awarded hotels, and deserves every honor. It's HUGE, so if you're a small, boutique hotel person, look elsewhere, but if you're looking for the ultimate in a Bali resort – this is it. There are 19 restaurants and bars including the instagram famous Bali spot Rock Bar); an exclusive private beach; 12 swimming pools; a world-class spa and fitness center.
Where to stay in Uluwatu for luxury on a budget
This villa in Uluwatu is so beautiful, and has some of the best views on the island. The villa feels like a little Santorini romance mixed with a little Miami luxe. You'll watch the sun set over the picture-perfect Uluwatu waves and wake up to a fresh, homemade breakfast on the deck every morning.My favorite of their villas (each is a different vibe) is the 2nd "villa beachfront" shown on this link , so the 3rd accommodation option, after "deluxe villa" and the first "villa beachfront".
Where to stay for luxury on a budget in Uluwatu
(around $2-300 a night)
The Anantara is such a perfect place for luxury on a budget in Uluwatu. With its cascading infinity pools overlooking the Indian Ocean, its delicious oceanfront restaurant, and its increeeedible spa, it's tough to beat this hotel, price and location in Ulu!
If you're traveling with a big group to Bali and looking for the ultimate place to stay – Villa Melissa is IT. This place is STUNNING. With 5 bedrooms, 5 baths, a to-die-for beachfront location, and a double-layered infinity pool, AND a beachfront, Villa Melissa is the epitome of luxury stays in Canggu. Three of its five luxurious en-suite bedrooms overlook the Indian ocean, and the whole villa is decorated in a blend of contemporary and antique Balinese furniture, making you feel both at home and on vacation all at once.
This gorgeous modern haven in Canggu is a perfect honeymoon hotel. The contemporary white-and-grey decor and luxe vibe is hard to find in a traditionally more casual surfer paradise Canggu, but COMO does it right. From their Beach Club (full of seafood feasts and fresh-fruit-packed frozen cocktails),to their beautiful lagoon pool, to the spacious rooms, to their panoramic views of the beach and rolling waves, this is the spot I love to stay in Canggu the most.
This villa sleeps 8 people and is GORGEOUS, featuring a beautiful mix of modern and Balinese architecture and decor.
Where to stay in Canggu for the best deal: Gu Village
If you're looking for the best, most affordable hotel in the best location in Canggu – it's the brand new super-chic Gu Village. This place is the perfect combo of being affordable, but has nice rooms, A/C, free breakfast & GREAT food (get their avo toast in the morning!), and an awesome pool area (it even has a waterslide!) If it's available your dates – jump on it! they book up fast.
The hotel is also connected to Kos One Hostel, too, if that's more your vibe. The central pool area is called Alternative Beach and is a super fun, open to the public beach area that becomes a buzzing gathering for digital nomads and 20-somethings day and night. It's not too loud though by the rooms, if it's not your scene – usually the music shuts off by 9pm on most nights.
All in all I loved the price, the location, the vibe, the crowd, and the FOOD the most about this place. It's a perfect place to base from while exploring Canggu – and definitely a great spot if you're looking for a longer stay or are a solo traveler wanting to meet people!
The Hotel Tugu is one of the oldest and most classic Bali hotels in Canggu. The vibe is very traditional Bali, and the location is IDEAL in Canggu. Their restaurant Ji is one of my favorites in Canggu (sit on the rooftop and order sushi and the dry-ice-laden coco sexo drinks! So good!)
Rooms usually range from $200-$300 a night.
This boho-meets-bougie 12-room boutique luxury hotel is a great combo of minimalist Bali bohemian and Canggu trendy. Located right on the main street, surrounded by shopping and cafes, and with surf just a block away, it's tough to beat this home base in Canggu. The restaurant is also one of the best in town (especially for breakfast!).
Rooms usually range from about $100-200 a night.

Where to stay in Nusa Dua for Luxury
Hands down where you should stay if you have a group and are looking for the nicest villas in Bali. This self-catered villa features a private pool, a hot tub, a gorgeous garden, grill facilities, free WiFi and free private parking. The house has 5 bedrooms and 1 bathroom with a hot tub and a shower. There's a big seating area, a dining area and a huge kitchen. This place's views alone are worth every penny.
An easy 20 minutes from the airport, the Mulia in Nusa Dua boasts a spectacular setting on a perfect white-sand beach as well as top-notch dining, a swanky spa, and stunning pools. It's HUGE – at more than 550 rooms in the complex, so feels a bit like you're in Dubai or Las Vegas. The exquisite dining is a huge highlight of the resort – definitely don't miss their world-famous Sunday Brunch.
Where to Stay in Seminyak

The Best Luxury Hotels in Seminyak
The Legian Bali is Balinese laid-back luxury at its finest. With its understated elegance, emphasis on service, traditional Balinese design, and delicious food, the Legian is hard to beat. It's also located right in the heart of bustling Seminyak – providing easy access to everything from fun brunches (Sea Circus Bali), to adorable shops and cafes, to an amazing nightlife (some of my favorites nearby are Motel Mexicola for dinner and drinks and La Favela for late night dancing).
Where to stay for budget luxury in Seminyak
($100-$200 a night)
Villa Sabbia has a traditional Bali feel, and is located on a quiet street in the heart of Seminyak. Steps from the beach, and within walking distance of all the shopping and restaurants in Seminyak, this is a great base for anyone looking for a villa under $150 per night in Seminyak.
These luxury townhouse villas are a great budget-friendly option for a few nights of your honeymoon! They are in a perfect location to start or end your trip in bustling Seminyak (walking distance to lots of shopping, eating, beaching and drinking!), the rooms are HUGE and really nice, and feature an outdoor shower and bath, and access to a gorgeous pool.
The Colony Hotel is insta-famous for it's picture-perfect colonial-style courtyard pool in the heart of Seminyak. It may not be beachfront or suspended in the jungle, but it does make for a perfect home base in the Seminyak/Canggu area – where much of the nightlife, shopping, and ex-pat scenes are in Bali.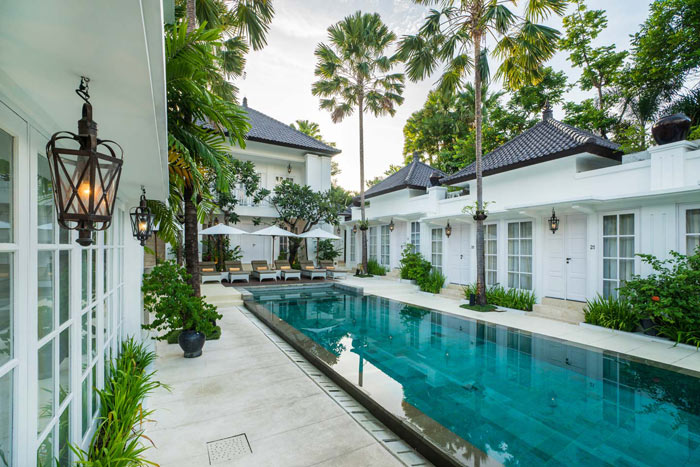 With views of the ocean and the volcano, 353 Degrees North is a stunning clifftop villa in Nusa Lembongan, and is one of my very favorite places I've stayed in Bali. It is secluded, quiet, tucked away, and a wonderful choice for a honeymoon. You can read more about my experience there in this blog post on Nusa Lembongan.
This beautiful beach-front villa on Nusa Lembongan is a perfect choice for a group traveling to Bali, a few friends, or a couple celebrating their Bali honeymoon.

Just a five-minute walk from the beach in arguably the best location in all of Nusa Lembongan, these villas may just have the best views in all of Bali, and make for a perfect home base for a trip to the Nusa Islands.
This eco conscious boutique resort makes for a great home on Nusa L – the hotel is a traditional-yet-sophisticated Bali experience with a great ambiance and beautiful private luxury villas.
Where to stay in East Bali for a remote, gorgeous AirBnB experience
This Bali Airbnb is one of Bali's most famous, and most remote eco retreats. It's stunning, and usually sold out. Check rates for your dates here.
Ulaman Eco Retreat in Tabanan is the perfect dreamy bamboo getaway just outside of Canggu. It's brand new and STUNNING
Other villas I like in Bali
Planning a trip to Bali and overwhelmed with options? I do Bali custom itineraries and do trip consultations. Email me at [email protected] and I'll send you my rates!
What to Pack for a Trip to Bali
The Biggest Mistakes People Make Traveling to Bali for the First Time: Bali for first-time travelers.
The Ultimate Canggu Travel Guide
5 Easy Tips for Taking Better Vacation Photos
The best luxury honeymoon destinations
Pin this post!