The Ultimate Bali Packing Guide: What to Pack for A Trip To Bali
As you guys know, we spend a few months every year in our home-away-from-home, Bali! With so many trips to this island throughout the year, I've had to become somewhat of an expert on packing for Bali. I get the question "What do I pack for a vacation in Bali?" allll the time from friends. Whether you're packing for your honeymoon, packing for a trip with friends, or going on your first Southeast Asia solo trip, packing for a tropical vacation can be stressful! But it can also be fun when you start shopping for all your vacation clothes 🙂 So forget the stress and focus on all the infinity pools, yoga seshes, waterfalls, and coconuts on the beach that are in your future. Here is your Ultimate Bali Packing List.
Let's get the basics out of the way:
What Essentials Do you Need to Bring to Bali?
Medicines, vitamins & other essentials
** Melatonin! I always travel with melatonin gummies to make sure the jet lag doesn't hit me too bad when flying from the US to Bali!
** Activated charcoal (I love bringing activated charcoal to Bali to help fight against "Bali Belly" & any indigestion/stomach issues that come up while traveling! This is the brand that I always buy)
** Mosquito-repellant spray (bring plenty! You'll need this!! I like using Repel – it's super-strength!) I also love these all-natural mosquito-repelling BRACELETS! So cool. Deet free and great for kids and families traveling to Bali.
** Any vitamins/medicine you use (a lot of people will say to bring these in their original packaging to be on the safe side, but I've never had any issue with my sketch ziplocs full of probiotics and omega 3 vitamins!)
** Beauty essentials, in travel containers! I am a huge fan of using A TON of GoToobs to store all my foundations, cleansers, toners, moisturizers, hair products etc in handy little silicone tubes for any and all travel. Seriously, these little guys are so much better than what you find at the pharmacy in terms of travel-sized containers for toiletries.
US plugs and Indonesian plugs and outlets are not the same! Make sure to buy a power converter and adapter before your trip (I like this one by Travel Smart by Conair because it also works for all my hair tools, and is a power converter and wattage adapter in one… and it comes with plugs for use all over the world, so you won't have to buy a different one for your next trip!)
What to wear & bring on the plane traveling to Bali
If you're like me and flying from the USA, this is one heck of a flight – 22 hours or so to get from the states to Bali and probably the longest travel day you'll do in your life. (Don't worry, it's so worth it!)
Long flight essentials:
Definitely don't forget an eye mask (this is the one I used forever! It's GREAT! but I just upgraded to Slip's silk one and I'm addicted – definitely worth the upgrade! Their eyemasks are "anti-sleep-crease, anti-wrinkles" and in my opinion – anti jet lag!), earplugs (I love these disposable ones from Amazon, and always have them in my carry-on for plane rides!) & some Zzzquil (my favorite is Zzzquil's gummies – which have no drugs in them whatsoever, just melatonin, chamomile, and other natural sleep-inducers!). You're going to want to make sure you get as much sleep as possible to fight off your jet lag when you get to Bali!
What to wear on the plane to Bali
I am always flying in my in-flight comfy jumpsuit, or comfy leggings or sweats for my Bali flights (I am obsessed with these leggings).
The softest yoga pants of all time… these and a comfy sweatshirt is always my go-to outfit for long flights.
I also always pack a pair of compression socks to put on on the flight as well. Compression socks (like these ones I wear from Amazon) help with your circulation, reduce swelling, and help with recovery, making them a must-have for any long flight.
SEE MORE: My Go-To Travel Outfits for Every Flight
Now that that stuff is out of the way… the fun part! Let's figure out your Bali outfits!
Tropical Dresses, Sets & Rompers
While the style in Bali is generally pretty casual, you're on vacation! You're definitely going to want so bring some beautiful tropical dresses to complement all the perfect Bali backdrops. (think of all the Bali instagrams!!)
SEE MORE: WHAT TO PACK FOR A TROPICAL VACATION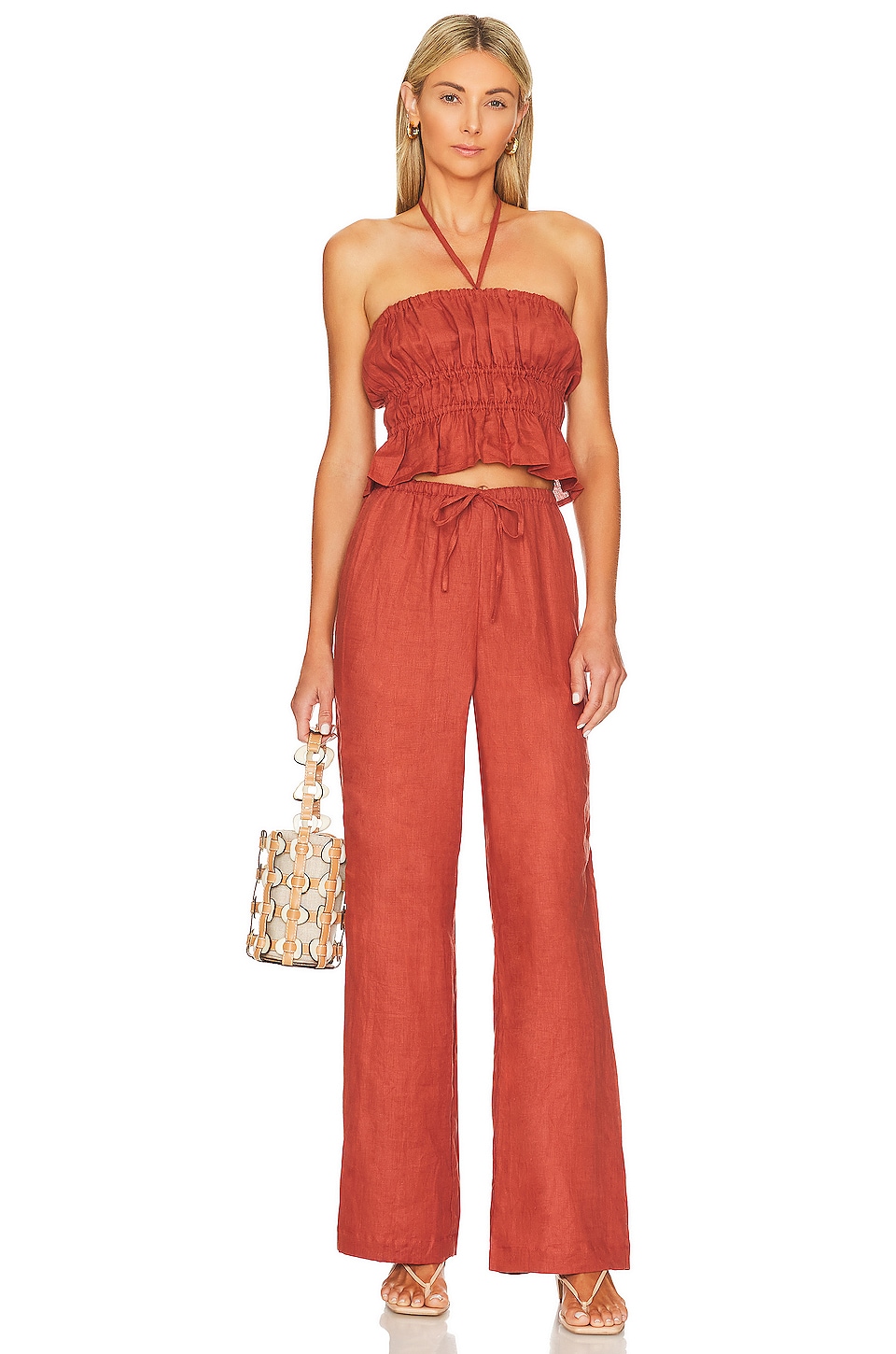 These matching his-and-hers looks are made in Bali! But they ship all around the world from the USA.
Depending on where you're staying in Bali, the weather differs a bit. In the beachy areas (Canggu, Seminyak, the Gili Islands, Nusa Lembongan and Penida) it will be very hot. Bring plenty of sleeveless dresses!! If you're sticking to Ubud, it is definitely cooler than at the beach, and at night you can get away with some sleeved dresses, but the days still tend to be hot-hot-hot.
Cute, loose, flowy dresses and cover-ups. Bali can be humid!
Casual tops
My go-to Bali style on most days is white denim shorts or a skirt and a casual, cute, crop top or bodysuit.
Going Out
Long, flowy, vacation dresses
These are the dresses you can break out in the rice fields, or at a sunset session at La Brisa Beach Club.
This beautiful Rococo Sand dress is perfect for everything from resort-hopping in Uluwatu, nice dinners in Ubud, or long nights dancing at La Favela
The perfect sun hat or sun visor
The Bali heat means you'll need to protect your face on your vacation! (and if you're anything like me mayyyybe hide your humidity hair), and the perfect sun hat will do just that.
Bikinis & one-pieces (of course)
Whether you're going waterfall chasing, island-hopping, snorkeling, or taking a surfing lesson, you're likely going to be wearing a lot of swimwear on your trip to Bali. The style in Bali is muted colors and simple, casual bikinis. But, even though most girls in Bali will be rocking neutrals, when I go anywhere warm, I'm always rocking bright, tropical prints, so DO YOU! These are some of my favorite Bali bikini styles for 2018 (click on the photo to shop). You can also always find my current, seasonally-updated favorite bikinis on my JetsetChristina's Favorite Bikinis blog post!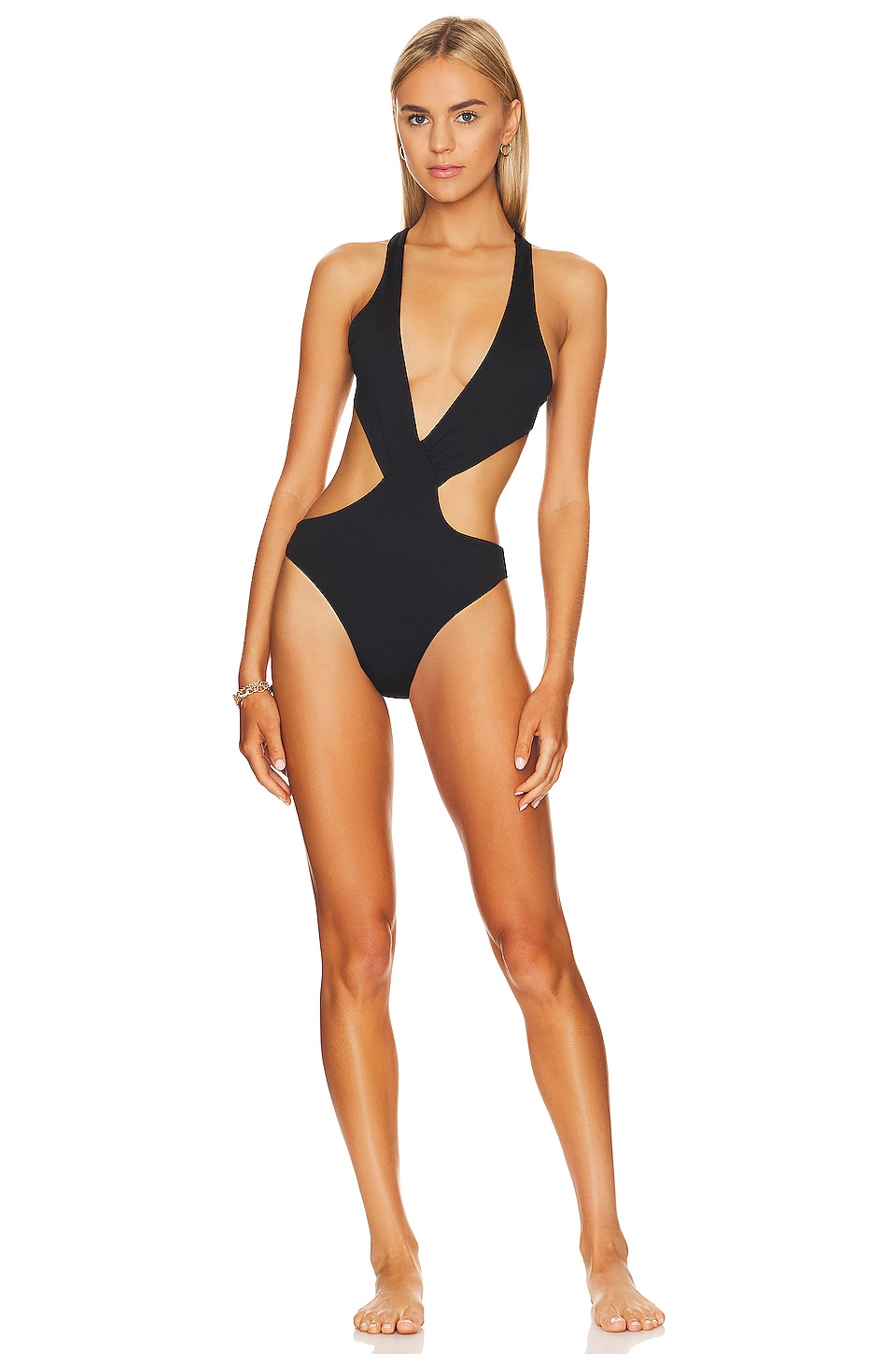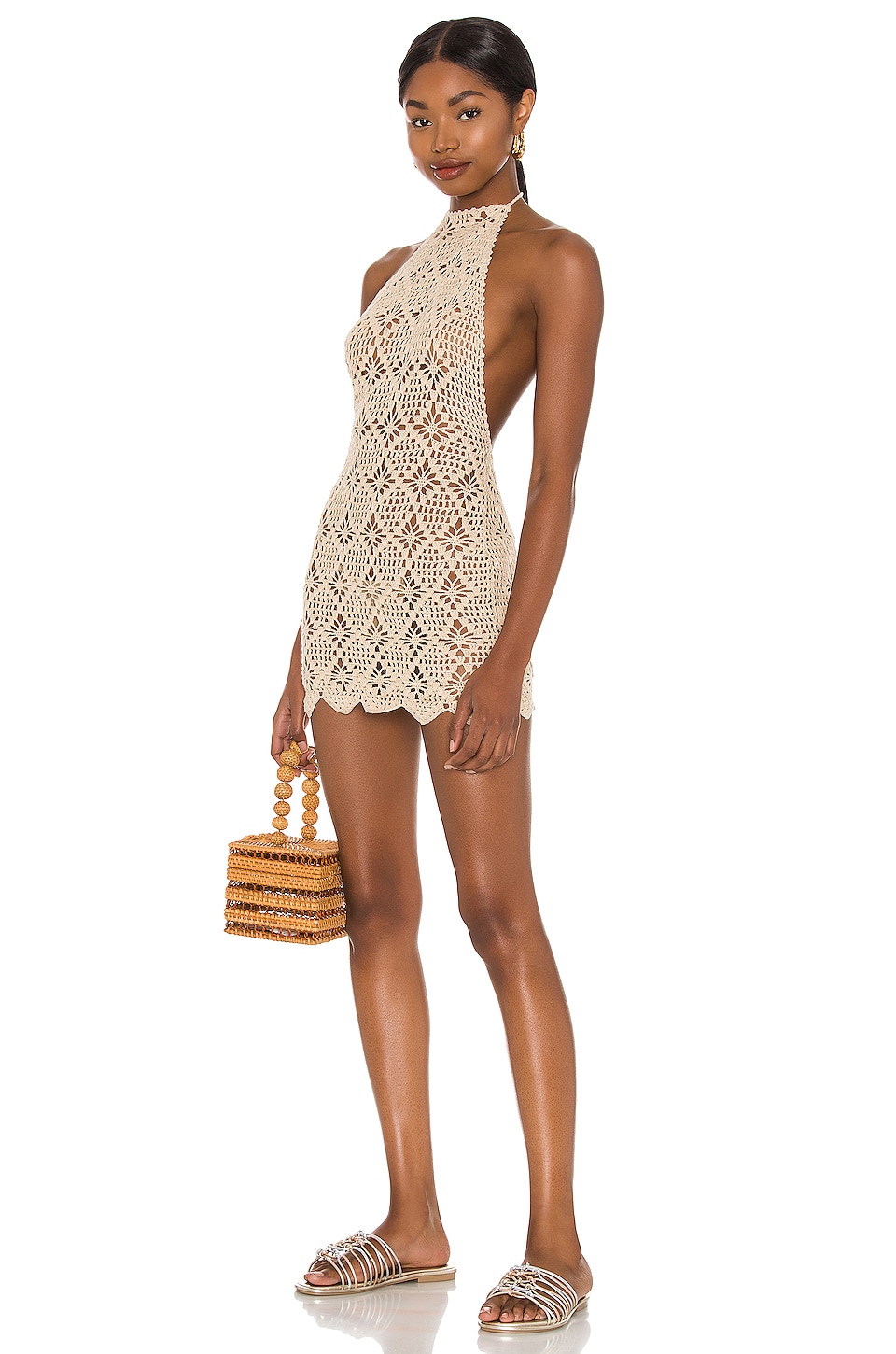 This beach shirt is what I ALWAYS wear on every vacation. Over my bikini, on planes, open, buttoned up, tied around my waist or tied in the front (my favorite way to wear it!). The material is SO SOFT and the perfect layer of warmth thats not too warm, but just warm enough, making it ideal for travel days and beach days.
Beach-cover ups
Whenever I'm on a beach vacation, I'm a huge fan of wearing a one piece or a bikini as my top and a cute sarong as my bottoms all day. Here are some of my favorite bikini cover-ups right now!
My favorite always – Kenny Flowers' "hot mesh" black and white sarongs 🙂
What to pack for Bali for your guy
Check out Kenny Flowers' awesome tropical shirts & cool swim trunks – they're actually made in Bali!! But ship from the US – so you can get them in time to pack for your trip!
How cute is this shirt with surfing flamingos on it?!
Sunnies, a sun hat & a great beach bag, of course
A travel purse
Along with a great beach bag, I always have a small travel crossbody with me for any travel, and I love these ones for a trip to Bali
(only $13!)
(my go-to travel bag always!!!)
Packing for the different seasons in Bali!
While the weather in Bali tends to be very warm year-round, it's always good to bring a light rain jacket – this is the tropics and you do get caught in some sudden tropical storms! And you may want to pack a little extra rain gear if you're headed to Bali in Bali rainy season – November, December or January! This is in the middle of Bali's wet season. It is tropical rain, but it can still get a little chilly! You're definitely going to want a rain jacket, an umbrella, and some sweaters for after it rains.
The highest season to visit Bali is our American summertime (May, June, July, August). This is generally the driest season, and it rarely rains. But, that being said, you should still have a rain jacket on you (especially if you're planning on doing the sunrise hike at Mount Batur!) My favorite rain jackets to travel with (since they're so lightweight and easy to pack) are these:
Shoes
You can leave your heels at home, ladies! I have never seen a girl wear heels in Bali once! Although everyone in Bali is BEAUTIFUL and very put together, it's not the style to look like you're trying too hard here. Bali is casual-but-stylish.
You're really only going to need 1 pair of sneakers for hiking and 1 trusty pair of sandals you can walk long distances in. If you want to add one more nicer sandal for some luxury resort dinners, I don't blame you. But if you're trying to save space or pack for Bali in a carry-on, 2 shoes are all you need!
Your camera of course!
I get a lot of questions about what I shoot with and what camera equipment I use, as well as how I edit my photos.
I shoot with a Sony A7II, and love to use this lightweight tripod on my travels. I always edit my photos with my mobile presets (available here) – They're perfect for on-the-go editing of travel photos to get them instagram-ready!
YES. YES. and Yes. Don't be like me and wait until something happens to your suitcase or something goes wrong with your trip to regret not getting travel insurance in the first place. World Nomads is by far the best, easiest travel insurance out there and I highly recommend getting it for your trip!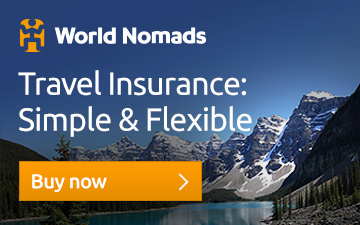 What to pack for a beach vacation
The ultimate honeymoon packing guide
The Ultimate Ubud Travel Guide
Jetset Christina's Favorite Bikinis to Buy Right Now – Updated Spring 2020