The 10 Most Overrated, Over-crowded, and Most Touristy Things to Do in Bali – Where You Should SKIP, and Where You Still Need to See
Let's face it: the secret is out on Bali. This idyllic island has quickly risen to the top of everybody's bucket list of the best places to travel to in the world, and for good reason! If you're planning a trip to Bali, you know that the 'Island of the Gods' is the perfect mix of relaxation, adventure, and un-bali-evable natural beauty. It's paradise. That's for sure. And between luxury resorts, jaw-dropping waterfalls and rice terraces, and a one-of-a-kind culture, a Bali honeymoon or any trip to Bali is hard to beat.
If you're wondering why I blog about Bali so much, it's because I base from Bali about half the year! Many people don't realize that along with being an awesome vacation destination, Bali is also extremely livable – and home to SO many expats and entrepreneurs! It's the perfect place to get blogging and writing done, and I LOVE everything about the ex-pat community here in Bali (did you know many people call it Silicon Bali?!) Most of the entrepreneurs living here, like me, came as a tourist and decided never to leave. Bali just has that kind of magic to it.
But, as someone who has lived on the island and visited as a tourist many times, I've seen many changes that have happened in Bali, and many beautiful places that just aren't worth going to anymore because they're overcrowded, or restaurants or cafes that have gotten hot on instagram and have started mailing it in. While I'm not against touristy spots at all, I want to make sure you all know which ones are worth going to, and which ones aren't!
The thing about Bali is that there is ALWAYS a new hot spot in town – from naturally beautiful places on the island (like waterfalls that are just being discovered), to man-made beautiful places in Bali like cafes, restaurants, and beach clubs. The Bali world changes fast, so you need to make sure you're getting up-to-date Bali recommendations from someone who's been there RECENTLY!!!
Avoid making mistakes on your first trip to Bali – by knowing what places to go, and where to avoid.
The "Iconic" Bali Gates : SKIP
Yeah thooooose gates, that you've probably seen on instagram a few thousand times. They're located at Lempuyang Temple. And there are also 'mock' gates at a golf resort in Bali – called the Handara Bali Golf Resort. While these gates are beautiful, they take a few hours to get to, and will have you waiting in a couple hours long line to get a single photo of them. There's also overly aggressive operators making sure you have about 10 seconds (no more) to get your photo.
All in all, it is a purely instagram spot in Bali, and I highly recommend going elsewhere if you are vacationing in Bali and don't want to waste so much of your trip trying to get a photo.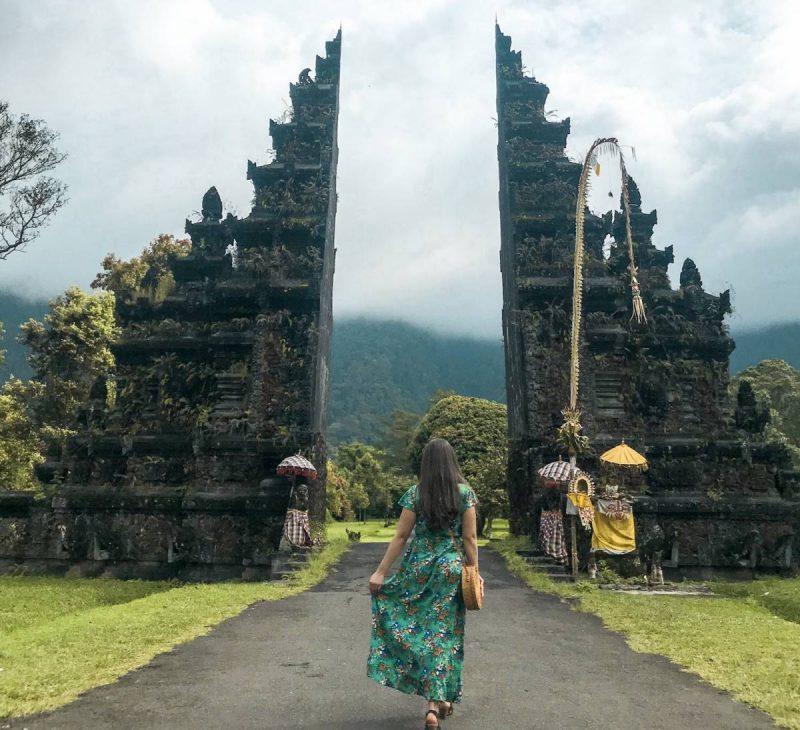 Photo via jen on a jetplane
WHERE TO GO INSTEAD: Uluwatu Water Temple, Ubud Water Palace
Tegalalang Rice Terraces : GO!
Are the Tegalalang Rice Terraces touristy? Yes. Are they still worth it? Absolutely. Even though these might not be the most authentic of rice fields anymore (while they still farm some rice here, they make much more money from the tourists these days), they are still so beautiful and represent all of the rice fields throughout Bali. They can get crowded, but I've never had a bad time here. If you want a really special experience, go at sunrise.
The Bali Swing: SKIP!!!
Many of you have probably seen photos of Bali's instagram-famous Bali Swing. Spoiler alert: "Bali Swings" are EVERYWHERE now. And although they are kinda cool, sometimes, I guess. The big famous one is overpriced and way overrated. Skip it.
But, if you're after that insta-perfect photo and have always dreamed of getting the Bali swing photo, do you!!!
Spending a day of my vacation in line to get a photo is just not my style. There's such better things to be doing with your Bali vacation.
Kynd Community Cafe : SKIP!
I know, I know, these are seriously picture-perfect smoothie bowls. And if you're staying nearby, it's totally worth a visit! But, if not, there are definitely better ones (helloooo Nalu Bowls). If you're really after that perfect 'gram, go for it, but otherwise, I'd check out some other cafes over Kynd.
The Edge Infinity Pool : SKIP! (Unless you're staying there)
The Edge is a beautiful luxury resort in Uluwatu, and boasts one of the most epic infinity pools in the world. But, because it's become one of the most instagram-famous spots in Bali, it tends to be overrun with wannabe influencers during the day trying to get this photo, and it gets overwhelming (note: I took this first thing in the morning, when there was no one around). If you're staying at the hotel, you have access to the pool when others don't and it's BEAUTIFUL! But if you're not staying there, it can be a madhouse of photo-takers. Not ideal.
Kamandalu Ubud : Skip!
This influencer-haven hotel in Ubud isn't as much for luxury as it is for the 'gram. I recommend heading elsewhere for all the luxe jungle vibes. Here is my list of the best places to stay in Ubud.
Where to go instead: Four Seasons Sayan, Viceroy Bali for allll the luxe jungle vibes,

Bambu Indah

for a more low-key, secluded eco-luxe experience
Campuhan Ridge Walk : Go! But expect a crowd at sunset
The Campuhan Ridge Trek has become one of the most popular hikes in Bali because it's pretty easy (about an hour), and has some gorgeous views of Ubud. It gets really crowded at sunset, so I like most to go first thing in the morning, and get a run or a walk in.
Camaya Bali Airbnb – SKIP!!
I stayed in this beautiful Camaya Bali airbnb bamboo house, and gave my honest review on Camaya Bali here, but I'll sum it up for you – While Camaya is very unique (and made for some beautiful photos!), it is far from a luxury experience, and is much more like camping. It takes a few hours to get to each way, and is pretty much in the middle of nowhere, so is not a good idea if you're on a shorter trip to Bali! Go to one of the best hotels in Bali instead.
Where to go instead: For a similar experience, but much better and better-located, go to Bambu Indah, or stay at a villa like this in Canggu
Tegenungan Waterfall – GO!
Go, but expect a crowd, or go chase other waterfalls instead!
I don't blame you if you see Tegenungan waterfall on your trip to Bali – it's one of the best waterfalls in Bali – but expect a crowd!! This is Bali's most famous and crowded waterfall. Just know that during the rainy season in Bali (or after a rainfall) the water is brown, not blue!
Less crowded waterfalls in Bali to go instead: Kanto Lampo Waterfall, Niagara Munduk Waterfall, Sekumpul Waterfall
Ku De Ta: SKIP!
The OG Bali beach club is still a staple on many Bali bucket lists, but it's overcrowded, and over-rated. I say skip it and head to one of the many newer, better beach clubs in Bali.
Single Fin : Go!
Single Fin in Uluwatu is known for being Bali's best sunset spot (and possibly the most popular Sunday night party in the world), and although it's well-known, and VERY crowded on sunday nights, it's absolutely worth a visit.
Still overwhelmed with your Bali itinerary planning? Did you know I also have started doing custom Bali itineraries and personalized trip consultations to help you guys plan your trip in Bali? Contact me at [email protected] if you're interested and I can send over my rates!
I hope those tips help!! Check out my other posts on Bali!

The Ultimate Bali Honeymoon Guide
The Ultimate Ubud Travel Guide
The Biggest Mistakes People Make Traveling to Bali for the First Time: Mistakes to avoid in Bali for first-time travelers.
5 Easy Tips for Taking Better Vacation Photos
The Ultimate Bali Travel Guide
Planning a trip to Bali : 9 day Bali Itinerary