The Best Wine Glasses – 15 to-die-for wine glasses that you need in your life right now
Whether you're deciding what wine glasses to put on your wedding registry, or just need to step up your at-home wine tasting game, these are the BEST wine glasses out there.
It's no secret I love wine. I grew up about an hour from Napa Valley, meaning that I've been exploring wine and wine countries around the world since long before my 21st birthday (sorry mom!). I've always had a taste for (good) wine, as well as just a complete infatuation for the entire industry. I've visited Napa, Sonoma, Calistoga, Healdsburg, and the rest of California's wine countries many times. I've tasted wine in Bordeaux and traveled to wineries in the Italian countryside. When I studied abroad on Semester at Sea, I even wrote a 20-page paper on the business of wine-making in South Africa. Enjoying a good glass of wine is my form of self-care. And one thing I've always found interesting is just how much a good wine glass matters to the taste, and respect, of the wine.
If you follow on instagram, you know I'm infamous for always judging a luxury resort's level of luxury on the level of wine glass in the room. (There is seriously no bigger pet peeve to me than finding those ultra-thick, cheap, wine glasses in a luxury hotel room – yuck!)
So let's talk wine glasses. And why they matter so much.
A good wine glass will amplify the taste of any wine – which means it's one of the best investments you can make if you're a wine drinker. The best wine glasses should leave enough space once the glass of wine is poured for it to be swirled, so a bigger, wider wine glass not filled as far is better than a narrower wine glass filled to the brim. This is important because there have been countless studies shown that by swirling wine you release more aromas of the wine, as well as open it up, which makes the wine taste better. Not to mention so much of our taste buds are driven by smell! So you want enough surface area in the glass to maximize that.
Did you know that there is a different style of wine glass for every varietal of wine? It doesn't really matter if you're not a total wine snob, I personally always just go for a good cabernet glass for any wine – they're big, bold, and beautiful, and leave plenty of room for swirling. I personally don't like stemless because the whole point of a wine glass's stem is so that the heat of your hand doesn't warm up your wine. But I know plenty of people who only drink out of stemless. Do you!
Wondering where to get the best wine glasses? Shop the links below! (*note that I may receive a small commission if you buy anything I recommend, but as always. would never recommend anything I don't know and LOVE!)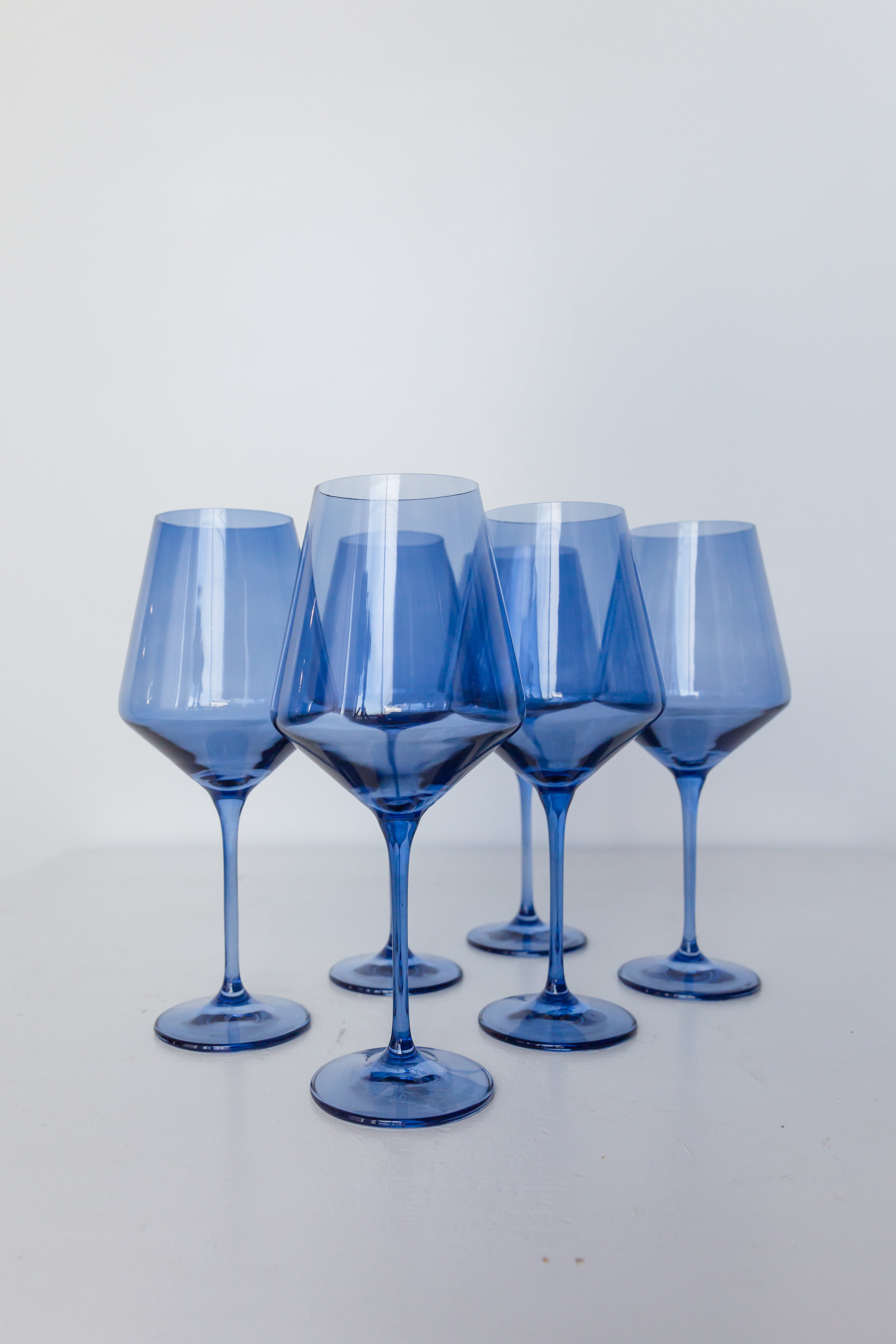 Estelle colored wine glasses – Inspired by her grandmother Estelle's antique colored glass collection, Stephanie Summerson Hall started designing her very own heirloom-worthy glassware. Each glass is hand blown by glass artisans in Poland and brings iridescent color to a memorable table setting.
If there's ONE piece of crystal stemware to invest in, Zalto's wine glass (hand-blown from stunning lead-free crystal) is it. BUT THEYRE SOLD OUT EVERYWHERE!!! Once they come back, you guys will be the first to know.
Not too wide, not too slender, it's perfect for everything from buttery chards to big bold cabs. This is my first 'fancy' wine glass I've ever gotten and I have to say it is absolutely LIFE-CHANGING. Get one or two, and you'll end up wanting a whole set. Everyone who has one is like in a cult about them. They're unreal. and SO beautiful.
Zalto is very well known for being one of the absolute best wine glasses money can buy, and one of Wine Spectator's best wine glasses. The ultra-thin glass and timelessly elegant design makes these mouth-blown, dishwasher-safe beauties some of my absolute favorite.
I'm obsessed with this feminine 24K gold collection of beautiful blown glasses. Love both the red wine glass and the champagne flute!
One of the reviews on them says it best "these glasses are so pretty, they'll distract you from quarantine".
Schott Zweisel is another big well-known name in the wine glass industry.
I love that you can get them etched with a monogram here, too. And since a set of 6 is about the price of one Zalto, this is a better bang for your buck (and still amazing quality). I've noticed that most wineries in Napa Valley use Scott Zweisel glasses, too, which is a great sign. The're also highly resistant to breakage – which is great if you break a lot of glasses like me.
Schott Zweisel's glasses come in a lot of different styles, many of them classic, which I love, but how chic is their ultra-modern Modo design?
If Olivia Pope in Scandal is the vibe you're after, look no further than these gorgeous long-stemmed beauties – only $13 each!
Nobody has quite the panache as Waterford in the crystal dinnerware space. This wine glass has some of the most positive reviews of any wine glass out there right now, and is toted as being most people's favorite glass they own. I love the subtle crystal touch and the SUPER elegant shape.
Schott Zweisel Monogrammed Champagne Flutes, set of 6, $84
I love these elegant Williams Sonoma monogrammed champagne flutes, and a set of 6 for $84 is a steal for Schott Zweisel!
These sleek rectangular wine glasses are elegant and contemporary – and some of my very favorites at only $13 a glass!
Did you guys watch Love is Blind? (If you haven't yet, it's one of my must-watch TV shows right now) The Love is Blind wine glasses were always gold metallic wine glasses – and they were EVERYWHERE in the show! If you're more of a metal wine glass lover (maybe you don't want everyone to know juuuuuust how much wine is in there), I love these ones on clearance right now – especially that you can monogram them on West Elm or these stemmed ones on Wayfair!
If you need a poolside acrylic wine glass (aka something that won't shatter by the pool!), these ones are so cute and fun for summer!
Check out these related posts:
What to gift your dad for father's day 2020
How to do a virtual wine tasting at home
The best cocktail recipes from around the world
The best short rib tacos recipe
Jetset Christina's Best Wines to Drink in Quarantine
What to put on your wedding registry
The best and cutest loungewear to work from home in
The Best TV Shows & Movies To Watch on Hulu and Netflix Right Now
The Best Gifts to Put on a Wedding Registry
Bachelorette party swimwear for brides
Where to go on a honeymoon in 2021
Bora Bora vs. The Maldives – which is better?