Cape Town, South Africa Travel Guide
When I was a sophomore in college, I studied abroad with 500 other college students on the trip-of-a-lifetime circumnavigating the world in 110 days aboard a ship. On board Semester at Sea, we were immersed in each of the cultures of Hawaii, Japan, China, Hong Kong, Vietnam, Cambodia, India, Mauritius, South Africa, Ghana, and Brazil. Every day was an adventure, and as I explained in my very first post on this blog, my passion for travel was officially ignited. After I got back from abroad, everyone's very first inquiry into my trip was "So, what country did you like best?" Yes, I loved each and every country for different reasons. Yet, without any hesitation, I would answer, telling everyone all about how, in six short days, I fell completely and totally head-over-heels in love with
Maybe it was the incredible tip-of-the-world feeling you get from being in the southernmost city in Africa. Or maybe it was the unique combination of the bright African culture and the beautiful English colonial influence. Maybe it was the rich history. Maybe it was the nightlife and the delicious South African hard cider I had at every local pub, or possibly the gorgeous hikes to the top of Table Mountain. Maybe it was seeing the penguins on the beach, or tasting wines in the wine country, or maybe it was just the unparalleled views of the Indian Ocean meeting the Atlantic Ocean. Whatever the reason was, I fell in love with the city of Cape Town, and I know that you all will too.
I took this photo of a sunset in Camp's Bay. This unedited picture doesn't even do the African sunsets justice. Incredible colors light up the sky like you have never seen before. It is magical.
My nana is the most traveled person you will ever meet. Her love for travel began when she was my age and has never died down. She is in the Centurian Club (you can only be a part of this exclusive bunch if you've been to over a hundred countries) and her and my grandfather spend much of their retired life aboard various around-the-world cruises that take them traveling the globe for four months at a time. When they're not out seeing the world, they are enjoying their gorgeous view of the Pacific Ocean from the deck of their charming oceanside home in La Jolla, California. What a life. Anyways, my nana is my guru when it comes to travel. She's been everywhere, she's done most everything, and she has great advice. Which is why I was so incredibly excited about getting the opportunity to go to Cape Town, South Africa while on my Semester at Sea. Nana had told me that it was easily among her top five places in the world, which is huge coming from someone so well-traveled. She also gave me the important advice to make sure that I was on deck when we were pulling into port aboard the ship, as it was one of the most beautiful cities to see from the water that she had ever seen. This was incredible advice, as I still remember being completely awestruck pulling into the Victoria & Alfred Harbor, stunned at the beauty of the majestic mountains, the bright red sunrise, and the colonial-inspired old-world-city-turned-modern-metropolis nestled beautifully on the most southern tip of Africa. I could see right in that moment that Cape Town has everything you could ever want in a destination. Views, beaches, hikes, wines, nightlife, history, culture, africa, wildlife, safaris, and of course those to-die-for South African accents. No wonder people rave about this place so much.
The Ultimate Guide to Cape Town, South Africa
The Silo Hotel
Super chic 5-star hotel in a great location in Victoria & Alfred Waterfront. This hotel is an architectural marvel, and a must stay for design lovers.
A prime location in the V&A Waterfront, this contemporary and elegant hotel is a great choice for your stay.
Named after Nelson Mandela, the luxurious Mount Nelson is consistently ranked amongst the nicest hotels in the world. It's elegant colonial architecture and outstanding facilities earn it five stars. It has the old world charm you want in a city like Cape Town, but with modern sophistication you'll love. Definitely a splurge, but at least stop by for brunch (that's what I did)! https://www.mountnelson.co.za/web/ocap/mount_nelson_hotel.jsp
Often ranked the Best Hotel in Cape Town, this five star boutique hotel in Camp's Bay is your place if you want to be near the beautiful beaches. https://www.12apostleshotel.com/
The Bay Hotel. For value and a beautiful setting on the beach in Camp's Bay, the Bay Hotel is your place.
Must do's in Cape Town
Cape of Good Hope
The Cape of Good Hope is where the Indian Ocean famously meets the Atlantic Ocean. It's absolutely gorgeous, and a must-see if you're in South Africa. I did a bike tour all the way to the cape, which was a great way to see it. But you can hike, drive, or bike your way there, and you can bring a picnic too!
Stop at Boulder's Penguin Colony in Simonstown on your way and see thousands of penguins playing in the water and eating the mussels! You can get super close to them and it's sure to be a highlight of your trip!

V&A Waterfront
Lively at all hours of the day and night, the Victoria & Alfred Waterfront is a great gathering place for Cape Town tourists and locals alike. Sprinkled with shops, restaurants, pubs, and outdoor entertainment, it's one of my favorite places in Cape Town! Go to breakfast at Melissa's Food Shoppe – so cute and delicious! And for dinner, choose one of the many delicious restaurants. I liked Sevruga so much that I went to dinner there twice! Gorgeous outdoor seating on the water and I had the most delicious fresh South African seafood there, including southern hemisphere fish that I had never even heard of. The menu also had other delicacies such as ostrich, springbok, alligator, and more as well as a killer wine & cocktail list. One of my favorite things about Cape Town is that they don't hike the wine prices up in restaurants- so you can get a delicious bottle of wine under ten bucks at a fancy restaurant- CRAZY! Also, beers, even at nice restaurants like this one, will only run you about $1.50. Amazing. This restaurant also gave us free "springbok shooters" for dessert each time we were there since they were excited that it was our first time in South Africa (a mint chocolate shooter named after South Africa's famous springbok animals) — how could I say no to that!?
Wine country
While studying international business on Semester at Sea, I got to learn a lot about each country's economics and business before visiting them. Yes, I loved learning about the Japanese electronics industry and the bullet trains, and of course the Chinese manufacturing, and the Indian textiles… but let's face it, when my professor told me we were going to study the South African wine industry for weeks, including touring vineyards, wine tasting and learning about the marketing of the wines across the world, I was pretty excited, to say the least. Along with getting to taste delicious wines, especially the famous South African unique red wine, Pinotage, I also learned a ton about the industry. Including just how difficult it is to get good wine exported if you're not a French or Italian label. The South African global wine market is in its young stages but is rapidly growing, making a very exciting place to go wine tasting. South Africa not only has arguably one of the best regions for growing wine, it's also one of the only lucky wine regions around the world where the vintages match the views.
Wine has been in production here since 1652, but they're just beginning to get noticed by the top wine connoisseurs in the world. Which means not only great things for Cape Town and South Africa- but great things for all of us, as the prices of these wines are, for the time being, incredibly low compared to the hyped Bordeauxs and Napa Valleys of the world. If you find yourself in South Africa, wine tasting is a must, as you'll get to taste some of the most delicious and most affordable wines you'll never be able to get back in the States.
Stellenbosch Wine Route
Only about 40 minutes outside of Cape Town is Stellenbosch – a wine lover's heaven and South Africa's best wine country. Don't leave without trying the pinotage, a blend of pinot noir and Cinsaut that's native to Stellenbosch, and one of my personal favorites.
along this wine route you'll find many vineyards (or as the locals call them winefarms) that host wine tasting, among the most famous are:
Waterford Estate– four words: Wine and chocolate tasting. Here, you'll sit at a gorgeous courtyard table and be greeted with fine Belgian chocolates specially crafted onsite to match each wine you'll taste from the estate. Talk about a perfect afternoon!
Warwick – Family-owned with many award winning wines and views you wish you could get back home!
Morgenhof – This beautiful white estate situated among the Stellenbosch mountains has many fine wines, some of which are sold worldwide.
Cabrière – Top notch sparkling wines. Prepare to be seduced by the amazing bubbly, the stunning views, and the winery's motto that "wine is bigger than one, it's the combination of four factors. Sun, Soil, Vine, and Man. Not to mention the underground cellar restaurant!
Dieu Donné – Famous for its signature South African pinotage red wine. Many award-winning wines and, of course, like all the stellenbosch winefarms, breathtaking views.
Franschhoek Wine Route– Another wine route nearby the famed Stellenbosch with great winefarms.
Boekenhoutskloof -famous for it's Wine Spectator top-ranked reds.
Stony Brook Vineyards – Go here for an open-air, family-run tasting. You'll taste delicious reds (their most famous is their 2003 cabernet sauvignon) and feel like you're welcomed into a local's home.
Boschendal – founded in 1685. One of the first vineyards in the area and a gorgeous example of the famous Cape Dutch architecture in Cape Town.
Go on a Safari
How can you leave Africa without seeing the big 5? The 'Big Five' are Lions, Leopards, Elephants, Buffaloes and Rhinos, and you'll hear people referencing them all the time in Africa. Take a daytrip to a safari only hours outside Cape Town, or make it a longer trek to one of the bigger national game reserves in the northern part of South Africa.
For a six-star safari lodge experience that is delectably luxe, look no further than Royal Malewane, where YES, you can actually watch elephants from your very own pool. There are two accommodation options at Royal Malewane – Main Lodge which is more classic and grand in style and The Farmstead which is more intimate and contemporary. The lodge is easily accessible by air and road and is located in the Thornybush Private Game Reserve on the Western Border of The Greater Kruger National Park. The closest airport is Hoedspruit and there is a private landing strip at Royal Malewane, as well. This is an ultra-luxurious private safari lodge, and an ideal honeymoon safari lodge in South Africa.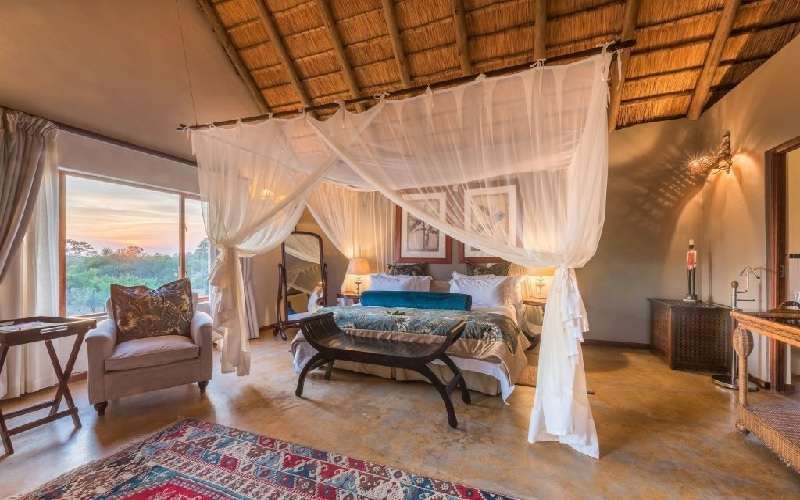 Gondwana Game Reserve
A three hour drive from Cape Town. Rave reviews, and good if you don't have time to fly out of Cape Town.
Kruger National Park
A more famous safari park, but you'll have to fly there. There are plenty of tour companies that will set everything up for you out of Cape Town, so why not do an overnight tented safari if you have the time! This park is also famed for this youtube video that went viral where safari-goers see a pack of lions kill a buffalo!
Great white shark diving
Yes, this is one of the most popular tourist activities in South Africa. Two hours outside of Cape Town, you can have the most daring adventure of your life and get right up close and personal with some humongous great white sharks. Not for my chicken self, but I had plenty of friends who raved about the experience. An awesome experience if you've got some serious guts.
https://www.sharkcagediving.co.za/
Hiking Table Mountain
Table mountain serves as the dramatic backdrop to the seaside city of Cape Town. Just don't go on a day where the "Tablecloth is on the mountain" – meaning there's literally a tablecloth of fog covering the mountain. Beautiful- but not prime for the views. The hike up takes at least three hours, or you can choose to take the cableway up the mountain. At the top you'll find some of the most gorgeous views in the world, and some shops and restaurants. For the more adventurous souls, you can also hang glide over the mountain, getting incredible views from the air!
Mama Africa's
A great place to take a group for a fun, authentic African meal. I'll admit, I was a little scared to try the warthog and the alligator, but they fry and sautee everything up with amazing African spices… you won't say no! I also remember delicious South African wine flowing at this meal. Take a group, enjoy the fun, African culture, and go home telling everyone you ate Pumba!
Go see a rugby or soccer game
Both sports are held near and dear to most South Africans' hearts, and you will love the atmosphere. South Africa was the site of the 2010 Fifa World Cup, and Cape Town's Green Point Stadium lies right on the water.
Rugby is to South Africa as football is to America. The Cape Town Tens is the largest Rugby tens tournament in the world and is Africa's biggest rugby party. Think Germany's Oktoberfest meets the Super Bowl. If you happen to be in town, try to catch a game or at least go to a pub to watch! I had some of the best times watching rugby while in Cape Town- I had no idea what was going on at all so I'd be staring intently at the TV's in the pub trying to figure it out… I even had a South African guy come up to me and say "So, you must really like rugby?" Nope, just trying to figure this complicated sport out. Immediately he knew I was American, bought me and friends drinks, and tried to explain to us all about South Africa and rugby. It was awesome hanging out with the locals watching their favorite sport– So find yourself a pub and some hardcore South African fans and try to figure out the game- It's really fun to watch!
Robben Island
A great tour of the island where Nelson Mandela spent 18 years of his life in imprisonment. You'll leave feeling very somber but cultured about apartheid and the relentless struggle that this beautiful country has been through just in the last twenty years. https://www.robben-island.org.za/
Clifton Beach
A gorgeous beach town area of Cape Town. Fancy, expensive houses (would be an awesome place to rent a house with your family or friends for a week and stay!) and gorgeous beaches. Definitely a beautiful place to spend the day.
Camp's Bay
About a five minute drive from Clifton beach, on the other side of Table Mountain from the V&A Waterfront, lies Camp's Bay- A South Beach-esque favorite. With first class nightclubs, luxe hotels and beautiful people, Camp's Bay is your place if you're into the luxe mixture of beaches, cocktails, and elegant nightlife.
Long Street
If you're looking for cheap hostels and a whole lotta nightlife- Long Street is your destination. Tons of bars and a really fun, young scene. It gets pretty crazy at night, definitely one of the wildest streets I've ever been to, and is tons of fun!
Where to eat in Cape Town
For a fancy meal:
If you're looking for an incredible meal in Cape Town, this is your spot. Contemporary French-meets-Asian fine dining.
African-inspired and japanese infused. This place is amazing.
Tribe Coffee – great café for coffee in the heart of Cape Town.
Belly of the Beast – great dinner spot with a delish contemporary menu.
Test Kitchen: If you can snag a res, The Test Kitchen is a South African meets Latin dinner spot you MUST go to.
know before you go:
The summer months are December-February, and it's hot but not humid- beautiful beach weather. The water is cold (you're pretty far down south!), so don't plan on swimming if you're not there in the summer. I thought the climate was similar to California when I was there in April, as it was pretty mild, around 75, but sunny.
When I left Cape Town, I couldn't help but feel like I could live there. It has many similarities to my home city of San Francisco, but with an African flavor and an amazingly fun culture all it's own. I would say Cape Town is like a mix of Australia, with it's fun-loving, carefree lifestyle and beautiful beaches, and San Francisco, with it's mild weather, fog, wine country, and charming architecture. San Francisco + Australia? Now if that isn't perfection, I don't know what is.
Hope you're all enjoying whatever paradise you're exploring this holiday season! Until next time.