The Ultimate Napa Valley Travel Guide [ 2022 + 2023 ]
If you're looking for the ultimate travel guide to Napa Valley – look no further.
To me, there's no vacation quite like Napa.
Picture-perfect vineyards rolling over the golden hills of California, Five-star farm-to-table restaurants with wine lists bigger than their entire menus, cozy, understated resorts with soothing spas and bubbling hot tubs, tennis courts teeming with relaxed vacationers, golfers with bottles of wine carefully tucked neatly into their carts, Bikers biking the valley from winery to winery. Cuddling up to a fireplace in your suite with a glass of the best red wine you've ever had.
If this sounds like your paradise as much as it does mine, let's toast to Napa Valley.
SOME QUICK NAPA HISTORY:
In 1976, a wine tasting called "The Paris Tasting" took place in France that changed the future of California wines forever. Like crusty old admissions officers contemplating the acceptance of an eager freshman into their established, hundreds-of-years-old University, accredited French wine professionals blind-tasted French red and white wines against California Cabernet Sauvignons and Chardonnays, and, shocking just about everyone in the world as much as it shocked the tasters themselves, the California wines won. Stags Leap Wine Cellar's Cabernet Sauvignon and Chateau Montelena's Chardonnay took first place and, for the first time in history, it became clear that someone could rival the French when it came to wine. Somms all over France scratched their heads while California, and the rest of the world, responded rapidly. In the next ten years, the number of California wineries more than tripled, and, in the 40 years since the tasting, the quality and price of California wines has climbed sevenfold, soaring their retail value to over $14 billion last year.
If I sound passionate about this, it's because I absolutely am.
I love wine.
I love the complexity of everything that goes in to creating this drink that humans have enjoyed for thousands of years.
I love how a bottle of wine evolves immensely with time, and with each person's unique taste.
I love thinking about how much has to go exactly right in creating a great bottle of wine… and more than anything, I love that vineyards, like people, must go through immense stress in order to bear better fruit.
A perfect environment will create a mediocre, ordinary wine. A struggling vine will produce an extraordinary wine.
They say that this is why the Napa Valley makes such amazing wines, as the earthquake faults under the ground make for nicely complex and diversified soil, and a perfectly stressful environment for Napa vines to grow.

It is so cool to think that every single second, from the growing grapevine, to the time a wine spends maturing in a barrel, to its time laying in a cellar, to the very moment you pop that cork and take a sip, as the movie Sideways so beautifully put it, "a bottle of wine is actually alive. It's constantly evolving and gaining complexity. That is, until it peaks, and then it begins its steady, inevitable decline." This gives wine an impermanent beauty, much like our own lives. Drink a great bottle too soon and you'll never experience its potential, spend too much time waiting, and you might have lost your chance. Great wine is unpredictable, impermanent magic… and it tastes SO dang good.

I also love the culture that being near Napa Valley brings our wine-crazed Northern California area, as there is hardly a night that friends and I aren't drinking wine. Some of my very best times have been vineyard-hopping with great people, or simply cooking a dinner at home and pairing it with the perfect bottle of Nickel & Nickel.
So enough with my wine lovefest already, let's go to Napa!!!…. wine not?
Where to wine taste in Napa Valley
There are hundreds of wineries to taste wine in Napa, Yountville, Saint Helena, Calistoga, Sonoma, and Healdsburg, so it can be overwhelming to choose where to wine taste – and the truth is there are VERY different wine tasting experiences to choose from – so here are my favorites, broken out by type of tasting experience to help you find the perfect wineries for your trip:
*JETSET TIP* Be sure to google map out your wineries ahead of time. I'd recommend no more than 3 in a day for most people (You can poteeeentially do 4, but it's really pushing it, I have much better experiences in Napa when I do just a couple per day, and take our time there). Be sure the map of the wineries you choose make sense and are near each other!
The best 'classic Napa' wineries
Best for: First-timers to Napa, those wanting to learn more about the region, how to wine taste, etc. These are my favorite 'Welcome to Napa' tastings.
Beringer– This beautiful, family-owned winery since the 1800s is a great first tour for first time Napa-goers. They will teach you how to taste wine, pair it with cheese, and the nuances behind each sip. I love the barrel tasting tour because you get to taste directly from cabernet in an aging oak barrel! Also a great winery for groups.
Inglenook (Napa) – A splurge of a tasting that, in my opinion, is completely worth it if you're only in Napa once. this is Francis Ford Coppola's winery and is a beautiful property with fantastic wines. My favorite? The Rubicon. Incredible bottle.
Chateau Montelena– This gorgeous ivy-covered chateau was made famous for beating out the French in the Paris Tasting. Their wine is delicious, and the estate is gorgeous. Tastings starting at $25. Vineyard tours are $40 and require reservations. You can stop in the tasting room without a reservation, or make a more intimate limited release tasting reservation in their library for $50.
Stag's Leap Wine Cellars (Napa) – Easily one of Napa's most famous wineries – Stag's Leap was the Cabernet Sauvignon that took place in the famous Paris Tasting in the 1970's. Their Fire & Water tour is incredible – and their cabernet's are some of the best in the Valley.
courtesy of: Grgich Hills
Grgich Hills (Napa) – Fantastic wines in a great atmosphere. Mike Grgich was the winemaker at Chateau Montelena in the 1970's and soon after his famed win of the Paris Tasting, he went off to create his own label. He and his croatian family are fantastic and it is immediately evident that this winery is run with the love and care of a family-run venture.
Hall Winery (St. Helena) – Hall Winery makes some seriously good (more high-end) cabernets, and has one of the prettiest tasting areas, too! All tasting are private and conducted outdoors. Reservations are required for all experiences and limited to 6 guests. HALL Winery is located a few minutes drive south from St. Helena – along the busy "wine strip" section of Highway 29 that features some of the larger, historic and more well-known wineries in the valley, so it's easily accessible during a busy day of tastings! Though it's easy to get to, the winery is set back from the highway, so it never feels overly busy here. I love it!
Far Niente Winery – Far Niente is well regarded throughout Napa and everywhere as one of the very best wines, and their property is as beautiful and elegant as you would expect. Sister winery to Nickel & Nickel, Far Niente has an amazing tour and tasting for first-timers to Napa who know good wine!
Sterling – It's super touristy but if that's your vibe, Sterling is famous for its over-the-top gondola ride to their tasting room! A great spot for out-of-towners to get a view of the vineyards. Tastings start at $29.
Del Dotto St. Helena Venetian Estate – If you want to feel like you're wine tasting in the hillsides of Tuscany, this is your spot. The winery pays homage to the family's Venetian heritage dating back to 1150. The cathedral-like estate sits on the original Rutherford vineyard, and the winery and caves is unlike any other property in Napa Valley and a must-see. I love it here!!
The best wineries to taste with a group of friends
Domaine Carneros (Sonoma) – always a go to for bubbly in Sonoma! BEAUTIFUL spot, and such impeccable service. I love it so much, and spend so much time here, I might as well just move in.
Artesa Winery (Napa) – Architecturally stunning contemporary winery with a fun Spanish flare (their owners have been making wine in Spain since the 1500's!) I absolutely loved their pintxo's food pairing tasting. This place would also be amazing for a group – and is one of the first wineries driving up from San Francisco to the Valley, making it an easy day trip for San Francisco travelers.
V. Sattui Winery (Napa) – This lovely winery is perfect for a picnic. They have a big deli full of awesome lunch options and picnic tables outside – their tastings are affordable and the fact that you can bring your own food in makes this a fantastic lunch & wine spot.
Castello di Amorosa (Napa)– it's a castle, literally. Beautiful spot. One of my favorite places to bring newcomers to Napa because of it's gargantuan appeal. Tastings starting at $20.
Flowers Winery (Sonoma) – Always a go-to of mine. Be sure to tell them Jetset Christina sent you for the best pours 😉 ! This beautiful tasting room with insta-worthy outdoor cabanas and indoor spaces – brand new!! And one of my favorite wines ever. Love their chardonnay and Pinot. They also have an amazing chef and do great farm-to-table food and wine pairings.
Jordan Winery (Healdsburg/Sonoma) – I have always loved Jordan Winery, and all of their wines (champagne, cab sauv, and chardonnay!) It's one of the most beautiful wineries in Sonoma and they put on a great tasting and tour. Go for a lunch pairing if you can! It's a must-do in Alexander Valley.
Shop the look:

The best small producer wine tastings in Napa / Sonoma
Best for: Napa honeymooners, those who LOVE wine and are looking for the best of the best in the valley, and are looking to discover new small production boutique, family run wineries.
AXR is my favorite winery right now. Surrounded by redwoods, it's a beautiful tribute to the way wine tasting in Napa used to be, but with a fun, edgy modern touch that I just can't get enough of. In the summer, AXR's outdoor patio is the place to be, and, in the winter, their beautiful main house or chic farmhouse cabanas are all amazing. Every time you taste here you'll have a different experience – and their wines are SO good. I think I bought an entire case last time I went (I LOVE their chardonnay!)
Handwritten wines (Napa) – this is a new tasting room but a well known wine in Napa Valley – they don't distribute their wines so everything is only available for members and tasting room visitors! It's a gorgeous spot right in downtown Yountville – and their chard and cabernet sauvignons are TO DIE FOR. Their winemaker came from Cakebread, Rombauer, La Crema and more before going into Handwritten – so it's no wonder their chardonnay is so good. But their single vineyard, single varietal cabernets will blow your mind as well.
If you're looking for a winery that will blow your mind (with its wines, its views, and its technology), Palmaz is it. Their tagline is 'the fusion of tradition and technology' and that's exactly what tasting there is about. It is a GORGEOUS winery is tucked away all by itself in Napa and is owned by an Argentinean family, who have a love for food, and, of course, meat!! Their legendary Argentinean cookout parties are what club members rave about, and when you join their wine club you even get a beautiful traditional steak knife. Visit in the Summer and you'll get to taste their small production rose, which I think is one of the best roses in the Valley.
I recommend Palmaz to anyone looking for a really unique tasting, with AMAZING wines.
Cornell Vineyards (Sonoma / WAY up in the mountains)
Another exclusive, blow-your-mind tasting I love is Cornell Vineyards. You'll wind your way up Spring Mountain to this absolutely stunning property, with no other winery in sight. It feels straight out of a movie of Napa / Sonoma in the 70's. Tractors ride around the property checking the grapes as you get poured a glass of Dom Perignon to kick off the tasting by one of the members of Cornell's intimate team of 4 people. The views are UNREAL and you'll taste their DELICIOUS cabernet sauvignons, and feel like you're at someone's home.
Cornell is a small production cult-following wine, that collectors rave about and celebrities flock to. Highly recommend checking it out.
Kelly Fleming Winery (Calistoga)
This absolutely stunning property is a small production, cult-following wine that you will want to take CASES home of. The caves are absolutely breathtaking and Kelly's eye for design is felt throughout the stunning property. They only take 8 visitors a day so it's a super exclusive tasting – Loved this spot.
Highly recommend their 'big pour' cabernet sauvignon.
Nickel & Nickel– As members of this winery, we go to all of their parties and have had the opportunity to taste here and take the tour many, many times, but every time is better than the last!! I can't imagine Napa without this little country winery, and I hope you'll love it. The tour is $65/person, and requires reservations.
The best ultra-high-end wineries to taste in Napa Valley
Promontory (Napa) – One of the most expensive and exclusive tastings in the Valley, Promontory is worth every cent. This STUNNING property sits on just one tiny part of owner a Bill Harlan's more that 900 untamed, rugged acres of land dubbed "Napa Valley Territory". The family only began growing grapes here (on less than 10% of the land) in 2008, and immediately knew they had something special. Promontory wine makes less than 2000 cases of this Cabernet magic , most of which are only available at the winery itself, that just opened last summer for private tours only.
If you're looking for a Napa valley wine and tasting experience to truly blow you away, this is it.
Opus One Winery – This is one of the most globally recognized names in luxury wine. Tasting is pricey, at $45-$60 a glass, but it's a bucket list winery! So gorgeous… and incredible wine. Make sure you head straight to the terrace once you get your glass! Some of the best views in Napa.
The best wineries that you love to drink at home to go check out while you're in town
Caymus Vineyards (Napa) – Great wines! Some of my favorite in Napa. And a absolute picturesque outdoor tasting area. I love their pinot noir and their chardonnay.
Cakebread Wines (Napa)
I love Cakebread's chardonnay and cabernets, so tasting here is always great. It's a quick tasting, and located right off of Highway 29, making it an easy stop in a busy wine tasting day. Also LOVE their patio – so beautiful in the summertime.
Rombauer– My go-to chardonnay. I always come home with at least a few bottles from here, and they don't make it a week in San Francisco before they're gone. Great spot for a casual, pop in tasting. Starting at $20 for a flight.
Trinchero Napa Valley– This beautiful estate's tasting room is a great stop in Napa. Tastings start at $30 and their cabs are fab.
Joseph Phelps Winery (Napa) – You've probably heard of Joseph Phelps' famed Insignia label – an insanely good cabernet sauvignon that is worth the trip to this winery alone. Add in a cozy lodge-like tasting room and a terrace like this? It's a must do.
Twomey– located in Healdsburg and also in Calistoga, this is one of my go-to's for a casual drop-in tasting in the valley. Their pinot's are so good (they're under the Silver Oak label) and I always end up walking out with a few bottles.
Where to have a glass of wine with a view in Napa Valley
Auberge Du Soleil – If you don't stay there during your stay, you can stop by to take in the sunset over a glass of wine on their elegant patio overlooking the valley. Can't beat this view.
Where to stay in Napa Valley (at every price point)
Tucked into a 33-acre olive grove in Rutherford, this luxurious Napa Valley resort has one of the most beautiful outdoor pools (complete with cabanas!), a dreamy spa, and a five-star restaurant. Rooms are ultra-plush with a fireplace, and surreal balconies and patios with expansive views.
Italian linens, slippers and bathrobes are provided in all rooms or suites, where you'll also find an over-sized soaking tub with a separate walk-in shower, a double vanity and free spa toiletries.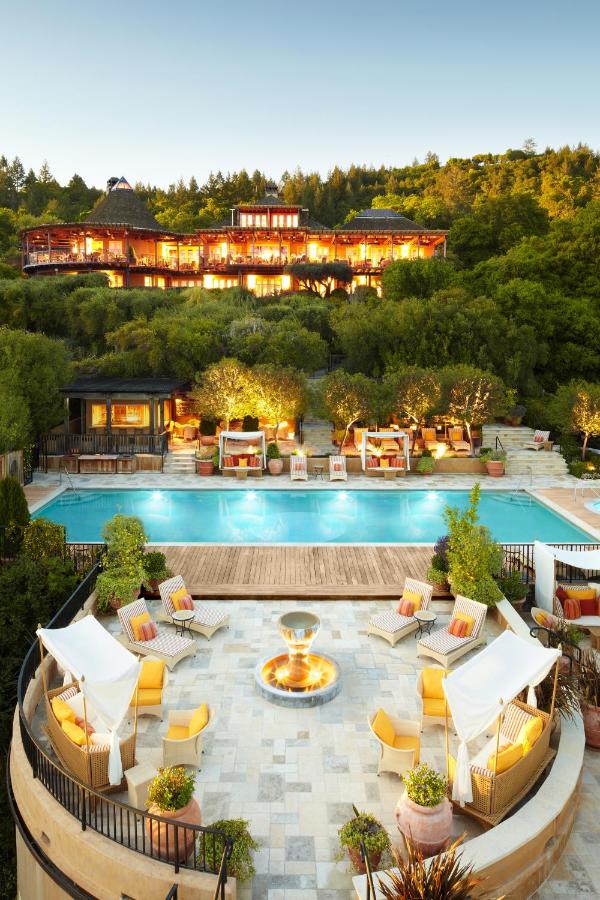 For an upscale-meets-traditional stay in the heart of wine country, the Harvest Inn is a perfect choice with its great location in Saint Helena, massive guest rooms, rustic charm, and eight acres of vineyard views. Two outdoor heated pools and two whirlpools, and private spa treatment rooms, as well as the 78 rooms and suites are spacious with minibars stocked with free drinks and free Wi-Fi, plus huge bathrooms, many with separate showers and tubs.
This modern-chic resort is Napa Valley hotel goals. It's in Saint Helena – one of my very favorite areas of the valley (and where many of the wineries I mentioned above are!) and each room has a dreamy terrace that looks out onto the vineyards and onto THIS view.
Photo courtesy Las Alcobas
This French Chateau-styled hotel has all of the things I love… Fireplaces in the room, a complimentary bottle of wine upon arrival, free champagne breakfast buffet…. and the delicious waffles I crave ALL the time! I think if you're looking for the perfect Napa experience, Yountville is where you want to be. It's an adorable small wine town with the best restaurants (Bottega, French Laundry, Bouchon, Bistro Jeanty)
This resort, complete with tennis and its beautiful golf course, is a great option for staying overnight in Napa. Just off the Silverado trail (where many of the wineries I mentioned are), it's the perfect location for your getaway. The rooms are a bit outdated but I love the big resort feel, it's a great place for groups, too.
If you're looking for a nice, affordable hotel in Napa in the perfect location – this is it. If I'm going up for a weekend or a quick one-night Napa getaway, this is always where I stay. It's right in the right location (only a 10 minute drive from Yountville, Saint Helena, and most of the wineries I love to taste at), and the rooms are simple, modern and wonderful, each with its own fireplace! The complimentary breakfast is also amazing.
I love staying up in Calistoga – the most Northern part of wine country because it's secluded, quiet, and has some of the most beautiful hotels ( Auberge Solage is a favorite, as is the cozy chic Cottage Grove Inn!). It's a beautiful, romantic area of Napa Valley.
Where to Stay in Sonoma
This would hands down be my pick of where to stay in Healdsburg! It's one of wine country's newest properties – just opened in 2020, and I think it may be the best hotel in ALL of California wine country! With two gorgeous pools surrounded by vineyard views, and modern, sophisticated, refined rooms overlooking the vines, it's hard to beat a stay here. I also LOVED the restaurant – Hazel Hill. If you're looking for the ultimate luxurious place to stay in Sonoma, this is your spot.
This recently renovated, centrally-located property is set on a historic six-acre estate with lush grounds, gardens, winding wine-filled pathways, a mid-century pool, and a full-service spa utilizing flowers and herbs from property gardens. Named one of the Top 10 Hotels in Northern California in Condé Nast Traveler's 2021 Reader's Choice Awards, the property is within walking distance of Sonoma Plaza, and minutes from some of wine country's vineyards, wineries and restaurants.
Check rates for your dates here
An adorable boutique hotel I just LOVE in Sonoma is the Kenwood Inn & Spa. I mean how dreamy is waking up on this balcony? It's super small, really luxe, has a great pool (win!) and is a perfect romantic getaway spot to stay.
Another one of my top picks for where to stay for luxury in Sonoma County is Farmhouse Inn – a tucked away, understated, inn in Forestville with all the right luxuries you need for a perfect wine country vacay. Think: a Michelin star restaurant (amazing!!!!), complimentary fire pits and s'mores, a dreamy jacuzzi and heated pool, and adorable wine country hotel room bungalows with the most comfortable beds you can imagine!
I also loved that Farmhouse Inn is only a 10 minute drive from some of the most DELICIOUS wineries in Northern California – Flowers, Gary Farrell, Twomey, etc! You're also only 20 minutes from Healdsburg, another of my favorite regions (which you can read all about my vacation in Healdsburg and what to do in Healdsburg here)
Where to stay with a big group:
Check out my post on Napa's best Airbnb's for Groups
The Best VRBO's and Airbnbs for a couple
This gorgeous romantic villa has its own vineyard – making it an ideal romantic getaway in Napa Valley – I have a friend that stayed here and got engaged in the vineyard – they LOVED it!! The pictures don't do it justice!
How to get around wine country
The easiest way to get around Napa Valley with a group is to pre-arrange a driver or limo to take you around for the day!
Where to eat in Napa Valley
For Breakfast / Coffee / Juices
Southside Yountville
I go here almost every trip to Napa! Obsessed with their chilaquiles and avocado toast with smoked salmon. They also have great coffee (and oat milk lattes, my go-to). So if you're in a rush to get to the wineries and just want a quick (but delish) breakfast and coffee spot, look no further.
The Station
Casual grab-and-go coffee and AMAZING food. If you're in the St. Helena area, this is your spot! I love the crustless quiche (so good) and the breakfast burrito.
Napa Valley Juice
This St. Helena health food store has the BEST fresh juices for takeaway. So if you're addicted to your first-thing-in-the-morning celery juice like me, this is your spot. Also right across the street from the Station so if you're staying in St. Helena, these two make a perfect morning routine (and you can bike or walk there from your hotel!)
For lunch or dinner
This spot in Yountville ranks right up there with my favorite dinner spots anywhere. Celebrity chef Michael Chiarello brings his top notch chef skills to this amaaaazing contemporary californian-italian restaurant in an atmosphere so uniquely Napa. Check out their incredible wine list and think of me when you order a glass of Nickel & Nickel merlot. The Nickels are great friends with Bottega, and it's actually where I had my very first glass of my now-favorite wine.
RH Yountville – This chic new contemporary restaurant in Yountville is an instant favorite. Each table is adorned with an over-the-top chandelier, and the beautiful ambiance and decor is matched with the delicious menu. Order the crispy artichokes, the burrata, and definitely try their signature bellini! I also recommend going a little early for a drink at their bar – it is adorable! This is the perfect date spot in Napa.
Farmstead– This farm-to-table restaurant in Rutherford is an amazing spot, and my go-to every time I'm in Napa. Think all-american food with a contemporary California twist. I always start with the grilled artichoke appetizer or the meatballs, and I recently had their barbecued ribs with mac and cheese (amaaaaazing). You can't go wrong with anything on their menu. And save room for dessert here because it is delicious! Another one of my favorite things about this place- their outdoor bar area with fire pits at night. Not to mention wine on tap. Because, Napa.
Charter Oak I loooove the food (and wine) at Charter Oak! Located in the heart of the Napa Valley by Chef Christopher Kostow of the Michelin three-starred The Restaurant at Meadowood. The Charter Oak is centered on a celebratory, family-style dining experience, with simple, approachable, and seasonal food – grilled meats, beautiful vegetables from our 3.5-acre farm, local wines, and unparalleled cocktails.
Lou's Luncheonette – This is a great brunch or lunch spot in Sonoma, but expect a wait. It is right by Domaine Carneros, so is a great spot to go eat before or after tasting there if you're in this area. It's also on the way from SF to Napa, making it the perfect pit-stop.
Mustard's Grill – A greeaaat spot. This restaurant has been serving up American food to Napa locals and visitors alike for over 30 years. Many people's favorite.
Redd Wood – Full disclosure: I was quite tipsy on wine when we finally stumbled into Redd Wood for dinner. But I wouldn't have it any other way. This place is great. We had a huge round table with our group of 10 people, and were surrounded by the coolest atmosphere. Rich, dark wooden walls, a cooly lit up bar with dozens of single light bulbs lining it, like a starry night. The modern doors are trimmed in chic, black metal and the whole restaurant is an interior designer's dream. Our wine-drunken selves loooooveed (and devoured) the gourmet pizza they are famous for (although their small plates are also superb).
Brasswood – Another restaurant I love to drink cocktails, wine, and eat an amazing meal at. It's located basically nextdoor to AXR – one of my favorite wineries. SUPER good food – and the perfect lunch spot in the Valley. Order the homemade mozzarella and thank me later.
The French Laundry – I have not yet had the opportunity to eat at this renowned Napa restaurant, often voted the very best restaurant in the WORLD. But, I have walked by their beautiful organic gardens and often dreamt about eating there one day. Their menu is a 9-course tasting menu complete with wine pairings, and, word on the street is each person has their own waiter. Talk about a dining experience unlike any other, more like you're eating at someone's home than in a restaurant.
Angele – delish French cuisine in a riverfront bistro perched up overlooking the Napa River. Great spot if you're staying closer to downtown! Angele is an oasis where you'll feel like you're in Europe!
Bistro Don Giovanni – sit on the patio! Chef Scott Warner's rustic fare incorporates local fruits, vegetables, meat and fowl into traditional, fresh Italian dishes with her signature, creative flair. Freshly baked breads, local olive oil, beautiful salads, tasty appetizers and homemade pastas are inspired by the bounty of Napa Valley.
When is the best time to go to Napa Valley?
Napa is one of those few magical places in the world that are beautiful no matter the season. It's gorgeous in the Summer, almost more beautiful in the Fall with harvest going on, and even stunning in the Winter, on rainy cozy days (and this is spoken from a Summer worshipper!!) In February, you get mustard season which is just BEAUTIFUL, and one of my favorite times of year to visit.
These two regions of California wine country could not be more different – and they're both amazing. If you're trying to decide where to go in wine country and want to know all the differences between Napa and Sonoma, and which region is best for YOUR trip, check out my blog post here: Napa vs. Sonoma.
Biking around the valley is one of my favorite things to do in Napa – and definitely a hot air balloon ride!
Check out my full list of things to do in Napa if you don't drink wine here
What to Wear in Napa + Sonoma:
Shop these dresses:

How great is this cork print Napa hawaiian shirt?
What to Wear Poolside in Wine Country:
You can wear this chic blue and white print bikini anywhere but if you look closely you can see the grapes and vines in the print!! Perfect Napa bikini for the wine lover.

Check out this post on packing for Napa in every season


What are Jetset Christina's favorite Napa Valley wines? And how do I order them?
The best wines you can have shipped or delivered
Should I go to any other areas around Napa?
YES, yes, and yes!!! Some of my favorites are Sonoma, Calistoga and Healdsburg. Every area of California wine country is so different, so it's fun to explore a few.
Craving an amazing chilled glass of California chardonnay yet?
Cheers,
Christina
Check out my other related posts:
Napa vs. Sonoma : Which region of California wine country is better?
The best outdoor wine tasting in Napa and Sonoma
Where to stay in Napa for a bachelorette party
The Best Travel Reward Credit Cards
The Ultimate Calistoga Travel Guide to Calistoga, California