The Ultimate Napa & Sonoma Bachelorette Party Guide
When it comes to dreamy bachelorette party destinations that are easy, chic, and fun for all your girls, Napa Valley and California wine country top the list. Rent a villa in wine country, wine taste your days away in a private limo, get spa treatments, and spend your nights cooking dinner outside in the warm California weather and playing bachelorette party games over (many) bottles of wine at the house. If this sounds like your perfect bachelorette party, this guide is for you.
How to Plan a Bachelorette Party in Napa Valley or Sonoma
The best season to visit Napa is in the fall. It's harvest season, so the vineyards are gorgeous and the weather is PERFECT. That being said, ANY time of year is great in Napa. I love summer in Napa, and spring is so, so beautiful. In the winter, it can be rainy and it's more of a romantic vibe than a sunny girls trip vibe. Whatever season you choose, check out my Packing for Napa Valley blog post here for Napa outfit inspo.
With options from downtown Napa, to Sonoma, to Calistoga, Healdsburg, Saint Helena and more, you're probably wondering where is the best area to stay with a group for a Napa bachelorette. If you want a really nice house, with a pool, and a ton of space, and don't mind having to drive a bit (or hiring a driver) to get you from winery to winery, then I would say Calistoga is a great option. Saint Helena is where a lot of my favorite wineries are, so if you can find something in that area (I have a rec below), that's an awesome option. If you're going to be mainly tasting in Sonoma, be sure to stay on that side. And downtown Napa is a good choice if you're looking fcr a more urban feel with lots of bars and restaurants.
Surrounded by a private Pinot Noir vineyard and overlooking sweeping and unobstructed views of Arrowhead Mountain this house is the ultimate wine country destination.
This beautifully constructed 5 bedroom, 5,000 square foot custom estate home rests on almost 4 tranquil vineyard acres on the border of the acclaimed Carneros region in the Southeast corner of Sonoma County.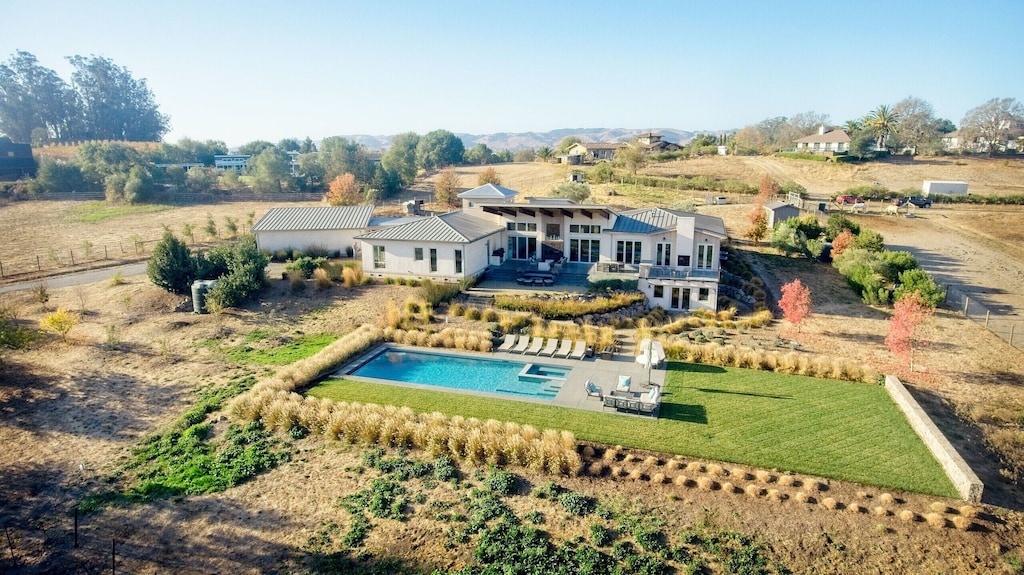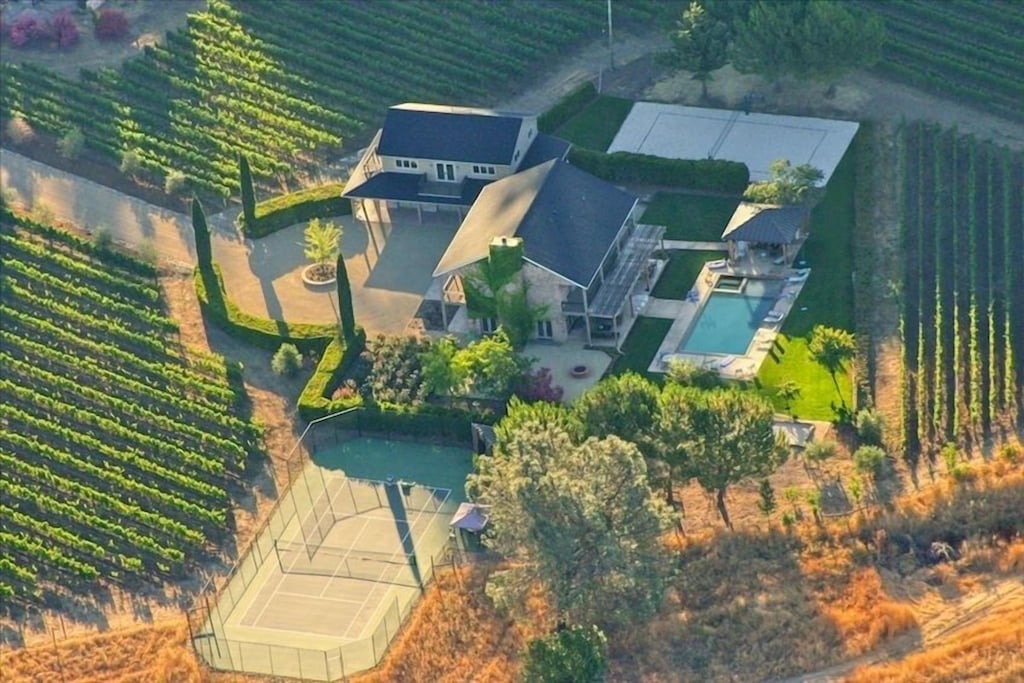 If you want to be located in the center of all the best wineries in Napa, this house is for your group.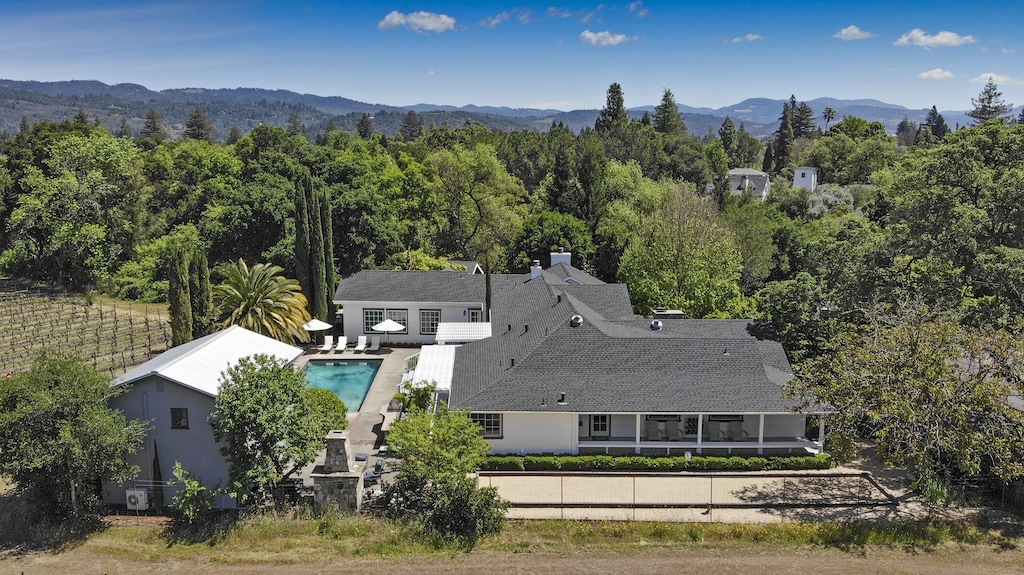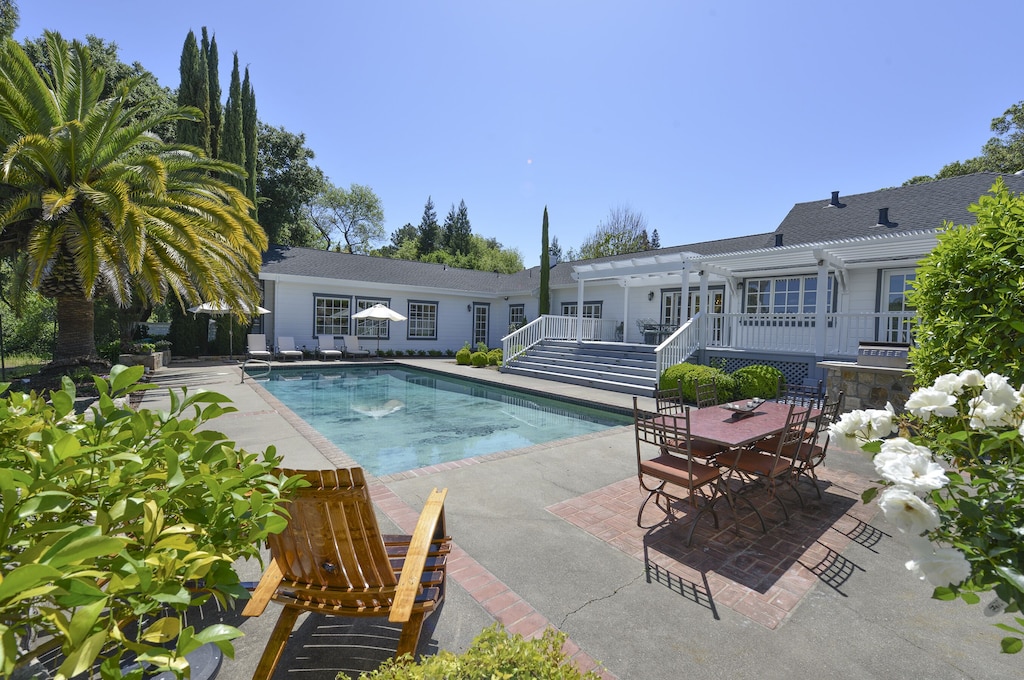 Where to stay in Sonoma for a bachelorette party
Casa Bella is located on the 2-acre historic landmark estate in the heart of beautiful Kenwood, Sonoma County. This estate has been beautifully restored with elegance as well as remodeled to give you the modern ease your looking for. A spacious 10 bedrooms, sleeping 22 people in 13 beds and 7 bathrooms will give your large group exactly what your looking for while in wine country. The Bella Luna and Dolce Suites are connected to the main house but have their own private separate entrances.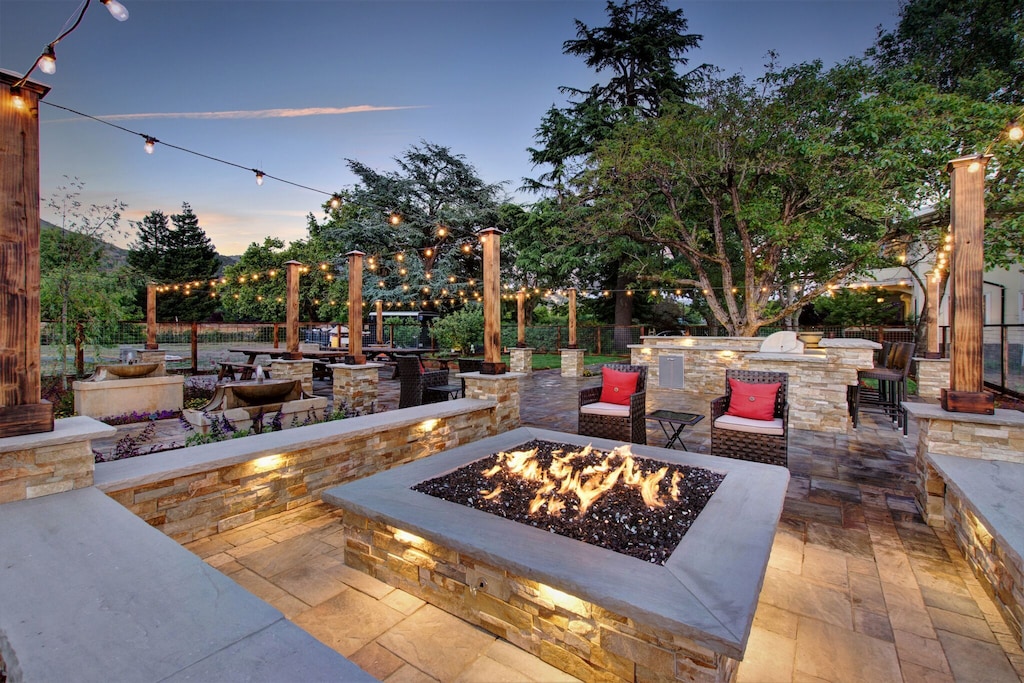 How dreamy is this house?!
This spacious Sonoma home is situated on 5+ beautiful acres with a gated driveway, solar heated pool and in-ground spa. The main house has a large kitchen with granite counters with an airy eat in table for the entire group to have breakfast while looking out on the garden and lawn. The adjacent dining room seats 16 with plenty of room surrounding for everyone to join in on elegant family meal while the living rooms offers expansive windows, a wood-burning fireplace, and a great place for bachelorette party games!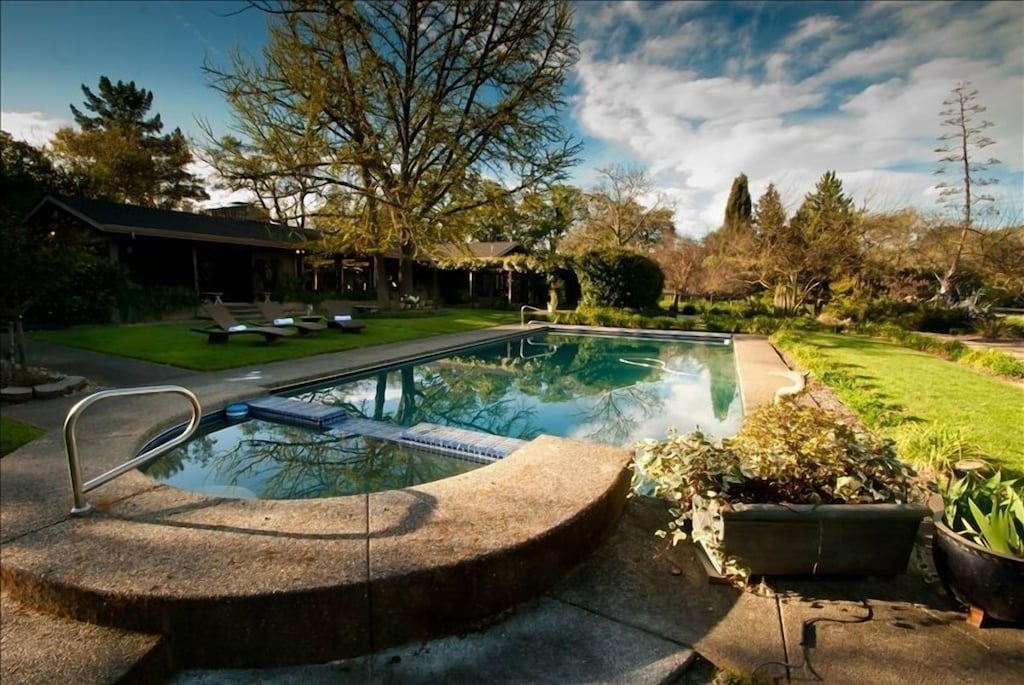 Where to stay in Downtown Napa for a Bachelorette Party
Sleeps 14!
Where to stay in Napa on a budget for a bachelorette party
The best hotels for a bachelorette in Napa:
If you'd prefer a hotel versus a house in Napa, stay at the Silverado Resort & Spa for chic country club vibes or The Archer for its central location in buzzy downtown Napa.
How to get around wine country:
Hire a driver!
The wineries are all far from each other and you're definitely going to want to hire transportation for your Napa bachelorette.
The places to wine taste with a bachelorette party in Napa:
The best Napa Valley wineries for bachelorette parties and groups:
Flowers Winery
I love Flowers' vibe for a girls trip to Napa. Their cabanas are super cute and your girlfriends will be obsessed with their wines. Definitely tell them Jetset Christina sent you!
One of the most beautiful wineries in Napa, the castle is a must-stop for groups wine tasting in Napa.
Tasting Fee: $45 per person

Appointment Required? Castello di Amorosa is offering tours and tastings by appointment only. Book here.
Beringer Vineyards
Beringer is one of my favorite spots to wine taste with groups in Napa (especially first-timers) because they do an excellent job at teaching you about wine tasting, Napa, and the like. It's a little commercial – but a great first time in Napa winery, and great for groups.
Tasting Fee: Starting at $15 per person, Cave tour is $30 per person (and I highly recommend)
Appointment Required? Beringer is open Thursday through Monday, 10 am to 5pm by Reservation Only
Whenever I'm wine tasting with a group in Napa (or heading over to the Valley on a party bus from San Francisco), V. Sattui is always the lunchtime tasting spot. It's a casual, counter-service wine tasting room and deli / general store all in one, and you can picnic out on their many tables or bring a blanket and supplies and hang out in the grass. When planning your tasting day, I'd recommend doing a total of 3-4 wineries (depending on how aggressive your group is) and one of them being V. Sattui around lunchtime (and make sure everyone eats!! wine tasting can be a lot for some people, and you'll need that mid-day sandwich)
Tasting Fee: $25 per person

Appointment Required? Tasting reservations are required. You can make a reservation here.
Domaine Carneros
Domaine Carneros is one of my favorite wineries in Napa to start the day at with a group. Not only is it STUNNING, it's well-located in Sonoma on the way to Napa (so if you're coming from San Francisco, the perfect first spot).
Tasting Fee: $40 and up

Appointment Required? Reservations are required. Reserve here.
photo via ItGirlWeddings

If you're looking for a classy bachelorette party wine tasting in Napa, Turnbull is a great choice. The wine is delicious, and your group can taste a world-class portfolio of wines in a beautiful, relaxed Napa setting. The winery is tucked away right in the heart of Napa Valley, conveniently located just off of Highway 29.
Tasting Fee: $40 for the Gallery Tasting Experience, $80 for the Private Estate Tasting Experience

Appointment Required? Appointment only due to COVID-19. Email [email protected] to make a reservation.
Duckhorn
Another upscale, quieter group choice would be Duckhorn – famed for their delicious wines and a chic garden setting on the Silverado trail.
Tasting Fee:The Duckhorn Portfolio Tasting ($40) highlights five current-release wines. Ask about an optional pairing to accompany your tasting. For those who want to go a little deeper into our renowned Duckhorn portfolio, several Elevated Tasting Experiences ($55 – $85) are also available at varying prices.

Appointment Required? Appointment only – Reserve here.
For more, check out my ultimate Jetset Guide to Where to Wine Taste in Napa Valley here.
How to get around Napa with a bachelorette party
The easiest way to get around Napa Valley with a group is to pre-arrange a bus or limo to take you around for the day!
The best restaurants for bachelorette parties in Napa
This is the most beautiful restaurant in Napa – it's SO chic and perfect for a bachelorette party brunch or dinner.
My favorite restaurant in all of Napa Valley – and a great restaurant for groups in Napa.
If you're looking for the best restaurant in downtown Napa for groups, this cute tapas spot is a great choice.
What to Wear in Napa + Sonoma:
Shop these dresses:

How great is this cork print Napa hawaiian shirt?
What to Wear Poolside in Wine Country:
You can wear this chic blue and white print bikini anywhere but if you look closely you can see the grapes and vines in the print!! Perfect Napa bikini for the wine lover.
The best Napa bachelorette party favors
Vino before Vows Weekend Itinerary, Etsy
Customizable beach bags are so cute for a bachelorette weekend – and gives you somewhere to put all your favors for each girl! I'd put something like "Napa Valley" on these, and maybe something personalized on the back!
Customizable beach bags are so cute for a bachelorette weekend – and gives you somewhere to put all your favors for each girl! I'd put something like "Napa Valley" on these, and maybe something personalized on the back!
Matching Napa bachelorette tees
And don't forget some fun bachelorette party decor!
What to wear to a Napa bachelorette?
Have fun on your Napa bachelorette! I personally think it's one of the best bachelorette party destinations ever – and so easy to have a great time with your girls!
XX,
Christina
Check out these other blog posts:
All the best white dresses for bride-to-be's for every event
What I do every day to stay healthy
Napa vs. Sonoma : Which region of California wine country is better?
How to plan the best bachelorette party ever
Cute Bachelorette party favors that everyone will love
The best white swimwear and cover ups for a bride to be
The Ultimate Calistoga Travel Guide to Calistoga, California
The best luxury airbnb villas in Cabo san Lucas
The best trips to take with friends in your twenties