The Ultimate Jetset Sonoma Travel Guide
Planning a trip to Sonoma, California? With a breathtaking coastline, enchanting redwood forests, picturesque rolling vineyards, a laid-back vibe, and a world class wine country, Sonoma County reigns supreme as one of the best wine countries in the world to visit, any time of year. In fact, Wine Enthusiast just named Sonoma its #1 Wine Region of the Year, calling it "one of the most diverse and progressive winegrowing regions in the world."
With endless things to do in the region, from wine tasting, to coastal hikes, or exploring adorable towns like Healdsburg or Sebastopol, there's something for everyone in Sonoma. But where do you begin when planning your trip to Sonoma County? Here is your Ultimate Jetset Sonoma Travel Guide to get you on your way!
"Sonoma County is a study in contrast: It's historic, yet forward-thinking, innovative yet traditional, and coastal yet mountainous. The most dynamic and risilient wine region in America right now, it's as complex as its outstanding wines." – Wine Enthusiast, 2019
Any vacation to Sonoma County is just incredible. Not only is it home to some of the best and most complex wines in California, it is also a leader in sustainability in the wine world – with amazingly 99% of the vineyards in Sonoma County certified sustainable. The vibe of Sonoma County is understated yet sophisticated, with a focus on agriculture and farm freshness in both their food and wine (most of the food you get throughout wine country comes direct from Sonoma County!)
This would hands down be my pick of where to stay in Healdsburg! It's one of wine country's newest properties – just opened in 2020, and I think it may be my favorite in ALL of California wine country! With 2 gorgeous pools surrounded by vineyard views, and modern, sophisticated, refined rooms overlooking the vines, it's hard to beat a stay here. I also LOVED the restaurant – Hazel Hill. If you're looking for the ultimate luxurious place to stay in Sonoma, this is your spot.
Farmhouse Inn
Another one of my top picks for where to stay for luxury in Sonoma County is Farmhouse Inn – a tucked away, understated, inn in Forestville with all the right luxuries you need for a perfect wine country vacay. Think: a Michelin star restaurant (amazing!!!!), complimentary fire pits and s'mores, a dreamy jacuzzi and heated pool, and adorable wine country hotel room bungalows with the most comfortable beds you can imagine!
I also loved that Farmhouse Inn is only a 10 minute drive from some of the most DELICIOUS wineries in Northern California – Flowers, Gary Farrell, Twomey, etc! You're also only 20 minutes from Healdsburg, another of my favorite regions (which you can read all about my vacation in Healdsburg and what to do in Healdsburg here)
This recently renovated, centrally-located property is set on a historic six-acre estate with lush grounds, gardens, winding wine-filled pathways, a mid-century pool, and a full-service spa utilizing flowers and herbs from property gardens. Named one of the Top 10 Hotels in Northern California in Condé Nast Traveler's 2021 Reader's Choice Awards, the property is within walking distance of Sonoma Plaza, and minutes from some of wine country's vineyards, wineries and restaurants.
Check rates for your dates here
Another adorable boutique hotel I just LOVE in Sonoma is the Kenwood Inn & Spa. I mean how dreamy is waking up on this balcony? It's super small, really luxe, has a great pool (win!) and is a perfect romantic getaway spot to stay.

Fairmont Sonoma Mission Inn
I absolutely love the Fairmont Sonoma Mission Inn, which is ideally located right near Sonoma Square, and is a great spot to base for a wine country vacation. They have an amazing spa, and a great natural heated healing spring pools open year round. They also have an amazing lobby bar that is great for gathering groups, so I love this hotel choice for a family stay or a group! Also – they're VERY dog friendly!!
Where to wine taste in Sonoma County:
Jordan Winery – I have always loved Jordan Winery, and all of their wines (champagne, cab sauv, and chardonnay!) It's one of the most beautiful wineries in Sonoma and they put on a great tasting and tour. It's a must-do in Alexander Valley.
Flowers Winery – be sure to let them know Jetset Christina sent you to get the best pours! beautiful tasting room with insta-worthy outdoor cabanas and indoor spaces – brand new!! And one of my favorite wines ever. Love their chardonnay and Pinot. They also have an amazing chef and do great farm-to-table food and wine pairings.
Shop our outfits:

Gary Farrell Winery – Delish pinots in a beautiful setting overlooking the Russian River Valley
Domaine Carneros – always one of my first recommendations for someone new to Napa and Sonoma. This place is gorgeous, and they make delicious champagne!
Cornell Vineyards (Super exclusive – WAY up in the mountains)
A blow-your-mind tasting I love in Sonoma is Cornell Vineyards. You'll wind your way up Spring Mountain to this absolutely stunning property, with no other winery in sight. It feels straight out of a movie of Napa / Sonoma in the 70's. Tractors ride around the property checking the grapes as you get poured a glass of Dom Perignon to kick off the tasting by one of the members of Cornell's intimate team of 4 people. The views are UNREAL and you'll taste their DELICIOUS cabernet sauvignons, and feel like you're at someone's home.
Cornell is a small production cult-following wine, that collectors rave about and celebrities flock to. Highly recommend this tasting.
Failla Wines – Failla makes one of my very favorite pinots in the world (which you can buy online here) and I love their tour & tasting!
What is there to do in Sonoma besides wine tasting?
There is so much to do in Sonoma County besides wine tasting!
Drive to the Sonoma coast and explore Bodega Bay, California
About 45 minutes from Sonoma is a beautiful area called Bodega Bay, a west coast town that feels like it could easily be in Maine or on the upper northeast. With fresh seafood, local restaurants, and a gorgeous stretch of the Pacific Coastline.
In Bodega Bay, you can spot whales off the coast all year long, (more October through February, when gray whales are southbound from Alaska to Mexico, and February through April, when they reverse course).
Wearing my go-to Alo Yoga set

Shop my workout set here at Alo
Be sure to stop at Spud Point Crab Co. for lunch in Bodega Bay, too – it is a super casual crab stand in the harbor with the best crab sandwiches, clam chowder, and crab salad I've ever had in my life! The line for Spud Point is always out the door. It's so good.
Brewery hop in The Barlow district in downtown Sebastopol
Tired of wineries and in need a change of scenery (and drink)? Head to Sebastopol to stroll The Barlow district. The Barlow is a downtown development full of great food (check out Fern Bar!!!), and some great wine tasting rooms and breweries. I loved Crooked Goat and Woodfour Brewing Company – famous for their sour beers!
Get the most delicious cheese ever at WM Cofield in Sebastopol
You can actually watch the cheese get made at this awesome cheese shop in Sebastopol's The Barlow. (Spoiler alert: Good cheese comes from happy cows and super-clean, organic milk, which is the only thing they use here!)
The cows they use at this cheese shop come from 120 years of family owned business in Petaluma, and if you stop by on a Wednesday, you can see the team making the cheese. If you miss that, they're open Friday, Saturday and Sunday for cheese tasting and the cheese shop (where you can chat with the master cheesemaker himself!)
Where to eat in Sonoma
Boxcar Fried Chicken & Biscuits – This is a great lunch spot in Sonoma County, and is one of the first stops you should make if you're coming in from San Francisco, since it's on the way! Boxcar is also right by Domaine Carneros, so is a great spot to go eat before or after tasting there if you're in this area.
I love Boxcar on a nice day because they have a big outdoor area and the food is so, so good. The vibe is southern and delicious – they have fried oysters, fried chicken (of course), amazing milkshakes, as well as salads and sides, but you can't go wrong with their famous fried chicken & waffles… SO good.
They call themselves a "cocktail-focused restaurant" but the food here is just as good as the drinks. They craft garden-to-glass cocktails served alongside modern American cuisine inspired by West Sonoma County's abundance of agriculture and biodiversity, and it is all farm-to-table freshness. Definitely worth a stop if you're in Sebastopol
With an emphasis on seasonal ingredients, and of course, amazing wine, it's no wonder Girl & The Fig is almost always named the best restaurant in Sonoma. Stop by any time of day for a memorable meal, from brunch to lunch to dinner, and you'll find French aperitifs, unique and traditional cocktails, an award-winning Rhone-Alone winelist, a delectable seasonal entree menu, cheese & charcuterie platters, and outdoor garden patio seating.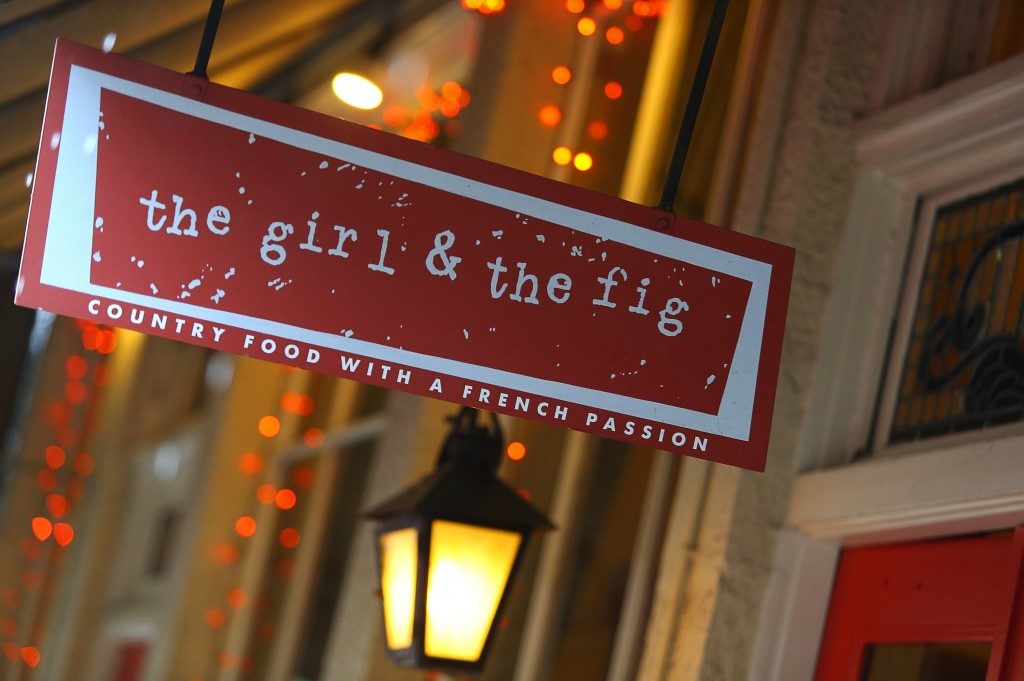 What to Wear in Napa + Sonoma:
Shop these dresses:

How great is this cork print Napa hawaiian shirt?
What to Wear Poolside in Wine Country:
You can wear this chic blue and white print bikini anywhere but if you look closely you can see the grapes and vines in the print!! Perfect Napa bikini for the wine lover.

Check out these related Sonoma and Napa blog posts!
What to pack for Napa Valley or Sonoma
The Ultimate Napa Valley Travel Guide
A Weekend Wine Tasting Guide to Healdsburg, California
Where to Stay In Wine Country: Hotel Les Mars Healdsburg
All my favorite skincare picks – 2019
What not to put in your checked bag – Jetset Christina