The Best Fall & Winter Bachelorette Party Destinations
Planning a bachelorette party in the fall or winter this year? Whether you were always planning a fall or winter bachelorette, or you, like many of us, are dealing with postponed weddings and bachelorettes, and looking for fun options to replace a summer bachelorette with a fall or winter destination, here are my picks for top bachelorette party destinations that will wow your girls and make for some amazing bachelorette memories, whether you're looking for warm-weather getaway from the cold, or a chic ski-themed winter bachelorette destination.
The best fall bachelorette party destinations
Chase the warm weather by planning a fall bachelorette party in Palm Springs. With sunny weather year round, and the best in shopping, dining and bar hopping, California's Palm Desert is now considered one of the best bachelorette party destinations in the US. It's the perfect mix of mellow, poolside days mixed with a great nightlife as well.
If you're planning a girls weekend or bachelorette party in Palm Springs, you can go on a day-trip adventure to Joshua Tree National Park – about 45 minutes away!
Photo courtesy of @MrsNicoleCostello
White with gold zipper one piece and desert cactus sarong both by Kenny Flowers
Want to buy out a whole hotel for your group? This colorful, boutique hotel is available to rent out and sleep 16+ guests. How cute is this place?
Huge spacious house perfect for groups in Palm Springs. Amenities include an outdoor kitchen, instagram-worthy chaise lounges, hot tub, a huge outdoor dining space.
The ideal girls trip house in Palm Springs, this house has a private pool with swim jets, private hot tub, gas powered firepit. 360 degree mountain views, views from every room. Outdoor dining for 6, outdoor sectional couch for 6, fully stocked kitchen, outdoor grill, covered pergola with misters.
3 bedrooms, king beds with Trina Turk bedding (so cute). There is a golf cart available for you to use, too!
If you want to go the hotel route, The Saguaro Palm Springs is fun, trendy, affordable and always a non-stop party. It's the quintessential bachelorette party home base, and their pool is the picture-perfect spot to roll up in matching one-pieces and sarongs.
There's also the upscale, eclectic and chic Parker Palm Springs, which makes for a perfect bachelorette party base in the desert if you're willing to splurge a bit.
The best season to visit Napa is in the fall. It's harvest season, so the vineyards are gorgeous and the weather is PERFECT. Rent a villa in wine country, wine taste your days away in a private limo, get spa treatments, and spend your nights cooking dinner and playing bachelorette party games together.
Where to stay in Napa Valley for a bachelorette party:
You could rent a villa with a lot of bedrooms (there aren't many large houses in wine country, but I listed a bunch of my favorites on this post here.
Here's one in Sonoma with 6 rooms and gorgeous vineyard views) or if you don't go the house route, get a few hotel together rooms at a hotel like Silverado Resort & Spa or The Archer in downtown Napa.
The places to wine taste with a bachelorette party in Napa:
Check out Castello di Amarosa, Berringer, Turnbull, V. Sattui, and Duckhorn for some of our favorite Napa wineries for groups. And check out my ultimate Jetset Guide to Where to Wine Taste in Napa Valley here.
The best winter bachelorette party destinations
Best time to go: November through April
Pool days with your girls mixed with wild Miami nights make this chic destination the ultimate bachelorette party destination for 2020. It's where we went for my bachelorette party!! Which took place in February – an amazing time to be in Miami because it's dry, not humid, and sunny and gorgeous!! It was the perfect warm-weather getaway for my girls coming from all over the US.


If warm weather and a weekend spent not having to ever change out of your bikini sounds right up your alley – look no further than a bachelorette party weekend in South Beach Miami. The most ideal time to visit Miami is between November and April.
Where to stay in Miami for a bachelorette party weekend:
This place was the bachelorette party DREAM house.
We didn't stay in South Beach for my Miami bachelorette – which was not a problem at all – it was an easy uber away – you tend to get nicer houses if you stay a little outside of south beach, but, if you want to be in the heart of South Beach – check out something like this apartment, or stay in one of the swanky hotels!
Delano South Beach is a favorite, and the W South Beach is pretty ideal for groups. The Miami Beach EDITION is also beautiful, and perfectly located.
Matching bikinis and sarongs by Kenny Flowers, 20% off with code JETSET
SEE MORE: HOW TO PLAN A BACHELORETTE PARTY IN MIAMI
Best time to go: September through May
Spend your days soaking up the sun, relaxing at the spa, or partying it up at Maya day club or the pool parties at the W Scottdale.
W Scottsdale – hands down the best place to stay for a bachelorette party in Scottsdale. Plus, it has a great rooftop pool, and easy access to the best clubs, restaurants and bars in the city. Or a house like this one, that can fit 10 girls.
As far as bachelorette swimsuit options for all the fun pool parties in Scottsdale, I love the idea of everyone wearing black suits and the bride wearing a white bride to be swimsuit.. these are some of my favorite swimsuits for a bachelorette party!
SEE MORE: The best white bikinis and onepieces for the bride on her bachelorette
Best time to go: Late spring, summer, early Fall
Charleston is just MADE for a girls getaway. With beaches, a charming downtown, endless shopping, and an AMAZING food, drink, and nightlife scene, it's hard to top this Southern gem for a fall bachelorette party destination.
If you're looking for somewhere downtown, I absolutely love the chic rooftop pool at Hotel Bennett. If you'd rather stay in a house on the beach with all your girls, and cab into downtown for one or more of the nights, I'd rent a villa in Isle of Palms (like this one, or this one) or Sullivans Island (like this one,or this one). Both Isle of Palm's and Sullivan's have some really beautiful bachelorette party vacation homes with private pools just steps from the beach.
SEE MORE: JETSET'S ULTIMATE GUIDE TO PLANNING A TRIP TO CHARLESTON, THE FOODIE GUIDE TO CHARLESTON, and PACKING FOR A WEEKEND IN CHARLESTON , HOW TO PLAN A CHARLESTON BACHELORETTE PARTY
With 13 beds, sleeping 16 girls, this is an ideal home rental steps from the beach for a bachelorette in Charleston.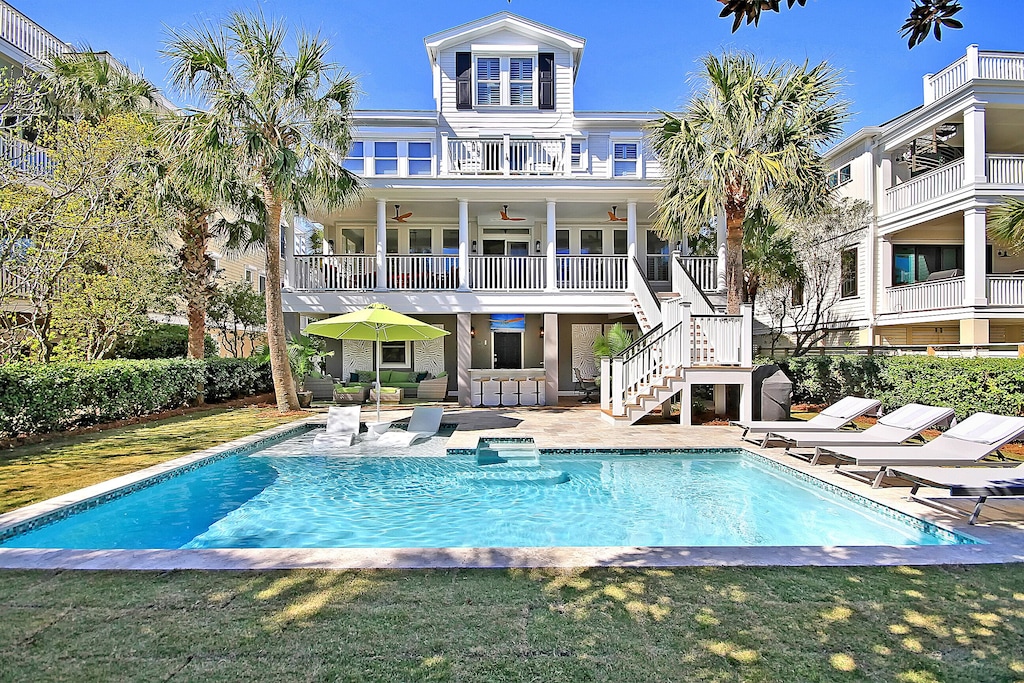 bachelorette party itinerary for Charleston – Etsy
Best time to go: November through April
There's nowhere quite like Cabo for a girls weekend or bachelorette party. From sunshine, beaches, all-inclusive resorts, strong margaritas, delicious Mexican food, and a wild nightlife… Cabo has it all. AND it's pretty affordable for you and your girls. From the West Coast, a flight down to Cabo is only a couple hours (and usually direct), and villas and even all-inclusive hotels in the city can be equally reasonable. Spend your days on Medano beach (and definitely hit up Mango Deck), and your nights at cute Mexican hacienda restaurants and late night dancing with your ladies at El Squid Roe and Mandala.

Where to stay for a bachelorette party in Cabo:
If you want a secluded, ultra-luxe mansion on a beachfront compound that you won't have to leave (or are looking for an epic group trip, birthday trip, destination wedding or other event celebration in Cabo, THIS IS YOUR SPOT! We were FLOORED by this place for my 30th birthday celebration, you guys. From the all-star staff (a chef and bartender are included, as well as a butler, and they shop for you and you just pay the cost for food and drinks – much less than you would pay at a hotel!!!! It's ideal, you all. Can't recommend this place highly enough. When you book make sure you message that you heard about them from Jetset Christina!
If you want to go the hotel route:
Pueblo Bonito – This luxury all-inclusive hotel has, in my opinion, the best location in Cabo. It's beautiful setting right on Medano Beach and beautiful white architecture that makes you wonder if you're in Mexico or Greece, and makes for the perfect home base for a bachelorette party weekend. The pool is also a hot-bed of daytime activities like 2pm "Tequila Volleyball".
Solmar Resort – If you're looking for the best bang for your buck, Solmar is it. This all-inclusive is pretty affordable for a big group, and it's everything you need in a bachelorette base in Cabo. The Mexican food is great, the beach is gorgeous, the pool is awesome, and the drinks are fab.
Villa Cielito – for a GORGEOUS private villa that fits your whole group in Cabo, this is your spot. Villa Cielito is a stunning villa perfect for groups in Cabo, and features a private pool, and seven bedrooms.
Aspen, Colorado
If you're a snow, ski, and apres-loving bride looking for the chicest winter bachelorette destination, look no further than planning an Aspen bachelorette.
Photo credit – RacySuits
Spend your days on the slopes, in the hot tub, your afternoons at Cloud Nine and your late nights at the Caribou Club.
SEE MORE: JETSET CHRISTINA'S ULTIMATE GUIDE TO ASPEN COLORADO, and PACKING FOR A WEEKEND IN ASPEN COLORADO
Especially in the fall, San Diego is an IDEAL bachelorette party destination. Your weekend will be filled with great weather and sunny days by the pool or on the beach, followed by bar hopping in Pacific Beach or getting sunny city vibes in SD's gaslamp district. Eat all the mexican food you can get your hands on, rent an awesome airbnb or stay in a chic hotel (I have tons of recs here)
Cute Bachelorette party favors that everyone will love
Bride bachelorette party outfit ideas, bridal shower dresses, and more!
The best white swimwear and cover ups for a bride to be
The best groomsmen gifts
The best honeymoon destinations in the US
The best matching couple swimwear
How to plan the perfect destination bachelorette party
The Ultimate Napa Valley Bachelorette Party Guide
The best airbnb's for bachelorette parties in Scottsdale
The best honeymoon destinations – honeymoon ideas
The 10 best gifts for a bride to be – cute bridal shower gift ideas
The best airbnb houses for a bachelorette in palm springs