The Ultimate Charleston Bachelorette Party Guide : Planning the Perfect Charleston Bachelorette [ 2023 ]
Charleston is ideal for a bachelorette party or any girls' weekend! With its beautiful beaches, charming downtown, and endless shopping, food, drink, and nightlife, it's hard to top this Southern gem for a bachelorette party destination.
Where to stay in Charleston for a bachelorette party
If you're a smaller group looking for a hotel in downtown Charleston that's good for a bachelorette party, I absolutely love the chic rooftop pool at Hotel Bennett. But if you're a bigger group, I'd recommend staying in a house on the beach with all your girls, and cab into downtown for one or more of the nights, I'd rent a villa in Isle of Palms (like these below, or this one, or this one) or Sullivans Island (I loooove this one,or this one).
Both Isle of Palms and Sullivan's have some really beautiful bachelorette party vacation homes with private pools just steps from the beach. It's less important to be directly ON the beach, since it is a dunes-beach and houses are set back from the beach anyway. Here are a couple awesome ones below.
With 6 bedrooms, sleeping 12 girls, this is an ideal home rental steps from the beach for a bachelorette in Charleston.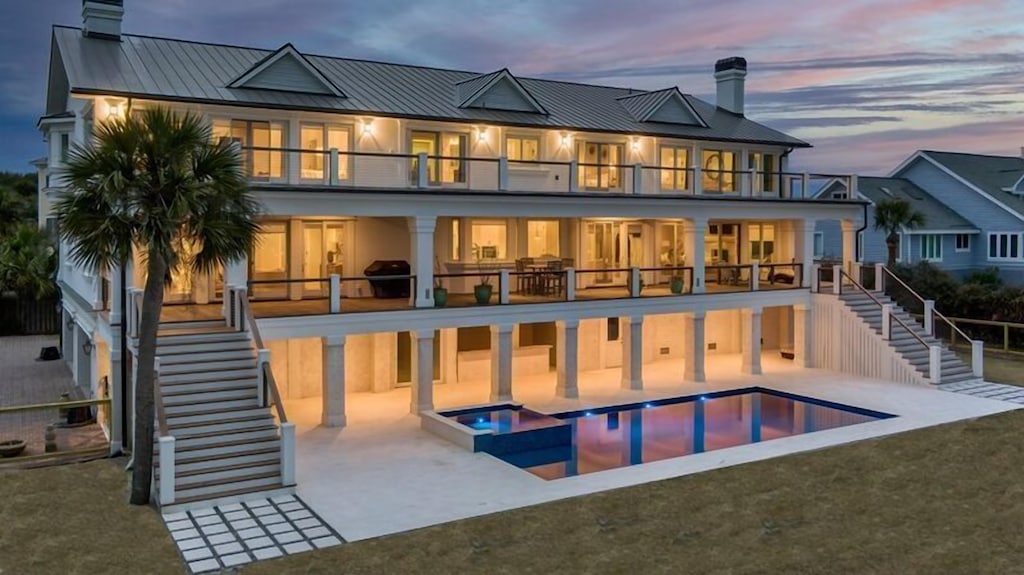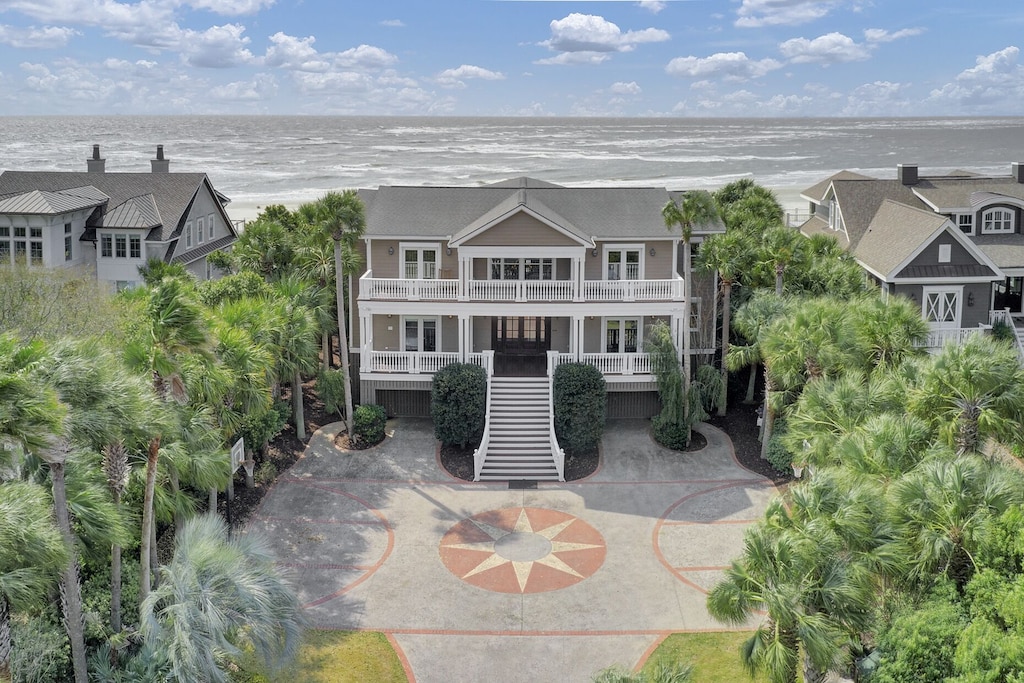 This beautiful 5-level Villa is centrally located just a 3-min walk from super-fun Folly Beach, 2 blocks to Center Street restaurants/shops & a block to Bert's Market, so you get all the convenience of all Folly has to offer while having your own private oasis! Extensively renovated in 2021, this piece of Folly history provides luxury southern lifestyle living & large group entertaining!
Check rates here and let them know Jetset Christina sent you!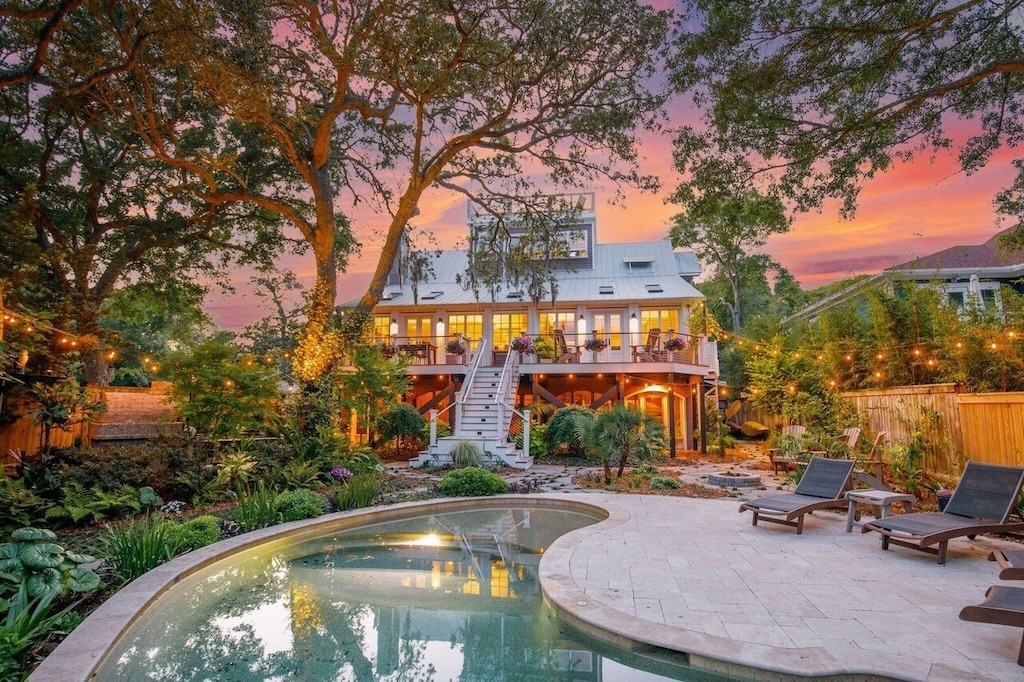 This super cute, colorful house sleeps 15 guests in 11 beds and is located right on the world-renowned Wild Dunes golf course and only a half mile from the beach! This luxurious villa is a perfect bachelorette pad in Charleston, especially given the prime Isle of Palms location (my favorite area to stay in Charleston when you want to be near the beach!) You can walk to the beach from this house or use the house's complimentary bikes!!! (Which would make for some chic bach party photos!)
This dreamy house in Isle of Palms is easily where I'd choose to stay on any Charleston bachelorette party. It's oceanfront and the pool is TO DIE FOR!!
SEE MORE: JETSET'S ULTIMATE GUIDE TO PLANNING A TRIP TO CHARLESTON, THE FOODIE GUIDE TO CHARLESTON, and PACKING FOR A WEEKEND IN CHARLESTON
This completely new remodeled house is perfect for a Charleston bachelorette group house.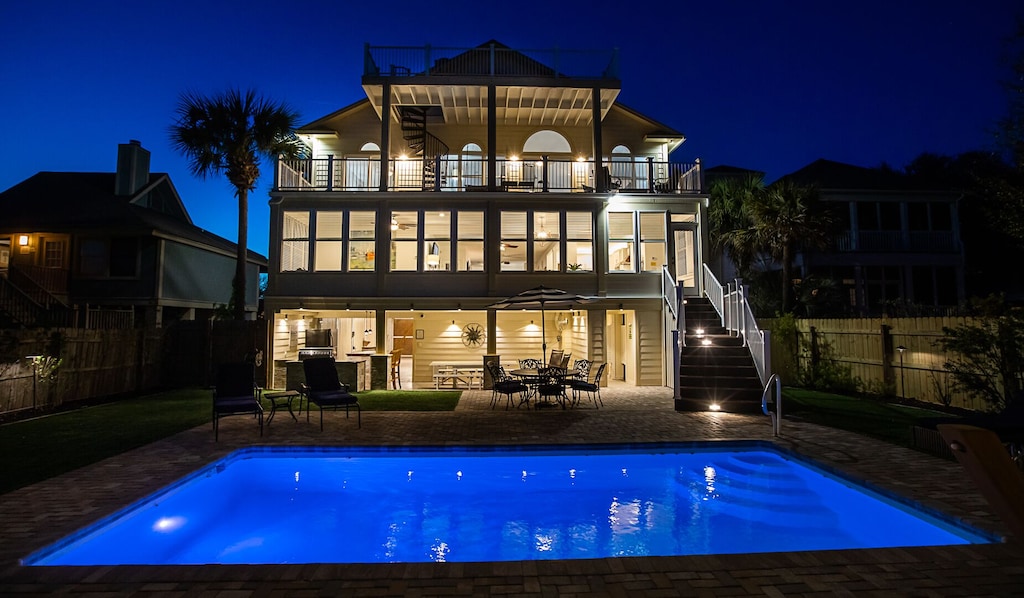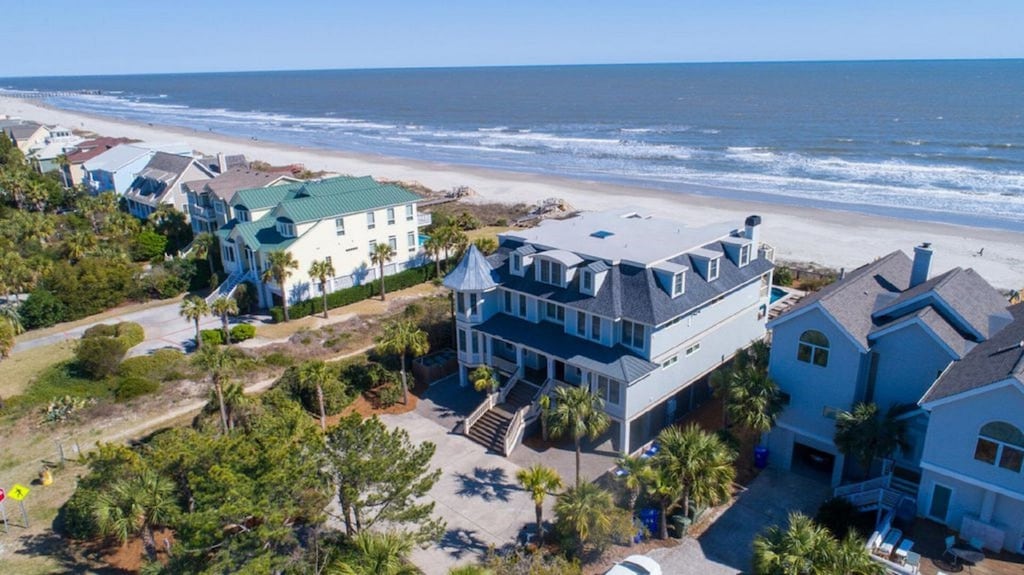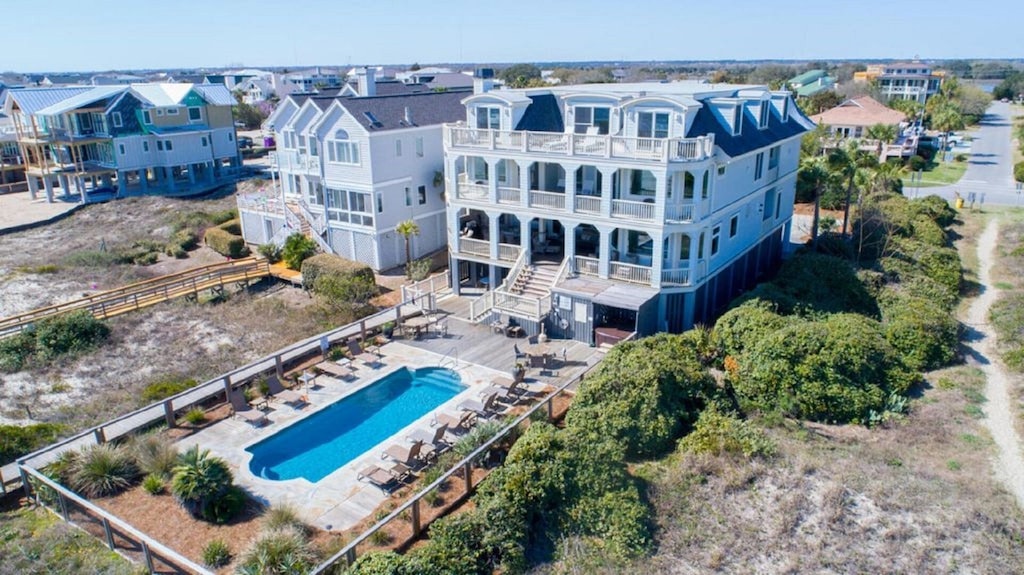 Sleeps up to 29 people! Located directly on the beach on prestigious Isle of Palms, South Carolina, this expansive beachfront home is the largest beach front home at Isle of Palms and represents luxury Charleston living at its finest!
This gorgeous remodeled historical house has 6 bedrooms, a private balcony, terrace and outdoor dining table that would be perfect for a group of girls.
Where to eat with a bachelorette party in Charleston
Fried chicken and oysters – does it get more Charleston than this spot? The outdoor / indoor rustic-chic restaurant is a locals favorite hangout for fresh oysters, crispy fried chicken, delicious cocktails, and a cozy patio that's perfect for bachelorette groups – Leon's is a must on any trip to Charleston.. it's so good you're going to want to go two times in one weekend.
My order: A frozen G&T, a half dozen of the chef's choice oysters, a fried chicken sandwich, and the brussels sprouts.
Ritual
This Tulum-inspired Mexican rooftop restaurant on Calhoun Street is a great option for bachelorettes. It has a great view, and is a great dinner spot for groups in Charleston. It also turns into a nightclub at night (look into VIP tables here).
View this post on Instagram
For the best pizza, pasta and Italian in Charleston, and a great date night spot, look no further than Indaco. I'm obsessed with their neopolitan-style pizzas, delish pastas, and their fresh caesar salad (that is authentic zesty caesar dressing, not creamy-mayo-wannabe-caesar!)
If you're looking for a chic brunch spot in Charleston with a patio – Butcher & Bee is your spot. I'm obsessed with Butcher & Bee's food – it's incredible – and their patio is so cute and perfect for a group of girls. Also I am obsessed with their WINE SELECTION. They have some of my absolute favorites like Twomey Cellars and Rombauer at amazing prices (like $10 a glass….) I couldn't even believe it. Clearly the owners of this Nashville/Charleston hot spot love their Napa Valley wine and are willing to give it to customers at pretty much cost. LOVE IT.

This place is so good – I'm talking finger-lickin' down-home-country-cookin-on-the-cutest-southern-porch-y'all-have-ever-seen good. Fried chicken, biscuits, sweet tea glazed salmon, fried pimento cheese, local seafood, filet mignon …. the Poogan's Porch menu has everything you could ever want and more that you'd ever thought you'd try (fried alligator salad? Only in the south). Check it out for brunch, lunch or dinner – you won't be disappointed.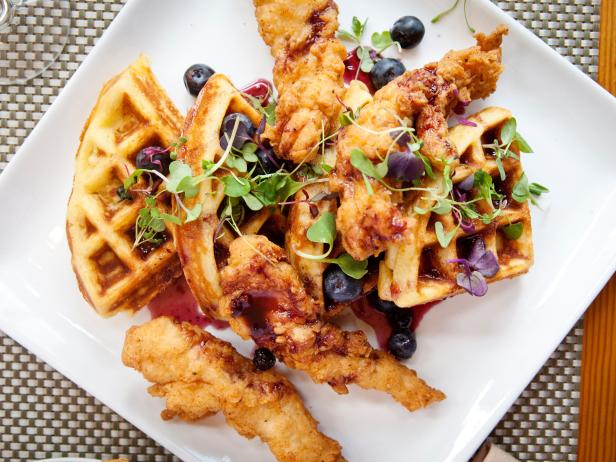 THE BEST LATE NIGHT IN CHARLESTON. Hands down. If you're stumbling down King Street past 1am with the girls, you're likely to see a long line lined up a small storefront labeled with a simple "HLB". Make sure you get one. They are to die fo. Open until 2pm on all days, and reopens from 10pm-2am on Fridays and Saturdays.
Photo via Charleston Mag
Come for the Mexican, fresh ingredients, and homemade tortillas, stay for the house-infused Tequila list. Mex1 only uses 100% Agave Tequila and then infuses it in house with delicious things like fresh pineapple, strawberry cucumber, jalapeño and pineapple habanero. The signature Mex 1 margarita uses a combination of fresh lime, lemon and orange juice with just a touch of sugar to balance it out.
If you have a group or are in town for a Charleston bachelorette, this is a great casual brunch spot! Their Mexi-Cali Brunch highlights things like breakfast tacos and different types of huevos rancheros. The cocktail list will keep your group buzzed and happy, with drinks like 'the Hydrator' made with Tito's, coconut water and passion fruit, or the Pineapple Ranch Water, made with house-infused pineapple Tequila, Topo Chico, and served right in the bottle with a lime, sugar, salt rim. YUM.
Mex1 has 3 Locations – Sullivan's Island, West Ashley, Park West. Brunch is every Sunday from 10:30-3pm.
With three locations across the city (in West Ashley, Downtown Charleston, and Sullivans Island), Hometeam is where you want to head for a super casual fun dinner with delicious wings, pulled pork nachos, and their signature frozen gamechanger cocktails.
Where to Brunch with a Bachelorette in Charleston
The best brunches for groups in Charleston
5Church
One of the best brunches in Charleston, and great for a group!!!
Basic Kitchen is a perfect healthy brunch spot in Charleston.
Brunch is only available on Sundays but if you're there on a Sunday, it is the place to go with a group! They take reservations (yay!) and the food is INCREDIBLE.
If you want to brunch in an adorable southern home, Poogan's is your spot! Renowned as one of the best meals in Charleston, their hearty Southern brunch is the perfect hangover cure.
The best places to go out in Charleston with a bachelorette party
Being a college town and a young professional haven, the nightlife in Charleston is awesome. Lots of live music, sporty pubs, upscale bars, and a lot of good-looking people looking to have a good time. Although it's easy to just walk King Street and find a number of hotspots, here are a couple of my favorites to get your night started:

RITUAL rooftop
This chic, brand new rooftop has one of the best views in all of Charleston, and won't be too crowded given it's new to town. I love this spot with a group! You can also eat here!
View this post on Instagram
Vendue Rooftop
Great views & a great spot. Gets rowdy after sunset and is a hugely popular spot among bachelor and bachelorette parties in Charleston.
Uptown Social
The line here gets crazy, so be sure to go early, but it is definitely the spot to be. The hippest rooftop in Charleston, Uptown is famous for their delish frozen cocktails, live music nightly and amazing pizzas, too!
STARS rooftop:
The Stars rooftop – located on the top level of Stars restaurant – is a hot spot at night or in the mornings for their frozen Bellinis, mimosas and Bloody Mary's. This place is particularly great for bachelorette groups, with it's number of large tables and couches set up lounge-style outside on the rooftop. Be sure to get there early in the night, though! It's an extremely popular spot in town, and you don't want to be waiting in a ridiculous line just to get in (and then again for your drinks).
Republic Garden & Lounge
Republic is a must-do for any bachelorette party going to Charleston. It's more of a club than you would ever expect on King St. (think: chic bottle service & a dress code) and is always filled with beautiful people (don't be surprised if you run into the Southern Charm cast here!)
Cocktail Club
When I was last in Charleston, we posted up here every night! It was SUCH a fun spot for great cocktails and an outdoor patio. It's the second floor of a restaurant and seems like a Speakeasy when you're climbing the stairs. It's sophisticated, cute, and a perfect spot to go with your girls.
Revelry Brewery
The only rooftop brewery in Charleston's NoMo neighborhood, Revelry Brewing has become a popular destination for the after-work set looking for award-winning beers and and breezy views.
When my friends and I headed to this historical bar on my friend's Charleston bachelorette party weekend, we were expecting a small pub… but walk further into this seemingly neighborhood pub and you get to the most beautiful (and packed) outdoor patio area that truly makes this bar the gem it is. It feels kind of like an old historical English courtyard mixed with a jungle. Check out their Sunday brunch for $3 mimosas, bellinis (my favorite) and Bloody Mary's until 3pm!
This bar is actually a transformed church! Complete with original windows and gorgeous sky-high ceilings, this unique space makes for a great nighttime hang. They have great food & delicious drinks – as if you need more convincing to be able to say you got drunk in church.
Things to do in Charleston with a bachelorette party
Tiki Tours of Charleston is such a fun thing to do with a bachelorette party in Charleston! This 32-passenger party boat leaves right next to downtown Charleston, and offers 2 and 2.5 hour charters throughout the day. The boat comes equipped with coolers (but you can BYOB – huge win!), ice, waters, snacks, cups/table, games, photo props, leis, a bathroom, a sound system, and floats/mats for swimming if it's warm! You can also add on catering, pre-stocked coolers, and live music if it's a private cruise! They offer both private and semi-private cruises. The semi-private is a blast because you can team up with another bachelor or bachelorette party, save some money, and make new friends! They generously offered a discount code to Jetset Christina readers so you can save $100 off either a private or semi-private cruise with code CHRISTINA100
The perfect tour for girlfriends who love to shop, drink wine, and get awesome discounts. You'll wind your way through a 2-hour guided walking tour of Charleston's famed shopping district, starting at The Watch's trendy rooftop, overlooking a beautiful view of Charleston. At The Watch, your girls and you will enjoy a champagne cocktail along with their famous truffle fries! Then you'll cruise King Street together on a shopping adventure visiting local boutiques. You'll get complimentary wine throughout the tour, a Meade tasting at Savannah Bee Co., and exclusive discounts of 10-20% at each boutique (!!!!) The discounts alone pay for this tour, which is just $45 per ticket, including all drinks!! Love this activity idea for a bachelorette party in Charleston.
Rainbow Row
If you're looking for the top Instagram spots in Charleston, this is it. This stretch of charming, colorful houses (running from 83 to 107 East Bay Street) is one of the most beautiful and historic areas in all of Charleston. Located in an area known as South of Broad Street, the famous 14 houses in a row are painted in bright pastels all of the colors of the rainbow, and have been ever since about 1740. It's one of my favorite places in all of Charleston, and a must for any trip to the city.
Cruise Around King Street
King st. is one of the very best shopping streets in the world – and has everything from big brands like J. Crew, Vineyard Vines, and Kate Spade to small boutiques you'll LOVE. You can't go wrong spending a day shopping on, or just strolling down, King Street.
Head to the beach!
No better day than a day with your girls on the beach! My favorite beaches in the Charleston area are Sullivans Island or Isle of Palms.
Photo via Tiki Tours of Charleston
The best beaches in Charleston
While you won't find sandy beaches in downtown Charleston, there are multiple islands just off of the city, accessible by bridges, that offer some goooorgeous coastlines, each with their own vibe. Check out Folly Beach for a low-key, casual beach town (head to Juice Joint for acai bowls, and Chico Feo and Taco Boy for delicious Mexican), Isle of Palms for a lively escape (check out Banana Cabana during the day for lunch on the beach, and Windjammer bar at night for great live music – one of my favorite bars in the world!), or Sullivan's Island for an upscale tucked away oasis (Check out Obstinate Daughter for dinner, and be sure to get Sullivan's Island local Kenny Powers's favorite -a gamechanger drink at Hometeam BBQ).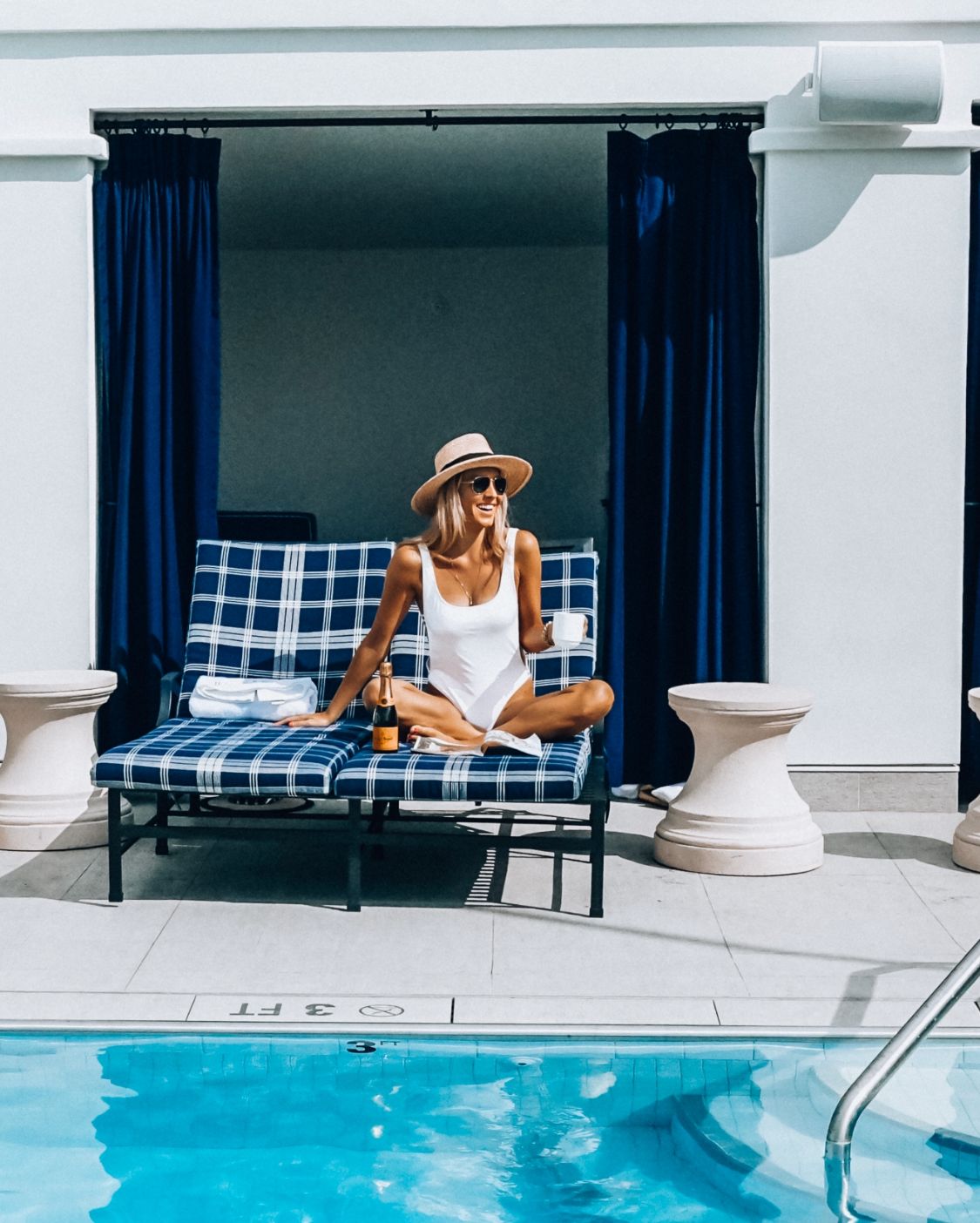 If you want to do something cultural together, head to the beautiful and historical Boone Plantation! You might recognize it from The Notebook (yep… it's THAT house) and Forrest Gump (the Run, Forrest, Run! scene), and was also the site of Blake Lively and Ryan Reynolds wedding. This plantation tour is not only stunningly beautiful, but you'll learn all about slavery and southern history as you tour the grounds, and have a whole new appreciation for the rich history that underlies the city of Charleston.
What to wear as the bride for a Charleston bachelorette

Charleston FAQ's
Do we need a car in Charleston for a bachelorette?
I'd say no – rely on ubers, especially since you'll likely be drinking. Charleston is extremely walkable, and you won't find yourself needing a car during the days exploring the city. It's small, and you'll find yourself walking all around it, getting lost in the magnificent architecture and cobblestone streets. But, if you want to head out to the beaches and islands like Kiawah or out of town to sites like the Boone Plantation, it helps to have a car, but you can always grab an Uber or Lyft.
What time of year is best for visiting Charleston?
Spring and fall are the best times to go to Charleston, but there really is no bad time to travel to this charming city. It is absolutely stunning year-round.
bachelorette party itinerary for Charleston – Etsy
Matching pineapple sarongs for the beach! Charleston is ALL about the pineapples – so I love these sarongs as a great bachelorette party favor that will look fab in pics – and they're 20% off for groups with the code BACHPARTY
we got these adorable bags for my Miami bachelorette and loved them!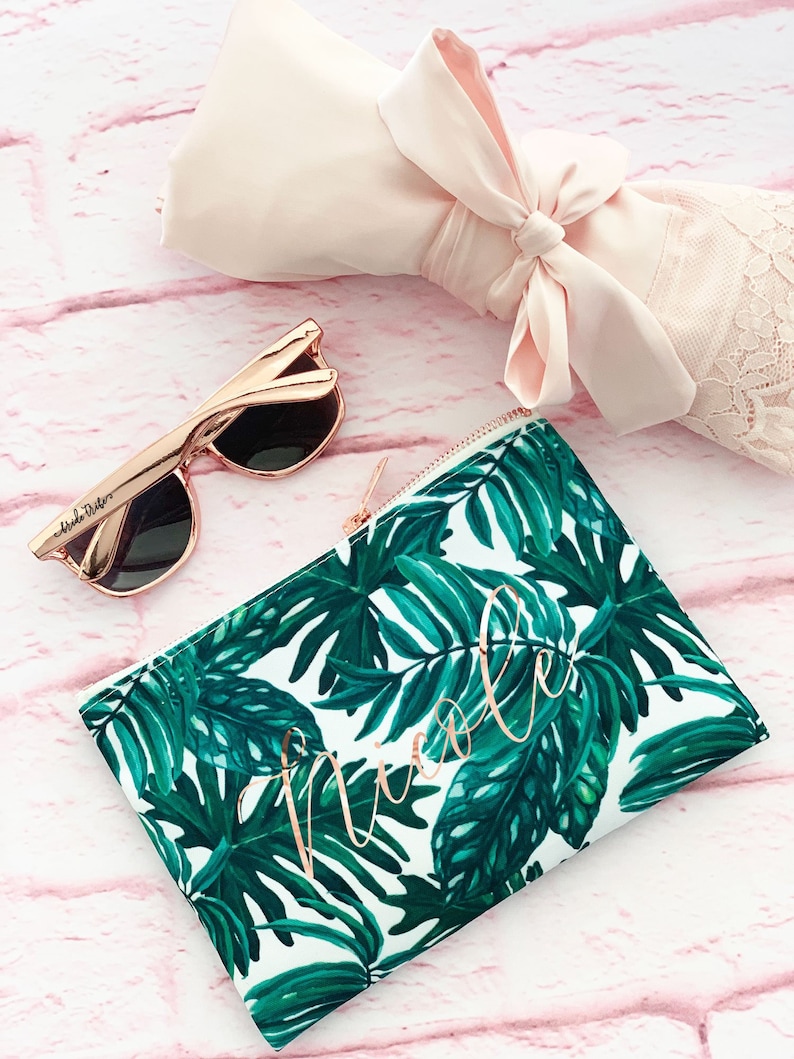 Love these tanks on Etsy – so cute.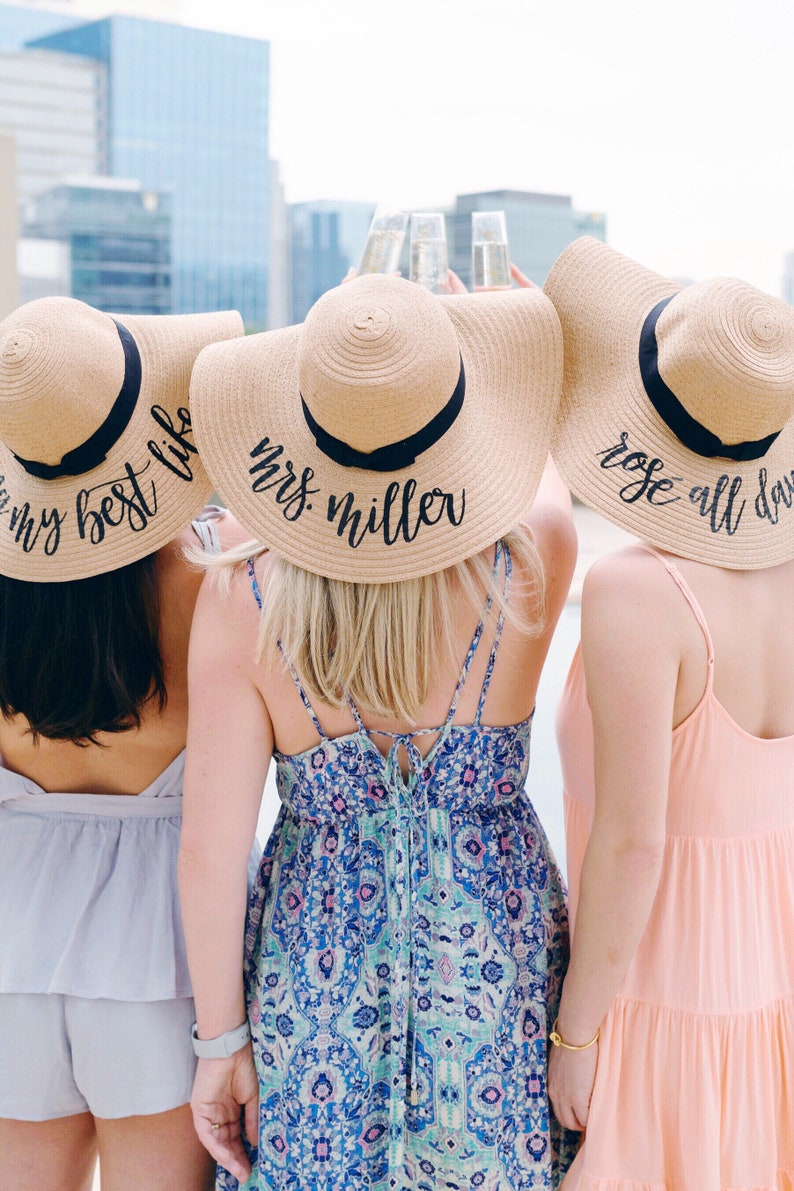 I love the idea of a whole group matching in these personalized floppy hats – $20 on etsy!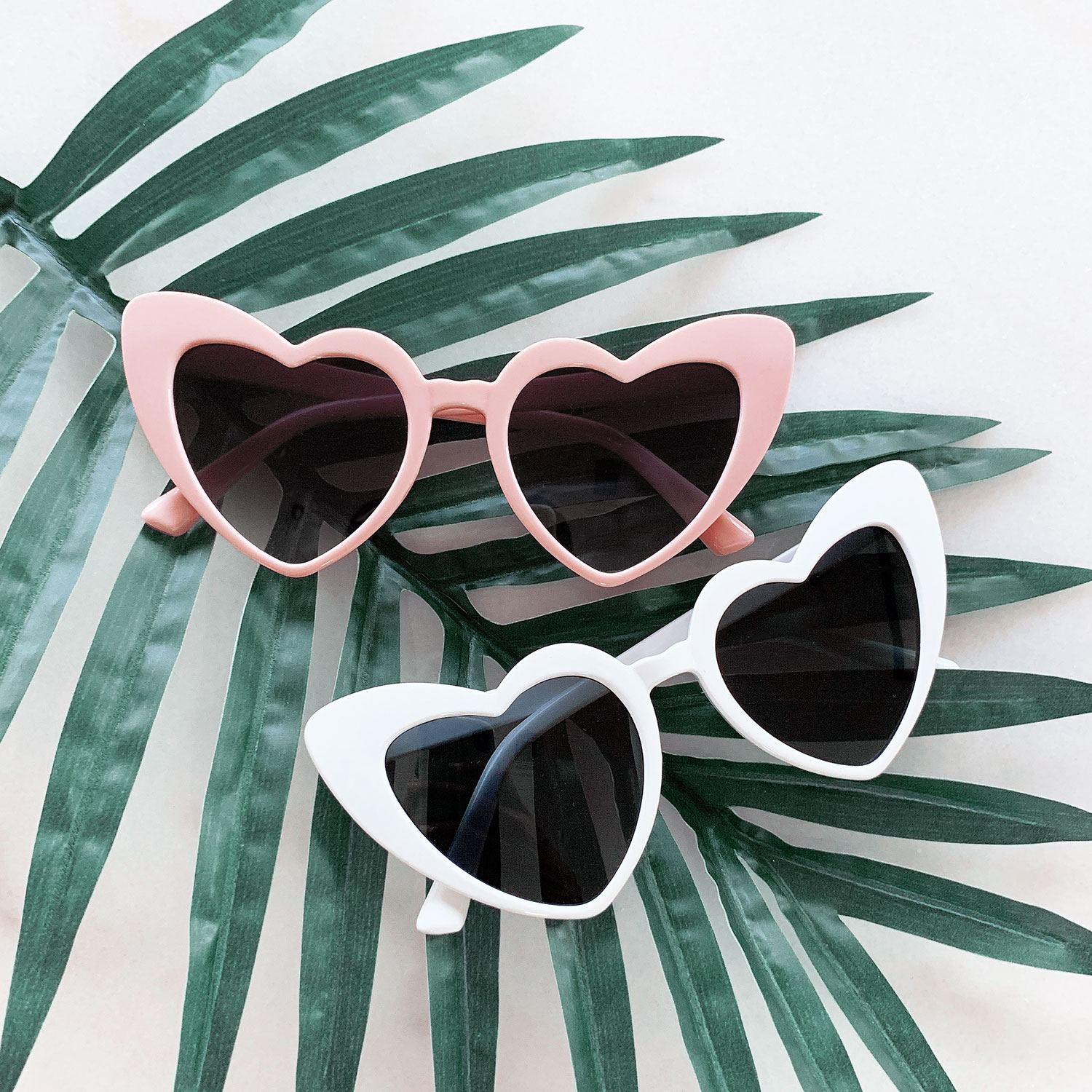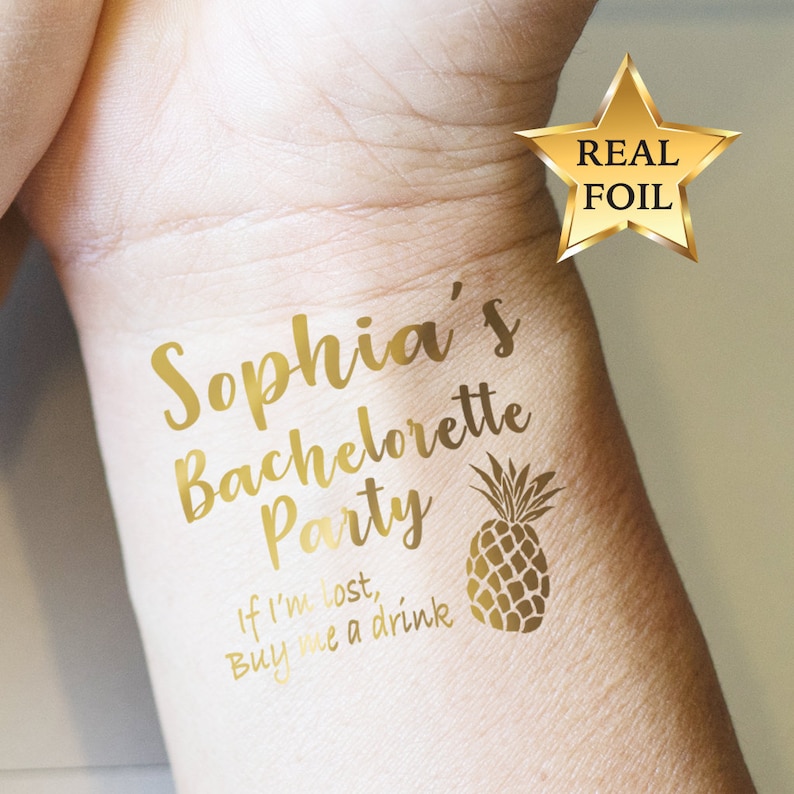 I love this idea for including in everyone's goodie bags!
Check out my blog post on Packing for Charleston!
What to wear to a Charleston bachelorette as a guest
During the day: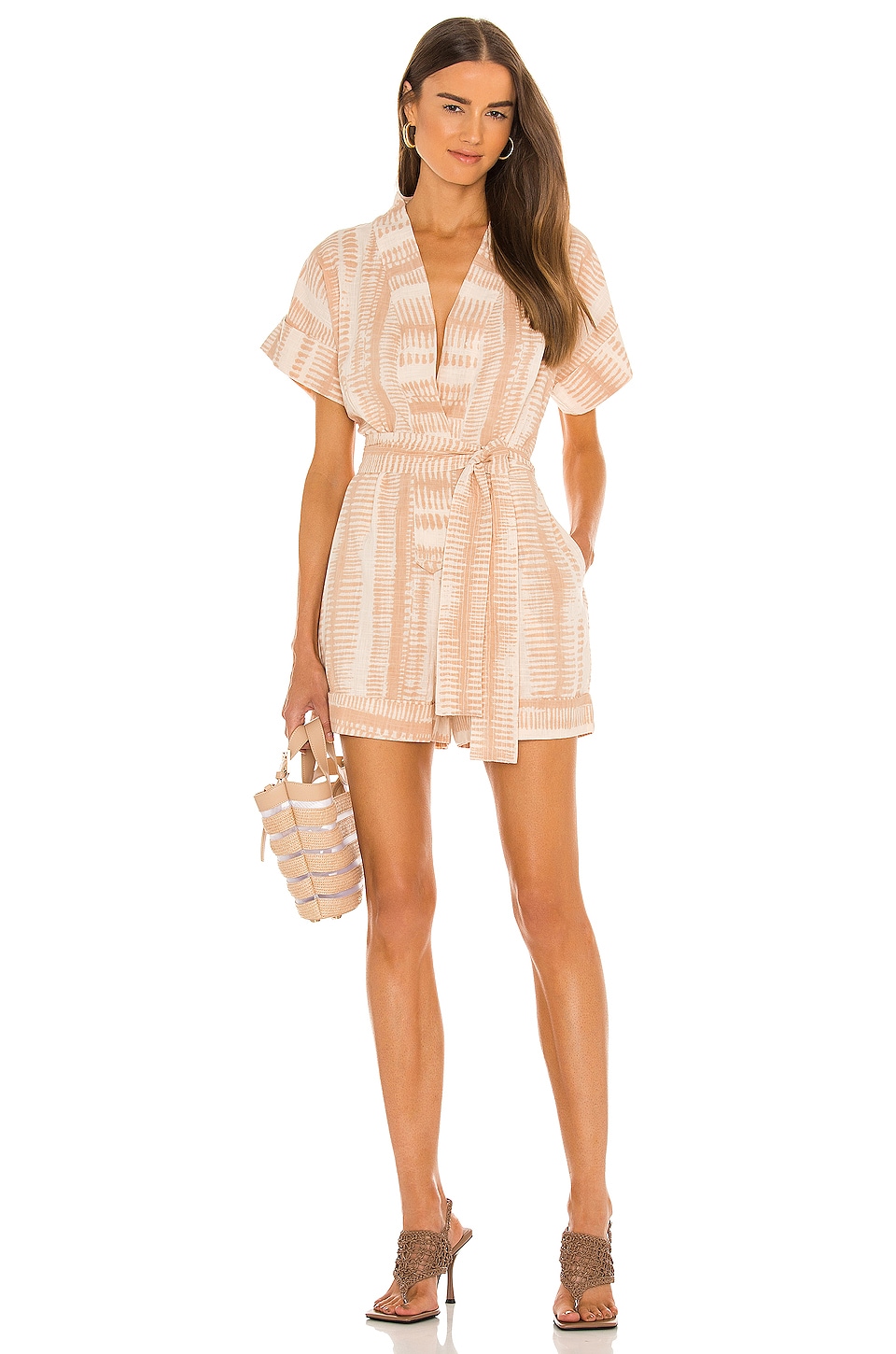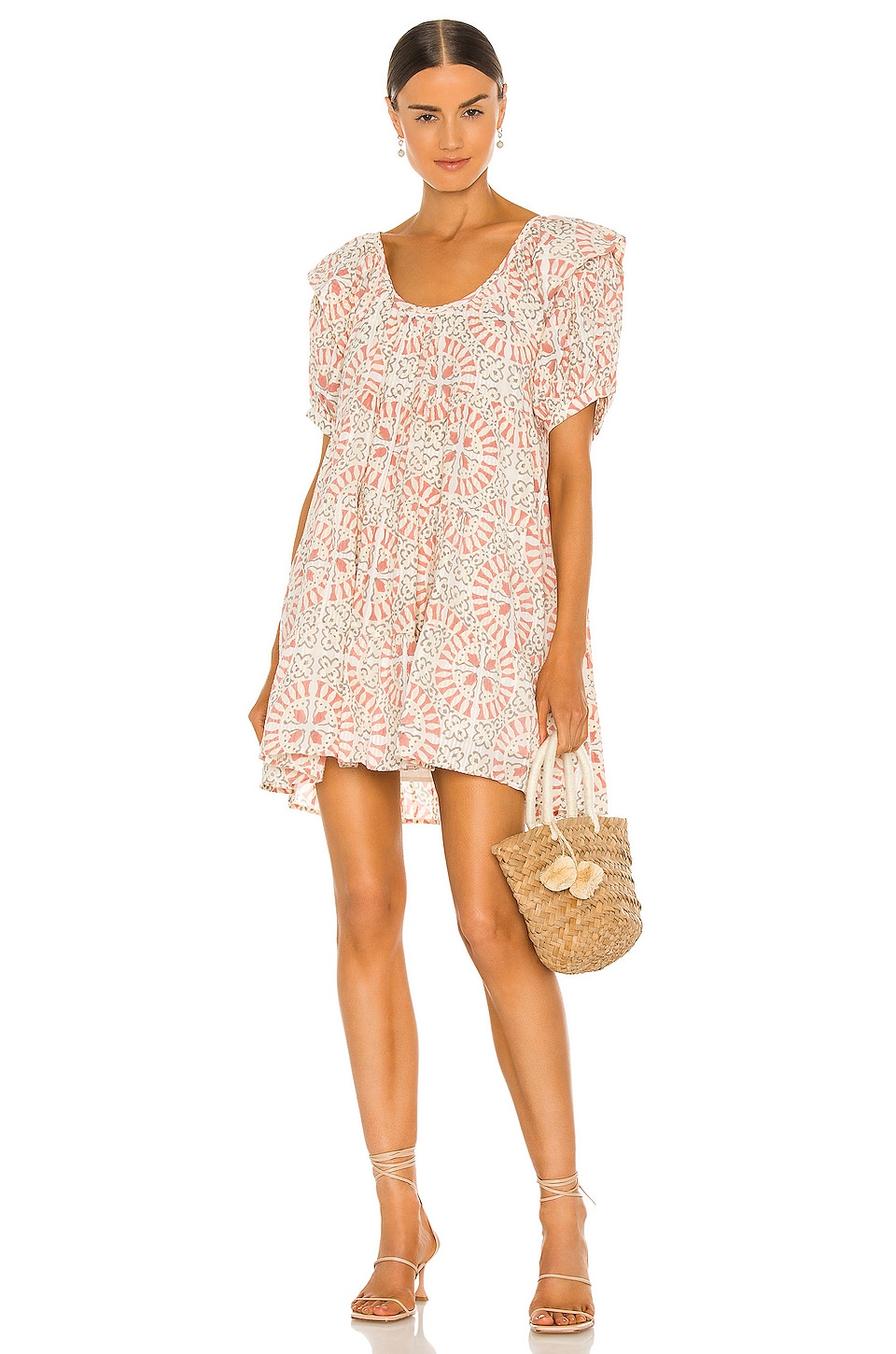 Out at night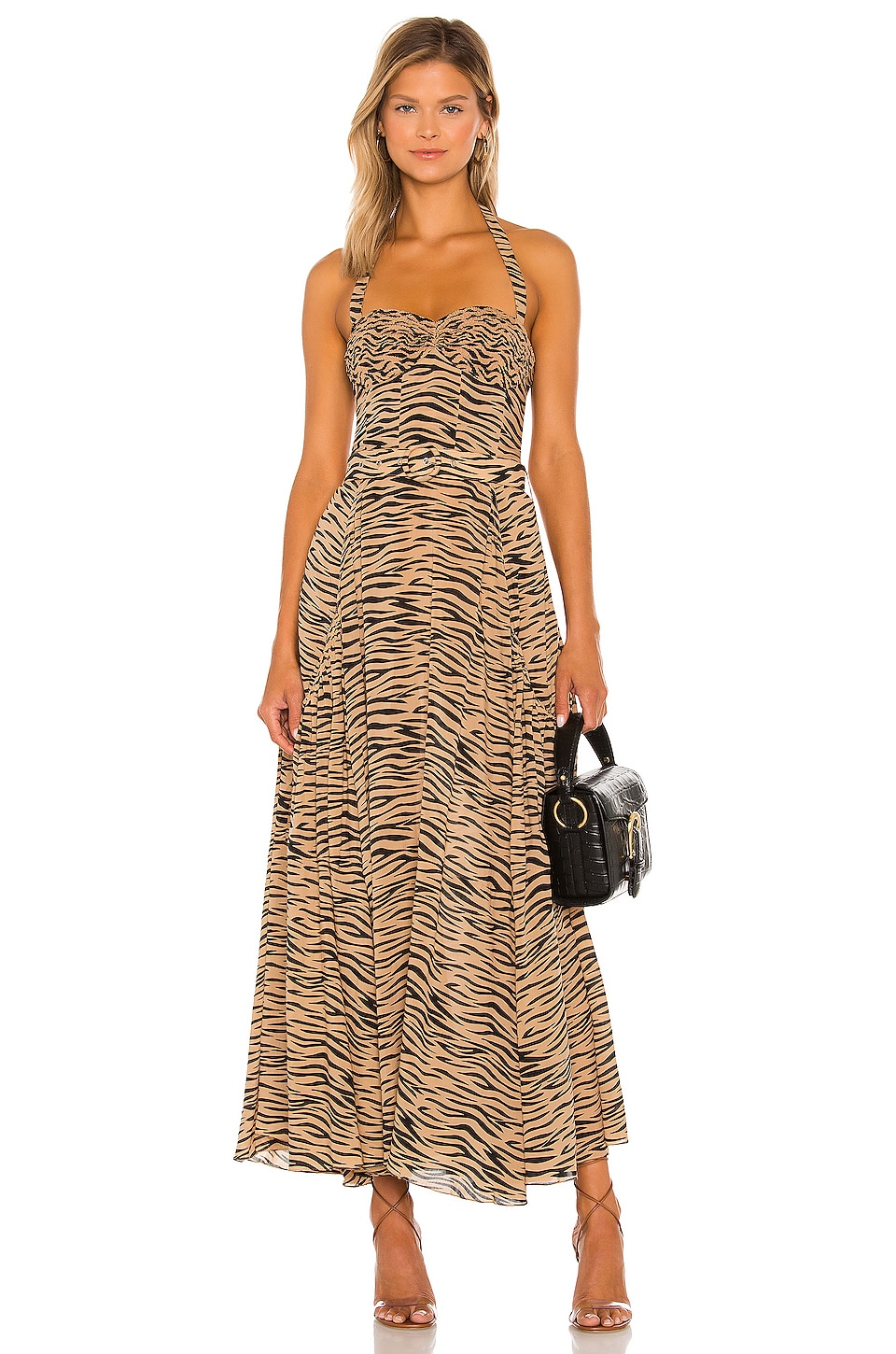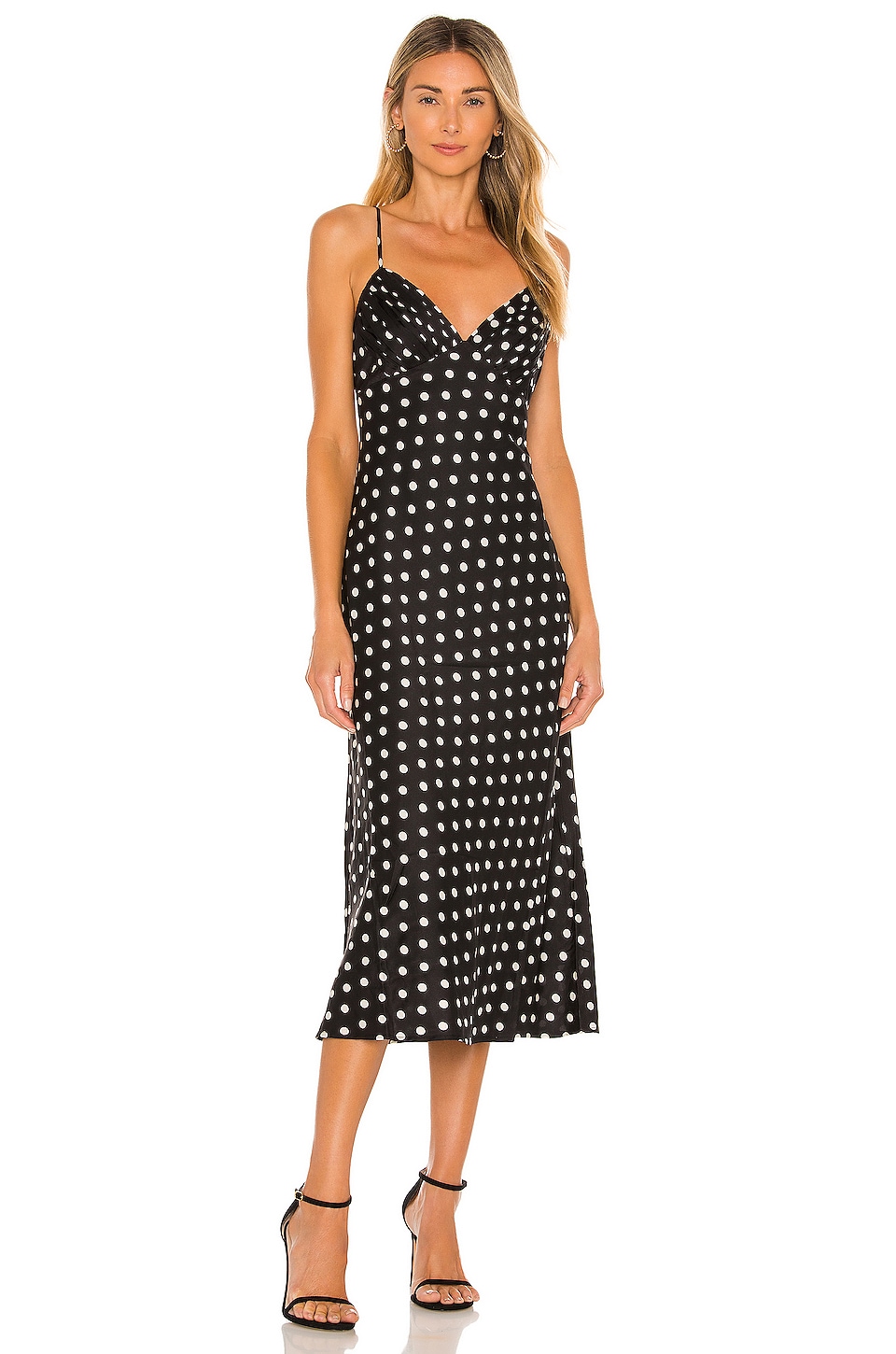 What to wear for a Charleston bachelorette as the bride
During the day
I have this dress and absolutely LOVE it. Such high quality.
Out on the town at night
Check out these other blog posts!
What to wear to your friend's bachelorette party
How to plan a bachelorette party
The best outfits for a bride to be to wear to the rehearsal dinner, bridal showers, bachelorrette party and more
The best swimwear & cover ups for brides
How to plan the perfect honeymoon
The Ultimate Honeymoon Packing Guide
The Best Honeymoon Destinations for December, January honeymoon destinations and February honeymoon destinations
The Best Beachwear Brands 2020
The best luxury honeymoon resorts to book for your honeymoon
Chic bachelorette party favors
The best bride shoes for a beach wedding
The best airbnbs in Charleston
My favorite blended bulletproof coffee recipe
The ultimate guide to Charlotte
The best places to travel with girlfriends