The Ultimate Los Cabos Travel Guide
What do you get when you combine picture-perfect coastal beauty, add in gorgeous high-end beachfront resorts, fuse them with all-night fiestas, and top it all off with definitive Mexican charm?
Bienvenidos to your new favorite margarita-filled getaway, Los Cabos.
Los Cabos is the southernmost tip of Baja California, and encompasses party-central Cabo San Lucas, artsy San Jose Del Cabo, and everything in-between. It's an ideal getaway in Mexico – and is always one of my favorite destinations in the world.
Nestled at the southernmost tip of Baja California del Sur is Mexico's notorious party paradise, Cabo San Lucas. I've been traveling to Mexico at least once every year or two since as far back I can remember, and many of my favorite memories as a kid were spent traveling the western shores of Baja California. Since the Mexican Riviera is an easy 2 hour flight away from my hometown of California, we explored everything that Mazatlan, Puerto Vallarta, Ixtapa, Acapulco, East Cape, and Cabo San Lucas had to offer… often traveling with other families and friends and doing everything from deep sea fishing to snorkeling to sailing to sunning to shopping the Mexican markets. I'm pretty sure I learned how to barter in Spanish before I even learned how to read in English… haggling with Mexican shopkeepers in broken six-year-old-kid Spanglish over the price of everything from fireworks and poppers (that we would light up on the beach at night), to a woven bracelet with my name on it (that I'd unabashedly show off to all my friends at recess while they complained about their family's fifth spring break road trip to the Grand Canyon). I'm so grateful that my parents not only showed us the beauty of Mexico from such a young age, but that they taught us Spanish the way I think everybody should learn any language, by speaking it with the locals, everywhere we went.
Anyways, these days I'm more likely going to Cabo on a bachelorette party, on a romantic getaway with my fiancé, or with a group of friends, and I still consider it one of my favorite places to travel for all of the above. Cabo has something for everyone and a fun-loving culture all it's own, which is why it continues to reign as a global hot spot, year after year!
The Best things to see in Cabo San Lucas
The bustling main strip of Medano Beach creates the epicenter of this party paradise, filled with excited vacationers, margaritas firmly in hand, taking "that" quintessential photo of Cabo with the Land's End arch, and searching for their next beach activity. At Medano Beach, you can chill out and relax or choose from infinite water activities like parasailing, jetskiing or even taking a sunset cruise. This is definitely where the action is.
Land's End arch & Lover's Beach
I definitely recommend taking a water taxi from Medano Beach to see the arch, which is a stunning rock formation where the Sea of Cortez meets the Pacific Ocean. Nearby the arch, ask the taxi to drop you off at Lover's Beach, which opens out to a different ocean on each side. It is a great place to spend a couple hours and play in the waves.
Sail & Snorkel
The best way to see the sea is by sea!! I love this private sailing yacht for a great sail & snorkel trip. They'll take you everywhere (the arch, lover's beach, and pelican rock to snorkel) and it even includes lunch and a premium open bar.
Santa Maria bay
I love this little beautiful bay for snorkeling. Take a cab or your rental car and drive 15 minutes north of downtown and this hidden gem provides some of the best snorkeling in Cabo. Go there on a calm day and get there early! All of the sail boat trips will come later in the day and you'll want to beat them to having the beach (and the tortugas) to yourself!
Explore San Jose Del Cabo town
San Jose Del Cabo is an adorable artsy town to explore and shop around. I love shopping for Mexican glassware here (helloooo margarita glasses!!)
My new favorite restaurant view in the world @ Sunset Da Mona Lisa
The Best Places to Eat in Cabo San Lucas
The food in Cabo is outstanding. And this is coming from the girl who pretty much has guacamole for every meal in America. When I got to Cabo, you know all hell broke loose. I think I tried every chips & guac & marg the town had to offer, and I was not disappointed. Here were some of my favorite places:
Lumbre – Located in San Jose Del Cabo, this place is a MUST. It's new and super good farm-to-table. Where all the chic, in-the-know Mexicans are dining, not touristy, and it's in the art district of SJD, such a fab spot.
Mezcal at the Montage – This brand new restaurant at the new Montage is SOOOO good and one of the most beautiful settings in Cabo. Over the top and incredible. GO HERE.
Sunset da Mona Lisa – I cannot say enough incredible things about this restaurant, as it was easily the most picturesque (and delicious) meal I've ever eaten in my life. It's ranked as one of the top 5 coolest restaurants in the world by the NYTimes, and there's no question why. With breathtaking views spanning the entire coast of Cabo, there is literally nowhere I would rather be. The service, food, atmosphere and overall experience were all top notch and we had the most memorable night here. Of course had to bring my favorite Napa Valley merlot (pictured to the right).
Acre Baja – Cabo's newest and trendiest boutique hotel and farm-to-table restaurant. Definitely worth going to for a dinner in Cabo. The cocktails are AMAZING, and the vibe is super hip and modern-chic.
Hacienda Cocina y Cantina – Nestled right above Medano beach, I loved this place for dinner. Great resort-ey ambiance and great Mexican food! Get the carnitas and a spot outside where you can watch the sunset.
Mi Casa – Is this place is touristy? Yes. But is it also exactly what you want when you think of a dinner in Mexico? Absolutely. Mi Casa is a beautiful hacienda-like candlelit patio restaurant with colorful mexican decor everywhere you look. Enjoy the DELICIOUS queso (the best I've ever had), and take in the awesome atmosphere, complete with balloon hats and lots of fun mariachi music, of course.
Flora Farms – it's not easy getting out to Flora Farms, a 17-acre farm tucked into the mountains of San Jose del Cabo, but the bumpy ride is worth it once you arrive to the stunning farm-to-table restaurant (Flora's Field Kitchen) set on a farm and a luxe private cottage community equipped with a spa, and yoga studio. The diverse daily menu uses ingredients literally grown on the farm next to your table, and features everything from colorful salads and woodfired pizzas to roasted meats raised ethically on their 150-acre ranch. Bite into foodie heaven as you sip on their vibrant cocktails (think Carrot Margaritas, Lavender Maritnis, and Grilled Citrus Sangria).
Los Tres Gallos – For a charming and delicious Mexican restaurant downtown, look no further than Los Tres Gallos – a romantic courtyard restaurant shaded by gorgeous willowing tangerine, mango, and other fruit trees. The food is delicious, the courtyard is beautiful, and the service, like the food and atmosphere, is fabulous. Best of all, Tres Gallos is pretty affordable, with pretty much everything on the menu priced at under $25.
Edith's – expensive but SO good, and a great ambiance. Hard to get a reservation so book early!
Lunch at the OO Palmilla
Where to find the best hole in the wall tacos in Cabo
If you don't mind venturing a little out of your comfort zone and trying a hole in the wall taco spot, this place is BOMB, and only 10 mins from downtown. You have to try Los Navas de Barcoa. YUMMM.
First of all – what area of Cabo do you want to be in? Palmilla, for example, is a tucked away gated community closer to San Jose Del Cabo, whereas Pedregal is a super nice area of Cabo on the Pacific coast, near the arch of Cabo San Lucas and within a 10 minute drive from the marina and the central Medano Beach. This is a great area to stay in if you want to be close to all the action of Cabo! There are many other areas with hotels located in-between the arch of Cabo San Lucas and San Jose Del Cabo – but it's important to know what you want to be near (or if you don't plan on leaving the resort) to decide where to stay in Cabo.
I stayed at the One & Only Palmilla resort for my birthday and it was absolute heaven. I will DEFINITELY be coming back. Aside from the next-level luxury butler service and food, it was easily one of my favorite hotel rooms I have ever stayed in. With a modern hacienda theme and so much space I didn't even know what to do with it all. We LIVED on the gorgeous ocean-front balcony and it was the absolute perfect way to kick off my birthday week.
Palmilla is an ultra-secluded, ultra-exclusive gated community that has long been a favorite for the rich & famous. In fact, Jennifer Aniston is a frequent guest of the One & Only, along with just about every other celeb you can imagine.
Also, if you're staying at the One & Only, I highly recommend renting a beach cabana for the day!!! They set us up on a completely private beach with a floating bed, lounge chairs, lunch and cocktails. It was amazing and I felt like we had the resort and the beach all to ourselves. This i one of the only luxury hotels in Cabo with a swimmable beach!
Waldorf Astoria is located in one of my favorite exclusive gated areas in Cabo – Pedregal. This hotel defines luxury, and stands out even among the many luxurious options in Los Cabos. Upon arrival, you're welcomed with a bottle of tequila. You'll experience special touches throughout your stay, with their one-of-a-kind service. The rooms here feature a terrace with ocean views and a plunge pool! While the Pedregal area does not have a swimmable beach, it is still breathtaking on the beach with gorgeous views, and there are four resort pools on property and a gorgeous spa! This is also a Hilton hotel so if you're a Hilton Honors member, you can consider using points!
Check rates for your dates here.
The Cape is sleek, boutique, and hip, and boasts some of the best views (from every single room) in all of Cabo. The service is unparalleled and makes for an ideal luxury hotel in Cabo. Did I mention the food is AMAZING, they are amazing with food allergies and sensitivities, and they even have gluten-free churros??? YEP.
Check rates for your dates here
You can read more about this place here, but it is hands down the most modern, sleek, INCREDIBLE villa. This villa is 7 star, and in a great location in Pedregal if you want to be closer to the action.
It's located in Pedregal – a prestigious area of Cabo on the Pacific coast, near the arch of Cabo San Lucas and within a 10 minute drive from the marina and the central Medano Beach. This is a great area to stay in if you want to be close to all the action of Cabo!
Casa Bellamar will make you fall in love with Mexico all over again. It is the best of Baja California – with a beautiful beach, crashing waves, fresh fish dinners, and burros roaming around. Add in an epic pool and swim up bar (that we one day didn't leave from breakfast until dinner because we were having too much fun), a tennis court, an amazing staff, and rooms to sleep 18 people, and you have yourself the absolute best villa in Cabo for groups.
If you want a secluded, ultra-luxe mansion on a beachfront compound that you won't have to leave (or are looking for an epic group trip, birthday trip, destination wedding or other event celebration in Cabo, THIS IS YOUR SPOT! We were FLOORED by this place, you guys. From the all-star staff (a chef and bartender are included, as well as a butler, and they shop for you and you just pay the cost for food and drinks – much less than you would pay at a hotel!!!! It's ideal, you all. Can't recommend this place highly enough. When you book make sure you message that you heard about them from Jetset Christina!
If you want to be in your own personal paradise and don't need to be near town, this is your spot. I LOVE this villa.
Set on the dreamy bluffs of the Baja Peninsula, this ultra-chic, five-star, oceanfront resort in Cabo features spacious private terraces, infinity hot tubs, six on-site restaurants, two private beaches, a full-service spa, four swimming pools, and AMAZING restaurants. If you're looking for the perfect resort for an anniversary trip to Cabo, a romantic getaway, or even a honeymoon, Esperanza is your spot.
Check the best rates for your dates here.
The best luxury all-inclusive resort in Cabo
Marquis Los Cabos – If you're looking for a luxury adults-only all-inclusive Cabo resort with great food and drinks, and super-chic rooms, this is your spot. This exclusive beachfront all-inclusive resort overlooks the Sea of Cortez in Cabo. Los Cabos' most luxurious adults-only experience includes 235 suites with stunning sea views, three beachfront pools, the exquisite Spa Marquis, and five distinctive dining options created by Master Chef Thierry Dufour.
What to wear in Cabo:
How to get around Cabo San Lucas, San Jose Del Cabo, and all over Los Cabos
Hire a private driver – especially for your airport transfer! I always use VIVO luxury transfer – they are the nicest drivers and their cars are amazing. It's the Jetset way to show up to Cabo, for sure. You can use the code JETSET15 for my friends and fam rate!
Best Places to Drink & Party in Cabo San Lucas
The Office – this bar and grill, located in the sand of Medano Beach, is a rite of passage for cabo tourists. Decked out in beach umbrellas, tiki torches and colorful tablecloths, this is the spot during the day. The food is good and the margs are even better.
El Squid Roe – this outrageously iconic Cabo night club and restaurant is a one-of-a-kind. With four stories of open air dance floor, countless throngs of partygoers and waiters armed with jello shots, Squid Roe is loud, wild, and full of energy. I had so much fun dancing the night away here.

Mango Deck – If you're heading to Cabo for a bachelor or bachelorette party weekend, this is going to be your go-to spot. With a prime view of Land's End, live music and entertainment, and non-stop margaritas, Mango Deck is party central. During the high season, this makes Mango Deck Spring Break Cabo home base, but it's a great place to grab a drink and laugh at some ridiculous drunken contests any time of year.
OMNIA Cabo – This beachfront day club features luxurious private cabanas and plunge pools, plus two-story VIP bungalows. The dance scene at OMNIA warms up as the afternoon goes on, and gets rowdy when the latest celebrity DJ takes the stage.
Check out this company that we used!
What to wear in Cabo
The Palmilla Mexico print by Kenny Flowers, of course!
and the matching dress!
Here are some other Cabo outfits I love: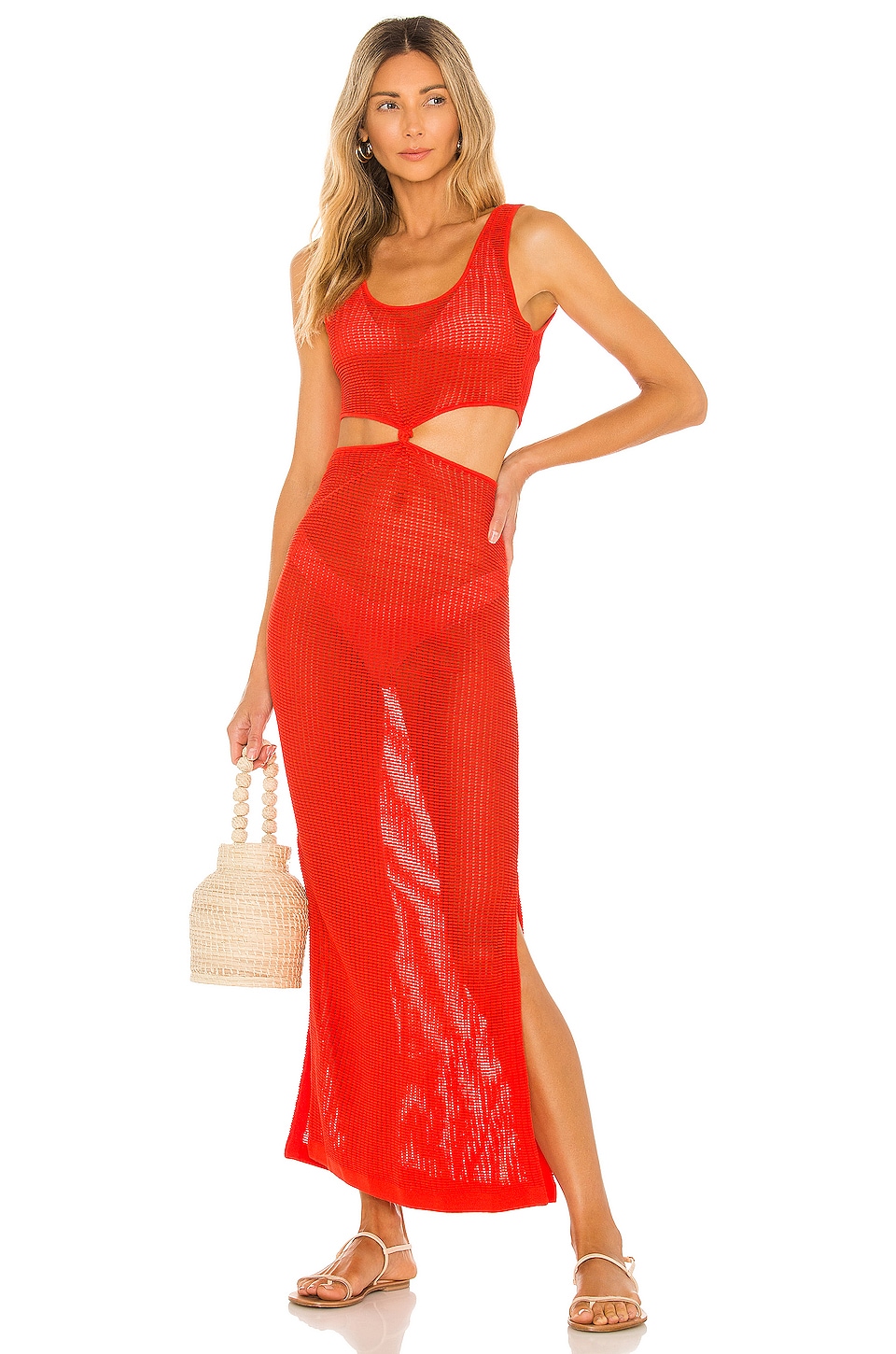 Check out these related posts:
The best luxury resorts in Mexico
The best trips to take with girlfriends
The best luxury airbnbs in Tulum
Best luxury villas in Mexico for a big group
The best hotels and villas in Punta Mita, Mexico