The Ultimate Travel Guide to Charleston, South Carolina
This year, when Conde Nast took on the daunting task of naming "the Best City in the World", the prestigious award wasn't granted to London, Paris or Tokyo. Taking many people by surprise (but not anyone who's been there), it was the one and only Charleston, South Carolina.
From the sweeter-than-sweet-tea South Carolina locals, to the stately and historical old Southern colonial homes, Charleston is the absolute charm of the South. The only shame in visiting the city is that so much of its magic comes in its pace and way of life – something that's hard to grasp in a short trip.
Whether you're there for a weekend or a week or more, I promise you won't be able to get enough of this city. Going to school at the University of North Carolina at Chapel Hill left me a short 4 hours away from Charleston, so I got there quite a few times in college, and each time had a different experience. Since those trips to Charleston in college, I've been to Charleston bachelorette parties, family getaways to South Carolina, and on romantic weekends with my fiance. With groups of friends, I love experiencing the nightlife and the beaches on the coast. With my girls, I can't get enough of the King Street shopping. And with my family, I love the top-notch southern dining and taking in all the history & beauty of the city. Charleston has so much to offer for everyone, and every group – so let's talk about what y'all should do when you get there.
Hands-down my favorite place to stay in Charleston. The location is impossible to beat (directly on Upper King, surrounded by all the shopping and restaurants of your dreams), and the rooms are SO beautiful. They each feature a glam standalone tub, and charming-but-contemporary furnishings that will make you feel like it's your home away from home in the South.
The Hotel Bennett building used to be a public library and was just opened this year as Charleston's newest luxury hotel. It's grand, but quaint at the same time… in true Charleston fashion. And my favorite part is there's a to-die-for rooftop pool on the top floor. It gets HOT in Charleston, and having this oasis in the middle of the city to come back to after a long day of walking and sightseeing was the ultimate luxury. There's also an incredible spa with the nicest staff. I had a facial with Kelly and I think I'm going to need to plan a trip to Charleston every few months just to see her. She worked wonders on my jet-lagged face.
And, even if you're not staying at Hotel Bennett, make sure you pop in for a meal at their restaurant (Gabrielle, a Parisian style outdoor/indoor eatery started by an acclaimed chef from New Orleans), or their ultra-instagrammable Patisserie (which has some of the best pastries & coffee around).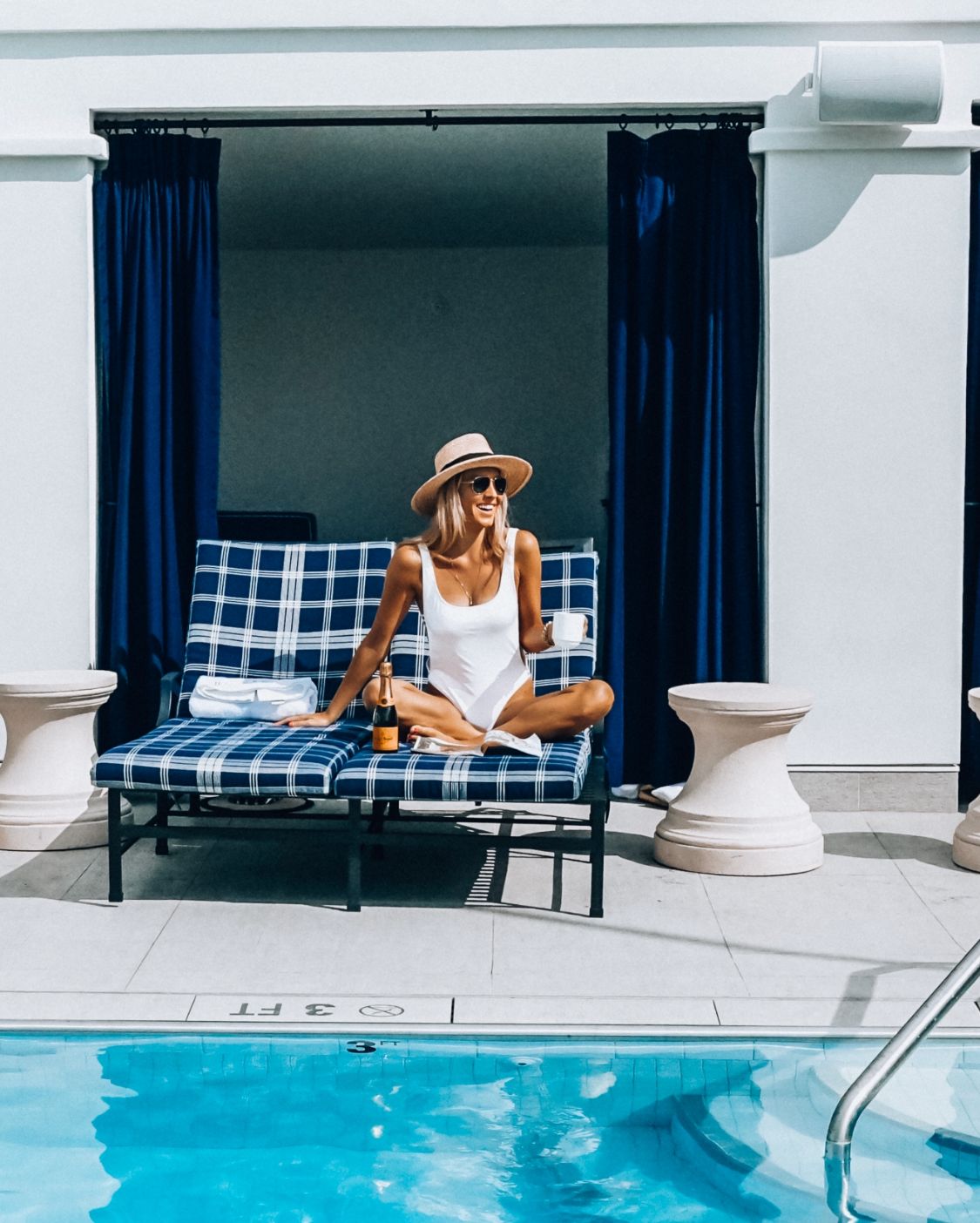 With it's picture-perfect central location on Meeting Street, this elegant hotel is one of the most luxurious and kid-friendly hotels in the Holy City – and is always my choice of where to stay in downtown Charleston. Located across the street from the market and adjacent to hopping King Street, it's one of the most central hotels in the city. Not only that, but it's stunning — a perfect blend of southern charm and classic elegance. A massive Murano chandelier, weighing nearly two tons, illuminates the open Georgian staircase in the lobby. Ask for a room on the club level – in addition to complimentary alcoholic and non-alcoholic beverages, the resort offers a great continental breakfast (hello, biscuits and gravy), afternoon tea, delicious cocktail hour snacks, and evening desserts. club privileges. I always like to upgrade to a club-level room in any property, because the perks typically more than make up for the cost.
Zero George's mantra is "Historic elegance meets sophisticated chic," and the hotel embodies that at every corner with its commitment to upscale hospitality. Zero George's immaculately restored 1804 buildings and private courtyard are the ideal ground zero for exploring Charleston. You can stroll around town on their complimentary bikes; indulge in their award-winning dining; or just simply relax with a cocktail in hand on their courtyard.
Set in Charleston's charming cobblestoned Historic District, The French Quarter Inn is a sophisticated southern gem located right in the heart of horse-drawn carraiges, delicious Charleston restaurants, high-end art galleries, and within walking distance to the more rowdy King Street. The best part about this inn is the personalized experience—upon arrival, guests are greeted with Champagne and in the evening, and turndown service comes with complimentary port wine and cookies.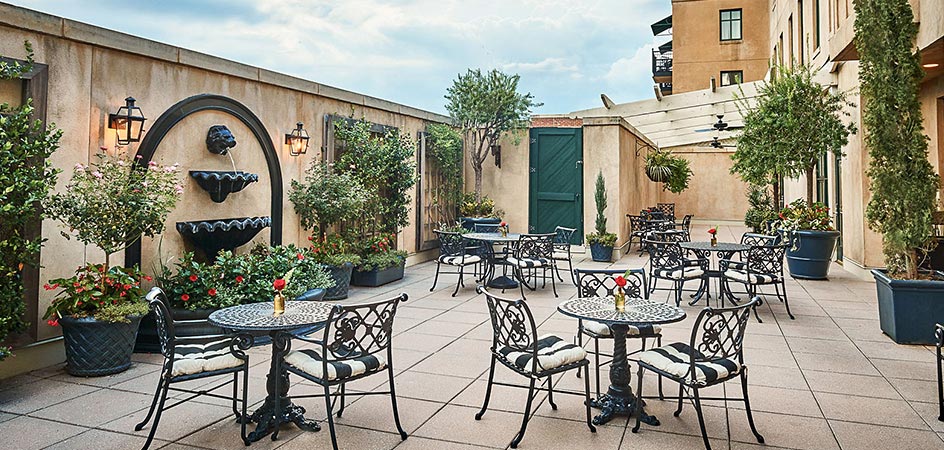 Located about 30-45 minutes outside of the city is the gorgeous Kiawah Island Resort located on a secluded little beach town called Kiawah Island. This Santuary lives up to its name, feeling like a relaxed, quiet oasis outside of the city. Golfers will love the award-winning PGA Championship golf course, and beach-lovers will flock to their picture-perfect Carolina coastline. Rent bikes from their rental center just off of the lobby, and ride them all along the beach and around the island. That's right you west-coasters, the beaches in the South are famous for their sand hard and flat enough that you can ride a bike right on the edge of the waves. It's beautiful! Just try not to go too far into the water.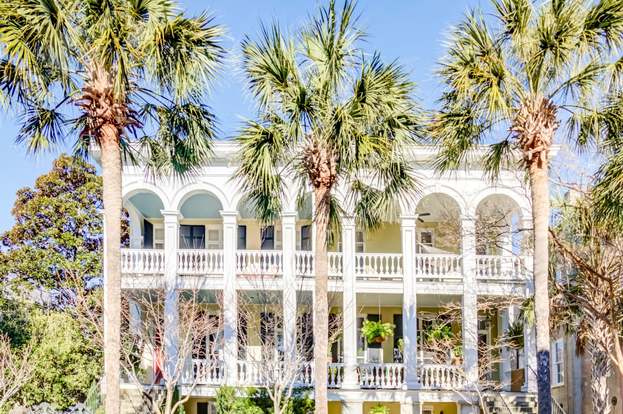 If you're a smaller group looking for a hotel in downtown Charleston that's good for a bachelorette party, I absolutely love the chic rooftop pool at Hotel Bennett. But if you're a bigger group, or going to Charleston for a bachelorette party or bachelor party, I'd recommend staying in a house on the beach. I'd rent a villa in Isle of Palms like this one – or Sullivans Island (I looove this one,or this one).
Both Isle of Palm's and Sullivan's have some really beautiful VRBO's and vacation homes in Charleston with private pools just steps from the beach.
This super cute, colorful house sleeps 15 guests in 11 beds and is located right on the world-renowned Wild Dunes golf course and only a half mile from the beach! This luxurious villa is a perfect bachelorette pad in Charleston, especially given the prime Isle of Palms location (my favorite area to stay in Charleston when you want to be near the beach!)
Find a hotel in Charleston:
Charleston is jam-packed with activities for everyone… whether you're here on a bachelor or bachelorette party, a girl's getaway, a romantic couples' weekend, or a family vacation. Here are a few of my favorite things to do in and around the city:
Head to this famous flea market is in central Charleston and you'll find anything and everything to bring back for all your loved ones. It's open 365 days a year, and features everything from handmade pottery, to Charleston's famous sweetgrass baskets, to gorgeous paintings, jewelry, souvenirs and more. Definitely worth checking out.
Shopping on King Street
Oh, King Street. The beautiful street where my wallet goes to cry. This expansive shopping area is one of the very best in the world – and has everything from big brands like J. Crew, Vineyard Vines, and Kate Spade to small boutiques full of beautifully-curated collections. You can't go wrong spending a day shopping on, or just strolling down, King Street.
Rainbow Row
If you're looking for the top Instagram spots in Charleston, this is it. This stretch of charming, colorful houses (running from 83 to 107 East Bay Street) is one of the most beautiful and historic areas in all of Charleston. Located in an area known as South of Broad Street, the famous 14 houses in a row are painted in bright pastels all of the colors of the rainbow, and have been ever since about 1740. It's one of my favorite places in all of Charleston, and a must for any trip to the city.
Beautiful and historical plantations are a must for your first time visiting the South. The Boone Hall Plantation is one of America's oldest working plantations, continually growing crops for over 320 years – and has been made famous in more recent years for it's starring roles in movies like The Notebook (yep… it's THAT house) and Forrest Gump (the Run, Forrest, Run! scene), and was also the site of Blake Lively and Ryan Reynolds wedding. This plantation tour is not only stunningly beautiful, but you'll learn all about slavery and southern history as you tour the grounds, and have a whole new appreciation for the rich history that underlies the city of Charleston.
Charleston has a lot of haunted history, and the famous Charleston ghost tour is the only way. The true tales of intrigue, tragedy, and lost love reveal the dark side of Charleston's character that isn't apparent during the day. The highlight of this tour is our exclusive nighttime access to the 18th century Unitarian Church Graveyard, where you will experience "something magical"… DUN DUN DUN
There's no better way to learn about the history of Charleston than on one of its famous horse-drawn carriage rides. Experience all the beauty and history of downtown, learning all about "The Holy City" and its Civil War history. If history's not your thing – don't worry, you get to see all the gorgeous mansions in the city, too.
Where to eat & drink in Charleston
Check out my post The Foodie Guide to Charleston
James Beard award-winning HUSK features an ever-changing seasonal menu of locally sourced Southern dishes served in a gorgeous restored Victorian-era home. At Husk, there are some hard-and-fast rules about what can go on your plate – if it doesn't come from the South, it's not coming through the door. While supper at the iconic Husk is unbelievable and a destination dining experience for travelers worldwide, it can be hard to get a reservation, which is why it's recommended to just head across the street to the Bar at Husk, which features a similar ingredient-driven food menu, and a drink menu full of beautiful cocktails and 50+ bourbon choices that will knock you right off your rocking chair.
Fried chicken and oysters – does it get more Charleston than this? This outdoor and indoor rustic-chic restaurant is a locals favorite hangout for fresh oysters, crispy fried chicken, delicious cocktails, and its cozy patio – Leon's is a must on any trip to the Holy City… it's so good you're going to want to go two times in one weekend.
My order: A frozen G&T, a half dozen of the chef's choice oysters, a fried chicken sandwich, and the brussels sprouts.
This romantic little house-turned restaurant is a MUST on any trip to Charleston. The menu consists of just six rotating dishes each night, but every single one is sooo delicious. I love to sit out on their adorable patio. And the handwritten menus every day are just a DREAM.
*EDITOR'S NOTE* This location has closed but they're re-opening in a new location soon!
Looking for the best Mexican in the South? Did you even doubt for a second that I'd find it? If you guys follow me on Instagram Stories, you know my undying, unadulterated love for good Mexican food (and great margaritas). So let's taco 'bout the best Mexican restaurant in the South for a minute. Minero has homemade melt-in-your-mouth corn tortillas and chips, fresh guacamole that will make you feel like you're in Tulum, mouthwatering carnitas, to-die-for fried catfish tacos, chicken taco salads, fresh-fried churros and chocolate sauce, and so, so much more. The only thing I'll knock them for is they do charge for chips and charge per tiny container of salsa (Sacrilege! Only in the South can you get away with that – Californians would never stand for it). But, luckily, this Mexican gem also happens to be one of the best happy hours in Charleston – Minero's happy hour (Monday through Friday, 3:30-6:30) features $3 PBR pints, $2 tequila shots, $3 bourbon shots, $4 select wines, and $2 off margaritas, micheladas, and sangrias. As well as $5 queso ranchero, carnitas sliders, mole chicken chilaquiles, and guacamole!
This contemporary Southern American bistro is a Charleston staple. From scallops, to Carolina flounder, to lamb, to shrimp and grits, SNOB is one of the best restaurants in Chucktown. But wait- you haven't even heard the desserts, yet. Sour cream apple pie? Banana cream pie? Creme brulee? You're already dialing the restaurant to get a reservation, aren't you?
This place is so good – I'm talking finger-lickin' down-home-country-cookin-on-the-cutest-southern-porch-y'all-have-ever-seen good. Fried chicken, biscuits, sweet tea glazed salmon, fried pimento cheese, local seafood, filet mignon …. this menu has everything you could ever want and more that you'd ever thought you'd try (fried alligator salad? Only in the south). Check it out for brunch, lunch or dinner – you won't be disappointed.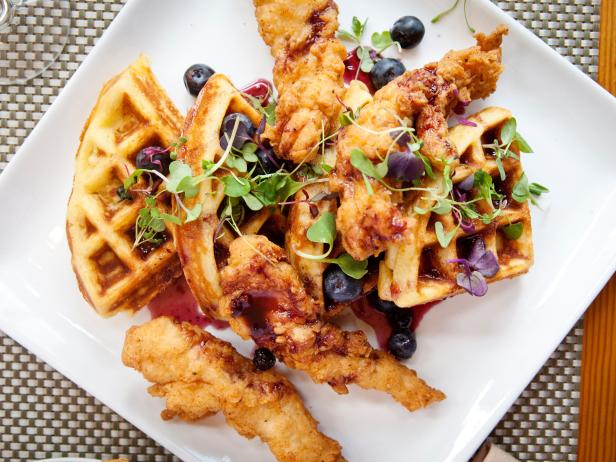 With three locations across the city (in West Ashley, Downtown Charleston, and Sullivans Island), Hometeam barbecue has become more than just a barbecue staple – it's a Charleston meat empire. Their addictive smoked wings, their delicious pulled pork nachos, and their signature frozen gamechanger cocktails are just what the doctor ordered after a long day on the beach or out exploring Charleston. We went twice in a single trip, and even after that, my boyfriend, (a buffalo wing connoisseur), said "I'd fly back to Charleston just for more of those wings". So there you have it, folks. Home Team always wins.
For the most charming (and most DELICIOUS) wine and cheese shop in Charleston, head straight to Goat Sheep Cow. This is the perfect place to pick up a charcuterie board for a dinner party (or just for yourselves), I literally dream about their cheese selection. The charming little shop also has gorgeous two-hundred-year-old brick walls and hand-hewn exposed beams, you guys have to check it out!
View this post on Instagram
For good wine, good bites, live music, and chill date night vibes in downtown Charleston, Uncork is your spot.
You guys know my love for wine and that you know you can trust me to find the best wine bars in Charleston. After reading Uncork was not only a wine bar in a historic building built in 1876, but also supermodel Madison Headrick's go-to spot in Charleston, I had to check it out.
I love Uncork because they offer 1 ounce, half glass, and full glass wine tastings, so you can try lots of new wines (they have over 40 different wines, that are constantly changing!), or even go big and get a bottle of your favorite. And, they're completely self-serve! So cool. And, if you (or your date) aren't feeling wine, no worries, Uncork also has a custom craft cocktail menu, as well. And then of course there's the food. The sweet staff can help you pair their amazing apps with whichever wine you're trying, but really you can't go wrong.
GM and head chef Natasha is not only responsible for choosing all the wines on tap, she's the artist behind the delectable modern-American bites on the menu, like poached peach + burrata, charcuterie boards, watermelon gazpacho, the meatballs in homemade marinara sauce, and the all-too-enticing "Oreo bomb" dessert. Whether you're on King St. for a couple glasses of wine with the girls, or a full-blown dinner date, Uncork is amazing. Make sure you tell them that Jetset Christina sent you!
*Jetset Tip* This wine bar is directly across the street from my favorite rooftop bar STARS, making Uncork the perfect chill place to grab some dinner and drinks before continuing the night on King St.
photo via Uncork Charleston on Instagram
If you're walking down King Street past 1am, you're likely to see a long line of partiers lining up outside a small storefront labeled with a simple "HLB". Hot Little Biscuit, which started as a local counter selling Callie's world-famous flaky buttermilk biscuits has quickly turned into the best late night available in all of Charleston. So, whether you want to make your morning way better with a sausage, egg, and cheese breakfast biscuit, or soak up a long night of partying on King Street with a late night assortment, Callie's is a must-do. Open until 2pm on all days, and reopens from 10pm-2am on Fridays and Saturdays.
Photo via Charleston Mag
I'm obsessed with Butcher & Bee's food – it's incredible – but even more obsessed with their WINE SELECTION. They have some of my absolute favorites like Twomey Cellars and Rombauer at crazy-low prices (like $10 a glass….) I couldn't even believe it. Clearly the owners of this Nashville/Charleston hot spot love their wine and are willing to give it to customers at pretty much cost. LOVE IT.
This adorable date night hot spot is a new gourmet wood-fired pizza & wine spot and is quickly taking over Charleston's foodie scene. Not only does stepping into the restaurant feel like you could be some chic restaurant in Florence, New York City, or San Francisco, but each and every one of their inventive wood-fired pizzas was so good. They're small which makes them perfect to share amongst a group when you want to try all the different kinds. Make sure to head there on the early side, or be prepared to wait, as it's a small restaurant (only about 12 tables), and they don't take reservations (you can sit at the bar, though!).
My order: The Montepulciano wine, the Shabazi pizza, and the Rocco pizza. (Holy cow you guys these both were easily some of the best pizzas I've ever had).
For more tips on where to eat in Charleston, check out my Foodie Guide to Charleston here
The Best Coffee Shops in Charleston
Harken Cafe
This vintage-inspired cafe in the heart of downtown is one of my absolute favorite spots for coffee in Charleston. Their oat milk latte (my order) is DELISH and add in the fact that their baked goods are second-to-none, and they have a wheat-crust quiche with different, and always mouthwatering, fillings every day, and you've got yourself an ideal spot for your morning coffee + quick breakfast, or an afternoon break and a pastry.
This super-chic coffee bar is located in the Restoration hotel. It's modern and has an awesome patio that is a good spot to have a meeting with someone in downtown Charleston, or set up your laptop there for the day.
It's all the way in Mount Pleasant, so a 15 min drive from downtown, but still worth a mention. In addition to delish coffee, Vintage Cafe's menu has a bunch of great breakfast and lunch bites, tapas in the evening, and an amazing toast bar full of more than just your classic avo toast.
Photo via Carolinas Eater
Nightlife in Charleston
Being a college town and a young professional haven, the nightlife in Charleston is awesome. Lots of live music, sporty pubs, upscale bars, and a lot of good-looking people looking to have a good time. Although it's easy to just walk King Street and find a number of hotspots, here are a couple of my favorites to get your night started:

Citrus Club at the Dewberry:
One of the hardest rooftops to get into (there's alwaaaays a wait), but I think it's the best views and vibes for rooftop cocktails in Charleston.
STARS rooftop:
The Stars rooftop – located on the top level of Stars restaurant – is a hot spot at night or in the mornings for their frozen Bellinis, mimosas and Bloody Mary's. This place is particularly great for groups, with it's number of large tables and couches set up lounge-style outside on the rooftop. Be sure to get there early in the night, though! It's an extremely popular spot in town, and you don't want to be waiting in a ridiculous line just to get in (and then again for your drinks).
Revelry Brewery
The only rooftop brewery in Charleston's NoMo neighborhood, Revelry Brewing has become a popular destination for the after-work set looking for award-winning beers and and breezy views.
Republic Garden & Lounge
Republic is a must-do for any bachelorette party going to Charleston. It's more of a club than you would ever expect on King St. (think: chic bottle service & a dress code) and is always filled with beautiful people (don't be surprised if you run into the Southern Charm cast here!)
Cocktail Club
When I was last in Charleston, we posted up here every night! It was SUCH a fun spot for great cocktails and an outdoor patio. It's the second floor of a restaurant and seems like a Speakeasy when you're climbing the stairs. It's sophisticated, cute, and a perfect spot to go with your girls.
Vendue Rooftop
Great views & a great spot. Gets rowdy after sunset and is a popular spot among bachelor and bachelorette parties in Charleston.
When a bunch of friends and I went to this historical bar, we were expecting a small pub… but walk further into this seemingly neighborhood pub and you get to the most beautiful (and packed) outdoor patio area that truly makes this bar the gem it is. It feels kind of like an old historical English courtyard mixed with a jungle. Check out their Sunday brunch for $3 mimosas, bellinis (my favorite) and Bloody Mary's until 3pm!
"Great service" takes on whole new meaning at this one-of-a-kind bar and restaurant that is actually a transformed church! Complete with original windows and gorgeous sky-high ceilings, this unique space makes for a great nighttime hang. They have great food & delicious drinks – as if you need more convincing to be able to say you got drunk in church.
Beaches in Charleston
While you won't find sandy beaches in downtown Charleston, there are multiple islands just off of the city, accessible by bridges, that offer some of the most beautiful coastlines in the Carolinas, each with their own unique vibe. Check out Folly Beach for a low-key, casual beach town (check out Juice Joint for acai bowls, and Chico Feo and Taco Boy for delicious mexican), Isle of Palms for a lively escape (check out Banana Cabana during the day for lunch on the beach, and Windjammer bar at night for great live music), or Sullivan's Island for an upscale tucked away oasis (Check out Obstinate Daughter for dinner, and be sure to get Sullivan's Island local Kenny Powers's favorite -a gamechanger drink at Hometeam BBQ).
Know before you go
Do I need a car in Charleston?
Yes and no. Charleston is extremely walkable, and you won't find yourself needing a car during the days exploring the city. It's small, and you'll find yourself walking all around it, getting lost in the magnificent architecture and cobblestone streets. But, if you want to head out to the beaches and islands like Kiawah or out of town to sites like the Boone Plantation, it helps a lot to have a car.
What time of year is best for visiting Charleston?
Spring and fall are the best times for Charleston, but there really is no bad time to travel to this charming city. It is absolutely stunning year-round.
What to pack for a weekend in Charleston
Charleston bachelorette party guide
The best airbnbs in Charleston