The Ultimate Foodie Guide to Charleston
Charleston, South Carolina is one of America's very best cities for food, and one of my favorite places to dine out on some mouthwatering biscuits, barbecue and fried chicken. But, even if typical Southern fare like shrimp and grits, pimento cheese, or fried chicken isn't your thing – Charleston's buzzing restaurant scene has something for absolutely everyone, and it's no wonder that this southern charm-ed city full of colorful architecture, cobblestone streets, and southern hospitality is a foodie's dream. With Chucktown's fresh seafood (you can get oysters pretty much anywhere in the city, and the shrimp are to-die-for), incredible world-famous chefs (Husk, Hominy Grill, and FIG all boast James Beard Award-winning chefs), and new restaurants popping up all the time looking to put their own contemporary spin on the South's famous cuisine, you can't go wrong eating in Charleston. Here are my very favorite restaurants in Charleston, for every occasion.
The Best Coffee Shops in Charleston
Harken Cafe
This vintage-inspired cafe in the heart of downtown is one of my absolute favorite spots for coffee in Charleston. Their oat milk latte (my order) is DELISH and add in the fact that their baked goods are second-to-none, and they have a wheat-crust quiche with different, and always mouthwatering, fillings every day, and you've got yourself an ideal spot for your morning coffee + quick breakfast, or an afternoon break and a pastry.
This super-chic coffee bar is located in the Restoration hotel. It's modern and has an awesome patio that is a good spot to have a meeting with someone in downtown Charleston, or set up your laptop there for the day.
It's all the way in Mount Pleasant, so a 15 min drive from downtown, but still worth a mention. In addition to delish coffee, Vintage Cafe's menu has a bunch of great breakfast and lunch bites, tapas in the evening, and an amazing toast bar full of more than just your classic avo toast.
Photo via Carolinas Eater
The Best Fresh Juice Spots & Acai Bowls in Charleston
If you know me, I don't function without my morning juice. These are by far the best I've tried.
Located pretty far North but worth the morning exercise to get there even if you're staying in South Charleston. Great healthy vegan eats in Charleston, smoothie bowls, smoothies, savory dishes and more. Big fan of their whole menu, and their seasonal juices.
I love Beech's acai bowls. If you're looking for the best acai bowls in Charleston, this is your spot.
The Blend
Located in Mount Pleasant, but available on Uber Eats, this is one of my go-tos for fresh celery juice in the mornings.
The best Biscuits in Charleston
Craving something a little less healthy for breakfast? I've got you!
If you're walking down King Street past 1am, you're likely to see a long line out of a small storefront labeled with a simple "HLB". What started as a local breakfast counter selling world-famous flaky buttermilk biscuits has quickly turned into the best late night around, and pretty much everyone in the city is willing to stand in line for one. Callie's is the real deal, y'all. They've been featured by Saveur, Food & Wine, Southern Living, The New York Times and even Oprah! So whether you want to make your morning with a sausage, egg, and cheese breakfast biscuit, or soak up a long night of partying on King Street with their late night, Callie's is a must-stop on any trip to Charleston.
My order: three hot little biscuits (buttermilk, shortbread and cinnamon), and a bacon, egg and cheddar biscuit sandwich.
Where to Eat Dinner in Charleston
Hands down the best barbecue in Charleston, head to Lewis for Texas-style house-smoked meats served up counter-style in an industrial-hip space with a hopping bar & plenty of outdoor picnic tables. If this spot feels a little like you're in Austin, Texas, there's a reason – pit-master Lewis learned his craft in Austin under world-famous Aaron Franklin, and then became the headliner at La Barbecue, a serious contender against Franklin BBQ.
My order: Be sure to go with a group so you can get a little bit of everything. The brisket, pulled pork, and ribs are a must. Their coleslaw is tangy and healthy – which I love, and their mac n' cheese is anything but healthy but is to-die-for.
This romantic little house-turned restaurant is a MUST on any trip to Charleston. The menu consists of just six rotating dishes each night, but every single one is sooo delicious. I love to sit out on their adorable patio. And the handwritten menus every day are just a DREAM.
Fried chicken and oysters – does it get more Charleston than this? This outdoor and indoor rustic-chic restaurant is a locals favorite hangout for fresh oysters, crispy fried chicken, delicious cocktails, and its cozy patio – Leon's is a must on any trip to the Holy City… it's so good you're going to want to go two times in one weekend.
My order: A frozen G&T, a half dozen of the chef's choice oysters, a fried chicken sandwich, and the brussels sprouts.
I'm obsessed with Butcher & Bee's food & vibe – it's a little far north if you don't have a car, but still worth it to make a reservation on their patio if you don't mind getting a little out of downtown!

James Beard award-winning HUSK features an ever-changing seasonal menu of locally sourced Southern dishes served in a gorgeous restored Victorian-era home. At Husk, there are some hard-and-fast rules about what can go on your plate – if it doesn't come from the South, it's not coming through the door. While supper at the iconic Husk is unbelievable and a destination dining experience for travelers worldwide, it can be hard to get a reservation, and the real locals secret is that the Bar at Husk is just next door and just as good – the bar features a similar ingredient-driven food menu, and a drink menu full of beautiful cocktails and 50+ bourbon choices that will knock you right off your rocking chair.
My order at the Bar at Husk: The burger!!! A glass of chardonnay, and the cheese plate
Chubby Fish
If creative, flavorful seafood and meats in a hip, buzzing family-run restaurant is what your after, Chubby Fish is your spot. Well regarded as most locals' favorite restaurant in town, Chubby Fish is a Charleston fav!!! Its run by a husband-wife chef/manager team who are just wonderful. Don't be afraid to get adventurous here – Order anything on the menu and you won't be disappointed. But be aware – that Chubby Fish being the local hotspot it is, coupled with the fact that they don't accept any reservations, you should definitely expect a wait. WELL worth it, though, trust me on this one.
For the best pizza, pasta and Italian in Charleston, and a great date night spot, look no further than Indaco. I'm obsessed with their neopolitan-style pizzas, delish pastas, and their fresh caesar salad (that is authentic zesty caesar dressing, not creamy-mayo-wannabe-caesar!)
THE. BEST. BURGER in Charleston, hands down. This cozy bistro gives me all the old school tavern vibes and it is one of the most hyped restaurants in town – for good reason! Same owners as Melfi's and Leon's – all three are three of my favorite places in Charleston to eat, you can't go wrong!
View this post on Instagram
Come for the Mexican, fresh ingredients, and homemade tortillas, stay for the house-infused Tequila list. Mex1 only uses 100% Agave Tequila and then infuses it in house with delicious things like fresh pineapple, strawberry cucumber, jalapeño and pineapple habanero. The signature Mex 1 margarita uses a combination of fresh lime, lemon and orange juice with just a touch of sugar to balance it out.
Drink-wise, I love the Pineapple Ranch Water, made with house-infused pineapple Tequila, Topo Chico, and served right in the bottle with a lime, sugar (I get it without to make it a skinny), and a salt rim. YUM.
Mex1 has 3 Locations – Sullivan's Island, West Ashley, Park West. Brunch is every Sunday from 10:30-3pm.
When a bunch of friends and I went to this historical bar, we were expecting a small pub… but walk further into this seemingly neighborhood restaurant and bar and you get to the most beautiful outdoor patio area that truly makes this place the gem it is. It kind of feels like a mix between an old historical English courtyard and a jungle. Their food is great, as are their cocktails.
Check out their Sunday brunch for $3 mimosas, bellinis (my favorite) and Bloody Mary's until 3pm!
Looking for the locals's secret best oyster spot in Charleston? You're going to want to check out 167 Raw, a small, chic neighborhood raw bar and seafood restaurant with some of the best oysters & seafood in town. (they also have some heartier fare like their to-die-for carnitas tacos).
There are no reservations, but you can always grab a drink while you wait.
For a cozy-chic date night or girl's night out, there's nowhere better than Melfi's buzzing Italian bistro, owned by the same owners as Leon's Oyster Shop! I am OBSESSED with their stratiatella toast appetizer (seriously, I order 2 every time)
View this post on Instagram
With three locations across the city (in West Ashley, Downtown Charleston, and Sullivans Island), Hometeam barbecue has become more than just a barbecue staple – it's a Charleston meat empire. Their addictive smoked wings, their delicious pulled pork nachos, and their signature frozen gamechanger cocktails are just what the doctor ordered after a long day on the beach or out exploring Charleston. We went twice in a single trip, and even after that, my boyfriend, (a buffalo wing connoisseur), said "I'd fly back to Charleston just for more of those wings". So there you have it, folks. Home Team always wins.
Looking for the best Mexican in the South? Did you even doubt for a second that I'd find it? If you guys follow me on Instagram Stories, you know my undying, unadulterated love for good Mexican food (and great margaritas). So let's taco 'bout the best Mexican restaurant in the South for a minute. Minero has homemade melt-in-your-mouth corn tortillas and chips, fresh guacamole that will make you feel like you're in Tulum, mouthwatering carnitas, delish catfish tacos, chicken taco salads, fresh-fried churros and chocolate sauce, and so, so much more. The only thing I'll knock them for is they do charge for chips and charge per tiny container of salsa (Sacrilege! Only in the South can you get away with that – Californians would never stand for it). But, luckily, this Mexican gem also happens to be one of the best happy hours in Charleston – Minero's happy hour (Monday through Friday, 3:30-6:30) features $3 PBR pints, $2 tequila shots, $3 bourbon shots, $4 select wines, and $2 off margaritas, micheladas, and sangrias. As well as $5 queso ranchero, carnitas sliders, mole chicken chilaquiles, and guacamole!
This contemporary Southern American bistro is a Charleston staple. From scallops, to Carolina flounder, to lamb, to shrimp and grits, SNOB is one of the best restaurants in Chucktown. But wait- you haven't even heard the desserts, yet. Sour cream apple pie? Banana cream pie? Creme brulee? You're already dialing the restaurant to get a reservation, aren't you?
This place is so good – I'm talking finger-lickin' down-home-country-cookin-on-the-cutest-southern-porch-y'all-have-ever-seen good. Fried chicken, biscuits, sweet tea glazed salmon, fried pimento cheese, local seafood, filet mignon …. this menu has everything you could ever want and more that you'd ever thought you'd try (fried alligator salad? Only in the south). Check it out for brunch, lunch or dinner – you won't be disappointed.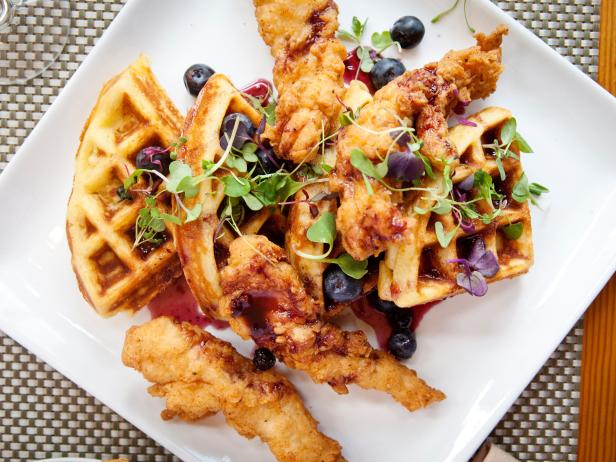 A friend of mine, who writes for Charleston Eater recommended this new gourmet wood-fired pizza and wine spot to me as his very favorite place in town – so I went in with pretty high expectations, all of which were exceeded immediately. The adorable date night hot spot is quickly taking over Charleston's foodie scene, after just opening a few months ago, and it's easy to see why. Not only does stepping into the quaint neighborhood restaurant feel like you could be some chic restaurant tucked in an alleyway of Florence, New York City, or San Francisco, but each and every one of their inventive wood-fired pizzas will blow your mind. They're small which makes them perfect to share amongst a group when you want to try all the different kinds. Make sure to head there on the early side, or be prepared to wait, as it's a small restaurant (only about 12 tables), and they don't take reservations (you can sit at the bar, though!).
My order: The Montepulciano wine, the Shabazi pizza, and the Rocco pizza.
Where to get a delicious cheese plate in Charleston
For the most charming (and most DELICIOUS) wine and cheese shop in Charleston, head straight to Goat Sheep Cow. This is the perfect place to pick up a charcuterie board for a dinner party (or just for yourselves), I literally dream about their cheese selection. The charming little shop also has gorgeous two-hundred-year-old brick walls and hand-hewn exposed beams, you guys have to check it out!
View this post on Instagram
Enjoy eating your way through Charleston! And if you need more Charleston recommendations check out my blog post The Ultimate Jetset Guide to Charleston:
Check out these other blog posts:
What to get your dad for father's day
The Best Grilled Salmon with Mango Avocado Salsa
The Ultimate Key West Travel Guide