The Cutest Boutique Hotels in and Around Charleston
When it comes to where to stay in Charleston for the best Lowcountry, Southern experience, there are no shortage of amazing options to choose from. Between luxurious downtown hotels and hidden gems outside the city, to hotels on the beach, you can choose the right spot in Charleston for you and the type of trip (or Charleston staycation) you're craving! And I'm here to help. My husband and I live in Charleston and we love exploring all of the best hotels the city has to offer. These are some of our favorites.
For the true Charleston experience, I'd encourage you to try one of the many charming boutique hotels over a big chain, it's just not the same! So where should you stay for your Charleston getaway?
The best boutique hotels in downtown Charleston
Located in Charleston's historic district (aka walking distance to all the best things to do in Charleston), Planter's Inn is an absolutely charming 64-room boutique hotel in a restored building from the 1800's. The guest rooms and suites feature a king or two queen four poster beds, 10-foot ceilings, a gorgeous fireplace. Complimentary coffee and tea can be found in the lobby in the morning, followed by iced tea and fruit in the afternoons. The onsite restaurant, Peninsula Grill, is absolutely incredible, and serves up Southern cuisine for dinner and breakfast.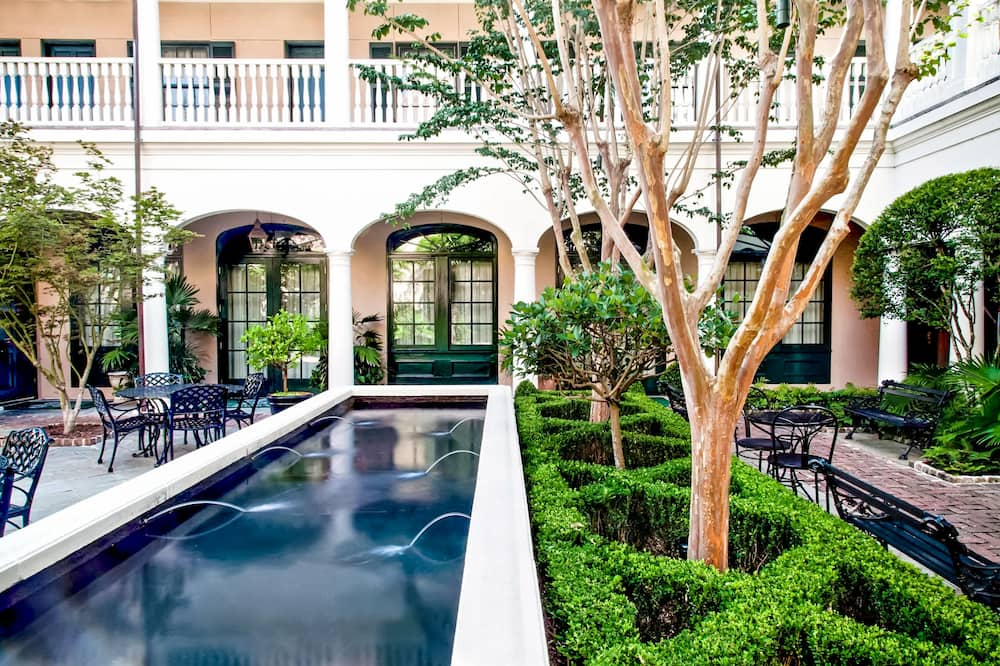 Check rates for your dates here
The French Quarter Inn is consistently ranked as one of the best places to stay in Charleston. Perfectly poised in Charleston's historic district, you can expect a welcome champagne toast and spacious Italian marble bathrooms, and an amazing pampered experience.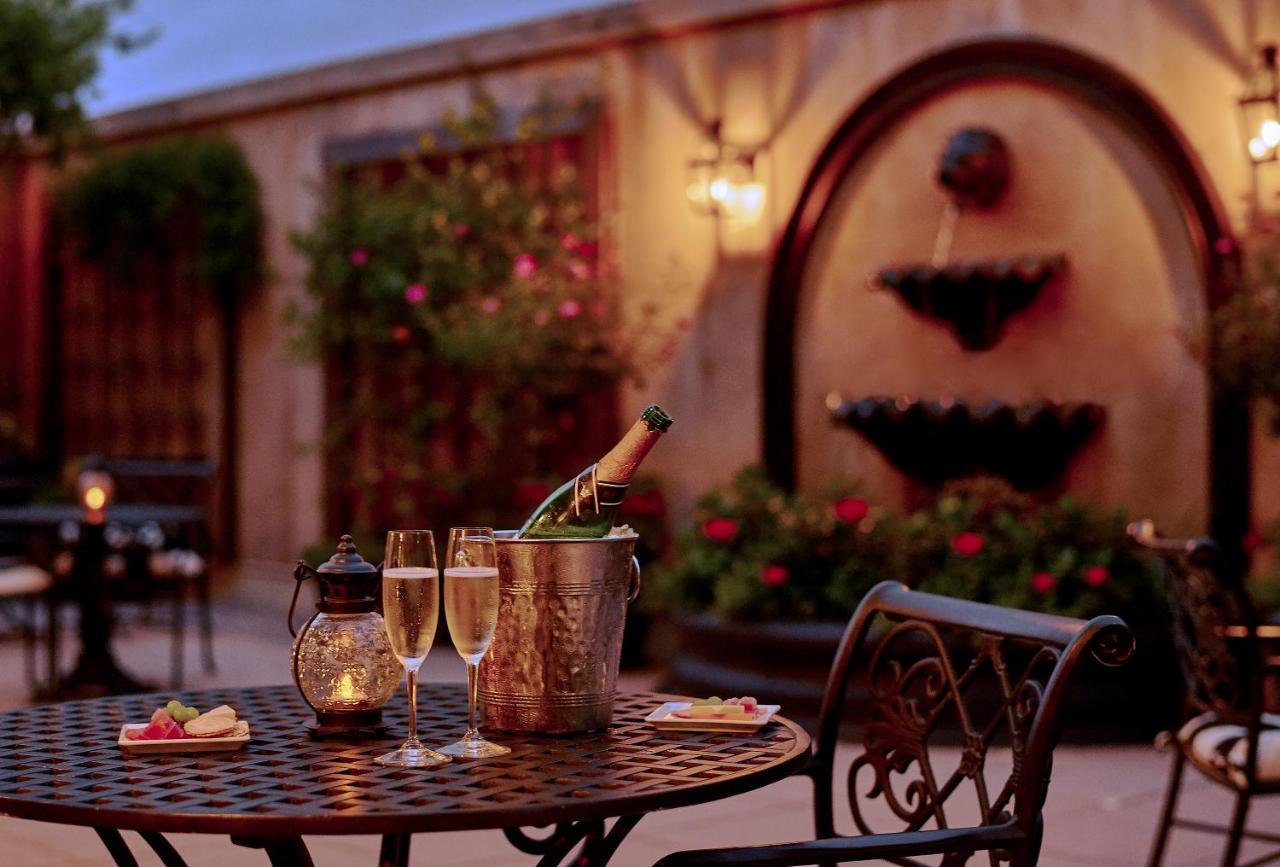 Check rates for your dates here
A stay at Zero George feels like you're visiting the beautiful home of a charming Southern friend. This darling luxury boutique hotel has only sixteen guest rooms in three restored historic residences and two charming carriage houses. The buildings have been restored but are over 150 years old – talk about a historical landmark! You'll feel right at home in the South sipping on sweet tea on one of their wraparound porches.
Photo: Zero George Street
Check rates for your dates here
Photo: Zero George
The dewberry is a bigger hotel compared to the rest on this list (at 155 rooms) but still worth a mention. Its mid-century modern, understated elegant design is straight out of Mad Men – in the best way. Design lovers will rejoice in the minimalist, yet exquisite, design throughout and everyone will appreciate the 5-star spa (my favorite in Charleston!) and amazing rooftop with some of the best views of the city.
Check rates for your dates here
Charleston Place, a Belmond Hotel is a historic charming Charleston hotel that defines Southern glam. You'll love soaking in the saltwater pool, enjoying a relaxing treatment at the full-service spa, and meeting friends for sunset at the rooftop bar, listening to some Southern jazz.
Check rates for your dates here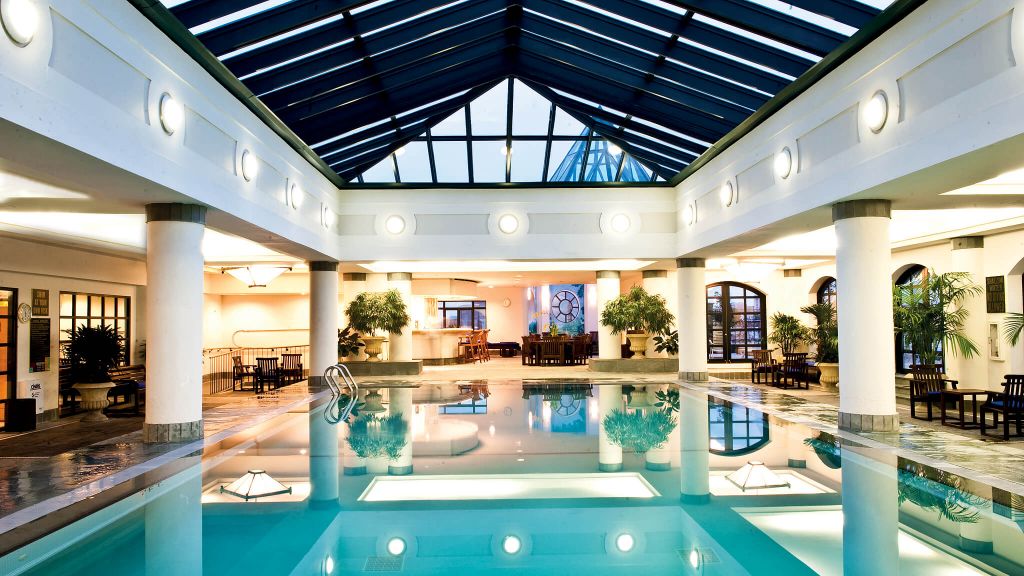 Photo via Charleston Place
The location of Hotel Bennett is hard to beat (directly on Upper King, surrounded by all the shopping and restaurants of your dreams), and the rooms are SO beautiful. Each features a glam standalone tub, and charming-but-contemporary furnishings that will make you feel like it's your home away from home in the South.
The Hotel Bennett building used to be a public library and was just opened this year as Charleston's newest luxury hotel. It's grand, but quaint at the same time… in true Charleston fashion. And my favorite part is there's a to-die-for rooftop pool on the top floor.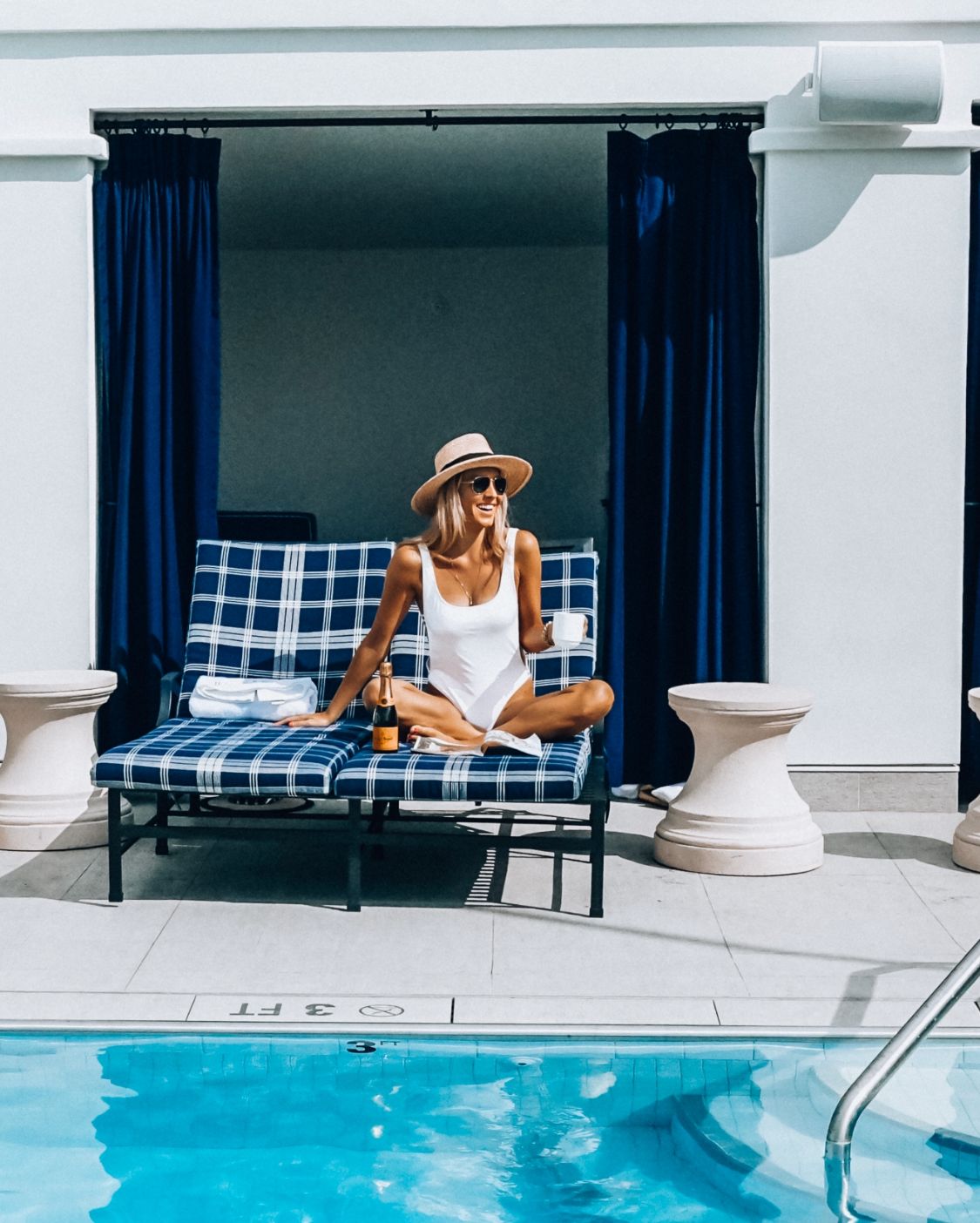 The best boutique hotels just outside of downtown Charleston
This darling little inn in Mount Pleasant's prestigious Old Village is just adorable. Cozy, traditional, and a perfect location if you're looking to be tucked away 10 minutes from downtown in the most desirable suburb of Charleston.
Even if you don't stay, I highly recommend checking out their restaurant!

Check rates for your dates here
This luxurious golf resort on Kiawah, located 45 minutes from Charleston, is a great getaway for anyone looking for an out-of-downtown Charleston experience, with a fabulous beach and golfing. The Sanctuary is the only hotel in Kiawah located on the 10-mile stretch of beach. Design-wise, The Sanctuary straddles modern and traditional, and the restaurants are fabulous, and the spa is over-the-top (hence 'the Sanctuary' name), do not miss it – with herbal tea blends, warming towels weighted by heated grain, and treatments with lavender and other fragrant oils. Spa guests have all-day access to the mineral pool, steam room, dry sauna, private rain showers, relaxation room, and more.
Check rates for your dates here
Check out these other blog posts:
The ultimate Charleston travel guide
What to pack for a weekend in Charleston