Top 10 Bachelorette Party Destinations for 2023
Bachelorette parties are the best part of the year. You get to go on vacation with the girls and celebrate one of your best friends – how can you beat that? These are the best bachelorette party destinations for this year – in my humble opinion!!! And the spots that will be ultra-memorable for you, the bride, and all the girls.
Whether you decide to stay local and bachelorette in the USA or jetset off to the Caribbean, you're guaranteed to have the best girls trip of all time that you'll talk about for years at any of these destinations! Or take the weight off your back by opting for a resort that offers all-inclusive for bachelorettes! Think tequila or wine tastings, bonfires on the beach, as well as personalized décor, and VIP amenities like beach/pool butler service! Uhm-yes.
Did you guys really think I would put anything else as #1? Cabo is a perfect bachelorette destination. Cabo is especially easily accessible for any west coasters, just a quick 2-3 hour flight from California, Arizona, Nevada, Texas or Colorado. So grab the girl gang and celebrate your bride to be the best way possible – aka with allllll the sombreros, margaritas and tacos!!
If a private villa is your group's vibe, check out The Best Airbnb's & VRBO's For Groups in Cabo here!
This is where we stayed for my 30th birthday and I cannot recommend this spot highly enough!
If you are looking for something a bit more outside the box than Mexico or Jamaica, consider Turks & Caicos. White sand beaches, palm trees galore and upscale resorts! This is one of those destinations where if you don't want to worry about a single darn thing, you can go with an all inclusive package (room, food and unlimited drinks covered at a set price). This way you won't have to worry about keeping up with your wallet or venmo-ing friends back and forth! For the ultimate luxury experience with the girls, consider the Seven Stars Turks, for your fiesta! They have swanky cabanas around the pool, pool boys to serve you trendy drinks, and matching bicycles to roam the resort. If you aren't ready to be around many other travelers besides your group, get one of these amazing villas all to yourself:
My pick of where to stay in Turks & Caicos with a group: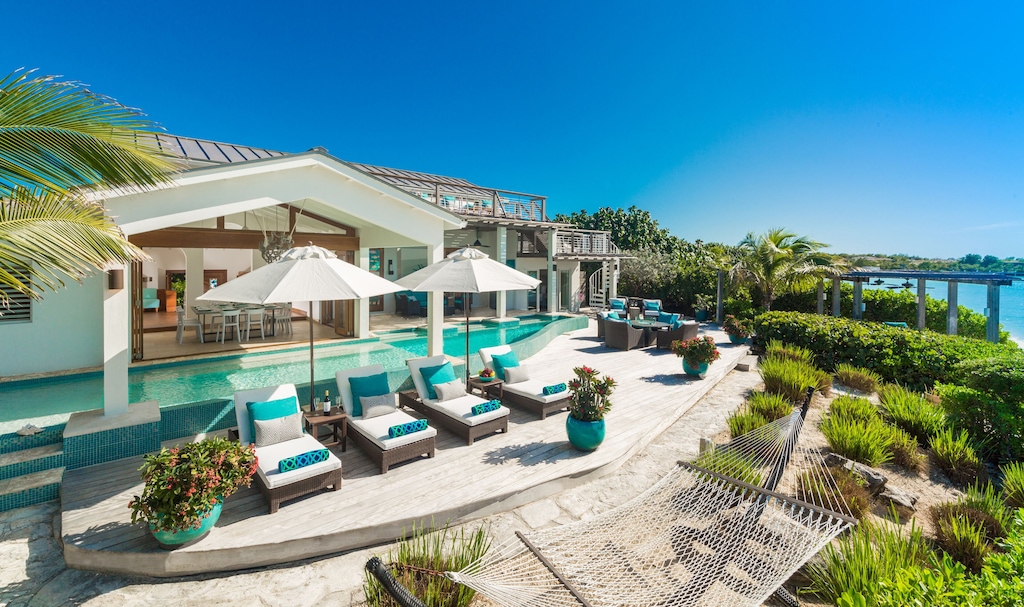 Napa and Sonoma make for the ideal bachelorette party destination. Bike from vineyard to vineyard or do a half day on the Wine train! For something truly unforgettable take your girl gang on a hot air balloon ride overlooking the gorgeous landscapes. Who needs party favors when you can leave with a few bottles of the best wines in the world, am I right??
Check out The Best Houses For Bachelorettes in Napa Valley here! and my Ultimate Bachelorette Guide to Napa & Sonoma here
A beachy bachelorette is the best kind of bach. Splurge on a beach front airbnb where you can spend all day enjoying the sounds of the waves crashing and the champagne popping. Beach picnic set-ups are all the rage right now and I am ABOUT IT, so go ahead and pencil that into the Los Angeles bachelorette itinerary (and maybe even add a morning beach workout with a local fitness instructor so that you don't feel bad about the amount of charcuterie being consumed).
This desert city, just north of Phoenix, is heating things up! With next level resorts, beautiful scenery, hiking trails and day party vibes, a bachelorette party in Scottsdale is just what the doctor ordered. Start with a boozy brunch at Hash Kitchen, then let the party continue at one of the infamous W hotel pool parties! Or have your own private pool party at the house.
Check out my list of all the best Scottsdale airbnbs for groups here
6. THE HAMPTONS, NEW YORK
The Hamptons are THE SPOT to see and be seen, but can also be an amazing place to relax with your girls. Hire a private chef to cook an amazing dinner one night (this is my rec) and during the day head to the Wolffer Estate nearby you can start your day with brunch and rosé before heading to Main Beach!
The adorable towns of Amagansett, East Hampton and Montauk come alive in the summer time, with cafes and shopping. Make sure you get a pastry at Carissas! Gurney's Resort is the perfect spot to rent a cabana for the day and enjoy some Whispering Angel while you soak in the sun/people watch. If you make it out to Montauk head to the Grey Lady for dinner turned dancing, or reserve a table at the Surf Lodge for a live music set.
When it comes to where to stay, the best bang for your buck will be to rent an Airbnb and there are tons of amazing options, if money isn't a problem then go with Gurney's Montauk or the Maidstone East Hampton.
Recently Asheville has become a trendy spot for bachelorette parties and I can totally see why. Tucked away in the Blue Ridge Mountains, this once hippy haven has turned into a food culture mecca. With so many amazing chefs in one small area you are bound to eat good this trip, from Spanish tapas at Curate, to biscuits the size of your head at Biscuit Head (hence the name) to highly acclaimed Indian street food at Chai Pani. Explore the local wineries like the hipster urban winery Pleb, or the winery at the Biltmore (the most visited winery in the United States). If your bride is a beer girl, hit the microbreweries like Wicked Weed, Burial, The Green man or Tour the Sierra Nevada Brewery. Summer or Fall are great times to get out in nature, Hike to the nearby Catawba Falls or for some secret views climb to the top of Frying Pan Tower (an old fire lookout).
Can't go to Bali? Don't worry, Tulum has GOT YOU! A tropical paradise mixed with a little hipster and a whole lot of luxury. Think instagrammable cafes like Matcha Mama and Raw Love, crystal clear swimming holes in the jungle, and craft cocktails made with the freshest ingredients. This vibey destination is perfect for the bride who wants the best of both worlds! Chill all day on a white sand beach while you sip on that carrot juice, or head to Papaya Playa for bottle service and live music! There are TONS of activities to keep you occupied like visiting the nearby Mayan ruins. You can stay in Tulum town for a jungle feel where the prices are lower, or along the beach strip in boutique hotels like Azulik or one of these incredible beachfront villas for groups in Tulum:
9. SAVANNAH, GA
Southern hospitality, speakeasies, Spanish moss and nearby beaches-what's not to love about Savannah?? Head to Tybee Island for brunch at The Social Club and a beach day, and then a farm to table dinner at Husk! Another fun activity is doing a pedal pub tour, you get to see the city with a drink in hand. Stay at The Perry Lane Hotel for arguably one of the most instagrammably-chic rooftop pools in the country.
10.

Cartagena, Colombia

Want a bachelorette your girls will never forget? Head down to South America!! Cartagena is a surprisingly short direct flight from NYC, Miami and more. It's only 2 hours past Miami! You'll be wowed by the historic stone-walled old city, the colorful colonial architecture and the uniquely Colombian culture. Whether your idea of a bach is sipping the world's best coffee on a bougainvillea-laced balcony with your girls, heading to a lush tropical island just minutes off of the city, or salsa-dancing until 6am in one of Cartagena's famous nightclubs (My favorites are La Movida, Alquimico, La Jugada, or Cafe Havana), Cartagena, Colombia has a ton to offer everyone.
While Scottsdale has more in terms of partying and nightlife, Sedona is the perfect wellness-focused girls trip. If your bride is less of a partier and more of hike, spa, chic cocktails and repeat, this is the spot for you.
Check out these other blog posts:

Where to travel in the USA right now
Cute Bachelorette party favors that everyone will love
Bride bachelorette party outfit ideas, bridal shower dresses, and more!
The best white swimwear and cover ups for a bride to be
The 10 best gifts for a bride to be – cute bridal shower gift ideas
The best groomsmen gifts
The best honeymoon destinations in the US
The best matching couple swimwear
How to plan the perfect destination bachelorette party
The Ultimate Napa Valley Bachelorette Party Guide