The Best Luxury Airbnbs in Cabo for Groups – Bachelor Parties, Bachelorette Parties, & Luxe Spring Breaks
Traveling to Cabo with a group and wondering where to stay? Whether it's your bachelor or bachelorette party, your college spring break, your adult spring break, or your much-needed family vacation, Cabo San Lucas has some of the most beautiful villas and vacation houses in the world to escape the states and soak up some sol.
So what are the absolute best luxury airbnbs in Cabo to rent for a group? Here are all my favorite group villas in Cabo, from the luxe, to the ultra luxe.
Sleeps: 16 guests
This gorgeous beachfront, modern Pedregal house sleeps 16 comfortably and is located in one of my favorite areas to stay with a group in Cabo. Pedregal is perfect because it's gated and safe, but nearby to Medano Beach, the center of town and all the best restaurants.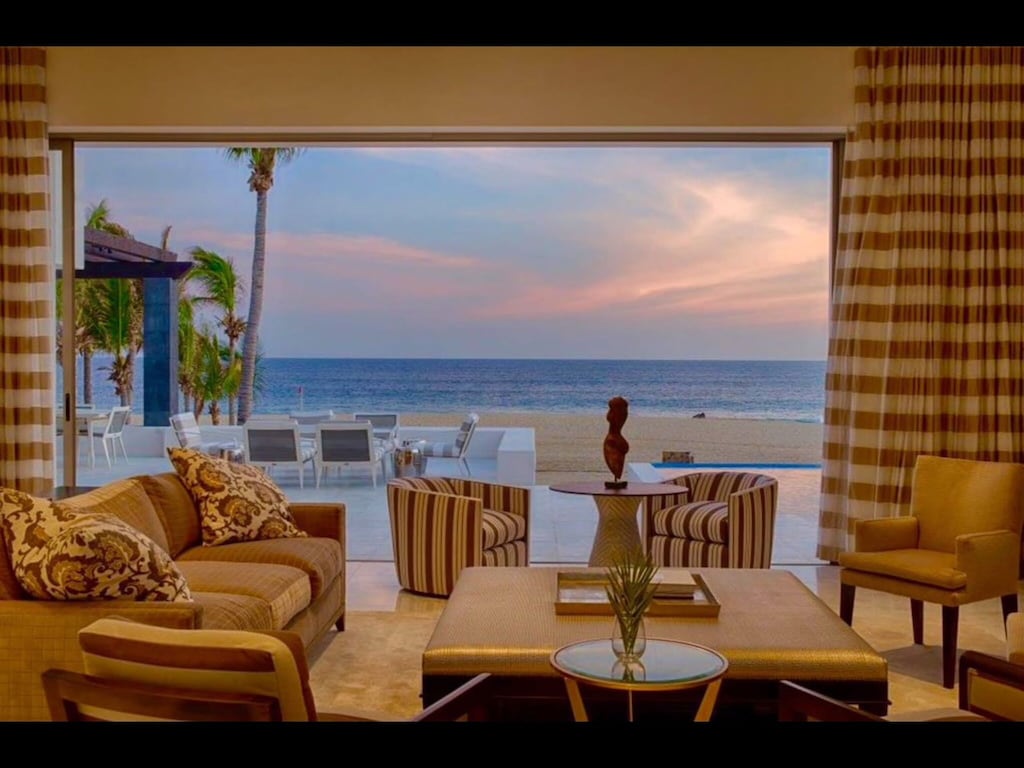 Sleeps: 16+ guests
Check rates for your dates here
This Pedregal estate is by far the most beautiful villa I've ever stayed in (you can read more about our epic vacation to Mantea on this post here). It's ultra-modern, and feels more like a private resort than a villa. Did I mention there's an INCREDIBLE chef and bartender and that it's all-inclusive? I'm talking five-star all-inclusive. Oh and there's a yacht. It doesn't get any better than Mantea.
Casa Bellamar will make you fall in love with Mexico all over again. It is the best of Baja California – with a beautiful beach, crashing waves, fresh fish dinners, and burros roaming around. Add in an epic pool and swim up bar (that we one day didn't leave from breakfast until dinner because we were having too much fun), a tennis court, an amazing staff, and rooms to sleep 18 people, and you have yourself the absolute best villa in Cabo for groups.
If you want a secluded, ultra-luxe mansion on a beachfront compound that you won't have to leave (or are looking for an epic group trip, birthday trip, destination wedding or other event celebration in Cabo, THIS IS YOUR SPOT! We were FLOORED by this place, you guys. From the all-star staff (a chef and bartender are included, as well as a butler, and they shop for you and you just pay the cost for food and drinks – much less than you would pay at a hotel!!!! It's ideal, you all. Can't recommend this place highly enough. When you book make sure you message that you heard about them from Jetset Christina!

We stayed in this villa this January to photoshoot Watercolors Swim and Kenny Flowers and we LOVED it – it sleeps 14 and is a great spot for a Cabo bachelorette or even a wedding! Also love the location – right on a STUNNING private beach and just down the road from the One & Only!
Check rates for your dates here
This beautiful Cabo villa is located in the exclusive gated community of El Encanto with stunning views of the azure waters of the Sea of Cortez. With five full bedrooms, a home office, home theater, a game room with bar, air hockey, and foosball, and even a disco ball for throwing parties at night.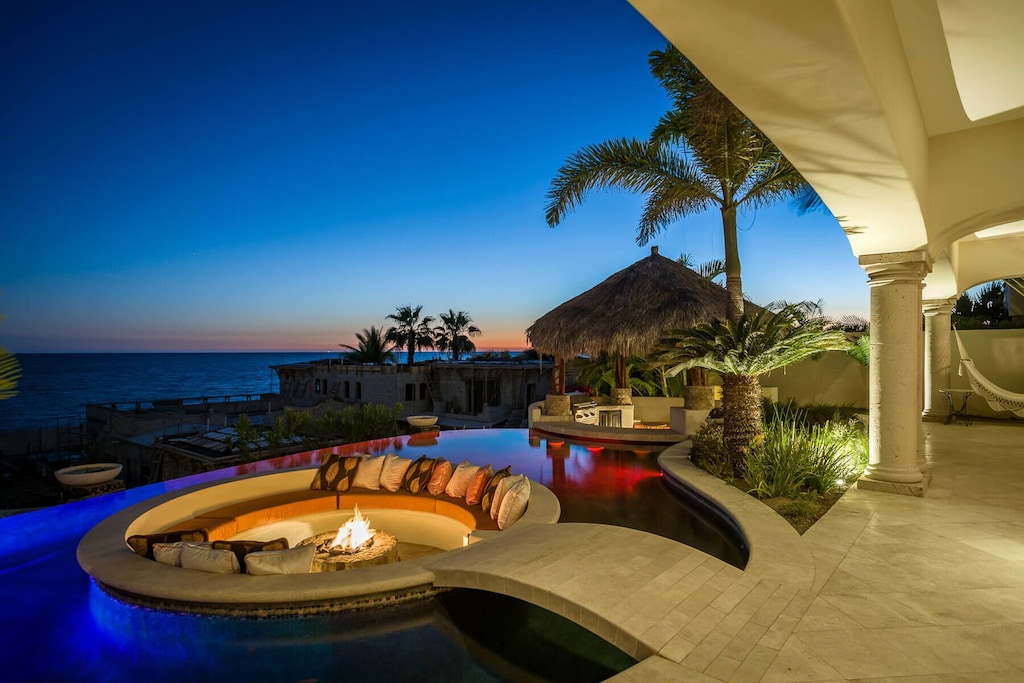 The other beachfront villa we stayed at for our Kenny Flowers/ Watercolors Swim photoshoot was this one! It was PERFECT and so beachy, tropical, and ideally located in the prestigious area of Pedregal (only 10 mins from the marina – highly recommend doing a boat day one day!).
Check rates for your dates here
Ultra Luxe
DREAMY Spanish Colonial estate on an oceanfront cliff in Cabo's gated, safest, luxest community Pedregal (always my go-to on where to stay in
Cabo
)
16+ guests
9 bedrooms 16 beds 11.5 baths
20+ guests · 7 bedrooms · 12 beds · 7.5 baths
Check rates for your dates here
This Cabo villa sleeps up to 24 and epitomizes fun in the sun. It's in the gated Pedregal community – and is pretty much an adult (or family) playground. I mean LOOK at this place.
Luxe
16+ guests · 8 bedrooms · 13 beds · 8.5 baths
This 6,000 square foot stunner in Pedregal is ideal for Cabo bachelor parties, Cabo bachelorette parties, or getting a luxe adult spring break house with friends.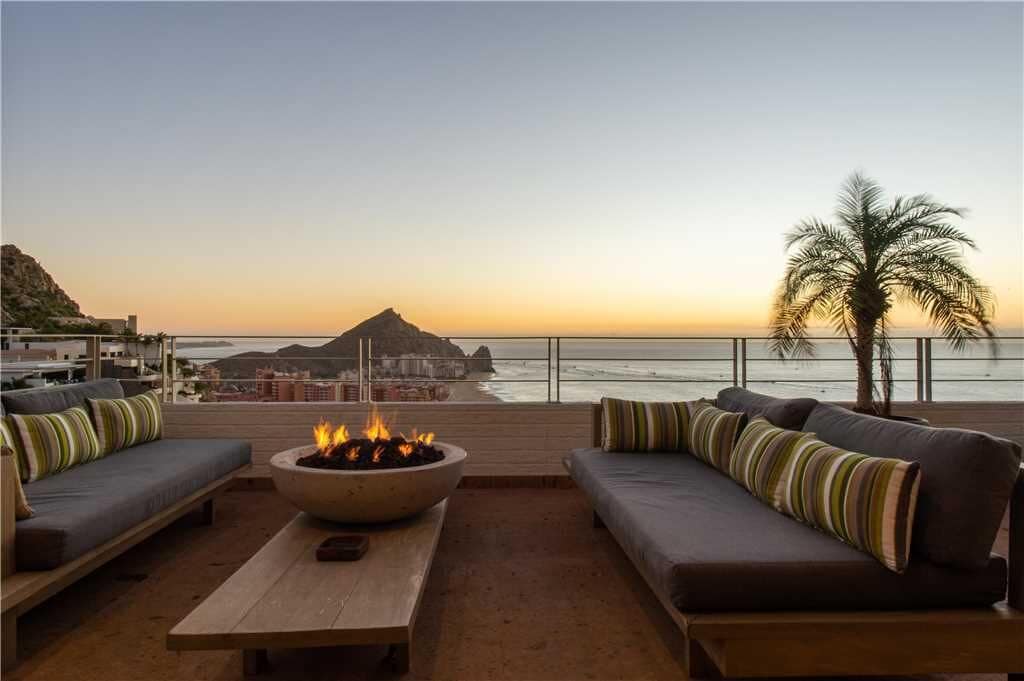 Ultra Luxe
16+ guests · 10 bedrooms · 12 beds · 9.5 baths
Secluded high on the Pedregal Hillside, Villa La Roca is secluded, luxe, and gorgeous. A modern colonial palace, this home features unparalleled amenities, extravagant décor and an architectural design that captures the uniquely Baja character.
Check rates for your dates here
16+ guests · 6 bedrooms · 8 beds · 6.5 baths
How gorgeous is this place? It's ULTRA spacious (Sleeps 16 people) so perfect for groups looking for endless views of the Sea of Cortez. My fiance recently did a bachelor party in Cabo at this house and he said it was INCREDIBLE.
Check rates for your dates here
Ultra, ultra, ultra-luxe
16 guests · 10 bedrooms · 16 beds · 10.5 baths
If you're looking for the most expensive airbnb in Cabo, this is it. All-inclusive ultra-luxe 10-bedroom beachfront Mexican hacienda with luxury amenities including: Private chefs, Butler, Housekeepers, Chauffeurs, Gym, Sauna, Turkish bath, Fitness instructor + gym, Masseur + massage parlor, Infinity pool, Snow room retreat
Amenities:
Private chefs, Butler, Housekeepers, Chauffeurs, Gym, Sauna, Turkish bath, Fitness instructor + gym, Masseur + massage parlor, Infinity pool, Snow room retreat
If you're looking for an ultra-sleek, ultra-modern blow-your-mind kind of villa (that would make for an epic bachelor party pad if your group has a luxe budget!) this villa is RIDICULOUS – brand spanking new and super modern. It has 2 pools and many stories is easily one of the most stunning properties in Pedregal.
Check rates for your dates here
This new construction beachfront hacienda has it all! Sweeping coastal views, 10 bedrooms, 12 baths, a compound of exceptional finishings and contemporary design makes this a perfect home base for a group trip to Cabo.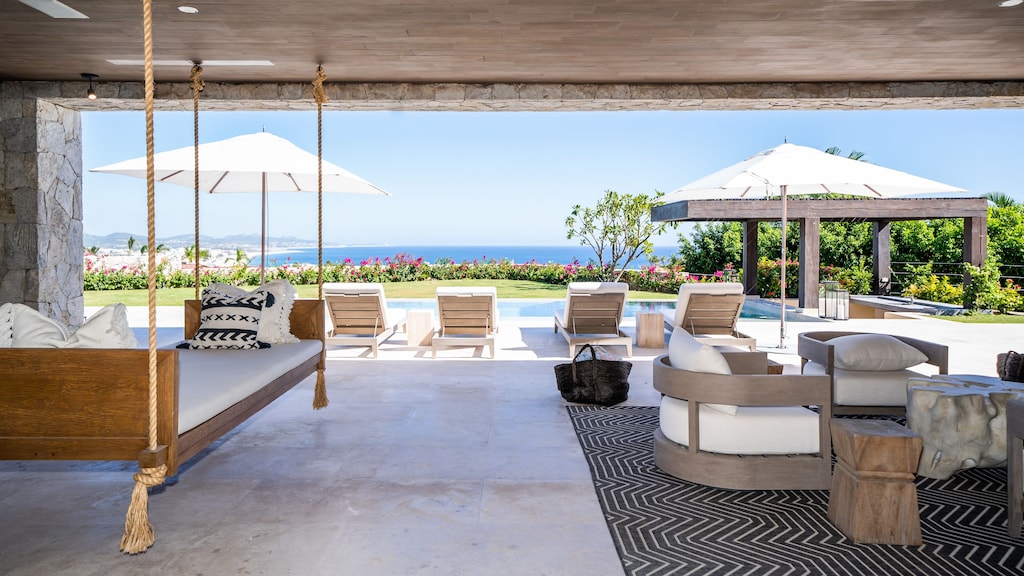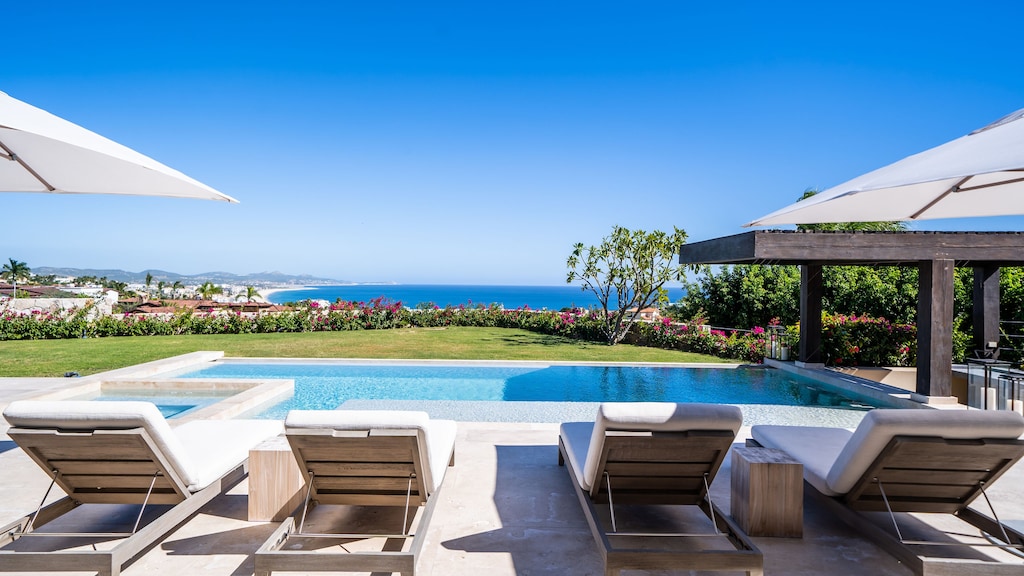 How to rent a yacht in Cabo with a group
Check out these other blog posts:
The most expensive airbnbs in Cabo