The Best Airbnbs in Tulum for Groups and Bachelorette Parties
If you are looking for a dreamy location for a group getaway with endless places to explore, things to do, and delicious street food to eat – get yourself to Tulum, ASAP. Tulum is a town on the Caribbean coastline of Mexico's Yucatán Peninsula. It's known for its beaches and well-preserved ruins of an ancient Mayan port city. You can stay out late dancing, dine at delicious beachfront restaurants and dive into the dreamy cenotes. Tulum works well for all kinds of groups – groups that are all about Tulum's nightlife and the party scene, but also groups that are seeking an escape from the hustle and bustle of the city and looking to soak up all the relaxation and zen Tulum vibes. This ideal combination of siesta and fiesta make Tulum the best girls trip, bachelorette party destination, bachelor party destination, or couples' trip getaway, so I wanted to round up the coolest airbnbs in Tulum for a group.
Just north of Tulum, Casa Rosa is a beautiful beachfront villa on the Mayan Riviera. The ocean is just 50 feet away from the villa where you can swim, snorkel, or kayak with the provided two-person kayaks! The villa gives more of a traditional Mexican vibe in terms of interior design and decor, which I love. There are four bedrooms and three bathrooms, so the villa can fit up to nine guests. Casa Rosa features a beautiful pool, multiple outdoor dining areas, and a rooftop deck for relaxing and watching the sunset.
This place gives me Kim K vibes and I am here for it!! Imagine all of the incredible photo shoots you could have in this neutral luxury villa! Villa Virginia can host up to 10 guests and is nestled between Tulum's breathtaking beach and its eclectic downtown. The space features a double-height ceiling, four bedrooms, four full bathrooms, and spacious living areas. On the rooftop, you'll find a grill bar and 10-meter pool where you can chill out with a margarita in hand!
Check rates for your dates here
The beautiful Casa Areca is a brand new villa rental in Tulum that is a 4 bedroom, 4.5 bath villa located in the prime Aldea Zama Premium gated community with 24/7 security. Just minutes away from all the best beaches, the beautiful Tulum town, & the Mayan Ruins, this is a dream villa perfect for a group trip to Tulum. Its open concept makes it a perfect gathering area for friends, and the gorgeous private pool and jungle-view rooftop are sure to be a highlight of everyone's trip.
Check rates for your dates here – and make sure to tell them that Jetset Christina sent you!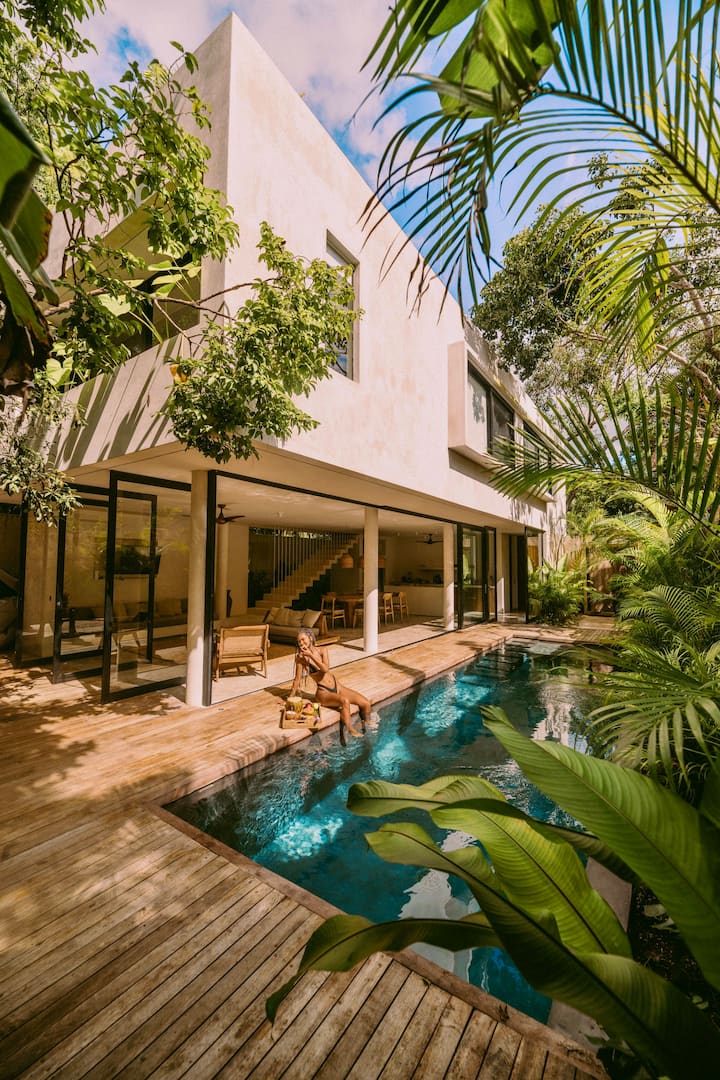 Sleeps: 13 Bedrooms: 5 Bathrooms: 5 Half Baths: 1
Villa Sofia is a new spectacular upscale 6000 square foot beach villa embedded in a gorgeous uniquely-Tulum tropical setting. This magnificent home is one of the newest villas is the area, and one of the most beautiful for a group. Check rates for your dates here.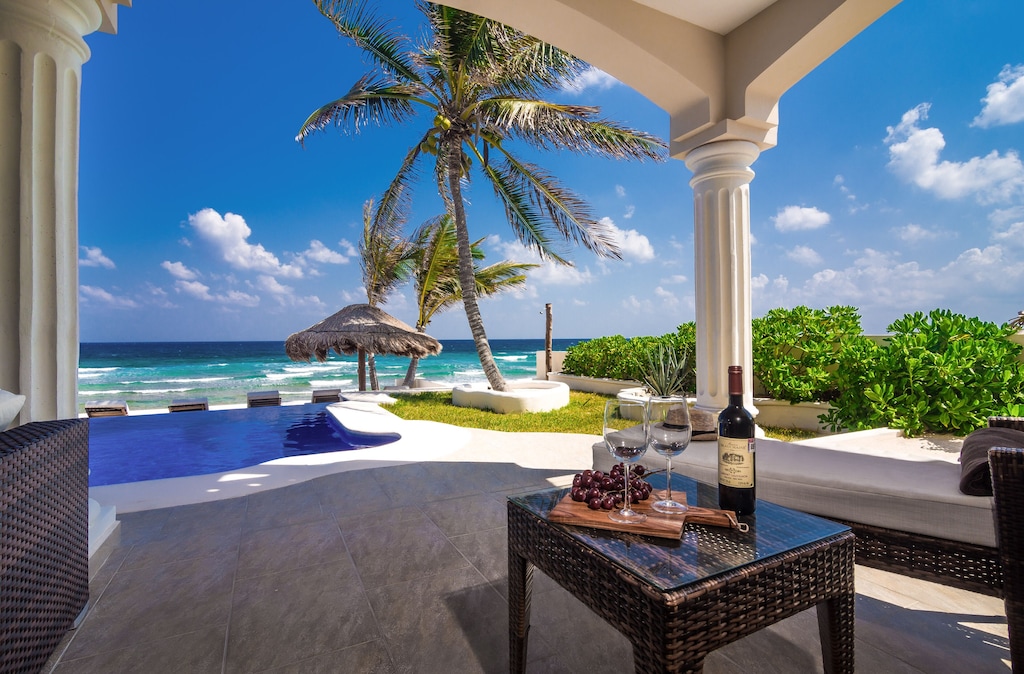 10 guests · 3 bedrooms · 6 beds · 3 baths
This house is everything you could want in a group retreat in the amazing town of Tulum. Soak up the Mexican sun on the terrace, surrounded by a lush private garden, or cool off with a dip in the secluded pool. Relax with a book in a cozy hammock, admire handcrafted local ornaments, then spend balmy evenings stargazing on the patio.
16 guests · 6 bedrooms · 8 beds · 7 baths
If you're looking for a luxury house for a group in Tulum, Hacienda Paraiso is gorgeous. A plunge pool separates the beach from the main house where bungalow thatch ceilings soar above expertly chosen interior sofas, hand carved furniture, and a family of wooden tortoises along the living room wall. Fully staffed and safe, Hacienda Paraiso can arrange all kinds of activities for your group – from fishing boat charters, water sport adventures, or snorkeling on the nearby reef.
Check rates for your dates here
Aguamarina is a unique and beautifully designed villa in the middle of the Tulum jungle. The villa is still near the beach and close to downtown, but since it isn't a beachfront property, this villa really allows you to feel secluded and be one with nature! The private pool, lush tropical garden, and spacious living areas will have you feeling ultra-relaxed on your tropical getaway. This villa has four bedrooms, two and a half bathrooms, and can sleep nine comfortably.
Check rates for your dates here
If you are looking for a beautiful beachfront property just steps away from Soliman Bay, Casa Escocesa is for you! This property features four bedrooms, four and a half bathrooms, two living spaces, and a gorgeous pool. Casa Escocesa can accommodate up to 10 people, so it's perfect for a group trip or family vacation!
Check rates for your dates here
Any golfers in your group? You'll love Villa Coccoloba! Not only does Villa Coccoloba have a beautifully designed interior, but it also has a stunning outdoor space complete with a putting green overlooking the ocean! With three bedrooms (each with its own ensuite bathrooms), this villa sleeps up to six adults. Villa Coccoloba comes with a housekeeper, groundskeeper, and a private chef (just pay the cost of groceries).
Check rates for your dates here
Villa Vidorra has been called "the jewel of Soliman Bay," which seems to be on point! This is one of the most beautiful, luxurious villas I have ever seen in Tulum. The design of the villa feels incredibly regal and elegant, which is a change from the typical boho vibe in Tulum. This property can host up to 15 people with five bedrooms and six bathrooms.
Check rates for your dates here
The design of this villa is more masculine, which I am totally digging! The sexy, darker design gives this property a swanky feel. Up to 14 people can stay in this 4-bed, 6-bath casa, so it's definitely a communal kind of space!
Check rates for your dates here
Polished concrete walls and wooden furnishings give Villa Moloch an effortlessly sophisticated look. Each of the cozy bedrooms has access to the common balcony, the perfect spot to spend lazy afternoons and catch amazing sunsets. And outside, the pool, jacuzzi, and wooden deck give way to a private beach stretch adorned with coco palms, itself the prelude to the astounding beauty of the bay.
Check rates for your dates here
Villa Mariola is everything you dreamed of when you pictured the perfect Caribbean vacation. Nestled in the tranquil Soliman Bay, this five-bedroom beachfront villa is a spectacular retreat where you will spend blissful days in one of the most secluded places in the Riviera Maya. After a day of exploring the bay, get some rest in one of its five bedrooms, all equipped with ensuite bathrooms, or spend a peaceful late afternoon chilling on the upper terrace. And after a stunning sunset, switch on the outdoor sound system and gather everyone around the BBQ or the woodfired oven for a delicious alfresco dinner with the soothing Caribbean breeze.
Check rates for your dates here
Booking this villa will put you just minutes away from the city center and some of the most incredible beaches in Tulum. This four-bed, four-bath villa has a sparkling pool, a rooftop terrace with a jacuzzi, an indoor netted hammock area, and a super cool palapa room if you want to enjoy a glamping experience! If you are looking to leave the villa, you can explore the nearby neighborhood, stop by one of two local cenotes, or head to The Gypsea Market.
Check rates for your dates here
Casa Caribeña has won "Top Vacation Rental" several years in a row, and I can see why! This beautiful six-bedroom, eight-bathroom property sleeps up to 14 guests and features a beachfront infinity pool, rooftop pool, daily housekeeping, snorkeling, kayaking, and tons of other amenities. They can even arrange to have a masseuse come onsite to help you relax and really get the most out of your vacation! And if you don't want to worry about cooking for 14 people, you're in luck – they have a gourmet chef on staff ready and waiting to serve you.
Check rates for your dates here
Another great choice in Soliman Bay! Casa Kevali is a six-bedroom, five-and-a-half-bathroom villa that sleeps up to 12 comfortably. Nature lovers will love the scenic backdrop of Casa Kevali's location, and luxury lovers will love the interior design. The rooftop lounge is perfect for watching the sunset with a mojito in hand, and the pool terrace will be your go-to during the hot Mexican days.
Check rates for your dates here
Villa Blanca's main goal is to help you unwind and fall into the rhythm of the sea. With a beautiful, private beach, a plunge pool, a palm-thatched terrace, and plenty of sunbeds, that shouldn't be too difficult! The interior design of Villa Blanca is neutral, warm, and luxurious. If you are looking to get out of the villa, there is a nearby cenote that you can walk to, or you can call the concierge to have a driver bring you to the Tulum Hotel Zone to experience the nightlife!
Check rates for your dates here
Entire home 10 guests · 5 bedrooms · 5 beds · 5 baths
Enjoy luxury inspired by nature at Villa LaGu. This newly built Tulum vacation rental looks out over the jungle from a setting in the exclusive Holistika community, just steps from a spa, yoga center and more. The perfect luxe villa option with a group of up to ten friends or family members.
Check rates for your dates here
Check out these other blog posts:

The best luxury resorts in Mexico
Bride-to-be outfits for the bachelorette party, bridal shower, engagement party, rehearsal dinner and more
The best destinations for a girls trip
The 10 Best Trips to Take in Your 20's with Friends
The best big airbnb houses in palm springs
The best airbnbs for a romantic weekend in Joshua Tree or a group house in Joshua Tree for a girls weekend
How to plan the perfect bachelorette party
The best etsy wedding products
The Best Bridesmaid Kimonos that look cute in pictures
The Best Fall Bachelorette Party Destinations, The Best Winter Bachelorette Party Destinations
What to wear for every wedding dress code
Best houses for groups in Scottsdale, Scottsdale bachelorette party houses
How to Plan the Perfect Bachelorette Party in Austin
The Best Swimwear for Summer 2019