The Best Babymoon Destinations Around the World
The best babymoon destinations are those where you get a little sunshine and a LOT of relaxation. For all you future mamas and daddies out there, the babymoon is the last big vacation before the baby, a chance to set aside the stresses of everyday life and pregnancy, and focus on intimate time with each other before life changes in a big way! Give yourself, your partner and your little-one-on-the-way the R&R you all deserve and escape to paradise. These are the absolute best babymoon destinations around the world, from amazing (and accessible) babymoon options in the USA, to the warm beaches of French Polynesia and the Maldives, to the crystal-clear Caribbean, Mexico, and beautiful Europe. Whatever your babymoon style is, there's something here that's perfect for you, and your growing family!
But first, when should you take your babymoon? Most women like to travel in the 2nd trimester, when you can still move around easily and have the most energy, and before all of the hecticness (and exhaustion) of the third trimester starts. The American College of Obstetricians and Gynecologists discourages air travel after 36 weeks, so make sure to plan for at least a couple weeks before then!
THE USA
Why the USA is a great babymoon destination: If convenience and safety are your number one priorities, you're going to want to stay close to home (if you're from the US or nearby!). The US has plenty of domestic babymoon options that are absolutely dreamy, and don't require a passport.
The best babymoon destinations in the USA
Hawaii for a babymoon is a great choice. Spend your babymoon soaking in the sun, eating fresh, healthy seafood, and taking long coastal walks with your boo. Hawaii is perfect for a babymoon because while it feels exotic, it is super-safe and within the United States, so super easy to get to, easy to navigate, and a safe trip for you and your baby.
The Four Seasons Wailea is the absolutely ideal babymoon destination. With its iconic five-star service, incredible food, and absolutely everything you could need for a relaxing vacation, there's no wonder this hotel is such a popular choice with babymooners (and Hawaii honeymooners)!! The FS Maui has thought of everything to make babymooners feel ultra-comfortable, from neonatal massages in the spa, to the 15, 30 and 50 SPF available complimentarily at every pool, so you never have to worry about getting too much sun on your baby bump.
When to babymoon in Maui: Maui is beautiful any time of year, with whale watching season from December-April, and the driest weather on the island from April-October. Though if you stay on the Wailea side of Maui, it rarely rains too much any time of year.
Wearing the Maui bikini in tie front bandeau and sporty bottoms (I sized up in both)
By the way, if you babymoon on Maui – be sure to hire Anna Kim Photography for a photoshoot!! She was my wedding photographer and is SO unbelievably talented!!! Let her know Jetset Christina sent you 🙂
Big Island, Hawaii
If you're looking for complete serenity and relaxation, Four Seasons Hualalai is a great choice for a babymoon. The spa at Hualalai has all kinds of babymoon-focused treatments, from prenatal massages to relaxing bubble baths.
When to babymoon on Hawaii: The Big Island is the driest Hawaiian island, making it an ideal sunny destination any time of the year.
View this post on Instagram
Read more about my stay at Four Seasons Hualalai here.
CALIFORNIA
With mild weather year-round, another great babymoon destination in the USA is the California coast.
If you're looking for babymoon in a charming town on California's coast, just 45 minutes south of San Francisco, look no further than Half Moon Bay. Home to one of the most beautiful resorts in the world, the Ritz-Carlton Half Moon Bay, you'll spend your days at the spa, on the golf course, walking the beach, kayaking with sea otters, or exploring the cute little town, and your nights snuggled up with homemade s'mores at the Ritz's dreamy outdoor fire pits.
Carmel, California
Check out the Carmel Valley Ranch – a luxury oasis in the hillsides of Carmel. The top-notch service here includes golf carts at your disposal, tennis and golf lessons, and nature walks wind through the 450-acres of California wilderness. The 139 rooms, all one-bedroom suites, are spacious, rustic-chic and beautiful, and the Spa Aiyana will be your pregnancy haven – with its essential oils extracted from the flowers of on-site lavender fields.
If an escape to California's highway one is calling to you for your babymoon, Ventana Big Sur is for you. Go for the rooms with private hot tubs and ocean views – unreal!!
Charleston is all about 2 things that every pregnant woman loves: eating, and shopping. It's a small city, is easy to navigate, and offers so much southern charm and amazing food you may want to just stay there for the rest of your pregnancy. There's also beautiful beaches on nearby Sullivan's Island, Isle of Palms, or Kiawah.
Where to stay for a babymoon in Charleston:
Hotel Bennett's location is impossible to beat (directly on Upper King Street, surrounded by all the shopping and restaurants of your dreams), and the rooms and rooftop pool are SO beautiful. Each suite features a glam standalone tub (#babymoongoals), and charming yet contemporary furnishings that will make you feel like it's your home away from home in the South.
Check the rates for your dates here
READ MORE: JETSET'S ULTIMATE GUIDE TO CHARLESTON, and the ULTIMATE FOODIE GUIDE TO CHARLESTON
THE CARIBBEAN
Why the Caribbean makes a great babymoon: If white-sand beaches, (virgin) piña coladas, luxury hotels, and long naps in the sun sound like your absolutely ideal babymoon, look no further than the crystal waters of the Caribbean. There are so many ways to do a babymoon in the Caribbean – but these are my favorites!
Anguilla is a tiny, beautiful Caribbean island located 12 miles north of St. Maarten, and is one of the most picture-perfect destinations in the entire Caribbean. While you can definitely find lavish luxury here, the island still feels authentic to its Caribbean roots. The cruise ship embargo (no cruises allowed!) keeps this island from becoming overrun by tourists, creating its exclusive vibe. This destination is perfect for foodies wanting a cast away-esque Caribbean escape, or beach loving honeymooners looking for a luxury experience. Now that I've reeled you in, let's talk about the real selling point, the hotels!
Where to stay in Anguilla for a babymoon:
White-washed Spanish style architecture set against bright blue water will immediately give you all the Mediterranean vibes. Every room comes with two plush beach lounge chairs with an intercom system attached to the seats to allow you to communicate your every want and need without interrupting your daily ocean views. Talk about luxury. With four on-site dining options, this hotel focuses on quality local ingredients, most of which they source from their own greenhouses. For the ultimate luxury experience, go with the signature Jonquil Suite, which has its own infinity pool, an ocean-front Jacuzzi and two bathrooms each with a hot tub (honeymoon goals).
Super glamorous and timeless, this Auberge hotel is sprawled out on the rocky cliffs overlooking the shores of Turtle and Meads Bay, you'll have private access to their two pools, spa, three onsite restaurants and longgggggg stretches of white sandy beach. With complimentary bicycles and plenty of all-inclusive packages, this is a great home base for exploring all that the island of Anguilla has to offer.
Just read some of the reviews of this dreamy Anguilla hotel and it'll be hard not to book a room for your babymoon! Located in Mead's Bay, one of the most well known beaches in Anguilla, this is one of the most sought-after hotels on the island. The hotel is super intimate, ideal for babymooners and honeymooners, but don't think for a second you'll get bored here! They offer free watersports equipment, and have a hip restaurant, not to mention a stunning pool overlooking the beach.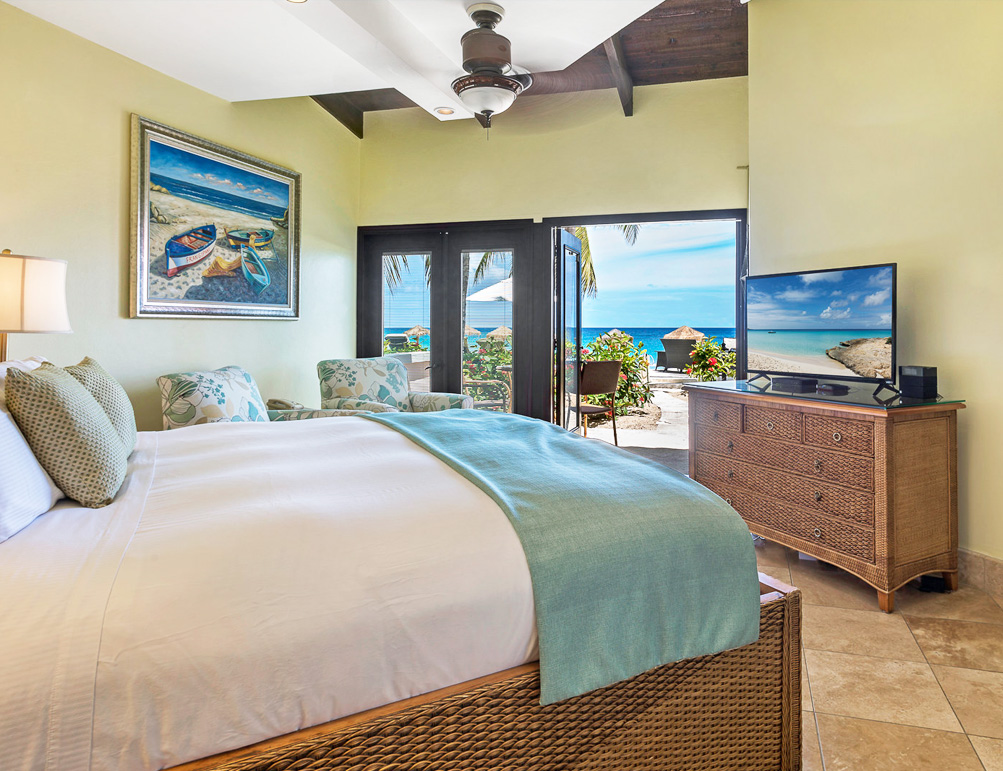 Bermuda
Has Bermuda been on your bucket list? Bermuda is a dreamy oasis of turquoise waters, secluded pink-sand beaches, a vibrant local culture and is a completely zika-free babymoon destination!
Pompano Beach Club is home to easily the most stunning pool and beach in Bermuda – you won't ever want to leave! At low tide, you can walk nearly 200 yards in perfectly clear, sparkling knee-deep aqua-blue water. It's a dream. It's also all-inclusive, making it an easy, effortless babymoon destination.
photo via CondeNast Traveler
With a pink sand beach, this resort is ideal for a lazy, relaxing, perfect babymoon in Bermuda. And you have a beautiful reef only 20 feet off the beach for snorkeling!! (hence "The Reefs Resort")
MEXICO
Mexico is an ideal tropical destination for a babymoon. From from the luxe west coast, to the warm clear waters of the Yucatan, to the jungle of Nayarit, you're bound to leave feeling refreshed, connected and even more excited for what is to come!!
Why Mexico is a great babymoon destination: Easy to get to (from the USA), no current Covid test requirements to enter,
Where to stay in Mexico for a babymoon:
Just 10 miles from Puerto Vallarta, sits the exclusive and gated peninsula region of Punta Mita. This beachfront oasis is home to multimillion-dollar villas, high end residential communities, two Jack Nicklaus Signature golf courses, a tennis center, and of course, some of the best luxury hotels in Mexico. The Four Seasons Punta Mita is sitting right at the top of that list. With unparalleled service, 10 onsite restaurants (yep, you read that right, 10!), two gorgeous golf courses, pristine pacific coastline and beachfront casitas! It's hard to do much better than the FS Punta Mita! Spend your days lounging in their lazy river, going for long beach walks on the private beaches, or maybe even trying one of their signature prenatal massages!
To me, this Four Seasons property is an amazing choice for a babymoon because you know that they'll do everything possible to take care of your every need during your stay. Their service and attention to detail is unmatched, and that means a lot on a babymoon!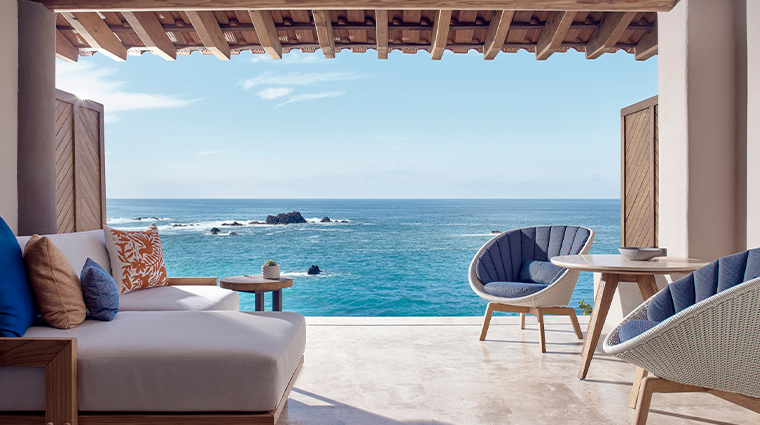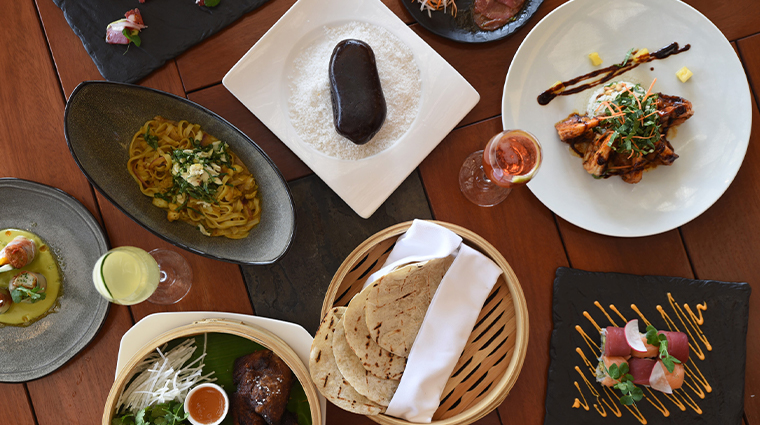 The all-new One&Only Mandarina is located just 45 minutes from the Puerto Vallarta airport, and it is absolutely breathtaking.
This luxurious, Bali-like resort is all about connecting with nature and the incredible natural beauty of the area. Think: jungle treehouses as your hotel room, elevated above the tree canopy and perched on stilts along the cliffside, with private views of the ocean and surrounding Sierra del Vallejo mountains. Spend your days watching the sun rise over the tree-tops, enjoying a mama-to-be spa treatment in the hidden rainforest spa, or going for walks in nature.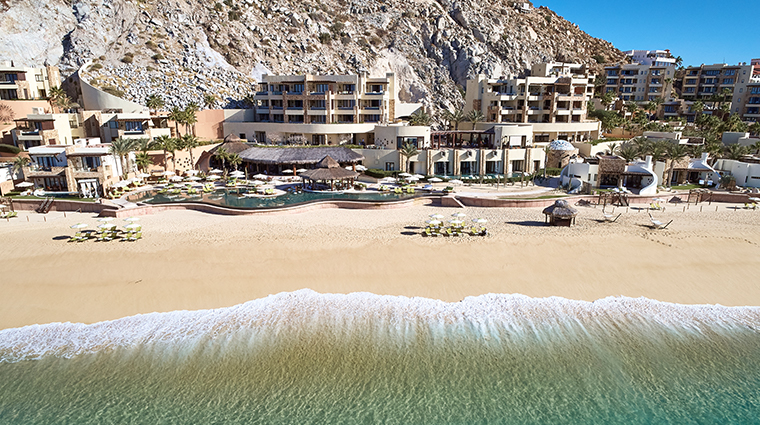 This sprawling new addition to the Los Cabos coastline is something out of a desert mirage. Blending in to the rocky mountains, the Waldorf Astoria Los Cabos Pedregal has 119 gorgeous rooms with dramatic ocean views. While it will feel as if you're on your own private island, you'll actually be within walking distance of downtown Cabo! Explore the shopping scene and local vendors slinging handmade silver jewelry before returning to watch the sun set on El Farrallon's new champagne terrace! Suites each have their own private plunge pool and the beach-front suites even have their own pools/hammocks! This place is DREAMY. So grab a romantic novel and a virgin mojito and soak up the vitamin D.
View this post on Instagram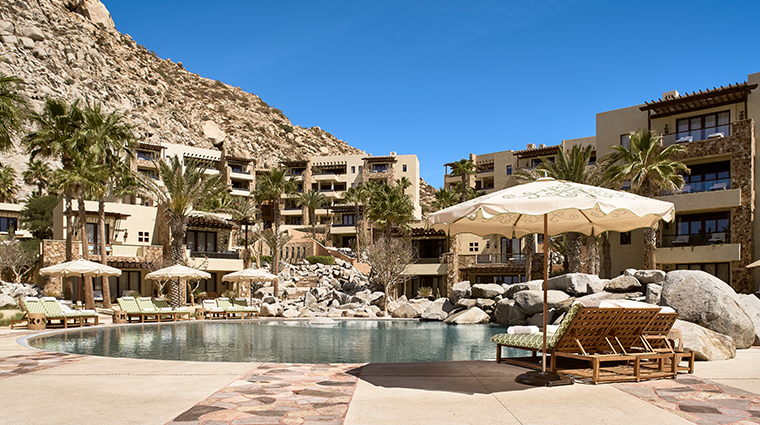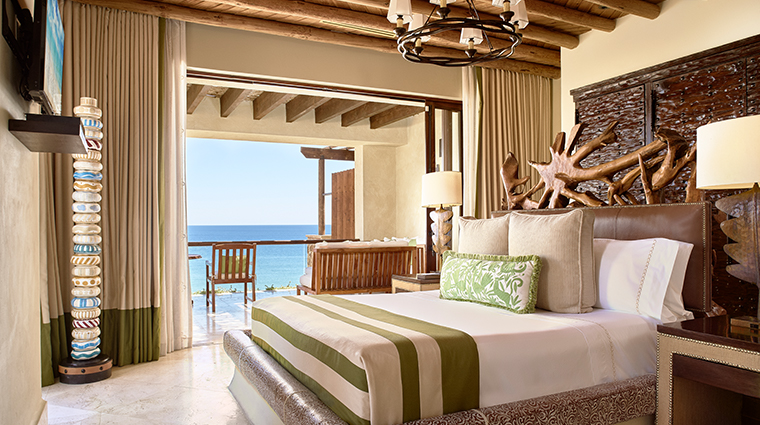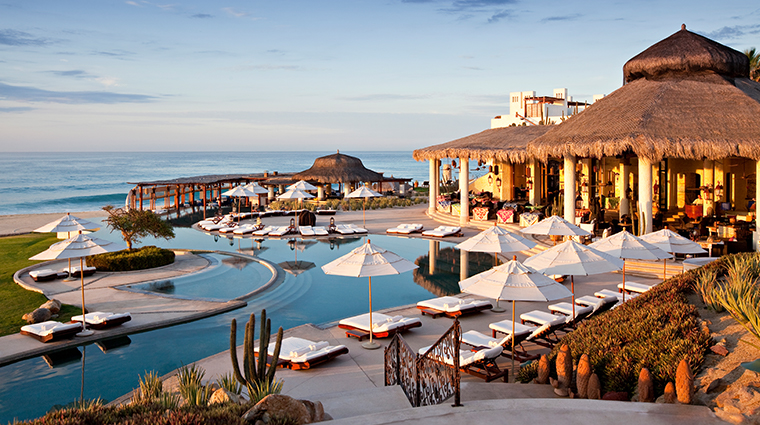 Nestled between San Jose del Cabo and Cabo San Lucas and exuding alllll the luxury desert vibes, Las Ventanas offers the best of both desert and coastline scenery.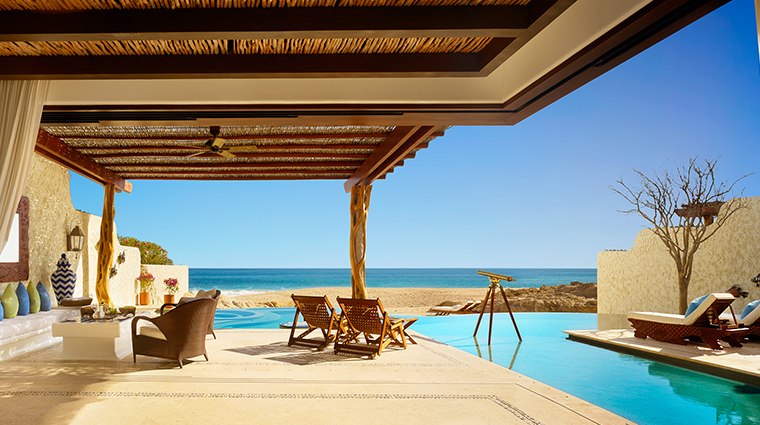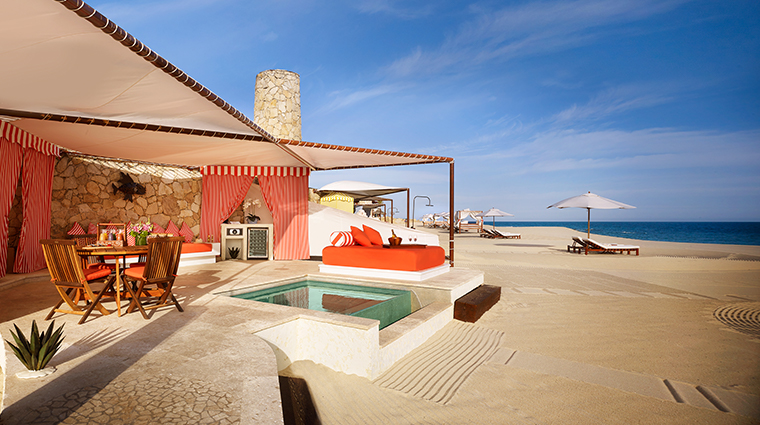 If there's one hotel in Mexico I wish I could just move right into, it's One&Only Palmilla. I love the old-world Mexican charm of this hotel. Their glamorous suites have stunning sea-views, oversized terraces, and a dedicated butler to you available 24/7. This resort is your access point to all Los Cabos has to offer.
EUROPE
Why Europe makes a great babymoon: It's romantic, and for many it's a bucket list trip that they want to do before they have little ones.
Where to babymoon in Europe:
Greece
Spend your days soaking up the sun in the islands, exploring white-washed towns, eating fresh seafood, and roaming through cobblestone streets.
Where to go for a babymoon in Greece:
Kirini Santorini is one of the Leading Hotels in the World, and it's easy to see why. It's only around 40 rooms, and feels like a complete oasis of its own, just 5 minutes outside of much-busier Oia. It's completely secluded, private, and beautiful. The rooms are definitely the nicest I found in Santorini, with super-plush king sized beds and spacious cave-style suites.
Mystique Santorini is an absolute gem of a hotel, too, located just 5 minutes walking from downtown Oia, but tucked away in a secluded paradise all its own (you can see it from Kirini, they're in the same area). The pool, the food, the rooms, the views.
Grace Hotel Santorini, an Auberge Resort, is easily one of the dreamiest places to stay in Santorini. Being in Imerovigli village, it has a panoramic view of the sunset (unlike Oia), and its tucked away location in Imerovigli makes it a much less crowded, more secluded choice for a hotel in Santorini (perfect for a honeymoon!).
Italy
Did someone say Italian food? There's nowhere better if you're craving amazing food and romance than Italia.
Where to go for a babymoon in Italy:
Read up on the best areas to travel in Italy in this post here, but here are some of my absolute favorite hotels for a babymoon:
For more Italy inspo – check out my recent honeymoon itinerary in Italy!
If the Maldives has been on your bucket list, and you're looking for a babymoon filled with overwater bungalows, five-star service, and sunshine, this babymoon destination is for you.
Where to stay for a babymoon in the Maldives
St. Regis Vommuli for a sleek, modern, opulent five-star private island that epitomizes luxury.
Six Senses Laamu for an off-the-map, five-star deserted private island experience, and a one-of-a-kind focus on sustainability, eco luxury and wellness.
FRENCH POLYNESIA
Bora Bora is a sun-soaked island paradise that would make for the absolute perfect babymoon.
Where to stay for a babymoon in Bora Bora:
Four Seasons Bora Bora is the ultimate in luxury, seclusion, and service. It's one of the top hotels in the world, and we absolutely LOVED our stay here, which you can read more about here.
My highlights of this resort are their huge bungalows, the mountain views, their private beach (absolutely dreamy, usually you can't get me to leave the bungalow but I'd hang out on this beach sipping a (virgin) frozen passionfruit margarita any day), their private island, the pool, spa, and calm lagoon.
What spots did I miss that you think would make a great babymoon? Leave them in the comments!
Check out these related posts:
Bump-friendly babymoon dresses & babymoon swimwear
What to wear to your own baby shower