Which Caribbean Island is Best For You?
If you're looking for the best places to go in the Caribbean, you came to the right place.The Caribbean has long been held as the ultimate wintertime escape, maintaining perfect temperatures, calm waters, and exceptional beaches. I can hear the Jimmy Buffet songs and taste the fresh fruity frozen cocktails already! Each Caribbean island has its own "personality," so if you're a Caribbean first-timer, it can be tough to decide which island to visit! Thankfully, I'm going to break things down so that you know exactly which Caribbean island is best for you and your type of trip! From a family vacation, to a bachelorette party paradise to secluded romantic escapes in the Caribbean, I've got you covered!
The Best Caribbean Islands for a Romantic Caribbean Escape
Whether it's a winter honeymoon, anniversary celebration, or just a romantic getaway, there are a few specific islands geared more towards couples.
Jamaica
The birthplace of reggae, a melting pot of cultures (AKA a foodie's DREAM), and a beach lover's delight, Jamaica just about has it all! From 7,000 ft mountain peaks and waterfalls to overwater bungalows and powdery soft-sand beaches, you get a little more than just beach lounging with Jamaica! Plus, one of the best parts about Jamaica is that it is one of the easiest islands to get to, with tons of direct flights from mainland USA.
Where to Stay in Jamaica:
My sister-in-law RAVES about their stay at Sandals Montego Bay! It's a five-star resort with a private offshore island, AND it's all-inclusive!! Can you say honeymoon goals?? All land and water activities are included, as well as nightly entertainment, not to mention the nine different restaurants to choose from! Rates start around $275 per person per night!
And, if you're looking for an overwater bungalow in the Caribbean, you'll love Sandals South Coast, Jamaica. Beware though that these overwater bungalows are often booked a year plus in advance! But even if you stay on the 'mainland' of the resort, this is a dreamy romantic getaway in the Caribbean or Caribbean honeymoon option. All accommodations feature patios or balconies that overlook a white sand beach, and all-inclusive 5-star dining!
Anguilla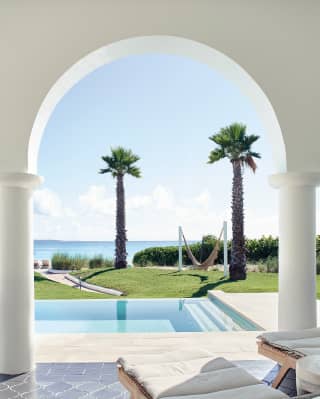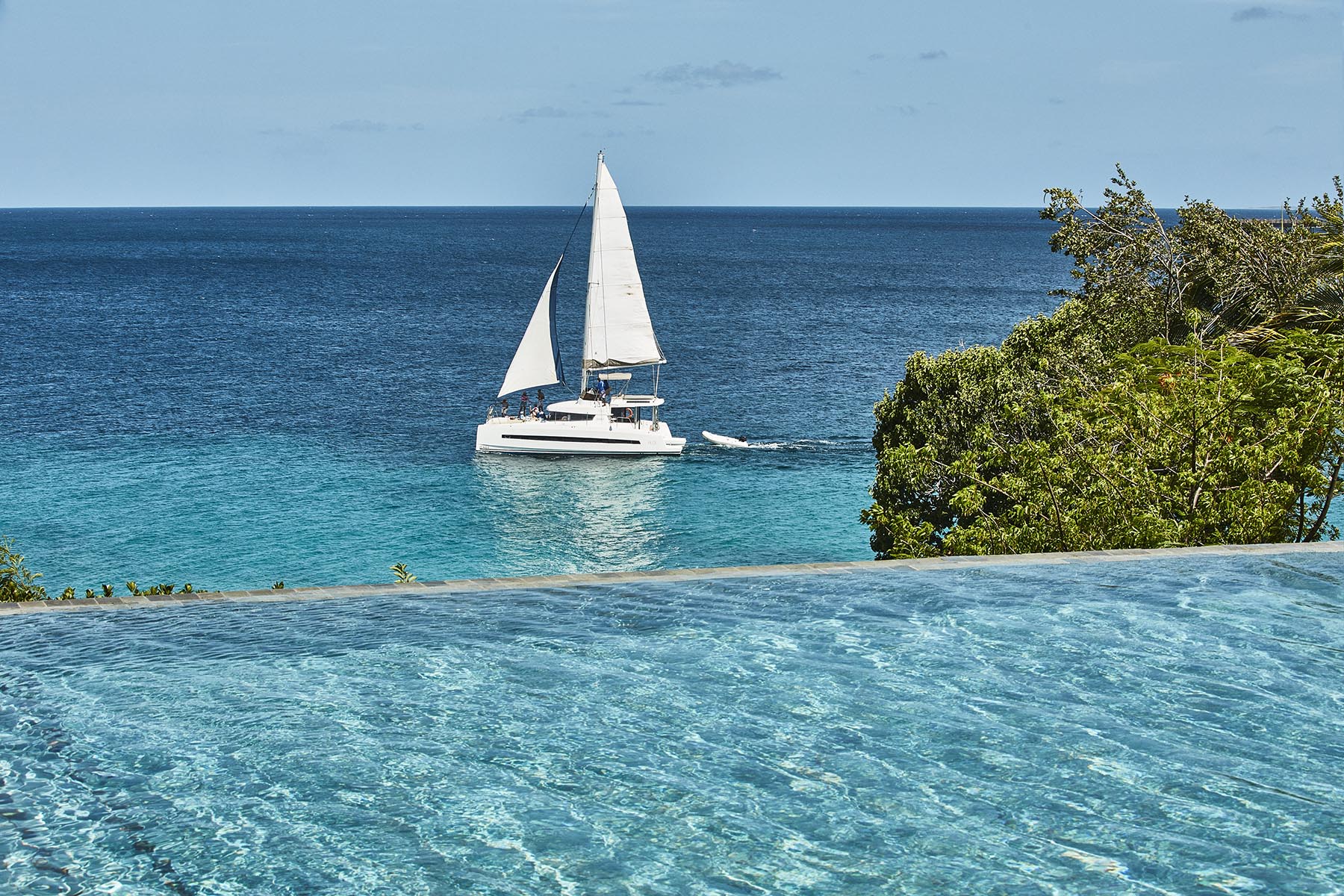 A small 16-mile long, snake-like British territory right off the coast of St. Maarten and the British Virgin Islands, Anguilla leans toward remote luxury experiences for couples. With no cruise ships allowed, Anguilla is one of the least visited Caribbean islands, a total hidden gem with unspoiled long stretches of white sand beaches, incredible upscale resorts like the Belmond Cap Juluca and Malliouhana by Auberge, and high-end fine dining restaurants. This is the place you go to escape and relax, not the place you go to stay out late at the club. It's the perfect destination for a sophisticated, remote island-vibe honeymoon.
The Best Resorts to Stay in Anguilla:
An incredible option of where to stay in Anguilla is the ultra-luxe Cap Juluca, a Belmond Hotel, where each room has its own plush beach lounge chairs with an intercom system so that you can order drinks without having to move a muscle!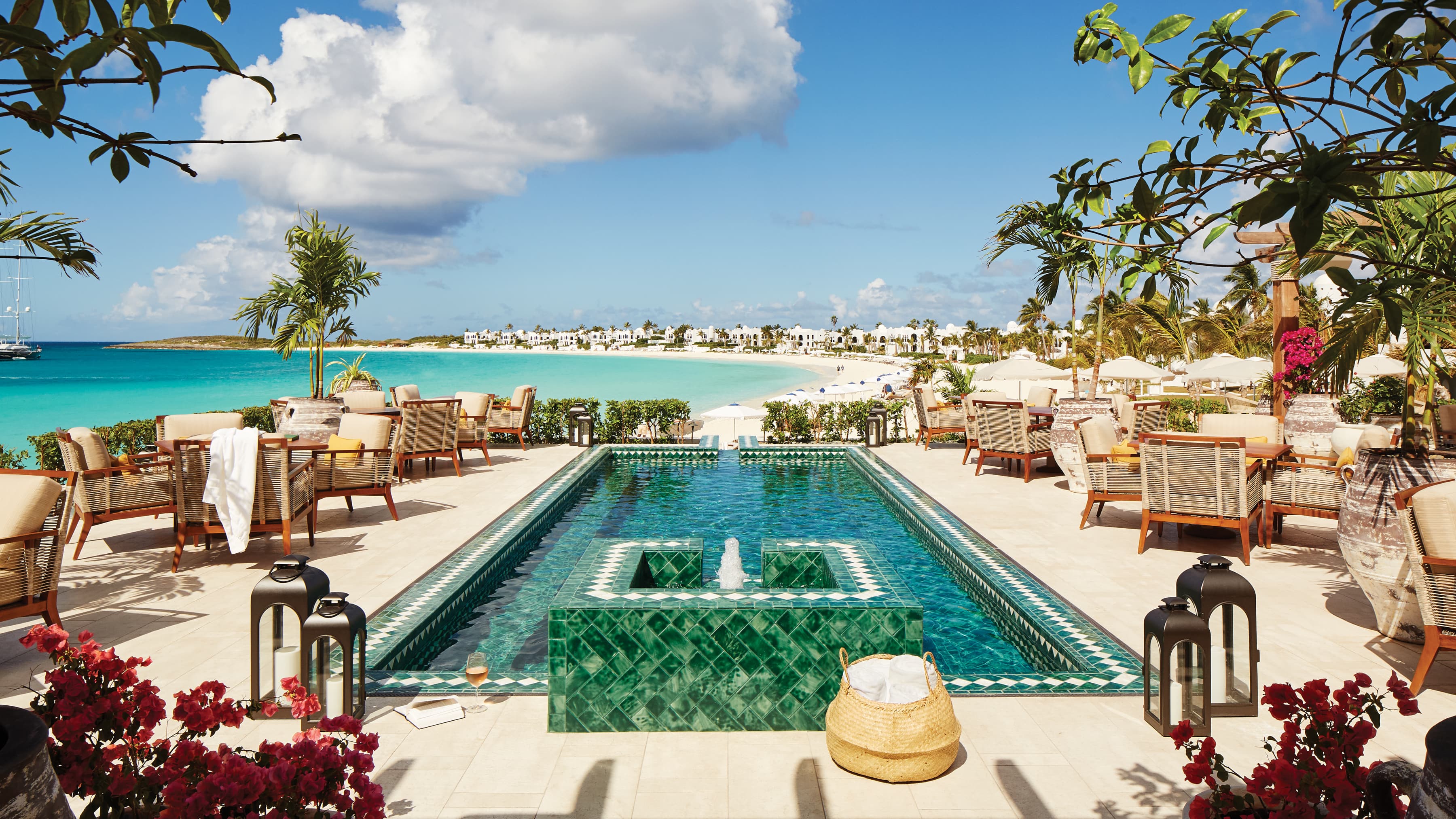 The first hotel built on the island, this chic, classic, iconic resort has a unique modern-retro-luxe vibe that will have you feeling like a glam old Hollywood celeb. Spend your days kayaking, lounging under an umbrella, paddle-boarding, or taking a sailboat around the island!
One of the more recent luxury resorts on the island is the stunning Four Seasons Anguilla. As always, Four Seasons stuns with its service and luxury. The Kelly Wearstler-designed resort manages to mix its upscale, sleek look with a laid-back, beachy feeling.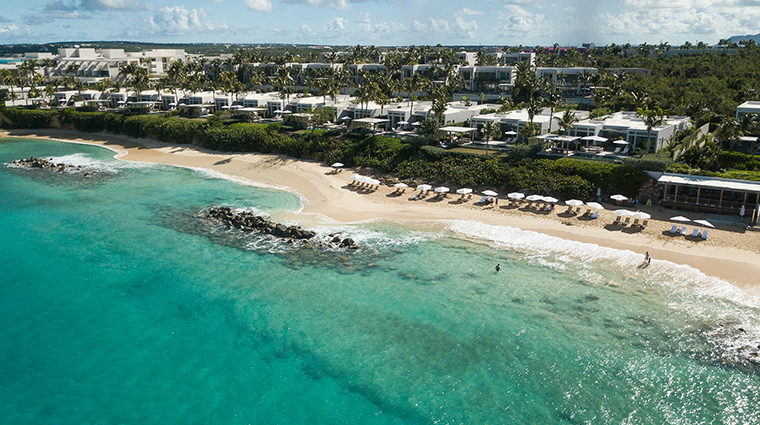 The Dominican Republic
If you're looking for the best bang for your buck in the Caribbean, head straight to the Dominican Republic! With more than 200 all-inclusive resorts to choose from in this tropical oasis, Excellence El Carmen is my pick for a great all-inclusive romantic getaway.
St. Vincent and the Grenadines
Have you heard of Canouan or St. Vincent and the Grenadines? It's a total hidden gem of luxury in the Caribbean. The Mandarin Oriental Canouan is easily one of the best kept secrets right now when it comes to the best luxury resorts in the Caribbean.
Located in St. Vincent and the Grenadines, Canouan Island is a remote island hideaway destined to be the Caribbean's "next hot spot" and ultra-luxury destination. The resort was recently created, with 26 oversized luxury suites, 6 elegant Lagoon Villas, and 7 chic Italian-designed contemporary Patio Villas. Five beaches and eight dreamy bars and restaurants, each with their own unique personality and stunning ocean views.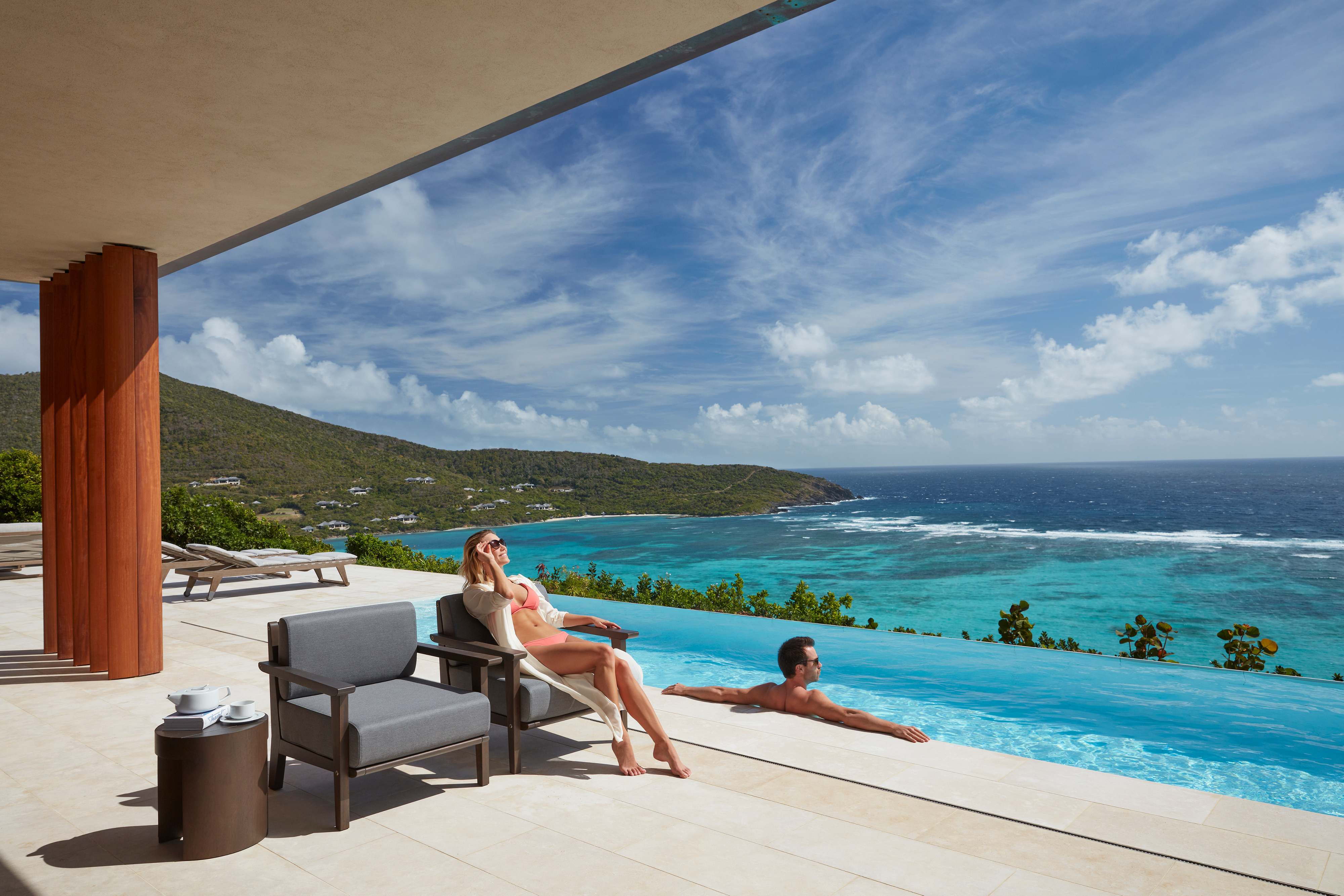 There's a world-class spa, and a championship 18-hole golf course on Grenadines Estate (often named among the Caribbean's best golf courses!), Add onto that the three tennis courts, 24-hour fitness center and an extensive Kids' Club if you want to bring your kids.
The Best Islands in the Caribbean for a Family Vacation
Turks and Caicos
Turks and Caicos is a low-key island perfect for a relaxing family vacation! The main activities here are lounging in the sun, snorkeling through the crystal clear waters, and SCUBA DIVING! Many of the resorts here are centered around health and wellness, most of which are very family friendly.
Where to Stay in Turks and Caicos:
The Shore Club is one of the best places to stay in Turks and Caicos with kids and a family. With an indulgent spa, complimentary bikes and paddleboards, kids' club, tennis courts, four pools, and extensive fitness facilities, your family definitely won't get bored here!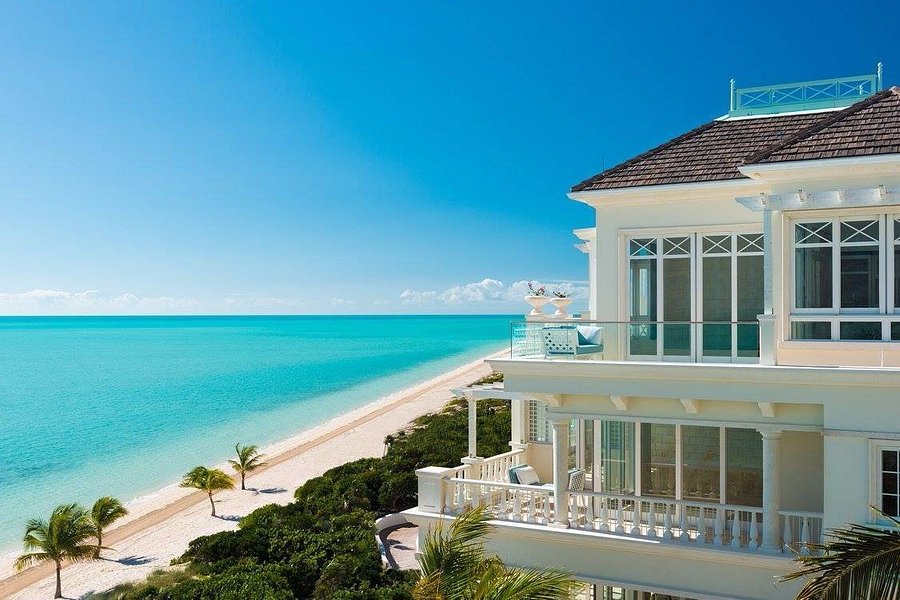 Or find paradise at Windsong on the Reef. located right on Grace Bay's famous beach.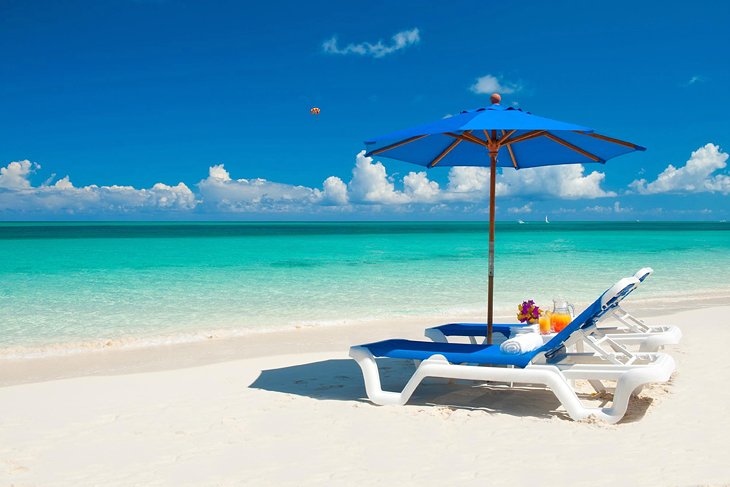 Photo Source: Windsong on the Reef
Prefer a Villa?
Fit the whole family in this gorgeous 2 bedroom ocean front home! Around $500/night!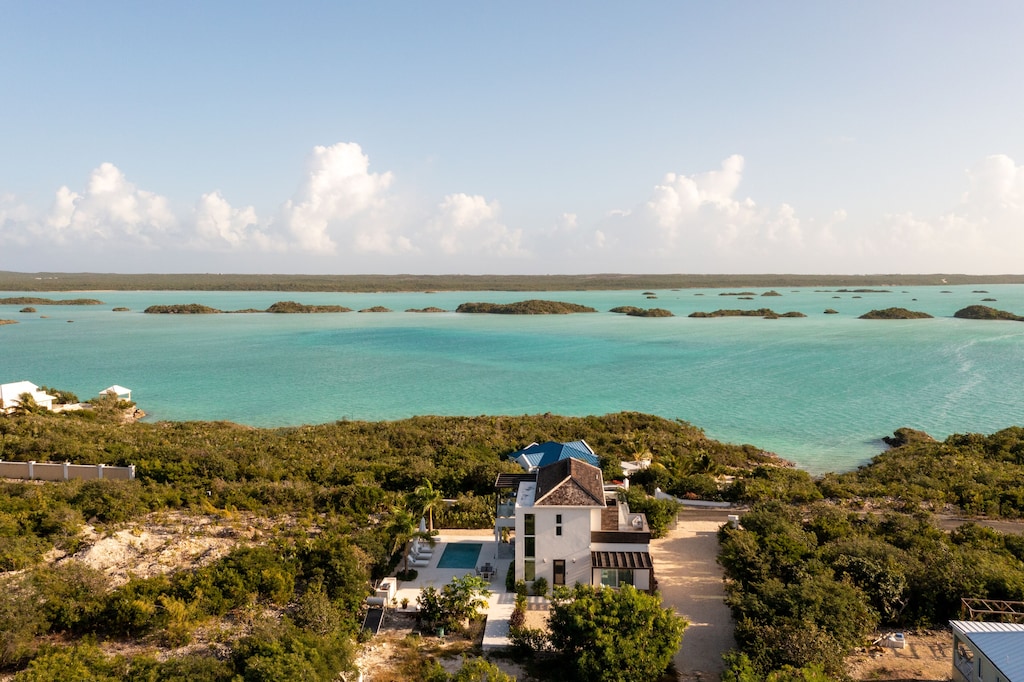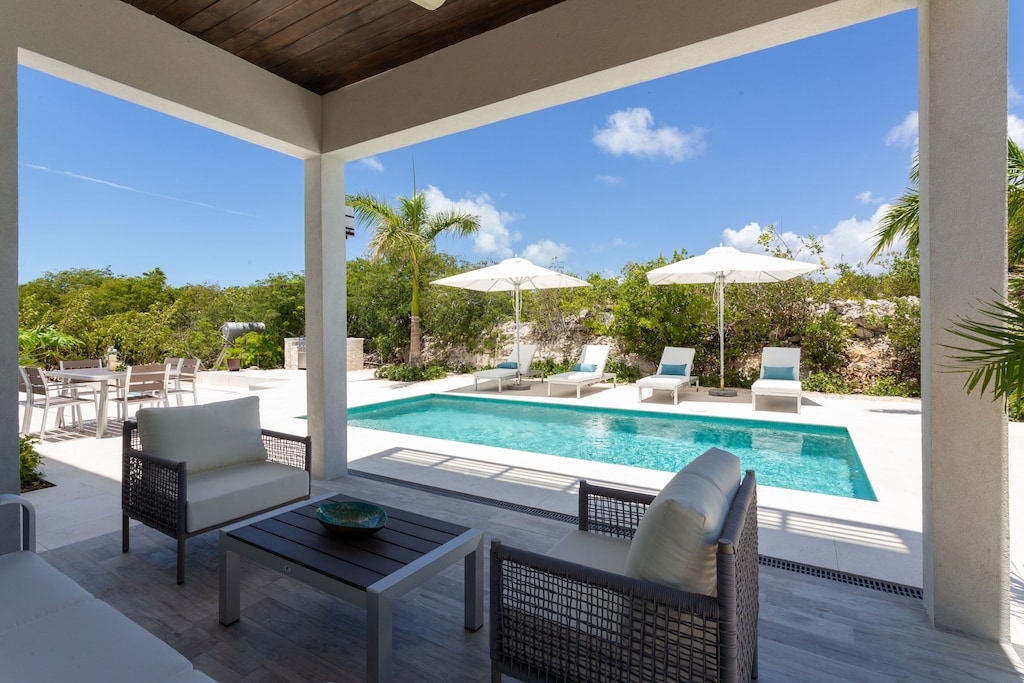 The Bahamas
With lots to do for both adults and children, including swimming and snorkeling in beautiful waters, and a ton of ocean and land activities, a Bahamas vacation will always wow the whole fam. The Bahamas have great weather year-round and incredible beaches and resorts to choose from!
Where to stay in the Bahamas with kids:
Baha Mar
Baha Mar is is a fun resort for families and couples alike, with lots of different pools and restaurants, and no shortage of hands-on activities that allow vacationers to learn about local marine life!
Choose the hotel that best suits your and your group's vacation needs: The Grand Hyatt is fab for families with connecting rooms available, rainfall showers (and bathtubs in the East Tower's rooms), and offers the most budget-friendly price point.
The Rosewood envelopes you in luxury and serenity and is the most private of the hotels. This is a wonderful choice for those looking to splurge and pamper themselves, couples or honeymooners.
The SLS at Baha Mar is aimed at groups of friends looking to enjoy the DJ by the pool, and have a ton of fun. It's a great girls weekend getaway spot or bachelorette party destination!
Aruba
Just 20 miles off the coast of Venezuela sits this beautiful, adventurous and fun Caribbean island. With beaches where you can swim with turtles (or flamingoes!), a ton of fun hotels and restaurants, and a great happy vibe (their slogan is "Aruba: One Happy Island!" and it is really true). For a special treat, go see the pink flamingos on the beaches of Renaissance's Private Island, which is part of the Renaissance Aruba hotel. If you're staying at the hotel, you can easily take a boat over (they run every 15 minutes or so) anytime you wish, but I prefer to stay elsewhere and you can buy a day pass for the day ($100, includes lunch and a drink).
Where to Stay in Aruba:
If you're looking for luxury with a swanky casino to boot, you're definitely going to want to stay at The Ritz-Carlton!
Another great option is the Hyatt Regency Resort Spa and Casino!
Prefer a Villa in Aruba?
Check out this affordable two-bedroom that will fit the whole fam!
The Best Islands in the Caribbean for a Group Trip or Bachelor or Bachelorette Party
The Virgin Islands
Trust me when I say there is NO better group trip than a trip to the Virgin Islands with friends. Rent a sailboat or stay in St. Thomas, St. John, or a chic group villa on Scrub Island BVI like we did! We then took a boat out for the day to Soggy Dollar Bar and other iconic Virgin Island spots.
If you want to stay on St. Thomas, definitely read up on Kenny's Bachelor party in the USVI here!
Trinidad and Tobago
Trinidad in particular is known for two things that make a trip with a group of friends fun: outdoor adventure activities and a vibrant nightlife! Tobago, on the other hand, is quite the opposite. Tobago is a quieter and more relaxing island with a lush rainforest. Bonus – you can easily hit both for the best of both worlds!
Where to Stay in Trinidad and Tobago:
When traveling with a group, a villa is always the way to go in my book!
The FireFly house offers a villa or two separate apartments. It's a short walk to the beach, and it is also close to an 18-hole golf course if you want to stay active!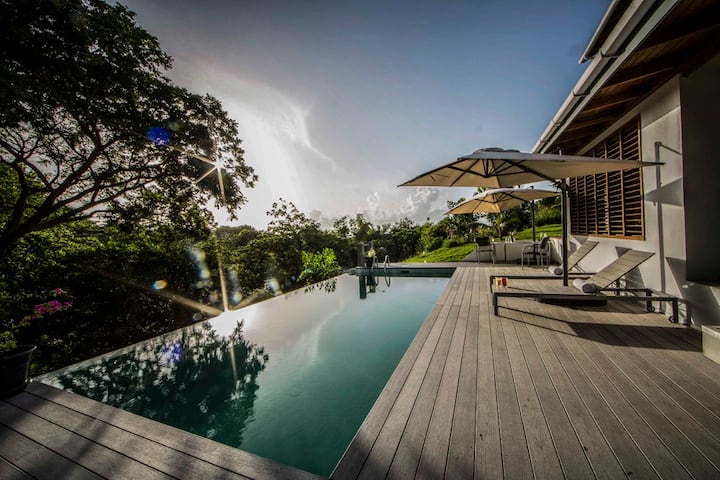 Want a VRBO/Airbnb in Trinidad and Tobago?
Go with the the gorgeous six-bedroom Eagles Nest Villa. Or the four-bedroom ocean view Cote Le Cote La Villa.
St. John
The ease of St. John is that it's in the USVI, meaning no one in your group will need a passport!
Where to Stay in St. John with a group: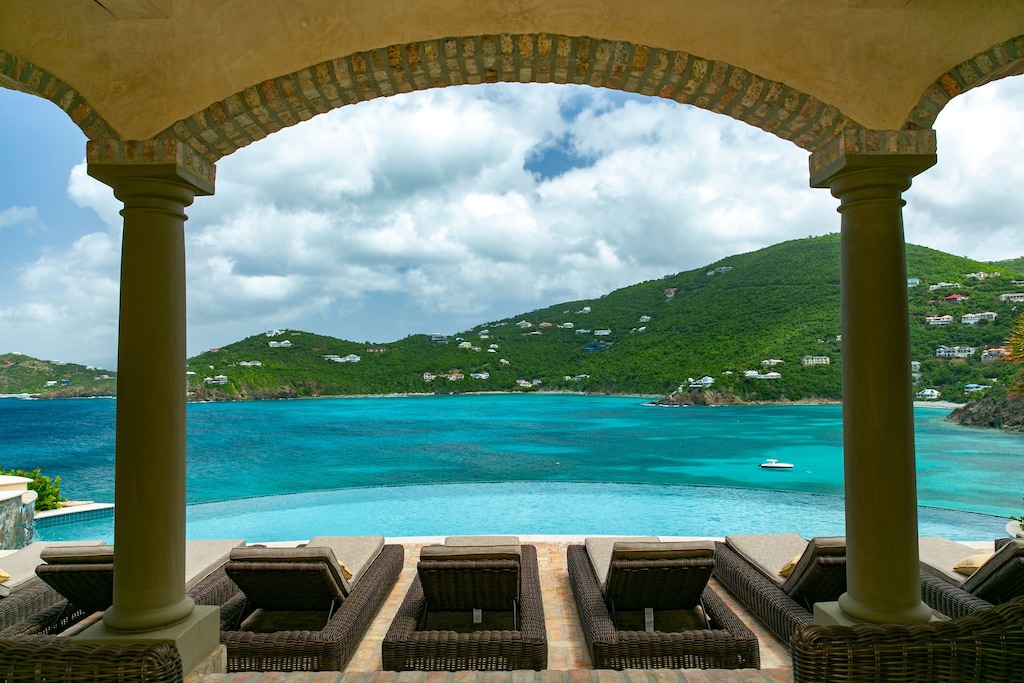 Villa Cin Cin has hosted beautiful weddings, family Vacations, getaways for multiple couples celebrating birthdays, anniversaries and holidays with those they love who desire identical master suites with king beds. Weekly rental, Saturday to Saturday only with the full occupancy rate for 20 guests.
Located just 10 minutes away from the shops and bars at Cruz Bay, this luxury St. John vacation rental feels like you're on the edge of the world.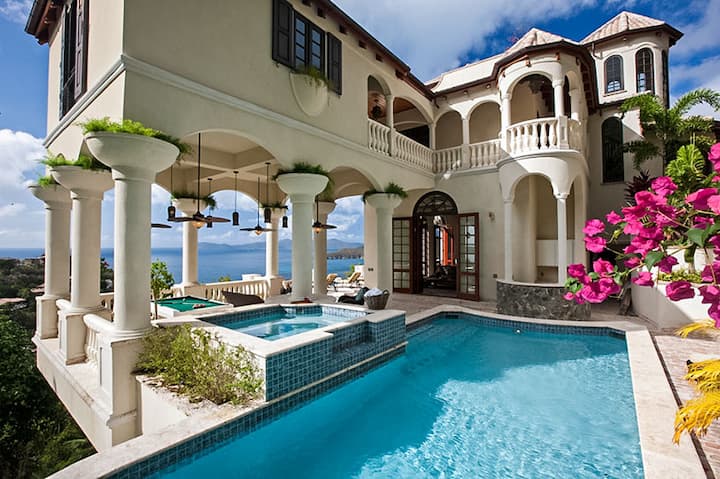 \
10 guests
5 bedrooms 5 beds 4.5 baths
This elegant villa offers seclusion and privacy along with expansive views over Peter Bay, one of the most beautiful beaches in the world. You're on top of the world, but still only a five-minute drive from soft sand and cerulean sea.
12 guests 6 bedrooms
The Best Islands in the Caribbean for Luxury
St. Lucia
Jaw-dropping mountain views, the stunning, sparkling blue water, and volcanic mud baths all on one island?! Yes. St. Lucia is just about as picture-perfect as it gets. With dramatic Piton mountains (a UNESCO World Heritage Site) as the main focal point, this island offers just as many land activities as it does water activities (which is unusual for the Caribbean!). Hit the numerous hiking trails in the lush rain forrest, or just enjoy the view from the comfort of your pool.
St. Lucia is definitely geared more toward couples. It's a great destination for those who enjoy some adventurous activities alongside their beach lounging. Think jungle zip-lining, biking/hiking trails, scuba diving, and drive-in volcano tours!
Where to Stay in St. Lucia
For the best views of the Piton Mountains, Jade Mountain Resort is the creme de la creme. Jade Mountain has 29 unique "sanctuaries," not rooms, where you can enjoy spa treatments or a six-course tasting menu in your robes (true luxury, am I right?). They also focus on technology detoxing. While you will have wifi, there are no TVs in the rooms, which is a great reminder to enjoy your surroundings and be in the moment.
Sugar Beach, a Viceroy Resort is also a stellar luxury resort option in St. Lucia. Nestled between the Piton Mountains and the rainforest, this resort overlooks the stunning white sand beach it was named after. Each of their 96 rooms has its own private plunge pool, along with butler service! Yes, please. Head on down the chic Cane Bar, where a "rummelier" is on hand to help you select the perfect aged rum to match your taste preferences while your butler takes care of your luggage and dinner reservations!
St. Barths
This is the island where celebrity sightings are commonplace. Popular amongst A-listers, this French-speaking island has a lot to offer! From fine dining, high-end yachting, luxury accommodations, and wild nightlife, St. Barths is the place to go if you're trying to experience the world of the rich and famous! It's also a great way to experience French culture and FOOD without having to go all the way to Europe!
Where to Stay in St. Barths:
Spare no expensive at the brand new Rosewood St. Barths, or opt for the legendary Eden Rock Hotel (an Oetker Collection hotel), which was the first hotel on the island and has since more than kept up to speed. A dream honeymoon location!
If you're bringing the whole family, the Rosewood Le Guanahani keeps the kids busy at the Explorer's Children's Club while you indulge in the five-star Rosewood Spa!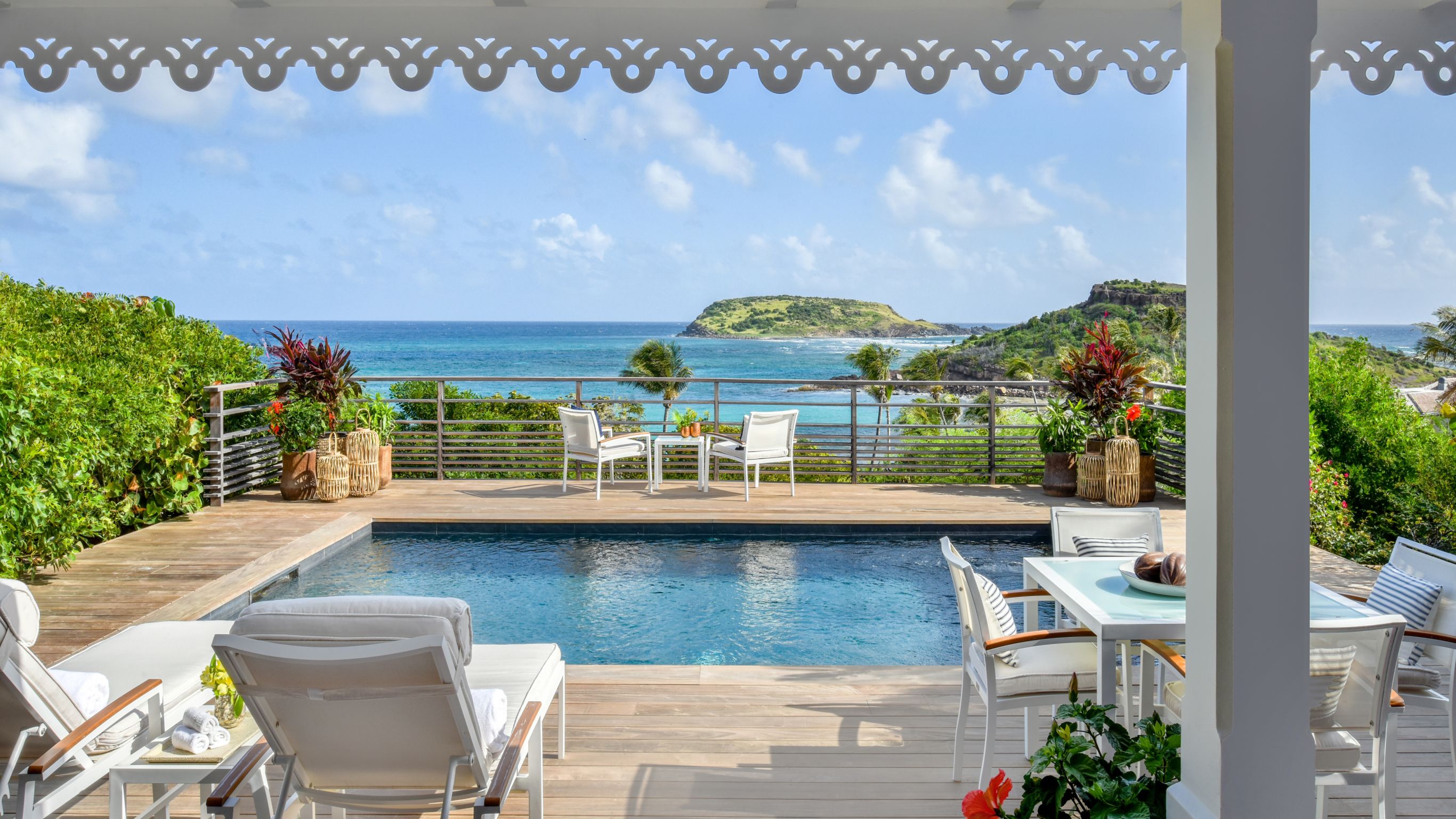 The Best Caribbean Destinations if You Don't Want to Leave the USA
U.S. Virgin Islands
St. Thomas, St. John, and St. Croix make up the USVIs, a mecca for island hopping! Nature lovers will enjoy the numerous hiking trails and wildlife on St. John, while those looking for more nightlife or an easy all-inclusive beach vacay should head straight for St. Thomas (TONS of direct flights from the U.S.). The smaller St. Croix offers a more laid-back feel with great cuisine and history! You'll find world-class beaches and snorkeling no matter which island you choose.
Puerto Rico
A quick two-hour flight from Miami, Puerto Rico makes winter escapes hassle-free. With the historic center of Old Town San Juan, the swanky beaches and luxury accommodations on Dorado beach, and the adorable surfing mecca of Rincon on the west coast, there is plenty to keep you busy for a week or more! If you've got the time, the two smaller islands of Vieques and Culebra off the eastern coast are TOTALLY worth a visit. Hit the bioluminescent bay in a glass bottom kayak in Vieques or the infamous Flemenco beach on Culebra.
Where to Stay in Puerto Rico:
For a luxury stay, go with the Ritz Carlton Reserve on Dorado Beach (home to the only five-star spa in Puerto Rico), or the Condado Vanderbilt Hotel in San Juan!
Seeking a secluded wellness retreat?
Finca Victoria on Vieques island offers unique treehouses amidst the plush jungle flora, Ayurvedic meals, and daily yoga classes!
The Best Caribbean Island on a Budget
Dominican Republic
Being one of the largest islands in the Caribbean, the Dominican Republic is a great destination for both beach bums and explorers alike! Road trip to some of the untouched beaches and sample local mojitos as you go, or plop yourself down along the upscale and pristine coastline of Punta Cana. The DR is known for its affordable all-inclusive resorts! It's not only easy to get to, but makes for a hassle-free vacay when you can leave your wallet in the room the whole time (I LOVE an all-inclusive experience!).
Check out these other blog posts: