The Ultimate Hawaii Travel Guide
What do you think of when you think of paradise? I'm willing to bet that it's some combination of white sand beaches, swaying palm trees, sunny rays and lazy beach days. Well, throw in snorkeling, surfing, volcanoes & leis and say alooooha to the beautiful islands of Hawaii.
Growing up in California, we have always gone to Hawaii at least once a year on a family vacation, and thinking about it, I think I've been to Hawaii more than I've been to any other destination in the world! This is because it is simply the perfect spot for families, for beach-lovers, and for everyone. Some of my best memories as a kid are sliding down the hotel water slides, dancing with hula girls during a luau on Ka'anapali beach, and seeing my first sea turtle while snorkeling. I treasure all of our family trips to Hawaii, which is why I continue to get the can't-fight-it urge to keep coming back year after year, and why I know that all of you will love it.
What are the 2021 requirements for visiting Hawaii?
Can vaccinated travelers visit Hawaii?
Right now, you need a negative COVID test OR vaccintaion to enter Hawaii. Completing the State of Hawaiʻi's Safe Travels Hawaiʻi program application form, uploading COVID-19 test result or vaccination record document (if applicable) and obtaining your QR code PRIOR TO departure will significantly reduce your airport screening and processing time at arrival.
Disclaimer: While Jetset Christina is keeping a close eye on the situation in Hawaiʻi to let you guys know the latest, we are not an official resource. Please consult the Hawaii Tourism Board for the most up-to-date information.
Here's what you need to travel to Hawaii right now:
THE SAFE TRAVELS APPLICATION
Safe Travels is the mandatory online application form all travelers entering Hawaiʻi must complete. It collects travel and health information in order to protect the health and safety of visitors and residents alike.
The use of this app is mandatory for both inter-island and trans-Pacific travelers.
The app replaces and streamlines the visitor arrival process, you can find the Safe Travels application at https://travel.hawaii.gov.
HOW DOES THE SAVE TRAVELS APP WORK?
Everyone traveling to Hawaii needs to create an account on the travel.hawaii.gov website and fill in their trip details before they travel. Then, 24 hours before your flight is scheduled to depart, you will be prompted by email and/or text to complete the Travel Health Questionnaire. After completing the questionnaire you receive a QR code. Make sure to save this QR code to your phone, as showing it at the airport will significantly speed up the arrival process.
THE PRE-TRAVEL TESTING PROGRAM
The pre-travel testing of passengers allows those with a negative result to avoid the state's 10-day mandatory quarantine for the islands of O'ahu, Maui, Kauaʻi, Molokai, Lanai, and Hawaii.
You must have your COVID-19 test results – from a trusted testing partner (search your airline's site for the specific approved partner you need) – prior to departure for the State of Hawaiʻi. If test results are not available before boarding the final leg of the trip, the traveler must quarantine for 10 days or the length of the stay, whichever is shorter.
Additional testing is required for people flying to the Big Island, and pre-travel testing can in some cases also be used to skip the quarantine required for interisland travel.
NEW AS OF MAY 2021 – Visitors to Hawaii now need to take a second post-arrival test at the airport, with the exception of anyone vaccinated.
Test results should be ready within 15-20 minutes, and those testing positive for COVID-19 at the arrival test will be required to take a subsequent PCR test immediately and will be required to self-quarantine while awaiting the results of this test, which can be expected within 36 hours. There will be no additional quarantine measures imposed should the rapid test result be negative.
So now let's get to the good stuff: Which island of Hawaii is best to travel to?
That depends on what you're looking for! Hawaii is made up of eight main islands, all that cater to a different traveler.
My personal favorite island of Hawaii, Maui is the resort-iest of all the islands, and has a little bit of everything. Stretches of beautiful beaches, luxe Maui resorts, and great snorkeling make this island the top Hawaiian destination, year after year. There's a reason Conde Nast readers have voted Maui the best island in the world — for 17 years and counting!!!!
Where to stay in Maui:
The Andaz is many people's favorite hotels on Maui. It has a sleek, young, country-club ambiance and stunning oceanfront views, with 4 infinity pools, 2 restaurants, a full-service spa, and 15 acres on stunning Waikapu Beach. Each Andaz room also comes with its own balcony, perfect for watching those unbeatable Maui sunsets.
This has always been one of my favorite Maui resorts. Located at the end of Ka'anapali beach at Black Rock, the hotel boasts some of the best snorkeling on the island right outside of your hotel room. The pool is to die for, winding around most of the property, and the hotel staff does everything they can to make your stay memorable, from their luaus and activities to their nightly sunset jumps off of Black Rock (daring Hawaiian men jump off of the famous rock and into the ocean for the sunset show!). It's also a Starwood Preferred Guest ( spg.com ) resort (look into becoming a member if you travel a lot, great discounts and earn points for luxury hotel stays).
You won't find a more perfect hotel for the family. The Grand Wailea, with countless waterslides, beautiful coastal views, and more activities than you can imagine, this hotel is gorgeous and, as its name implies, grand. Although there is a little more going on in the area of Kaanapali, (where the Westin & Sheraton are located) the Grand Wailea has enough activities at the hotel to keep you and your family more than occupied during your stay. They also have a gorgeous seaside chapel that is always booked with beautiful coastal destination weddings.
The Four Seasons Maui is one of Hawaii's most beautiful, luxurious, and exclusive resorts, and is hands down my choice of where to stay for luxury in Maui. I love this hotel so much that it's where i'm planning my wedding for next year! We couldn't think of a more perfect place, and are so excited to have all of our loved ones there with us.
Located a couple miles down Kaanapali beach from the Sheraton is the Westin. Another one of my personal favorites. It has five pools, complete with slides and waterfalls, a golf course, and great oceanfront restaurants. It is a top notch family resort with tons of activities that will definitely make your trip. Another Starwood Preferred Guest resort!
Where to eat in Maui
Mama's Fish House
Located pretty far away from where I usually stay in Maui (Ka'anapali), I always find this restaurant worth the drive. The fish is incredible. Without a doubt the best, freshest fish I have ever tasted. The menu is contemporary Polynesian, putting a modern twist on Hawaii's culinary history, and it is delicious. Do not miss out on this restaurant. Take one look at the menu and you'll see why. Fresh caught swordfish sauteed in coconut milk over coconut rice? Crispy kahlua duck? Taha'a Island vanilla seared ahi? Take a sip of Mama's famous Mai Tai, watch the sunset over the Pacific, feel your fresh caught mahi-mahi melt in your mouth and boom. You're in paradise.
www.mamasfishhouse.com
Duke's
For something closer to your hotel, you can't go wrong with Duke's. And, as hard as it is for a UNC grad to be recommending you to go to a restaurant called "Duke's", this place is pretty awesome. Duke's has expanded across Hawaii, so you can find one on pretty much any island you go to. The Maui Duke's is right on Ka'anapali beach, a perfect beach walk from your hotel away. Great fish and hawaii faves! A great drink list as well, so if you're not feelin' a full meal, go for drinks and pupus (pupus is hawaiian for appetizers!)
www.dukesmaui.com
Merrimans
Whether you're celebrating a birthday, an anniversary, or just need an excuse to eat some amazing food and pop some champagne over the Hawaiian coast, Merriman's is your place. Amazing sunset dining! The food is fantastic. A little pricey, but so fun for a special occasion. My favorite pupu? The warm crusted goat cheese with strawberries salad. Ah-mazing. You also can't go wrong with a little tasting of the kalua pig and maui sweet onion quesadilla- yum. For your entree, you'll have your choice of fresh seafood or impeccable meats, and don't forget to save room for their delicious desserts. Merriman's. One Bay Club Place, Lahaina, Maui, Hawaii.
Gazebo
Enjoy my breakfast overlooking the white sandy beaches of Hawaii in a beautiful gazebo? Why thank you, I shall. This breakfast place is soooo cute, has the best view, and is delicious! A little out of the way, overlooking Napili bay, but it's worth it for the stunning setting. Gazebo 5315 Lower Honoapiilani Road, Lahaina, HI

Longhi's
Longhi's in Lahaina is a great place to go! I love their breakfasts (especially the french toast) but they serve lunch and dinner as well. In old town Lahaina, so go for a sunny breakfast and of course a pretty oceanside view 888 Front Street, Lahaina, Maui, Hawaii www.longhis.com
What to do in Maui
Go to a Luau.
Hawaiian luaus, a big dinner/dancing/drinking cultural celebration complete with a pig roasting, are definitely a must-do on your trip to Hawaii. Throw on your hawaiian party shirt and go out and have a great time. Your hotel will most likely host their own, and they don't differ too much luau-to-luau, so my recommendation is to sign up for your hotel's and enjoy your celebratory evening on the beach! Sometimes, hotels will also offer hula lessons for the kids. I did this at the Sheraton when I was little and they brought me and a few other girls, dressed up in hula skirts they gave us, up on stage during the nighttime luau to dance with the beautiful hawaiian girls- definitely memorable for my all-too-excited seven-year-old self.
Lahaina
Old town Lahaina is definitely a fun activity to do while in Maui. It's a separate, less resortey area of Maui with great shops and restaurants. Sit back with a tropical drink and watch the sunset. Maui is all about relaxation. So don't worry about planning your trip out too much and realize your most memorable moments in Maui will be doing a whole lot of nothing. All while seeing some of the most spectacular sights & sunsets you'll ever get to see. Take it all in and enjoy the island life.

The island farthest away, Kauai, is one of the most scenic islands. It is more of a rainforest climate, with gorgeous, lush topography and absolutely stunning hikes and beaches.
Where to stay in Kauai
The Princeville Resort is one of the most stunning, and all-around amazing, resorts I've ever set foot in. From it's floor-to-ceiling panoramic lobby windows with sweeping views of mountains, a waterfall, and the picturesque Hanalei Bay, to its stunningly beautiful pool, to it's world-class service, it is no question that this hotel defines luxury. The St. Regis Princeville ranks among Starwood Preferred Guests prestigious "level seven" resorts, and is home to the Makai Golf Course, ranked in the top 100 golf courses in the world. Sitting in their infinity pool looking out onto the backdrop of volcanic mountains on one-side and the beach on the other, I'm not kidding when I say I can't imagine a better place in the world to be. ( check the best rates for your dates here )

This big, beautiful hotel is great for families and is quintessential-Hawaii. Expect an orchid lei upon arrival, a gorgeous pool, and a long stretch of beach.
The best hikes in Kauai
The Napili Coast Hike
This hike is TOUGH, but it is the most popular hike in Napili, and trust me, the views are worth the workout. If you go all the way to the waterfall, you're looking at an all day hike, but we chose to do the "half hike" just to the beach, which was absolutely breathtaking.
Oahu
Oahu is not only the island with the biggest population, it is home to the capital city of Honolulu. I love Honolulu. It's one of the few true beach cities in the world (how many can you think of? Miami….Sydney….Rio) and it is bustling and beautiful. A completely different experience from Maui, but you don't miss out on the stunning Hawaiian beaches (see my pictures from my last trip!) If you want the perfect combination of a relaxing beach vacation with the excitement of an urban city- Oahu is your island.
Where to stay in Oahu
An understated luxe, peaceful oasis with an emphasis on 6-star service, set right on the main strip of Waikiki beach. This hotel is casual-yet-refined and is home to two of the best restaurants in the city: La Mar for fine dining and House Without a Key. I loooved their breakfast!
A luxury resort also known as the Pink Palace of the Pacific, the Royal Hawaiian has long been known as one of Hawaii's flagship hotels. Its iconic pink architecture has brought in celebrities and royal guests for decades, originally known as a getaway for classic Hollywood stars. Today, with multi-million dollar renovations and its prime Waikiki beach real estate (right near the Moana), the Pink Palace continues to be a traveler favorite on Oahu.
Want to get out of the city? You can also choose to stay on Oahu outside of Waikiki, as you can find more secluded beach resorts lining the beaches up the coast, as well as hotels on the North Shore, a stretch of Oahu famous for its huge surfing waves.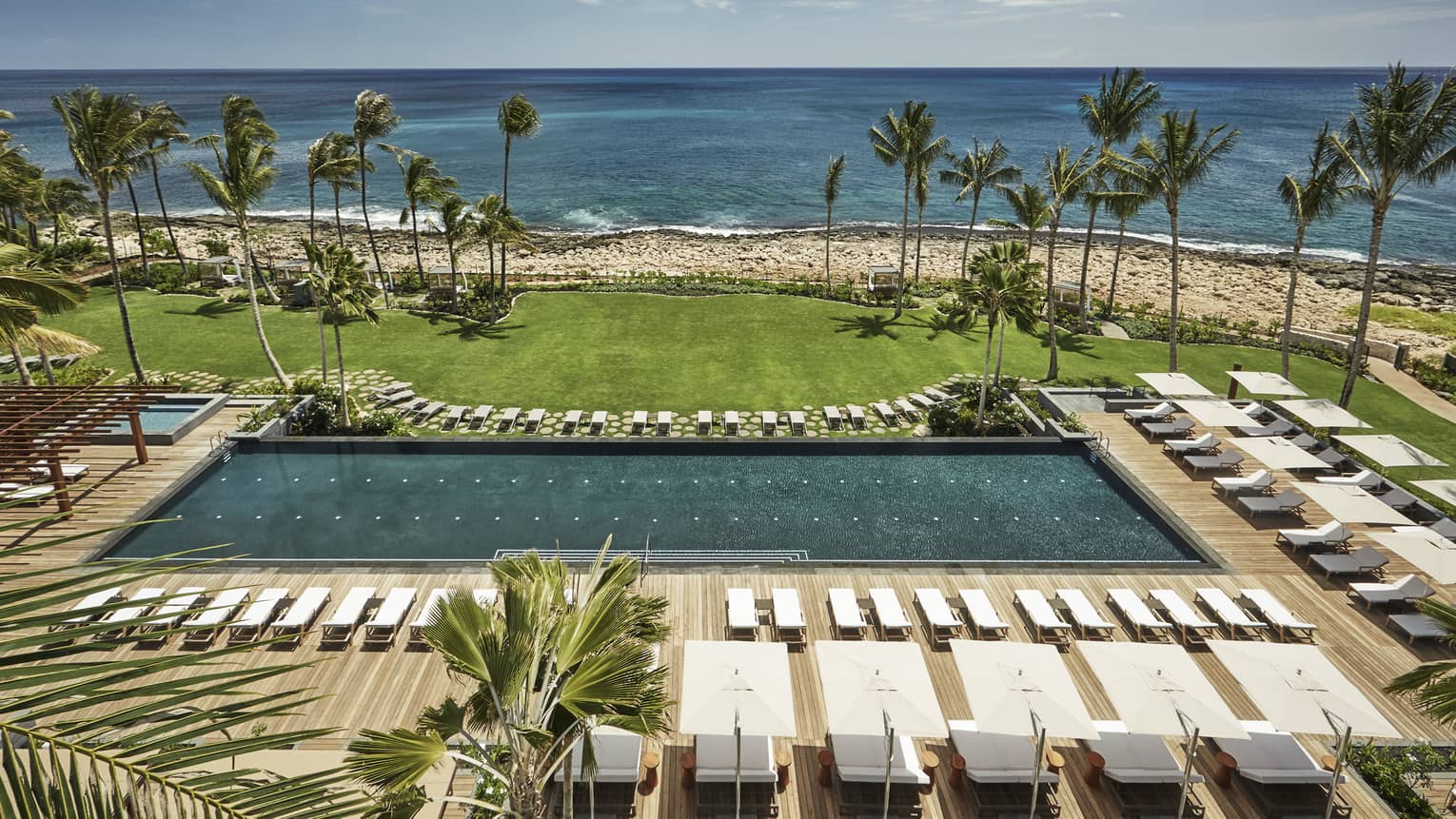 This Four Seasons gem is a short drive from the hustle and bustle of Honolulu, making it a nice place to base close-enough to the city, but far enough away that you can fully relax. Set on a secluded protected beach, it is perfect for paddle-boarding and offers easy access to uncrowded West Side beaches. This is a fantastic option for anyone going on a Hawaii honeymoon that may want a bit more privacy but still want to be close by to the action!
Where to Stay on The North Shore: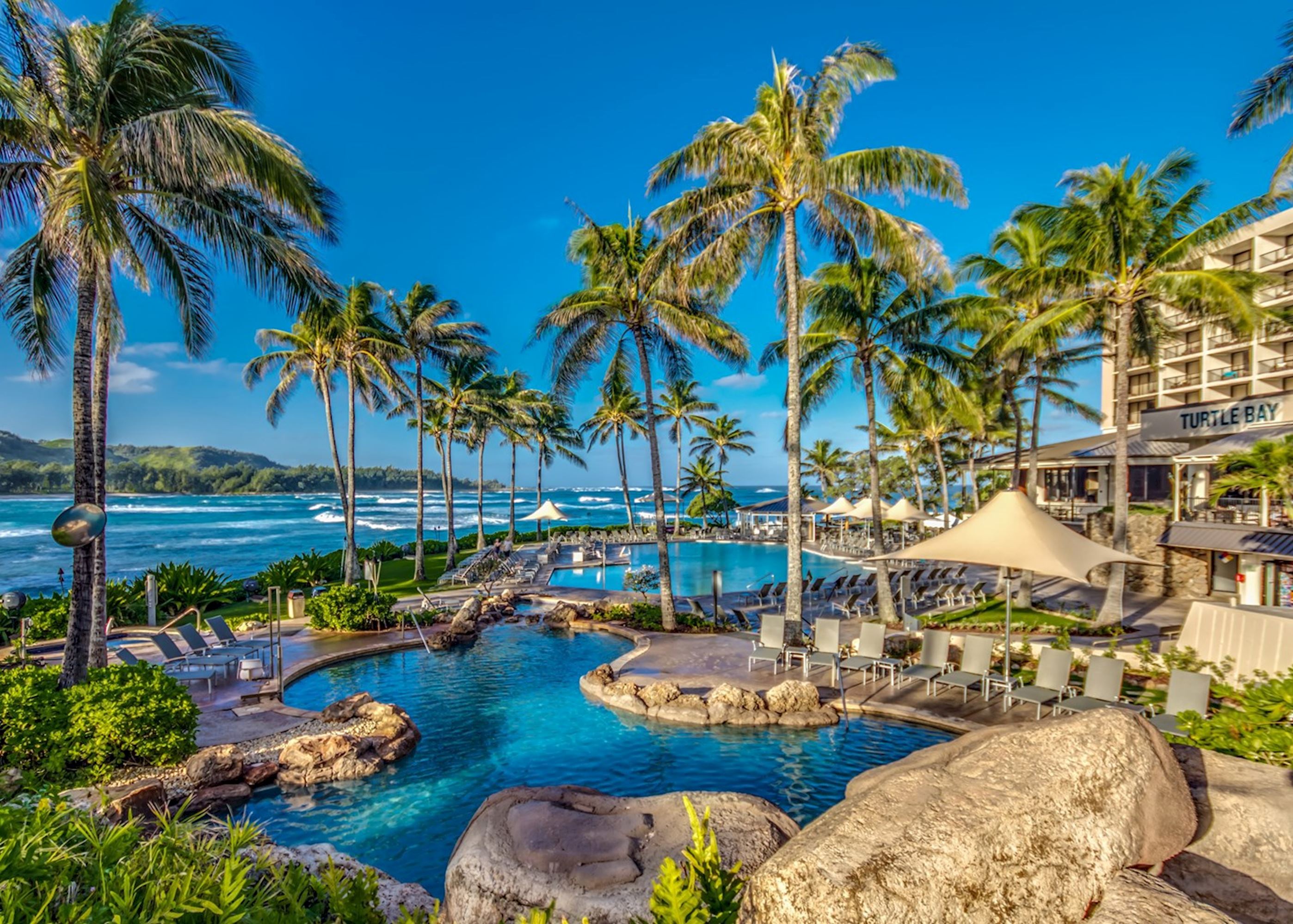 You may recognize this resort as the setting of Forgetting Sarah Marshall! is where the "7-Mile Miracle" of world-class surf begins, and the lineup is endless. With this as your home base, you can explore North Shore's shrimp trucks, pristine beaches, and plantation-style towns.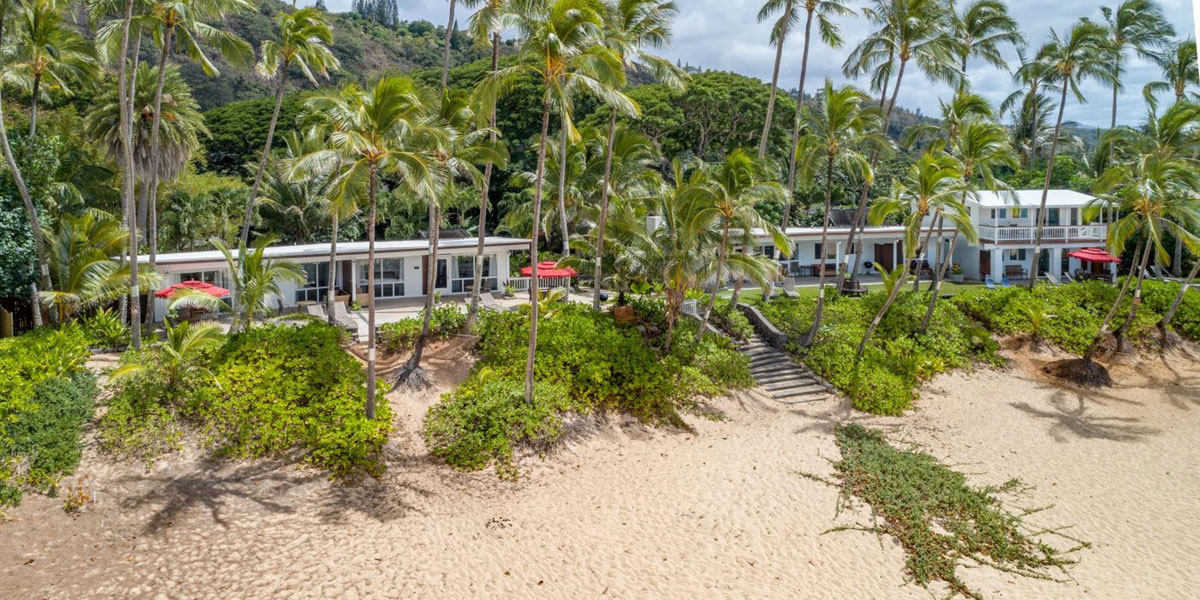 I absolutely loved getting away to North Shore Oahu and the sleepy, adorable town of Haleiwa. Ke Iki has awesome oceanfront bungalows, where you can enjoy romantic sunsets on an acre and a half of palm-fringed beachfront land. All beachfront bungalows has bean fully remodeled in 2020 and have beautiful ocean and sunset views.
Where to eat in Oahu
Eggs n' Things.
If you love a great breakfast like me, you know the value of finding the perfect breakfast or brunch place while on vacation. Look no further. Yes, there will be a line. Yes, you will have the best breakfast you've ever had in your life. Too much to promise? Maybe, but I'm confident you won't be disappointed. Located a short walk away from where the hotels are in Waikiki. The pancakes are incredible, and the world knows about it! Their breakfasts became so popular that customers convinced them to start selling their pancake mix online! Just in case you're still craving those perfectly fluffy pancakes on your plane ride home– which you will be. eggsnthings.com 343 Saratoga Road Honolulu, HI
Duke's Waikiki
Go early (Like 3:30pm) to put your name in for dinner because they don't take reservations and it's always a mad house, but trust me, it's worth it. You can put your name in and they'll text you when to come back (usually 2-3 hours later).
Cheeseburger in Paradise
Cheeseburger in Paradise. Yes, I know what you're thinking… so touristy. But this is one of my favorite places in Honolulu. Open air patios right across the street from Waikiki Beach, delicious pina coladas and most importantly- GREAT burgers and fries. Trust me and get a grilled pineapple burger… so island-ey and SO delicious. 2500 Kalakaua Ave, Honolulu, HI
What to see in Oahu
Pearl Harbor
A must if you like American history and are staying in Honolulu. The Pearl Harbor site is incredible. When I went, they even had one of the survivors there talking to visitors, answering questions and taking pictures. I still remember him and how every picture he took he threw up the typical hawaiian hand gesture for "hang loose". He was awesome, and told me and a group of friends stories about that day that will forever live in infamy.
Sunset sail. Catamaran sail boats depart right out of Waikiki. Talk about a beautiful and romantic setting. Definitely look into taking one if you're staying on Waikiki Beach!
The Big Island
The Big Island gets its name because it is Hawaii's biggest island (duh). The best beaches and weather are on the Kona side of the island, rather than the Hilo side. So, if you're a beach and snorkel lover, you're going to want to fly in and book a hotel on the Kona side or the Kohala Coast. Kona (also famous for its coffee) has some of the biggest and best hotels ever. Here are my top picks:
Hilton Waikoloa Village. A resort so huge you take a boat to get around. The Waikoloa Village prides itself on being "a destination in itself". It boasts it's own snorkeling lagoon, huge pools with slides and waterfalls, it's own Swim With Dolphins facility, a gigantic top-notch spa, and more all on 62 gorgeous oceanfront acres. This is the Atlantis of Hawaii. I love big hotels, especially for family trips (so much to do!), and I've always found this hotel to be awesome. Between snorkeling, swimming with dolphins, the spa, the award-winning dining, first class shopping, golf and tennis, how could you not love this place?
Four Seasons Hualalai – If you're going on a honeymoon to hawaii, this is your spot. The Four Seasons Hualalai is one of my favorite hotels in the world, and it's easily the best honeymoon resort in Hawaii.
Mauna Kea Beach Hotel. Founded by the Rockefeller family, this luxury hotel boasts one of the top beaches in all of Hawaii. With golf, tennis, and picture-perfect beachfront property, you're all set for a perfect vacation in paradise in a low key luxe resort. Mauna Kea is consistently ranked among the World's Best Hotels, and, from what I've heard, it deserves to be. I haven't stayed here yet, but one of my best friends' family goes year after year over Christmas and they absolutely love it. princeresortshawaii.com/mauna-kea-beach-hotel
The Best Activities on the Big Island
Volcanoes.
When it comes to Hawaii, I'm admittedly more of a "drop me on a beach with a bikini and some magazines and pick me up in 7 days" kind of vacationer. I mean, cut me some slack, with beaches as gorgeous as these, sunny days as beautiful, and snorkeling for when I need to cool off in the water, I think I've got all I need.
Luckily, I have a dad who managed to convince me, my mom and brother on a recent trip to get out of our 'tan, rinse, repeat' routine and go see the majestic Hawaiian volcanoes. Quite a drive away, but how many times in your life can you say you've seen HOT LAVA?! It is so, so cool. The Hawaiian islands were actually created from volcanic activity millions of years ago, meaning that they were originally just supposed to be the peaks of an underwater mountain range… Luckily for us and thanks to volcanic activity and plate tectonics, we now have the islands of Hawaii.
Ask your hotel about tours or how to drive to the Volcanoes National Park. Definitely an amazing experience. www.gohawaii.com/big-island/volcanoes-national-park
Scuba/snorkel Trips.
Daily scuba and snorkel trips depart out of Kona, and it's some of the best! They'll take you many places only accessible by boat, so it's great to do these boat trips if you love to snorkel or scuba.
Whale watching.
From late December to early May, whales make their way migrating from Alaska all the way to the warm waters of Hawaii, keep an eye out for their beautiful breeches! Take a whale watching tour or just keep an eye out from the shore. It sure is a gorgeous sight to see them in the wild.
Swim with dolphins.
Definitely a once-in-a-lifetime experience. If you're staying at the Hilton Waikoloa, they have it right there. If you're willing to splurge for the experience, do it. Dolphins are my favorite animals, and I had the best time getting to swim with them
I've yet to find a more perfect beach vacation than Hawaii, and like I said it's that place that you just keep wanting to come back to year after year. I love it for the sunsets, the ocean, the relaxation, the unique island culture, the one-of-a-kind beaches, and, yes, for the beautiful luxe resorts… I can't help it- I'm a sucker for a great hotel. But, mostly I love Hawaii because of all the memories I have there.
Lanai
Lanai is the best Hawaiian island for a honeymoon because of its focus on seclusion and total relaxation.
Where to stay on Lanai
A secluded luxury oasis with 5-star restaurants like Nobu and Malibu Farm, and an out-of-this-world breakfast buffet that will keep you full until dinner! This is one of the most exclusive resorts in Hawaii, and is hands down a favorite among honeymooners.

Check out these other posts: