The Ultimate Guide to Anguilla
The dreamy Caribbean island of Anguilla is best known for its white-sand beaches, pristine aqua sea, and absolutely dreamy luxury resorts. Need I say more?! Kenny and I were soooo excited to spend our babymoon on this beautiful island this year – it's been on our bucket list for years! And by the looks of my DM's, it's on a lot of yours now, too! So, to help you plan your next trip to this Caribbean paradise, here are all of my Jetset-approved tips, tricks, and recommendations to have the time of your life traveling to Anguilla!
When is the best time to visit Anguilla?
Peak season in Anguilla is from December to April when the weather is absolutely perfect! The temperature usually ranges from upper 70's to 85 degrees during this time, making it a lovely escape from cold winter. With peak season does come a heftier price tag, so keep this in mind as you are planning your trip.
If you want to save a little bit of money but still experience great weather, I recommend visiting between May and early August. Stay away from September through November as most businesses (including the resorts!) close down for hurricane season.
Kenny and I visited in March, and although it was definitely a bit windy at times, the sun was always shining and there was no rain!
How can I get to Anguilla?
From the U.S., the fastest and easiest way to get to Anguilla is on a direct flight from Miami via American Airlines (MIA to AXA). Before American started flying direct to Anguilla's Clayton J. Lloyd International Airport, U.S. tourists would need to either fly via private jet to the island or fly into St. Maarten and take the 20-minute ferry ride over to Anguilla. This is still a very popular option if you have better flights into St. Maarten from your home.
JETSET TIP: Be sure that you have some cash when you travel to Anguilla as we used cash for all of our taxis and there is also a $28 departure tax when you leave by plane or boat. Most places on the island accept both USD (U.S. Dollars) and ECD (Eastern Caribbean Dollars). We didn't exchange any $ and used USD the whole trip.
What is the best way to get around in Anguilla?
Although Anguilla is a relatively small island, walking won't be the best choice. There are also no forms of public transportation, so cars, bikes, and scooters are your only options. Kenny and I found that taxis were the easiest way to get around for us, which I'd recommend, since it's such an easy-to-get-around island (and the resorts made getting cabs super easy), but you can also rent a car for your stay if you want a little more freedom to explore. It's also really popular to rent a Moke for the day or a few days to explore.
Just remember that, because Anguilla is a British overseas territory, they drive on the left side of the road! It's also important to note that most of the roads in Anguilla aren't paved, and there are very few street signs on the island. So, if you do choose to drive yourself, make sure you are comfortable doing so under all of these conditions.
Where are the best places to stay in Anguilla?
Anguilla is a relatively small island at just 16 miles long and three miles wide. Unlike many of its neighboring Caribbean islands, Anguilla has no shopping malls, cruise ships, casinos, or high-rise hotels, which gives it a more remote, secluded, exclusive vibe. Unless you want to book an Airbnb or local bed and breakfast, you will have a total of only about 15 or so different hotels to choose from.
Ultra Luxe : the best of the best
Cap Juluca is a Belmond hotel located on the south side of the island. With four restaurants, a cocktail lounge and bar, a five-star spa, and a gorgeous infinity pool overlooking the azure waters, Cap Juluca is architecturally stunning at every corner. The 70 guest rooms that make up the Cap Juluca resort are housed inside 15 white stucco villas that feel very Santorini-meets-Caribbean. The hotel is spread across 180 acres on the best beach in Anguilla – Maunday's Bay, with its picture-perfect crescent-shaped white-sand beach and dreamy aqua water.
With four restaurants, a full-service spa, an infinity pool, and private yacht charters at your disposal, the resort is a destination in itself, and caters to honeymooners, babymooners, and anyone looking for a secluded, private, perfect and pristine beach getaway.
How to book the Belmond Cap Juluca Anguilla and get perks for being a Jetset reader!
To book, fill out this contact form and be sure to use the referral code "JETSETCHRISTINA" if you use my referral, my agency partner will reach out with more information and can help book you at the best rate with all kinds of fun perks (at no extra cost to you, and they don't charge a fee to book!)
Malliouhana has a storied, glamorous past as being the first luxury resort on Anguilla. It oozes old school glamour. Every corner of this dreamy hotel is chic & colorful and the decor is one of my favorites of any hotel, ever. It's SO unique, and easily one of the most beautiful hotels in the Caribbean.
Between the beach club, which felt like a total Caribbean paradise and somewhere we could have spent a week, and the infinity pools, which were some of the most stunning pools (and cabanas) I've ever seen, this hotel was dreamy! It felt a little more casual than the Cap Juluca, but that's not to say it was less high end, just a little less opulent and glam, more effortlessly cool.
How to book the Malliouhana and get perks for being a Jetset reader!
To book, fill out this contact form and be sure to use the referral code "JETSETCHRISTINA" if you use my referral, my agency partner will reach out with more information and can help book you at the best rate with all kinds of fun perks (at no extra cost to you, and they don't charge a fee to book!)
Luxe
The Four Seasons in Anguilla is a fabulous option for families, groups and couples looking for a buzzy, sleek, modern vibe and a stunning oasis in Anguilla. The FS used to be a Viceroy and was recently converted to an FS. It is the largest resort on the island, and you can expect the quintessential Four Seasons service, which is always the best. Four Seasons Resort and Residences Anguilla feels like a home away from home, and offers a wide variety of accommodations ranging from one bedroom guest rooms to one, two and three bedroom Residences to five bedroom stand alone Villas – making it an especially great spot for families and groups.
Also FS Anguilla arguably the best sunset on the island! I'd recommend heading to their sunset lounge to catch a sunset whether or not you're staying there! That's one of the best things about Anguilla, people often hop around to check out the other resorts for lunches, happy hours, and what not.
How to book the Four Seasons Anguilla through my travel agent and get perks for being a Jetset reader!
To book, fill out this contact form and be sure to use the referral code "JETSETCHRISTINA" if you use my referral, my agency partner will reach out with more information and can help book you at the best rate with all kinds of fun perks (at no extra cost to you, and they don't charge a fee to book!)
This boutique hotel is elegant and secluded, giving you the perfect oceanfront escape! Between Quintessence's private nature and the unmatched attentiveness of the staff, you'll feel as if you're the only guest there. Their amazing concierge and 24/7 butler service add to the already opulent and intimate nature of the hotel. Not only does it have an amazing restaurant called Julian's (more on this below!), it also boasts an extensive art collection that has been perfectly curated by the hotel's owner!
Photo via Quintessence
More Budget-Friendly, but Still Jetset-Approved
Frangipani Beach Resort is an intimate resort hosting just 19 rooms and one four-bedroom villa – but don't let its size fool you! This resort has a fitness center, bike rentals, a spa, water sports, boat tours, and a popular beachfront restaurant called Straw Hat. It's also located on dreamy Mead's Bay (the same beach as Malliouhana!), which is arguably the best place to stay on the island.
Not only does Aurora Anguilla Resort and Golf Club have comfortable rooms, a relaxing spa, and dining options with locally-sourced ingredients, it also has a nine and an 18-hole golf course with sweeping views of the Caribbean ocean! So if you are a vacation golfer, this is the place to be (in your Kenny Flowers golf gear, of course!).
Where are the best places to eat in Anguilla?
There's something about fresh island food that I just love. And now that I'm eating for two, I'm taking my food on vacation even more seriously! My top rec no matter where you dine in Anguilla is to order Anguilla's famous Johnny Cakes (basically bread meets donut, amazing) and tons of fresh lobster!!
At Veya, you can dine in a "treehouse" and enjoy some amazing Anguillan seafood while you listen to live music! We loved it here.
Ember is located in The Valley, which is the capital of Anguilla. Here, you will find fresh delicious, upscale Caribbean beach cuisine prepared in a wood-fired oven or on a wood-fired grill, and an epic view.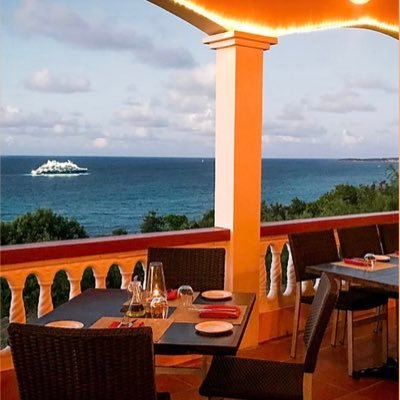 We ate at The Cap Shack so many times during our week in Anguilla. Llocated on the Cap Juluca resort property, you can go whether you're staying there or not. I am obsessed with the lobster roll and Kenny loved the poke bowl too! Plus the views are insanely beautiful.
Sharky's Restaurant is loved by both tourists and locals! The vibrant color scheme of the private-home-turned-restaurant will certainly catch your eye, but once you are inside, the delicious food and inviting atmosphere are what will keep you coming back.
This restaurant is a great spot for dinner! Prices range from $30 – $65 USD per plate, and there are tons of incredible dishes on the menu (including vegan, vegetarian, and gluten-free options!). Definitely save room for dessert and order a carrot cake and the cracked coconut.
If you need a mid-day break, head to Jacala for a French-inspired lunch! This place is so good, even Martha Stewart declared it as her favorite in all of the Caribbean!
Another Cap Juluca restaurant that is worth a visit is Uchu. Even if you aren't staying at Cap Juluca, I highly recommend that you come here for lunch to enjoy its beautiful atmosphere! The restaurant was buzzing at lunch of groups coming from other hotels to check out the Belmond. But it still felt intimate!
Julian's is a tropical French bistro known for its romantic atmosphere and incredible wine list. Sadly, I couldn't put their wines to the test this time, but this place is definitely going to be first on our list when we come back!
We didn't get the chance to visit Straw Hat on our trip to Anguilla, but we heard great things about it while we were there! Straw Hat is located in the Frangipani Beach Resort and serves breakfast, lunch, and dinner seven days per week (reservations are highly encouraged for dinner!).
If the name alone doesn't bring a smile to your face, the vibes certainly will! Sunshine Shack is a local watering hole that is loved by everyone on the island. It is the perfect place to post up on a sunny afternoon!
Scilly Cay is actually a nearby private island that has been around for more than 35 years! In order to get over to this little gem of a restaurant/island paradise, just take the island's ferry a few minutes east of the mainland. They are open for lunch on Wednesdays and Sundays, and the experience even includes a live reggae band! So cool!!
What are the best things to do in Anguilla?
Other than eating your heart out and basking in your resort's beach chairs, there are tons of fun things to do in Anguilla!
With Seaside Stables, you can check "ride a horse in the ocean" off of your bucket list! Whether you are an experienced rider or a total newbie, you'll love the tranquil experience of riding through the surf atop a friendly horse.
Little Bay is one of the most popular attractions on the island, but getting there can be an adventure in and of itself. Little Bay is really only accessible by boat, although you could hike down the trails or rent a kayak from da'Vida (located right around the corner) if you're feeling really adventurous. Once you have arrived on the beach, I highly recommend snorkeling along the reef or jumping off of the famous rock (like Lebron James did!).
If you are a history buff, you'll love this piece of Anguillan history! The West End Wells were originally Anguilla's only source of freshwater. Today, the wells have been preserved and decorated as a celebration of Anguilla's history and how far they have come as a country!
da'Vida Bay is a fantastic spot for swimming, snorkeling, and non-motorized water sports! Enjoy the water right in front of the da'Vida Restaurant, or head around the corner to Little Bay. If you get hungry, try their famous caesar salad pizza and frozen mojito!
Looking for an awesome place to rock your new Kenny Flowers Country Club looks? This is it! Aurora Anguilla Resort and Golf Club is a premier signature golf course with the most gorgeous Caribbean backdrop.
It's called Sunset Lounge for a very good reason! This restaurant/lounge at the Four Seasons is known as one of the best places to take in the sunset on the island. They are also known for their incredible cocktails!
What should I pack for Anguilla?
I have a pretty extensive tropical vacation packing guide complete with all of the beach essentials on the blog already, but there are a few other looks I would recommend specifically for Anguilla!
What to Wear on the Beach in Anguilla
I am LIVING in our new Aruba suits because they are so stretchy!
One of my favorite prints and fits of all time!
This matching set is sooooo cute!
One of my vacation go-to's, always! So chic!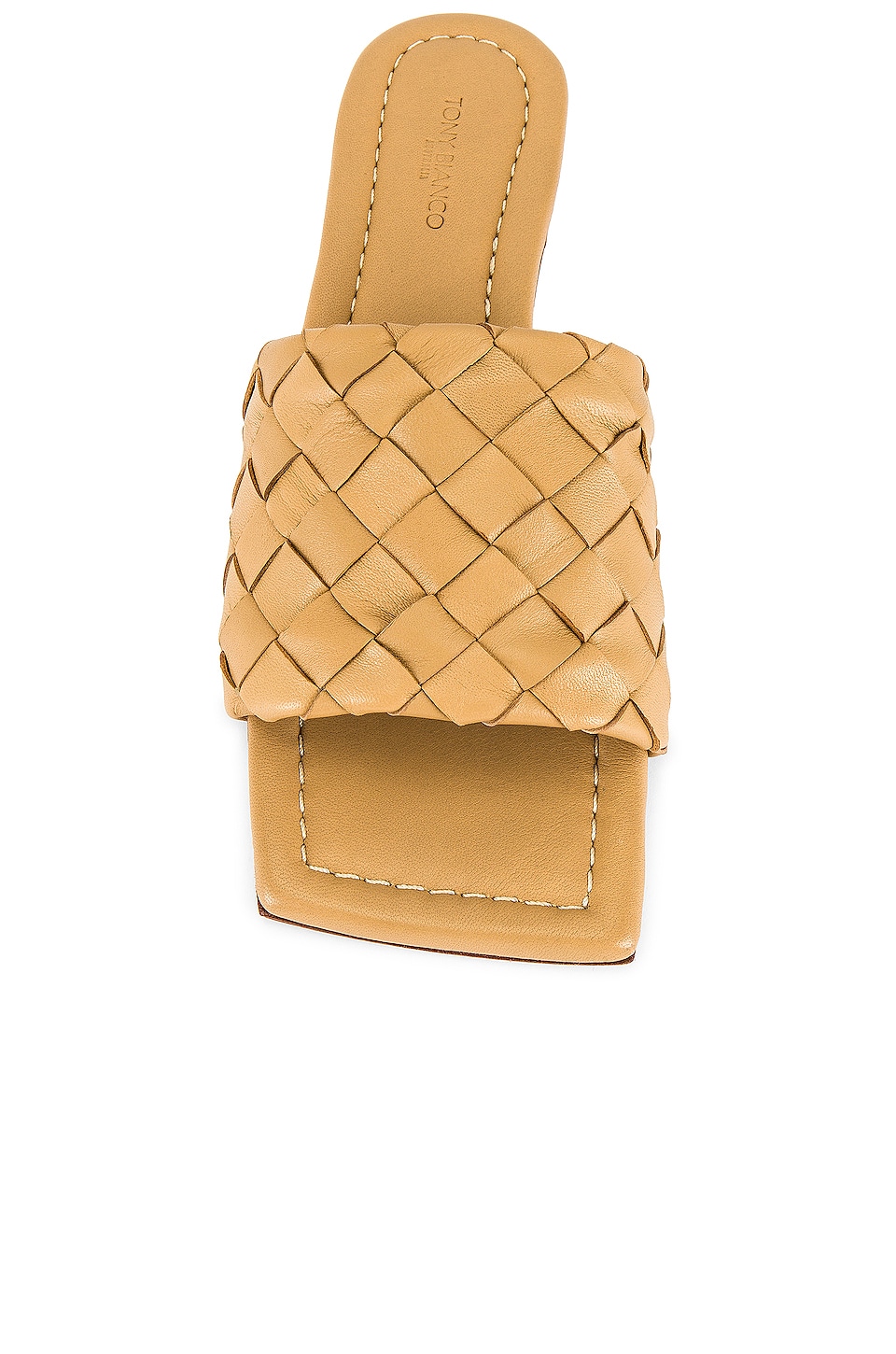 I love these sandals – they go with everything and are SO comfy!
What to Wear While Exploring Anguilla
I wore this in Dubai as well and LOVED it!
And a few for him, too, of course!
What to wear to dinner in Anguilla
You may have seen me in this dress in Dubai as well. It's one of my favs!
The best villas to rent on Anguilla
This amazing luxury rental property in Anguilla is right on the beach and comes with its own complimentary Jeep wrangler for transportation, private pool, jacuzzi, chefs kitchen and kayaks/paddle boards. This is a great option for families or groups. Ask your host about getting private chefs on onsite massages.
Sea Villa at Long Bay Villas: Privacy, 5-star service, butler, on secluded beach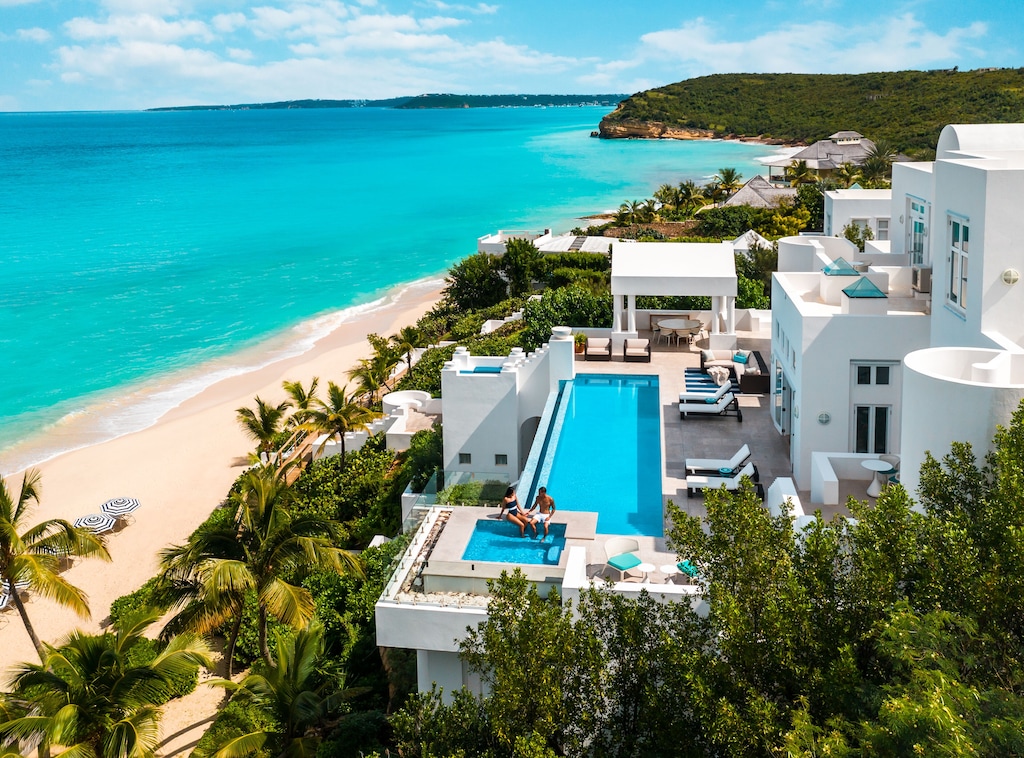 For the most luxurious villa in Anguilla, look no further than this beachfront mansion. Featured on Netflix's "The World's Most Amazing Vacation Rentals" Season 2!
Check rates for your dates here.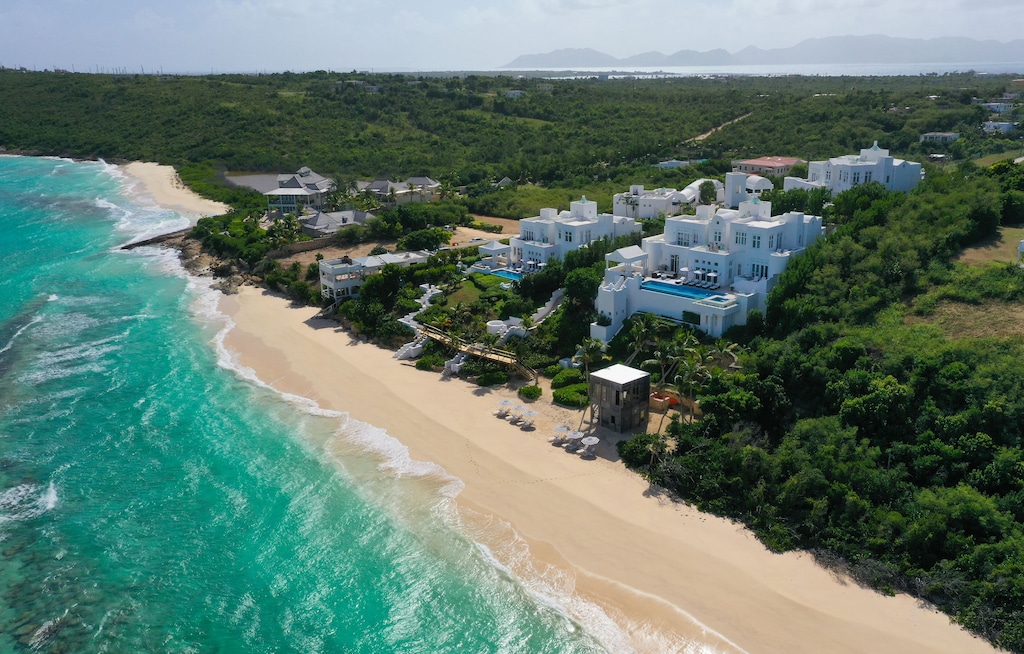 Sister property to the above! Long Bay Villas was featured on Netflix's "The World's Most Amazing Vacation Rentals" Season 2 and is Anguilla's largest and most private staffed, luxury property with ultimate beach access.
Sand, Sea and Sky at Long Bay Villas can be rented individually or combined with each other and/or our sister property next door (same management team) Santosha Villa Estate Anguilla. Ideal for a family reunion, destination wedding or group retreat in Anguilla.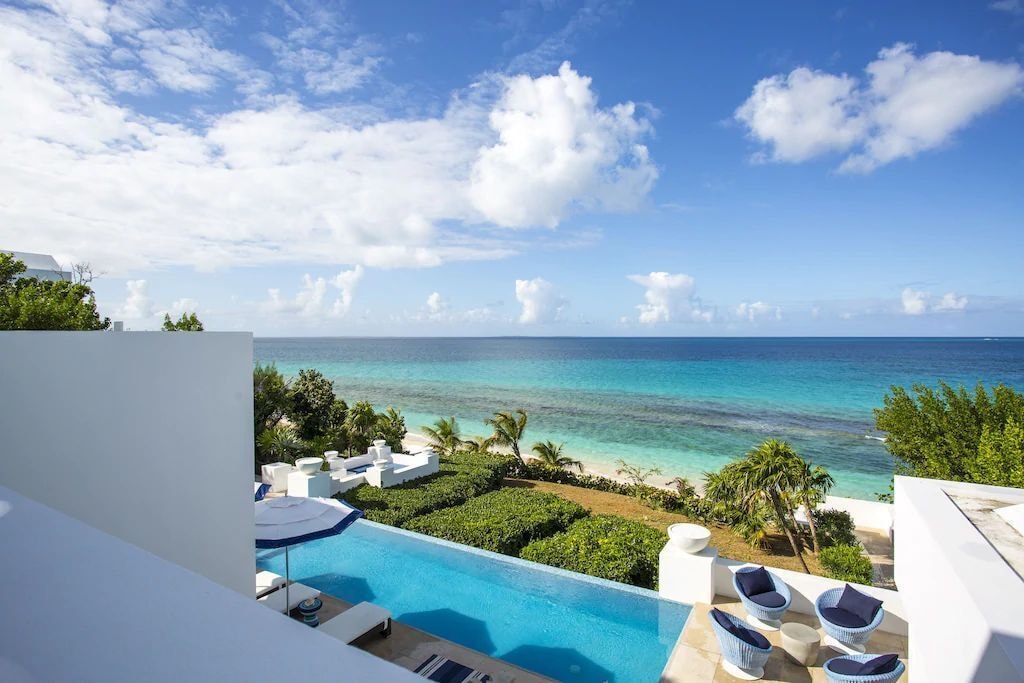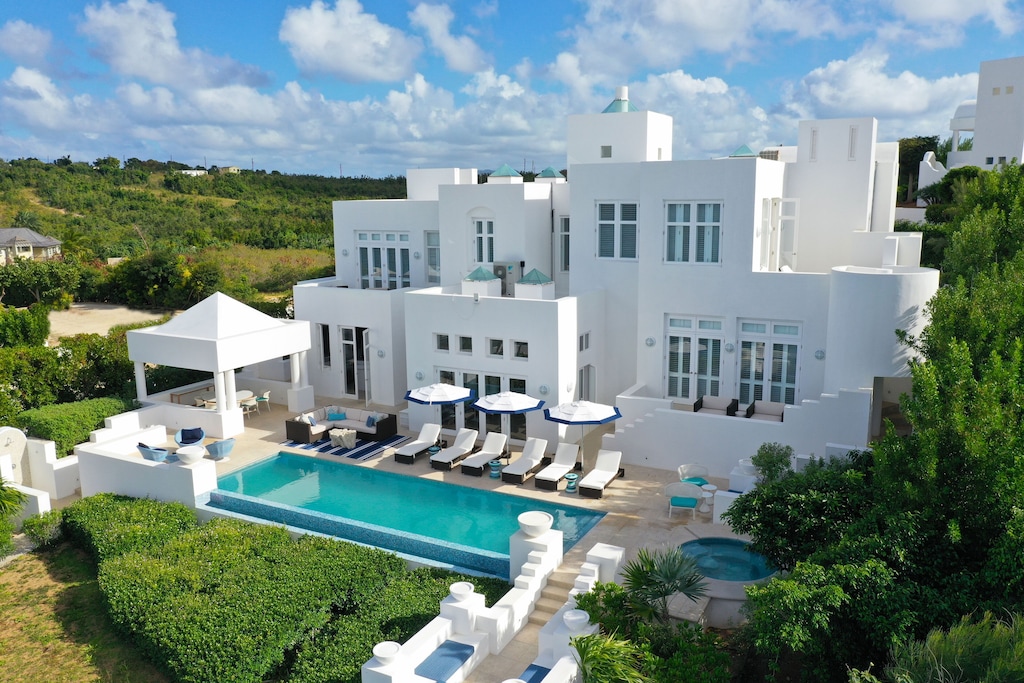 Check out these other blog posts: