The Ultimate First-Timer's Travel Guide to Italy – Where Should You Go on a First Trip to Italy?
Planning a trip to Italy and unsure of where to even start? I've got you! When most travelers are asked about places on their bucket list, Italy almost always comes out on top. It's a magical country full of sunny rivieras, ancient ruins, incredible shopping, charming towns, beautiful art, fine wines, and FOOD. Oh, the food. But, in my opinion, what sets Italy apart isn't all the things that make it so beautiful (although they don't hurt!), but rather the feeling you get when you're there. That 'la dolce vita' energy that Italians know so well.
La dolce vita translates to the sweet life, and it's more than a phrase in Italy, it's a lifestyle. It means a life full of indulgence, luxury and pleasure, a carefree state of living that we all aspire to on vacation, and a state of being that Italians aspire to (and accomplish) in everyday life.
So if you're ready to experience la dolce vita, let's do it!! Where do we start?
THE BEST AREAS TO VISIT IN ITALY
Now let me preface this by saying EVERY single litte town in Italy is full of magic and would be amazing to explore, but for the purposes of this post, I want to focus on the big ones. The MUST-see's for first-timers in Italy, the most incredible parts of the country (in my humble opinion!) and what to do when you get there.
Rome
With more than 2800 years of history, masterpieces of art, magnificent architecture, and countless cobblestone roads filled with romance, wine, fresh Roman food and countless vespas zipping around, there's no place like Rome.
If it were my first trip to Italy, I'd fly into Rome. You can see the city in about 2 nights, 2-3 days or so, or more if you're a big history buff. It won't take you long to get your grounds in Rome if you like to walk around. By the third day, you'll know it backwards and forwards. With so many iconic landmarks, it's hard to get lost, so have fun exploring the city and walking everywhere! There are so many hotels in Rome, and most popular places to stay if you're in a hotel or hostel are close to the center of the city, so it's easy to get around. Personally, I recommend being by the Spanish Steps, as it's a great area of the city, close to everything, and right next to one of the main train stations to get you anywhere you want to go.
Where to stay in Rome
The St. Regis Rome comes highly recommended by my best friend who stayed there for her honeymoon recently and had a blast. The Hotel Splendide Royale is another one of my favorites, for its old world charm and drop-dead-gorgeous rooftop terraces overlooking the city.
What to do in Rome:
The Colosseum
Of course, how can you go to Rome without visiting the icon of the ancient city. The amphitheater, once used for gladiator contests, was constructed in… wait for it… drumroll please…. 70 AD. You read that right. The history in this city is absolutely incredible, and you won't want to miss the tour of the Colosseum. Take either a self-guided audio tour or one accompanied by a tour guide, so you can hear the rich stories that the Roman Colosseum has to offer.
Located entirely within Rome, the headquarters of the Catholic Church is actually also the smallest country in the world, at only .2 square miles. Don't miss this masterpiece-packed site during your trip.
St. Peter's Basilica
The most famous spot in the Vatican. This dazzling church is sure to be a highlight of your trip. Stunning doesn't even begin to describe the 500-year-old largest church in the world. Around 20,000 visitors go through what many consider to be the "Center of Christianity" on a busy day. If you're planning on being one of them, don't forget to dress appropriately! No bare knees or shoulders.
Sistine Chapel
You also won't want to miss Michelangelo's famous masterpiece on the ceiling of Sistine Chapel. It is one of the most treasured works of art in the world and will leave you in absolute awe.
Along with the Colosseum, the Pantheon is another one of Rome's iconic tourist sites to see. Currently a Catholic church, it's located in the center of a cute square lined with outdoor dining restaurants. Lots of romantic spots and gorgeous city settings!
The Trevi Fountain
No trip to Rome is complete without tossing a coin in the Trevi Fountain. Legend has it that, if you toss one in, you will be back to visit the city again. Toss your coin, make a wish, and witness the magic of Rome.
Roman Forum
Full of history, the Roman Forum was the ancient center of the Roman Empire, and parts of it still stand today. If you're a history buff, you'll love seeing the remains of the heart of the fallen Roman Empire.
Piazza di Spagna
The iconic Spanish Steps serve as a central meeting place in Rome. Every day and especially at sunset, people gather to meet up or just sit and watch the crowds go by. It's been a magnet for visitors and locals alike in Rome since the 1700's. Definitely a great spot to go, with lots of shopping, dining, and hotels all around it
Via Del Corso
If shopping is your travel love language, look no further than Rome's Via Del Corso, as well as the streets that radiate from it. Take an afternoon, burn off that gelato and shop until you drop into that glass of italian wine at dinner. On Via Del Corso, you'll find so much variety. With the well-known top designers, and the hole in the wall Italian leather shops, you can't go wrong. Also check out the street Via del Boschetto, full of less chain stores and more boutiques and artisan stores. For men, no matter where you shop in Rome, you're going to want to splurge on an Italian suit. It'll be half the price of what you would pay for one of that quality in the states, so go for it. For the women, been dreaming of that perfect leather jacket? An awesome colored leather wallet? Italy has some of the finest leather in the world. Come home with some killer gifts for your loved ones.. or yourself. After all, why get a magnet for your refrigerator of the Colosseum when you can get some new Prada shoes and call them your Italian souvenir… am I right?
Where to eat in Rome
Della Palma Gelato – the best gelato in the city!
For an authentic Roman meal in Rome, look no further than this great pasta spot, at a reasonable price!
Gabriele Bonci's Pizzarium
With the chef being dubbed the "Michelangelo of pizza", you're not going to want to miss this place.
Fortunato al Pantheon
frequented by diplomats and celebrities alike, this classic Italian eatery is a perfect place to have your typical Italian meal, complete with menu items such as the tagliolini, fresh fish, ravioli, artichoke meatballs, and a fantastic wine list. Fortunato. Via del Pantheon 55
Il Passetto
This cute restaurant is located right on Piazza Navona is such a gorgeous setting. Try the white truffle fettucine, and, of course, limoncello for dessert. It's been around for awhile and was actually where my dad asked my mom to marry him so many years ago!! A perfect romantic Italian meal!!!
Pantha Rei – best casual pizza near the Coliseum and also has gluten free pizza!
The Amalfi Coast
Ah, Amalfi. A summer vacation to Europe is hardly complete without a trip to Italy's Amalfi Coast. A magnet for the jet-set since the Roman times, the Amalfi Coast is easily one of the most beautiful, most luxurious, and most charming, coastal regions in the world. And one of my very favorites!! Kenny and I went here on our honeymoon.
Where to stay in the Amalfi Coast
What many people don't realize is that the Amalfi Coast isn't just one town, but a group of beautiful coastal towns that together make up the region. So choosing which part of the Amalfi Coast to stay in isn't an easy feat! Although you can definitely travel from one area of the Amalfi Coast to the other via ferry or car (more on that below), you're not going to want to spend your whole relaxing trip to the Amalfi Coast in a ferry, so I recommend picking your favorite to base out of, and doing one or two day trips to other parts of the coast from there. Here are my top picks for which towns to stay in the Amalfi Coast:
Positano
Is there anywhere in the world more picture-perfect than Positano? This adorable Amalfi Coast town is built completely carved into the cliffsides, with bright orange and blue umbrellas covering the beach and winding cobblestone alleys full of family-run pasta restaurants & enotecas (Italian for wine bars!). Making this the perfect Mediterranean paradise to spend the day…. or the summer.
Where to stay in Positano:
For the ultimate luxury, Il San Pietro. Not many hotels in Positano have sea access – with the exception of this luxe seaside resort.
Another luxurious favorite is the absolutely STUNNING Le Sirenuse, Positano
Arguably the most famous hotel in Italy, Le Sirenuse is stylish, immaculate, and exudes Positano charm. It's also the place to be and be seen in Positano. It's popular with honeymooners, celebrities, and the American and European jet-set. Also, its Michelin-starred La Sponda restaurant, entirely lit by 400 candles, is worth a visit to this hotel for dinner alone. So good!!!!
I loved this hotel in Positano! If you're looking for luxury and to-die-for views, and dream of waking up each morning to a dreamy Italian breakfast buffet on a picturesque bouganvillea-laced terrace, and an infinity pool with panoramic views of the Amalfi Coast, Hotel Marincanto is your spot.
Photo by ItalyTraveler
Amalfi
I love the Amalfi area of the Amalfi Coast mainly because of the gorgeous Hotel Santa Caterina. Staying at this charming, quintessential Italian resort is so beautiful and captures the Amalfi Coast charm. Not to mention their seaside pool and beach club is the perfect place to soak in all the Mediterranean sunshine. With five-star service and food, exclusivity, and a beautiful setting in Amalfi, Santa Caterina would also make the absolutely perfect honeymoon resort in the Amalfi Coast if you're traveling to Italy on your honeymoon!
Ravello
This magical, romantic, quiet gem of the Amalfi Coast is perched 1000 feet up into the cliffside, with some of the most stunning views of anywhere in the world. If Positano seems a little busy for you, you'll love Ravello. The hotels here aren't cheap during high season, but they are worth it (there are only a few, and each one is absolutely incredible, like Villa Fraulo and the magnificent Belmond Caruso). And while you can go on a day trip, I can guarantee you're going to want to spend more than just a day in this bougie and beautiful town.
If you're looking for the most beautiful island in Italy, you'll want to head to Capri for a few days. While it's great to go for a day trip, as well, if that's all you have time for, I can guarantee you're always going to want more time in Capri. You'll spend your days walking, shopping, and strolling around, breaking only for gelato, and soaking in the beautiful views at every turn. Or you'll spend them in the sun at one of the celeb-favorite beach clubs. My favorite is La Fontelina – it's so dreamy! And my favorite hiking path is Via Krupp, which takes you all the way from the top of the island down to the beach (so bring your swimsuit), the path was originally laid out on the island in 1902!
Where to stay in Capri
Loacted at the top of the steps leading down to the Faraglioni rockstacks and Fontelina/Da Luigi beach clubs, Punta Tragara is a contemporary luxury hotel built right into the cliffs of Capri – with each of incredible room's balconies featuring unmatched island views. The iconic beautiful pink architecture exudes romance, and is perfect for couples honeymooning in Capri, or just looking for a chic European getaway.
Punta Tragara was Kenny and my choice for our honeymoon!! 🙂
Another favorite if you're looking for serenity and luxury in Capri, is the JK Place Capri. The dreamy poolside cabanas, the seaside breakfast views, the magnificent rooms and it's prime location directly on the waters edge make it one of the most sought-after hotels in the area.
This darling seaside hotel is in a part of the island called Marina Piccola. They have a hotel shuttle that picks you up from the marina down on the water and brings you all the way up the cliffs to the hotel. The location is hard to beat for exploring around Capri, but you may never leave the hotel given the gorgeous private beach access and pool overlooking the coast.
This tranquil, family-run boutique hotel on a quiet street shaded by lemon trees, is ranked #1 on TripAdvisor, and is pretty darn close to perfect. This hotel only has 18 rooms and is located on a pedestrian area overlooking the sea in the center of Capri. It's super relaxing, and a great place to base from in Capri.
Praiano
If you want to be close, but not too close, to all of the action of the Amalfi Coast and Positano, you can stay in the quaint Amalfi Coast town of Praiano. It's a 10-minute drive to Positano and has all of its vibrancy, with fewer crowds. If you're staying in Praiano, definitely stay at Casa Angelina, a gorgeous modern boutique hotel, where gorgeous Murano glass art decorates every hallway, and the bar has a delish menu fully dedicated to artful interpretations of the famous Aperol Spritz. It is an ideal spot for Amalfi Coast travelers who prefer an intimate and relaxed trip experience!
What's the ideal Amalfi Coast itinerary?
There are SO many ways to do it, but if I were to come up with my ultimate 9-day itinerary, it would be 3 nights in either Amalfi, Praiano or Positano, 2 nights in Ravello, 3 nights in Capri. If you only have a few days in the Amalfi Coast because you're going elsewhere in Italy, too, I'd do 4 nights – 2 nights each in the 2 regions that sound best to you!

How do I get around the Amalfi Coast?
To get to Amalfi, you'll fly into Naples International Airport, and then you'll need to make your way to the coast from there. It's about an hour and a half to Amalfi or Positano by car. The best way to reach the Amalfi Coast from the airport is by private car (around 100-150 euros total), the cheapest is by bus (about 10 euros each person). I personally love investing in a private driver in instances like this, because after a long flight to Europe from the states, with all of my bags, the last thing I want to do is navigate bus schedules and find my way around a foreign place. I've used Jack the Driver or Positano Drivers to get around. They are both premium companies that also offer day tours around the Amalfi coast as well as private airport transfers.
Where to Eat in the Amalfi Coast
It depends which area you're in! Check this Amalfi Coast Travel Guide for food recs.
Lake Como
Spectacularly set in the foothills of the Northern Italian Alps is a beautiful blue lake surrounded by palatial villas, blossoming bougainvillea & colorful cobblestone towns etched into the banks of the lake. A place where the rich & famous go to escape the hustle & bustle each summer; trading in the real world for the calming still of the lake and the big city for the beautiful, sleepy charm of small-village Italy.
If you're looking to feel like a celeb for a few days and soak up the dolce vita, lakeside, this might be the spot for you!
How to get to Lake Como
Fly into Milan and then take a 1 hour train to Lake Como!
Where to stay in Lake Como
Villa d'Este is luxury, perfected. The "floating pool" overlooking the lake, the ornate Italian architecture and attention to detail at every corner, combined with the 25 stunning acres of immaculately landscaped gardens, make this hotel one of the very best in the world. A popular hotel for such celebrities for centuries, such as Mark Twain and Alfred Hitchcock, everything about Villa d'Este signifies sophisticated glamour. This is the ultimate in luxury in Lake Como.
This Mandarin Oriental Lake Como is what dreams are made of. This 18th-century lakeside estate has stunning gardens and epic views. You enter the hotel via its own lake frontage, in a private enclave that most guests never want to leave, except maybe to explore nearby Bellagio and Cernobbio. This is where I would stay if I were honeymooning in Lake Como!
For a hotel that is more budget-friendly but will still have you wowed all the same, check out the beautiful Hotel Du Lac, located right in the Bellagio harbor. We stayed here and I could not imagine staying anywhere else. I mean just LOOK at this morning balcony view of the lake. Unreal.
In Italian, Belvedere means "beautiful view,"- perfect for this gorgeous hotel. The Belvedere hotel has been in the Martinelli-Manoni family since 1880, and their tradition of service makes it one of the best places to stay in town. The restaurant is delicious and there are beautiful terraced gardens surrounding the house, and there's an infinity pool with lake views… so yeah, it's perfect. Especially for
Italy honeymoons
!
What to do in Lake Como
Basically, in Lake Como, you'll boat around, visit some villas, go olive oil or wine tasting, and relax at your hotel. Oh and you'll eat. Some of the best pasta & Italian food in the world!!!!
Villa Carlotta
A beautiful villa built in the 17th Century, the elaborate gardens and impressive architecture of Villa Carlotta make it a must-see. Located in Tremezzo. (
Villa Carlotta
)
Villa del Balbianello
Located on the edge of the lake, this 18th Century villa's main access route used to be a steep staircase straight from the water, accessible only by boat. With a panoramic view opening up to the heart of Lake Como and a beautiful terraced garden, the Villa del Balbianello is what Italy villa dreams are made of. If it looks familiar, that's probably because James Bond made the villa his home in Casino Royale, as well as Queen Amidala & Anakin Skywalker, who retreated to the lakeside villa in Star Wars Episode II. (
Villa del Balbianello
)
Bellagio
The "Pearl" of Italy, no trip to Lake Como would be complete without a visit to Bellagio. Lakeside villas, stunning vistas, & charming alleys filled with boutiques, restaurants and "enotecas" (which I quickly learned means 'wine bar'), Bellagio is Italian charm & elegance embodied. Sta
Olive Oil Tasting in Lenno
You can find mom-and-pop olive oil shops all over Lenno, but the most famous is the Vanini olive oil factory, where the Vanini family has been making olive oil since 1850, racking up numerous international awards along the way. I loved going here to taste but also to buy lots of gifts to bring back home- Olive oil makes a fantastic gift to bring back to your friends & coworkers! (
Vanini Olive Oil
)
Where to eat in Lake Como
Terazza Barchetta, Bellagio
This beautiful lush terrace is the perfect dinner spot in Lake Como. Fresh seafood, amazing Italian wines, and the best, freshest, carbonara pasta I have ever had in my life.
Cantina Folie, Tremezzina
Looking for more of a wine bar & appetizers vibe? Look no further than the charming caves of Cantina Folie in Tremezzo. Their food is delicious (order the meat & cheese board) and their wine selection is so good.
Casa Perrotta
Authentic Italian served in a homey atmosphere lakeside. Order the lemon ravioli – yum!
Venice
Because no first time trip to Italy is complete without a gondola ride!
Where to stay in Venice:
The Danieli Hotel sets the standard for Venetian luxury. Marble columns, immaculately-carved archways, ornate and over-the-top decor complete with plush velvet furniture lining the lobby. This luxe hotel has long seduced royalty and millionaires stopping in to Venice, and today it is one of the very best places to stay in Venice. Head to the rooftop terrace for lunch or a drink and overlook one of the most stunning views in all of Venice.
Another gorgeous and iconic luxury hotel in Venice, I highly recommend staying in the Gritti if you have the chance. But, even if you don't, stop by for some bellinis. Occupying some of the most sought-after real estate on the Grand Canal, the Gritti's peaceful canalside terrace is just ideal on an afternoon in Venice.
What to do in Venice:
Visit Murano
Murano is a short boat ride away from Venice (and many hotels will offer free shuttles there), and i think it is well worth the trip! You'll see how Venice's famous hand-blown Murano glass gets made and it will 'blow' you away!!!
Shop the Rialto Bridge
The Rialto Bridge crosses the Grand Canal in the heart of the city, connecting the districts of San Marco and San Polo and for 300 years was the only way to cross the Grand Canal by foot. Today, it is one of Venice's largest tourist attractions, and one of the best places to shop in Venice. (Here's where I find the best deals on Venice's famous Murano glass!) I also like to post up and people watch at one of the many waterfront cafes lining the Grand Canal.
Saint Mark's Square
No day in Venice is complete without exploring the most popular square in all of Italy. The square surrounds the beautiful Byzantine cathedral, the Basilica San Marco, which was constructed in 828 AD and is still one of the most opulent architectural marvels in the world. It holds more than 8000 square meters of intricate mosaics, most on a background of gold venetian glass, creating a divine shimmering effect to the ceiling of the basilica. Entrance will cost 2 euros, and make sure you cover up your knees and shoulders if you wish to enter. ( Saint Mark's Basilica Entrance Tickets )
The Campanile
Adjacent to Piazza San Marco, the Campanile bell tower is another Venice must-see. Yes, there will definitely be a line of tourists. and, yes, the hike up to the top of the tower will be a steep work out. But, the views are worth it. At the top, you'll see spectacular panoramic views of Venice. Entrance 8 euros. ( hours & timetable for the Campanile )
Grab some gelato
My favorite is the coffee gelato at Gelateria Nico by the Accademia. So, so good. And, with all the walking you're sure to do in Venice, you've earned it!
Take a gondola ride!
You must!!!
Florence & Tuscany
Hide from the summer heat in one of the many art galleries scattered around Florence, or wander the gorgeous sun-soaked cobblestone streets while cooling off with Aperol spritzes and cones of gelato. Climb to the top of the Duomo for panoramic views of the city, or catch sunset at the hilltop Piazzale Michelangelo.
This is where the Renaissance began and where many of the best artists and thinkers of all time lived and worked. The architecture of Florence is incredible, the scenery captivating, and the museums are world-renowned! I suggest touring the Duomo, visiting the Uffizi Gallery and Galileo Museum, seeing the Statue of David, as well as walking the Ponte Vecchio bridge.
Where to stay in Florence:
Villa San Michele – a Belmond Hotel
Or a VRBO with stunning views in Florence like this one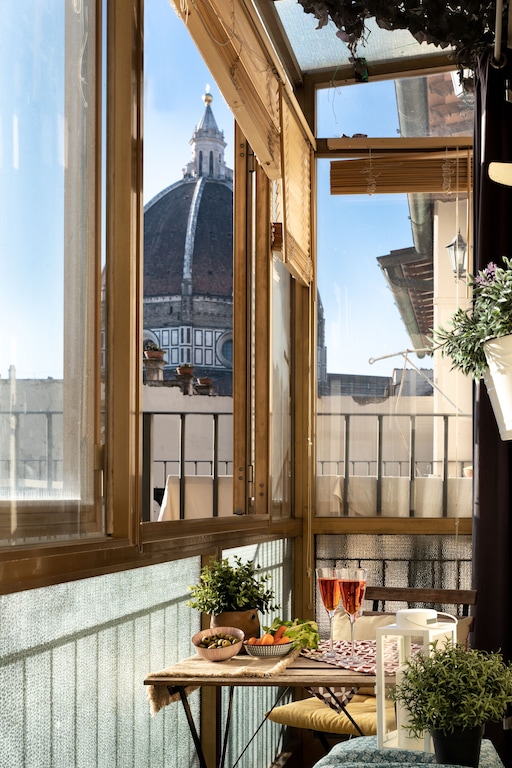 Where to eat in Florence:
Gusta Pizza
Restaurante Osterio Del Borgo Di Mensano
4 Leoni Pasta
La Menagerie Cafe
Tuscany
The winemaking region of Tuscany just outside the city of Florence is an incredible region of Italy. Rent a car or ride a vespa through the countryside as you hop from vineyard to vineyard, finishing off the day with a classic Tuscan steak dinner.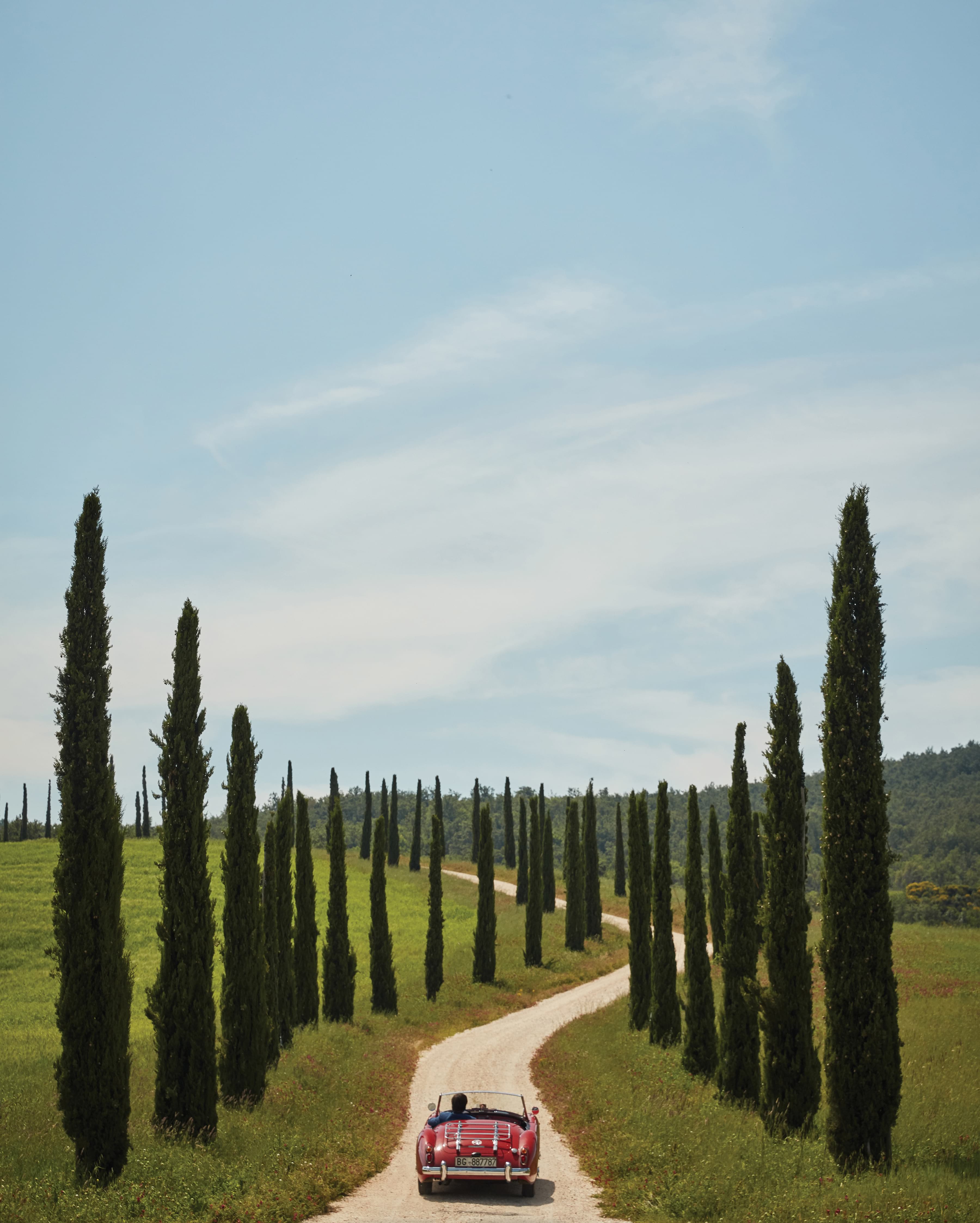 Continue the romance as you escape to the countryside of Tuscany. Florence is technically already within the region of Tuscany, so you don't have to travel too far to find the idyllic charm people speak of. You could choose to do a day trip on your own by renting a car or taking a 40-minute train ride from Florence to the town of Siena. Another option is a guided full or half day (wine) tour from Florence. Maybe even do a private Chianti tour and tasting.
If you have time, make a stop at the Saturnia Hot Springs (but go early to beat the crowds)!
Where to stay in Tuscany
For a full-on honeymoon-worthy luxury experience, opt for a night at either the Castello Di Casole, a former 10th century estate turned Belmond Hotel, or the Rosewood Castiglion del Bosco. For a countryside stay you won't forget, check out this unbelievable castle hotel, these are arguably the best hotels in Tuscany, period. Or you can rent out this entire villa with insane views that sleeps up to 9 people, or opt for go for this modern 3-bedroom villa in the little Tuscan village of Lucca.
Cinque Terre
Cinque Terre, a romantic, hilly set of five Italian villages on Italy's Northwestern coast, is on pretty much everybody's bucket list, and makes for a great Italian honeymoon destination. Spend your days keeping active and hiking the coast, or cuddling into a mom-and-pop pasta shop and chowing down on some unbelievable fresh-made pasta and burrata.
Portofino
Portofino is easily one of the most charming and beautiful areas in all of Italy.
Where to stay in Portofino
One of the most exclusive and gorgeous hotels in Italy is Portofino's luxurious Splendido.
Puglia

Puglia is like stepping back to the Amalfi of 20 years ago. If you're a fan of rustic coastlines, hidden alcoves with crystal-clear sea, white-washed Italian villages, olive groves and delicious seafood, Puglia is for you. This coastal area along the Adriatic Sea on the eastern side of Italy's "boot" takes you back in time. It's a bit more laid back than the Amalfi Coast and is where the Italians themselves choose to vacation, so you'll typically find more Italians than tourists. There are fewer sprawling expensive glamorous hotels, and more boutique "Masserias" (AKA old stone family estates turned into farm to table boutique hotels). Start in the capital city of Bari and roadtrip your way down the coast, stopping in the infamous cliff jumping town of Polignano a Mar for some sun and seafood at Grotta Palazesse, some trullo house sighting in Alberobello and ending in the Roman city of Lecce!
Where to stay in Puglia:
For a luxury seaside stay in Polignano a Mar, opt for the hotel that is connected to the infamous Cave restaurant! Or for a more authentic Masseria experience, head further South towards the food-focused Masseria Morosetta!
Sardinia might just have it all. Imagine if Spain, Italy, and the British Virgin Islands had an island baby… you get Sardinia. With the pasta from Italy, the turquoise sea of the Caribbean and the rustic charm of Spain all in one, Sardinia was one of my favorite destinations I went to in 2021 on our honeymoon, and somewhere I highly recommend for your 2022 travels! Boat around or lounge on a fantastic beach club, followed by delicious wine, fresh seafood and the sunset of your dreams.
Where to stay in Sardinia:
Sardinia isn't known for its super luxe hotels, but if you're looking to get bougie and rub elbows with the celebs, you can stay at the glam hotel Cala di Volpe. However, I heard it's not worth the hype. We chose to stay at Villa Del Golfo instead, a super cute family-run boutique hotel, and a perfect home base for what we wanted. Highly recommend renting a vespa or a car to get around (you can do so directly through the hotel).
THE BEST ITALY ITINERARIES FOR FIRST TIMERS
The best itinerary for Italy if you only have one week:
Option 1: Rome, Florence, Amalfi
Fly into Rome
2 nights in Rome
Train to Florence
1 night in Florence
Train to Naples
3 nights in the Amalfi Coast
Option 2: Lake Como & Venice
Fly into Milan
Train to Lake Como
3 nights in Bellagio
Train to Venice
3 nights in Venice
Option 3: Florence & Amalfi
Fly into Florence
2 nights in Florence
Train to Naples
4 nights in Amalfi Coast
(either all 4 in one spot, or 2 nights in Positano, 2 nights in either Ravello or Amalfi, with a day trip to Capri if in Amalfi)
Fly out of Naples
The best itinerary for Italy if you have 10 days:
Option 1: Rome, Florence, Amalfi Coast, including Capri
Fly into Rome
2 nights in Rome
Train to Florence
2 nights in Florence
Train to Naples
3 nights in the Amalfi Coast (either Amalfi, Ravello, or Positano)
Boat to Capri
2 nights in Capri
Boat to Naples
Fly out of Naples
Option 2: Lake Como, Venice, & Amalfi
Fly into Milan
Train to Lake Como
3 nights in Bellagio
Train to Venice
3 nights in Venice
Fly Venice to Naples
Drive to Amalfi Coast
2 nights in Amalfi Coast
Option 3: Florence, Tuscany, Amalfi & Capri
Fly into Florence
2 nights in Florence
2 nights in Tuscany
Train to Naples
4 nights in Amalfi Coast
(either all 4 in one spot, or 2 nights in Positano, 2 nights in either Ravello or Amalfi, with a day trip to Capri if in Amalfi)
Fly out of Naples
Wearing Kenny Flowers 'Positano' printed swimsuits
3 nights Amalfi
3 nights Capri
3 nights Sardinia
The best itinerary for Italy if you have two weeks:
These are just some ideas to get you started! Build your own based on what excites you the most!
Option 1: Rome, Florence, Amalfi Coast, including Capri
Fly into Rome
2 nights in Rome
Train to Florence
2 nights in Florence
2 nights in Tuscany
Train to Naples
4 nights in the Amalfi Coast (either Amalfi, Ravello, or Positano)
Boat to Capri
2 nights in Capri
Boat to Naples
Fly out of Naples
Option 2: Lake Como, Venice, Amalfi & Florence
Fly into Milan
Train to Lake Como
3 nights in Bellagio
Train to Venice
3 nights in Venice
Fly Venice to Naples
Drive to Amalfi Coast
4 nights in Amalfi Coast
Boat to Naples
Train to Florence
3 nights in Florence
Option 3: Lake Como, Venice, Cinque Terre & Portofino
Fly into Milan
1 night in Milan
Train to Lake Como
3 nights in Bellagio
Train to Venice
3 nights in Venice
Train Venice to Cinque Terre
3 nights Cinque Terre
Drive to Portofino (1.5 hours)
3 nights in Portofino
Option 3: Florence, Tuscany, Amalfi, Puglia & Capri
Fly into Florence
3 nights in Florence
2 nights in Tuscany
Train to Puglia
3 nights in Puglia, rent a car
Train to Naples
4 nights in Amalfi Coast
(either all 4 in one spot, or 2 nights in Positano, 2 nights in either Ravello or Amalfi, with a day trip to Capri if in Amalfi)
Fly out of Naples
Option 4: Pure luxury. Florence, Tuscany, Amalfi, & Capri
Fly into Florence
3 nights in Florence
2 nights in Tuscany
Train to Naples
8 nights in Amalfi Coast
(3 in Amalfi, 3 in Positano, 2 in Capri)
Fly out of Naples
WHAT TO KNOW BEFORE YOU GO
North Italy vs. South Italy
Northern Italy and Southern Italy are like two different countries! Northern Italy lies at the foot of the Dolomites and the Swiss Alps, and is bordered by Austria, Switzerland, and France. The food is actually more Mediterranean versus the pizza/pasta of the South. The pace of life is different, too. The North is also much more hustling and bustling, whereas the South has a very laid-back lifestyle. You definitely should visit both!
Tipping in Italy:
The coperto is basically a cover charge. It's charged per person eating at a restaurant. In less popular areas, it's typically between €1 and €2, but in swankier parts of Italy, it can be as high as €4 or €5. The coperto should always be listed on the menu!
The servizio is your service charge, it replaces the tip. You only see it in the popular tourist areas of Rome, Venice, Florence, and the Amalfi Coast. It's usually between 10% and 20% of the bill—and like the coperto, it should be listed on the menu if there is one.
The mancia is what we Americans would consider a tip for service. Tipping in Italy is never based on a percentage of the bill, and you do NOT need to tip in Italy. However, if you feel you must leave something for your server, you can leave a tip —but do so Italian style, not American style. The most common mancia is to simply round up your bill, or leave a couple €1 or €2 coins. Simple!
Italians eat LATE!
Most restaurants won't open until 7 or later, and if you show up at 7, you WILL be thoooose Americans that are the only ones in the restaurant, LOL (don't worry, that was me and Kenny on our honeymoon every night!). It's good to plan your meals accordingly! By the end of your trip, you'll be eating at 9pm like a local.
"Ciao," "Grazie," "Buongiorno" and "Prego" Will Go A Long Way
I always find when traveling that learning a few words in the local language will get you a long way. It's easy too! "ciao" is hello and goodbye, "grazie," is thank you, "prego" means please and you're welcome, and "buongiorno" is good day! Want to know more? Brush up on your Italian with Rosetta Stone before your trip!
Italy, but especially Naples, will ruin all future pizza for you, forever.
If you're a foodie, you're going to want to make sure you hit Naples on your trip for the best pizza in the world!
Watch out for pickpocketers
ESPECIALLY IN ROME. and especially at every single train station. They are everywhere. Be aware, especially when you're jet lagged!
Italy is gorgeous everywhere you look, so bring a camera!
Here is the camera I use for all of my photography, and all my other equipment.
Check out these other blog posts: