The Ultimate Jetset Travel Guide to Wailea, Maui
Ah, Maui. Home to dreamy seascapes, charming beach towns, epic snorkeling, hidden waterfalls, tropical rain forests, and of course, beautiful luxury resorts. Can't you just taste the mai tais now?
A trip to Maui has something for everyone – you can go to a luau and experience authentic hula dancing, swim beneath waterfalls, kayak with humpback whales, explore upcountry's paniolo (Hawaiian cowboy) heritage, hike through lush valleys, tuck into an acai bowl at a trendy café in a sleepy surfer town, or relax in a swanky pool cabana amidst swaying palms and an ice cold mai tai.
If you're planning a family vacation, honeymoon, or attending a destination wedding in Maui, I've got you covered with the Ultimate Maui Travel Guide on where to stay, what to do, and where to eat when you get to Maui!
If this is your first time in Hawaii, or on Maui, it helps to get a little oriented with a map of all of the main areas you're going to want to know.
There are 2 main sides of Maui that have most of the luxury resorts – Wailea, and Ka'anapali. For this guide, we'll focus on where to eat, where to stay, and things to do on the Wailea side. If you want to check out my Ultimate Guide to Maui – it covers all of the other areas of Maui, as well!
Wailea, Maui
Home to golden-sand beaches, swimming, snorkeling, golfing, and consistently sunny skies, Wailea is famed as the "dry" side of the island. Located about 30 minutes from the airport, it's home to some of Maui's most beautiful – and exclusive resorts. Wailea is all great golf, gorgeous beaches, luxury shopping, and perfect weather. AKA paradise.
Where to stay in Wailea:



$$$$$ The best luxury hotels in Wailea:
If budget is no object, the ultimate in luxury, the Four Seasons Maui is one of Hawaii's most beautiful – and exclusive – resorts.
Though it feels luxe at every corner (and is tranquil and exclusive) it's not as quiet and still as many Four Seasons tend to be, but rather has an upbeat vacation vibe that attracts a crowd of young couples, groups of friends, and families with small children. This resort caters to those wanting impeccable service, understated elegance, and delicious dining on the most beautiful stretch of Maui, and as such has long been a favorite Hawaiian getaway for celebrities, actors, singers and athletes. Almost every A-lister has stayed here.
Complimentary resort services outside many in-room amenities include poolside snacks, free kona coffee each morning in the lobby and at the gym, an intro SCUBA clinic, an outrigger canoe paddling expedition, paddleboarding, a well-equipped fitness center (complete with Peloton bikes!), pool cabanas, and a complimentary resort car and driver to take you anywhere in Wailea (golfing, dining, shopping, etc).
How do I get perks for being a Jetset Christina reader when booking the Four Seasons Maui?
For free breakfast for two at the FS Maui (up to $30 per person per day), a $100 resort credit, and a room upgrade (when available), fill out this contact form and be sure to use the referral code "JETSETCHRISTINA" if you use my referral, my agency partner will reach out with more information and can help book you with all kinds of fun perks (at no extra cost to you, and they don't charge a fee to book!)
For anyone looking for a large resort, or families with children, nothing beats the Grand Wailea. Neighbor to the Four Seasons Resort Maui, Grand Wailea is oceanfront on beautiful Wailea Beach. With 40 acres of property (yes, that's why they call it 'Grand') and 780 guest rooms (!!). The Grand Wailea is one of the biggest, most well-known luxury resorts in Maui, featuring a very-grand pool area that is 2,000-feet-long, with 770,000-gallons of water and nine pools, on six different levels, connected by waterslides. There's even the world's only WATER elevator. Your kids will be in heaven.
$$$$
The Fairmont Kea Lani is one of my favorite resorts in Hawaii. It is home to 450 beautiful suites on a 22-acre beachfront property that includes three pools, four restaurants, a luxurious spa, and access to world-class golf. It is one of the few Maui hotels that really masters the art of entertaining families and couples alike, and you'll see plenty of both at the resort – but it doesn't feel too crowded – even at full capacity. The Fairmont's oceanfront villas and suites are some of the largest in Maui, so if you're coming with a group or looking for a great luxury villa option – these are some of the very best on the island.
$$$
With private lanais, and a sleek contemporary feel, the Wailea Beach Resort is one of my favorite picks for hotels in Maui. During the day, you can soak up the sun in their just-renovated pools Makani oceanfront pools which feature cabanas and fire pits, and you can enjoy breakfast, lunch, dinner, and sunset mai tais at the Marriott's new Kapa restaurant and bar. They also have the Nalu Adventure Pool for families (with the longest resort waterslide in Hawaii).
The Andaz is many people's favorite resort in Hawaii. With a country-club ambiance and oceanfront views, the Andaz features 4 infinity pools, 2 restaurants, a full-service spa, and 15 acres on Waikapu Beach. Each room also comes with its own balcony, perfect for watching those incredible Maui sunsets.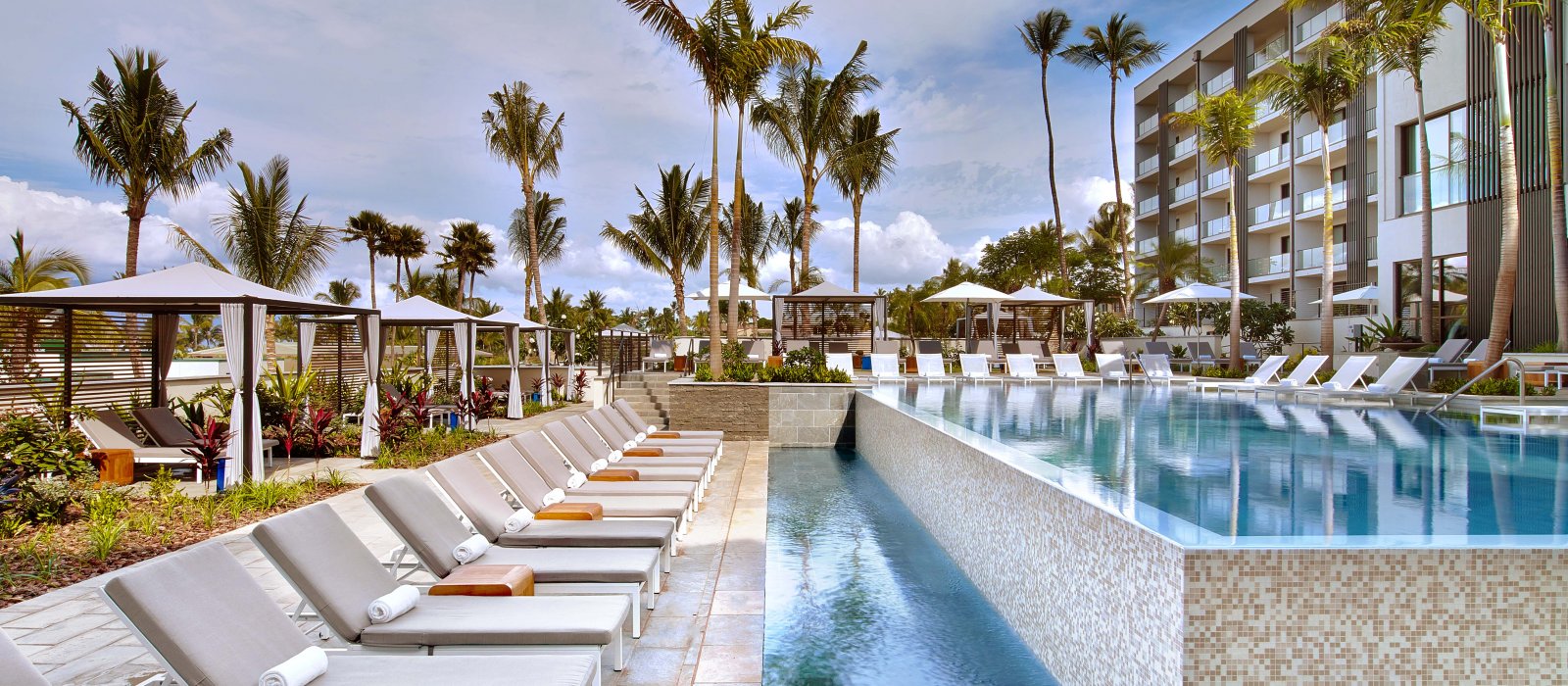 $$
Just right on the beach, Wailea Ekahi Village has 34 acres of tropical gardens and 4 outdoor swimming pools. is a great choice for anyone looking for condos and the best value in Wailea! They have 1 and 2 bedroom condos available, as well as studios for solo travelers.
What to do in Wailea:
Soak up the sun:
The southern coastline of the island of Maui stretches for 6+ miles from its northern end at Maalaea Bay to its southern end at the entrance to the luxury resort area of Wailea.
Wailea Beach
Fronting both the Grand Wailea and the Four Seasons Resort, this is one of the most beautiful beaches in Wailea. There's good snorkeling, paddleboarding and kayaking right in the little crown-shaped cove that makes up this beach. The great news? By law, all the beaches in Maui are public, so you can post up at either of these beaches for the day, even if you're not staying at the resort.
Mokapu & Ulua Beach Parks:
Located right between Andaz and the Wailea Marriott, these two connecting beaches are great for snorkeling and diving! The first beach on the north (right) side, Mokapu, has shallow reefs perfect for snorkelers. The second, Ulua, is well known as a dive spot for beginners.
Makena Beach
Known to the locals as "Big Beach", Makena Beach is the largest continuous stretch of beach on the island at over a mile long and over 100 feet wide. It's gorgeous – and definitely worth a visit!
Snorkeling in Wailea
While there is probably plenty of snorkeling right outside your resort (and you'll often see turtles!), I recommend doing a snorkel trip to Molokini for the day!
Sunset sailing in Wailea
Another fun activity to do in Maui is a sunset sail!
Go to a Luau!
If it's your first time to Hawaii, a luau is a must! The Grand Luau at the Grand Wailea is a favorite on the island, as is Lahaina's Royal Lahaiana Luau, or ask your hotel for recommendations!
One of the most beautiful hikes in Maui! It's closest to Ka'anapali, but only about 45 minutes from Wailea.
The Road to Hana
Famed as one of the most beautiful drives in the world, the Road to Hana is on most travelers' bucket lists. Once you get to Hana, you'll be greeted with lush rainforest, dramatic and rugged ocean vistas, countless waterfalls and pools. The only downside? It takes a 52-mile highway stretch with winding and narrow one-lane roads, and 600 turns to get there. Definitely not an activity for those who get carsick!
Where to eat in Wailea:
Ferraro's Italian – Four Seasons
Ferraro's is a super cute outdoor patio restaurant at the FS Maui. It has some of the best Italian on the island, and a great pizza menu available all day. They also have a fantastic wine list. Order the Four Season's brand chardonnay – you can only get it at their resorts and it's sooo good.
This beachfront Japanese restaurant from Iron Chef Masaharu Morimoto is one of the best places to go for a nicer meal in Wailea.
Monkeypod Kitchen
Located a 30 minute walk off the beachfront in Wailea (or a 5 minute drive), Monkeypod is a favorite for upscale casual dining. Make sure to make a reservation- they get busy!
Some of the best seafood on the island!
JETSET TIP: Go for the happy hour 5-6:30.
Where to eat outside of the resort in Wailea:
While staying in a resort like the Four Seasons or the Grand Wailea is amazing, sometimes you just need to find a good smoothie, 6-pack or burrito that's not at resort-prices. Here's where I like to go to find more affordable meals than at your resort in Wailea:
On your way to or from the airport: Haleakala Highway Food Trucks
I don't care when your flight gets in, your first stop should be to the food truck lot at 591 Haleakala Highway. It's about 5 minutes from the airport, and has DELICIOUS food trucks – my favorites being "Like Poke?" for incredible fresh Hawaiian poke bowls (and poke nachos, yum!) and Mo'Ono Hawaii for acai bowls! There are also other cuisines to choose from as well. It's a great first (or last) stop in Maui to or from the airport.
The Shops at Wailea
Once you're in the resort zone of Maui, a short walk from all the resorts in Wailea is a shopping center called the Shops at Wailea – which has a ton of options to choose from for some great off-resort meals.
Cheeseburger is awesome for a casual burger night (I love the one with a grilled pineapple!), and also has a $7.99 breakfast deal – with $6 mimosas and bloody mary's) each day.
Longhi's Wailea
Local, family owned Hawaiian eatery famous for their fresh seafood and Italian food on a beautiful outdoor patio, and even more famous for their delicious breakfasts Don't miss out on the cinnamon roll or their french toast. To die for. Happy hour from 3-6 daily.
Tommy Bahama's features a spacious patio and delicious Hawaiian menu. Great for groups. Reservations recommended. Happy Hour: 2-5 PM and daily
Live Music: Daily 5:30-9:30 PM
A great stop for salads, sandwiches, breakfast burritos and prepared foods to go. Open from 6:30am. Breakfast available all day.
Honolulu Coffee
Great coffeeshop to get your morning buzz on. Open from 6:30am. On the upper level of the Shops at Wailea.
The best little donut truck in Wailea!! You'll love this spot.
View this post on Instagram
Best Restaurants in Kihei
Although it's a 10 minute drive away from Wailea, there are a ton of great dining options in the nearby less-resortey-more-local town of Kihei. If you care more about the food than the views, head to these:
We loved this casual sushi spot with some of the best sushi on the island!
Best acai bowls (& avocado toast) in town!
Really good contemporary American/Hawaiian food. Order the poke nachos & seared ahi!
Many people claim this as some of the best sushi in HAWAII! It's pricey and takes a reservation, but worth it!
Hawaiian shave ice is a MUST on any trip to Hawaii. This is the best one for a sweet treat on a hot day.
Okay it's a further drive away (about 30 mins from Wailea), but if you have a rental car, this is my favorite dinner spot in the world. Secluded on Maui's beautiful North Shore, Mama's is a bucket list restaurant. The upscale restaurant features contemporary Polynesian food, putting a modern twist on Hawaii's culinary history. The menu changes daily, but it's sure to be the best fish you can get anywhere in the islands. The menu even tells you the name of the fisherman who caught your fish that day! Take one sip of Mama's famous Mai Tai, watch the sun set over the Pacific, feel your fresh caught mahi-mahi melt in your mouth and boom. You're in paradise.
When is the best time to visit Maui?
On the Wailea side, you get pretty amazing weather year-round. Locals will tell you the best times to visit are April and May, or October and November since these are the shoulder seasons, but anytime of year is wonderful. Though November through March is "rainy season" on Maui, you don't get much rain on the Wailea side.
When is whale season in Maui?
Whale season in Maui runs from December 15th-May 15th! So bring your binoculars if you're traveling during this time – and consider doing a whale-watching tour! It's definitely still possible to see whales outside of the official"whale season" dates, but you'll have the best luck January through April.
Wondering what to wear in Maui? Here are some of my favorite Maui outfits

The best swimsuits to pack for a trip to Hawaii
These Wailea print swimsuits, of course!
Kenny and I are always wearing matching couples swimsuits, and this is our favorite print – named after Wailea, Maui!

Matching his and hers vacation outfit? yes please.
Check out some of my other blog posts here!
Four Seasons vs. Andaz Maui – What's the Difference?
Blogs used to all be about travel stories – and while I love giving you guys guides and recommendations, sometimes we all just need a good story.
What I use to take my photos
Easy tips for better vacation photos
The best tie dye bikinis and one pieces
The 20 Travel Essentials You Need to Jetset Like a Boss
What to wear to a summer or tropical wedding
JETSET AWARDS : The Top 10 Resorts of 2018
The Ultimate Guide to the Amalfi Coast