10 Tips to Have the Absolute Best Time on Your Honeymoon ( or Next Vacation! )
When it comes to planning your honeymoon – the biggest trip you've ever been on with your favorite person in the world – it's hard not to feel the pressure to make it absolutely perfect! But it's important to remember that while almost everything related to wedding planning can get pretty stressful, there are little things you can to do make sure your honeymoon is NOT one of those things!
This is your chance to relax & rejuvenate after months of planning your wedding, and enjoy each other's company, so you come home relaxed, rejuvenated, and MARRIED!!! The honeymoon is a trip of a lifetime, and should be the easiest, most stress-free one yet! These quick and easy pieces of honeymoon planning advice will help make the most of your honeymoon, or next vacation, no matter which honeymoon destination you choose.
Here are my tips for enjoying your honeymoon (or next romantic getaway) to the very fullest
Go at the time that's best for you both
Put some serious thought into when you should go on your honeymoon. Sure, tradition used to say it needs to be right after the wedding, but more and more couples are opting for a mini-moon instead, and going on their honeymoon later in the year. Do what's best for both of you, and your work schedules. You don't want you or your spouse stressing about it being a bad time at work to get away, and you want to feel like you truly deserve and can take advantage of your trip of a lifetime.
Don't overdo it
Remember you'll be exhausted after the build up to the wedding and the big day! Not to mention the jet lag, so be sure to build in some extra "leisure" days to your honeymoon itinerary. With a honeymoon, since it's such a trip of a lifetime, people have a tendency to want to overbook themselves. But it's important to keep your expectations for how much you can see in so little time in check!
This is probably your first time traveling to Bali, the Amalfi Coast, or the Maldives, and the amount of things you can do is endless!! Keep in mind that you don't have to do it all – you don't want to exhaust yourselves!!! Honeymoons should be rejuvenating and relaxing, not exhausting. Make sure you keep some time to relax and ENJOY yourselves, not constantly be on-the-go.
Agree on how much time relaxing vs. exploring you should do on your honeymoon
On that point of not overdoing it, try to agree to how much activity versus how much relaxing you want to do on your dream trip. Maybe you're a couple that would rather waste the days away surfing, snorkeling, reading books and soaking up the sun, or you're more of an adventurous couple who wants to conquer a new place and see everything there is to be seen on their honeymoon. Regardless, it's important to talk about what your ideal days look like on your honeymoon, and how many days of exploration vs relaxing you imagine. I've even had couples tell me they booked two honeymoons, in two very different destinations, because they couldn't agree, hah!
Put the phone away
Your friends know you're having the time of your life, so go ahead and put your phone on airplane mode (because let's be honest, you still need it for those epic vacation photos). No one that's taken a day on airplane mode regretted it later. After entertaining tons of family and friends and throwing the party of the year, take some time for yourselves to enjoy each other, and relax.
Let your hotel know it's your honeymoon ahead of time
Most hotels will do something special for you if they know it's your honeymoon – whether that's upgrading you if there's a better room or suite if available, or give you something special like flowers, a bottle of champagne or chocolates in the room on your arrival. It's an easy way to feel special and extra cared for on your trip, so it's definitely worth reaching out and giving them the heads up!
what the sweet Four Seasons Bali did for us after we got engaged!
Budget extra for hidden honeymoon costs
With any luxury vacation, I like to budget about 25-30% extra for hidden costs. This includes resort fees, tips, Visas, airport transfers, you name it. In Hawaii, almost every hotel has a 'resort fee' charged at checkout. In the Maldives, seaplane transfers to your hotel can cost $800 per person. In Bora Bora, food and drink alone can ring you up WAY more than you had anticipated. You don't want to feel stretched thin on the most romantic vacation of your lives. So figure out what your honeymoon budget should be, and pick a destination and hotels, flights, activities and restaurants that, even with a 25-30% extra buffer, fit within that budget.
If you think ahead and prepare for hidden costs, you won't stress about money on your trip. And I don't know about you guys but the trips that I've mostly paid for ahead of time, and don't have that many unanticipated expenses up front ON the trip are always the least stressful!
Consider a partial upgrade
While everyone wants to fly business class on their honeymoon, it's not always that realistic – especially if you're flying a far distance with multiple legs (like to Bora Bora or the Maldives). Maybe you can't afford to splurge on round-trip business class airfare, along with a five star honeymoon resort, but consider upgrading just one leg of your trip to make it special! Airlines will often have good deals on business class for parts of your trip, or if you can consider getting a honeymoon suite for just a couple nights. There are ways to make the trip feel special without breaking the bank.
Buy travel insurance
Buy travel insurance because you just never know what will happen in this world, and, just in case there's some natural disaster (like a typhoon hitting Bora Bora, an earthquake in Napa Valley, or a volcano erupting in Bali), you want to be covered, and be able to change your plans should the situation not look ideal for your trip.
Travel insurance comes in many different varieties, so consider the specifics of your trip to figure out which travel insurance is right for you.
Trip cancellation coverage provides reimbursement if you cancel for a covered reason (which of course varies by policy).
Missed connection coverage and trip interruption coverage give you reimbursement and help if you miss a flight or cruise or if you need to cut your trip short due to an emergency back home.
Medical coverage covers you in case you need medical treatment outside of the U.S.; some plans also cover emergency medical evacuation. Some policies now have options for cancellation for any reason at all!!
My pick for Travel insurance is WorldNomads.com – available to people from over 140 countries and is designed for travelers with cover for overseas medical, evacuation, baggage and a range of adventure sports and activities. It's simple, easy to use, and always keeps me safe abroad.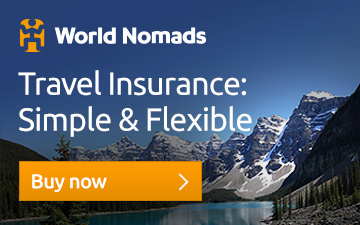 Pack some of your favorite wines!
I'm always a fan of packing wine for a vacation. As a Napa girl, I never know if I can trust the quality of the wine (or hiked-up restaurant wine prices!!) in faraway destinations (unless i'm traveling to Italy or California!!), so I always bring a couple of my favorite 'special occasion' wines for us to enjoy around the world. It's an easy way to have a great excuse to open up a special bottle (maybe one that was served at your wedding?) and soak up the view from the hotel balcony.
**but be sure you're allowed to bring wine to your destination!! In Bali, you're only allowed one bottle of alcohol per person, and in the Maldives, you can't bring any wine with you!
Don't forget to pack your best go-with-the-flow attitude
As any experienced traveler knows, sometimes things just happen: rain in the weather forecast in Bali? Don't worry!! Missed your connecting flight? Got totally lost on your way to the hotel? Did he forget one of your bags (no seriously, Kenny did that to me on one trip to Aspen… forgot AN ENTIRE BAG!!!) Whatever goes wrong, grab a cocktail, cheers each other and laugh about it. After all, it's the most hectic and spontaneous experiences that are the honeymoon stories you'll be telling for years.
Wearing: matching Kenny Flowers suits!
Wherever you go in the world, enjoy your honeymoon!!!
PS- did you know I do honeymoon consultations and custom honeymoon itinerary planning? If you're overwhelmed when it comes to planning your honeymoon (but don't want to hire a travel agent, just need someone to help work out the details) email me at [email protected] to discuss my rates!
XX
Christina (& Kenny too!)

How to plan the perfect honeymoon
The Ultimate Honeymoon Packing List
The Best Luxury Honeymoon Resorts in the World
All-white outfits for bride-to-be's for every wedding-related event
The Ultimate Maldives Honeymoon Guide
The Ultimate Guide to Santorini
How to choose a honeymoon for your budget : What a honeymoon actually costs
Things to do as soon as you get engaged to start wedding planning
What to wear to your rehearsal dinner as the bride
What to pack for a honeymoon in the Maldives
The 10 Best Save the Date Designs
How to take better vacation photos with a great camera for travel & people photography