The Top 10 Absolute Best Travel Destinations with a Baby
Alright baby jetsetters, are you ready for your parents to take you on the adventure of your lifetime? Lucky you! These are the absolute BEST destinations to travel with a baby (or toddler) around the world, tried and true by our little family! So whether you want to stay close to home, or jet-set a little further away, these are the best destinations with a baby, and the best time of year to travel to them!
Portugal
Portugal is an exceptional destination to travel with a baby! The Portuguese are extremely baby-friendly, and when we went with our baby we were surprised to learn quickly that you will be encouraged to skip EVERY line if you have a baby (like, rushed to the front! even at Starbucks!) it's such a nice community in Portugal, and we felt SO welcome everywhere with a little one. I recommend flying into Porto and heading to Douro Valley (wine country!) and maybe rent a villa on the coast in Comporta if you are down for a little road trip with your little one!
When we went to the Six Senses Douro Valley with our little one at just three months old, I asked if the hotel had a crib, they replied that they have absolutely everything we need for the baby, and that we should 'bring nothing'. They also had wonderful in-room childcare available at 20 euros per hour, which we used and loved!
Where to stay in Portugal with a baby:
We loved this hotel in Porto with a baby, then we headed to Six Senses Douro Valley which was exceptional with a baby, and I also recommend renting a villa in the cute, low-key surfside town of Comporta, a great family-friendly Portugal destination.
Japan is one of the most baby-friendly travel destinations in the world. The culture is exceptionally clean, organized, and beautiful!!! It's an amazing trip to do as a family, and they're SO friendly toward babies and toddlers.
We did a trip to Tokyo with our baby boy at 16 months old, but I think it would have been a good vacation spot for babies of any age! Check out our Tokyo itinerary with a toddler here.
What makes Tokyo a good travel destination with a baby
The culture in Japan is extremely baby-friendly, the public transit is easy (and stroller friendly!), or the entire city is walkable as well if you want to get your steps (and stroller naps) in! We found it to be a great destination for our baby boy, and there are lots of parks to walk to, too! For babies that have turned into toddlers, Tokyo is an exceptional toddler travel destination for its exciting interactive museums, kid-friendly attractions, and Tokyo's Disneyland!
The best time of year to visit Japan with a baby
The best time of year to visit Japan is April-May or September-October, when temperatures are mild, there isn't much rain, and skies are generally clear and sunny! Any time of year is beautiful in Japan, but my favorite season to visit is cherry blossom season (April/May) or fall in Japan! We did Tokyo in October and the weather was absolutely gorgeous.
If you're looking to get away as a family somewhere tropical and want an easy trip full of relaxation (much-needed in that first year, especially!!!!), Mexico is a perfect choice for your family vacation with a baby! We've been to Mexico a few times with our son Harrison and each time is so amazing. He loves it, and the hotels in Mexico are so good and accommodating with kids and babies!
Where to stay in Mexico with a baby:
$$$$:
If you're looking for a luxury resort in Mexico that will blow your expectations out of the water, and is EXCEPTIONALLY baby and kid friendly, but super luxe at the same time, it's the Rosewood Mayakoba. We headed here when my son was just 3 months old as our first international trip with a baby, and I couldn't be happier we did. The service at this resort is next-level, when we arrived our room was stocked with a bottle warmer, baby bath tub, sterilizers and more. They have everything you need!!! And their service goes above and beyond to be sure to give your family the vacation you deserve. They also have super-talented on-site nannies available, which we loved using!
Make sure you take some time to yourselves to go to the Sense spa, which sits on its own private island overlooking beautiful, lush, limestone lagoons!
BTW, for free breakfast for two at the Rosewood, a $125 resort credit, and a room upgrade (if available), fill out this contact form and be sure to use the referral code "JETSETCHRISTINA" if you use my referral, my agency partner will reach out with more information and can help book you with all kinds of fun perks (at no extra cost to you, and they don't charge a fee to book!)
The Waldorf Astoria Pedregal Los Cabos is a jaw-droppingly-beautiful hotel nestled between the Pacific Ocean and Cabo's majestic cliffs, in the prestigious gated resort community of Pedregal. This resort is amazing, and we love it here so much (we also babymooned here!)
And ALL the rooms at the Waldorf have an in-room plunge pool?! Which is so ideal if you're traveling with little ones like we were with my 9-month old baby boy. He loooooved the private pool, which was always a balmy 85-90 degrees (perfect for babies!).
.
$$-$$$:
For families and multi-generational groups looking for a Mexico all-inclusive resort that's good with families, I'd always recommend choosing Finest Playa Mujeres! I loved this hotel and it is the only all-inclusive luxury family friendly resort in greater Cancun, and the only one of the three resorts that isn't adults-only!
It's easy to see why young families are drawn to Finest – not only do they have the most expansive and beautiful kids club I've ever seen (waterslides, movies, round-the-clock activities, full-time nannies at no additional cost (!!!!!!!) & the option to stay with your kids if you want to!), but the family-friendly atmosphere throughout the resort is one that will make every family want to come back year after year.
Napa Valley
Now I know what you're thinking – Napa with a baby!? But when you think about it, wine countries around the world are famed for their relaxing slow pace of life, delicious food, amazing hotels, and, of course, wine to keep the parents happy! And after 9 months without drinking wine, don't you think you deserve a little wine tasting getaway!? I think California wine country is such a fun trip with a baby. (and I have all the best wineries that accept kids in Napa on this list here)
Where to Stay With a Baby in Napa Valley
Montage Healdsburg – For a luxurious baby-friendly stay in the valley, check out one of wine country's newest properties, the Montage. We stayed here with my 3-month-old baby and it was just perfect. With 2 gorgeous pools surrounded by vineyard views, and modern, sophisticated, refined rooms overlooking the vines, it's hard to beat a stay here. I also LOVED the restaurant – Hazel Hill. If you're looking for the ultimate luxurious place to stay in California wine country, this is your spot.
The Fairmont Sonoma Mission Inn & Spa is another great spot with kids or a family. Super spacious rooms, a great pool, and all of the family-friendly activities in Sonoma that your heart desires!
The best time of year to visit Napa Valley:
Napa is beautiful no matter the season. With a baby, I would recommend Fall with harvest going on, or spring!
The absolutely stunning red rock formations in Sedona is easily one of the most stunning travel destinations in the USA. Many people believe that this region has a number of natural vortexes that radiate the earth's energy, making it an ideal hub for all sorts of spiritual practices, alternative medicines, crystal healing and more! And making it an ideal getaway destination in the USA for people looking to come back rejuvenated, re-centered, and refreshed.
Where to stay with a baby in Sedona
Enchantment Resort – We stayed at Enchantment Resort with our baby boy and loved it so much! Read my full review of Enchantment Resort Sedona here. We loved how easy the hiking trails were to access – we didn't even have to get in the car!
The best time to visit Sedona
Spring in Sedona is the most popular, and thus most expensive (and crowded) time to visit—you will find great (but not too hot) weather, making for beautiful hiking (and stargazing!) conditions. I do not recommend summer with a baby (it will be much too hot!!!)
Fall is similar to Spring in that it's pretty popular – but the weather is a little more prone to clouds and rain. And winter is typically the least crowded and least expensive time to visit Sedona, and weather can be anywhere from the 30s to the mid 60s, and can even snow or rain! But, you can also get beautiful sunny-but-chilly skies, which is what we got when we went in the winter I was SO happy to visit in the winter, and found it to be a great time to visit Sedona, as long as there's no snowstorm!
Switzerland
Switzerland is known for its pristine natural beauty, delicious food (fondue!! chocolate!!), and absolutely stunning mountain landscapes. With its beautiful thriving cities, picturesque storybook-like villages, and many outdoor activities for every time of year, Switzerland is a perfect destination for family vacations with kids and a great travel destination with a baby of any age. Base yourselves in Lucerne,
What makes Switzerland a good travel destination with a baby
Switzerland is very safe and babies and children always feel welcome. There are great facilities for children everywhere, and there are many activities and attractions that both kids and adults can enjoy together.
When to visit Switzerland with a baby
The best time to visit Switzerland with kids is summer, from June to August. The weather is great, and you can take advantage of all of the outdoor activities Switzerland has to offer as a family. From hiking the stunning landscapes, to swimming in the lakes, the options are endless! If you want to avoid crowds, consider traveling in the shoulder season (September!).
Okay so this one is a further flight (for most of us from the USA, but the lucky Europeans and Asians have a direct flight there!!), but the Maldives with a baby is an unbelievably dreamy bucket list family trip, and it's such a great luxury baby-friendly destination!
It's impossible to beat the relaxing, slow, luxurious pace of life on a small island, biking around, stargazing at night at the stars, and experiencing beautiful the most beautiful place in the world together as a family. Visiting the Maldives with a baby is more than a vacation, it's a relaxing lifestyle you'll find yourself rejuvenated from and will want to come back to year after year.
The best places to stay with a baby in the Maldives?
One&Only Reethi Rah, Maldives – With the One&Only's gorgeous family villas with pools, its amazing kids club KidsOnly, and its absolutely incredible island, that is accessible by boat from Male (so you don't need to hop on yet another flight with your little ones!), One&Only Reethi Rah, Maldives is one of my top choices for families in the Maldives.
Or choose Six Senses Laamu, one of the best resorts in the Maldives, and one of my very favorites! I'm always blown away at how kid-friendly and baby-friendly they are there, with everything from octopus pancakes for the kids, to the children's club The Den, to in-villa babysitting, toys, baby chairs and hammocks readily available, even little ones have big adventures at this family-friendly resort in the Maldives.
The best time of year to visit the Maldives
The driest season runs from November-May in the Maldives, so I'd recommend traveling to the Maldives one of those months.
Charleston is super baby and kid-friendly and makes for a perfect getaway with family (or a multi-generational getaway, or a friend trip with a couple families!). With the best food scene in the US (you can read up on my Foodie Guide to Charleston here), gorgeous colonial architecture, the nearby beaches, and of course, the quintessential Southern hospitality, there's nowhere quite like this charming Southern city.
If you're looking for a hotel, The Hotel Bennett is a great choice. Or check out Zero George for relaxed luxury, or Charleston Place if you want to be in the heart of the action, and look into Kiawah Island if you're looking for a quiet more remote luxury getaway outside of town, or Wild Dunes for a more happening fun family-friendly resort on the beach.
read all about our hotel stay at Kiawah Island with a baby here.
The best time of year to visit Charleston with a baby:
I recommend May and June or September and October for visiting Charleston with a baby! This way, you'll have beautiful weather but without the high humidity heat that the summers in Charleston bring.
The Caribbean
St. Martin
St. Martin in the Caribbean is a great choice with a baby for the calm beaches, nice water, and family-friendly atmosphere. The Belmond La Samanna is the nicest resort on St. Martin. It was built to feel like Greece, but in the tropics, and is characterized by stunning white stucco Mediterranean architecture decorated by lush tropical foliage, colorful details, and bouganvillea that makes you feel like you're somewhere between Italy and Greece. Belmond La Samanna is an exclusive luxury resort secluded on the absolutely stunning beach of Baie Longue. Belmond never misses, but this is one of my favorite hotels. There are 83 beautifully-decorated ocean-view guest rooms, suites, and multi-bedroom villas, and all of the facilities here are colorful, chic, tropical, and make for an absolutely perfect Caribbean vacation.
Where to stay in St. Martin with a baby
We stayed at The Belmond La Samanna and we highly recommend it. It was great for a family with a baby!
What Makes St. Martin baby-friendly?
Yes! St. Martin is one of the most kid-friendly destinations in the Caribbean, and a great spot for little ones due to its calm beaches, soft sand, kid-friendly restaurant scene, and warm weather. We had the best time traveling to St. Martin with our baby – who was 11 months old at the time. The hotel (Belmond La Samanna) felt extremely safe and easy to navigate with a baby!
Anguilla, located nextdoor to St. Martin is one of the most beautiful islands in the Caribbean. I highly recommend Belmond Cap Juluca for a family-friendly luxury resort. We went for our babymoon in Anguilla and absolutely LOVED it. We both said we couldn't wait to come back with our baby because the beach here is so baby friendly!
Where to stay with a baby in Anguilla:
For luxury
This dreamy Caribbean resort features white-washed Spanish style architecture set against bright blue water – giving alllll the Mediterranean energy. Each room here comes with two serene beach lounge chairs on the white-sand beach reserved just for you. And with four on-site dining options, this hotel focuses on quality local ingredients, most of which they source from their own greenhouses. This is a great luxury resort for those with little ones!
For value
Frangipani Beach Resort is a great resort hosting just 19 rooms and one four-bedroom villa – but don't let its size fool you! This resort has amazing hospitality, and features like a fitness center, bike rentals, a spa, water sports, boat tours, and a popular beachfront restaurant called Straw Hat. It's also located on dreamy Mead's Bay (the same beach as the Auberge Malliouhana!), which is arguably the best area to stay on the island. Let Frangipani know that Jetset Christina sent you!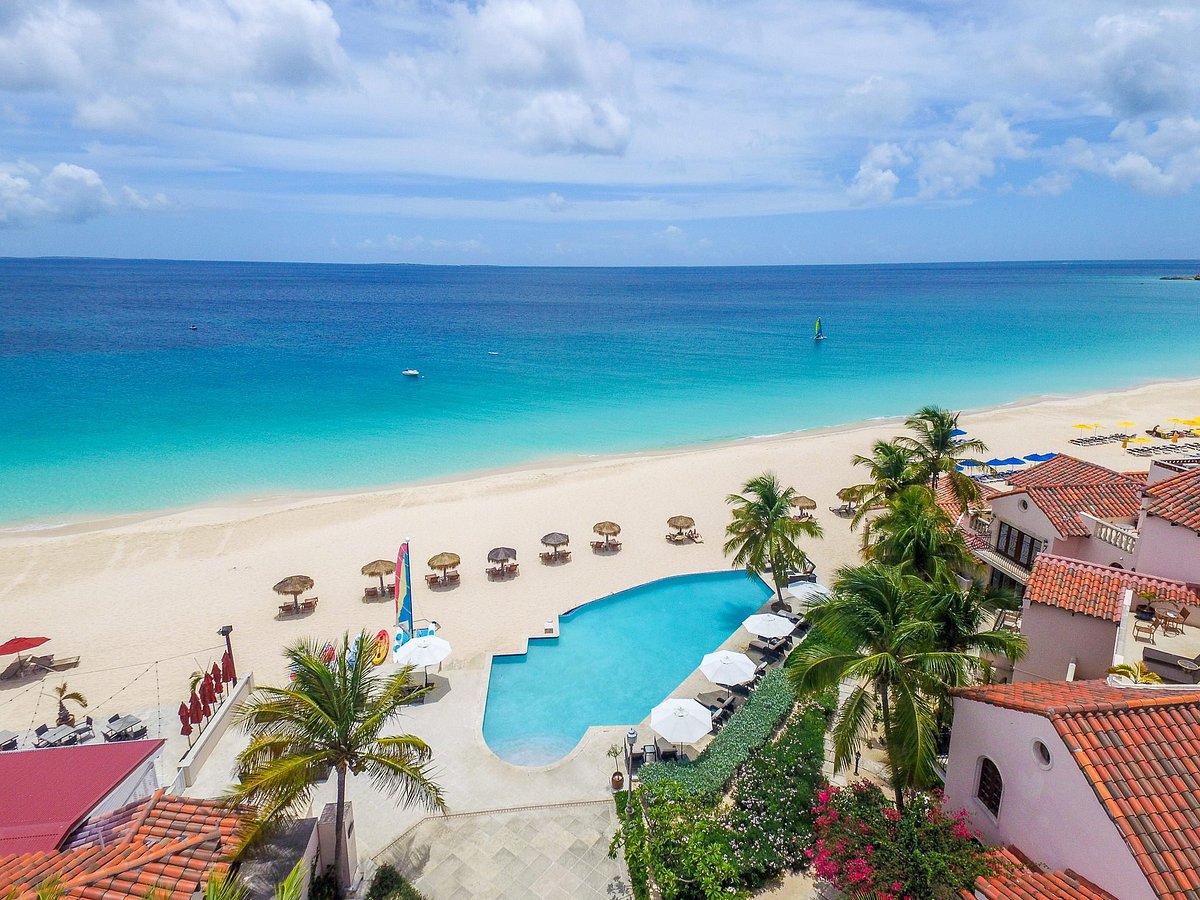 Hawaii
The islands of Hawaii are a perfect destination for families with a baby. I grew up traveling to Hawaii as a little girl (at least once a year!) and I have the BEST memories of Hawaii with my family. Now, traveling as a mother with my own baby, I truly think there's no vacation like Hawaii when it comes to traveling with a baby or toddler.
Where to stay in Hawaii with a baby
On Maui, we love the Four Seasons Maui and it is similarly super baby-friendly!
The Four Seasons Maui caters to those families wanting impeccable service, understated elegance, and delicious dining on the most beautiful stretch of Maui, and as such has long been a favorite Hawaiian getaway for celebrities, actors, singers and athletes. Almost every A-lister has stayed here!
The Big Island:
Four Seasons Hualalai is an ideal destination in Hawaii for a family with a baby (we have stayed here in the past and it is absolutely dreamy!!). Here, you can request anything and everything to make your stay more comfortable, from a crib, playpen, diapers, wipes, a white noise machine, a bottle warmer, "little swimmers" diapers for the beach/pool, a nursing pillow, and a high chair! This is an incredible convenience because it means less packing/stressing for you when traveling with a baby!
BTW – For free perks like breakfast for two, a $100 resort credit, and a room upgrade (when available),

fill out this contact form

and be sure to use the referral code "JETSETCHRISTINA" if you use my referral, my agency partner will reach out with more information and can help book you with all kinds of fun perks (at no extra cost to you, and they don't charge a fee to book!) This goes for planning trips to other destinations and hotels too!
Check out these other related blog posts:
.
.