The Best Types of Trips to Take With a Baby (and Where You Shouldn't Go!)
Once you become a parent, that beautiful little baby becomes your whole world. Everything you do revolves around your bundle of joy, and life as you know it pretty much changes in every way. But, that definitely doesn't mean you can't still do the things you love! It just means you have a cute little plus one to bring with you!
Traveling has always been a huge part of my life, and I am personally SO excited to travel as a family of three. I was lucky enough to create such incredible memories with my family growing up as my parents took me and my brother around the world, that inspired my passion for travel, and eventually quitting my corporate job in San Francisco to move to Bali and pursue Jetset Christina full-time. I truly cannot imagine my life without travel, and neither can Kenny, so traveling with our little coconut and showing our child the world so that they can become a well-rounded citizen of the world is something we will work hard to prioritize. And we want to help you travel more (and easier!) as a family too!
As a disclaimer, I just want to say that if you are not ready to travel or are not comfortable doing so with a baby, that's perfectly okay. There is no right or wrong time to start traveling again – it is all up to you and your new little family! Only you know what is best for you and your baby, no matter what anyone else says. And hey, who says a staycation in your city (or somewhere nearby) can't be the best vacay ever?!
For those of you who do want to travel with your baby, I'm sure you're wracked with questions like "How soon can I travel with a baby?" and "WHERE can I travel with a baby most easily?" Which is where I come in. Here are my top Jetset-approved types of trips to take with your little one (along with a few hotel and resort recommendations for each!). I have also included a few general places that you shouldn't go with a baby, as well as a few tips and tricks for flying with a baby for the first time.
First of all, let's cut to the chase,
How soon can you travel with a baby?
That's totally up to you! Talk to your doctor and see what their advice is. Assuming both mother and baby are healthy, plenty of babies fly as soon as a few weeks old. It's a personal decision! I'm personally not planning on flying with our little baby until a couple months old. We're excited to be home and nest with the little one for those first couple months. But, then, provided everything is looking healthy and the doctor okays it, it's go time!!! All of the advice I've heard from other moms is that the the first year is actually the BEST time to travel with a baby, and to take advantage of it. At the 3-9 month old baby stage, parents really can take advantage of your baby's flexibility, and help it to become more adaptable. Most 3-9 month old babies will still sleep a lot and even nap easily on-the-go in a carrier or car seat. Plus, babies aren't usually mobile at this stage so you have less worries.
The Best Types of Trips to Take with a Baby
Baby

-friendly beach resorts

When you dream of a luxurious, relaxing vacation, chances are, you're dreaming of a beach! Beaches can be a great place to take a baby (as long as you are prepared with the right products to keep your baby happy and safe). Be sure to grab some baby-safe sunscreen, a sun hat, baby sunglasses, a float (with a canopy!) for the pool, and a pop-up beach tent. And if you are looking for the cutest swimsuits to dress your little one in this summer, check out my top recommendations in this post!
The Best Beach Destinations to Travel to With a Baby
Y'all know how much Kenny and I LOVE Hawaii! Not only did we get married here, but we also spent our final babymoon here (and we can't wait to make more memories with our little beach babe here in the years to come!). Hawaii is great for a trip with your baby because the islands are easy to navigate, they are safe and very clean, and Hawaii prides itself on being a family-friendly vacay destination! Many of the resorts have family-friendly rooms complete with cribs, bottle sterilizers, and so much more.
Where to Stay With a Baby in Hawaii
I would specifically recommend going to either the Big Island or Maui if you are traveling with an infant. On the Big Island, my top recommendation is Four Seasons Hualalai (Kenny and I have stayed here in the past and it is dreamy!!). Here, you can request anything and everything to make your stay more comfortable, from a crib, playpen, diapers, wipes, a white noise machine, a bottle warmer, "little swimmers" diapers for the beach/pool, a nursing pillow, and a high chair! This is an incredible convenience because it means less packing/stressing for you when traveling with a baby!
In Maui, I would recommend Four Seasons Maui, Westin Maui, or Sheraton Maui. Similar to the Hualalai property, Four Seasons Maui offers tons of amenities for families (check out a full list here!).
Matching family outfits by Kenny Flowers. Photo by @bebanones
Rent a Beach House
Seaside, Florida
Now that we're living on the East Coast, the Florida panhandle has been on my radar quite a bit recently, specifically the area of 30A/Seaside. This area has some of the softest white sand and calmest, clearest blue water in the U.S., making it perfect for vacationing with your little one. When you visit, you will immediately pick up on the tranquil beach vibes as you walk past the white picket fences and quaint beach bungalows. Dreamy!
Where to Stay With a Baby in 30A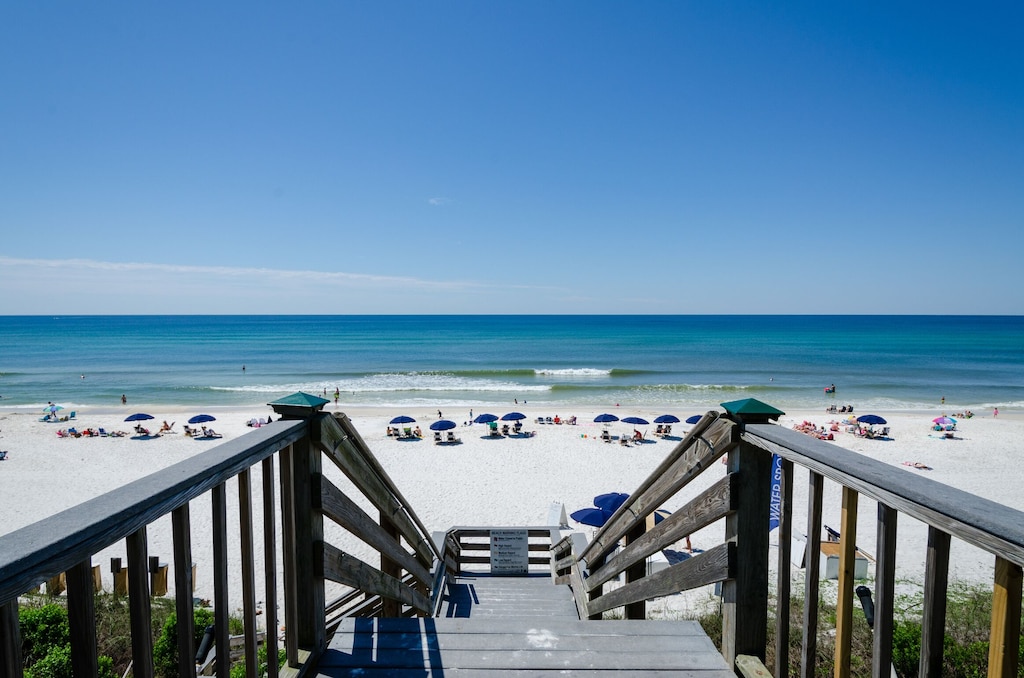 With a convenient beach entrance only a few steps away, this 2 bedroom is a great choice in Alys Beach.
Or try this adorable home in a gated community with an un-crowded beach.
I highly recommend renting a VRBO in Seaside! There are hundreds of cute beach houses that will make your stay super comfortable, especially if you are traveling with other friends or family. This beach house has free bikes and a private pool with enough room for 9 guests, while this condo is reasonably priced (only $471/night!) and is right on the water. If you are traveling with the whole fam for a reunion or family vacation, check out this incredible home where the beach is your backyard!
If VRBOs aren't your style, grab a room at The WaterColor Inn & Resort (rated #1 on Trip Advisor as the most kid-friendly hotel in 30A!). Hey, maybe you could wear your Watercolors Swim and matching Kenny Flowers/Kiddy Flowers at the WaterColor Inn?! 😉
San Diego, California
For those of you who are new around here, Kenny and I used to live in San Diego. This was our "home base" before we bought our home in Charleston, and it is a place that is near and dear to my heart as my grandparents have lived there for more than 50 years! San Diego is known for its beautiful beaches and near-perfect weather 365 days per year, making it a fabulous beach destination for families.
As an added bonus, San Diego is home to Lego Land, which is a must-see for the kids! I would also recommend that you go to the San Diego Zoo (one of the best zoos in the world!), Sea World, or venture around Balboa Park with your little one in tow.
San Diego is a great place to rent a beach house and relax steps away from the sand. There are hundreds of great options! Personally, I would look into neighborhoods La Jolla, Del Mar, and Mission Bay. If you're looking for a VRBO there, I would recommend this sophisticated beach-front sanctuary or this luxury condo in the heart of the village. For those of you who are looking for a house instead of a condo, this three-bedroom home in La Jolla sleeps six!
On a budget? Snag this two-bedroom right on the water (only $183/night!!).
Where Else to Stay With a Baby in San Diego
If you decide to go the hotel route, check out Fairmont Grand Del Mar. For those of you who are five-star hotel goers, you'll love the amenities included here! San Diego Mission Bay Resort also offers great amenities for both parents and infants.
Theme Park
Is there anything better than the happiest place on earth with your little one?
Disneyworld
For many, it's the happiest place on earth. It's the place where dreams come true and kids are able to live out their princess and superhero dreams in real life. It's Disney World!! Orlando is a no-brainer when it comes to bringing the kids. Disney World will probably be one of their core memories from their childhood. And if you are looking for a solid mix between a beach vacation and Disney, consider a Disney Cruise!
Where to Stay With a Baby in Orlando
There are several places to stay right at Disney World from Disney's Animal Kingdom Lodge to the Walt Disney World Dolphin Hotel (near EPCOT). But I have to say, I think my top pick would be the Four Seasons Resort Orlando at Walt Disney World Resort! Here, you get the best of both worlds – you get the luxury of the Four Seasons while staying right on the Walt Disney World property!
Wine Country Getaway
Now I know what you're thinking – wine country? With a baby!? But hear me out on this one, wine countries around the world are famed for their relaxing slow pace of life, delicious food, amazing hotels, and, of course, wine to keep the parents happy! I think wine country can be a great trip with a baby. Here's where I'd go.
Sonoma, California
Sonoma isn't just for bachelorette parties and girls' trips! The towns surrounding Sonoma are extremely inviting, super relaxing, and many of the restaurants, although luxurious, are family-friendly. Plus, let's face it, chances are you have been waiting a year (or more) to drink wine again. Why not enjoy California's best wineries with your baby in tow?!
Where to Stay With a Baby in Sonoma
Fairmont is a brand that features family-friendly hotels and resorts all over the world. The Fairmont Sonoma Mission Inn & Spa is no exception. Here, you will enjoy spacious rooms and all of the family-friendly activities your heart desires!
My top recommendation if you are looking for a bed and breakfast in Sonoma is Beltane Ranch. Beltane Ranch offers stand-alone cottages that will allow you the space and privacy you are craving. Each cottage is complete with a kitchenette, so you can cook your meals easily without having to head into town!
Douro Valley, Portugal
Last year at the tail-end of my honeymoon, Kenny and I visited the Douro Valley and I was pleasantly surprised at how baby-friendly Portugal is for families! We will be returning to the Six Senses Douro Valley with our little one and when I asked if the hotel had a crib, they replied that they have absolutely everything we need for the baby, and that we should 'bring nothing'. They also have in-room childcare available at 20 euros per hour.
City Weekend
For those of you who can't stand the thought of entertaining a baby at the beach and constantly wiping sand off of them, perhaps a city is more your speed!
The Best Cities to Travel to With a Baby
Toronto, Canada
Neighboring the United States to the north, Canada is a fairly simple getaway for Americans. Overall, Toronto is known as a safe and clean city featuring tons of green spaces for families to relax in. It is also a very stroller-friendly city, so you won't have any issue toting your little one around!
Where to Stay With a Baby in Toronto
The best place to stay with a baby in Toronto is Hotel X (located right on Lake Ontario!). Hotel X offers free cribs and infant beds, in-room childcare (for an additional charge), and a refrigerator to keep milk cold! Plus, their rooms are very spacious, so you and your partner will be able to have some alone time in the room after baby goes to bed without having to worry about waking him or her up.
San Antonio, Texas
San Antonio is a wonderful place to bring your kiddo! The city has a zoo, a children's train, and even a hands-on sensory exhibit called The DoSeum that was made just for kids. Plus, the riverwalk is an easy-to-navigate area that is perfect for a walk with baby in your UppaBaby stroller!
Where to Stay With a Baby in San Antonio
The top two places that I would recommend staying with a baby in San Antonio are Hotel Emma and JW Marriott San Antonio Hill Country Resort & Spa. Hotel Emma is a five-star luxury hotel complete with cribs and baby products for infants, plus a swanky hotel bar for mom and dad! The JW Marriott in San Antonio has over 1,000 rooms with different layouts, so you can choose whatever works best for you. They have a pool just for young kids, and they also offer shaded cabanas with fridges to help keep bottles cool!
Charleston, South Carolina
I had to put my home city in the mix! When choosing a home base, Kenny and I had several non-negotiables. Since we knew that we wanted to grow our family sooner rather than later, living somewhere family-friendly was at the top of the list. In Charleston, you'll see babies and kids everywhere!!! From roaming around the breweries, to living their best life at the beach, Charleston is extremely baby-and-kid-friendly.
Where to Stay With a Baby in Charleston
In my opinion, the best places to stay in Charleston with your baby are Wild Dunes Resort or Hotel Bennett. You can book Wild Dunes Resort via VRBO as it is a vacation rental located in Isle of Palms (known for its beaches, eateries, and sea turtles!!). If you are looking for a downtown hotel that is very walkable, go for Hotel Bennett. You won't be disappointed!
Chicago, Illinois
Perhaps you are craving the busyness of New York City or Washington D.C., but you can't quite wrap your head around what it would be like to shlep the stroller down the subway stairs – Chicago is for you! Chicago is a cleaner city than both NYC and D.C., and it is also a bit safer overall. The city is fairly compact and easy to navigate, plus, you won't find the sky-high prices that you would experience in Manhattan.
Where to Stay With a Baby in Chicago
Warwick Allerton – Chicago was rated the #1 hotel for families in Chicago by hotels.com. This property offers free cribs and playpens for infants, babysitting services (for a surcharge), and daily housekeeping to ensure your stay is as comfortable as possible. 21c Hotel Museum Chicago also offers free cribs/beds for babies, and for mom and dad, they have a luxurious spa onsite.
Mountain Retreat
Once your kids turn three, they can begin to learn how to ski and/or snowboard! But even before then, the mountains are always a beautiful place to take the fam and your little snow bunny any time of year.
Vail, Colorado
Vail has beauty and luxury similar to that of the Swiss Alps without the long plane ride for those of you who live in the U.S.! It is very similar to Aspen (check out my blog post comparing the two, here!), but it seems to be more family-friendly than Aspen is. When staying at The Vail Resort, you can enjoy free childcare for infants ages two months and up!! This is a huge plus as it allows you and your partner to go hit the slopes or check out the après ski scene. Vail also has free public transportation as well as playgrounds for kids who are a bit older.
Where to Stay With a Baby in Vail
My top two recommendations for your stay in Vail with a baby would be Four Seasons Vail or Antlers at Vail Hotel. I've already gushed about how great and family-friendly Four Seasons is, but here's a little bit of info about Antlers at Vail Hotel: this resort has condominiums complete with a full kitchen, and they even offer a free shuttle to the grocery store to make cooking easy! They truly offer white-glove service when it comes to your little one – you can call ahead to pre-arrange baby monitors, car seats, and even bottle warmers!
All-Inclusive Resort
Feeling adventurous? Ready to take your baby a little further away from home? Let's go international!! It's time to turn that little bundle of joy into a jetsetter (just don't forget that your baby will need a passport, too!).
Montego Bay, Jamaica
I have heard a lot of hype lately about Jamaica, and from a family perspective, I can see why! Jamaica is easy to get to (just a few hours from the U.S.), and it is peppered with all-inclusive resorts, making your stay a walk in the park.
Where to Stay With a Baby in Jamaica
All-inclusives are used to having families at their resorts, so I would opt for one of these if the idea of staying in one place sounds nice to you. Most of these resorts offer nanny services, and you can request cribs and other baby products as well! If you are open to a hotel that isn't all-inclusive, I recommend Round Hill Hotel & Villas. This property has onsite family specialists who can arrange all family activities, particularly for your baby! Paul McCartney and Ralph Lauren have stayed here while in Jamaica, so you know it's good!!
Puerto Vallarta, Mexico
My love for Mexico runs deep, so I can't wait to show our little coconut all of the places we love here! Puerto Vallarta seems to be a great place for the whole family from its authentic Mexican feel to its pristine beaches and calm waters.
Where to Stay With a Baby in Puerto Vallarta
You can't go wrong at the Grand Velas Riviera Nayarit! This oceanfront all-inclusive really gives your baby the VIB (Very Important Baby!!) treatment. Upon check-in, you will receive toys, pool floats, and even clothes for your baby! The onsite spa offers baby's first haircut complete with a certificate, and the chefs make fresh purees daily. Need I say more?!
Playa Mujeres, Mexico
Located just outside of Cancun, Playa Mujeres is one of the best Mexico destinations for a baby or kids!
For families and multi-generational groups, Finest Playa Mujeres is the move – since it is the only all-inclusive luxury family friendly resort in greater Cancun, and the only one of the three resorts that isn't adults-only.
It's easy to see why young families are drawn to Finest – not only do they have the most expansive and beautiful kids club I've ever seen (waterslides, movies, round-the-clock activities, full-time nannies at no additional cost (!!!!!!!) & the option to stay with your kids if you want to!), but the family-friendly atmosphere throughout the resort is one that will make every family want to come back year after year. Not to mention the relaxation that comes with not having to worry about keeping your kids occupied (or touching your wallet!!) the second you step foot onto Finest. It's a vacation that pleases both kids and adults, with both aspects of relaxation and fun! During my stay I also admired how many multi-generational families were traveling together and enjoying the resort together as a group, but still while doing their own things. I loved that Finest has something for everyone, so families and kids could do their own activities during the day, but meet up with their bigger groups for dinner at the end of the day.
European Escape
If you're down for an adventure with your baby, consider these dreamy European escapes
Cascais, Portugal
There is no rush to go international with your baby, and it's important to be sure that you are truly comfortable before booking anything overseas. But once you and your partner are ready to take baby abroad, I recommend Cascais, Portugal! Cascais is located on the southwestern tip of Portugal. This area has easy-to-navigate roads, clean cities and coastlines, and best of all, friendly locals.
Where to Stay With a Baby in Cascais, Portugal
When visiting Cascais with a baby, you should stay at Martinhal Lisbon Cascais. This hotel has a collection of villas whose rooms are fully equipped with bottle sterilizers, baby gates, door handle protectors, cribs, and more! Their restaurants have playscapes if your kids are a bit older and want to play, and the chefs make fruit and veggie purees daily.
Where You Shouldn't Travel With a Baby
At the end of the day, where you travel is 100% up to you and your partner! However, I think that it is important to consider all of the possible cons of traveling to certain destinations with a baby. Here are the types of destinations to avoid when traveling with a baby.
Africa
Chances are, if you are traveling to Africa, your baby may need special immunizations or malaria pills. In my opinion, this just isn't worth the stress while juggling all that parenthood already entails! I would recommend taking the kids on an African Safari when they are older and will really remember the experience.
Somewhere With a Really Long Flight
The Maldives and Bora Bora are incredibly dreamy destinations, but traveling with your baby for 24+ hours, throwing off his/her sleep schedule, and trying to adjust to a new time zone all while caring for an infant might just be a little too much stress. But, that being said, if you're up for it, go for it! Just be sure you're there for a long enough time.
Anywhere You Will Have to Camp or Won't Have Necessities at Your Fingertips
Let's be real – I don't like the idea of camping (or even glamping), period. But staying in a tent or camper without running water or air conditioning with a baby? Forget it! Not for me. There are just too many things that you need to have at your fingertips to keep your baby comfortable IMO.
Beach Locations With High or Dangerous Waves
If you are going to the beach, you probably want the option to bring baby into the water (even if it's just long enough to snap a cute picture for the family scrapbook!). But if you choose a destination with high waves and dangerous rocks, your baby won't be able to be in the water safely. Look for destinations with easy beach entrances and very little waves.
Somewhere Secluded Where You Couldn't Easily Get Help in an Emergency
The likelihood of an emergency while you are on vacation is low, but with a new baby, you can never be too cautious! Try not to choose a destination that is too secluded or is hours away from the nearest town with a doctor, just in case.
Check out these other blog posts
The best baby registry must-haves
All about our Anguilla babymoon