Everything You Need to Know About Traveling With a Baby and Why You Can – and Should – Do It!!!!
As someone who loves to travel, I'd be lying if I said I wasn't nervous that having a baby was going to change our lifestyle a little too much. When we got pregnant with our little boy, I still had so many places on my bucket list, so many adventures I still wanted to have around the world, and I wasn't ready to stop everything to be a mom. I wanted to be a mother (more than anything!!!), but I also wanted to keep traveling. And I wondered why it so often seemed like I couldn't do both! Who decided those two things were mutually exclusive? I was determined to pave our own path, and find ways to keep traveling… WITH our baby! As a family! Not only that, I made it my mission to learn everything I could along the way in order to bring you guys allllll the baby travel tips to help you travel as a family, as well! Because I firmly believe that traveling as a family is one of the best things you can do for your children, and for yourselves!
I grew up traveling with my family all over the world and those vacations shaped who I am as a person, and they are the best memories I look back on, even still today. I have enjoyed creating our own precious travel memories with my little family around the world so much already, and I can't wait for all of our future adventures together. I want our little boy to grow up to be a citizen of the world! I don't think staying at home in the bubble of our town and sticking to his strict routine all of his life is going to do him any good. I want him to be adaptable, to see different cultures, to experience different places and people, from a young age.
And, let's face it, MAMA NEEDS A VACATION every once in a while. We all do. And I'm here to say that vacation you crave is going to be even better when you bring your little one with you. You just need to prepare a little ( you came to the right place), and you're going to have the BEST time!
On our first flight with our baby boy, I, like every new parent, had no idea what to do. What to bring on the plane, what to expect traveling with a baby, how to get through security, I felt so lost! Now that it's been a year of traveling around the world with our little one, and over 70 flights, in 8 different countries, with my baby boy before his first birthday, we've had so many amazing adventures, and we've gone through many different travel mishaps and lessons learned, as well. I'm so excited to share everything we've learned about traveling with a baby in this blog post, and answer all of the questions I get every day on instagram in one place!!!
Here are all of your questions about traveling with a baby, answered!
How soon can you travel with a baby?
Most pediatricians recommend waiting until after the baby's first round of immunizations before traveling with your baby. When we talked to ours, she said to wait about a week after those immunizations ideally, and when we traveled, to be extra cautious about germs. She recommended us to bring extra pacifiers (because they will fall on the ground and the last thing you want is plane germs on your paci!), and to wear the baby in the airport vs a stroller (that way, they're facing you and less likely to interact with germs. Besides those tips, she said to go out and enjoy the world!!! Like most moms I talked to, she said that if we feel up for it, there's nothing stopping us from seeing the world with our baby. Which was all the 'permission' I needed, I booked our first getaways, researched EVERYTHING there was to know about traveling with a baby, geared up (literally! with alllll the baby gear), and never looked back!
What is required to travel with a baby?
To travel internationally, your baby will need his or her own passport, regardless of their age. We applied for Harrison's first passport when he was only a few weeks old. Here's my article all about how to get your baby a passport. To travel domestically, you don't need identification for your baby, but it is a good idea to have a copy of their birth certificate on hand just in case, and the airline will print a boarding document (similar to a boarding pass, but not their own boarding pass, for your infant. If you bought a seat for your baby, they will receive their own separate boarding pass. Babies fly free in lap until 2 years old, but you may choose to buy them their own seat (more on that below!)
our matching swimsuits linked here
What is the airport check-in and boarding process like for traveling with a baby?
The stroller then has to be folded into the X-ray and the car seat separated. This is the most annoying part of the travel day since it's a lot of un-doing all your gear and re-putting it together again.
Does baby need their own TSA Pre-check & Global Entry?
Parents/guardians who are enrolled in TSA PreCheck® may bring their children with them through a TSA PreCheck® lane. However, if you have global entry, you need to enroll your baby in their own global entry by submitting their separate application.
Should my baby fly in my lap or should I get them their own seat?
When traveling with a baby, you have two options: get them their own seat (at full price), or fly with them for free by carrying them in your lap. The decision to get your baby their own seat, or fly with them in lap, depends on many factors like the price of the ticket (is it worth it to you to have baby in their own seat for the flight and free up your hands for some of the time if they're napping, etc.), the age of your baby (when our baby boy was just a few months old, he slept so often it was very worth it to us to have him in his own seat, but as he got to more 6-12 months old, he wanted to be in my arms the whole time anyway, and would cry when he got in his car seat, making spending money on a separate ticket useless. This decision also often has to do with the duration of the flight for me, as on a shorter flight, I'm completely fine having him in my lap, but for a longer flight (or say, all the way to Bali, where we took him at 8 months old!), I definitely wanted more space for him and to be able to stretch my arms every so often!
Yes – some international flights have bassinets for babies on the plane – which is SO cool! They are for children under 6 months of age, so if your baby is sitting upright already, they unfortunately are too big for the bassinet! But, if you're like us and traveling under 6 months of age, they can be a life-saver on an international flight -and, the best part? THEY'RE FREE!
If you're traveling internationally, call the airline immediately after booking your flight and ask that you request a bassinet. Also ask that they book you to the bulkhead seats. Do not make my rookie mistake and request the bassinet but not double check that your seats are in the bulkhead! That's what happened to me on our first flight trying to use a bassinet on the plane for our baby.
Do I need to travel with my car seat? Do I need to travel with the car seat base?
Unless where you're heading has a car seat ready for you at the airport (some hotels have this for you included in their transportation!), you will need a car seat to safely transport your baby at your destination. You do not need to travel with your car seat base if your car seat is approved for use without its base (our car seat, the MESA infant car seat, is approved for use without a base, and we attach it right onto our MINU travel stroller, making it super easy).
How do you change a baby's diaper on the plane?
There are two ways to change a baby's diaper on the plane – in the airplane bathroom, but the changing table is TINY and you will be extremely cramped, or the much easier expert way I recommend – right there on the tray table or even on the floor of the plane! Of course, make sure it's hygienic – use a disposable changing pad and make sure nothing is exposed, but then just do it! You can often be much faster this way and no one will mind!
What's the best time of day to fly with a baby?
If you can, try and schedule flights during nap time! We've found that when we're smart about our flight schedule, flying is SO easy with the baby. We love to schedule flights over his nap time, so that he's naturally sleepy for most of the flight!
Do babies get jet-lagged?
Yes, they do. Babies feel everything you do, they just don't know how to communicate it as well! So yes, baby will be cranky when they're a little jet-lagged, and they'll take a few days to adjust! (just like you!) but, don't worry – they DO adjust!!!!! When we got home, Harrison was crankier than normal and not sleeping as well for the first two days, and then completely back to his normal self by day three. I could tell he was jet-lagged! They'll bounce back! Just be sure to give them all the love and TLC while they adjust back to their normal schedule.
How do you navigate time zone changes and naps when traveling with a baby?
Navigating time zone changes with a baby is one of the most common questions I receive on instagram. Trust me, it's less scary than you think!!! We went all the way from the US to Bali with an 8 month old, and then all the way from the Maldives to the US with a 9-month old, and, now, I feel like we can do anything!
If you're going far away, it will take a couple of days to adjust to a new schedule with your baby. Although your baby's internal clock may tell him or her that it's evening, try to keep baby busy during the day and spend as much time as possible outside in the light during the day. Your baby should only take a day or two to adjust to any changes when traveling.
Deciding Whether the Time Zone You're Traveling to is Worth Adjusting Baby's Schedule
If you're only taking a short trip one or two time zones away, it actually may be better to just keep your child on their normal sleep schedule and eating times, naps, bedtime an hour earlier or later, etc. Sometimes, when we travel just one time zone away, we'll just make our baby boy's bedtime and nap times an hour different. It's not a solution for longer trips or when you cross multiple time zones, but for quick trips with a baby, it can make it easier than trying to get your little one to adjust to a whole new routine while traveling, this is an especially key tip if you've already got a good sleep schedule going!
Did you know many hotels have complimentary baby amenities?
Always ask for what baby amenities are available at your hotel! I learned early on that every hotel we went to would leave baby amenities in his crib when we requested a crib (think baby soap, shampoo, baby lotion, etc) meaning I didn't have to bring his baby shampoo, which was one less thing to pack. At some of the nicer hotels we stayed (like Rosewood Mayakoba, they even had diaper pails, a baby bath, a bottle sanitizer, and a monitor ready for us in our room!).
Is there any way to rent baby equipment so that I don't have to pack so much STUFF?
YES!!! Aside from complimentary baby amenities, look up this company! They offer baby equipment rentals in destinations all over!!! You can rent clean, safe & insured baby gear rentals – things like strollers, cribs, wagons, beach gear, toys, high chairs, baby baths, bouncers and swings, etc! It's a genius company, that makes travel so much easier for parents who already have so many bags to bring!
Wearing our favorite matching family swimwear
Is it hard to travel with a baby?
At times, of course, it's more difficult to travel with a baby since traveling with a baby adds an extra element to your trip. But, I think it's important to remember there are times when travel is stressful even if you DON'T have a baby with you. Travel, in its nature, with or without a baby, can be as stressful (or as fun!) as you let it be. I was told by many moms to travel as much as we possibly could in the first year, because little babies (especially if they're not walking yet) are the most adaptable and easy to travel with! But, that being said, it's certainly not impossible to travel with a toddler who's moving around, it's just easiest to travel with an infant before they're fully mobile (and running around!)
I think the key to keeping your positivity when traveling with a baby is to lower your expectations and remember that you're on a different schedule than you would be if you were traveling just the two of you! You may not be able to do EVERYTHING you would if you weren't with a baby, but if you adjust your expectations and allow yourself to move a little slower, you're going to have the best time.
What age is easiest to travel with a baby?
The best time to travel with a baby, most moms and dads agree, is between three and nine months, and any time after age two or three. The age between 3 and 9 months is when babies have developed their immune systems a little (and had their first shots), and they aren't yet mobile. They are also the most adaptable (especially for big trips or a lot of time zones!). The toddler phase is definitely thought of as the hardest age to travel with a little one, but that doesn't mean it isn't worth doing!
We use the Minu V2 by Uppababy travel stroller with our MESA Uppababy car seat attached to it. (Note that you need to use these adapters to attach it!). As far as how it works flying with your travel stroller, when you get to your gate, you ask for a gate check ticket for the stroller, and then when you get to the airplane you leave the stroller there. If you have your own seat for the baby, you pop off the car seat part of the travel stroller and you can use it in the airplane – so easy!! And if not you gate check the stroller and the car seat. We use this big duffel bag to put them in when gate checking to keep them clean! You can also fly with the travel stroller in the overhead bin, but I usually have so many things I'm traveling with I'd rather use the overhead bin space for those!
I also added these handy hooks so that I can hang random bags on the stroller bar (very handy in the airport, but please be careful not to put anything too heavy on there that would tip the stroller!!!!!) and I added a stroller caddy and a cupholder from Amazon – highly recommend! I love that this stroller has so much storage (for a travel stroller!)
Can you bring breast milk on a plane? Is it considered a liquid?
Whether you're breast-feeding, formula-feeding or bottle-feeding, rest assured that you are allowed to bring baby formula or breast milk on the plane when you're traveling with your baby! Formula, breast milk, toddler drinks, and baby/toddler food (to include puree pouches) in quantities greater than 3.4 ounces or 100 milliliters are allowed in carry-on baggage on US flights. (Allow for some extra time at the airport to get through security, as you may be subject to additional screening.)
Here's what the CDC recommends about storing milk and to keep in mind if you are pumping on your trip:
You can carry freshly expressed milk in an insulated cooler bag with frozen ice packs for up to 24 hours. After arriving at your destination, use the milk right away, store it in the refrigerator, or freeze it. If you carry frozen milk in a cooler with frozen gel packs or ice, check your milk when you get to your destination. Upon arrival, if the milk has ice crystals, you can refreeze it. Keep in mind that previously frozen milk should be kept cold and used within 24 hours from the time it thaws completely. This will depend on the time spent traveling and the temperature of the cooler. If possible, check the milk after a few hours in the cooler to see if it has thawed.
When you're moving from place to place, the best way to store breast milk is in sealed containers kept in a small, insulated cooler with frozen ice packs.
Cute breastmilk coolers!
and don't forget ice packs like these specially-made-for-breast milk ice packs on Amazon
What stuff to bring with you when traveling with a baby
These are the number one travel toy I'd recommend for a baby!!!!! they are SO handy, at EVERY age, and keep babies super entertained. We've been using them since he was just a couple months old and he's still obsessed at a year old! They have suction cups so you can stick them on the airplane window, or on the back of a book! He loves them.
Or get this whole mini voyager toy pack on Amazon here
His favorite book
If you don't already have these books, you NEED them. They are literally all he wants and will take him from crying fit to happy camper within SECONDS. They're sensory and great for brain development. They're just the best, and they have multiple themed to different types of animals! We love the Sea Tails one.
We brought these for baby's first flight but I actually didn't find this ULTRA necessary, unless you're on a plane that's extra noisy. The normal airplane white noise is so relaxing to babies, that I don't think you necessarily need headphones. However, too loud of noises can be bad for ears over time so it doesn't hurt to have them on hand for any ultra-noisy situations. We did use them when I felt like we were more toward the back of the plane where it was louder! But I didn't use them toward the front of the plane.
Sanitizing wipes for the seat
& all of our hands
A LOT of (good!) diapers
I kept about 10 of these in our carry on and then packed a bunch of diapers in our checked bag. Yes, you can buy diapers at your destination but I highly, highly recommend investing in Coterie diapers on travel days especially. They are SO much better than other brands at avoiding blowouts, and keeping baby comfy by absorbing so much better than other diapers, which is a godsend on travel days! If you take one baby travel tip from me, let it be this: BUY THE GOOD DIAPERS. Give them a try, and thank me later. Also you can get $10 off to try Coterie if you go through this code (not sponsored at all, they just have a referral program!)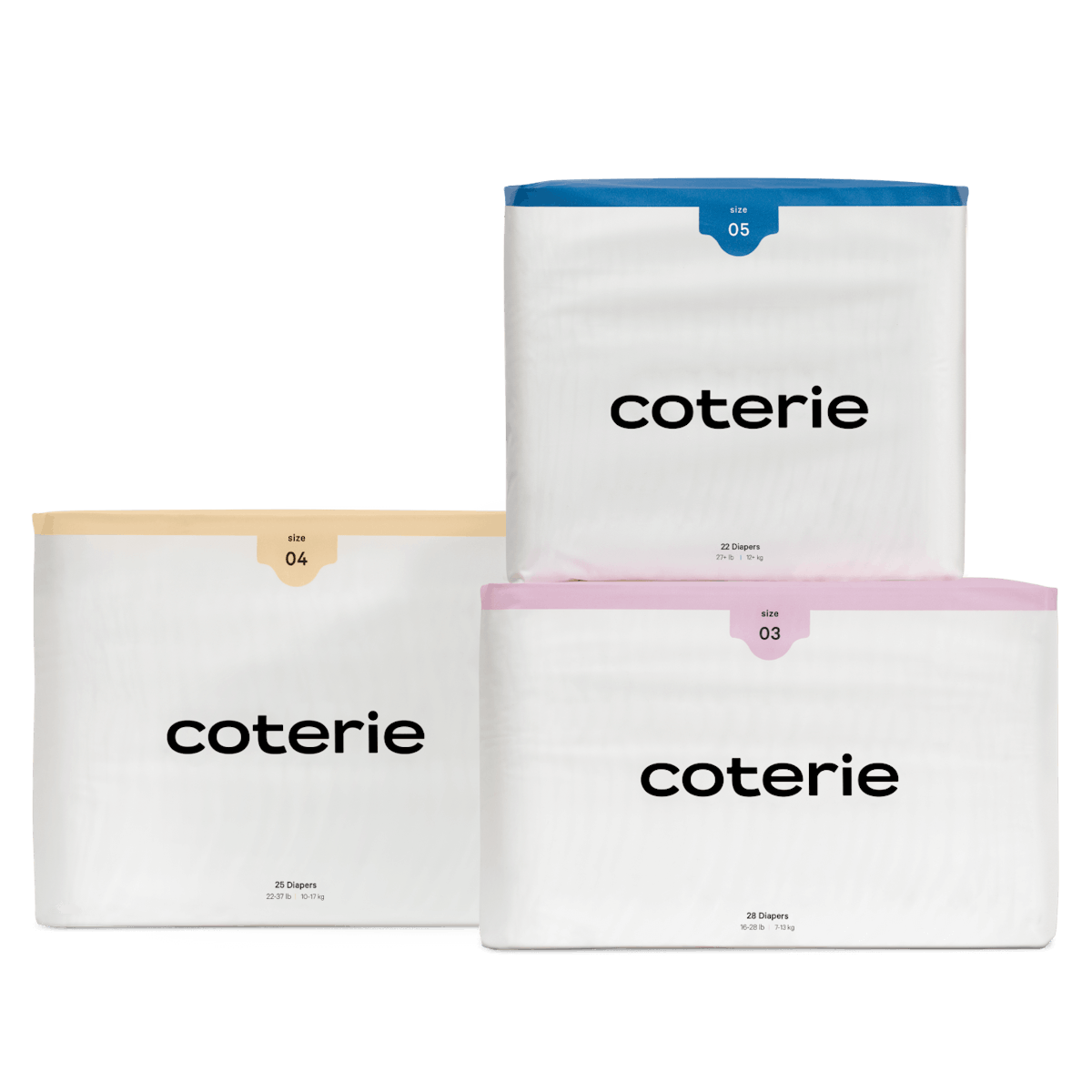 These definitely came in handy for airport bathrooms, etc. I also thought we would have to use the airplane bathroom for changes (yikes!) but we didn't need to! I changed him each flight right before the flight and he would make it all the way through (thanks to the diapers above!) I did have to change him once on one of our flights but I did it right on the tray table (well covered up with the disposable changing pads!) which was 10000x easier than doing it in a cramped airplane bathroom – highly recommend.
Portable diaper bag dispenser
We use this one from Munchkin – these come in handy for any diaper changes where you may not be immediately near a trash can (i.e. on the plane!)
You really, really, REALLY can never have enough. Especially on a travel day when they are inevitably going to end up on the (gross, germ-filled) floor of the airplane, airport, etc. Stock up! I like to keep mine in a separate pouch readily available in the diaper bag. Harrison loves these pacifiers.
Extra onesies
You have to be prepared for a blowout! But hopefully you won't need them. Also, if you're traveling to a warm destination you'll definitely want to pack a lightweight outfit to change baby into once you arrive! (We kept him warm enough in long sleeve onesies with footies on the plane, since planes can get cold! but then changed him in the airport bathroom when we arrived so he didn't get too hot.)
These are the onesies Harrison loves to travel in
I organized all of the above in these clear tote pouches which helped keep everything easy to find when you need them! The last thing you want is the baby getting fussy and you can't easily find what you need right away from your bag!
Extra clothes for you
Once again, if there's a blowout, or spit up, you'll be glad you had an extra outfit.
This thing is AMAZING, it's aerated but keeps you covered when you want to breastfeed in public – i.e. on a flight! One of the best baby travel tips to keep in mind is to always feed the baby at takeoff and landing (it's good for the pressure on their ears, and helps calm them!) and I found myself whipping out the cocoon anytime he got fussy – worked like a charm! I also used it throughout the trip, anytime I was at dinner or anything like that and needed to feed the baby! It's seriously the best – can't recommend it enough. The best part? It actually looks fashionable! This is the one that I have.
A baby carrier
You will definitely want a baby carrier to carry your baby through the airport! And sometimes, to hold them on the plane! I have two carriers, and I highly recommend either! The Artipoppe or the Ergobaby! He's ultra-comfy in both, and I honestly use both a lot. He loves to sleep and walk in the carriers, so I feel like a nice carrier is a really great investment gift for a new mom or dad.
Here is the link to the Artipoppe. This is the exact Ergobaby we have – but it comes in many colors! You can get 10% off using this link and the code JETSET.
My flying outfit here is simple, functional, and comfy – this nursing bra, with this bra-top over it, and these comfy sweats, sneakers, as well as a comfy hoodie for on the plane!
Do you guys have any other questions about traveling with a baby that I can answer? DM me on instagram @jetsetchristina!
Check out these related posts:
Harrison's birth story – navigating the NICU, labor and delivery