The Ultimate St. Martin Travel Guide
When it came to where to vacation in the Caribbean this spring, my husband and I decided on St. Martin. We were looking for something easy to get to from the states, with a gorgeous hotel that we could post up at for some much needed R&R. We were also looking for something baby-friendly, since we wanted to bring our little 11-month-old boy along, too! St. Martin turned out to be the best getaway for our little family. Only a few hours away from Miami, it's an easy one stop from most places in the USA, or a direct from the big airports! The hotel we chose was absolutely UNREAL (I get into that more below) and we couldn't have asked for better weather. It definitely won't be our last time in St. Martin!! Whether you're traveling to St. Martin on a romantic getaway as a couple, as a family on a family vacation, or as a group on an adult spring break, here are all of my tips to make sure you have the best trip to St. Martin, from where to stay, to what to eat, what to do, the best beaches, beach clubs, and more.
Shop my hat here
Where to stay in St. Martin
The Belmond La Samanna is the nicest resort on St. Martin. It was built to feel like Greece, but in the tropics, and is characterized by gorgeous Mediterranean architecture and lush tropical foliage, with colorful details and bouganvillea that makes you feel like you're somewhere between Italy and Greece. Belmond never misses, and La Samanna is one of their best resorts. It's exclusive and boasts one of the best beaches in St. Martin, or even the entire Caribbean, on Baie Longue. There are 83 beautifully-decorated ocean-view guest rooms, suites, and multi-bedroom villas, and all of the facilities here are colorful, chic, tropical, and make for an absolutely perfect Caribbean vacation.
We stayed in a oceanview suite with terrace. All of the rooms at La Samanna, A Belmond Hotel, St Martin have stunning private balconies and some even have a plunge pool. I don't think it's necessary, however, since the beach is right there! And the main pools on property are SO beautiful (and kid-friendly!).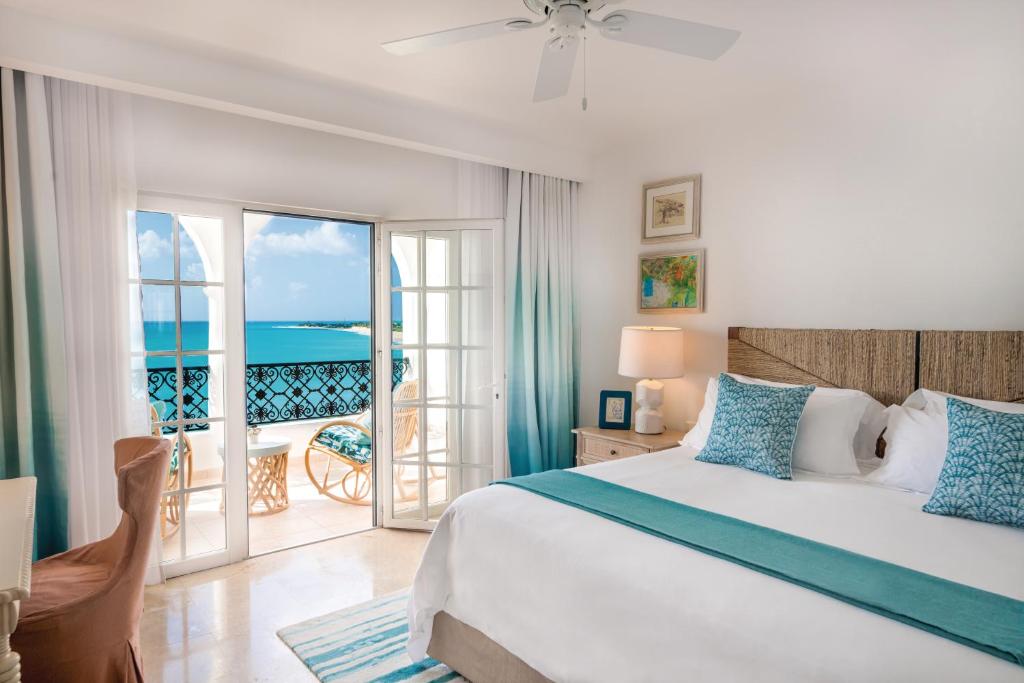 Ready to book? Contact my travel agent – she doesn't charge a fee for Jetset Christina readers (just use this link and the referral code JETSETCHRISTINA) and she can get you perks like a complimentary upgrade, resort credit, free breakfasts, and more!
What is the best time of year to visit St. Martin?
We traveled to St. Martin in May, which we found to be absolutely perfect weather. The best time to visit is the shoulder season between high season (December through April) and the hurricane season which starts in June/July and goes until November.
How long does it take to get to St. Martin?
It's a four hour direct flight from JFK, a 4 hour from Charlotte, or a 3 hour flight from Miami.
Is St. Martin safe?
We found St. Martin to be very safe, it's known as the friendly island, and you feel that right when you touch down at the airport. It was easy to get a taxi and the taxi operators were the best ambassadors for their friendly island! They were awesome.
The main tourist areas of St. Martin are generally safe, but you should take sensible precautions as a traveler. Don't wear too flashy of belongings while walking around in public places, etc.
Is St. Martin baby-friendly?
Yes! St. Martin is one of the most kid-friendly destinations in the Caribbean, and a great destination to travel with little ones due to its calm beaches, soft sand, kid-friendly restaurants, and warm weather (we also didn't experience any wind on the beach – at least in May – like we did when were in Anguilla in March!) We had the best time in St. Martin traveling with our baby. The hotel (Belmond La Samanna) felt extremely safe and easy to navigate with a baby!
The best restaurants in St. Maarten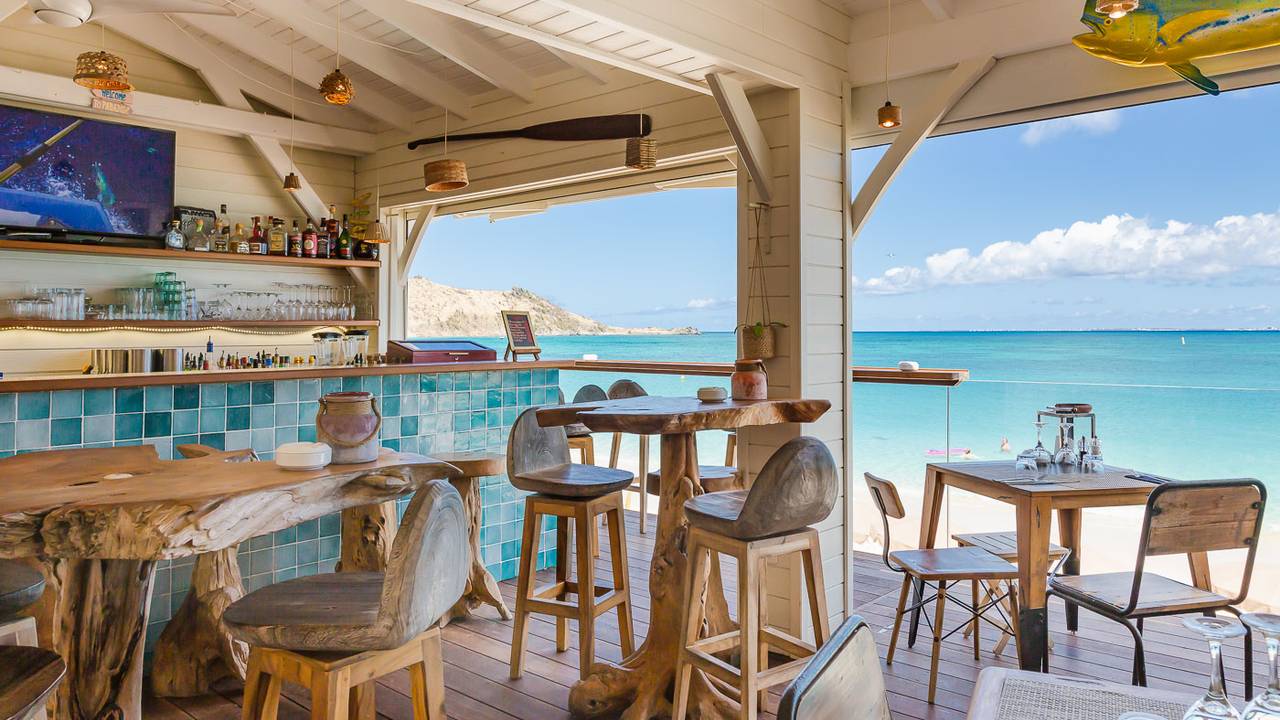 Located on the edge of the Bay of Grand Case, Le Temps des Cerises is a hotel restaurant that is a gorgeous spot for breakfast, lunch or dinner. Head to this stunning private beach to grab a bite, then bask in the sun and enjoy a sun lounger and parasol.
Photo via Le Temps de Cerisses management, OpenTable & TripAdvisor
For unreal views, head straight to Grand Case Java. A mediterranean restaurant with fresh fish, the perfect set up with live music, and views of the sunset over the ocean.
View this post on Instagram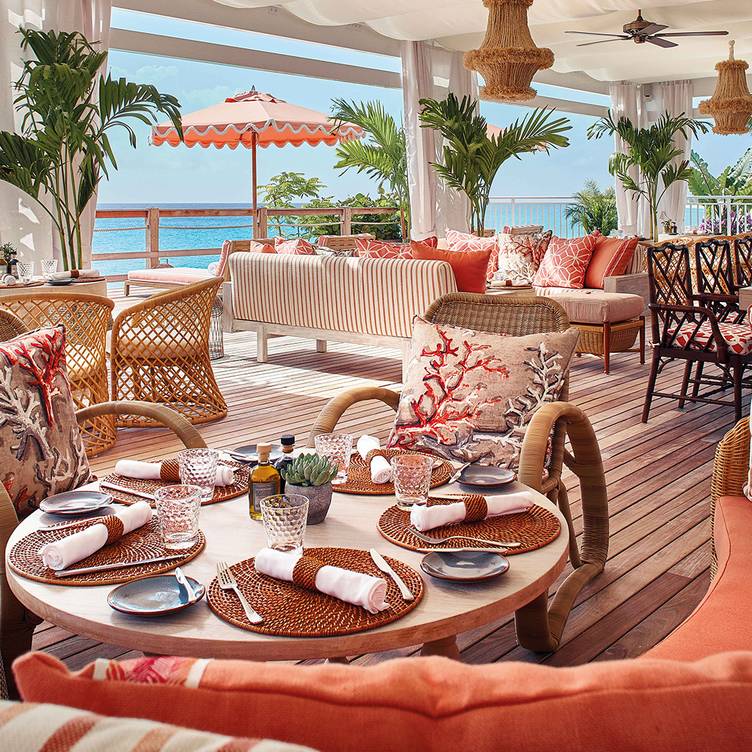 Come have a chic lunch at Laplaj at the Belmond – one of my favorite spots!
Also, on Wednesday through Saturday nights, it turns into an Italian trattoria for dinnertime and the food is to die for!!
This French-european style elegant bistro is a great restaurant to pop in on any trip to St. Martin.
If you're looking for an intimate date night restaurant in St Martin with amazing food run by a great husband-and-wife team, this is your spot.
If you're looking for good food and a chic party atmosphere, Bamboo House is your spot!
View this post on Instagram
What to do in St. Martin
Pinel Island – Head to the Yellow Beach Beach Club: get the lobster fresh from the ocean! SO GOOD!
Mullet Bay is a secluded and spacious beach on St. Martin. You can rent chairs and umbrellas from the snack bars on the south side, or go to the secluded northern end for a little privacy. I'd recommend getting a reservation ahead of time at Kalatua Beach Club.
If you're looking for an outdoor party scene, or visiting on a holiday like New Years Eve, this is your spot. Mykonos is set amongst the crashing waves and incoming planes on the shore of Maho Beach. The focal point of the club is their zero-entry pool making every night feel like the ultimate pool party.
Maho Beach to see the airplanes land in St Martin
You've probably seen videos of Maho Beach when looking up St. Martin. Maho is a unique beach in St. Maarten, where travelers flock to experience the thrilling rush of airplanes flying extremely close over your head! The best time to go to Maho Beach is in the early afternoon which is when the larger jumbo jets land. Head to Sunset Beach Bar for the best views of the planes!
What should I pack for a trip to St. Martin?
I packed a good amount of swimsuits, beach cover ups, and cute dresses for dinners at the resort or out and about. Click any of the below to get to the links to my outfits I wore!
If I had to choose a favorite dress from the whole Jetset Christina X REVOLVE capsule collection, it would be this one. This dress is SO cute, so chic, and so classy, but unique. I'll be wearing it all summer long.
Swimsuit – aqua velvet shimmer bikini from here ( my favorite), cover up resort shirt linked here (wearing S), hat linked here
on sale! My absolute FAVORITE hat.
Pictured here with these pants, this top, this hat, this suitcase, and these shoes