10 Tips for Staying at the Four Seasons Maui Hotel in Hawaii
The iconic Four Seasons Maui at Wailea is one of the world's best hotels, and one of my personal favorites. I love it so much that I married the love of my life here and spent my babymoon here, too!! No other hotel in the world feels like 'home' the way that Four Seasons Maui does, and that's something you'll hear every guest who stays there say (and the reason why they all keep coming back!) No one does luxury, and service, quite like the Four Seasons does. So if you're planning on a trip to FS Maui, here are 10 insider tips you need to know to ensure the best vacation of all time.
1. Get a seat at the Serenity Pool early
What You Need to Know About Four Seasons Maui's Pools
There are three pools – and the adults-only serenity pool (pictured above) is quite possibly the BEST hotel pool in the world! However, if you want to enjoy it in all of its beauty, you have to get there early to snag a spot. The Four Seasons staff limits the pool's capacity so that it doesn't feel overcrowded (honestly, such a great thing that all luxury hotels and resorts should be doing IMO!!). If you miss a spot in the morning at the serenity pool, you can always get on the waitlist for later in the day and hang at the main pool (which, BTW, is open 24 hours per day! So fun).
You can get a 'Jet Lag IV' on property, and it's amazing
Have you ever gotten an IV full of vitamins that rejuvenate you, energize you, give you mental clarity and basically make you feel like a new person? That's what the Next|Health outpost (located right on the property for your convenience!!) is there for at FS Maui. 10/10 recommend. Especially on the first day of your vacation to fight jet lag! We love NextHealth!
Another FS Maui amenity must to feel rested and rejuevenated is the SPA!!! You absolutely have to get a treatment here. They are open between 7:00 am – 6:00 pm daily and offer treatments both in the main spa (on the Lobby Level) and in their open-air huts (which have beautiful views of Wailea Beach!).
There's free coffee every morning outside of DUO
Each morning, there is delicious Kona coffee right outside of DUO. I am definitely a coffee snob, so let me tell you, it's really good. And it's free. We love grabbing our coffees with a splash of almond milk and taking them on our coastal morning walk – it's the Wailea morning routine!
You Have to Order the Best Pancakes in the World at FS Maui
A trip to the Four Seasons Maui is not complete without ordering the pancakes at DUO. I recommend getting them with either banana or macadamia nuts! These world-renowned pancakes are the best I have had anywhere in the world – not even exaggerating.
Upgrade to the Secret "Club Level" at Four Seasons Maui
When staying at a five-star resort, you can expect five-star service and amenities. But what if I told you that there is a way to level up that experience to say six or even seven stars?! Would you believe me?? Well, start believing! Four Seasons Maui has a secret "Club Level" that you can upgrade to with all-inclusive (AKA premium) alcohol, snacks, and even meals. We LOVED this on our last trip. There are heavy appetizers, lunch, breakfast and snacks available all day (and a premium open bar) so it's easy to see the value in the upgrade if you're using it! Count me in!
Plan Your Stay at Four Seasons Maui for the Right Time of Year
The Four Seasons Maui at Wailea is most busy during summer, holidays, and spring break. So, if you want to skip the crazy crowds, try to avoid these high times! I recommend April through May and September through November because you will have great weather without the high rates and heavy crowds.
There are lots of sea turtles that hang out by the rock right outside of the hotel!
If you want to see sea turtles on your trip, hang out by the rock right on the beach outside FS Maui! We saw TONS in the afternoons, they were so adorable. But please, be smart and don't touch the turtles or bother their natural habitat!
There's an in-house iphone photographer at the FS Maui that will take your dreamy instagram photos – for free!
The limit to the number of Instagram-worthy photos you can take at Four Seasons Maui truly does not exist. This entire resort is just picture perfect! But if you are in need of a (free) impromptu iPhone photo shoot somewhere on the property, ask the concierge for Scott Miles (AKA "Smiles")! He is the resident guest photographer who will take photos on your phone for you so that you don't have to worry about messing with a tripod or selfie stick. He is SO nice – he roams around the property and chats with everyone, snapping photos for you whenever he sees a photo-worthy spot or moment!

Sign up for the complimentary Outrigger Canoe!
There are lots of fun free activities at the FS Maui, but my top rec is the free outrigger canoeing! Just sign up ahead of time with the concierge. So memorable!!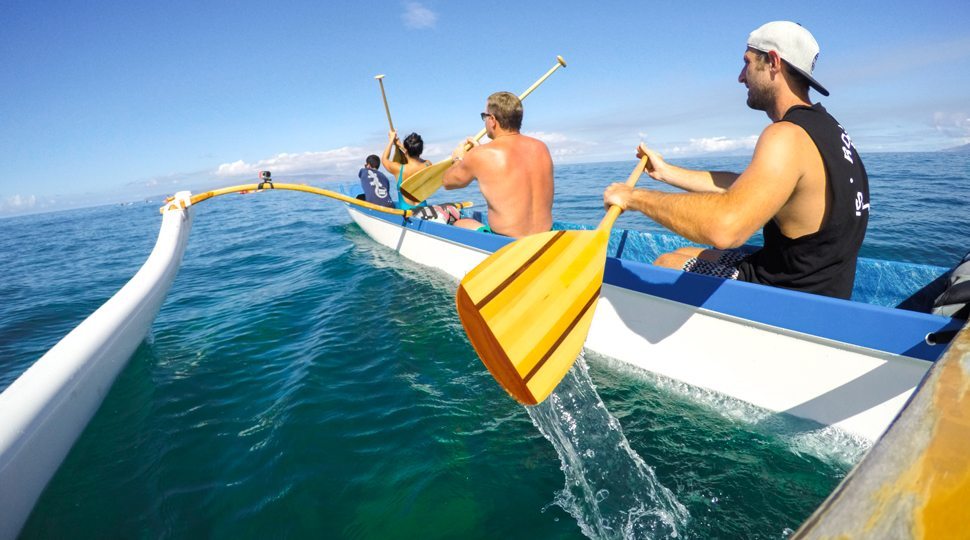 Download the Four Seasons Maui App for Ultimate Ease
The easiest way to communicate with the concierge via text for anything and everything is by downloading the Four Seasons Maui app on your smartphone! Through the app, you can take advantage of mobile check-in, book spa treatments, order room service, and so much more.
Yes, you're not the only one that thinks it smells REALLY, REALLY good there. The best news? You can take the FS Maui scent home with you
Thanks to my JSC Jetsetters facebook group for figuring this one out!! It smells SO good at the Four Seasons Maui – a blend of white tea and orchid that just brings you to the tropics immediately. And, the best part is that they actually sell the scent in reed diffusers and candles in the Ports store that you can take home!! Highly recommend, so you can always have your home smelling like Maui.
Shop 'Til You Drop at the Four Seasons Maui Cabana Resort Shop
The Cabana resort shop (located on the Lobby Level) is a vacationer's paradise! It is incredibly well-curated and has all of my favorite resort wear brands – including Kenny Flowers!!! We saw so many couples wearing our prints when we visited for our babymoon. So fun.
Enjoy ALL the Drinks & Cocktails that the Four Seasons Maui Has to Offer
I dream about the iconoclast chardonnay – you can only get it at Four Seasons properties (v exclusive), and it is SO good!!! We actually served it at our wedding (alongside the iconoclast cabernet). And for those of you who have followed Kenny (AKA Kenny the Piña Colada King)'s piña colada series on Instagram, I am happy to report that he has dubbed Four Seasons Maui's piña colada as one of the bests ever (he says to order it in a pineapple to get the maximum effect!).
You can get free breakfast, a room upgrade, and more at the Four Seasons Maui for booking through Jetset Christina
How do I get Jetset perks when booking the Four Seasons Maui?
To get perks like a free breakfast for two at the FS Maui, a $100 resort credit, and a room upgrade (when available), fill out this contact form and be sure to use the referral code "JETSETCHRISTINA" if you use my referral, my agency partner will reach out with more information and can help book you with all kinds of fun perks (at no extra cost to you, and they don't charge a fee to book!)
Enjoy your trip!! And check out these other blog posts:
The best baby-friendly destinations in the USA