The Best Bridal Party Kimonos for the Bride and Your Bridesmaids on the Wedding Day
I don't know about you guys, but some of the photos I'm looking forward to the most of my wedding are all the getting ready photos with my bridesmaids the morning of my wedding! Which means we're going to need some chic bridesmaid robes, getting ready pajama sets for the wedding day, or matching bridesemaid kimonos!
When I started looking for getting ready robes for my bridesmaids that are high quality, in a beautiful (and fun!) design that matches the vibe of my wedding, I was surprised at how few quality options there were out there. There are so many cheap ones on Amazon and Etsy, but I was determined to find something better, CUTER, softer, and higher quality for my bridal party kimonos. I wanted something that would look GREAT in photos, and that the girls would wear again and again, be it at home for a nice lounging robe, or on vacation for a cute beach cover up. Here are the best of the best bridesmaid kimonos that I could find online that will help make your (and your girls') day even better, and are guaranteed to be their favorite bridesmaid gift you get them.
Kenny Flowers makes the best bridal party kimonos in the game, y'all. These are what we're doing for my wedding – in the Bora Bora print! So chic for a destination wedding. I wanted to make something that was chic and FUN, not boring and stale like all the bridal kimonos I was finding out there in the market. And most importantly, I wanted these getting ready robes to be SUPER, super soft, and something that girls would wear on vacation, not just on the wedding day.
I'm wearing the bride-to-beach semi-sheer silk bride kimono!
Kenny Flowers' kimonos are 100% super-soft island rayon and come in such fun designs. And of course a silky all-white kimono for the bride. Kenny Flowers kimonos are especially perfect for destination weddings, because you can even get bikini coverups in the same print for the bachelorette party, or guys hawaiian shirts in the same print as a perfect gift for groomsmen!
You can also go super chic with a white robe for yourself and matching black sheer robes for the bridesmaids
Why I love Kenny Flowers kimonos: It's not just a wedding day getting ready robe, if you wear it open without the tie it effortlessly becomes a chic beach cover up that all your girls will wear (and thank you for) again and again and again. I also love that they give a discount on kimonos, if you use the code JETSET . Huge win.
The best bride kimonos
What to wear underneath:
Cute floral kimonos for bridesmaids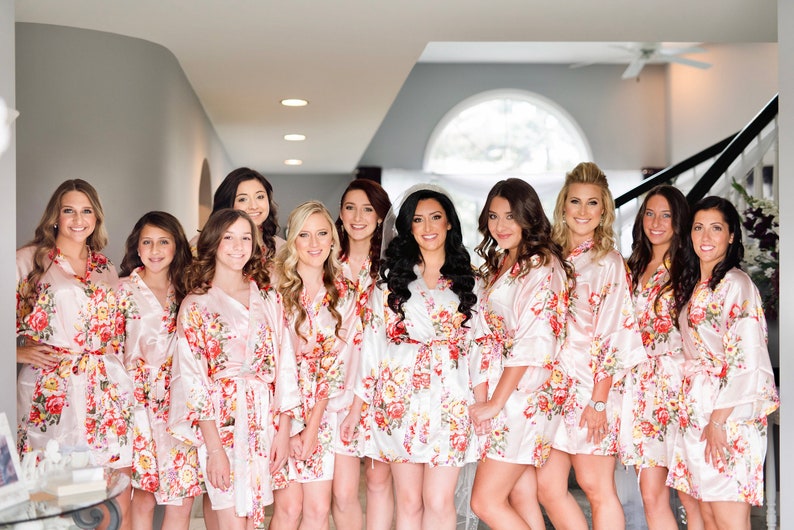 Okay so these aren't technically kimonos but I'm obsessed with Homebodii's silky pj sets – which are perfect to wear under your kimonos!!
wearing my favorite Homebodii cami set – I'm wearing XS
They also come in different colors like blush pink or eggshell blue for your girls!
I love BHLDN's selection of bridesmaid dresses and getting ready robes for brides and bridesmaids! The material is really nice, and the price won't break the bank for the quality. These are the perfect kimono options if you're going for a sophisticated, muted look for your bridesmaids.
Why I love these getting ready kimonos: I love the all white bride robe for the wedding day with a touch of lace, so chic!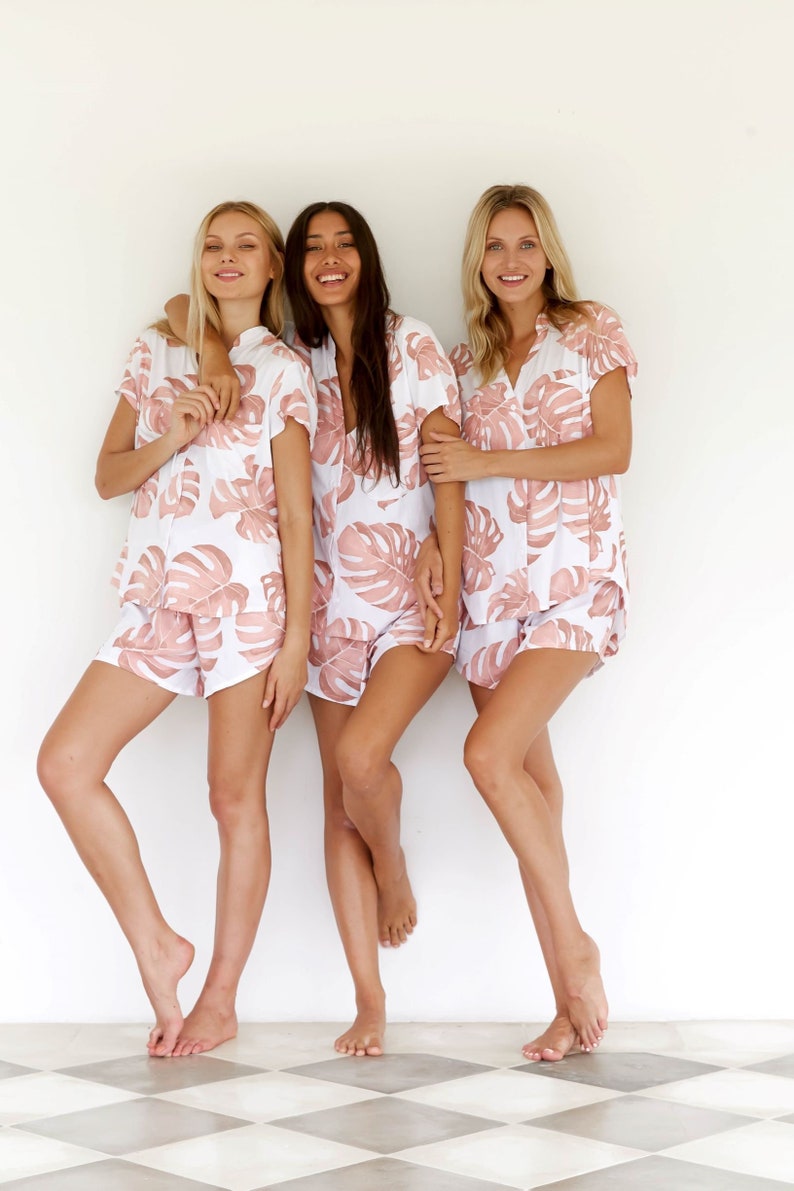 Or these etsy bridesmaid PJ sets!

What to wear under your kimonos:
These Hombodii cami sets that come in white and blush for your bridesmaids
Yumi Kim's ultra-feminine kimonos are a great choice for a bridal party. They come in a bunch of different colors and designs, so it's easy to find one that fits the vibe and colors of your bridal party and wedding!
These getting ready robes are 100% rayon, so are super-soft with an open-front, waist-tie, and a perfect effortless fit for your bridesmaids.
Why I love them: I love the timeless, feminine floral designs that are sure to be a bridal-party pleaser. Oh and they have POCKETS. Game changer.
The Cutest Bride Kimonos for the morning of the wedding
love this long silk bride kimono!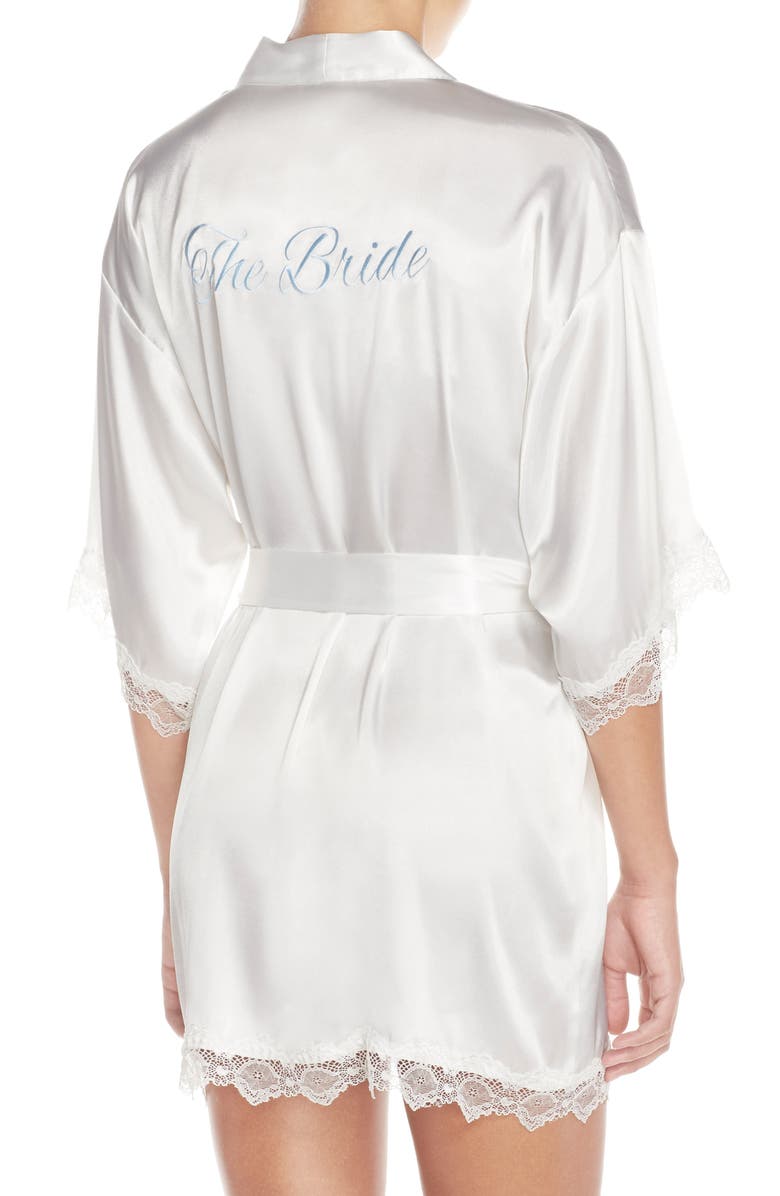 Why I love this Cosabella Robe: The ultra-soft jersey fabric with the touch of Rayon makes this bride robe design a WINNER.
Check out my other related posts!
What to wear in your engagement photos
How to plan the perfect honeymoon
You're Engaged – Now what!? A step-by-step guide to wedding planning
What to wear for every event leading up to the wedding – All white outfits for the bride to be
The 5 Best Skinceuticals Products
What to wear in engagement photos
What to wear to your rehearsal dinner as the bride
How to choose a honeymoon destination
The Best gifts for honeymooners – alternatives to picking a gift off a couple's registry – get them something for their honeymoon!
What to wear to every type of wedding
How to have the best honeymoon ever – honeymoon planning advice and tips
The best getting ready pajama sets for bridesmaids and the bride
The Best Bridal Party Kimonos for the Morning of the Wedding : The cutest getting ready robes for bridesmaids and the bride