The Best Getting Ready Pajama Sets PJ's for Bridesmaids and the Bride on the Wedding Day
What your bridesmaids should wear on the wedding day is a super important part of wedding day planning – after all – these are going to be the adorable photos you have FOREVER of you and your girls getting ready for your big day – you want them to look cute, but also you want them to be a high quality bridesmaids gift from you that they can use and will treasure in their everyday life. I am a huge fan of getting high-quality, silky pj sets for weddings I'm in, and I think that they make a perfect gift for your bridesmaids on the morning of the wedding. Here are some of my top picks for your girls & yourself!
Luxe, high-quality pajama sets for the wedding day for your bridesmaids:
These silky bridesmaid PJ sets may be a little more expensive, but they not only are going to look and feel amazing on the day of, they're going to be the gift your bridesmaids will keep thanking you for every night they put on their favorite PJs.

Less expensive, Etsy bridal pajama set options:

So cute, and so affordable! Great option for girls looking for long sleeve bridesmaid pajama sets.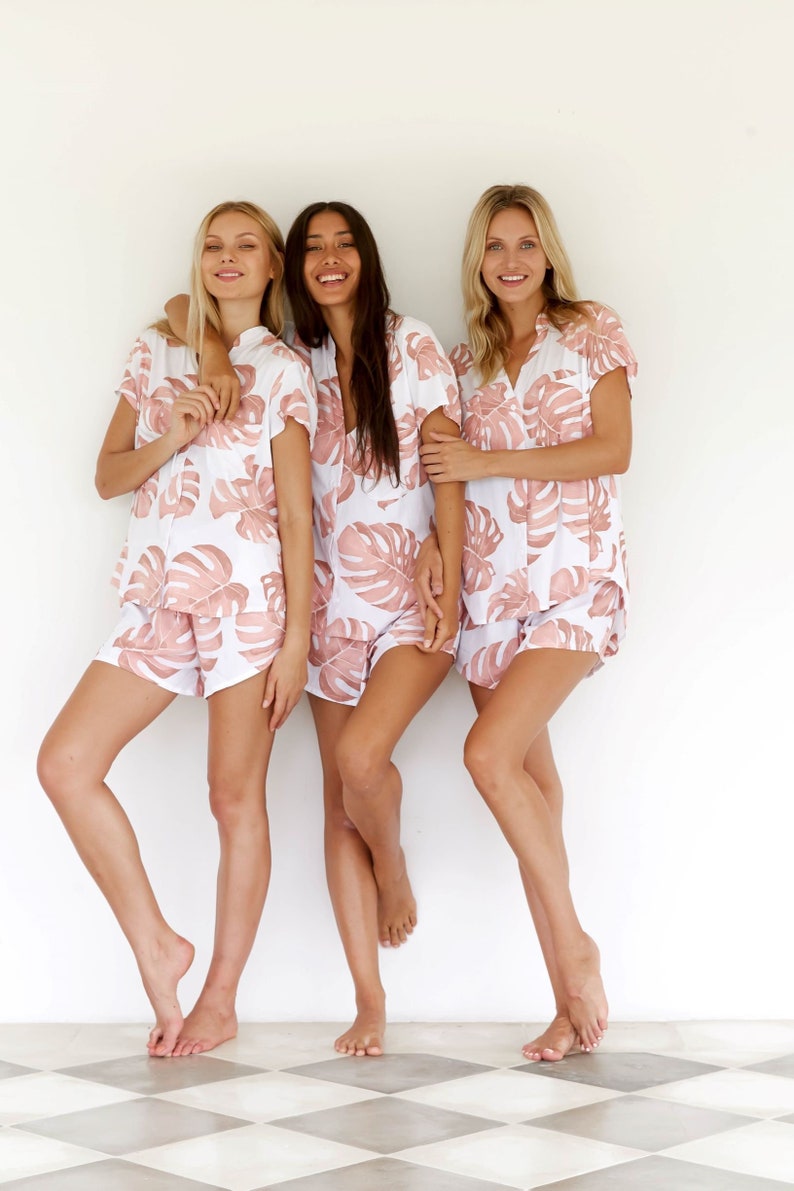 Or these etsy bridesmaid PJ sets!
The best white bridal pajama sets for the bride:
wearing my favorite Homebodii cami set – I'm wearing XS
They also come in different colors like blush pink or eggshell blue for your girls!
Also, DEFINITELY get a silky white bride robe to throw over your PJ set, too! I love this one.
How gorgeous is this long lace bridal robe? I'd put this on my honeymoon packing list for over a white bikini too!
The best bridesmaid kimonos for getting ready
If PJ sets aren't your thing, these bridesmaid kimonos are 20% off when you buy 6+ with the code JETSET
Kenny Flowers' kimonos are 100% super-soft island rayon and come in such fun designs – from funky designs like the Dreamcatcher, to chic pineapple print kimonos, to classic palm fronds. They are especially perfect for destination weddings, because you can even get bikini coverups in the same print for the bachelorette party, or guys hawaiian shirts in the same print as a perfect gift for groomsmen!
Check out these other blog posts:
How to plan the perfect honeymoon
What to wear for every event leading up to the wedding – All white outfits for the bride to be
What to wear to your rehearsal dinner as the bride
How to choose a honeymoon destination
The Best gifts for honeymooners – alternatives to picking a gift off a couple's registry – get them something for their honeymoon!
What to wear to every type of wedding
How to have the best honeymoon ever – honeymoon planning advice and tips
You're Engaged – Now what!? A step-by-step guide to wedding planning
The Best Bridal Party Kimonos for the Morning of the Wedding : The cutest getting ready robes for bridesmaids and the bride