The Ultimate 10-Day Greek Isles Island Hopping Itinerary – Where to Go in Greece
Alright, Jetsetters, there's nothing quite like island hopping through the Greek Isles. Lately, I've been getting a ton of DM's and questions on where to go in Greece for a honeymoon, an anniversary trip, a family trip, you name it. Which is why I wanted to write this post. The islands of Greece are popular for honeymooners, history buffs, families, and young collegiates alike! But with hundreds of islands to choose from, where do you even go first? From gorgeous white buildings built into the cliffs and breathtaking blue-domed churches that seem straight out of a storybook, to luxury hotels with infinity pools and all day beach parties, what's the best Greece breakdown? Here is my perfect first-timer's 10-day itinerary that hits all the major highlights of the Cyclades! Get ready for a bucket-list worthy trip!
Where to Go in Greece: The itinerary
Athens (1 Day)
Day 1: Athens
The best international flights almost always run through Athens, however, you can fly directly into Santorini from several major cities, if you'd prefer. Still, Athens in my opinion is a must-see for a first-timer to Greece, so I like staying there for a night if you've never been. Once in Athens, you can get a reasonably priced flight into Santorini (only about 40 minutes), or take a ferry (5-8 hours).
If you're short on time, you can definitely head straight out to the islands. But if you have some time to spare or are particularly into history, there are many interesting archaeological sites worth seeing. The most famous of which is the Acropolis, and I would highly recommend the skip-the-line ticket if you are headed there! Other top points of interest in Athens are: The Temple of Zeus, the bustling central markets and grabbing food in Psirri Square!
Where to stay in Athens
If you're looking for luxury Hotel Grande Bertagne would be my pick, for its location directly in the center of Athens. And for these views!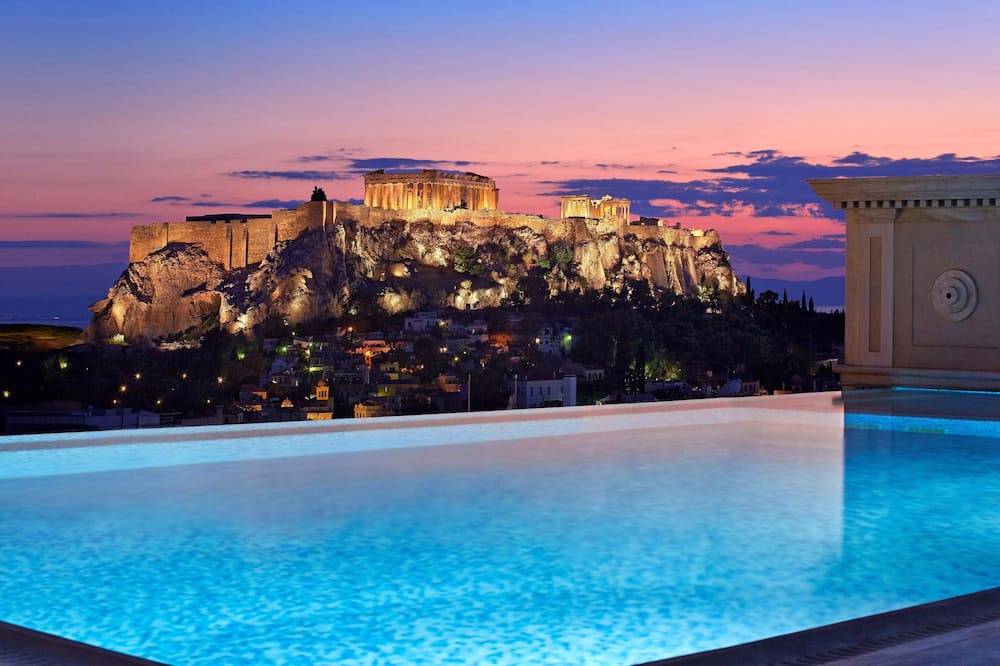 The Four Seasons Athens is the creme de la creme, if you want to be a little out of the city center, and if you're not trying to break the bank or have a short stop-over go with the centrally-located, industrial-chic Ergon House!
Wearing this dress, one of my favs!
Santorini is a great mixture of romance, stunning views and adorable streets. When the word Santorini is mentioned, you probably envision beautiful white-washed buildings, the infamous windmills, and turquoise waters – but what you might not realize is that Santorini itself is actually a volcanic island. This makes for gorgeous volcanic beaches like The Red Sand Beach, as well as thermal hot springs!
If you want to get a good sense of the island in one-fell-swoop, consider booking a day cruise that will bring you to the hot springs, a few beaches and will also provide lunch!
If you're into hiking and want incredible sweeping views of your surroundings, you can walk along a gorgeous and well-kept trail from Fira to Oia. The journey is around 6 miles but it allows you to explore four wonderful little villages (Fira, Firostefani, Imerovigli, and Oia), get breathtaking views along the caldera, and end with dramatic sunset views on Oia! If that sounds like a little too much you can always drive an ATV from village to village (my fav way to do it!)
Another MUST while you're on Santorini is a wine tour or tasting! You can walk to wineries from Oia in only about 20 minutes! I loved spending the afternoon at Sigalas Winery, and highly recommend making the trip here during your Santorini vacation! I first heard about Sigalas at my favorite restaurant in San Francisco, Kokkari. It's a greek restaurant and every time I'm there I order Sigalas Winery's Santorini white wine. So I just HAD to go in person! The wine is great, but the food is the real stealer of the show here. Order all of the wines to taste, and then the fava, and the tomato fritters to go with your wine, and thank me later.
Where to stay in Santorini:
If you want to avoid the crowds, you'll want to stay away from downtown Oia, but I highly recommend being walking distance to it if you're going to be spending a lot of your time there (this is the heart of all the shopping, dining, and of course the instagrammable spots of Santorini with the blue-domed churches).
Kirini Santorini is one of the Leading Hotels in the World, and it's easy to see why. It's only around 40 rooms, and feels like a complete oasis of its own, just 5 minutes outside of much-busier Oia. It's completely secluded, private, and beautiful. The rooms are definitely the nicest I found in Santorini, with super-plush king sized beds and spacious cave-style suites.
Mystique Santorini is an absolute gem of a hotel, just 5 minutes walking from downtown Oia, but tucked away in a secluded paradise all its own (you can see it from Kirini, they're in the same area). The pool, the food, the rooms, the views.
Grace Hotel Santorini, an Auberge Resort, is easily one of the dreamiest places to stay in Santorini. Being in Imerovigli village, it has a panoramic view of the sunset (unlike Oia), and its tucked away location in Imerovigli makes it a much less crowded, more secluded choice for a hotel in Santorini (perfect for a honeymoon!).
Where to stay in Santorini for luxury on a budget:
A sweet follower of mine highly recommended this gem of a hotel in Oia after staying here for her honeymoon and saying it was unbelievable!! The reviews are incredible and the location is absolutely IDEAL. The superior rooms have a jetted hot tub and a extremely spacious, romantic private balcony in the perfect location in Santorini – you can't ask for anything better for a Greece honeymoon.
Days 5-7: Naxos/Paros
Between Santorini and Mykonos lie two of the larger Cyclade islands: Naxos and Paros. They are a 2 hour ferry ride from Santorini and each have their own charm that makes them well worth a trip to.
Naxos
If you're looking for somewhere that feels quiet, peaceful, and somewhat undiscovered, Naxos is the spot for you! With its green rolling hills and mountains, small villages and numerous opportunities for hiking, this island is much more affordable and less crowded than the other Cyclades. Once you arrive you can rent a quad or a car and head for Naxos' main town: Hora. There, you will see the island's most iconic landmark: the Portara. It's the only remains of a former temple dedicated to Apollo. Explore the traditional villages, fresh cuisine and secluded sandy beaches! For true seclusion, head out to Mikri Vigla Beach, Hawaii Beach or Aliko Beach, these are some of the quietest and most exotic beaches in all of Greece!
Where to stay on Naxos:
Naxian on the Beach is a luxury boutique hotel that sits directly on the beautiful Plaka Beach, a short 15 minute drive to the main city of Naxos Town. All ten rooms have stunning oceanfront views and while the rooms are minimal, they include high end touches like steam showers and private outdoor sitting areas (some even have their own plunge pool). Breakfast (which is included in your room rate) is served in your room or in their delicious restaurant Tortuga just steps away from the beach. The Naxian has its own private daybeds for hotel guests directly on the beach where they can choose from an extensive list of over 100 different wines.
If you prefer your own private villa check out this luxury sea-front 4 bedroom, this white-washed 3 Bedroom masterpiece or this 2-Bedroom penthouse with jacuzzi.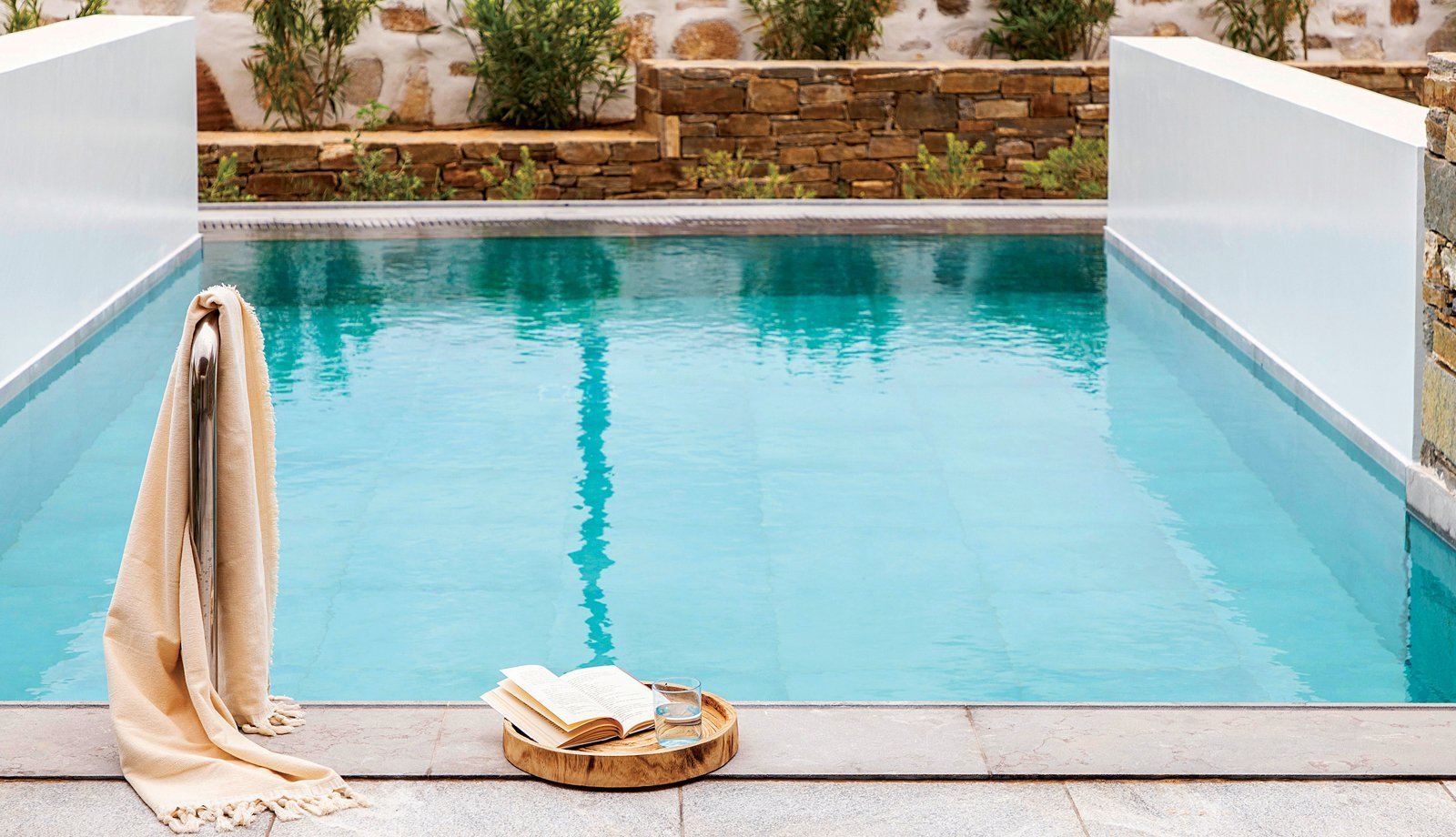 On the other hand, if you're looking for a bit more nightlife (not quite on the Mykonos level but getting there), go with Paros. Get your beach party fix at Punda beach. Or maybe the seaside village of Naoussa, for a chic and trendy seaside resort vibe. Wander the narrow washed alleyways dipping into shops or tavernas, or sit outside in the street and sip a coffee as you people watch. Paros is also incredible for water-sports, especially if you're into windsurfing!
Where to stay in Paros
Luxury:
Parilio, a member of Design Hotels opened in August of 2019, and would be my pick hands down. A short 5-minute drive to the trendy town of Nassoua, the hotel exudes luxury with its modern architecture amidst the rolling landscape of Paros. An over the top breakfast (included in your rate), coupled with their beautiful pool and spa make it very hard to leave this resort.
Another incredible option is the Summer Senses, a beautiful 5-star hotel in the heart of Naoussa. With a minimalistic modern pool, traditional white-washed buildings and trendy beach themed rooms, you can't go wrong.
If you prefer a romantic private villa, check out this gorgeous 2-bedroom!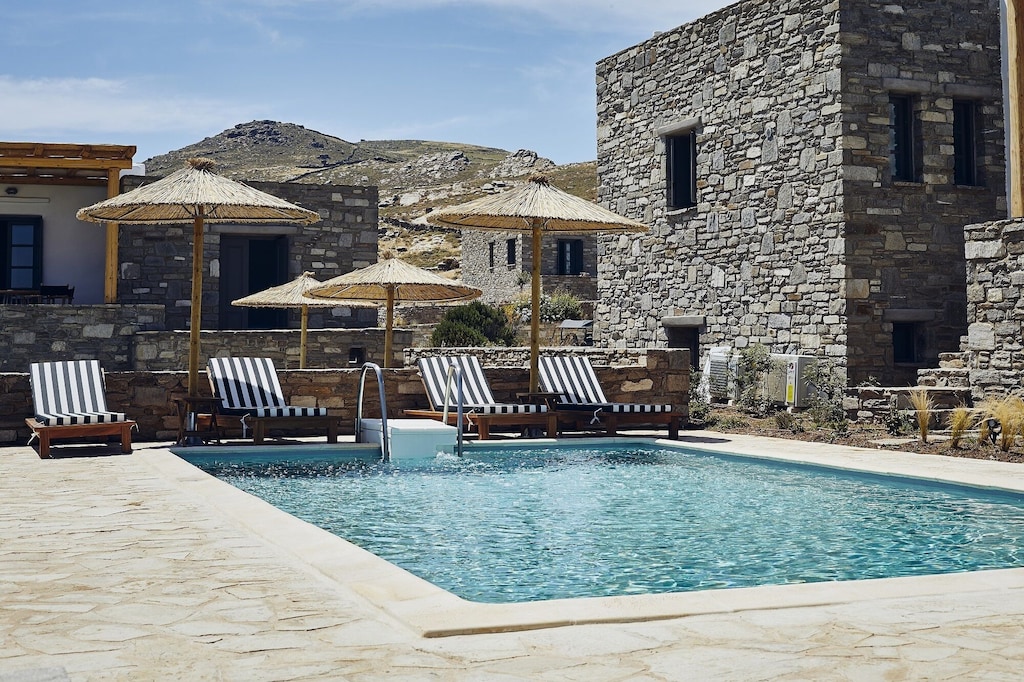 For a great value, this intimate hotel has only 12 -15 rooms and two nice infinity pools (one is an adult pool). Some of the rooms have gorgeous private pools.
The location is ideal – it is a very close to walk into town for dinner and shopping and the breakfast buffet is included.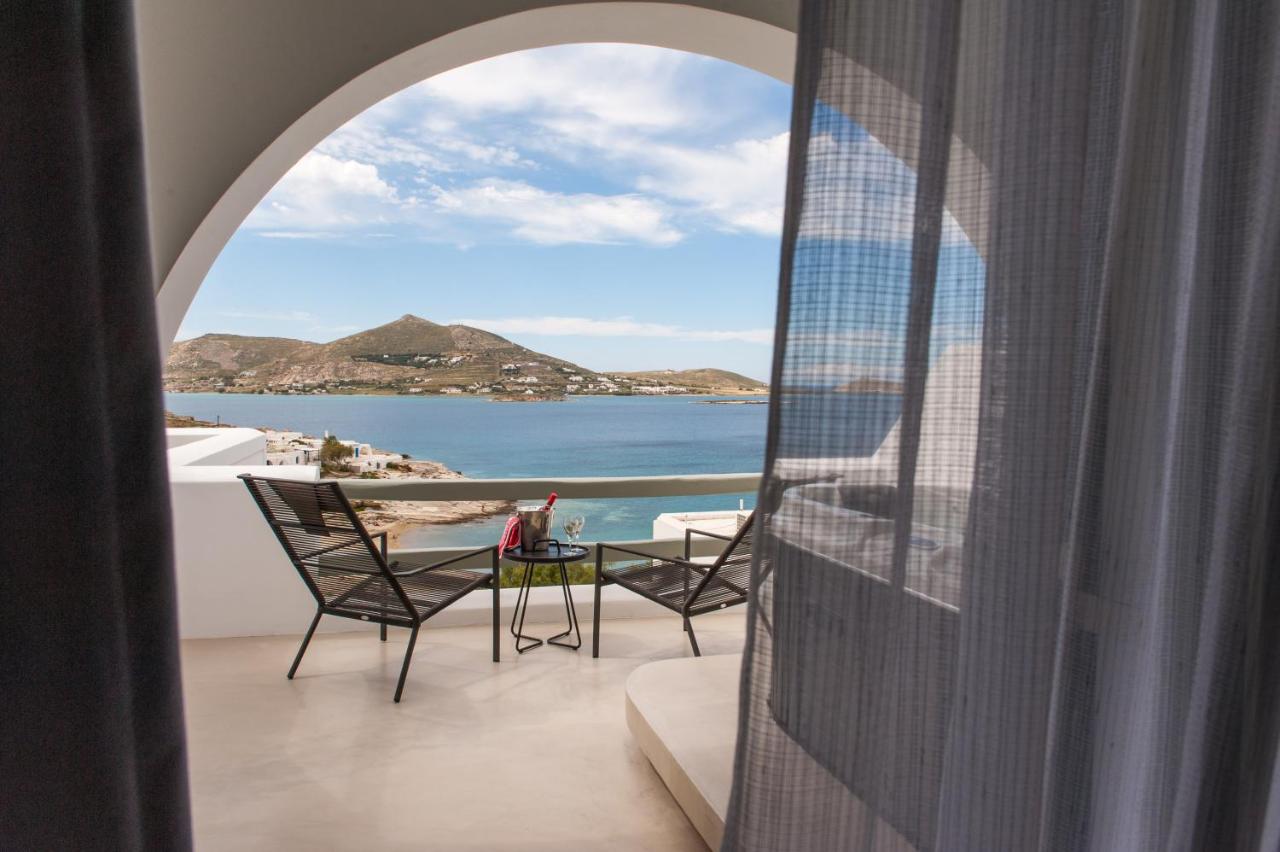 Photo via Booking.com
Your final island-hopping destination will not disappoint. Just a 40 minute ferry ride from either Naxos or Paros, lies the jet-set island of Mykonos!
This matching couples vacation outfit is a must for Mykonos!
Boasting some of the most luxury hotels in all of Greece along with the most exclusive beach resorts and clubs. To top it all off, there are several picture perfect villages and the (in)famous windmills that you simply cannot miss. Spend your days soaking up the sun on a beach or wandering the narrow white-washed streets and shops. Make sure you catch a sunset at Little Venice, where the town meets the sea. It is the most romantic and artistic part of Mykonos, a perfect spot to end the day (or to get things started).
If day parties at luxurious beach clubs sound like the vibe you're looking for, then you're in the right place-head to Paradise Beach and Super Paradise beach. If, on the other-hand, you want a more relaxing beach day experience, you can head to Kalo Livadi, Elia, Ornos, and Lia. For a day of wine tasting at a local vineyard, check out Mykonos Vioma.
Jetset Tip: Mykonos is a small island, making parking hard to find. Car hire or the bus is easy here so save yourself some hassle (and money) and forgo the car rental here.
Probably the most well known luxury hotels in all of Mykonos, is the Cavo Tagoo cave hotel. This is where you want to go if it's a honeymoon or special romantic getaway, it's such a unique experience especially if you splurge on a Cave Pool room. If luxury is what you're looking for, another great option is The Belvedere.
If you still want luxury but without the high price tag, consider Boheme Mykonos or go with a private villa on VRBO like this one.
On your last day schedule a ferry back to Athens. The ferry ride will take approximately a 2.5 hour ferry ride (on a fast boat, Seajets or Golden Star) to Athens. So plan accordingly depending on the time of your flight. Many people choose to spend their last night in Athens if they have an early flight the next day!
Enjoy your trip! Let me know any questions in the comments below! xx,
Christina
Check out these related blog posts:
What to pack for a trip to Greece – women's outfit inspo for the Greek Isles