Jetset Christina's Top Luggage Picks for Carry-Ons, Checked Bags & Travel Purses
When you travel 300+ days a year, there's nothing more important than a great, trustworthy suitcase. Travel is so much easier when you have the right suitcases and bags. And, since we all know I don't travel light, it's taken years to perfect the art of exactly which bags do the trick. The right luggage will last you for years and many, many trips all over the world, and will be the second most important possession a traveler owns (after your passport, of course!)
If you're in need of a suitcase upgrade, here's the ultimate Jetset rundown of the best (and chicest) luggage, bags, purses and backpacks for travel out there
The best luggage for travel
Depending on the length and type of trip you're going on, you're going to need different luggage. If you're packing for a weekend in Napa, for example, you probably only need your weekender bag, and maybe a cute travel purse. But, if you're packing for a trip to Bali, you'll likely need a checked bag, a carry-on bag, and a travel purse. Here are my top picks for each! Click on the photos to shop!
When it comes to carry-on suitcases, it's incredibly important to have the right size travel bag. If you're traveling within the United States, the limit for carry-on bags are 22-inches. If you're traveling outside of the USA, that limit is even less – 21 inches. Since your space is so restricted for carry-ons, it's crucial that the carry-on you pick maximizes every inch of space into one compact, high-quality suitcase.
The brand new ROAM luggage line by the creators of TUMI is the ultimate in fun, colorful, personalized suitcases. The quality is unbeatable (i.e. the outer shell doesn't scratch – THANK GOD!!) and I just love this carry on so much. use CHRISTINA50 for a discount!
This carry-on is the ultimate splurge but oh myyyy is it worth it. Steamline Luggage makes the chicest luggage there is. The interior is even detailed with a gorgeous floral print. I can't get enough. It's by far my favorite carry-on I've ever owned.
I am never without this tote!
The best checked luggage bags for travel
Picking the right size checked bag is hard! If you're like me, a bigger checked bag isn't always the best thing – because I will definitely pack it to the brim and almost always end up over 50 lbs (the limit for checked bags on most US-based airlines). So, for that reason, I like to go for more of a medium-sized checked bag, which in my mind is the ideal for a 1-3 week trip. This is my favorite one I've been using on all of my trips recently.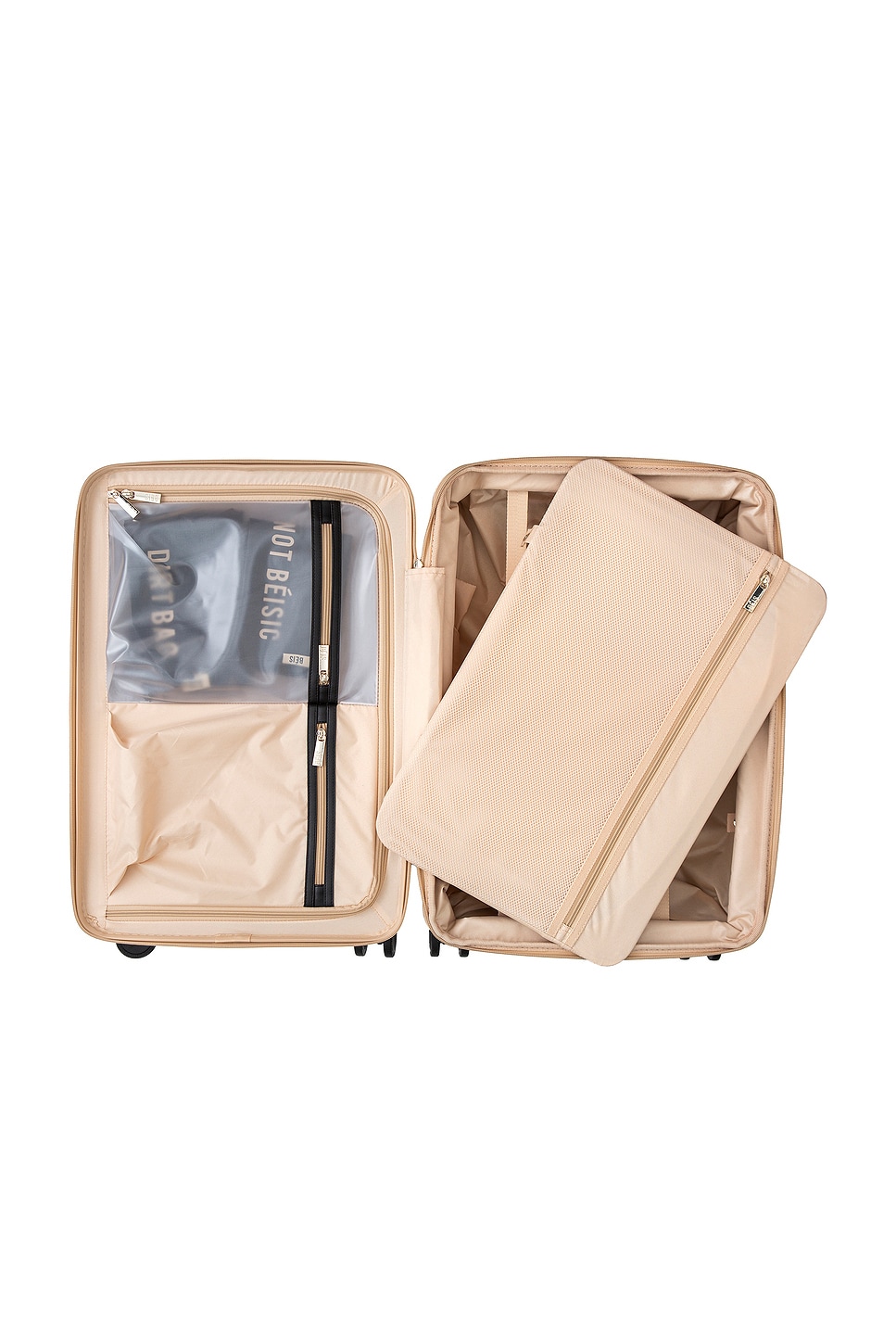 The best travel purses
If you're looking for the best bags for travel and keeping your valuables safe – some of my favorite travel purses are this one, this one (less than $15!) or this one! I'm a big fan of crossbody purses for travel, since they're generally safer (and easier) than carrying around a big open tote on one arm.
I am obsessed with the Lo & Sons Pearl crossbody for travel. It has multiple compartments that are IDEAL for organizing your passport, tech, tickets, and wallet. It's the perfect size and comes in a bunch of different colors — my favorite is the silver.
How beautiful is this Sancia bag? Obsessed.
The best weekender bags for travel
Perfect for: weekends in Napa, quick hops to the Hamptons, and overnights in Half Moon Bay
My go-to weekender is this $120 Lo & Son's Catalina tote! It even has a compartment for your shoes (or dirty laundry) separate from the main tote bag. Obsessed!

The best backpack for travel
This osprey hiking backpack is my pick for a travel backpack that's lightweight, really organized, and cute!
I also love this 12.99 rain cover, so good if you're hiking or traveling somewhere in the rain! (I use it for any of my bags during Bali rainy season when I'm often motorbiking with my computer, etc on me!
The best non-backpacker backpacks for travel: cute travel backpacks to take your essentials around the world
While we all know I'm pretty much as far as a backpacker as you can get, I still do love a good travel backpack. My picks for the cutest travel & work backpacks are these:
I'm not sure I've ever seen a more thought-out travel (and life) backpack than this one. It's the perfect backpack to take you to work, the gym, on a flight, and around the world. AKA the best investment you could possibly make. AND it's L&S. Which you guys know I'm obsessed with – their quality is unbeatable.
I use this backpack every day to tote around my laptop, sunglasses, wallet, travel docs, phone, skincare routine and whatever else I'm traveling with that day (See what's always in my carry-on here). I love it because it's chic, but super practical. It has all the benefits of a purse but with none of the back pain! It also has a discreet side pocket for easy access to things like your wallet and phone.
Lo & Sons Claremont camera bag.
You guys know by now how obsessed I am with Lo & Sons products. They're SUPER high-quality and last for YEARS with no wear and tear. They're also just so smartly engineered (think little details like a zipper pocket on the outside of your camera bag so it doubles as a purse as well). These camera bags may be on the pricier side, but I guarantee you they are worth every penny. This super chic camera bag also comes in multiple colors! (I have the brown sienna leather).
Inexpensive beach totes from Amazon
While I love good quality (hence why I spend my entire paycheck on Lo & Sons bags), I also love a good steal, especially when it comes to beach totes. They end up sandy and salty and don't last very long, so I love stocking up on a fresh one from Amazon before vacay. Here are some of my fave steals!
$19.99
Foldable and super easy to pack beach tote from Amazon – only $23
See my other packing blog posts!
The best girls weekend destinations
What to pack for a trip to Bali