5 Ways to Score First and Business Class Tickets for Less
Business and first class tickets can make or break a vacation. I mean, is there anything better than traveling first class and showing up to your vacation rejuvenated and excited, rather than wore-down and jetlagged? Lay-flat seats, top-shelf cocktails, chef-curated meals, and all kinds of other jetsetter luxuries await you. But they don't come cheap.
Sometimes, a simple flight to Europe can be more than 4X as expensive in business class as economy. So how do you fly first class without breaking the bank? Here are 5 easy tips you can use to make your first and business travel dreams come true, for less than the advertised rate.
1. Earn Credit Card reward points toward free business and first class flights
Credit card points are the BEST when it comes to having the ability to travel around the world for almost nothing. Check out my post on the Best Credit Cards for Travel Rewards here. By signing up for a great travel credit card, you're able to get rewarded for your everyday purchases that you're already making, and redeem them for epic travel rewards – like round trip airfare, or free upgrades to business and first class. Points make first class airfare affordable, and are a great option for honeymoons, or that destination wedding you have planned in Hawaii next year.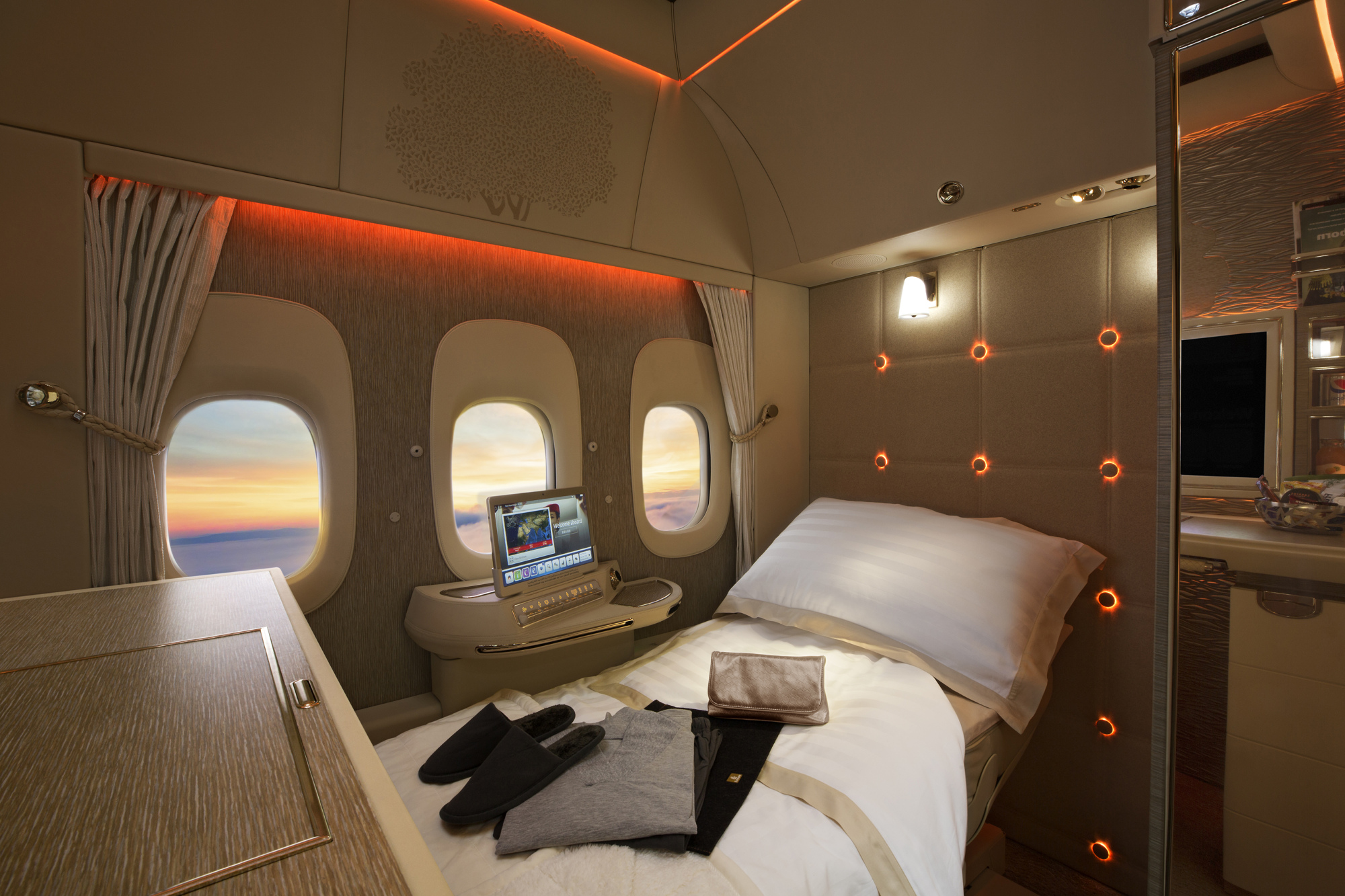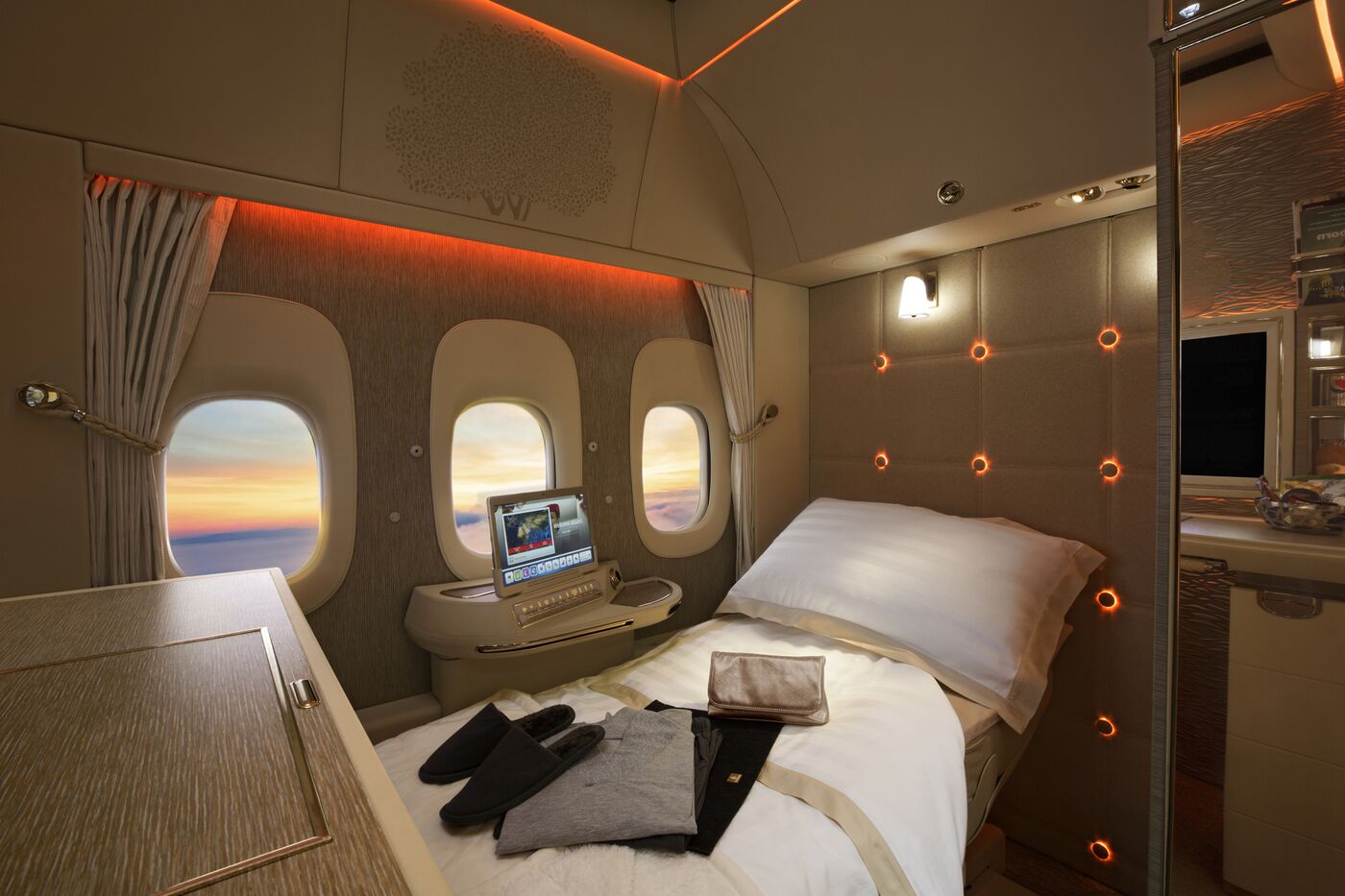 Also, here's a big travel hack – transfer your credit card points from the credit card company to the airline at 1:1 points value, and you'll often get a better deal with the airline points on upgrades.
Source: Emirates
2. Find a less popular flight with more empty seats
If you have your eye on first class, try selecting a less-popular flight time, or origin. Generally, the more popular the flight, the more scarce and expensive the first class upgrade. Certain flights, like the first flight of the morning, or the red-eye (overnight flight), tend to be emptier, and therefore have more deals.
3. Get creative with Google Flights
Open up your Google Flights search and rather than selecting an arrival city, search the best price on business/first class by selecting the region. For example, if you're heading to Italy, rather than searching for business class flights to Rome or Naples, use the "Search Europe" feature to see if you can simply get to the continent on a cheaper first-class rate. Then, you can just take a hopper flight to get to your final destination (which are often under $100 in Europe)
4. Consider Buying Airline Points, Rather than Earning Them
Every few months, airlines will sell points in promotional sales which means you can purchase miles without actually flying anywhere, or earning them on your travel credit card. You can then use those points to book trips in first or business class for significantly less than paying for it outright. For example, a deal with United Airlines can let you fly first class from Hong Kong to Sydney for 40,000 points, which you can purchase for about $1,092. Booking this same seat the standard way would cost a staggering $6,108.
Photo courtesy of IflyA380
5. Consider SkyLux Travel to search for sales and private deals on business and first class tickets
While I haven't tried them yet myself, SkyLux Travel is a Business & First Class booking company that may be worth looking into! If you sign up for their email, they'll send you email alerts to save up to 50-77% OFF on business class flights worldwide.
Pin this post
Check out my other posts!
20 Travel Essentials You Need to Jetset Like a Boss
The Ultimate Santorini Travel Guide
The Best Honeymoon Hotels in the Amalfi Coast
The Ultimate Amalfi Coast Travel Guide