The Ultimate Guide to Sailing the British Virgin Islands
Let me set the stage for you.
You wake up on a sailboat, bouyed in the harbor of a near-deserted Caribbean island. The sun is out, warming your skin all over, but the breeze and passing clouds make the temperature nothing short of ideal. All you can hear for miles is the slightest calm crashing of the waves, and maybe a few seagulls flying. The water is aqua. Not blue, not green, not even turquoise. It is a bright, almost neon, aqua. You see the outlines of coral reefs surrounding the islands, and you can't wait to get your snorkel mask on. On shore, there is little to nothing except maybe a few beach bars scattered around. Your days are filled with snorkeling, sailing, swimming, paddle boarding, and drinking delicious tropical cocktails. The nights are filled with dinners on the beach, stunning sunsets, and late nights at bars that you have to dinghy to because they are nothing but a decked-out pirate ship in the middle of the ocean. This is the life. This is the life I lived for a week in the British Virgin Islands, and I'm telling you all, this place is paradise.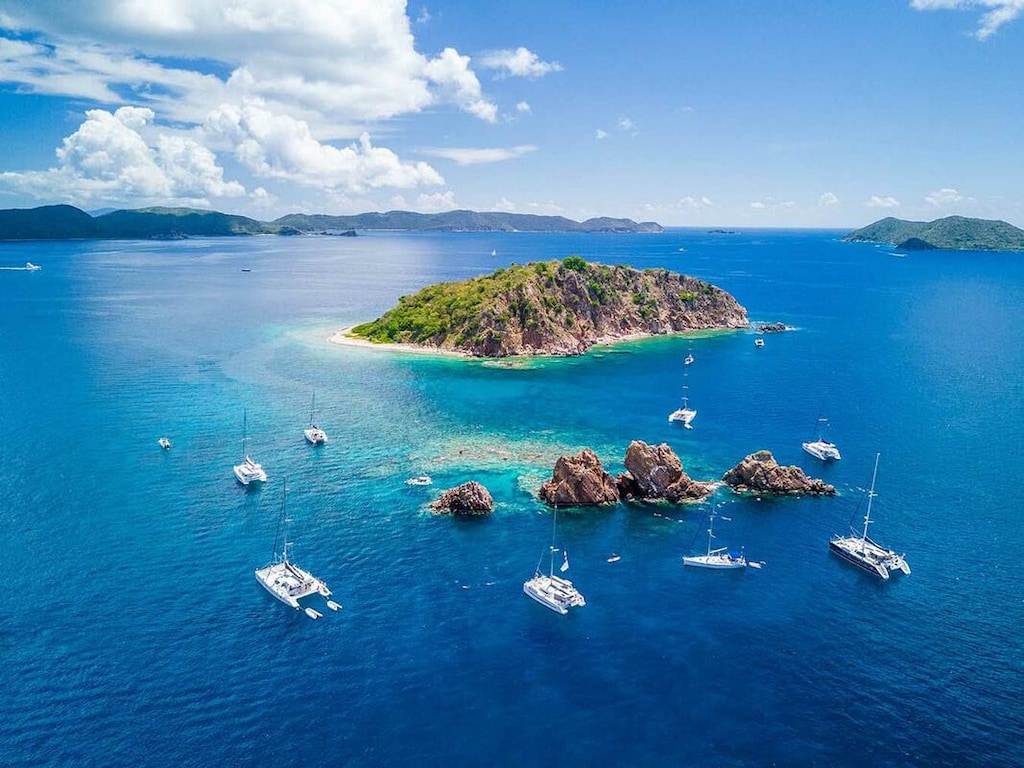 The British Virgin Islands are hard to get to, which is what makes them so stunningly unspoiled. Cruise ships can't dock in the harbors, so sailboats and private yachts are the only ones who enjoy the islands. I'm almost positive you can't get anywhere without a boat, so if you're planning a trip, you're going to want to look into sailboat rentals. Don't know how to sail? You can even rent one with a captain, or, if you're feeling the splurge, a chef! Many of the sailboats are more like yachts. Ours fit 10 people comfortably and had a huge back deck for eating/drinking/playing cards & liars dice. Our boat was a catamaran, which I loved, not only because of the smooth sailing, but because we loved lounging out on the hammock in the front of the boat.
Rent a luxury catamaran – complete with a chef and captain on VRBO! This one is fabulous.
The weather is key for the BVIs, so do lots of research. We went in May and it was PERFECT, but our friends had gone in the middle of summer and said it was deathly hot. Alternatively, you can get a house to base from for most of your stay (I'd recommend one of the villas at Scrub Island BVI) , and just take a sailboat out for a day or a few days.
The islands
The BVI's consist of the main islands Tortola, Virgin Gorda, Anegada and Jost Van Dyke, along with over 50 smaller islands (about 15 of which are inhabited). Tortola, the biggest island, is only 12 miles long and 3 miles wide. Also a fun fact, Richard Branson (CEO/founder of Virgin Group) owns two BVI's himself, Necker Island and Mosquito Island)
where to go
Let's break it down by island
Yes, this place is real. Soggy Dollar Bar, Jost Van Dyke, BVI
jost van dyke
My very favorite island of the whole trip. If you're in the BVI's,you have to go here. No I mean it. You have to go to Jost Van Dyke. Right now.
white bay
White Bay, as if the pictures don't do it enough justice, could not be more unreal. Pristine white beaches lined with beach bars, such as the famous Soggy Dollar Bar, make this bay a hotspot for anyone and everyone in the area. We came into White Bay during the day when the whole beach was hopping with boats blasting Jimmy Buffett, people paddleboarding and swimming into shore with beers in hand, and groups of sailors coming in for their mid-afternoon painkillers (a boozy coconut, pineapple, and OJ rum cocktail Soggy Dollar is famous for). This picturesque little slice of heaven was gorgeous, surreal and so much fun.
soggy dollar bar
We spent the entire afternoon at this bar and I can say, without a doubt, that it is the best bar I've ever been to. The bar is named the "Soggy Dollar" because there is no way to get there except to swim in, leaving travelers like us with our soggy dollars to pay for drinks. It is such an experience, and the painkillers (their famous drink) are to die for. They also have yummy food and some competitive ring-toss bar game that the guys loved. If you're in the BVI's, don't even think about missing out on the Soggy Dollar. Day drinking followed by an afternoon nap on one of the hammocks that line the beach? It just doesn't get much better.

All matching in the Tortola print by Kenny Flowers
foxy's beach bar
Located in Great Harbor, just down the island from White Bay, Foxy's is another famous beach bar experience. Whereas Soggy Dollar takes the cake on the daytime scene, Foxy's is your nighttime go-to. They serve a great dinner, have lots of TV's for sports, and have DJs or bands playing at night. So much fun!
have some pizza in paradise
I'm not even sure this pizza place on the beach has a name. Look for the awning that says "pizza" down the beach from Soggy Dollar and you'll find it. This place is amazing. The owner, Joe Cazik, a Colorado ex-pat, had just taken over the restaurant and was so awesome to us. We showed up for dinner, to the deserted beach (white bay is a daytime hotspot, but is beautifully quiet at night), and he re-opened the entire restaurant and turned on the pizza ovens for the ten of us. We talked with him for a while, ate our DELICIOUS pizza at a table on the beach and enjoyed what was definitely one of our favorite meals of the entire trip. We were lead here by word of mouth from a couple we had met at the Bitter End Yacht Club, who said they had been around the islands at least once a year for the last thirty years. (THE LIFE!!!!) Anyways, they told us this was the spot, and it is!
the bubbly pool
If you're looking for a day trip on Jost Van Dyke, the bubbly pool and lunch at Foxy's Taboo is a great option. The bubbly pool, kind of like a natural hot tub formed by rocks in the ocean, are really cool but you have to go at the right time when the tide is high, or else it is underwhelming. Around the pool, you can climb up the rocks on the back side of the island and see some great views. After this, grab lunch at Foxy's Taboo, owned by the same Foxy we met at Foxy's, this place has some GREAT food and drinks for lunch. https://foxysbar.com/email/pictures-from-taboo-from-nathanial.html/attachment/foxys-taboo
virgin gorda
Virgin Gorda, one of the largest islands, is full of pristine beaches, luxury resorts, and great sailing. It's definitely a must-do, and here's why.
I'm not sure what heaven looks like, but if I had to guess, it would look something like this. One look at this Yacht Club Resort's website and you will understand why I was in awe at every turn here. Located at the bitter end (fittingly) of Virgin Gorda island, this STUNNING resort has some of the best views I have ever seen in my life. Everywhere I looked, I couldn't believe my eyes. Talk about sensory overload. The food could admittedly be better here, as could the service. But you won't get any better views, so it's worth the trek to the bitter end.
Yep. Lounged here and felt like I was walking in a computer screensaver.
the baths
This gorgeous area on the southwest coast of the island is unlike any other beaches in the Caribbean. White sand beaches framed by HUGE granite boulders create caves and grottos with amaaaaazing snorkeling and some of the prettiest sights you'll ever see.
Tortola island
the last resort
This restaurant, on an island in the middle of Bellamy Cay in Tortola, serves up delicious local seafood and caribbean fusion cuisine in a fantastic unique island setting. Fitting that it's called the Last Resort as we went here on our last night in the BVI's! The restaurant is really close to the airport, so if you're looking for a last lunch or dinner hoorah, this is your place.
C&F
We ate at this local dinner place and loved it. Great vibe, outdoor dining, and delish caribbean lobster. Just beware they may take over an hour to make your food, but that's pretty normal in the BVI's— everyone is on island time. So sit back, relax, and enjoy the islandey atmosphere.
norman island
Norman was another one of my favorites!!! We had a great day snorkeling here, and moored in The Bight.
pirate's bight restaurant
We loved this place!! Gorgeous setting, good food, and an awesome dinner on the beach looking out onto one of the most scenic harbors in the BVIs. https://www.piratesbight.com/gallery.htm
Willy T's
A pirate ship bar in the middle of the bay that you have to dinghy to get to. Known for it's wild parties where the bar gives free drinks all day to any girl who jumps off the top of the boat topless. This floating bar and restaurant is fun, crazy and so unique. We loved it. Definitely a must-do, day or night, if you're on Norman Island.
A chic luxury resort island in the middle of the Caribbean? This is my kinda place!! Yes- the whole island is one resort! We pulled in here for the day and had a lunch looking out onto their picture-perfect beach. The drinks were amazing (I had a champagne and white wine sangria with fresh island fruit!) as was the food. This is definitely a honeymoon-type spot, with gorgeous quiet paradise beaches and amazing landscaping and resort facilities. https://www.peterisland.com/index.php
If you're like me and live for sun, sand and snorkeling, you just found your paradise. I know I did- I've got the tan lines to prove it.
xoxo,
Christina

follow me on instagram
'
Check out these other blog posts:
Virgin Islands Bachelor Party Guide
The best airbnbs in St. John, USVI