The Best Baby Registry Must-Haves According to Expert Mamas
As a first-time mom, I wasn't quite sure what to include on my baby registry. There are so many different baby products out there, and even when you decide what items you need, you still have to decide which brand is best. And then I keep hearing from a lot of mamas lately the advice that you actually don't need as much as you think you do – and that being more minimalistic (and practical!) on your registry is better. The last thing you want is to have a bunch of expensive baby stuff lying around your house that never gets used!! So, when it came time to decide what my must-have baby registry items were, I turned to the experts on Instagram – all of YOU! Here is what my expert mama followers said were the MOST important absolute must-have, can't-live-without items for a baby registry.
Transportation
By far and away the MOST recommended stroller was the UPPAbaby stroller! Tons of you swear by them!! UPPAbaby has several different stroller options (your top two recommendations were the Vista V2 for the best full-size stroller and adding on the Minu for lightweight travel, as well!), plus they have every accessory you can think of AND it grows with your family – you can add on a second child! I'm sold.
I learned from you guys that we don't need just one stroller – the full-size, bulkier Vista V2 is a must, but we need one that's more portable as well! The Minu was a clear favorite among all you expert mamas out there.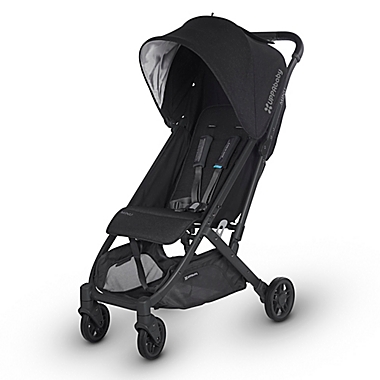 Another must have for our baby registry? The Ergo Baby Carrier! I had already been looking into these as I keep seeing them on all the trendy mom instagrammers I follow, but now I'm sold! How cute and comfy will this be walking the beach with our baby in Charleston?!
Safety first! A mirror for the car so that you can see baby at all times is a motherhood must have. This one comes highly recommended and you can get it on Amazon!
All of our new family walks in Charleston are going to call for a fan to keep baby cool! Especially in the Southern summer heat! Amazon sells this one for under $30 (the flexible legs are perfect for wrapping it around any sized stroller or car seat!).
As far as infant car seats go, everyone raved about the MESA!
Baby Gear
The Baby Bjorn bouncer was hands down one of the most repeated recommendations from all you mamas! It comes in 23 different colors, so you will definitely be able to match it to your personal style. It's for SURE going on our registry. I think I like the black quilted! What do you guys think?
The new bouncer on the scene is Ergobaby's BabyBjorn competitor, Evolve, and I have to say I like it even better than the BabyBjorn! It's sturdier, softer, and even converts to a toddler seat!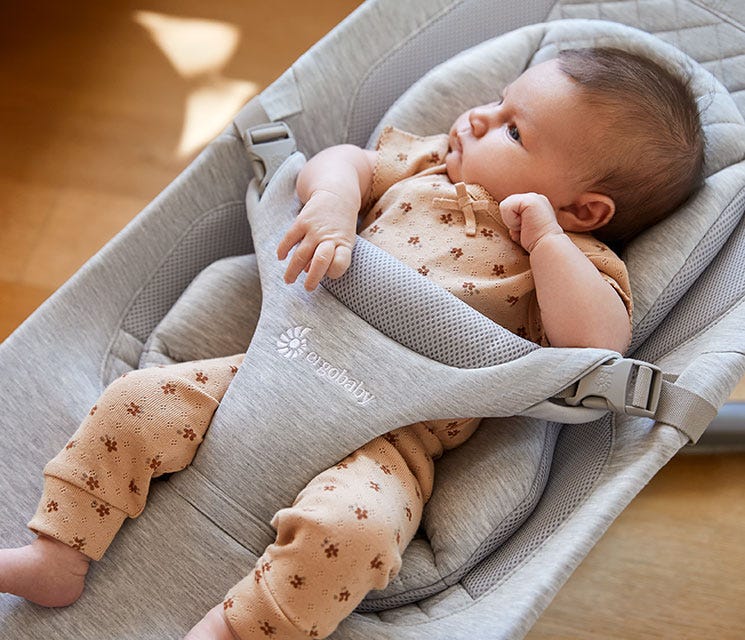 Dock-a-Tots were the #1 thing that you guys recommended! You can place your baby in the Dock-a-Tot anywhere in the house from day one, and it's an ideal spot for babies for supervised lounge time, play time, rest, cuddle time, diaper changes and tummy time! So convenient for busy mamas to have around the house.
I have heard soooo many of my mama friends talk about the SNOO Smart Sleeper bassinet! It is definitely pricey, and I was on the fence about it, but after doing a ton of research, and hearing all of the RAVE reviews from you all, I think Kenny and I will have to get one!
Everyone agrees that portable cribs are definitely a must, and this one looks super easy to put together and use. Plus, since it folds up into a backpack, it's airport-friendly (which is a huge Jetset plus!).
You guys told me you LOVED your Dagne Dover Diaper Bags! It comes in five different colors (one of which always changes with the seasons, so you can always check back if you want something different!).
Nursery & Decor
Baby Monitors come in all different shapes and sizes, but this is the one you all recommended by far and away the most! You can choose from a video monitor, an audio monitor, a video/audio monitor, or a breathing/heartrate monitor! According to experts, the Nanit Baby Monitor is the best of the best.
TONS of you recommended this Hatch Rest Sound Machine!! Many of you said it was a total game-changer when it came to getting your baby to sleep through the night. Love it.
Don't forget the portable sound machine by Hatch too! We love it!
Newton makes this 100% breathable and washable baby mattress, and I am in love! It comes with a cute removable quilted cover as well, so you can either keep the original on or replace it with something like a waterproof mattress pad cover (another top rec from you!).
For a less expensive version, this brand also has a great mattress.
Nightlights seem to be very popular for both the hospital and for late-night diaper changes, and the top-recommended brand was Vava!
Clothes & Accessories
The last thing you want to do at 3 a.m. when you're overly exhausted and your baby is squirming is to have to deal with fastening tons of buttons on their onesie! That's why so many of you recommended magnetic onesies (the top recommended companies were Kyte, Magnetic Me, Lou Lou & Co., and Little Sleepies!). Everyone also said that bamboo PJs are the best, so I'll definitely be asking for those, specifically.
This was such a good baby registry recommendation because it's something I would have never thought of! But with all of those cute clothes, you're going to need baby hangers like these velvet ones from Amazon.
Top recommended companies were Halo, Lou Lou & Co. and Love to Dream!
If you're a first-time mom like me, I bet you haven't thought about the fact that your little baby's nails are going to to have to be trimmed to keep them from hurting themselves! One of the most genius things to not forget to put on your registry is these electronic baby nail trimmers from Amazon. That way you won't hurt the baby by using nail clippers – these are much safer!
It goes without saying that every baby needs a Kiddy Flowers swimsuit on their registry!!!! I mean… HOW PRECIOUS!!!!!! Depending on when your baby is being born, size accordingly when it comes to adding a colorful baby swimsuit or matching mommy-and-me swimwear to your registry! If you're having a summer baby, you'll want to snag a 0-3 month size, but if you're planning on not going to the beach (or pool) until they're a little older, plan ahead and get a 6month size or larger! And throw in a matching one for yourself too, obviously.
There are thousands of options on Amazon for pacifiers, but this little elephant stuffie pacifier is so dang cute! I've heard that pacifiers are one of those things that you can't have enough of.
Feeding
Other than your typical bottles, bibs, burp cloths, and sippy cups, here is what you guys recommended for feeding!
Elvie Breast Pump
The Elvie Pump was recommended a ton, and had already been what I was looking into after reading a ton of reviews! Many of you said this was so important in keeping your hands free while pumping – a HUGE time saver since you can do other things while you pump. Elvie is the smallest and lightest all-in-one wearable electric breast pump that you wear discreetly right under your bra!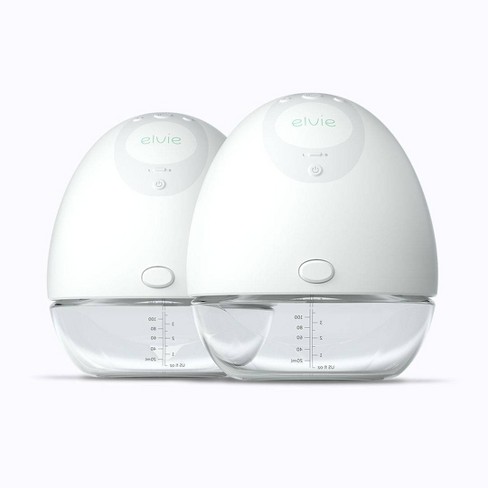 The Brest Friend Nursing Pillow wraps around your body and alleviates stress on your back, arms, and neck during breastfeeding! It also encourages better posture, which is always a plus.
If you're choosing not to breastfeed, this came highly recommended – it's like a Keurig for your baby's formula! SO cool!!
Getting the baby's bottles to the perfect temperature can be tricky, but this bottle warmer makes it simple!
According to you guys, this is the best bottle sterilizer (and dryer!) on the market!
This breast pump is cordless and easy to clean, so lots of you recommended it! If you are looking for something hands-free and portable.
Bath Time
Fridababy's 4-in-1 Baby Bathtub was a recommendation that was repeated a ton! It is perfect because it adjusts as your baby grows! It has settings for 0 – 3 months, 3 – 6 months, 6 – 9 months, and 9 – 12 months!
The most recommended baby washcloths were these from Kyapoo! They are made of microfiber fleece, which is super soft and absorbent.
Diaper Things
Other than MANY, MANY diapers of all sizes and lots of baby wipes, here is what you guys recommended!
I got a few different DM's about the Hatch Grow Smart Changing Pad and Scale, and it seems great after reading more about it! This changing pad has a built-in wireless scale that syncs with an app on your phone so that you always know how much your baby is growing. A lot of you mamas said that this is especially helpful once the doctor visits are more spaced out!
The UBBI Diaper Pail is made of steel (most are made out of plastic), which helps keep your nursery from smelling like a dirty diaper! It's super easy to use and clean. A lot of you recommended this one. However, some of you said you returned this brand for the brand below!
HOWEVER, I was told by some of you guys that the UBBI was actually not the best choice and that the Munchkin brand diaper pail is much better (read: less smelly!!!!) and has a foot press so you can toss diapers away hands-free – thanks to you guys, I think this is the one we're going with!
Heath, Wellness & Safety
This ointment is great for diaper rash, eczema, baby acne, cradle cap, and so much more! Expert mamas told me it's THE all-in-one product that should be in every mom's diaper bag.
Toys & Books
The Parents' Choice award-winning play gym includes everything your child needs in an activity gym and play mat—from batting to teething to learning to focus—for playtime and tummy time with purpose. Designed by child development experts and crafted with safe, healthy and durable materials for babies ages 0+. It helps them build up their strength and support their development! If you're looking for something less expensive, this one from Amazon has over 1,500 five-star reviews.
If you are at a restaurant, hanging out at a friend's house, or just need to occupy your baby for a little while so you can get something done, this Busy Baby suction cup silicone play mat is for you! It sticks to any surface and has four different silicone "strings" that you can attach your baby's favorite toys to!
We can't forget about the books!! Some favorites are Love You Forever, If You Give a Mouse a Cookie, The Giving Tree, the Pout Pout series, and anything Dr. Seuss.
Check out these other blog posts
the best travel-inspired baby names
Answering all the top questions I've gotten about pregnancy