The 5 Best Areas to Visit in Portugal
Portugal continues to be one of Europe's best hidden gems, and one of the most affordable countries to visit in Western Europe. The beauty of Portugal is endless, from the rugged coastlines along the Algarve coast, to the colorful streets of Porto and Lisbon, to the rolling hills of wine country. My ideal trip would involve a few days in the city centers and wine country, then a week in relaxing on the sandy southern shores. These are the MUST-SEE areas in Portugal that will have you both wanting more but also wondering how this place isn't absolutely over-run with tourism yet (but I'm not complaining!)
BTW – hot tip – One of the reasons traveling to Portugal became much more accessible when TAP airlines started their stop-over program in Portugal. You can now fly from the U.S to any major European city with a stop-over of 1-5 days in Lisbon or Porto! Two trips in one?? Sign me up!
The Best Time To Visit Portugal
While the summer months are incredible in Portugal, they are the most crowded. In my opinion, the best time to visit Portugal is in either the spring (March to June) or fall (September to early-October). Fall is also a great time in wine country! (But isn't any time of year great in wine country!?)
THE BEST AREAS TO TRAVEL IN PORTUGAL
Lisbon
This laid-back and charming capital city will pull you right in. Lisbon starts by seducing your senses with sweet scents wafting through the alley ways from all the cafes. The mosaic tile walkways will captivate you and the steep streets will lure you up to incredible viewpoints of one of Europe's most magical cities. Hop on a vintage tram that will wind through all the most famous tourist spots, gardens and historic districts. Eat everything you can get your hands on, after all, you need your fuel on those steep streets!
My choice of where to stay is Hotel Santa Caterina Verride – an INCREDIBLE boutique luxury hotel with amazing views, super nice and spacious rooms, and located in the best area of the city. It's a refurbished palace and the food, service, and everything about it was fab. We loved it so much!!!
JETSET TIP – If you're looking for the most stunning hotel room in the city and quite possibly country, splurge for the Royal Suite.
Photo by LisbonLux
If you prefer your own private penthouse with a view go with a Airbnb or VRBO.
If you have some time to spare, don't miss doing a day trip to Sintra. A Fairytale-esque city at the foothills of the Sintra Mountains just an hour outside the city. Here you'll find royal retreats/castles, rolling green hills and colorful cafe-lined streets. Plus you can't miss the Pena Palace, one of the most gorgeous castles in all of Europe.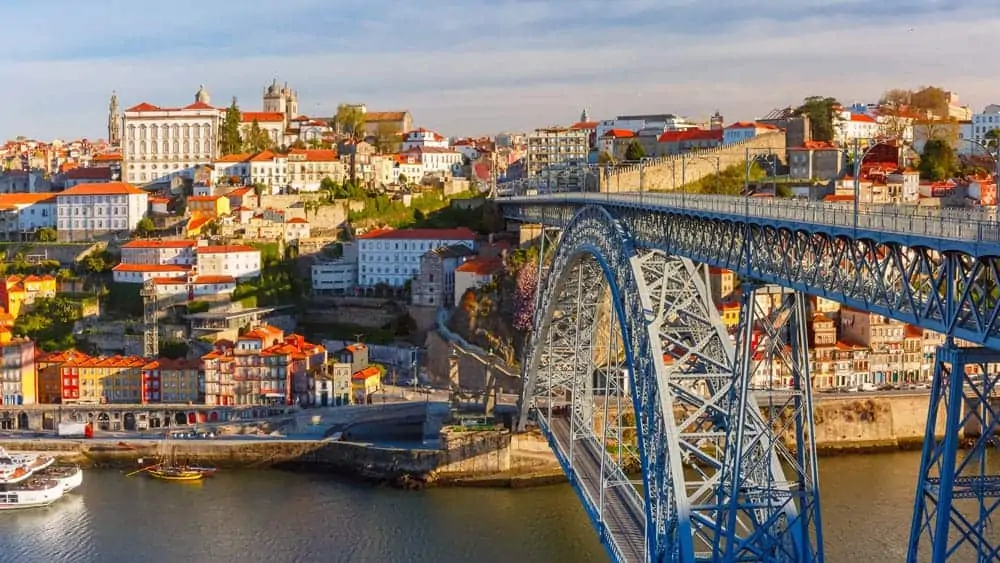 The second largest city in Portugal and no less gorgeous. Set along a major river, the city of Porto not only offers incredible fortified wine, but arguably the best foodie scene in the country. The streets come alive at night with live music, and the smell of grilled fish. Spend your days lazily wandering the cobblestone streets peeping the mosaic tiles, pop into the oldest bookstore in the world, admire the Ponte de Dom Luis bridge and maybe do some wine tasting.
Porto is also your gateway to the Douro Valley…the most famous wine region in Portugal! (And where Kenny and I just went this summer and stayed at the most incredible hotel ever!)
When it comes to where to stay in town, we loved Torel Avantgarde for city center luxury or the Yeatman (a WINE hotel and spa, can you tell I like wine?) for a romantic getaway.
The Douro Valley
Douro Valley is my happy place.
The Douro wine region is the most famous in all of Portugal and is steadily gaining popularity internationally. The best thing about this region is that it can be explored via car, rail or boat. Now tell me, where else in the world can you winery hop by boat??! This is the perfect 1-2 day add on to a Portugal itinerary. Take a cruise from the nearby city of Porto, where you will travel up the Douro River and watch the dramatic scenery change around you as you enter wine country. Ahh I'm already mentally there. Visit some of the most renowned wine houses in the region (many of which have guest accommodation if you prefer to spend a night on the estate) and taste your way through some of the best gastronomy in Portugal. For the ultimate luxury experience you must stay at the Six Senses Douro Valley.
This GORGEOUS wine country is just up-river from Porto (you can even take a boat there from Porto). We opted to rent a car and drove 1.5 hours. If you just want to go for the day from Porto, I would do a tour like this one!
The Algarve Coast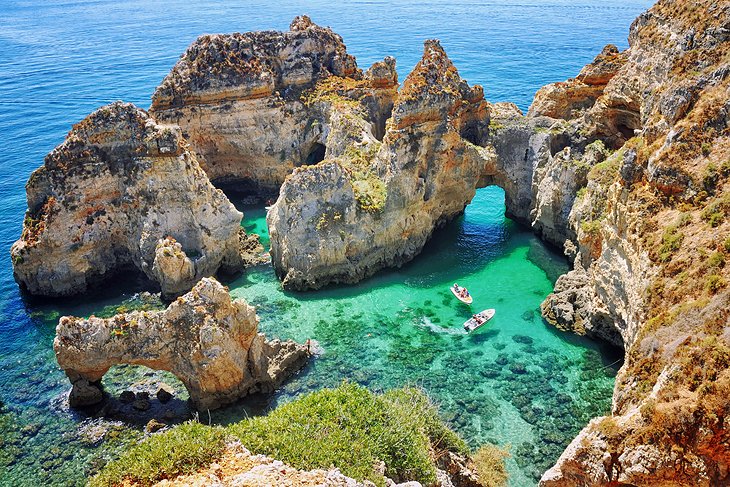 The Algarve Coast is easily one of the most beautiful in the world. With it's sunny Mediterranean climate, white-washed villages, long sandy beaches and hip beaches, you're in for a treat. Faro is the capital, but when it comes to nightlife, Lagos takes the cake. If you're looking for something a bit more tranquil, check out one of the relatively undiscovered coastal towns like Carvoiero, Sagres, Tavira or Aljezur.
For the quintessential Algarve experience, aka gorgeous beaches, rich history, and fantastic food/wine— look no further than where I stayed – Bela Vista Hotel & Spa
If you're wanting a more "resortey" experience with a golf course to boot, head to the Pine Cliffs Hotel by Marriott with insane ocean views! For a villa that fits a crowd, go with the ultra luxe Quinto do Lago Villa.
The Azores
A collection of nine islands off the coast of Portugal, the Azores are unlike any other European Island. These islands offer volcanic black sand beaches, ancient crater lakes, towering waterfalls and thermal baths. Think: The Costa Rica of Europe. Sao Miguel, "The Green Island," is the largest of the nine while Pico is home to the tallest mountain in all of Portugal.
If you're an adventurer or surfer, this is where you want to be. These islands offer such a unique experience, they are a great addition to any trip to Portugal.
Stay in a gorgeous boutique hotel like the Sensei Azore Nature and Spa or a luxe suite/villa at the White properties.
Check out these other blog posts: