The Ultimate San Diego, California Travel Guide
San Diego, California. Famous for sun, fun, and very best Mexican food you'll ever taste. San Diego is one of the most sought-after places to live in the US and a top vacation destination for all you sun-seeking travelers. My grandparents have lived in La Jolla for 50 years and, because of them, it has always been my second home. As a kid, it was all about the fact that this amazing metropolis had the five things any kid would want… SeaWorld, the zoo, waves, sand and Legoland. As I got older, it was still about the waves and the sand, but also the adorable downtown La Jolla, the Pacific Beach nightlife, and the countless water activities, from jet skiing, to paddleboarding, to biking the boardwalks. San Diego truly has something for everyone, as long as you like sun, surf, sand and the sea.
The mild 75-and-sunny weather year round brings the people in to this coastal California paradise, but it's the unique SD lifestyle that keeps them coming back. The people are easy-going, friendly, and affluent. The beaches are picturesque, full of surf-worthy Pacific waves, and aren't overcrowded. Located just 2 hours South of Los Angeles, San Diego could not be more different from its neighboring CA metropolis. Whereas LA has the bustle of a busy city, complete with traffic 24 hours a day, cutthroat careerists and a huge lack of open space, San Diego seems to have taken that city way of life and thrown it right out the window. I don't think there are many people who wouldn't want to live in this amazing city with its laid back vibe, stunning ocean views, and incredible weather.
So, even if you can't afford to retire to a 15 Million Dollar Oceanview mansion in La Jolla just yet, you can plan an awesome trip!
Where to stay in San Diego
Coronado
One of my favorite hotels in the world. Once the site of Marilyn Monroe's movie "Some Like It Hot", this hotel has incredible history but is gorgeously refurbished to be a top notch modern resort. The Hotel Del's pool area, restaurants, and shopping are amazing, and the beach is perfect. Not to mention you're on the adorable island of Coronado, a gorgeous section of San Diego, just 10 minutes from downtown.
La Jolla
If you want to stay in La Jolla, this downtown hotel is my favorite. I love the location because you can walk so many places and its beautiful iconic pink architecture and overlooking ocean views make it a top luxury hotel in SD.
Pacific Beach
With a gorgeous shoreline and a bustling boardwalk filled with bars, beach restaurants and breweries, Pacific Beach is a no-brainer for where to stay in San Diego for a bachelorette.
The best hotels in Pacific Beach
A sophisticated, boutique hotel in PB, this little luxe hotel is an ideal place to stay with your girls. I mean LOOK at these room views. Plus you're walking distance from the best bars in Pacific Beach, and you're right on the beach for long days in the sun.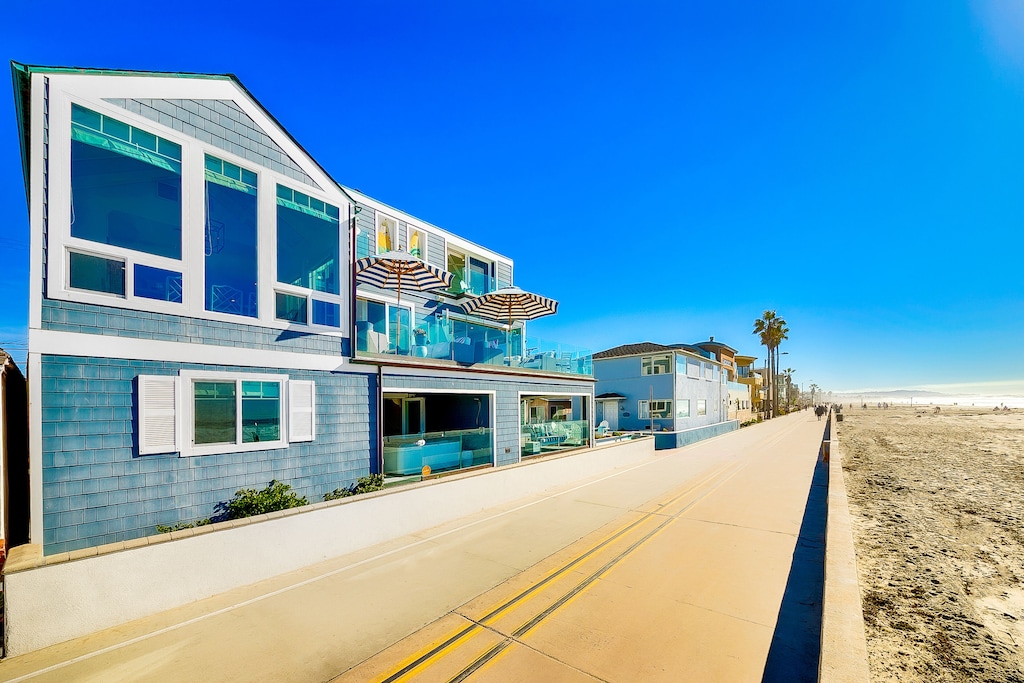 This house with hot tub is IDEALLY located right on Pacific Beach, so you'll be steps from the sand and in the heart of all the action for your San Diego bachelorette. Also has a hot tub!
Where to stay in the Gaslamp Quarter, Downtown San Diego
The best hotels in San Diego's Gaslamp Quarter. The Gaslamp District is San Diego's downtown – it's buzzing and busy, with more city vibes and than the beach-casual vibes of PB.
If you like drinks, pools, and views as much as I do, you'll love Andaz. With a rooftop bar and pool in the buzzy Gaslamp District, and a quick walk to all that downtown San Diego has to offer (city vibes, trendy eateries, rooftop cocktails, and shopping).
Super chic pool, 3 bars/lounges, a 24-hour fitness center, and a poolside bar. Love this hotel.
Del Mar
Del Mar tends to be a sleepier town (except for around racing season!), but if you're after a relaxed luxe weekend away from it all or a romantic getaway in San Diego – this is your spot. A cute downtown, and of course, the racing track.
The best rooftops in San Diego:
With a slogan like 'Tequila Made Me Do it – #ElPrezPB", you know this place is going to know how to have a good time. Expect sun, crowds, and a ton of fun.
For the perfect boozy brunch on a rooftop in San Diego, or sleek dance lounge vibes at night with an ocean view, Firehouse is your spot. It is inevitably crowded almost any night, and has DJs spinning house music multiple times a week, but the outdoor rooftop never feels sardiney – it's nice and breezy.
Maybe the clubbiest rooftop in San Diego, so if that's your vibe, get bottle service and spend the day or night here. Also they throw great pool parties.
The Nolen Rooftop Bar
14 floors high in the Gaslamp Quarter of downtown San Diego, The Nolen rooftop bar is gorgeous, and specializes in creative cocktails in a sleek atmosphere.
Photo by The Rooftop Guide
PB Shore Club
Shore Club has always had one of the best beach views on the Pacific Beach boardwalk, but it leveled up its game last summer with the addition of a beautiful new open-air rooftop patio!
Catania, La Jolla
If you make your way to La Jolla, check out the delicious Italian restaurant with a cute rooftop in downtown. Perfect spot to grab lunch or dinner with your girls, or a date!
Where to eat in San Diego:
Pacific Beach / Mission Beach
Konos Cafe: Great spot for a casual breakfast. Your hungover selves can walk over for some breakfast sandwiches and bomb breakfast burritos while you watch the surfers on the beach.
JRDN: Attached to the Tower23 hotel, JRDN is the perfect spot on the boardwalk for a high-end dinner or a cocktail with a fancy ocean view.
Ambrosio15: for delicious pizza and a casual-chic dinner spot, this is a gem.
Sushi Ota : hole in the wall sushi that is SO DAMN GOOD.
Gaslamp District:
Cafe 21 – super upbeat, cute cafe with great food.
Tocaya San Diego – LA-based organic eatery – super cute.
Meze: Greek restaurant IDEAL for groups. Dinner service runs until 11 p.m. throughout the week, and on Friday and Saturday until 12:00am, and weekend brunch features bottomless mimosas and bloody marys with the purchase of an entree. All throughout the week, the full bar keeps things lively with signature cocktails such as the refreshing Tuscan Gimlet, the savory Dirty Mezè, and the spicy Drop It Like It's Hot.
Searsucker: one of my favorite dinner spots in SD – this popular Gaslamp Quarter restaurant is known for shared plates and its lively bar and lounge area, making it a great spot for a bachelorette party.
BangBang: Sushi in a clubby atmosphere. Great for groups.
Herringbone La Jolla – looove this restaurant. The food is so good and the atmosphere is BEAUTIFUL!
Duke's La Jolla – if you're looking for fresh seafood in an upscale restaurant downtown in La Jolla, Duke's is tough to beat.
George's at the Cove – chic patio and fine dining.
Dos Pedros taco shop – total hole in the wall with the absolute best burritos in the world.
Shore Rider Bar and Grill – Super cute outdoor spot for brunch, lunch, or cocktails near La Jolla Shores Beach.
Encinitas:
The Taco Stand – world famous tacos that live up to their hype.
Blue Ribbon Pizza – AMAZING gourmet pizza that I crave all the time.
Solana Beach:
Alce 101 Kitchen + Tequileria – fab upscale Mexican and cocktails.
Juicers for smoothies and Java Depot (nextdoor) for coffee.
Cardiff:
VG Donuts – The best donuts around.
Del Mar:
Beeside Market – really cute healthy restaurant with outdoor seating and great food.
Fidel's – great Mexican food.
Fun things to do in San Diego
San Diego Zoo
If you have only been to small zoos, you're missing out. The huge San Diego Zoo is one of the world's top ranked zoos, and it's no question why. You can't possibly see everything in a day, but you're guaranteed to have a great day trying. Whatever you do, don't miss the famous Giant Panda Exhibit, as the SDZoo prides itself on having the most successful breeding program outside of China for the endangered species, and they are making huge strides in saving the pandas from extinction. My favorite things to do at the zoo are see the panda cubs, feed the giraffes, and watch the polar bears swim. Feeling adventurous? Sign up for the Ropes Course Safari. It's new and looks awesome!
Seal Beach
If you find yourself in La Jolla, don't miss Seal Beach, also called Children's Pool. Here you can watch and get up-close-and-personal with hundreds of seals playing and sunbathing in the cove.
Del Mar Racetracks
Del Mar, located 20 miles north of San Diego, is a really cute seaside town and is home to one of California's best horse racing tracks. If you're looking to win big or just have a good time at the races, this is definitely a fun adventure. And the horses are gorgeous. Check the schedule before you go, and of course study up on those thoroughbreds to know who to bet on!
https://www.dmtc.com/
Old Town San Diego
This historic center prides itself on being the "Birthplace of California". Lots of authentic mexican restaurants, museums, shops and great history. A tourist fave in SD.
Sail in San Diego
Snorkel with leopard sharks
Yes, sharks. But they're small and harmless, so don't be scared. Here at the La Jolla Cove, you can snorkel with them!
Jetski in Mission Bay
Mission Bay hosts some great water for jetskiing. SO much fun.
Kayak the caves of la jolla
Rent a kayak or do a tour and see the caves of La Jolla Cove!
Golf at torrey pines
Famous for being Phil Mickelson's go-to course and the site of the 2008 US Open, golfing or sightseeing at Torrey Pines is a must for any golfers coming to SD. Situated atop cliffs overlooking the Pacific, it's a stunning course.
Learn to surf!
Find a surf experience here – 1 on 1 lessons with San Diego surf pros! or one on Viator below:
The best beaches in San Diego
La Jolla Shores
La Jolla Shores is your catch-all California beach. It has huge waves and a gorgeous stretch of white sand that spans for a mile. Go to a nearby surf shop if you want to rent a surfboard for the day or take a lesson! They also rent boogie boards, paddleboards, skimboards, and more! One of the most famous is Mitch's Surf Shop.
Pacific Beach
Rent a bike and ride along the whole boardwalk lining Pacific Beach. This beach can get crowded, but is definitely a fun one to people watch. Great restaurants also line the boardwalk! (and my favorite shaved ice place, a popular little stand you won't miss).
Coronado Island
Coronado island is one of my favorite places in the world. It is this gorgeous island ten minutes from downtown San Diego that is home to a naval base. The town itself is so great. Full of cute shops, dining, and one of the best hotels in the world, Hotel Del Coronado. The beach outside of the Hotel Del is a great place to go for the day.
Check out these other blog posts:
Weekend guide to La Jolla, California
The ultimate Santa Barbara travel guide
Where to airbnb for a month or two in the USA
The Ultimate San Diego Bachelorette Party Guide
The Ultimate Beach Vacation Guide
The best airbnbs for groups in Joshua Tree
'
The best all-inclusives for a honeymoon
Hawaii is opening up to tourists – here's what to know