The Top 10 Best Baby-friendly Travel Destinations in the US
As you guys know, Kenny and I are pregnant with our first baby! So I have been busy researching the best destinations to travel with a baby. While we may take a few months at home once he or she arrives, we are anxious to see the world with our little one – starting with some easy US destinations close to home! But where are the best places to travel with an infant in the USA? And what places should be on our list? Here are the recommendations I've gotten from friends, fellow moms, and tons of research.
Here are my top Jetset-approved travel destinations in the USA to take a baby (along with a few hotel and resort recommendations for each!).
30A, Seaside, Florida
It's no secret that 30A, located on Florida's Gulf Coast, is home to some of the world's most beautiful beaches. It's also the ideal family vacation. From action-packed beach days to movie nights under the stars, a Seaside getaway is just what the doctor ordered. The beaches are stunning, and will be the perfect backdrop to your vacation with baby!
Where to stay around Seaside, Florida
Look into Alys Beach or Watercolor.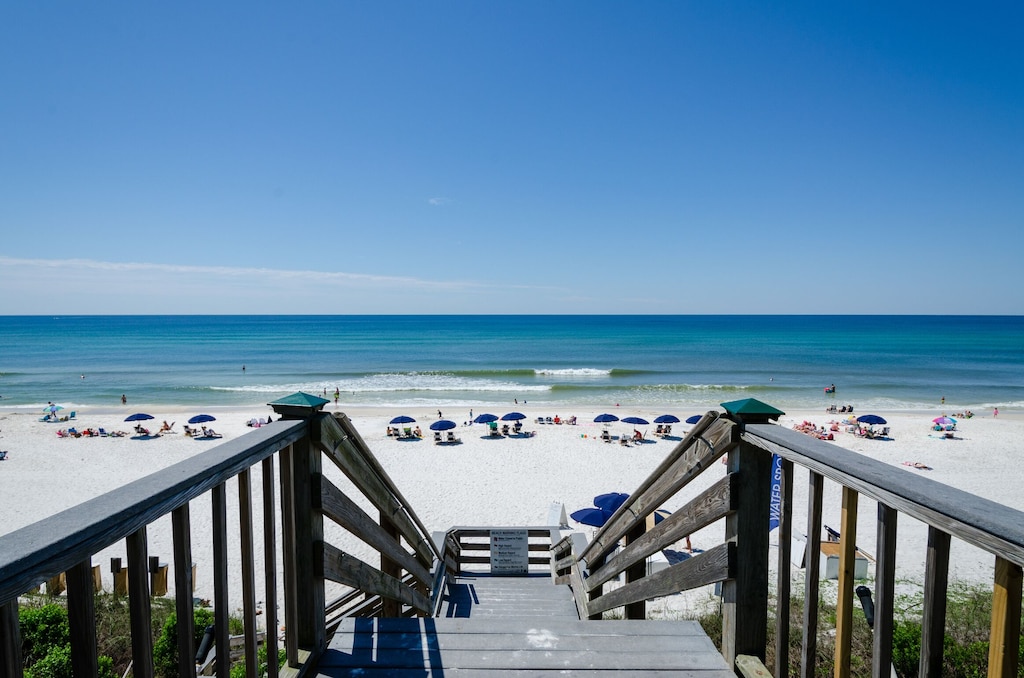 With a convenient beach entrance only a few steps away, this 2 bedroom is a great choice in Alys Beach.
Or try this adorable home in a gated community with an un-crowded beach.
I highly recommend renting a VRBO in Seaside! There are hundreds of cute beach houses that will make your stay super comfortable, especially if you are traveling with other friends or family. This beach house has free bikes and a private pool with enough room for 9 guests, while this condo is reasonably priced (only $471/night!) and is right on the water. If you are traveling with the whole fam for a reunion or family vacation, check out this incredible home where the beach is your backyard!
If VRBOs aren't your style, grab a room at The WaterColor Inn & Resort (rated #1 on Trip Advisor as the most kid-friendly hotel in 30A!). Hey, maybe you could wear your Watercolors Swim and matching Kenny Flowers/Kiddy Flowers at the WaterColor Inn?! 😉
Y'all know how much Kenny and I LOVE Hawaii! Not only did we get married here, but we also spent our final babymoon here (and we can't wait to make more memories with our little beach babe here in the years to come!). Hawaii is great for a trip with your baby because the islands are easy to navigate, they are safe and very clean, and Hawaii prides itself on being a family-friendly vacay destination! Many of the resorts have family-friendly rooms complete with cribs, bottle sterilizers, and so much more.
Where to Stay With a Baby in Hawaii
I would specifically recommend going to either the Big Island or Maui if you are traveling with an infant. On the Big Island, my top recommendation is Four Seasons Hualalai (Kenny and I have stayed here in the past and it is dreamy!!). Here, you can request anything and everything to make your stay more comfortable, from a crib, playpen, diapers, wipes, a white noise machine, a bottle warmer, "little swimmers" diapers for the beach/pool, a nursing pillow, and a high chair! This is an incredible convenience because it means less packing/stressing for you when traveling with a baby!
In Maui, I would recommend Four Seasons Maui, Westin Maui, or Sheraton Maui. Similar to the Hualalai property, Four Seasons Maui offers tons of amenities for families (check out a full list here!).
Matching family outfits by Kenny Flowers. Photo by @bebanones
Charleston, South Carolina
In Charleston, you'll see babies and kids everywhere!!! From roaming around the breweries, to living their best life at the beach, Charleston is extremely baby-and-kid-friendly.
There are so many things to do in Charleston, South Carolina with kids. The downtown streets are easy to navigate with a stroller and there are plenty of parks and open spaces. Make sure you walk Rainbow Row to see all the charming houses. From there, make a stop at the Battery… then head out to Charleston's best beaches.
Where to Stay With a Baby in Charleston
In my opinion, the best places to stay in Charleston with your baby are Wild Dunes Resort or Hotel Bennett. You can book Wild Dunes Resort via VRBO as it is a vacation rental located in Isle of Palms (known for its beaches, eateries, and sea turtles!!). If you are looking for a downtown hotel that is very walkable, go for Hotel Bennett. You won't be disappointed!
San Diego, California
San Diego is known for its beautiful beaches and near-perfect weather all year, making it a fabulous beach destination for families.
As an added bonus, San Diego is home to Lego Land, which is a must-see for the kids! I would also recommend that you go to the San Diego Zoo (one of the best zoos in the world, and my personal favorite!), Sea World, or venture around Balboa Park with your little one in tow.
Where to Stay With a Baby in San Diego
If you are looking for a luxury hotel, look no further than Hotel Del Coronado. This historic hotel is set on one of the best beaches in California, and one of my favorites.
San Diego Mission Bay Resort also offers great amenities for both parents and infants.
Looking for a VRBO in San Diego? There are hundreds of great options! Personally, I lean toward a neighborhood called La Jolla (this is where my grandparents live and where I have spent the most time!). If you're looking for a VRBO there, I would recommend this sophisticated beach-front sanctuary or this luxury condo in the heart of the village. For those of you who are looking for a house instead of a condo, this three-bedroom home in La Jolla sleeps six!
On a budget? Snag this two-bedroom right on the water (only $183/night!!).
Orlando, Florida
For many, it's the happiest place on earth. It's the place where dreams come true and kids are able to live out their princess and superhero dreams in real life. It's Disney World!! Orlando is a no-brainer when it comes to bringing the kids. Disney World will probably be one of their core memories from their childhood. And if you are looking for a solid mix between a beach vacation and Disney, consider a Disney Cruise!
Where to Stay With a Baby in Orlando
There are several places to stay right at Disney World from Disney's Animal Kingdom Lodge to the Walt Disney World Dolphin Hotel (near EPCOT). But I have to say, I think my top pick would be the Four Seasons Resort Orlando at Walt Disney World Resort! Here, you get the best of both worlds – you get the luxury of the Four Seasons while staying right on the Walt Disney World property!
Sonoma, California
Sonoma isn't just for bachelorette parties and girls' trips! The towns surrounding Sonoma are extremely inviting, super relaxing, and many of the restaurants, although luxurious, are family-friendly. Plus, let's face it, chances are you have been waiting a year (or more) to drink wine again. Why not enjoy California's best wineries with your baby in tow?!
Where to Stay With a Baby in Sonoma
Fairmont is a brand that features family-friendly hotels and resorts all over the world. The Fairmont Sonoma Mission Inn & Spa is no exception. Here, you will enjoy spacious rooms and all of the family-friendly activities your heart desires!
My top recommendation if you are looking for a bed and breakfast in Sonoma is Beltane Ranch. Beltane Ranch offers stand-alone cottages that will allow you the space and privacy you are craving. Each cottage is complete with a kitchenette, so you can cook your meals easily without having to head into town!
San Antonio, Texas
San Antonio is a wonderful place to bring your kiddo! The city has a zoo, a children's train, and even a hands-on sensory exhibit called The DoSeum that was made just for kids. Plus, the riverwalk is an easy-to-navigate area that is perfect for a walk with baby in your UppaBaby stroller!
Where to Stay With a Baby in San Antonio
The top two places that I would recommend staying with a baby in San Antonio are Hotel Emma and JW Marriott San Antonio Hill Country Resort & Spa. Hotel Emma is a five-star luxury hotel complete with cribs and baby products for infants, plus a swanky hotel bar for mom and dad! The JW Marriott in San Antonio has over 1,000 rooms with different layouts, so you can choose whatever works best for you. They have a pool just for young kids, and they also offer shaded cabanas with fridges to help keep bottles cool!
Chicago, Illinois
Perhaps you are craving the busyness of New York City or Washington D.C., but you can't quite wrap your head around what it would be like to shlep the stroller down the subway stairs – Chicago is for you! Chicago is a cleaner city than both NYC and D.C., and it is also a bit safer overall. The city is fairly compact and easy to navigate, plus, you won't find the sky-high prices that you would experience in Manhattan. Plus, many of the streets and sidewalks in Chicago are designed with strollers in mind, making it easy to navigate the city. And a lot of the museums provide special stroller tours.
Where to Stay With a Baby in Chicago
Warwick Allerton – Chicago was rated the #1 hotel for families in Chicago by hotels.com. This property offers free cribs and playpens for infants, babysitting services (for a surcharge), and daily housekeeping to ensure your stay is as comfortable as possible. 21c Hotel Museum Chicago also offers free cribs/beds for babies, and for mom and dad, they have a luxurious spa onsite.
Aspen, Colorado
If a snow weekend with your little snow bunny is what you're feeling this winter, look no further than Aspen.
Where to stay in Aspen with a baby
This Auberge hotel is such a gem! It's been the heart of Aspen since 1889 and has a luxury-meets-wild-west vibe. It's perfectly located and ultra-cozy for your little snow baby. Think: super comfy, spacious rooms with to-die-for bathtubs. I loved the history, charm, and friendliness of this place. It's easily the best hotel in Aspen, but it doesn't act snooty at all.
Check out these other blog posts
Is the Maldives baby-friendly?
The best baby registry must-haves
All about our Anguilla babymoon