Everything We Travel With When Traveling with a Baby – Our stroller system, carrier, carseat, and more
Wondering what to pack when traveling with a baby? I've got you. You guys have all been asking in one form or another, so I've been working on the ultimate What You Need to Travel with a Baby packing list. Here is EVERYTHING we travel with when we are traveling with our sweet baby Harrison (which these days is all the time!). He's been on countless flights at this point and I'm excited to share all the lessons we've learned from our first flights and trips with him. Here are ALL of my favorite things we travel with these days to make life easier with a jetset baby going to all of the best baby travel destinations.
We love the MINU V2 and it's a great travel stroller. You can either use it as a front-facing stroller (when your baby is older) or as a stroller with a carseat attachment (perfect for little ones, who use their car seat on the plane!). We have these adapters that go on it that put the car seat on it. It's easy! Another option people love for travel is the Doona, which is a car seat + stroller in one. People swear by the Doona, too, which I think is a genius product and definitely makes people's lives easier by having the stroller + car seat all in one. You can use it up until about 1 year old. But in my research it just seemed like while it was a good car seat, it wasn't as good of a stroller, and I wanted to be able to stroll Harrison around the world! I also liked the storage space in the MINU and the fact htat we could use it longer than a year. When comparing and deciding between the Doona and the MINU, I personally chose the MINU for what I felt like suited our needs best. But, that being said, I TOTALLY get why people would want the Doona, and who knows maybe we'll still try it! I think you can't go wrong with either choice – do what's best for you and what you plan on using it for!
I added these handy hooks so that I can hang random bags on the stroller bar (very handy in the airport) and I added a cupholder from Amazon – highly recommend! I love that this stroller has so much storage (for a travel stroller!)
The stroller we use at home: Vista V2
At home, we use the Uppababy VistaV2 (which I highly, highly recommend for your at-home stroller system) I have loooved the bassinet attachment for him as a newborn and the Vista is the absolute BEST for strolling around our neighborhood and around town. However, it's big and bulky (which all make it great, but less ideal for travel). The reason you want to invest in a really good travel stroller is you want something substantial enough to keep your baby safe and to take on random cobblestoned streets, hills and whatever else you may need it to, but easy enough to fold up in a pinch and take from car to plane to train to taxi to car, and destination to destination! I think MINU strikes that perfect balance! Another one I've heard good things about is the Yoyo2 by BabyZen, but I haven't tried it myself (yet!)
View this post on Instagram
Our travel car seat : the MESA
We use the Uppababy MESA infant car seat on the MINU and then the car seat part goes on the plane with us, stroller gets gate checked, (unless he's on my lap or in a bassinet, then we gate check both pieces!) The MESA can be used until your child is 32 inches tall or weighs 35 pounds, whichever comes first. We use it both at home and while traveling – we take it from our car, to taxis, to the airplane, and everything. It's FAA approved for use on the plane, which was key for me!
How the car seat + stroller works when getting on a plane:
It's super easy! But, if you're anything like me, the first time you feel a little lost – what exactly do you do when it comes to getting your baby on a plane? What do you do with the stroller? Do you bring the car seat? If you have an extra seat purchased for your baby, you can always guarantee you can bring the car seat on the plane with you. If you don't (or are gambling that it might not be a full flight), the first thing you should do is ask the gate agent if it's a full flight and if you can bring your car seat on for your baby if it's not full. If it's not full, you can use up a seat for your baby for free – which is ideal!!! Then, you'll ask for a gate check ticket for the stroller, and when you get to the bottom of the jetway you'll hand off the tagged stroller to the gate check agent. You'll leave it at the end of the jetway and it will be right there when you land. Or, if you're not using the car seat, you'll hand off both pieces (with two tags, or one if you're using a big duffel around them. Which brings me to:
What we gate check the stroller in: A cheap duffel to wrap around the travel stroller + car seat
We bought an amazon duffel to travel with us as our gate check bag to cover both the car seat and stroller. While it's an extra step (and you don't need to!) I like knowing that his car seat and stroller are protected.
Once he grows out of the MESA, I've been eyeing the MaxiCosi car seats!

We don't plan on bringing the bouncer on every trip but I will say it DOES come in handy – he looooves his Baby Bjorn bouncer so it's really great to have a place to put him when we're traveling that he'll just keep himself entertained for a bit (in fact, as I write this blog post in an airport lounge he's next to me in the bouncer, playing with the toy attachment). It helps us get things done and keeps him entertained! So even though, yes, it's ONE more bag, it really isn't bad to bring. We've checked it and also gate-checked it (if you need it on your layover, like in my case!), and it works both ways. All you need is this carry bag for it!
Make sure you get the toy bar attachment, too!
Okay so I have both carriers and I have used both carriers a lot at this point and have to say that I LOVE them both. You really can't go wrong with these two carrier brands. I started with the Ergobaby but had heard a LOT of hype about Artipoppe – which is about $150 more than Ergobaby, and I had my doubts that it would be worth the price tag, but I will say I like it a lot!! Ergobaby is sturdy, breathable, and feels fit for like a big trip, a hike, walks on the beach etc. whereas Artipoppe is a little softer and comfy. And I do like having two carriers! It's super nice to have one set to Kenny's measurements and one to mine!
I like to make sure I pack my portable pump to pump Harrison some bottles of milk on our travels. While I'm mostly breastfeeding him, I do like to have bottles on hand for ease (and also for when I want to have some extra glasses of wine!) This pump is seriously THE BEST, and worth every cent. I have both a stationary pump (the Spectra) and the Elvie (a portable pump) which means you don't have to be hooked up anywhere, you just stick it in your bra and can pump anywhere, anytime (!!!!!). It's so easy that I haven't even touched the Spectra – the Elvie has been a game-changer for me. It's so easy to use and comfortable – especially for travel!! It's soooo handy! I can't imagine going back to a traditional pump (seriously, those things are like torture devices).
If you're staying in a hotel, you don't need to pack a pack n' play for sleep (just make sure they have a crib available for you ahead of time). But, if you're staying with family, at an airbnb, or in someone's house, a pack n' play is a must! We researched a bunch of different brands but ended up picking the Baby Bjorn pack and play because it seemed to be the easiest to set up and take down while being really sturdy and lightweight for travel! It has its own bag, so we check it as a bag when traveling with it.
What Harrison wears traveling on the plane
We usually dress Harrison in a onesie with long sleeves for the flight since airplanes can get cold! But, then, we'll bring him a short sleeve or tank romper or onesie to change into once we arrive (if we're going somewhere warm!). You'll definitely want a couple onesies on hand in case of blowouts. We love these super soft ones for flights!
We use ROAM suitcases. Kenny and I both have the 'Globetrotter" which is the largest they make (and I have the expandable!) I love having a well-made, high-quality suitcase that rolls like a dream through the airport and always feels good packing (and unpacking!). I haven't found anything I like as much as ROAM! Highly recommend.
This portable sound machine is one of my baby ESSENTIALS. But you actually don't need it on the plane! There's more than enough white noise for the baby from the buzzing airplane. For sleeping once you've arrived to your destination, though, it is so great! We use it to soothe the baby on strolls through the neighborhood, in the car, and for any nap! It's great because you can switch from nature sounds, to womb-like sounds, to white noise, to nursery lullabies.
Ok so we didn't start using the slumberpod until Harrison was about 1 year old but it is a GAME-CHANGER. It's basically a (breathable) portable tent that goes over your pack n' play to create blackout darkness for the baby/toddler, allowing you to be in the room when they're napping and not disturb them, and allowing them to get better sleep on vacation! it's a MUST!!! We don't travel without it.
Bucket hats for sun protection
Baby sun protection is tricky! You can't quite use sunscreen yet (it's not recommended until 6 months old) but you don't want your sweet baby's skin getting sunburnt! I believe a little vitamin D is good for everyone, so I don't stress too much as long as I'm following these baby sun protection tips – I always make sure Harrison is wearing a bucket hat and is shaded from direct sunlight.
These are our favorite baby bucket hats!
If you're traveling somewhere warm, don't forget swimsuits in your baby's size! Of course, our baby boy has a closet full of swimsuits from Kenny Flowers (and we have the matching family swimsuits to match him!). There's adorable options for baby girls as well. And for my post-partum mamas, the halter one piece style is the absolute BEST because 1) it's so, so flattering and 2) the open front makes it super easy for breast-feeding.
We also recently got this baby float thing to use in the pool for him to bring with us on any trips he's going to be in the pool!
I recently got this beautiful tote bag that has become my diaper bag/catch all for flights! It fits SO much, and looks super chic. I love the woven look – and it's a great price point! Highly recommend.
For other chic diaper bag inspo, check out this post here on my favorite designer diaper bags.
What I pack in my diaper bag for every flight:
These are SO handy and keep babies super entertained. They have suction cups so you can stick them on the airplane window, or on the back of a book! He loves them.
His favorite book
If you don't already have these books, you NEED them. They are literally all he wants and will take him from crying fit to happy camper within SECONDS. They're sensory and great for brain development. They're just the best, and they have multiple themed to different types of animals! We love the Sea Tails one.
We brought these for baby's first flight but I actually didn't find this ULTRA necessary, unless you're on a plane that's extra noisy. The normal airplane white noise is so relaxing to babies, that I don't think you necessarily need headphones. However, too loud of noises can be bad for ears over time so it doesn't hurt to have them on hand for any ultra-noisy situations. We did use them when I felt like we were more toward the back of the plane where it was louder! But I didn't use them toward the front of the plane.
Sanitizing wipes for the seat
& all of our hands
A LOT of diapers
I kept about 10 of these in our carry on and then packed a bunch of diapers in our checked bag. Yes, you can buy diapers at your destination but I highly, highly recommend investing in Coterie diapers on travel days especially. They are SO much better than other brands at avoiding blowouts, and keeping baby comfy by absorbing so much better than other diapers, which is a godsend on travel days! Give them a try, and thank me later. Also you can get $10 off to try Coterie if you go through this code (not sponsored at all, they just have a referral program!)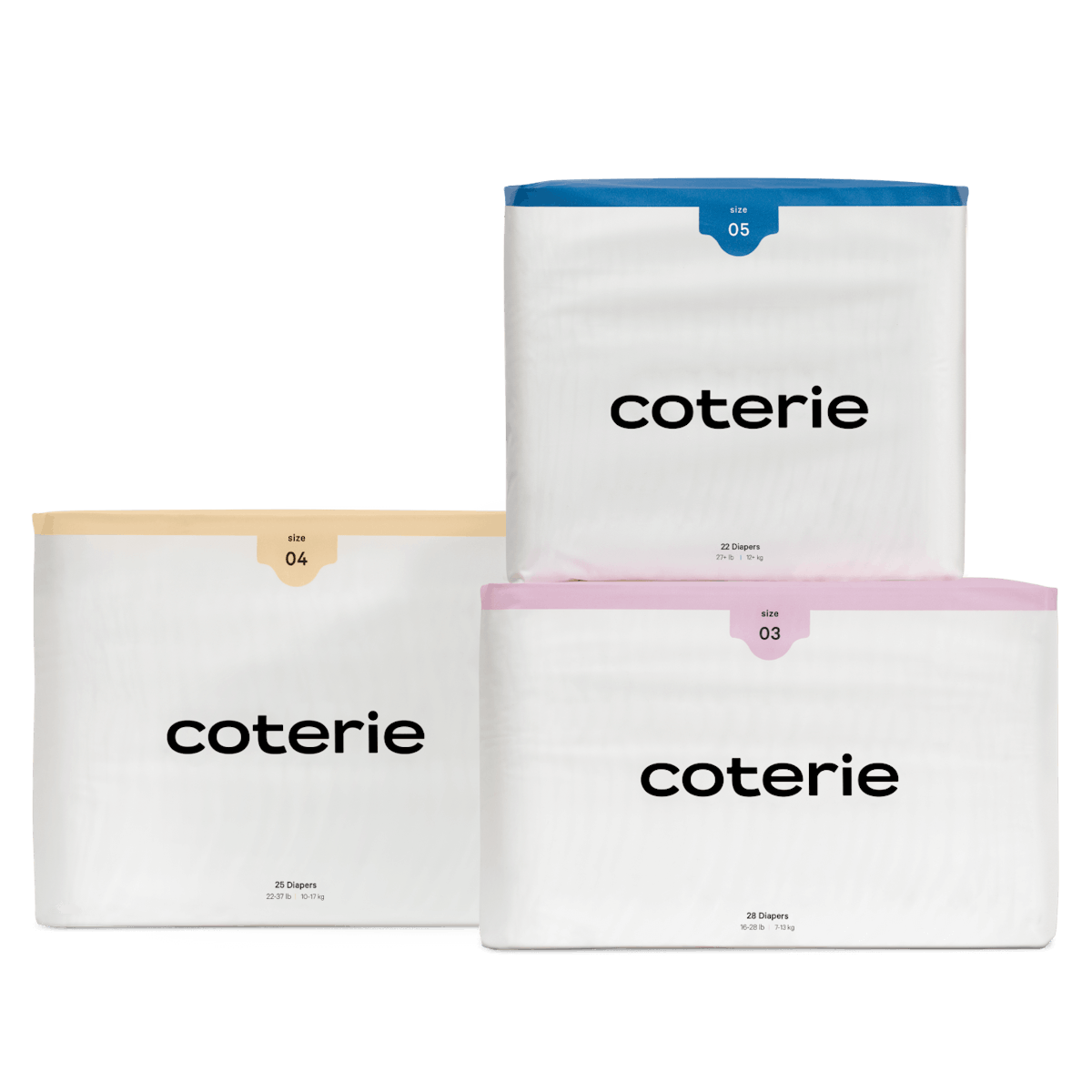 These definitely came in handy for airport bathrooms, etc. I also thought we would have to use the airplane bathroom for changes (yikes!) but we didn't need to! I changed him each flight right before the flight and he would make it all the way through (thanks to the diapers above!) I did have to change him once on one of our flights but I did it right on the tray table (well covered up with the disposable changing pads!) which was 10000x easier than doing it in a cramped airplane bathroom – highly recommend.
Portable diaper bag dispenser
We use this one from Munchkin – these come in handy for any diaper changes where you may not be immediately near a trash can (i.e. on the plane!)
You really, really, REALLY can never have enough. Especially on a travel day when they are inevitably going to end up on the (gross, germ-filled) floor of the airplane, airport, etc. Stock up! I like to keep mine in a separate pouch readily available in the diaper bag. Harrison loves these pacifiers.
Extra onesies
You have to be prepared for a blowout! But hopefully you won't need them. Also, if you're traveling to a warm destination you'll definitely want to pack a lightweight outfit to change baby into once you arrive! (We kept him warm enough in long sleeve onesies with footies on the plane, since planes can get cold! but then changed him in the airport bathroom when we arrived so he didn't get too hot.)
These were the onesies Harrison traveled in
I organized all of the above in these clear tote pouches which helped keep everything easy to find when you need them! The last thing you want is the baby getting fussy and you can't easily find what you need right away from your bag!
This thing is AMAZING, it's aerated but keeps you covered when you want to breastfeed in public – i.e. on a flight! One of the best baby travel tips to keep in mind is to always feed the baby at takeoff and landing (it's good for the pressure on their ears, and helps calm them!) and I found myself whipping out the cocoon anytime he got fussy – worked like a charm! I also used it throughout the trip, anytime I was at dinner or anything like that and needed to feed the baby! It's seriously the best – can't recommend it enough. The best part? It actually looks fashionable! This is the one that I have.
Extra clothes for you
Once again, if there's a blowout, or spit up, you'll be glad you had an extra outfit.