The Best Clean Skincare Brands
When it came to my bridal beauty routine in the months leading up to my wedding, I wanted to do a complete overhaul of my skincare routine. Since I work on the road as a travel blogger, my skin is unfortunately the victim of way too many dehydrating flights, jet lag, humidity, and poor quality air and water in many of the countries I visit around the world. This has all added up to my skin just being fed up – and constantly stressed out. So I decided to get clean. And I'm SO happy I did. Clean skincare has saved my skin – and I'm excited to tell you guys about my favorite clean beauty brands!
BTW: This post is not sponsored! I just want you all to be in the loop on some game-changing products I use every day. I love these products and if you buy from the links in this post, I get a small affiliate commission that helps keep JSC up and running!
At Sephora, Drunk Elephant makes up 50% of the top 10 skin-care best-sellers, and its beautifully-branded colorful bottles are guaranteed to not only be your favorite thing to put on your face – but your favorite thing to look at on your vanity. DE's products are designed to mix with one another, be worn in any order, and are supposedly suited for every skin type because of the way the brand formulates its super-clean ingredients.
If you check beautypedia, which gives a licensed dermatology rating and review of every over the counter product, Drunk Elephant is literally one of the only brands with 5 star ratings across the board. They are passionate about only using clean ingredients that are actually good for your skin and will make a difference.
It can get a little pricey, but it's worth it. I recommend starting with a set of their "littles" or mini sizes to try it out and ONLY using their products for a few weeks – then you'll see the hype is real and want to buy the whole line.
Shop now: Drunk Elephant Minis Trial Size – on Sale!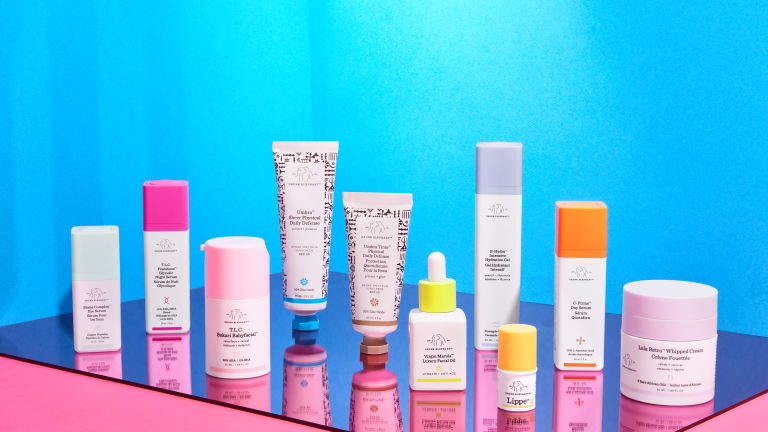 My holy grail drunk elephant product. Vitamin C is meant to brighten skin tone and even discoloration, reduce premature aging, and can even get rid of scarring. Not only that, it's an antioxidant – meaning it protects the skin from environmental factors that harm your skin every day – like pollution, ultraviolet light, and other free radicals. I use it in the morning rather than in the evening, and I put it on immediately after washing my face, before any other products. A good general rule of thumb is to apply your skincare from lightest, to most dense, so vitamin C is always first.
For my other favorite Drunk Elephant products, check out this post here – The Best Drunk Elephant Products I use Every Day
You guys. WOW. This new clean skincare brand has BLOWN me away. I have been using their cleanser and HA serum since last December, and I'm never going back.
Ghost Democracy is focused on a higher standard of clean and higher ingredient concentrations for results you can see, at a price that doesn't break the bank. I love the cleanser because it's gentle, while still exfoliating, and it is the only cleanser I've found that keeps me from breaking out.
This sulfate-free daily face wash gently cleanses and exfoliates, without stripping skin of its natural moisture and is suitable for all skin types. It's formulated with:
No sulfates
No silicones
No drying alcohols
No essential oils
No added fragrance
No parabens
No phthalates
No synthetic dyes
No propylene glycol
No formaldehyde
No MEA, DEA, TEA
No PEG compounds
No EDTA
The Hyaluronic Acid serum is also amazing – I love using HA serum because it locks in moisture – keeping your skin looking flawless and fresh throughout the day!
This serum instantly hydrates for smoother, healthier-looking skin. It's quick-absorbing, lightweight and non-irritating, formulated with:
No sulfates
No silicones
No drying alcohols
No essential oils
No added fragrances
No parabens
No phthalates
No synthetic dyes
No propylene glycol
No formaldehyde
No MEA, DEA, TEA
No PEG compounds
No EDTA
THANK YOU clean beauty for saving my skin. I hope you all love these products as much as I do! Let me know any other brands I should try and I will! xx
Check out these related blog posts:
The Best Skinceuticals Products
The best loungewear for working from home – the cutest quarantine loungewear
The best drunk elephant products
What is dry brushing? What are the benefits of dry brushing?