How to do Italy AND Greece for a Vacation or Honeymoon
Are you having trouble deciding between Greece and Italy for your honeymoon? Why not do both?! If you have a solid two weeks to spare, this romantic, dreamy country combination will exceed all of your honeymoon expectations.
Both Greece and Italy have so much to offer, and normally, I would say to be careful not to try to fit too much into your honeymoon itinerary. But if you have the time and are the type of couple who doesn't mind staying busy, then you may as well kill two birds with one stone! This is especially the case if you have never been to Europe or think that it might be a while until you get the chance to go back.
Wearing our matching Positano swimsuits from Kenny Flowers
What's the Best Itinerary for Italy and Greece for a Honeymoon?
Two Itineraries for you to choose from:
Below, I'll walk you guys through two two-week itineraries encompassing both Greece and Italy. This is how I would plan the trip if it were me, but if you have more than two weeks, feel free to click around my Europe content and add in some more destinations! And if you're not sure which countries to add in, just pick one of these dreamy luxury hotels and take it from there.
When it comes down to it, the itinerary that is right for you will depend how much beach time you and your new spouse are looking for. You could go to Rome and Tuscany for urban explorations, rich history, culture, and some wine tasting under the Tuscan sun. But if you're a beach addict like me, you would be happy bee-lining it to the iconic Amalfi Coast. Either option would be immediately followed by the best of the best island hopping in Greece! You really can't go wrong either way!
When to go to Greece and Italy
For both of these itineraries, the ideal travel months are May through September. If you're planning a honeymoon outside these dates, the beaches will not be warm enough to enjoy!
Itinerary 1: Tuscany, Rome, and Greece
Outline: 7 Days in Italy, 7 Days in Greece
Florence: 3 days
Tuscany: 2 days
Mykonos or Paros: 3 days
Day 1: Fly into Florence
There are a few different flight patterns that you could choose from. You could choose to purchase a roundtrip ticket to Florence, but I personally think that it makes more sense to get a one-way ticket to Florence and fly home from Athens. Another option would be to fly into Rome (this is sometimes cheaper) and then take a train to Tuscany, but this takes longer.
Once you've arrived in Florence, get settled at your hotel or Airbnb. I love Hotel Savoy and the Westin Excelsior Florence both for their luxurious features and central locations.
Days 2 – 3: Florence
Florence is one of my favorite Italian cities. This is where the Renaissance began and where many of the best artists/thinkers of all time lived and worked. The architecture is incredible, the scenery captivating, and the museums are world-renowned! I suggest touring the Duomo, visiting the Uffizi Gallery and Galileo Museum, seeing the Statue of David, as well as walking the Ponte Vecchio bridge.
Florence is also known for its incredible vintage shops… ladies, do I have your attention now?? One of the best parts about Florence is the hole-in-the-wall cafes along the cobblestone streets that serve up fresh paninis, pasta, pizza, and of course… all you can eat gelato! If you're not too beat after tourist-ing all day, hike your way up to the Piazza Michelangelo for the best view of the sunset over the city!
Where to stay in Florence:
Villa San Michele – a Belmond Hotel
Or a VRBO with stunning views in Florence like this one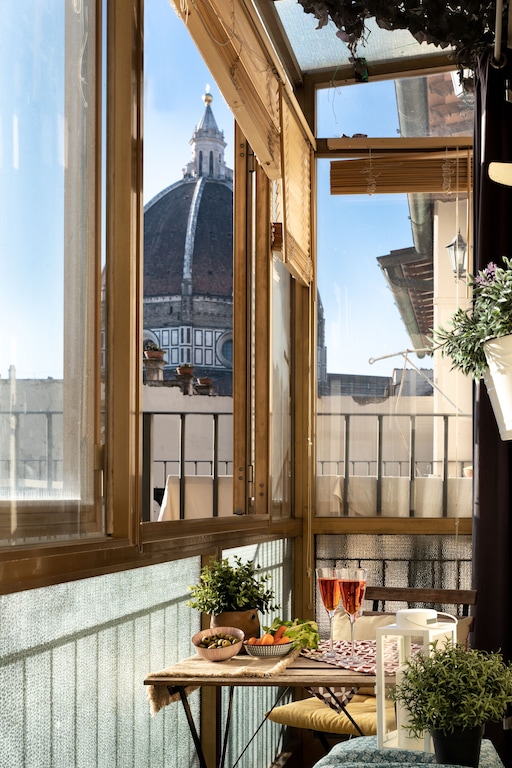 Days 4 – 5: Tuscany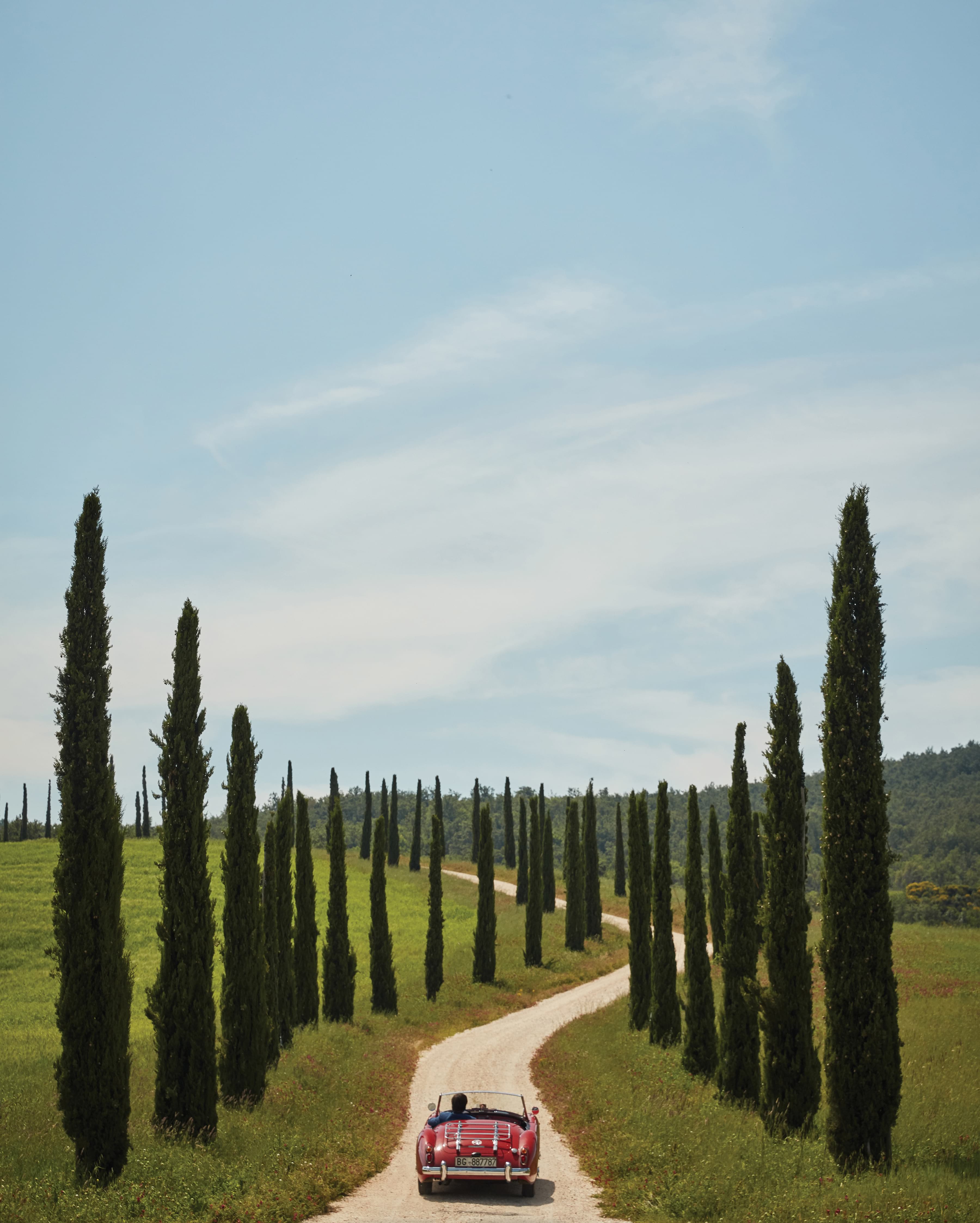 Continue the romance as you escape to the countryside of Tuscany. Florence is technically already within the region of Tuscany, so you don't have to travel too far to find the idyllic charm people speak of. You could choose to do a day trip on your own by renting a car or taking a 40-minute train ride from Florence to the town of Siena. Another option is a guided full or half day (wine) tour from Florence. Maybe even do a private Chianti tour and tasting.
If you're more partial to the calm and quiet of the rolling hills and small villages, choose to spend a night or two here! For a full-on honeymoon-worthy luxury experience, opt for a night at either the Castello Di Casole, a former 10th century estate turned Belmond Hotel, or the Rosewood Castiglion del Bosco. These are arguably the best hotels in Tuscany, period.
On your last day in Tuscany, take the train to Rome. Even the smaller Tuscan towns have train stations, or you can take a high-speed train from Florence that will only take 1.5 hours (and will only run you about $18).
Days 6 – 7: Rome

It won't take you long to get your bearings in Rome. By the second time I visited the city, I felt like I knew it backwards and forwards. With so many iconic landmarks, it's hard to get lost, so have fun exploring the city and walking everywhere (plus, this allows you to find all the mom-and-pop Roman pizza spots!).
Spend a day exploring Vatican City (the smallest country in the world!) and its dazzling St. Peter's Basilica and Sistine Chapel, where you can find Michelangelo's masterpiece. Other things you simply cannot miss while in Rome include The Colosseum (a no-brainer), The Trevi Fountain (but get there early), the Roman Forum, and the Piazza di Spagna (the Spanish Steps).
Day 8: Fly from Rome to Santorini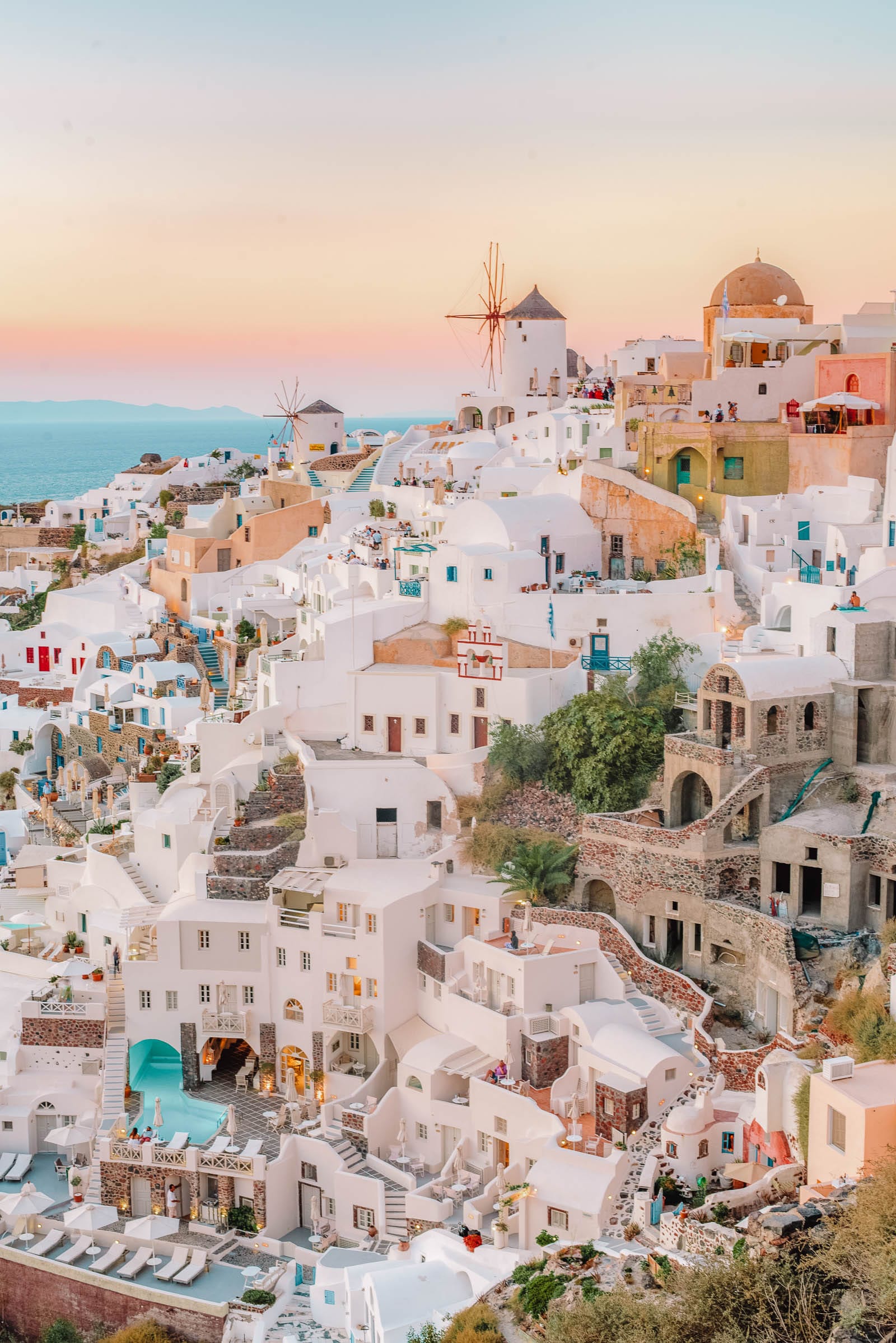 Between the beaches, wineries, hot springs, shopping, and some of the world's most photographed sunsets, there are a surprising amount of things to do in Santorini.
You guys already know that beaches and wine are always at the top of my "to do" list. My perfect day would be a half day wine tour with a Sommilier followed by lounging on a picturesque beach till sunset. For more details, check out my How to Spend 3 Days in Santorini article!
Stay at the Mystique Santorini, just five minutes (walking!) from downtown Oia, or Grace Hotel Santorini for a little more seclusion.
If you're the type of couple who enjoys lavish cave hotels and DJ's on the beach, Mykonos was made for you. If you'd prefer a much more laid-back vibe, but still a great vibe, Paros is a nice balance!
Itinerary 2: Amalfi Coast and Greece
Outline: 7 Days in Italy, 7 Days in Greece
Ravello: 2 Days
Mykonos or Paros: 3 Days
Day 1: Fly into Naples
You can either get a one-way ticket to Naples and fly home from Athens, or get a round trip ticket and buy a short flight from Athens back to Naples. Once you land, head for the coast!
The best way to reach the Amalfi Coast from the airport is by private car (around 100-150 euros total), but the cheapest is by bus (about 10 euros each person). I personally love splurging on a private driver in instances like this, because after a long flight to Europe from the states with all of my bags, the last thing I want to do is navigate bus schedules and find my way around a foreign place.
Days 2 – 4: Amalfi
I love the Amalfi area of the Amalfi Coast mainly because of Hotel Santa Caterina. I highly recommend going to Amalfi and staying in this resort!! It is so beautiful and captures the quintessential Amalfi Coast charm. Not to mention, their seaside pool and beach club is the perfect place to soak in the Mediterranean sunshine! With its five-star service and food, exclusivity, and beautiful setting in Amalfi, Santa Caterina makes the most perfect honeymoon resort on the Amalfi Coast. For more details on where to eat and what to do, check out my Ultimate Guide to The Amalfi Coast!
From Amalfi, you can do an optional day trip to Positano if you have the time!
Days 5 – 6: Ravello
Ah, Ravello. This magical, romantic, quiet gem of the Amalfi Coast is tucked 1,000 feet up into the cliffsides, with some of the most stunning views of anywhere I've seen in the world. It's a bit less busy than the Positano area, which is a plus if you're looking to skip the crowds and opt for a more secluded experience. The hotels here aren't cheap during high season, but they are worth it (there are only a few, and each one is absolutely incredible! I recommend Villa Fraulo and Belmond Caruso.).
Days 7 – 8: Capri
If you're looking for the most beautiful island in Italy, look no further than Capri. You'll spend your days hiking and strolling around, breaking only for gelato, and soaking in the beautiful views at every turn. My favorite beach club in Capri is the celeb-favorite La Fontelina, and my favorite hiking path is Via Krupp, which takes you all the way from the top of the island down to the beach (so bring your swimsuit).
When it comes to where to stay, Punta Tragara is a MUST. Located at the top of the steps leading down to the Faraglioni rock stacks and Fontelina/Da Luigi beach bars, Punta Tragara is a chic, contemporary luxury hotel built right into the cliffs of Capri. Its beautiful pink architecture exudes romance and is perfect for couples honeymooning in Capri.

Day 9: Fly from Naples to Santorini
Follow the itinerary from above!
Days 10 – 11: Santorini
Days 12 – 14: Mykonos or Paros
Travel back to Athens and fly home.
What to wear in Italy and Greece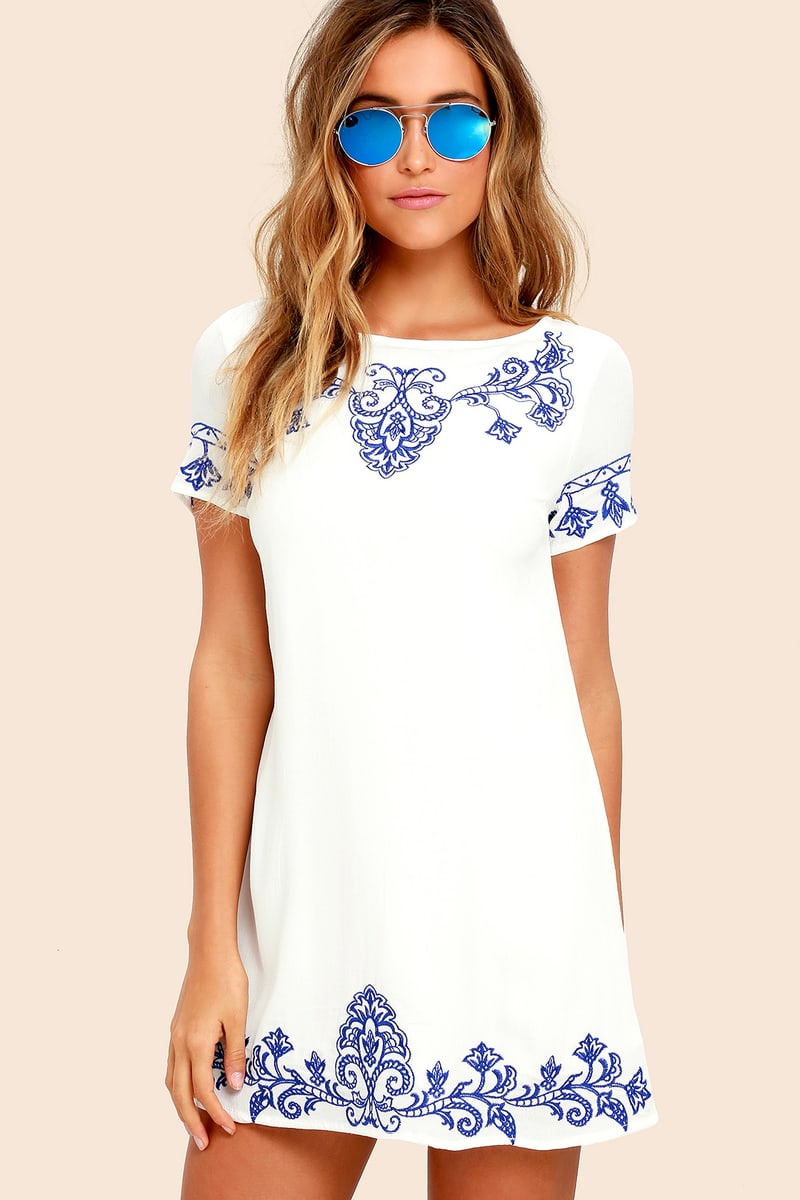 this dress was made for Capri
Also be sure to bring the Fontelinas dress with you! – inspired by the best Capri beach club!

Shop this lemon print one piece swimsuit here
.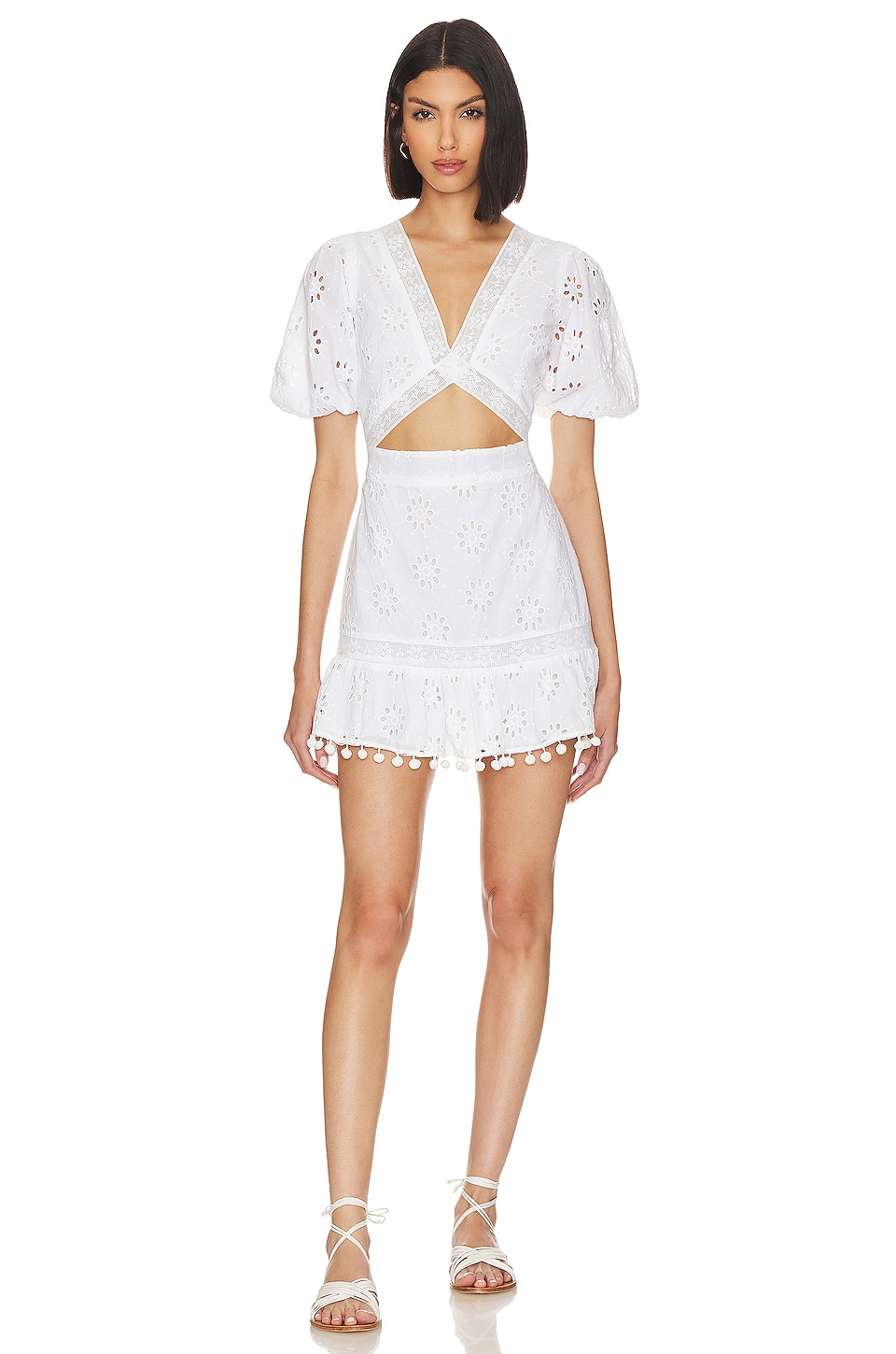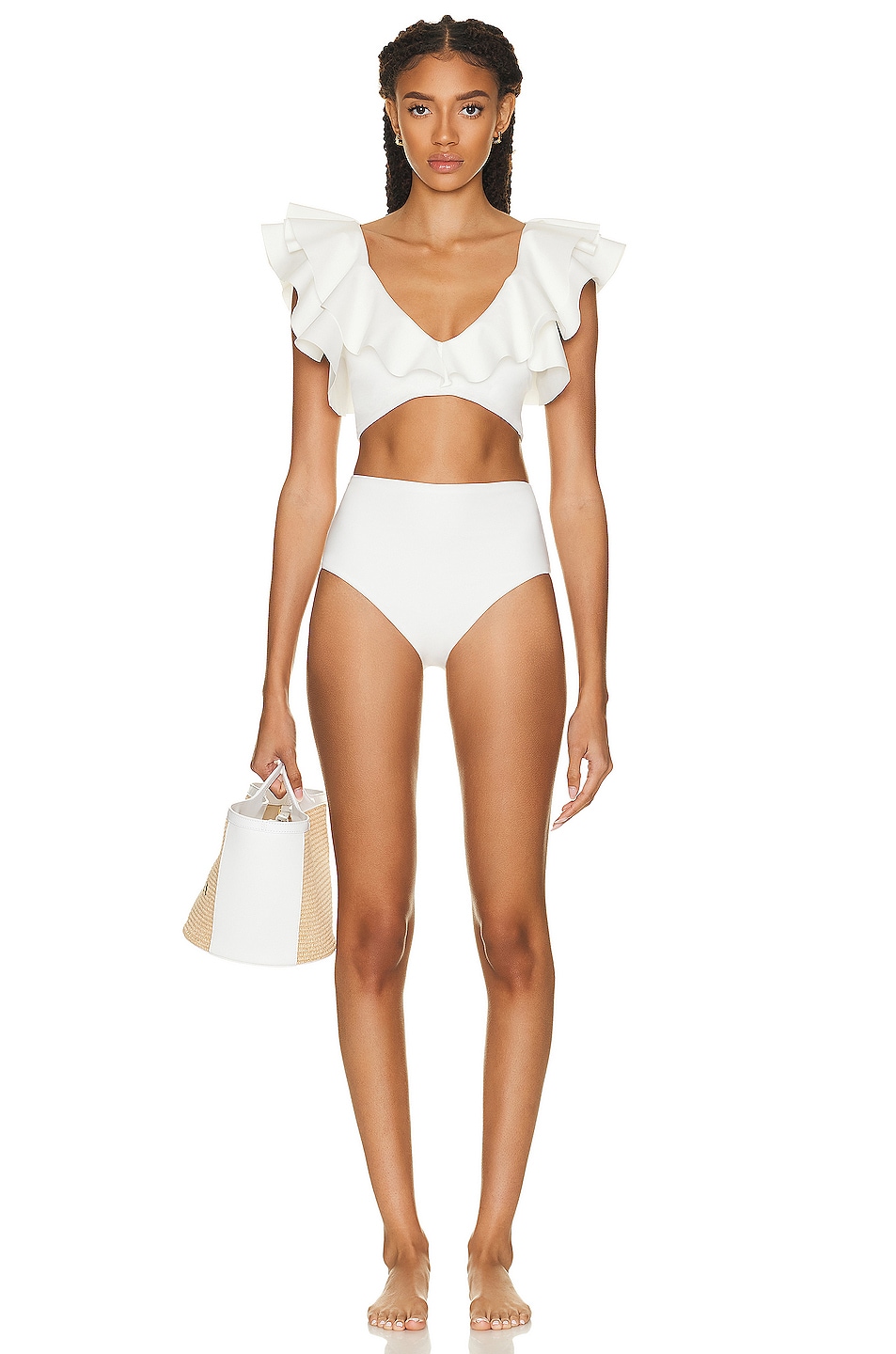 Check out these other blog posts:
The ultimate Santorini travel guide
Where else to go besides Santorini in Greece : Ultimate travel guide for Paros and Naxos
Inside my capsule collection with Revolve
The best bride outfits for every event
The Ultimate Amalfi Coast Travel Guide
How to spend 3 days in Santorini
How to stay healthy while traveling – JetsetChristina
All of Jetset Christina's favorite jewelry
How to choose a honeymoon destination – breaking it down by cost