Where to Go in Greece Besides Santorini: The Ultimate Guide to Naxos and Paros
This article was contributed by my friend Matt Bouret, who recently got off his honeymoon in the Greek Isles and has the exact same Jetset tastes as we all do, so we know all of his recommendations will make for the ideal Greek Isles trip.
If you are looking for an adventurous, cultural alternative to the more popular Greek Islands like Santorini and Mykonos, look no further than the charming nearby Greek Isles of Naxos and Paros. Whether you're heading to Greece on a romantic honeymoon, or a trip with family or friends, these islands are some of the best to explore, and I'm here to walk you through the best of the best recommendations for where to stay, where to eat, what to do and more in both Naxos and Paros. So let's get to it!
The Ultimate Guide to Naxos
This off-the-beaten-path island is most popular for its beautiful sandy beaches, fresh cuisine, traditional villages, and Greek history (mythology says Zeus was raised here!). Just a short ferry ride away from Santorini and Mykonos, we found Naxos to be refreshingly untouched by tourism (much less so than Paros even) and a great spot to get a cultural and natural feel for Greece. Rich in agriculture, with gorgeous fruit and olive trees, majestic mountains and fields, and quaint fishing villages, this is the kind of place made for both those seeking the sun and beautiful beaches, but also those who want to experience the culture and nature that the Greek Isles have to offer.
How to get to Naxos
Naxos by Flight: We took a short 40 minute flight from Athens to Naxos. Flights are limited as the airport is small (but very cute).
Naxos by Ferry: Taking the ferry is an easy option between any of the islands. If you pay 10-15 Euro more, upgrade to business class for a pleasant experience.
Where to Stay in Naxos
Naxos is still one of Greeks' best kept secrets so there are not yet luxury hotels or 5-star resorts, however, you can find amazing boutique hotels right on some of the best beaches in the world. While we only stayed in one hotel, we did extensive research prior to the trip and also visited other hotels for dinner.
Naxian on the Beach
Naxian on the Beach is a luxury boutique hotel that sits directly on the beautiful Plaka Beach, a short 15 minute drive to the main city of Naxos Town. All ten rooms have stunning oceanfront views and while the rooms are minimal, they include high end touches like steam showers and private outdoor sitting areas (some even have their own plunge pool). Breakfast (which is included in your room rate) is served in your room or in their delicious restaurant Tortuga just steps away from the beach. The Naxian has its own private daybeds for hotel guests directly on the beach where they can choose from an extensive list of over 100 different wines. Our favorite part about the hotel was definitely the staff who felt like family after just three days given the small intimate nature of the Naxian.

The Naxian Collection (sister hotel of Naxian on the Beach) sits in the hills above Naxos town with beautiful views and gorgeous villas. One of the most luxurious hotels on Naxos with great dining options and a great hotel room, plus it's super chic – but direct access to the beach is limited. We opted to stay at the Naxian on the Beach given we were not staying directly on a beach in our next stops in Paros and Santorini, but I can totally see why someone would choose this hotel.
Nissaki Beach Hotel is a luxury boutique hotel on Saint George beach within short walking distance to Naxos Town. A prime location with a beautiful pool and beach access. Nissaki also is home to one of the best restaurants on the island.
Where to Eat in Naxos
Doukato (Naxos Town)
Tucked away in the alleyways of Naxos Town this authentic Greek restaurant has a beautiful courtyard and romantic ambiance. With incredible traditional greek dishes, be sure to ask your server what the 'can't miss' items on the menu are.
Nissaki Restaurant since 1971 (Saint George Beach)
Located on Saint George Beach, Nissaki provides a great beach front dinner atmosphere with incredible fresh fish and seafood
To Elleniko (Naxos Town)
Traditional Greek restaurant in the heart of Naxos Town.
To Souvlaki tou Maki (Naxos Town)
Casual spot for the best Gyros and Souvlaki. Stop here for lunch after strolling the streets of Naxos Town.
Tortuga Beach Bar & Restaurant (Plaka Beach). Located steps away from the beach, Tortuga is part of the Naxian on The Beach. High end cuisine with an endless wine list.
Rotonda (Apirathos). Restaurant in the mountains of Apirathos with the best views in Naxos and a great food and beer selection. If you choose to go see the hillside villages, definitely stop for lunch or a drink.
What to do in Naxos
Naxos is the largest island in the Cyclades and has so much to see and do. I'd recommend renting a car to give your flexibility to explore the island – you can do that directly through your hotel.
Visit the Portara & Explore Naxos Town
The Portara (Temple of Apollo) is the most famous landmark and Naxos and sits right next to the main city of Naxos Town. The area can get very crowded (especially during the sunset) so we'd recommend going in the morning and couple the visit with wandering the streets of Naxos Town (also called Chora). There are so many authentic shops and traditional winding streets to explore. At the top of the city is the Kastro, a medieval Venetian castle thats worth looking into.
Explore the Beaches
Given we were staying directly on Plaka Beach, we didn't spend much time exploring other beaches. However Naxos is known to have some of the best beaches in Greece and we heard wonderful things about Agios Prokopios and Agia Anna.
Hike to the Cave of Zeus
Hike to the top of Mount Zas, the highest point of the Cyclades and for the best views of Naxos. You can only access Mount Zas by foot and there are 2 different routes. If you want to see the Cave of Zeus, this route is shorter but steeper and more strenuous. Both routes are right outside the town of Filoti.
A Perfect Three Day Itinerary in Naxos
Where to Stay: Naxian on the Beach: Best beach, great food, staff that is family. They have 120 wines, so you know it's a Jetset approved spot.
Day 1: Explore the Beaches (Plaka), Agios Prokopios, Saint George, Agia Anna. Grab lunch at Tortuga, Paradiso Tavern or visit Yahzoo Day Club (Plaka Beach).
Day 2: Explore Naxos Town and the Portara
Lunch: To Souvlaki (Naxos Town)
Dinner: Nisaki (St George Beach
Day 3: Visit the villages
Halki: Kitron distillery, church, wander streets
Filoti: tree lined streets with wonderful cafes, grab coffee
Antipirothos: grab lunch or drink Rotunda
Sunset cocktails at the Portara
Dinner: Doukati (Naxos Town)
The Ultimate Guide to Paros
The island of Paros is located a quick ferry ride from Naxos, Mykonos and Santorini and has much to offer with its charming white washed cities, wonderful food, shopping and beaches. Paros is very up and coming as many luxury hotels have recently been developed on the island as its popularity continues to grow.
How to get to Paros
Paros by Flight: If you are flying from Athens, Aegean and Olympic Air have flights daily.
Paros by Ferry: Taking the ferry is an easy option between any of the islands as its less than 2 hours from both Santorini and Mykonos.
Where to Stay in Paros
In terms of location, both Naousssa and Parikia are great options with access to shopping, great restaurants and nightlife. While many of the top hotels are luxury family owned boutiques, Paros has recently seen a surge in development from 5-star luxury hotels.
Parilio, a member of Design Hotels opened on August of 2019. A short 5 minute drive to the trendy town of Nassoua, the hotel exudes luxury with its modern architecture amidst the rolling landscape of Paros. Every room is spacious (all suites) and we opted for the Uranus Suite which included its own hot tub on the roof. An over the top breakfast (included in your rate), couples with their beautiful pool and spa make it very hard to leave this resort.
For a great value, this intimate hotel has only 12 -15 rooms and two beautiful infinity pools (one is an adult pool). Some of the rooms have gorgeous private pools. The location is ideal – it is a very close to walk into town for dinner and shopping and the breakfast buffet is included.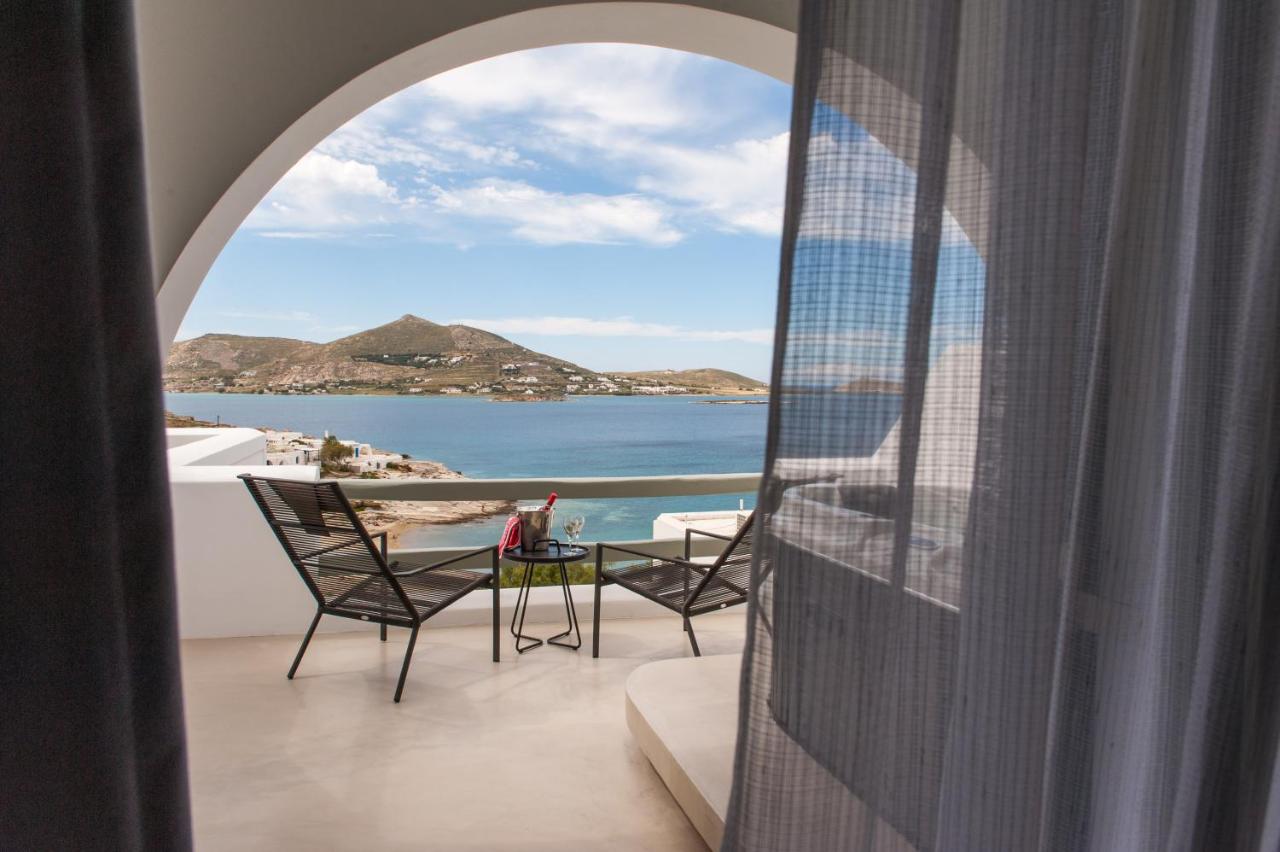 Photo via Booking.com
Where to Eat in Paros
Siparos (Naoussa)
Favorite meal in Paros, due to the ambiance. A 5 minute outside the main city of Naoussa right on the harbor. Great fish with an even better view of the sunset.
Tavern Glafkos (Naoussa)
Casual romantic setting along the water
Mario's (Naoussa)
Fresh fish and seafood on the harbour of Nassoua. Steps from the old venetian castle. If you have time, grab a drink and enjoy the sunset at the bar directly above.
Stou Fred (Parikia)
Best fine dining in Paros with a 5 course set menu. Romantic courtyard setting.
Levantis (Parikia)

What to do in Paros
Similar to Naxos, Paros has so many things to do and see and I'd recommend renting a car to give your flexibility to explore the island – which you can do directly through your hotel.
Visit Antiparos
A short 10 minute ferry ride from the port, visit the smaller sister island of Antiparos. With a population of around a thousand people, you'll find a traditional off the beaten path vibe. Fun fact Tom Hanks and his wife own a house on the island and frequent many of the coffee shops and restaurants.

Explore Naoussa
Take a morning or an afternoon to explore the fishing village of Naoussa. Inside the village you'll find winding cobble stone streets with pristine white washed homes and shopping. We were impressed by the high end stores and quant restaurants that lined each street. Make sure to stop in the Old Port to explore the sunken Venetian Castle.
Hike Paros Park
If you are looking for an active adventure, hike Paros Park which will give you hiking trails, beaches and picturesque scenery. Given the wide array of options to explore, you could spend from as little as 2 hours up to half a day exploring Paros Park.
Visit Lefkes Village
Lefkes is the highest mountain village in all of Paros located directly in the middle of the island. The views from Lefkes are some of the best on Paros and it also has a 1000 year old pathway, Byzantine Road that connects it to neighboring villages. The Hike takes about 2 hours in its entirety.

Go Beach-hopping
Paros is known to also have great beaches and is most famous for Kolymbithres Beach due to its gorgeous and unique rock formation. Other beaches that make up the best beaches in Paros include Santa Maria beach, long and beautiful, Golden Beach and New Golden Beach, which both provide nice spots for windsurfing (while Pounda area is worldwide famous for kitesurfing). And Pounda beach which is famous as a party beach.
Visit Parikia
Parikia is the port town where the ferries arrive and is also the capital of Paros. The city boasts some of the best shopping, museums and fine dining.
What to pack for a trip to Greece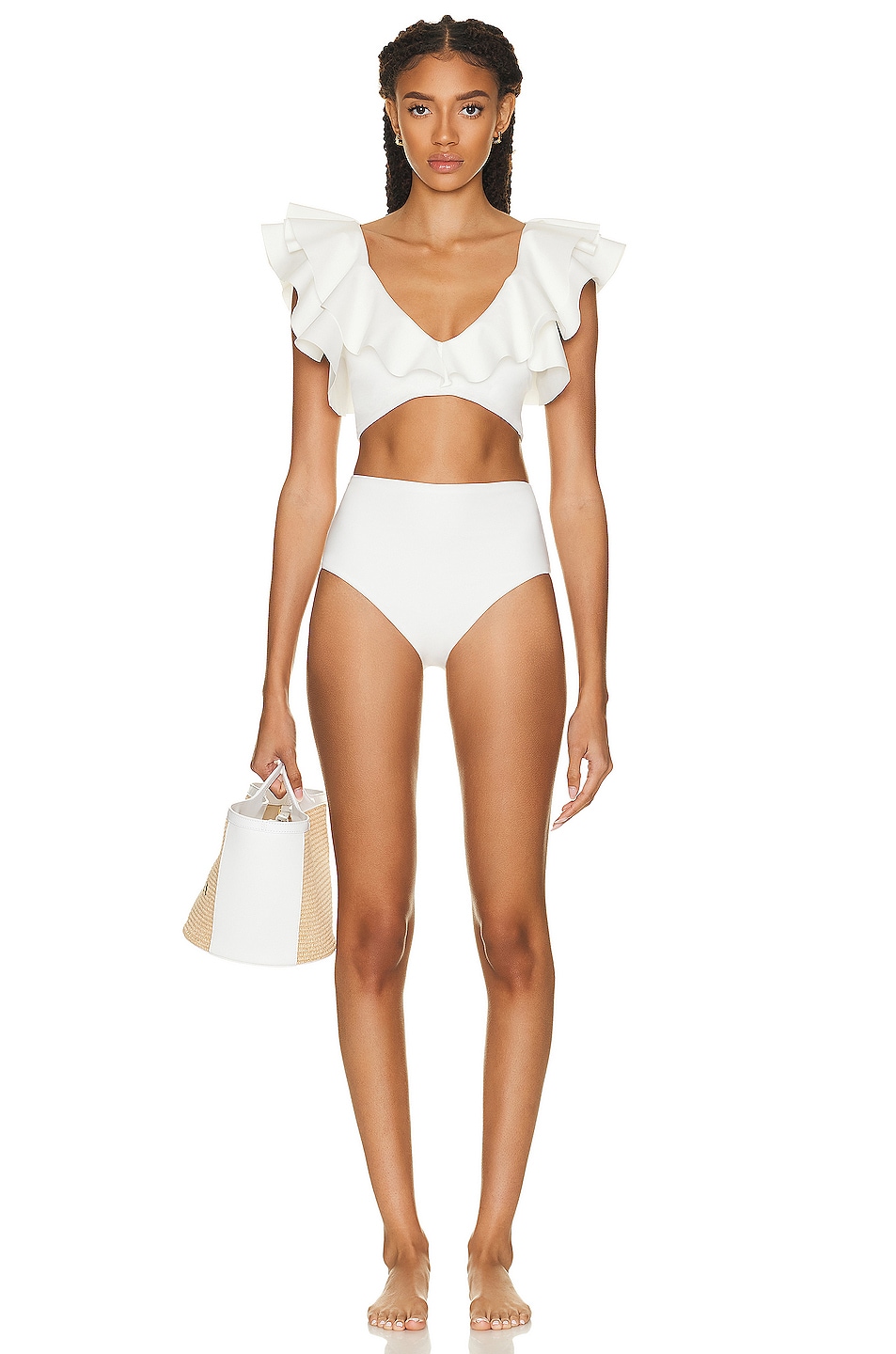 Don't forget to pack this men's button-down Greece shirt, with matching dress for Greece
Check out these related posts
What to pack for a trip to Greece – women's outfit inspo for the Greek Isles
The best Greek Isles itinerary for a honeymoon or trip